Chili mac and cheese might be the best dinner of all time. Make it once and eat it all week long. Bonus, it's kid-friendly and protein-packed!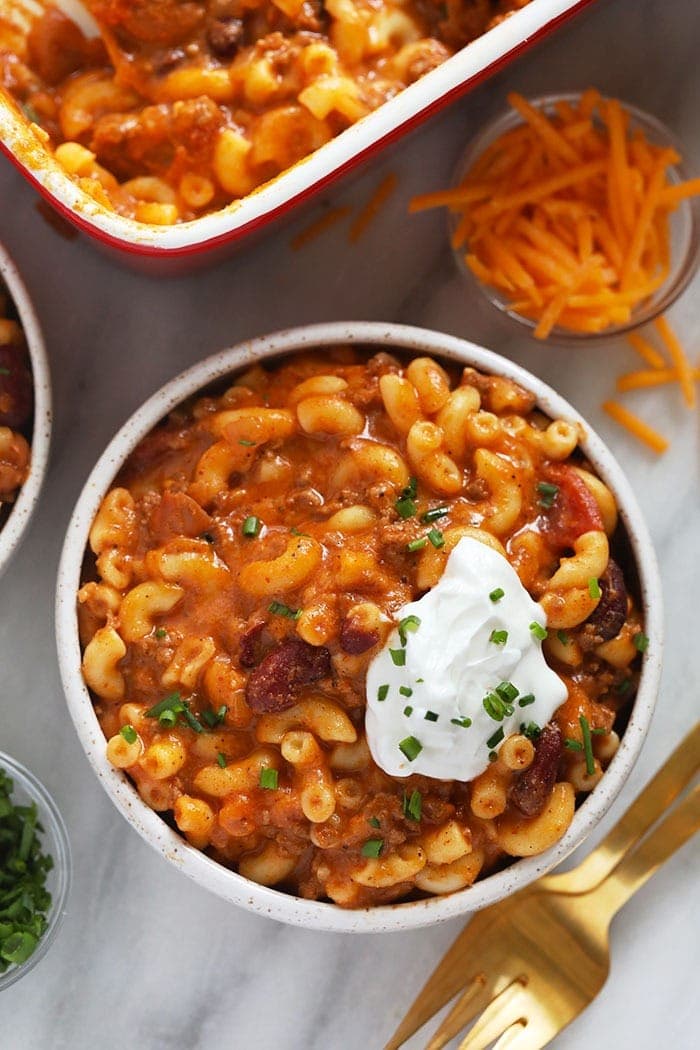 Our Favorite Weeknight Dinner
What's for dinner tonight? How many times a week do you hear that question? Whether it is someone in your family, a roommate, or just yourself figuring out dinner for the week.
Figuring out what you're going to have for dinner for the week ahead seems daunting sometimes, but helps you stress less in the long run. We are long-time advocates of meal prepping a few meals so you have options throughout the week.
This chili mac recipe is one of our favorite weeknight dinner meals! Why? Because it's a crowd-pleaser for the whole family, it's easy to make, and it's flipping delicious!
Mac and Cheese + Chili
Did anyone else grow up eating chili mac? There are a couple of different ways that you can prepare "chili mac". Some people throw Marconi noodles into a classic chili recipe and call it chili mac and some people mix together a chili recipe and a mac and cheese recipe and bake it.
Our chili mac recipe is a combination of our best mac and cheese recipe and our favorite beef chili recipe! You betcha this is a classic midwestern dish that will forever be an FFF favorite!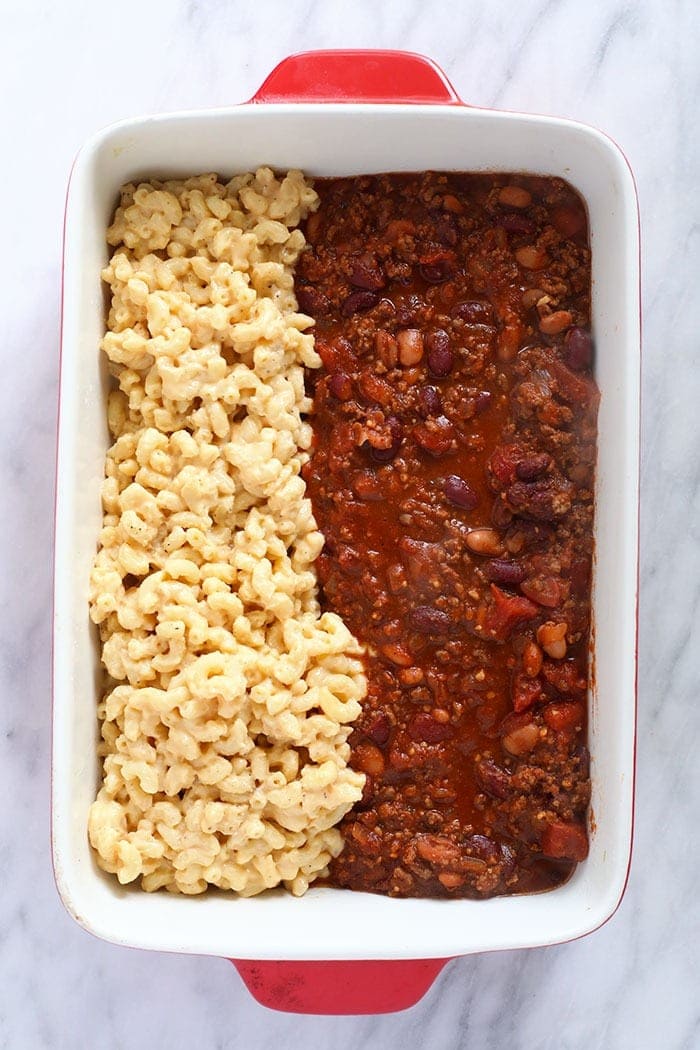 How to Make Chili Mac
This recipe is quite simple. You make a batch of chili, a batch of mac and cheese, mix them together, and bake! However, first things first. Choose your chili and your mac and cheese recipe!
We recommend using our beef chili recipe and our homemade mac and cheese recipe, but you can mix and match any of our chili OR mac and cheese recipes to fit your needs! We have so many vegan, vegetarian, and gluten-free recipe options.
Mac and Cheese Recipes
Chili Recipes
After deciding what recipes you are going to use, you mix the chili together with the mac and cheese, and pour it into a casserole dish.
Bake it for 15 minutes at 350ºF and then sprinkle cheddar cheese over the top and bake for an additional 5 minutes. Then you're done!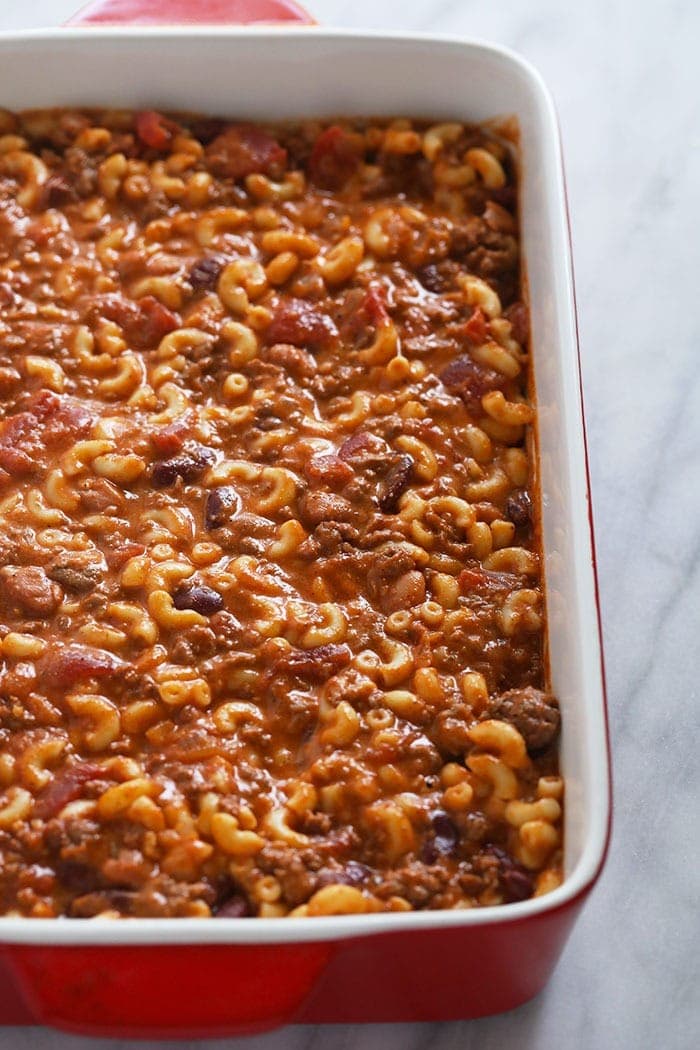 Chili Mac Q & A
What sides go with chili mac?
We love adding a vegetable side to balance our this chili mac recipe! Check out our favorite veggie sides below!
What are good toppings for chili mac?
This chili mac recipe has a lot going on so we like to keep the toppings simple! Here are our favorite chili mac toppings.
Green onions
Greek yogurt
Diced red onion
How can I make chili mac healthier?
What is healthy really depends on the person! Here are some ways you can change up the recipe!
One way you could add more nutrients to this recipe is by adding some extra vegetables. Dice up a green pepper or add a cup of corn to this recipe!
Feel free to skip the extra cup of shredded cheddar cheese at the end of the recipe, too! You do YOU.
If you need to make substitutions to fit your diet needs, here are some options!

Beef—> Kidney Beans
Pasta—> G/F Pasta
Cheese Sauce–> Vegan Cheese Sauce
Can I freeze chili mac?
Yes, you can freeze chili mac! Let the chili mac cool completely before placing it in an airtight container. Place in the freezer for up to 3 months.
When you are ready to eat the chili mac, remove it from the freezer and place it in the refrigerator to thaw. Reheat in a casserole dish and enjoy!
Here's a tip–> If you know you will be freezing the chili mac, cook the noodles for the mac and cheese a little bit less (more al dente than usual) so that when you thaw them out and reheat them, they won't be as mushy!
Here's another tip–> Add a couple tablespoons of broth or tomato sauce to the chili mac before you warm it up to help cream it up again!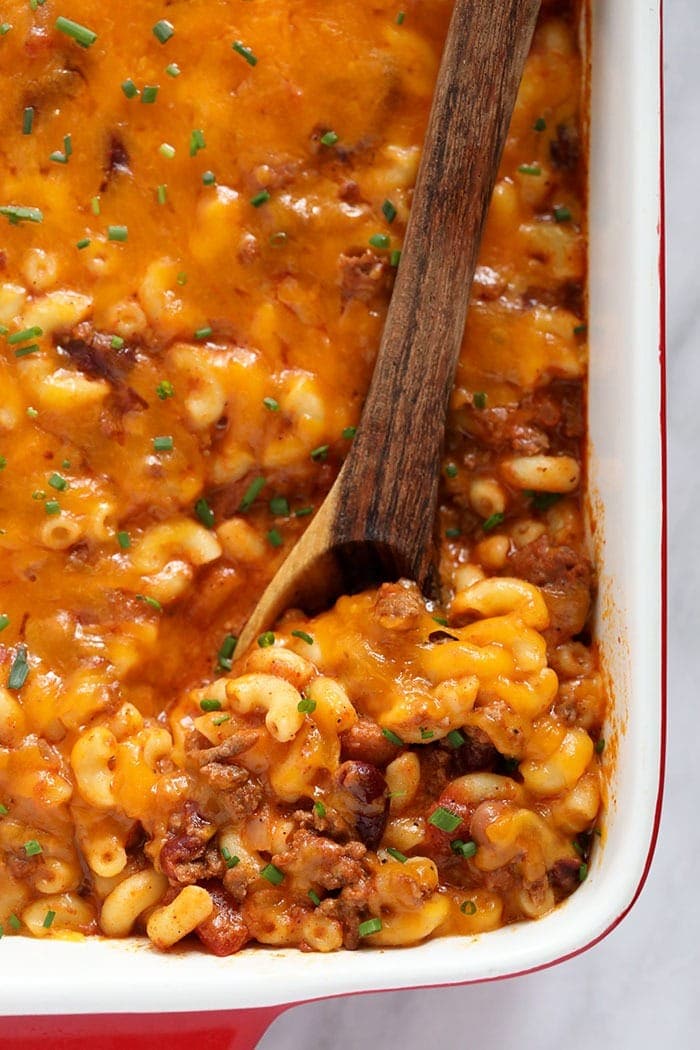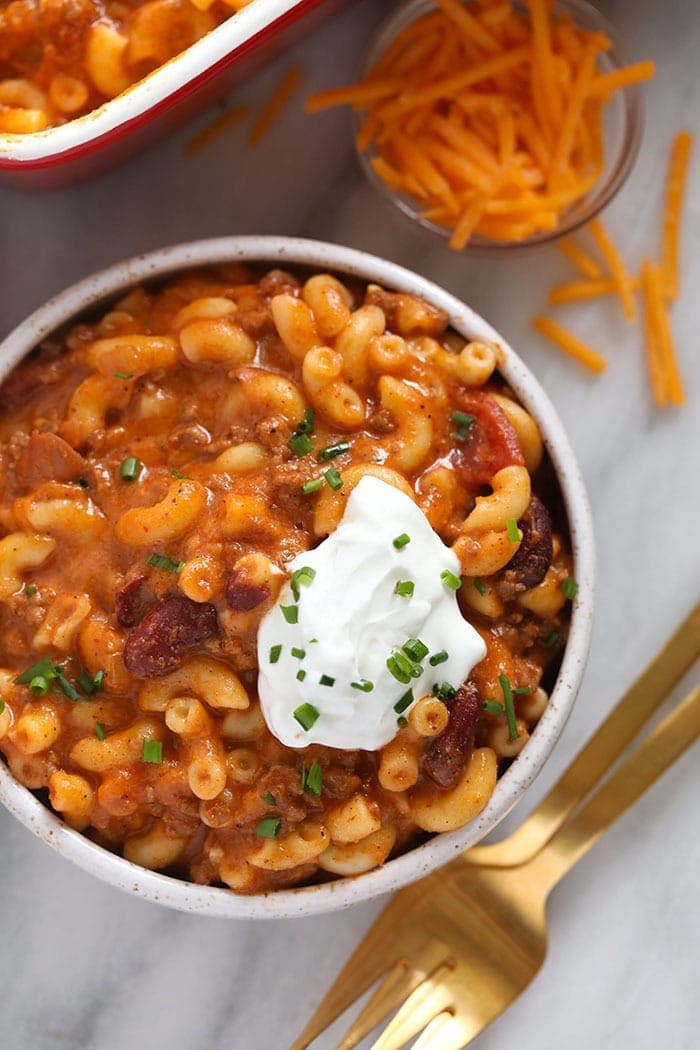 Fun Healthy Dinner Recipes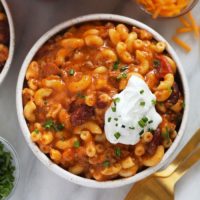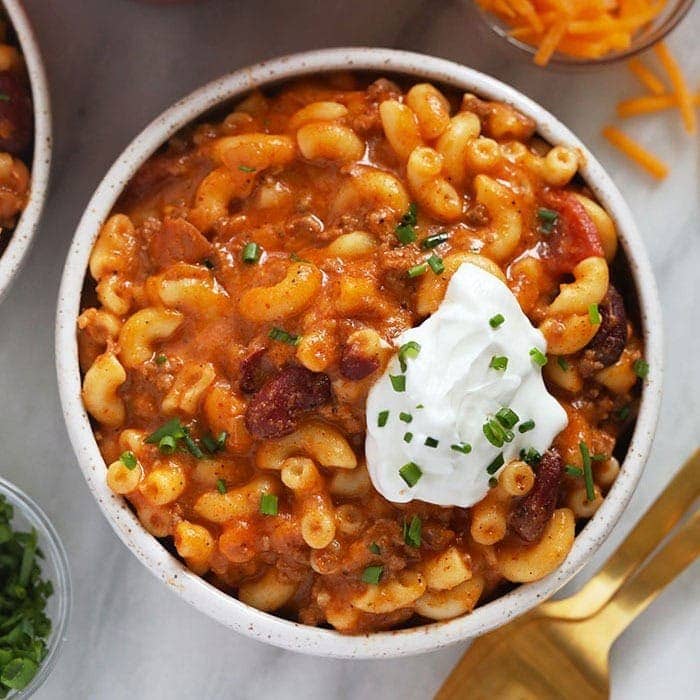 Chili Mac Recipe
Chili mac and cheese might be the best dinner of all time. Make it once and eat it all week long. Bonus, it's kid-friendly and protein-packed!
Instructions
Prepare our homemade mac and cheese recipe as directed. We do not suggest using leftover mac and cheese, so make it the day you're making this chili mac and cheese casserole.

Next, prepare our beef chili recipe. For this, you can use leftover chili, we just suggest heating it up in the microwave before adding it to the casserole dish so that it's warm.

Preheat the oven to 375ºF and spray a 9x13 casserole dish with non-stick cooking spray.

Add 6 cups of mac and cheese (the entire recipe) and 6 cups of beef chili (about 3/4 of the recipe, you'll have some leftover!) into the casserole dish and mix well.

Place the chili mac and cheese into the oven and bake for 15 minutes.

Then, remove and sprinkle on shredded cheddar cheese over the top and bake for an additional 5 minutes.

Remove from the oven and let rest for 5-10 minutes before serving.

Serve with Greek yogurt or sour cream.
Nutrition facts
Calories:
466
kcal
Protein:
29
g
Fat:
18
g
Fiber:
13
g
Sugar:
7
g