You're going to love this bean-less, paleo-friendly chili recipe! This Pumpkin Turkey Chili with Roasted Poblano Peppers is made with ground turkey, pumpkin puree, and roasted poblano peppers!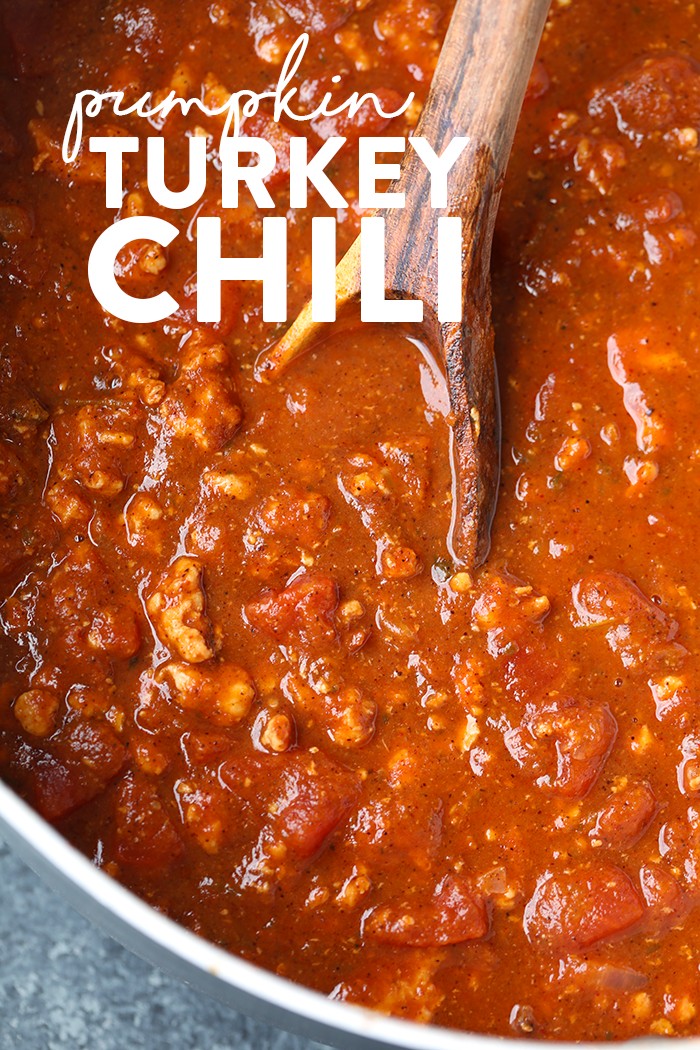 It's Linley, ya'all. Writing to you as I stare out the window at the leaves that are already changing in our front yard. Though it is 86º outside today, last week weather was in the sixties, and I was wearing my Iron Ranger Redwing Boots (I seriously live in these most of the year) and wrapping myself in my favorite new fall scarf. It's seriously my heaven. So leaves did start changing and then BAM this week it is in the 80's again. I'm not complaining, living in Minnesota you learn to go with the flow when it comes to the weather, but I am pretty dang excited for fall this year.
Yes, I am excited for everything fall (PSL, apples, great sleeping weather, etc,) but I am especially excited for fall this year because Cole and I just moved into a new house! Our best friends moved to Europe (yes, they are pretty dang cool) and we moved into their adorable bungalow while they are away. We moved into their house (yes a house with a yard, yipee!) with our friend Britta and FRANNY. If you follow Lee and I on Instagram, you've met Fran the Great Dane Puppy. So, put together my favorite people, a new house, and my favorite season, and I am one happy camper. I am super excited to be in a house for the holiday season. There is nothing that beats having a yard, a nice kitchen to cook in, and an amazing space to decorate! We are pretty dang lucky (thanks Chris and Alex <3)!
Another great thing about fall? CHILI.
Beans, beans, the magical fruit, the more you eat the more you……!
I love beans just as much as the next person. However, come fall there are chilis and soups that are jam-packed with beans (which I love). Sometimes it is nice to take a break from those fiber-filled morsels and give that tummy a bit of a break with a bean-less and delicious chili option. Hello, Pumpkin Turkey Chili with Roasted Poblano Peppers.
We packed this chili with all of fall's best assets —> pumpkin, tomatoes, warm spices, and roasted veggies. Not only did we roast veggies, but we roasted poblano peppers. Can I get an AMEN. Roasting the poblano pepper gives this chili an amazing smoky flavor that isn't too spicy. It's just right! We threw some garlic cloves on the pan to caramelize and roast with the peppers and that really just set this chili up for greatness!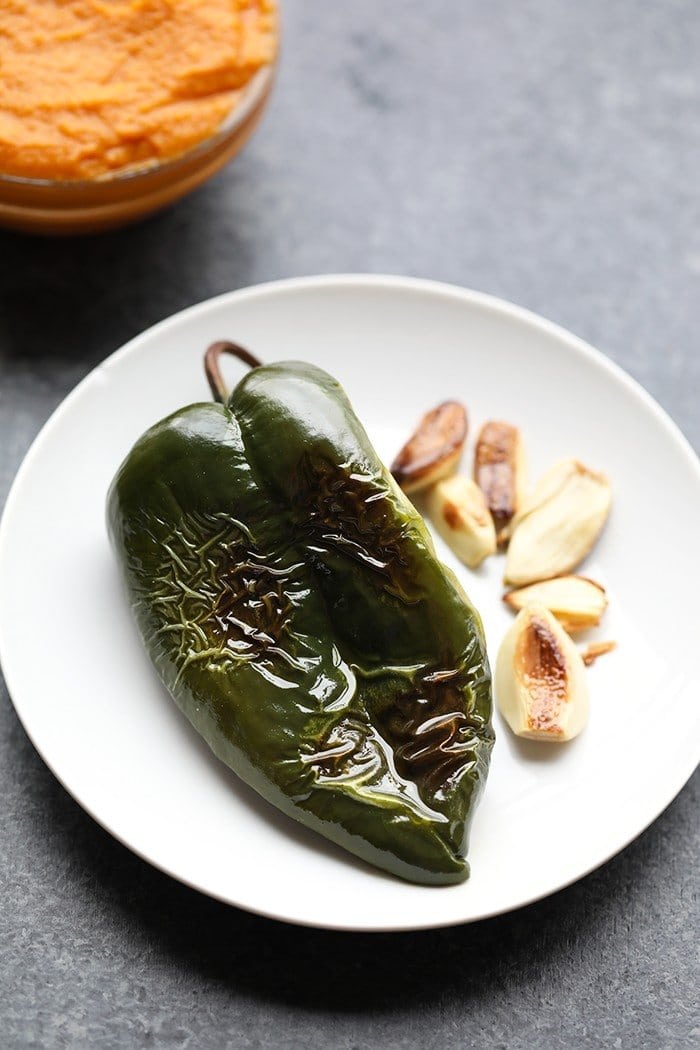 If you're looking to do some cooking today, this chili is for you. Sundays are the perfect day for a big ole pot of chili. Whether you are having a family dinner, prepping chili for game day, or meal-prepping chili for the week, this Pumpkin Turkey Chili is SO incredibly tasty. It's time to get cooking, people!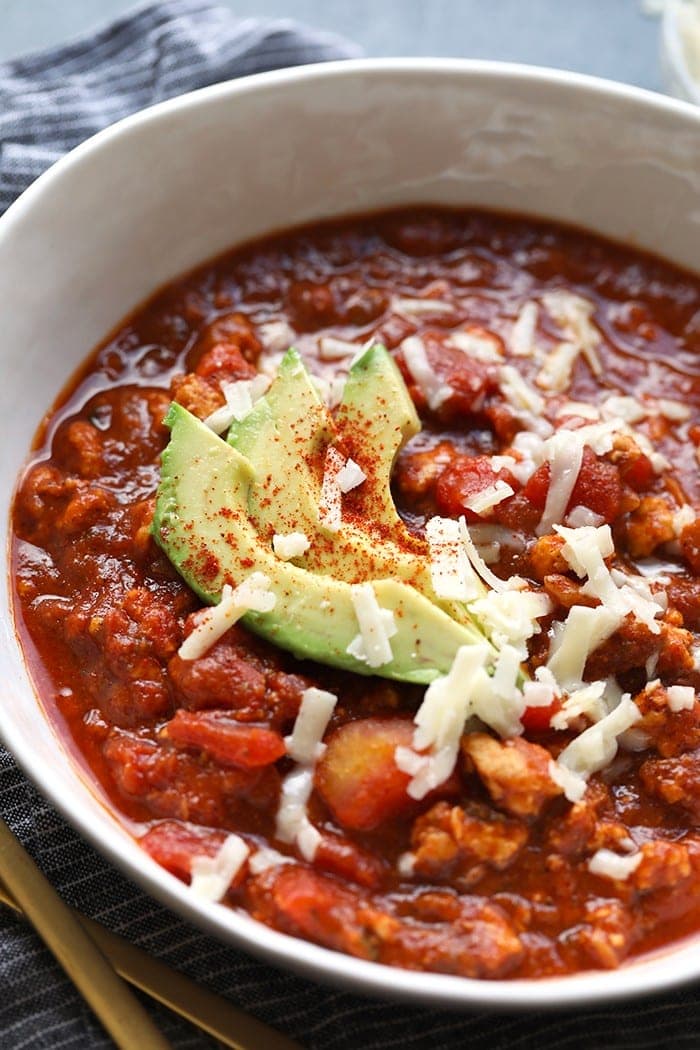 More Chili Recipes
VIDEO: Pumpkin Turkey Chili with Roasted Poblano Peppers
Prep:
15
Cook:
30
Total:
45 minutes
Fat
11
Carbs
21
Protein
17
Ingredients
5

 cloves garlic

1

large poblano pepper

2 tablespoons

olive oil

1

small red onion, diced

1

lb. 99% ground turkey

1

15 oz. can pumpkin puree

2

15 oz. cans diced tomatoes

3 tablespoons

tomato paste

1 tablespoon

maple syrup

1/2 cup

water or chicken broth (or more depending on how thick you like your chili)

1 tablespoon

sriracha

2 tablespoons

chili powder

1

 teaspoon smoked paprika (less or more depending on how much spice you like!)

1/8 teaspoon

sea salt
pepper, to taste
Instructions
First, preheat oven to 400ºF and spray a baking sheet with nonstick cooking spray.
Then, place a large poblano pepper and 5 cloves of garlic on the baking sheet. Drizzle the pepper with olive oil and season with salt and pepper. Then place in the oven for 15 minutes, flipping half way.
Once the poblano pepper has beautiful roasting marks on it, remove from oven and let cool for 5 minutes. Use a sharp knife to cut the top off and then remove the seeds.
Place the roasted poblano pepper, garlic cloves, and a can of pumpkin puree in a high-speed food processor and process until everything s pureed together. Set aside.
 Prepare chili by heating olive oil to medium/high heat. Then, add in a diced small onion and sauté for a few minutes or until translucent.
Add ground turkey and and sauté until full browned. Add the rest of the ingredients and mix until combined.
Cover and let simmer for 10 minutes before serving.*
Serve with avocado and white cheddar cheese!
Tips & Notes
*Depending on how thick you like your chili, feel free to add more liquid!
Nutrition Facts
Serving Size:
1/6
Calories:
249
Sugar:
10
Fat:
11
Carbohydrates:
21
Fiber:
5
Protein:
17
Keywords: turkey chili, pumpkin chili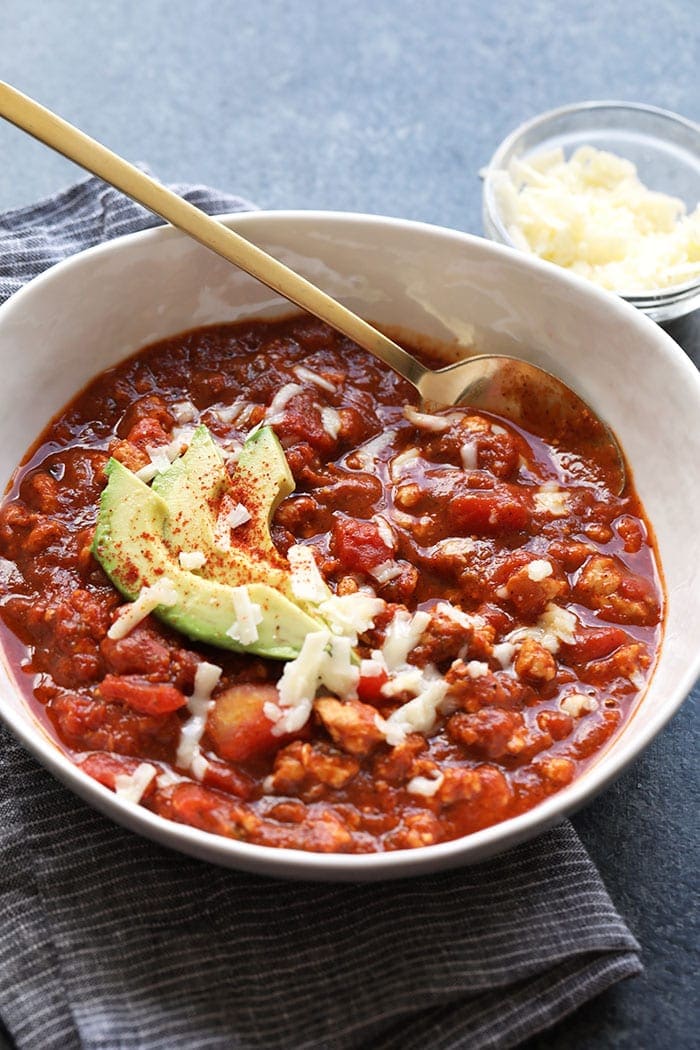 Check out these other delicious Fit Foodie Finds Chili Recipes!
The Worlds Easiest White Chicken Chili
Roasted Red Pepper Quinoa Chili