This Tuscan Turkey Soup is the perfect recipe for turkey leftovers. Packed with hearty vegetables, lean protein, a delicious broth, and made completely in the Instant Pot. You'll be making this soup all winter long!
Soup recipes and the Instant Pot are quite the dream team. Whether you're making this tuscan turkey soup or this hamburger soup or this butternut squash soup, we've got you covered with delicious and flavorful Instant Pot soup recipes here on FFF.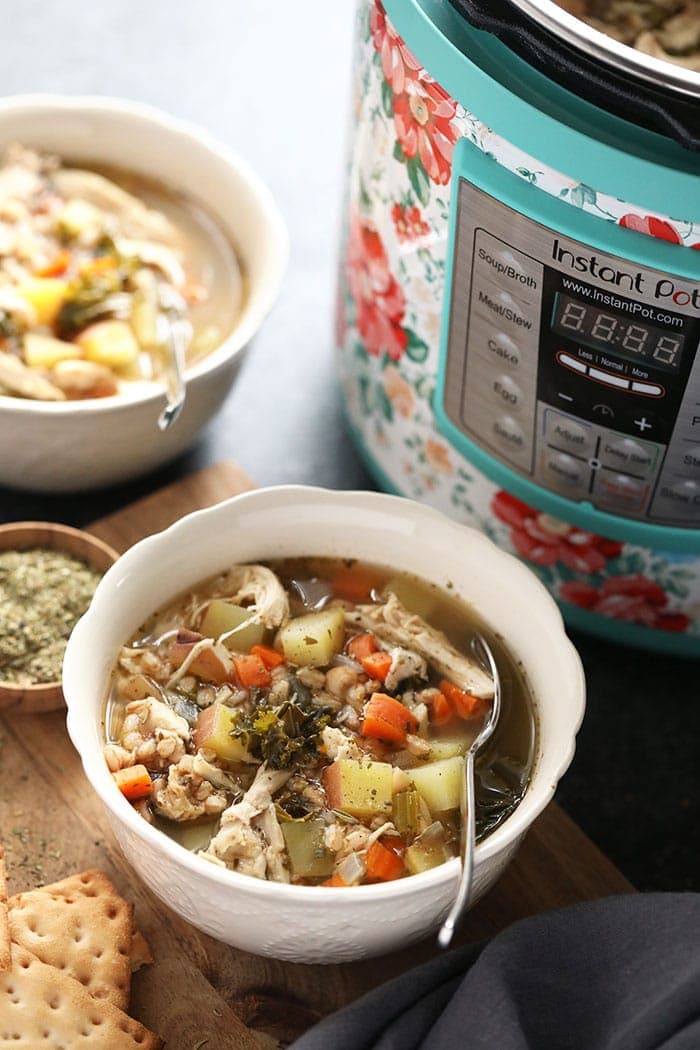 Instant Pot Lovers Unite!
We can't get enough of the Instant Pot here in the Fit Foodie Finds kitchen. Especially this one. It's like a vintage slow cooker had a baby with the Instant Pot and created this cute floral design (we got the Vintage Floral, but the Breezy Blossom is equally as caaaute).
It's only available at Walmart, who we're partnering with today to bring you the Instant Pot soup of all Instant Pot soups. And I can't help but think that the Pioneer Woman herself would enjoy this hearty Tuscan Turkey Soup. A comfort food taste with our Fit Foodie Finds healthy twist. So, if anyone out there can put in a good word, can you please let her know we'd like to have her over for dinner? #kthanks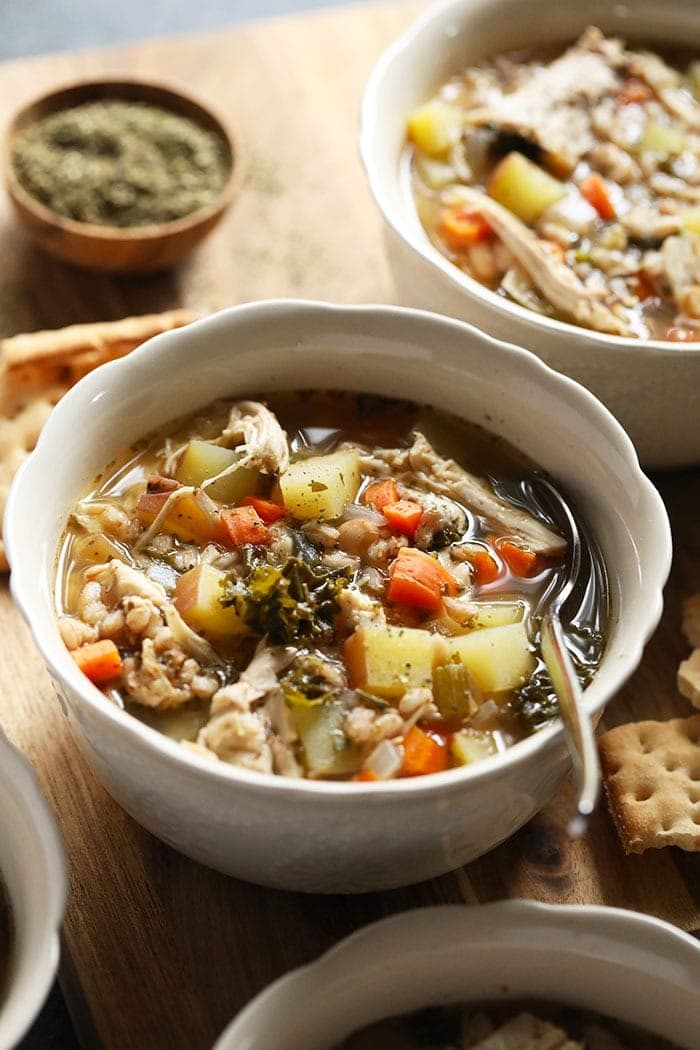 Kitchen Game Changer
You know we've been loving the Instant Pot for a long time now, but if you're still on the fence about this kitchen game changer, we're here to tell you: head to Walmart, and get yah self an Instant Pot by The Pioneer Woman. This all-in-one…
Pressure cooker
Slow cooker
Rice cooker
Steamer
Saute-er
Warmer
…is all our soup-loving hearts have dreamed of. Anyway, this Tuscan soup is the perfect combination of winter crops, yummy grains, lean protein and a delicious broth. All whipped up in the Instant Pot in under an hour. Can you say timesaver?!
If you're looking for a way to use up your Thanksgiving leftovers (specifically the turkey), THIS SOUP IS IT. Let's get into it:
Step 1: Cook Farro in the Instant Pot
First, pull your Instant Pot out of the cupboard (or no judging if you keep this cutie right on the countertop to brighten up your kitchen), and take your dry farro + water and cook it on high in the Instant Pot for 10 minutes.
It will cook to the perfect fluffy texture. If you haven't chopped and prepped your other ingredients already, now's the time to put your glass lid (seriously, why doesn't every Instant Pot come with one of these) on your Instant Pot to cover your cooked farro while you chop.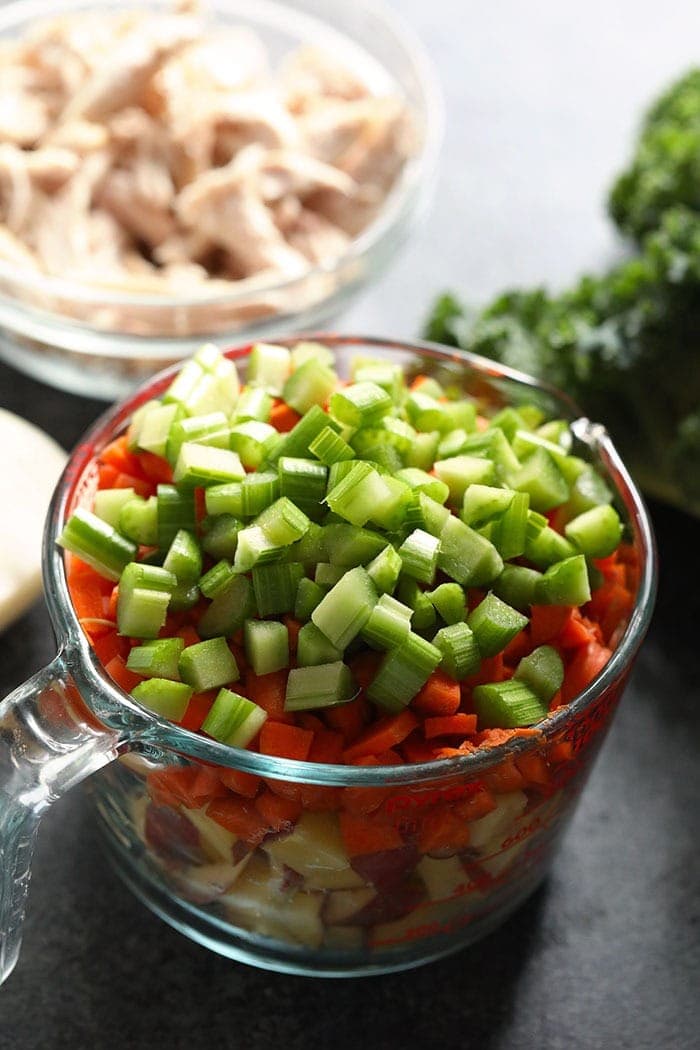 Step 2: Add Remaining Ingredients and Pressure Cook
Then, add the rest of your ingredients (minus the turkey) to the Instant Pot and cook on high for 2 minutes. Add your shredded turkey, and voila! That's seriously it. And now you have the most delicious Tuscan soup your tummy has every experienced.
Recipe Substitutions
This soup is perfect for leftover turkey, but should you not have any extra turkey on hand, you can absolutely use a store-bought rotisserie chicken or shredded chicken breasts instead.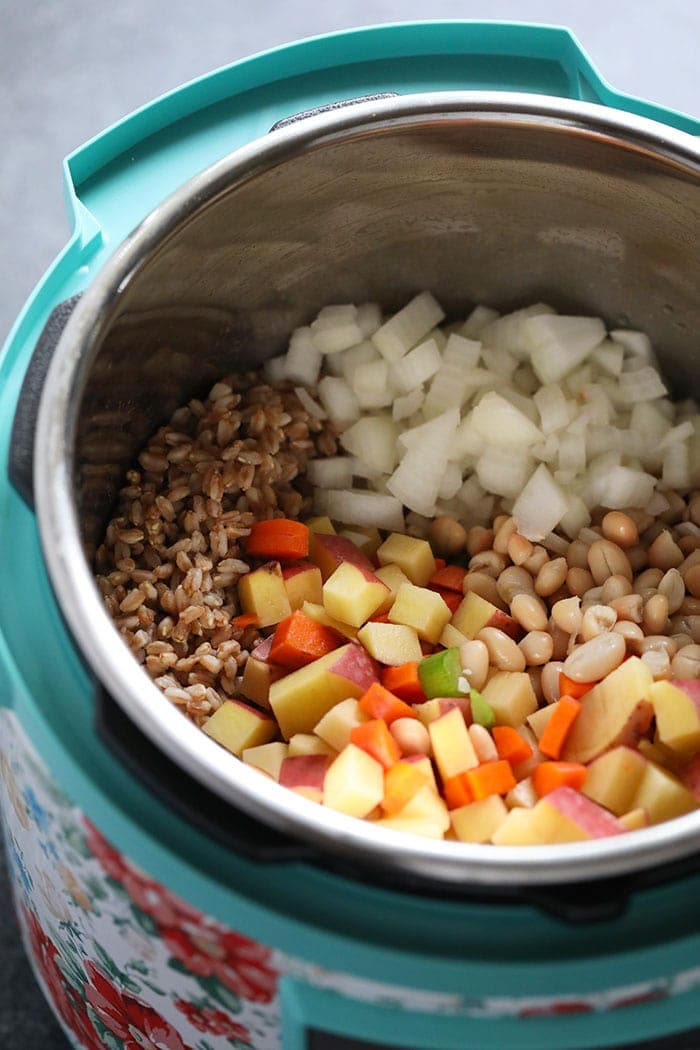 How to Store Tuscan Turkey Soup
Store your soup in an air-tight container in either the refrigerator or freezer. This soup will keep for 5-7 days in the fridge, or up to 3 months in the freezer.
How to Freeze Tuscan Turkey Soup
After letting the soup cool completely, pour soup into a freezer safe container. Here are a few things to keep in mind when preparing to freeze soup.
Pro Tip –>  Liquid expands when you freeze it so do not fill your freezer safe container all the way full. Leave 1-2 inches of space in a bag or container for the liquid to expand.
Pro Tip #2 –> If you are using a glass or plastic container, line the top of the soup with a piece of plastic wrap to reduce the risk fo freezer burn. The less air in the container the better.
Pro Tip #3 –> Don't forget to label the freezer safe container with an "eat by" date! Yes, this is important! You can keep frozen soup in the freezer for up to 3 months.
We suggest labeling the soup with that date to keep track of when you must eat the soup!
When Thawing Soup
When you are ready to reheat your soup, you have a couple of options!
Thaw in the refrigerator: If you have time to thaw the soup in the refrigerator, we suggest taking the soup out of the freezer and letting it thaw out on it's own in the refrigerator for 1-2 days.
Thaw in a water bath: If you need to expedite the thawing process, place your bag or container in a warm water bath until soup loosens from the side of the container. Pour soup (which might still be an ice block) into a large saucepan.
Heat over low/medium heat until soup thaws out completely. Add additional liquid and then bring to a boil and serve.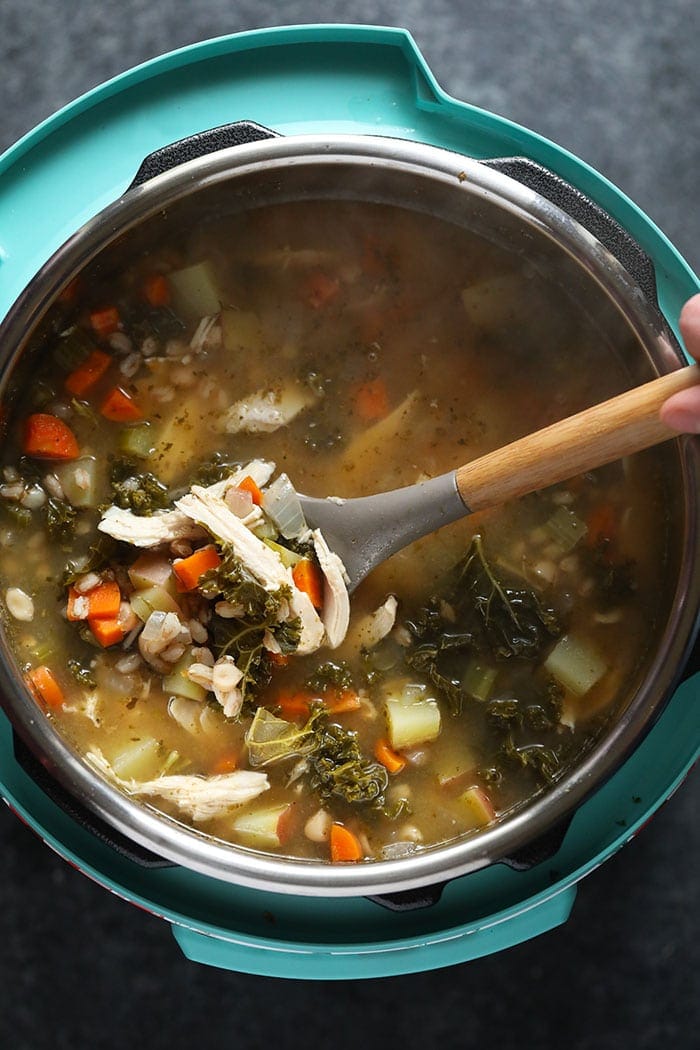 More Instant Pot Soups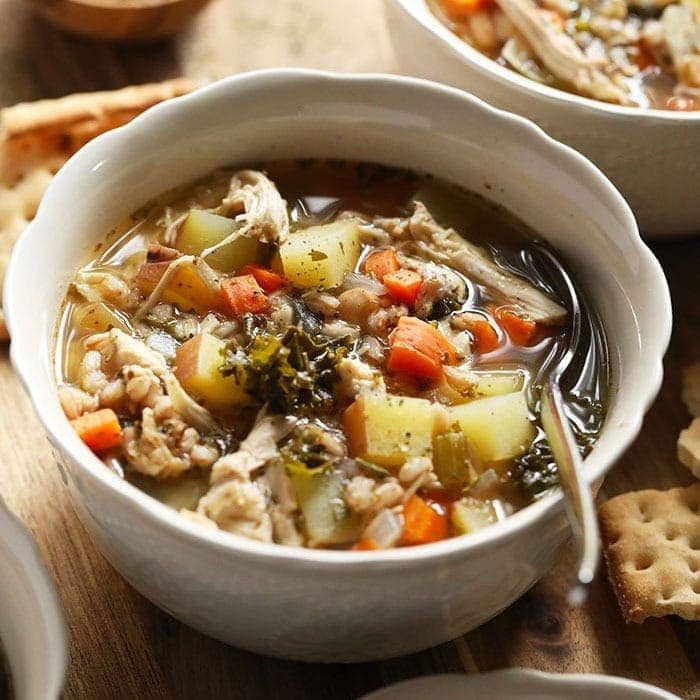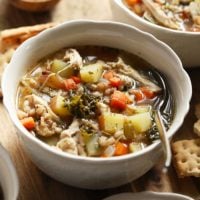 Tuscan Turkey Soup
This Tuscan Turkey Soup is the perfect recipe for turkey leftovers. It's packed with hearty vegetables, lean protein, a delicious broth, and made completely in the Instant Pot by The Pioneer Woman making this Instant Pot Soup a winner for all. You'll be making this soup all winter long.
Prep:
20 minutes
Cook:
1 hour
Total:
1 hour 20 minutes
Fat
12
Carbs
50
Protein
23
Ingredients
1 cup

farro

2 cups

water

3

celery stalks, diced

4

medium carrots, finely diced

1/2

large yellow onion, finely diced

6

small red potatoes, diced (or

3 cups

diced)

1

15-oz can white northern beans

2

stalks kale, deboned and chopped

3 cups

of leftover turkey (or rotisserie chicken)

3 tablespoons

Italian seasoning

2 teaspoon

garlic powder

2

bay leaves

1 teaspoon

salt

1/2 teaspoon

ground pepper

1 tablespoon

white vinegar

2

–

3

tablespoon hot sauce (or sub more vinegar)

8 cups

chicken broth
Instructions
First make the farro. Combine water and farro in your Instant Pot and close lid. Turn the valve to seal and cook on high for 10 minutes. Immediately open valve to vent in order to quick release.
Add the rest of the ingredients (minus the turkey) to the Instant Pot and close lid. Turn the valve to seal and cook on high for 2 minutes. It should take 20-30 minutes for the Instant Pot to start counting down due to the amount of contents in the Instant Pot. Once the timer goes off, open the valve to vent and quick release.
After all of the steam has let out of the Instant Pot, open the lid and stir in the turkey and serve.
Tips & Notes
The second time you turn the Instant Pot on, it will take longer to heat up due to the volume of ingredients in the soup.
Option to sub rotisserie chicken for the leftover turkey.
Nutrition Facts
Serving Size:
1/8
Calories:
319
Sugar:
4
Fat:
12
Carbohydrates:
50
Fiber:
3
Protein:
23
Category:
Dinner
Method:
Instant Pot
Cuisine:
American
Keywords: Instant Pot Soup, Turkey Soup
This is a sponsored conversation written by Fit Foodie Finds on behalf of Walmart. The opinions and text are ours.