Forget the subway party platter and make this Grilled Roasted Red Pepper, Pesto, & Turkey sandwich! It is perfectly toasted on the grill and a great meal for the family or a larger group at a bbq!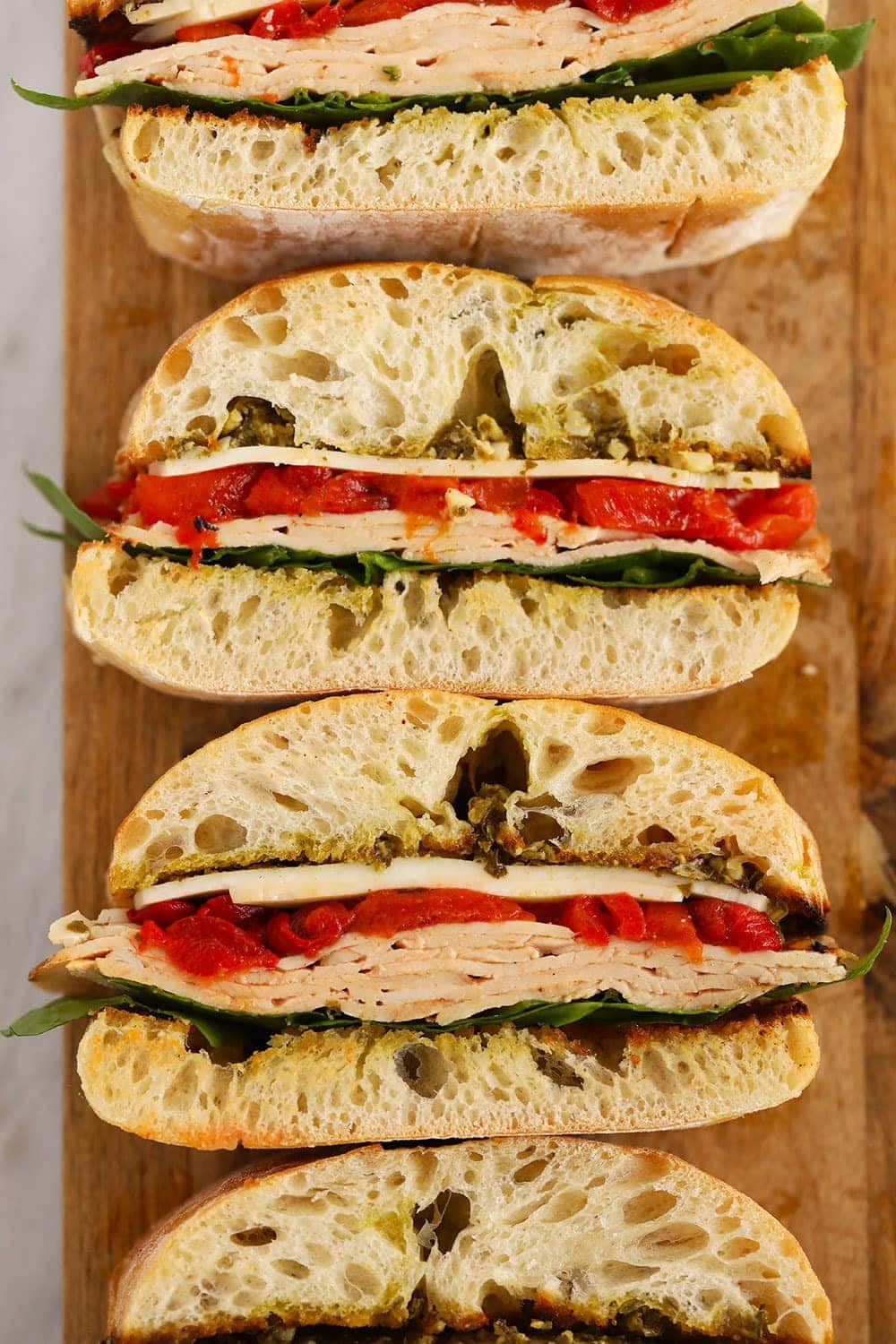 Let's Make Party Sandwiches
Who doesn't love a good sandwich? I love a delicious veggie and cheese packed sandwich on delicious crunch bread! You just can't go wrong!
When you have to serve a larger group of people (more than four) why not make a big ole' party sandwich on the grill?  This grilled roasted red pepper, pesto, and turkey sandwich recipe is meant to serve a small group of people all at one time!
Ingredients You Need
We kept this sandwich simple, but PACKED with flavor! Here is everything you'll need.
A loaf of ciabatta bread
Olive Oil
Deli Turkey
Provolone Cheese
Roasted Red Pepper
Fresh Spinach
How to Make a Grilled Sandwich
Making a grilled sandwich is quite simple! All you have to do is cut whatever bread you decide to use in half the long way and oil it up. From there, you place the bread on the grill open faced down and grill for 3-5 minutes.
From there, you remove the bread from the grill and add the innards!
This grilled sandwich is a mix of warm and cold. Meaning, the bread is going to be crunchy and warm and the ingredients are going to be crisp, fresh, and cold!
If you feel like you want ALL your ingredients to be warm, go ahead and follow the directions in the recipe card for grilling the bread, adding the innards, and then place the whole sandwich in a tin foil boat.
Then seal the tin foil so no air can escape and place the sandwich on the grill for an additional 5 minutes. This will melt the cheese, wilt the spinach, and warm up the meat!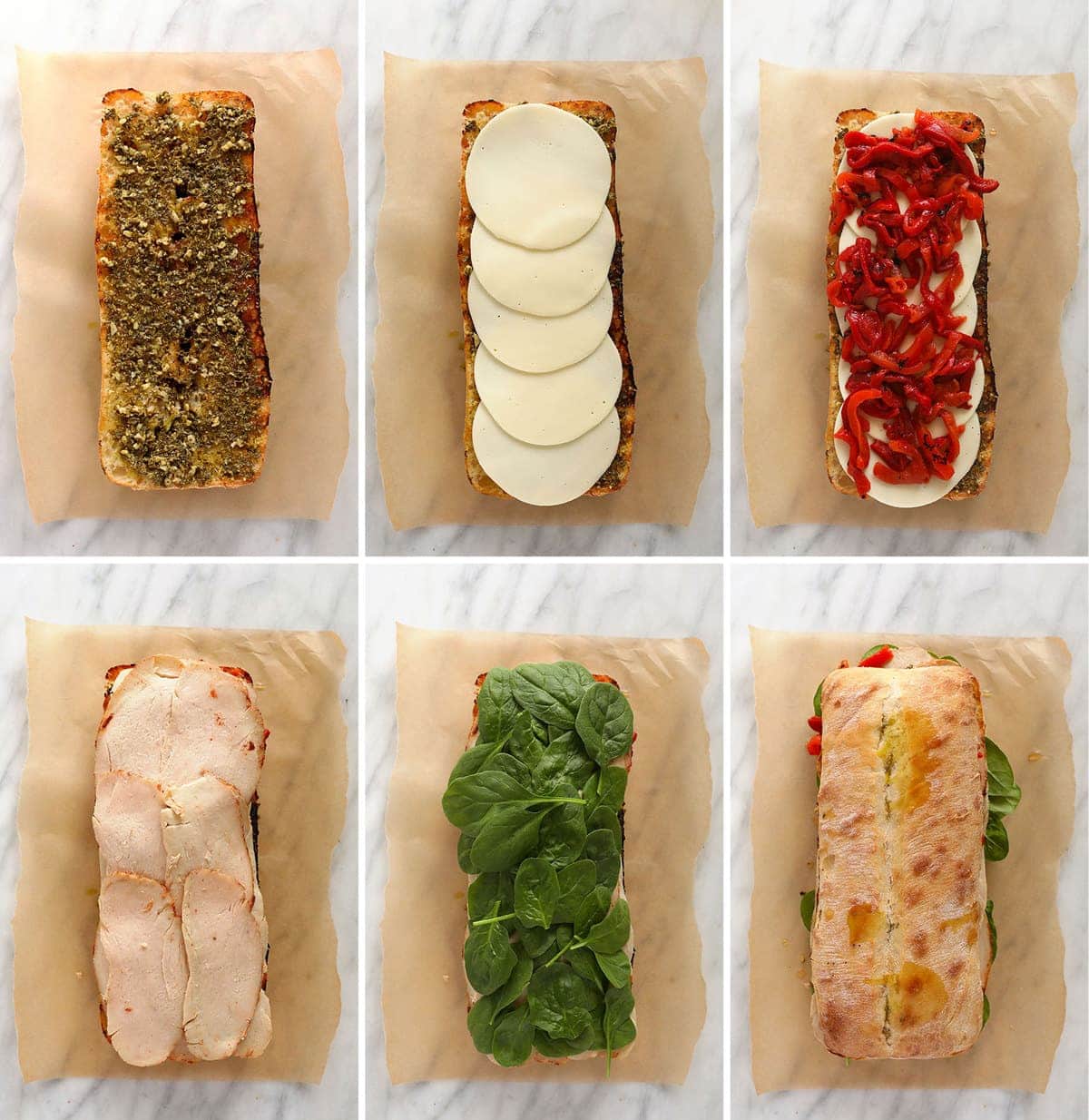 Dos + Dont's
DO choose what ever bread you want. We used ciabatta, but you could use a french loaf, Italian loaf, or any loaf you can get your hands on!
DON'T leave the grill unattended while grilling the bread. The bread will grill very quickly if the grill is hot! You don't want to end up with burnt bread. Also, be cautious that you don't add too much olive oil. You want to avoid a grill oil fire!
DO use whatever deli meat you want! Don't have turkey? Use your favorite deli meat or go vegetarian and add cucumbers, tomatoes, or any other delicious veggies!
DON'T skip the pesto! The pesto gives this sandwich amazing flavor! Feel free to use store bought or make our homemade pesto!
DO meal prep this sandwich! This sandwich will last for up to 3 days in the refrigerator if you store it in an air tight container!
What to Serve with a Sandwich
Everyone has a personal preference when it comes to what to serve with a tasty sandwich! Below are our recommendations for our favorite side dishes!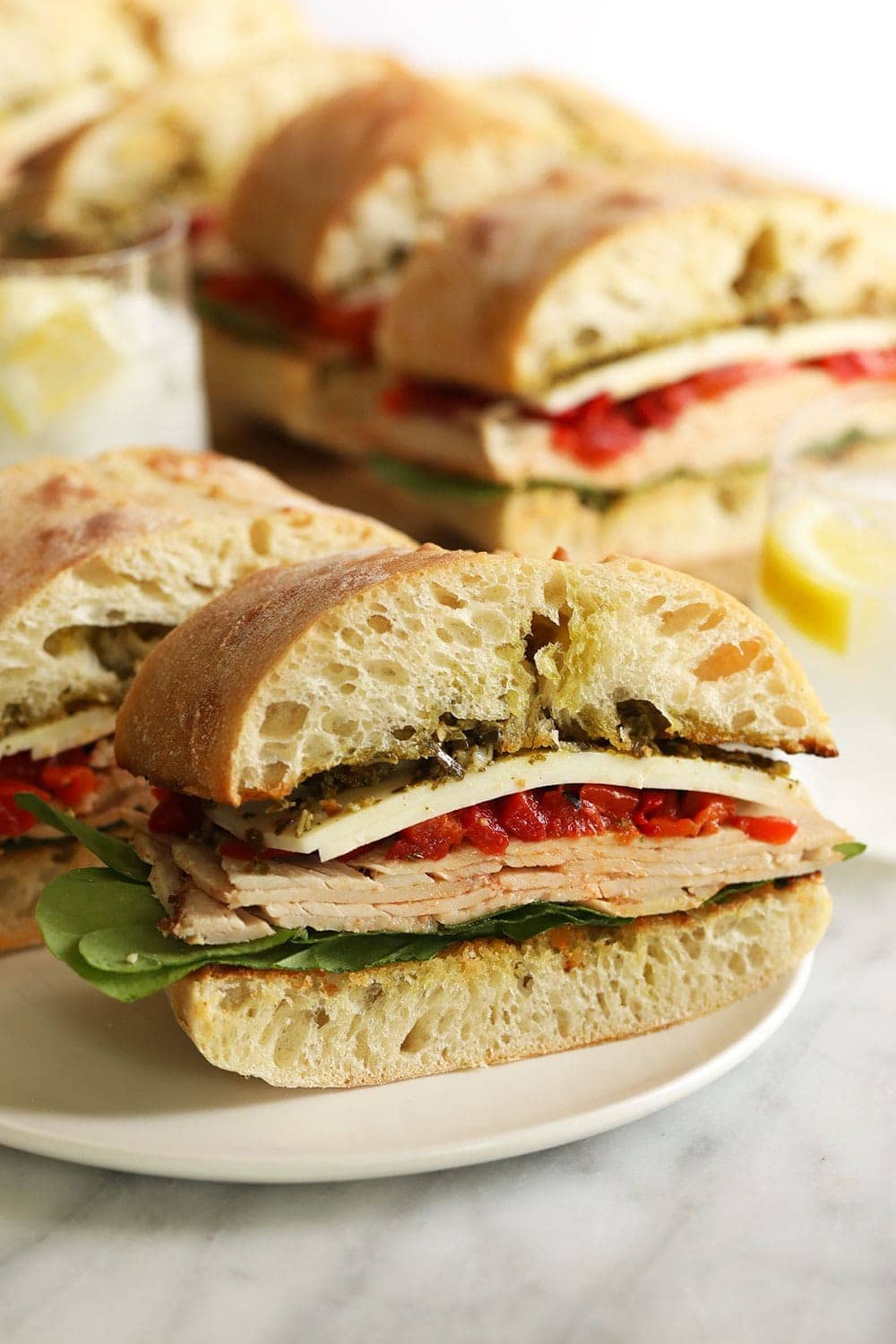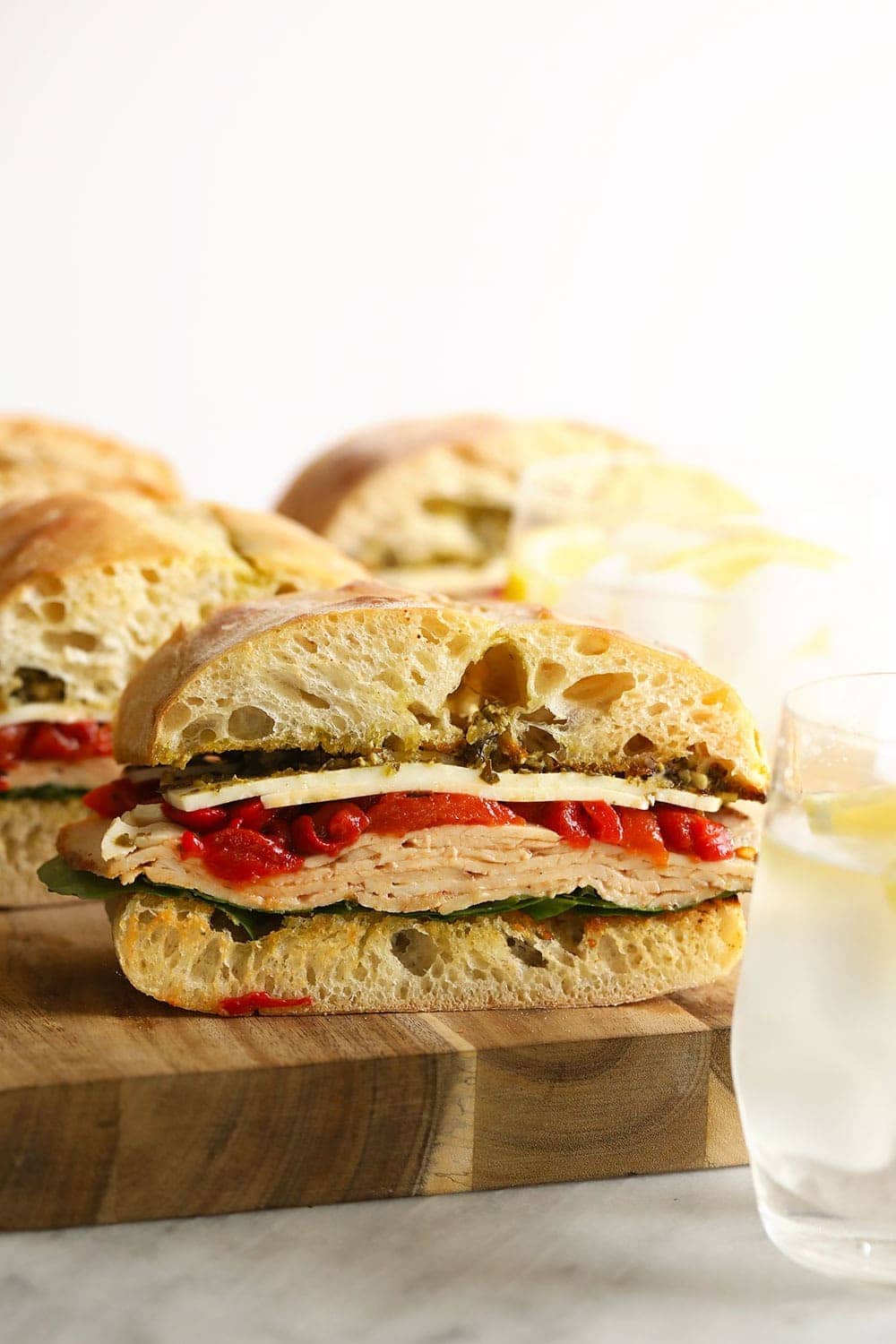 Sandwich Recipes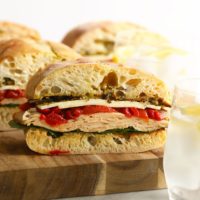 Grilled Roasted Red Pepper, Pesto, and Turkey Sandwiches
Forget the subway party platter and make this Grilled Roasted Red Pepper, Pesto, & Turkey sandwich! It is perfectly toasted on the grill and a great meal for the family or a larger group at a bbq!
Ingredients
14

oz.

ciabatta loaf

sliced in half

2

tablespoons

olive oil

1/4

cup

pesto

1/3

lb.

sliced provolone cheese

5

oz.

jarred roasted red pepper

1

lb.

sliced deli turkey meat

2

handfuls of spinach
Instructions
Begin by heating your grill to 400ºF. Next slice your loaf of ciabatta bread in half, hotdog-style.

Brush about a tablespoon of olive oil onto each side of the bread. Grill for 3-5 minutes, open face-down to toast bread. Make sure to watch closely. Once browned, remove from heat immediately.

Place the bottom of your ciabatta bread onto a large cutting board or baking sheet. Spread on 1/4 cup of pesto and then evenly spread out provolone cheese.

Use a fork to spoon on around 5 oz. roasted red pepper slices. If you have a 10 oz. jar, this is half the jar. Next, evenly distribute turkey deli meat. Finally, place 2 handfuls of spinach on top of the turkey.

Place the ciabatta top onto the sandwich and then use a cerated knife to carefully cut into 6 portions.
Tips & Notes
Broil option: Turn broiler on high. Place the two halves of the bread open face up on a baking sheet and drizzle with olive oil. Place into the oven and broil for 2-4 minutes. Time may vary depending on broiler.
Nutrition facts
Calories:
444
kcal
Carbohydrates:
34
g
Protein:
31
g
Fat:
20
g
Fiber:
2
g
Sugar:
2
g