Are you ready for the easiest Grilled Pesto Chicken Skewers of your dreams? To make these pesto grilled chicken skewers all you need is 2 ingredients and a grill, so let's go!
PS: check out our homemade pesto in case you want to make your own for this recipe. Serve your pesto chicken with one of our bbq sides such as: Mexican Street Corn Salad, Baked Potatoes, or Grilled Peppers and Onions.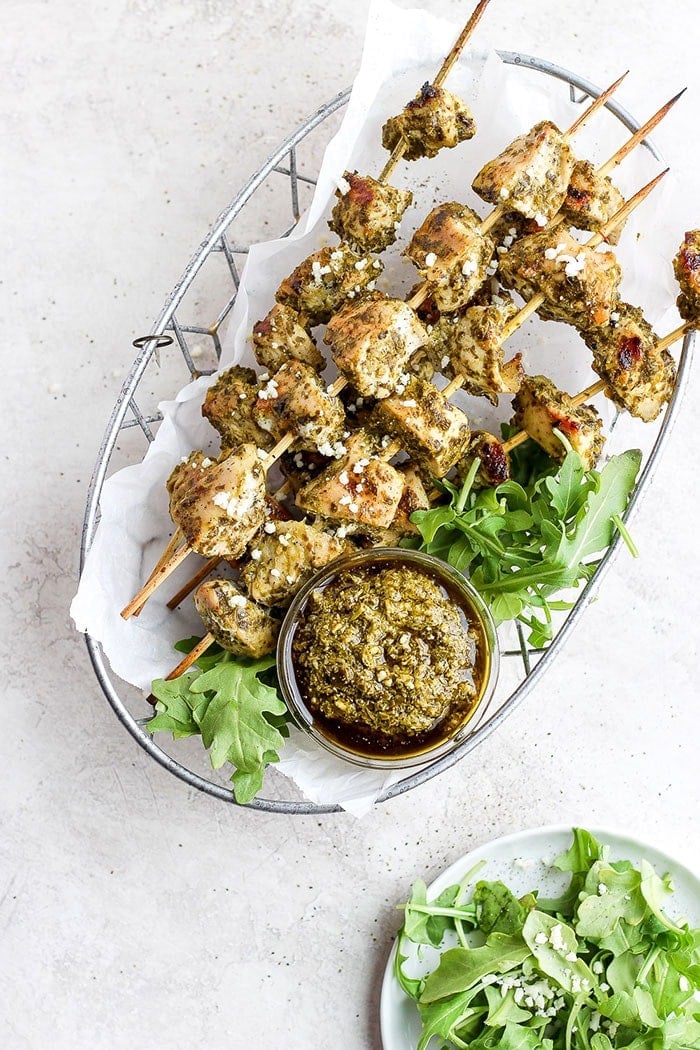 Easy Dinners are the Best
You know the feeling when you get home from a long day of work and the last thing you want to do is cook? I know that feeling. Life can be busy, but dinner time doesn't have to add to the stress. We have so amazing healthy meal prep ideas on FFF that can make any meal time a breeze.
We love recipes that have minimal ingredients and recipes that use ingredients we already have in our pantries. To make dinner time easy we like to follow a couple of guide lines.
Tips + Tricks for Easy Dinners
Stock your pantry- Easy and healthy dinners last minute are made easy if you already have everything you need in your pantry. Once a month, try your best to take a look in your pantry and have it stocked and ready with ingredients that will make your life easier!
quinoa
vegetable broth
Italian seasoning
garlic powder
nut butter
pesto
Plan ahead- You don't have to pre-plan every single meal throughout the week, but it helps to have one or two meals planned so you can rest easy. At the beginning of each week, take a look at what you have in your kitchen and choose a couple of great recipes on FFF!
Get excited- Choose meals and snacks for the week that you can look forward to! Choose your favorite ingredients and flavors or maybe try something you've always wanted to try!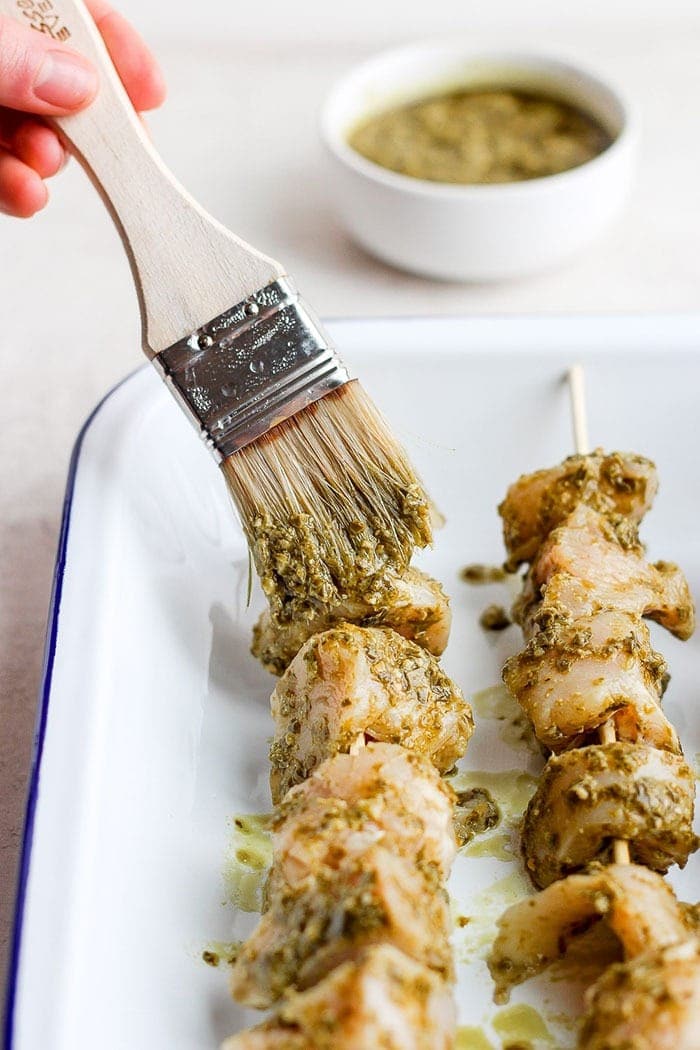 Grilled Pesto Chicken Skewers
These delicious grilled pesto chicken skewers are going to change your life! Guess how many ingredients you need to make these bad boys. TWO, all you need are two ingredients!
Chicken breast
Pesto
You have a couple of options when it comes to the pesto! We have an amazing 5-minute pesto recipe on FFF that you can whip up. Throw all the ingredients in the blender and blend. You can make our 5-minute pesto the day of this recipe or it could be part of your pantry prep! We like to make our 5-minute pesto, freeze it in ice cube trays and have pesto on hand for rainy days or for recipes like these grilled pesto chicken skewers.
If you don't have the time to make your own pesto store-bought pesto is another great option! It is helpful to keep a jar of homemade pesto in your pantry at all times!
Whether you use FFF's pesto or a store-bought pesto it's great for this recipe or other recipes like this pesto chicken meal prep or in this creamy greek pasta salad.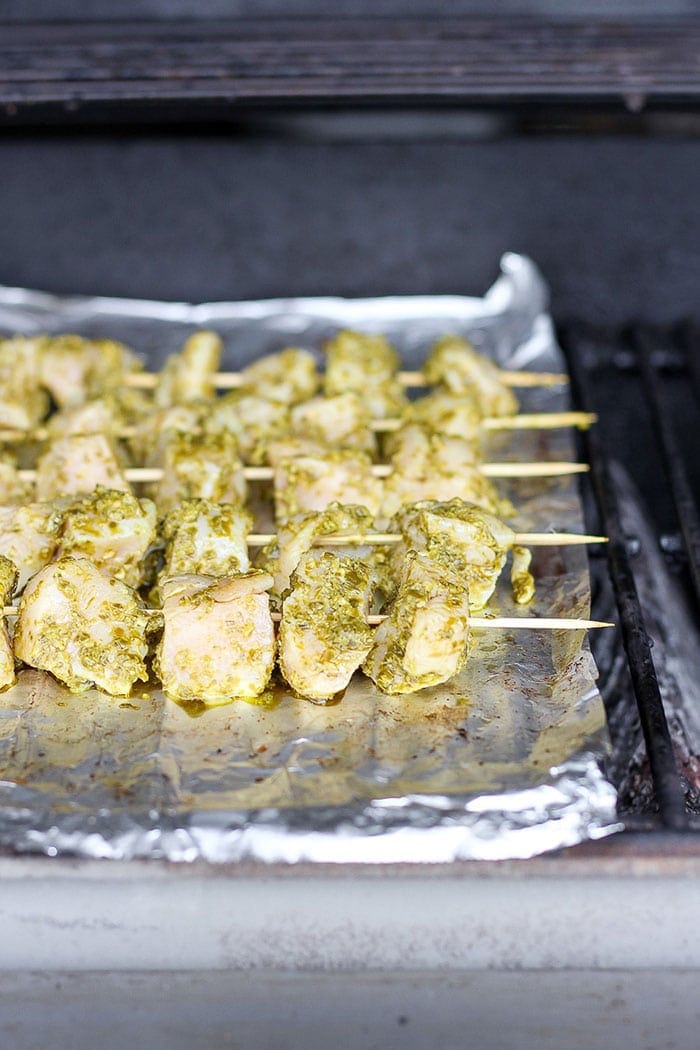 How to Make Grilled Pesto Chicken Skewers
All you have to do is cut the chicken into 1-inch chunks, place your chicken breast in a bowl or a plastic bag and pour pesto over the chicken. Stir the chicken so that the chicken is covered with pesto and let it marinate for at least 30 minutes or for up to 24 hours.
Preheat the grill at 350ºF. After chicken has marinated place the chicken chunks onto wooden skewers and place on the grill. Place tin foil on the grill and place chicken onto the tin foil. Grill for 30 minutes flipping every 10 minutes. Remove from the grill and serve with your favorite side salad.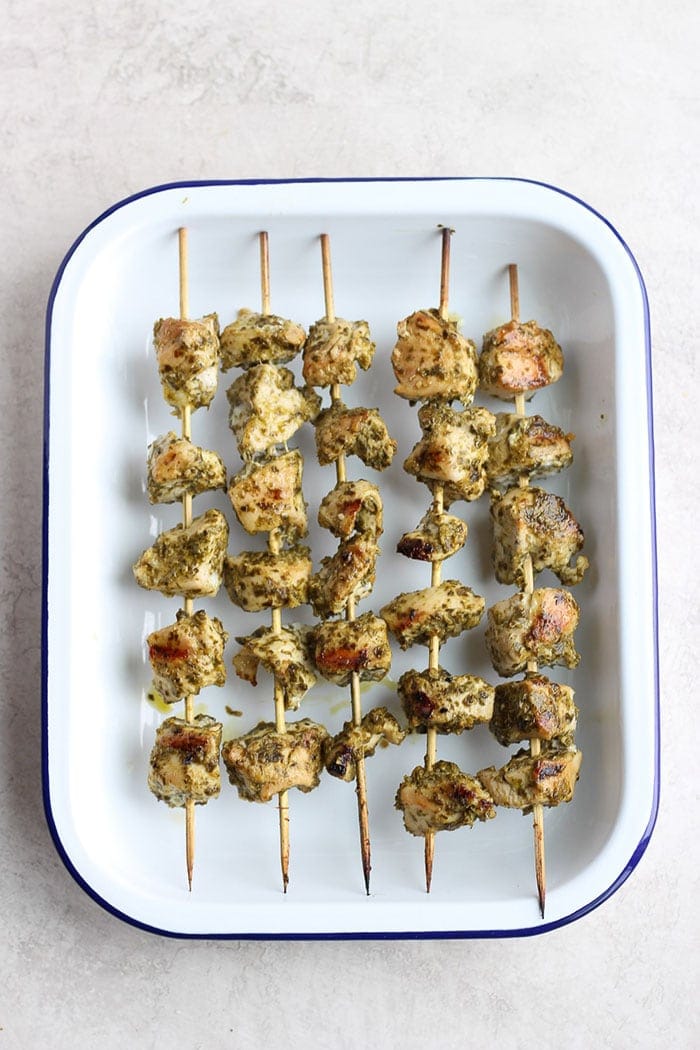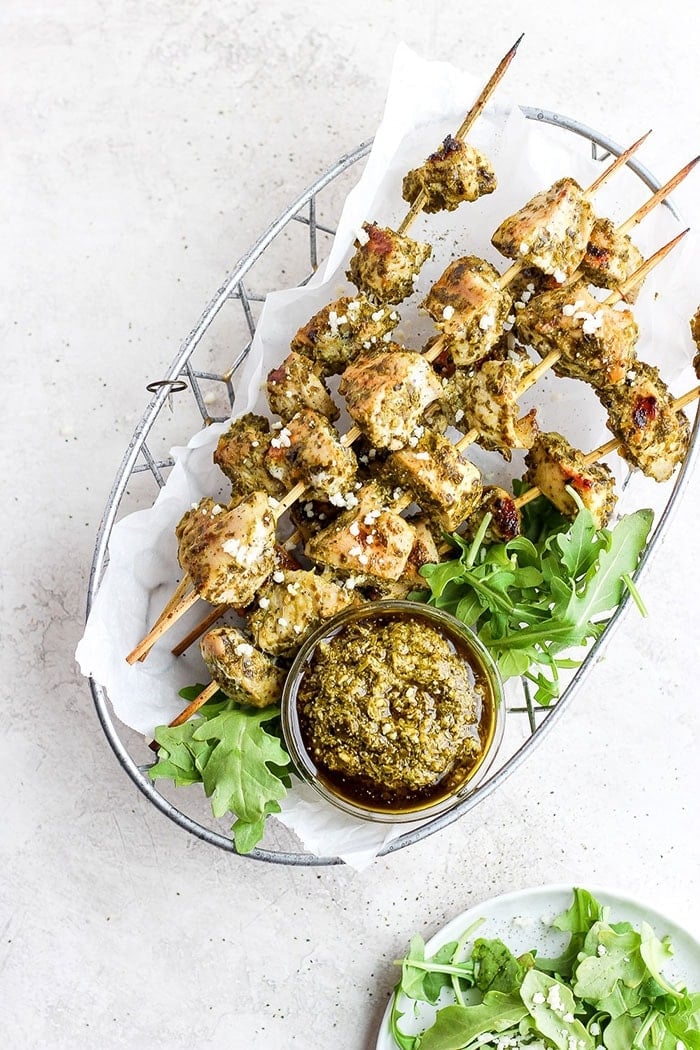 Easy Chicken Recipes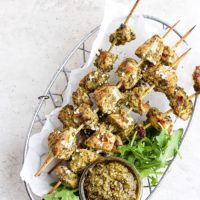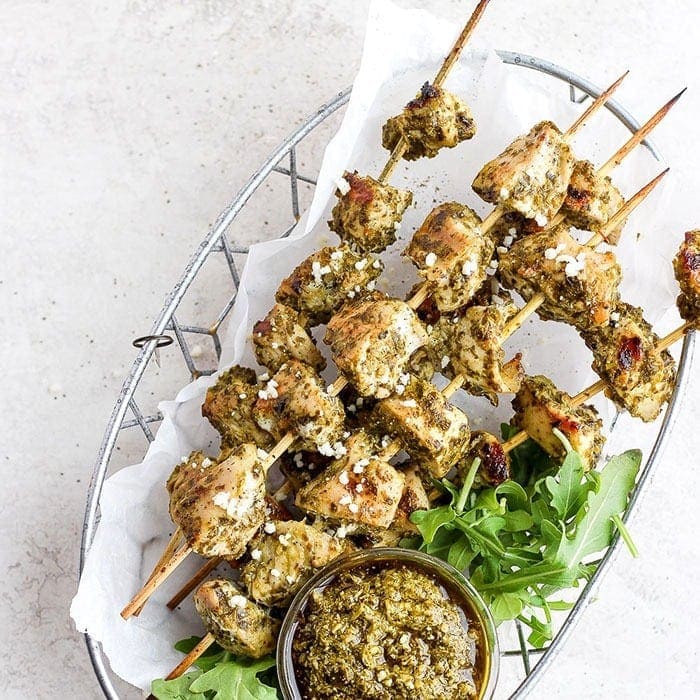 Grilled Pesto Chicken Skewers
Are you ready for the easiest Grilled Pesto Chicken Skewers of your dreams? To make these pesto grilled chicken skewers all you need is 2 ingredients and a grill, so let's go!
Prep:
40 minutes
Cook:
30 minutes
Total:
1 hour 10 minutes
Ingredients
1

lb. boneless, skinless chicken breast

½ cup

of homemade pesto (or any kind of pesto)
Instructions
Preheat the grill to 350ºF and lay down a piece of tin foil.*
Next, prep chicken by slicing into 1 to 1.5 inch chunks. Transfer diced chicken into a large bowl.
Pour pesto into the bowl with the chicken and stir until all of the chicken chunks are covered in pesto.
Slide chicken breast onto skewers. You'll be able to make 5-6 skewers. Place skewers onto aluminum foil on the grill and close grill over.
Grill at 350º for about 30 minutes flipping the skewers every 10 minutes.
Tips & Notes
*You can also bake these in the oven at 350ºF on a greased baking sheet
Nutrition Facts
Serving Size:
1/4
Calories:
275
Sugar:
0
Fat:
15
Fiber:
0
Protein:
37
Category:
Dinner
Method:
Grill
Cuisine:
American
Keywords: chicken skewers
Photo credit: The Wooden Skillet