Our veggie-packed Thai Salmon Salad made with miso paste, fresh ginger, tons of veggies, and the most amazing sesame maple roasted cashews.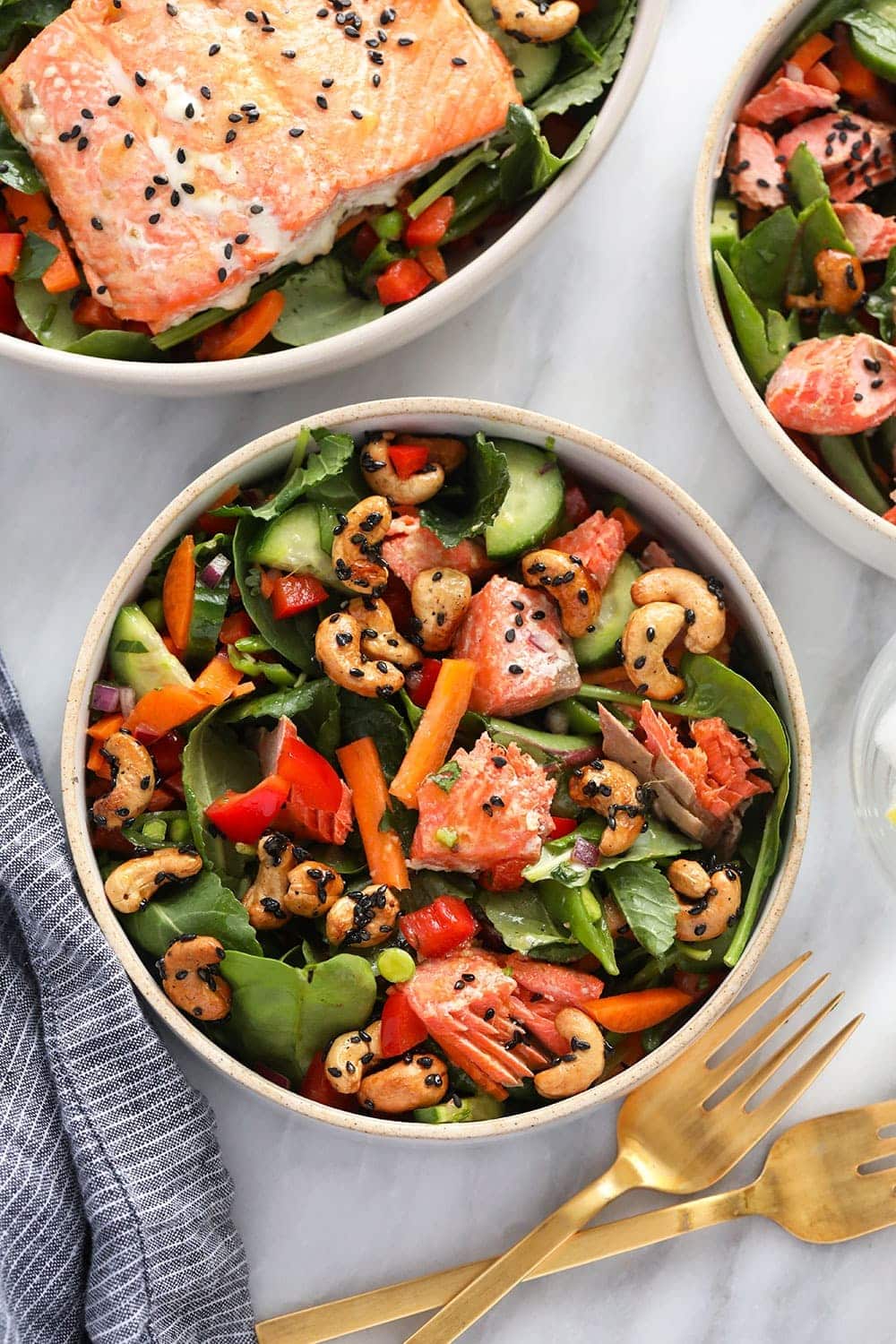 Talk about all my favorite things in one salad! If you're all about packing in protein, veggies, and healthy fats all into one meal, then you are going to adore this Thai Salmon Salad.
Why Make This Salad
Healthy Fats: salmon packs all the omega-3 fatty acids and cashews are also rich in healthy fats.
One-Pan Roasting: In addition to a cutting board, and a small bowl all, you need is 1 pan to roast both the salmon and the cashews. Heck yeah!
Fresh Flavor: there's no need to cake this salad with tons of dressing, sugar, or additives because most of the flavor is going to come from the salmon and fresh veggies.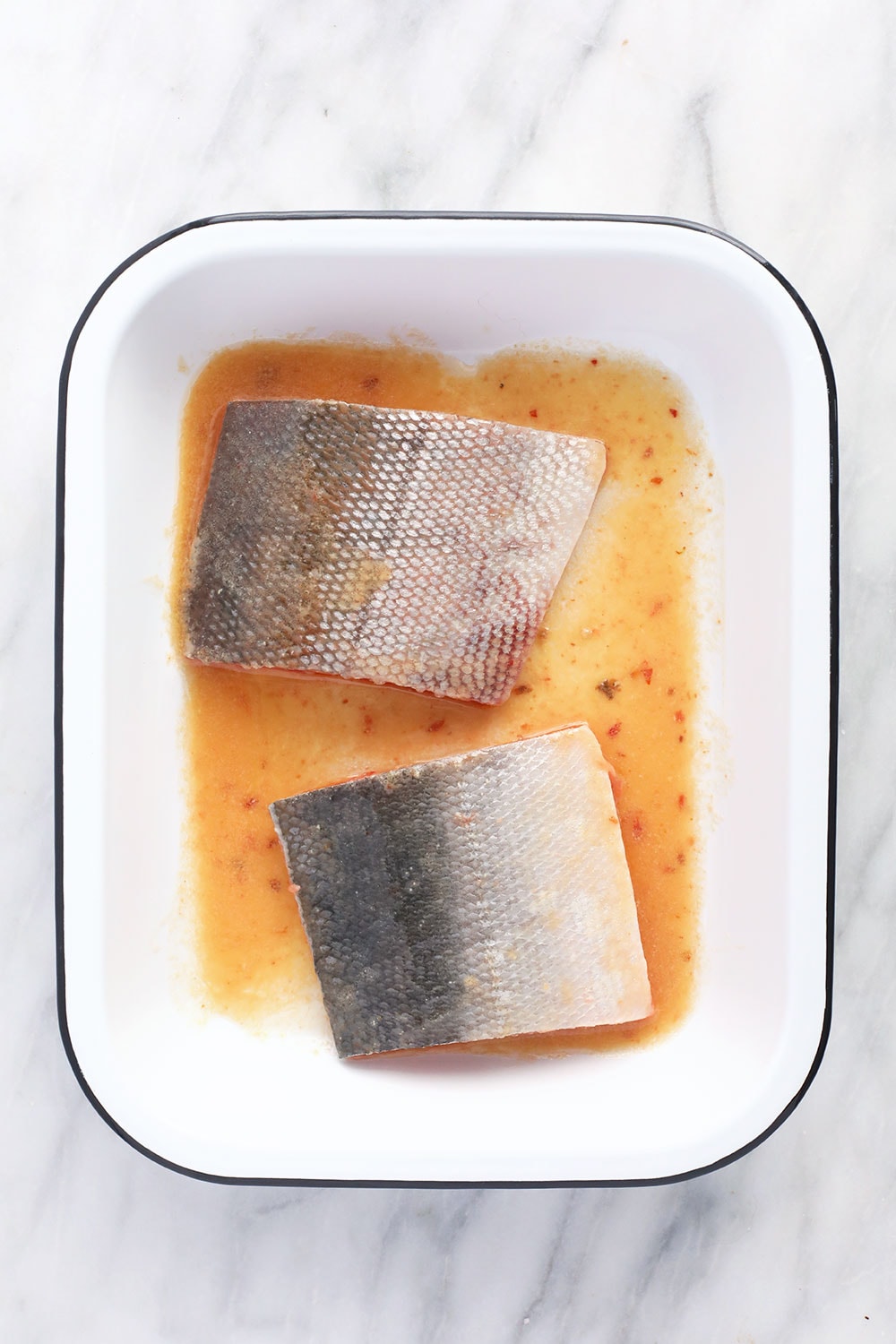 The Marinade
An easy way to add flavor to pretty much any kind of meat or fish is to marinate it before cooking. From homemade teriyaki sauce to a citrusy shrimp marinade, making your own marinade is always the way to go.
Why? Well, you can control how much salt and sugar are in the marinade as well as additives. Make it at home and you likely won't even use additives.
What you need
grapeseed oil (or any other neutral oil)
sesame oil
white miso paste
water
freshly grated ginger
red chili sauce
Where can you buy miso paste? The easiest place to buy miso paste is on Amazon (here's what we used), of course. You can also find it at Whole Foods, in many Asian grocery stores, and co-ops.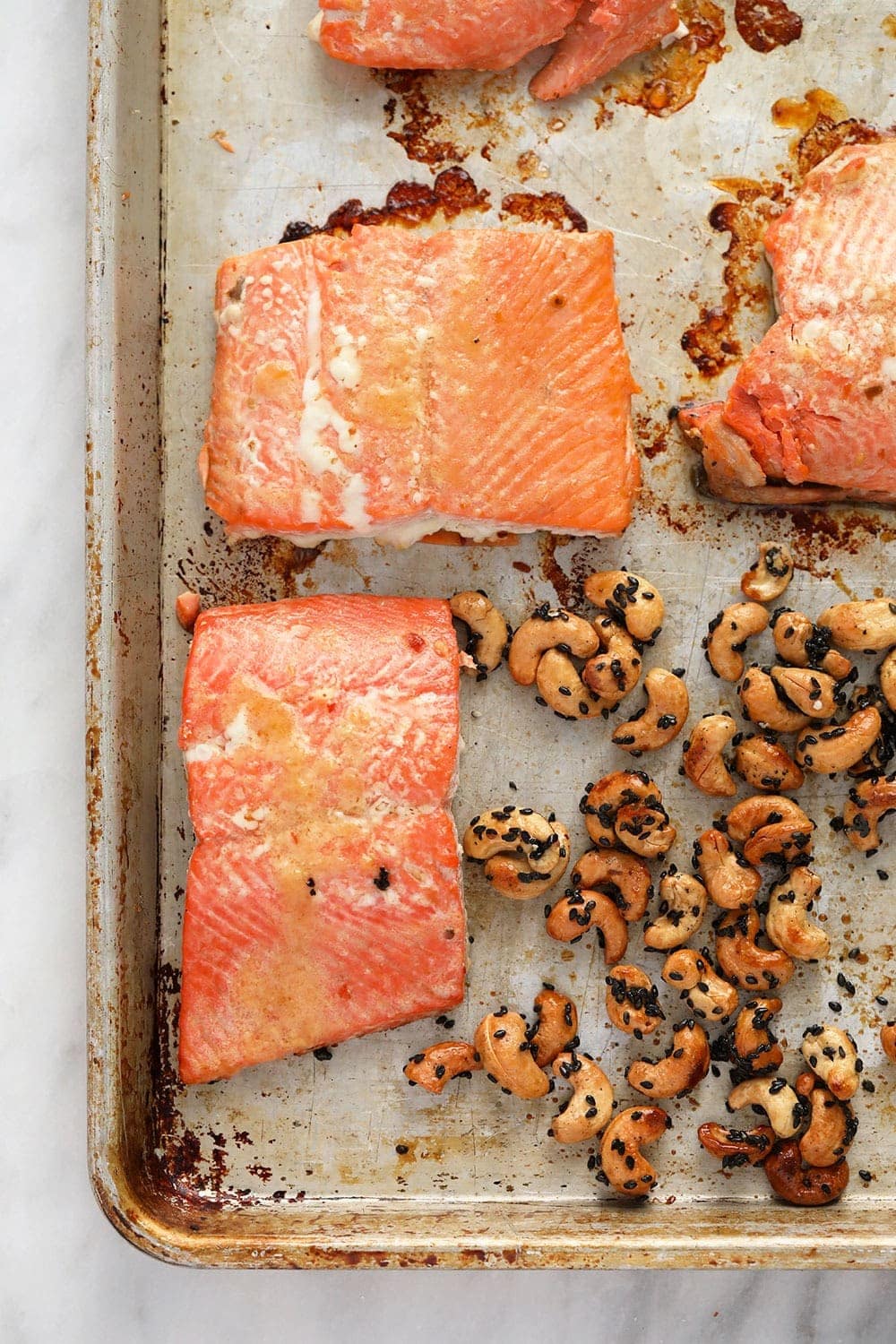 What else you need:
Salmon
Obviously salmon is one of the most important ingredients in this recipe. Where you buy your salmon matters. It matters for your body and for the environment! Make sure you look for salmon that is "wild-caught."
Our favorite brand? Surrender Salmon! It's Alaska-based salmon, but a Minnesota-based company. YAS.
This recipe calls for 4 4-oz. filets. If you'd like to use one big filet that is not cut up into 4-oz. chunks, be my guest! Just make sure it's around 1 1b.!
Veggies
One of the reasons why I love this salad so much is because it's like a rainbow of fresh veggies…crunchy and delicious. The base of the salad is your favorite green. We used baby kale, but also recommend spinach and arugula. Here's what you need:
carrot sticks
snow peas
English cucumbers
red bell pepper
red onion
Cashews
The cashews, in my opinion, are really the star of the show. We were inspired by our sesame roasted cashews recipe to not only add a little sweet but a little bit of crunch. They are a little bit of effort, but I promise you they are worth it 100%!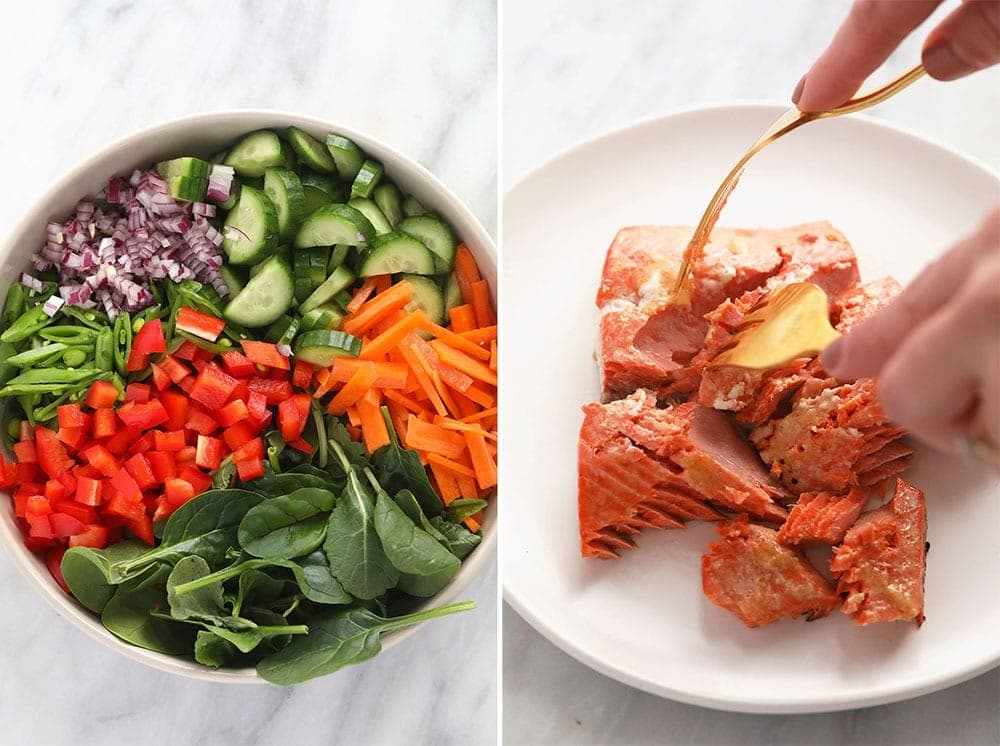 More Salads to Try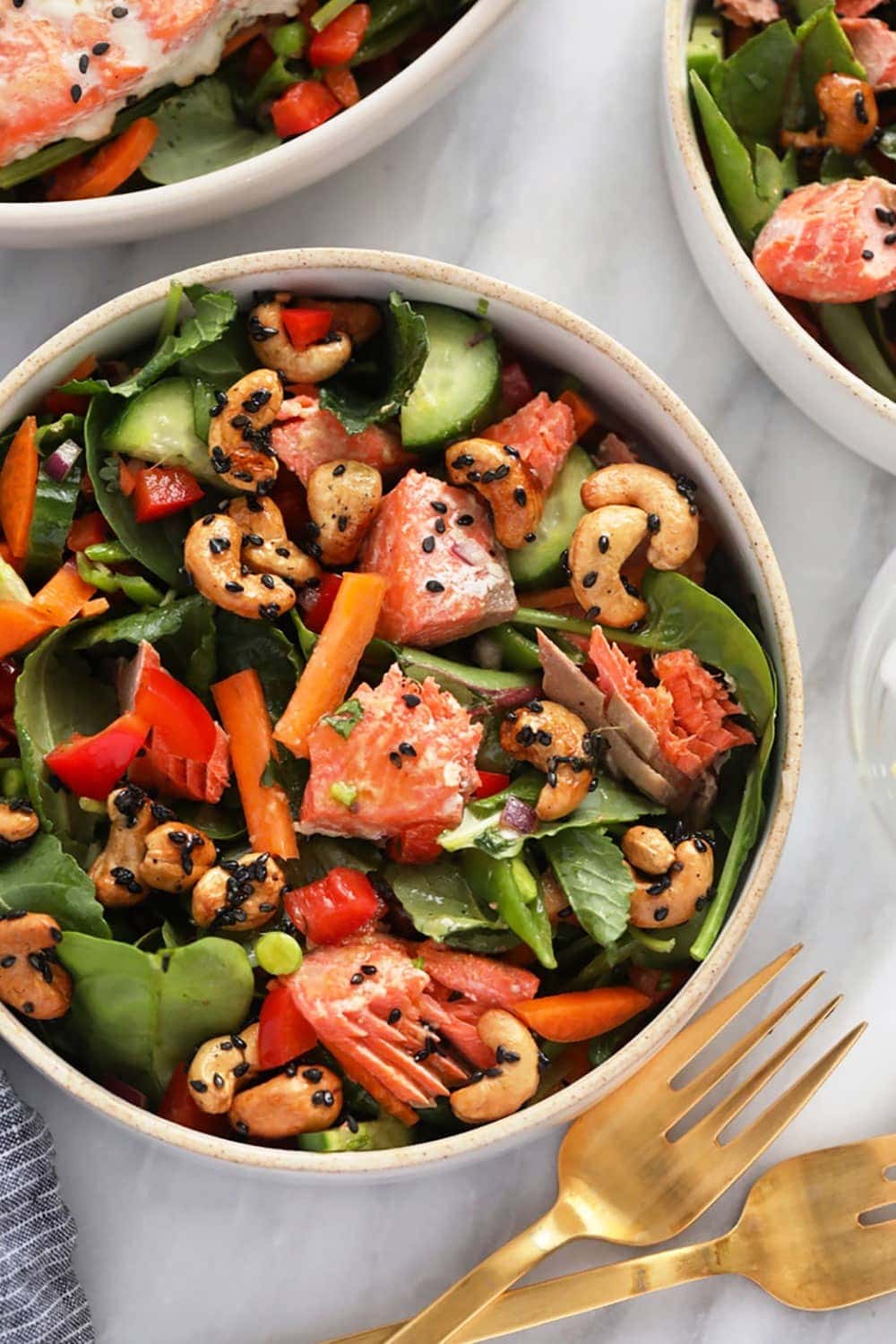 More Salmon Recipes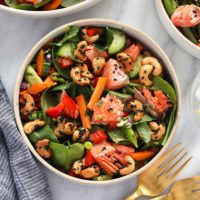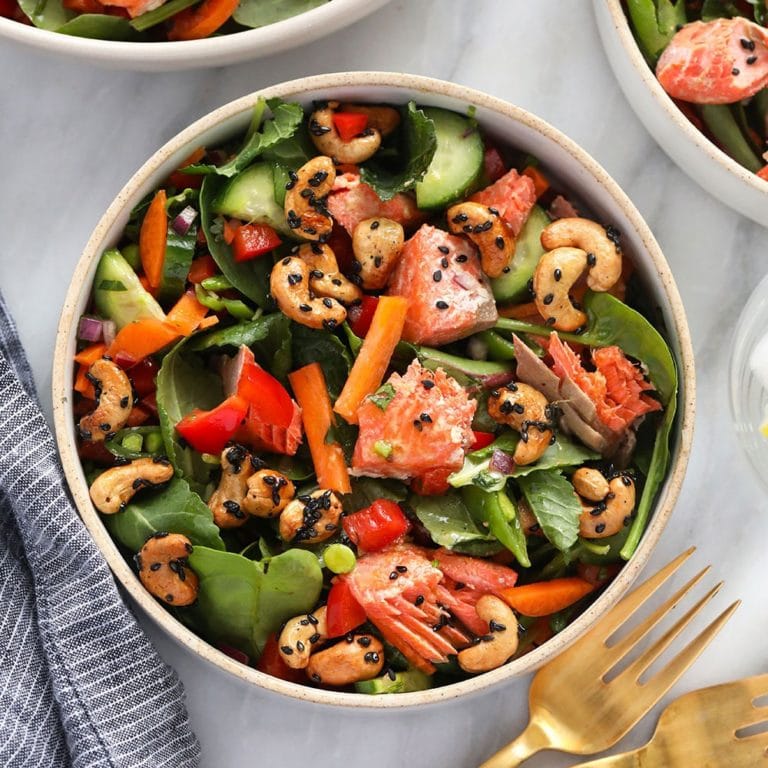 Thai Salmon Salad Recipe
Our veggie-packed Thai Salmon Salad is made with miso paste, fresh ginger, tons of veggies, and the most amazing sesame maple roasted cashews.
Ingredients
Instructions
Begin by whisking together all of the ingredients for the salmon marinade in a small bowl. Set aside.

Next, remove the moisture from each salmon filet by blotting each side of the salmon with paper towel. Then, place the salmon in a bowl or on a plate skin-side up.

Pour the marinade over the salmon filets and let the salmon marinate for at least 15 minutes.*

While salmon is marinating, preheat the oven to 400ºF and spray a baking sheet with nonstick cooking spray.

Then, prepare the salad and dressing. Place all salad ingredients into a large bowl. Toss ingredients together and set aside. Place all of the ingredients for the dressing into a jar and shake to comebine. Then drizzle the salad with dressing and toss. Set aside.**

Once the salmon has marinated, place salmon filets onto one half of a greased baking sheet skin side down and bake for 10 minutes.

While the salmon is baking, prepare the cashews. Place cashews in a small bowl and drizzle them with maple syrup. Stir the cashews and the maple syrup together until the cashews are coated. Sprinkle with sesame seeds and toss again. Set aside.

Next, remove the baking sheet from the oven after 10 minutes and spread the cashews out on the empty half of the baking sheet and bake for an additional 7-10 minutes.

Remove baking sheet from the oven and let salmon cool for about 5 minutes. Then flake the salmon into chunks with two forks.

To assemble the salad, evenly distribute the salad into four separate bowls and top each salad with salmon and cashews. Enjoy!
Tips & Notes
*The longer you marinate the salmon, the more flavorful it will be.
**If you are meal prepping this recipe, wait to add the greens and dressing until immediately before serving.
Nutrition facts
Calories:
569
kcal
Carbohydrates:
23
g
Protein:
38
g
Fat:
36
g
Fiber:
5
g
Sugar:
11
g