Oh breakfast, the meal of all meals. Breakfast is something that I've always been a lover of. I'm not going to lie, as a child, I was a HUGE cereal fan and I still am. However, I remember going crazy with the Cocoa Puffs and…my all time favorite, HoneyComb! There's just something about sweet, crunchy cereal that makes me want to eat it until all of the milk in my bowl is completely gone.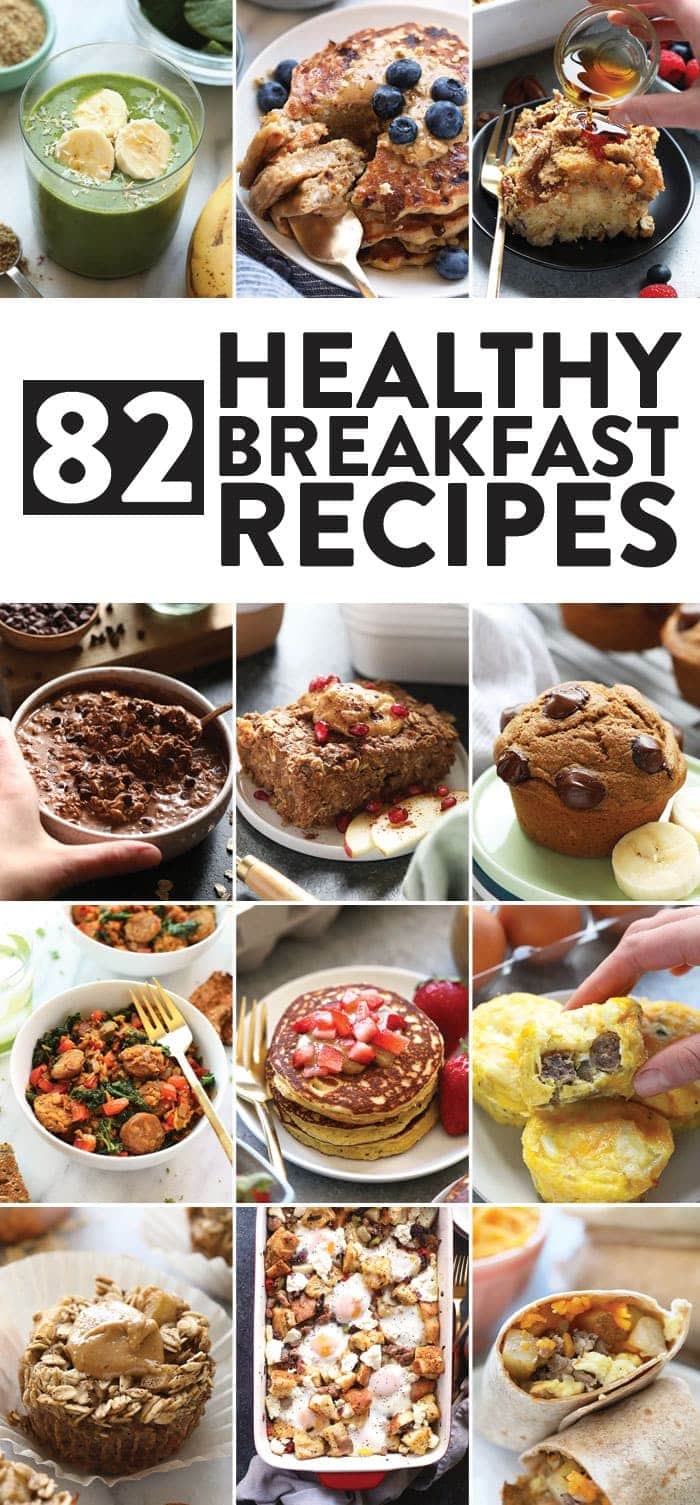 Today we're talking all things breakfast! We have hundreds of breakfast options here on Fit Foodie Finds and we're rounding up not only our favorites but fan favorites!
What is a Balanced Breakfast?
We know sometimes it's easier to just grab a bar and go instead of taking the time to make a breakfast, but there really isn't anything better than a homemade balanced breakfast from your own kitchen. You guys know we are all about balance here at Fit Foodie Finds. This means eating as healthy as possible…for the most part! When it comes to breakfast, we strive to get a little bit of everything: whole grains, protein, fruit, veggies, and fiber in our breakfast! Check out some of our favs below.
Whole Grains (complex carbs): whole grains are not only good for energy but also for…pooping! That's right, they help speed up digestion. Some of our favorite whole grains to eat in the morning include oatmeal, sprouted bread, and whole grain English muffins.
Protein: Protein in the morning is great for keeping you fuller longer. Some of our favorite breakfast protein sources include eggs, nut butter, bacon, turkey sausage, and hard cheeses.
Fruit/Veggies: When is it not good to eat fruit and veggies?! A good rule of thumb is to try and get in at least 1 fruit and (or) veggie in during breakfast. This will help set you up for success later in the day!
Fiber: Fiber is another great thing to load up on in the morning. Fibers aids in keeping you fuller longer and going #2. Some of our favorite fibrous foods include whole grains, bananas, berries, potatoes, and chia seeds.
Healthy Fats: Don't be afraid to eat fat! We love eating healthy fats in the morning such as avocado, olive oil, chia seeds, and nuts.
Favorite High Protein/Low Sugar Bars
If you are in a hurry (girl we totally get it), we thought we'd share some of our favorite high protein and lower in sugar bars that we take with us.
PS: if you are looking for even more healthy breakfast ideas, check out our healthy breakfast recipes Pinterest board!
Healthy Breakfast Smoothies
Craving something chilly for breakfast? We love healthy breakfast smoothies in the morning because you can really pack in a lot of nutrition. Plus, you can really make it your own with toppings galore!

Healthy Oatmeal Recipes
I'd be lying if I told you oatmeal wasn't in my top 3 foods! We LOVE healthy oatmeal recipes at Fit Foodie Finds and have close to 100 oatmeal recipes on our site. Crazy, I know! From overnight oats, to baked oatmeal, here are some of our favorite healthy oatmeal recipes known to man!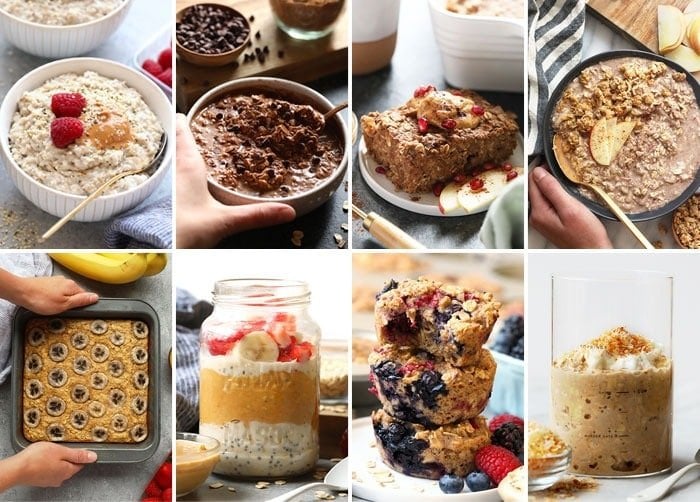 Healthy Breakfast Casserole Recipes
I love me a good breakfast casserole. Prep your favorite healthy breakfast casserole before you go to bed and have a quick and easy time making breakfast in the morning.

Healthy Egg Breakfast Recipes
Who loves eggs for breakfast? Healthy egg breakfast recipes are one of my favorite things to make on the weekends. From egg cups to breakfast burritos, we've got something for everyone on Fit Foodie Finds!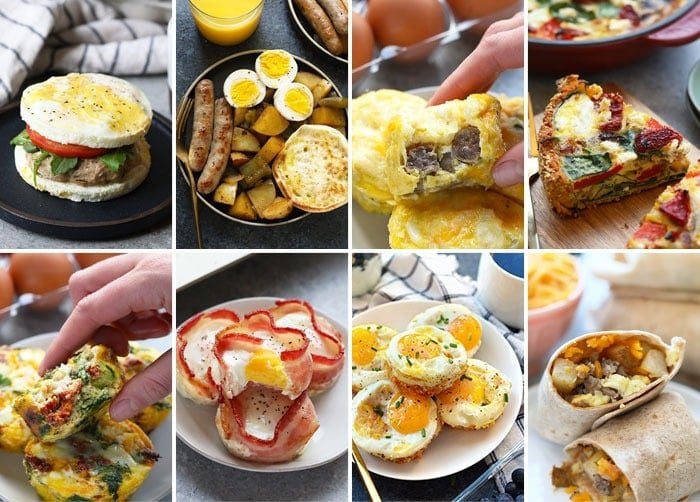 Healthy Pancakes and Waffles
Pancakes are my all time favorite breakfast and let me tell you there isn't a shortage of healthy pancakes on Fit Foodie Finds! From vegan pancakes to dense, whole wheat banana pancakes, we've got #allthepancakes recipes here on FFF.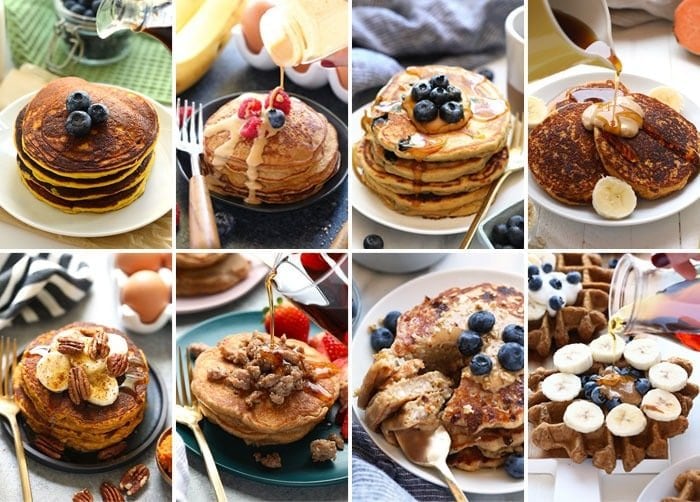 Healthy Breakfast Muffins and Loafs
There's something about a fresh out of the oven muffin that I just love. We love healthy breakfast muffins and so do you! Check out some of our favorite healthy muffins and loaves below!

Other Healthy Breakfast Ideas
Since breakfast is the meal that keeps on giving, check out even MORE healthy breakfast ideas from Fit Foodie Finds below!