Looking for a simple gluten free waffle recipe? These gluten free waffles are a staple in our kitchen made with the base of almond and coconut flour!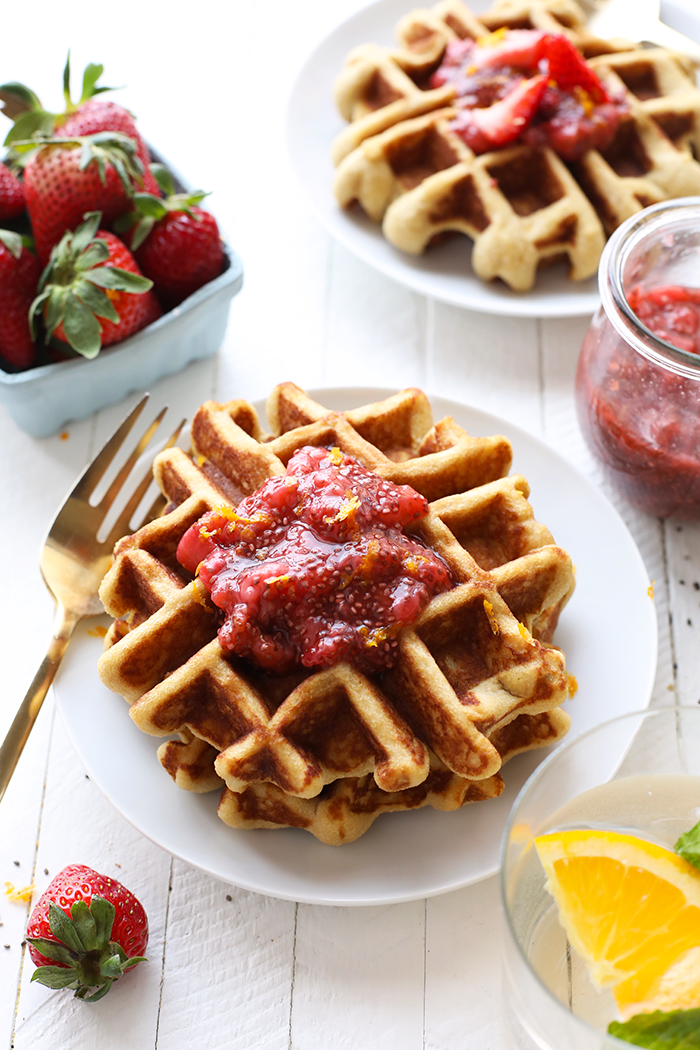 Best Gluten Free Waffles!
Is there anything better than a fluffy waffle with a side of bacon or breakfast sausage for breakfast? Honestly, I'd eat that for any meal of the day!
These gluten free waffles are truly a staple in our kitchen when we're looking for a waffle made without grains. They're made from the basis of almond flour and coconut flour, making them naturally nutty and slightly sweet.
Why you'll love them!
Gluten-free and grin-gree
9-ingredients
Nutritious breakfast
Kid-friendly
Freezer-friendly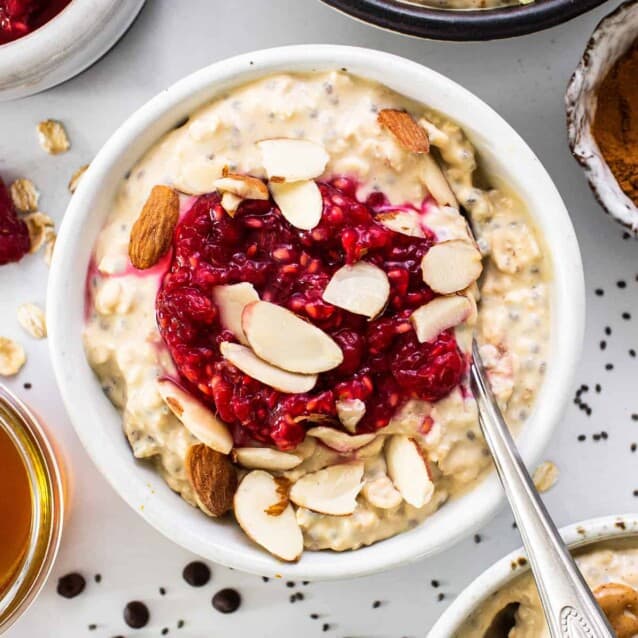 Need Breakfast Inspo?
Subscribe to our emails and get all of our best breakfast recipes straight to your inbox.
How to Make Gluten Free Waffles
Go get your waffle maker and let's get cooking. You'll have these amazing paleo waffles ready in less than 20 minutes!
Assemble Ingredients
Lucky for you, you only need 9 simple ingredients in order to get started!
Super-fine almond flour
Coconut flour
Baking soda
Eggs
Coconut oil
Honey
Unsweetened almond milk
Vanilla extract
No subs allowed!
Unfortunately for this gluten free waffle recipe we do not recommend subbing either of the flours. These two flours are pretty much stand-alone flours and hard to sub 1:1.
Do feel free to use another liquid sweetener for the honey and any milk you desire! PS: this has not been tested with flax eggs, but we do have a great vegan waffle recipe HERE.
Mix Batter
Begin by mixing together all of the wet ingredients minus the melted coconut oil in a large bowl. Then, mix together dry ingredients in a medium bowl. Add dry ingredients to wet and mix. Finally, add coconut oil and mix again.
A note on coconut oil: the reason we add coconut oil at the end is to prevent it from solidifying in the wet ingredients. Often times milk and eggs that come right out of the fridge will solidify the melted coconut oil and we don't want that to happen!
Cook
Now it's time to cook your almond flour waffles! Set your waffle maker to medium/high heat and give her a good spray with cooking spray on both sides.
Then, using a 1/3 cup scoop, spoon batter into the waffle maker. Close and let cook for about 2 minutes. The cook time will vary from waffle iron to waffle iron, so keep an eye on yours. Repeat with the rest of the batter.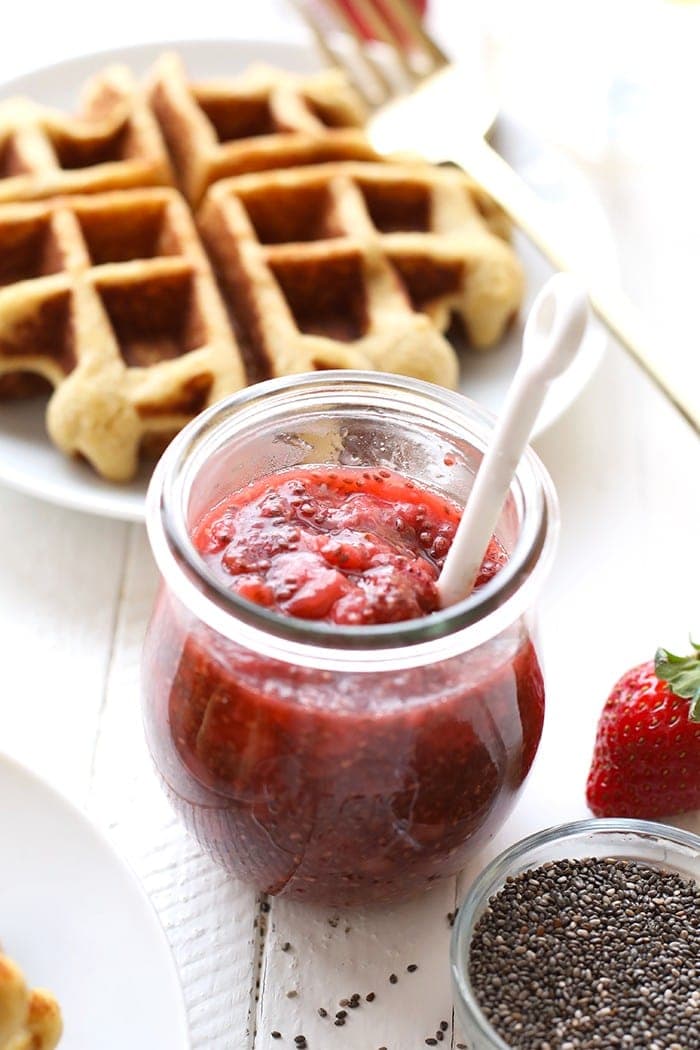 Top & Eat
Now it's time to top your waffles and eat them too! In the recipe below, we're sharing a quick tutorial on how to make this easy strawberry chia compote. You only need a few basic ingredients including fresh strawberries, orange juice, and chia seeds.
Topping Ideas
If you want something a little bit more basic, here are a few more toppings ideas:
peanut butter
maple syrup
honey
walnuts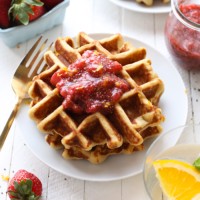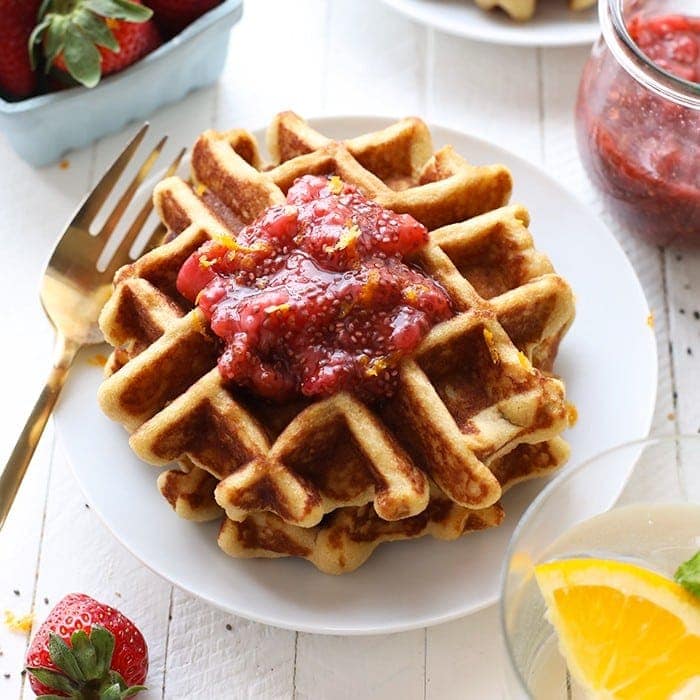 Simple Gluten Free Waffles
You only need 9 simple ingredients including almond flour and coconut flour in order to make this simple gluten free waffle recipe!
Ingredients
Strawberry Chia Compote
1

cup

fresh strawberries

diced

1/4

cup

orange juice

2

tablespoons

honey

pinch

of salt

1

tablespoon

chia seeds
Instructions
Gluten Free Waffles
First, preheat waffle iron to medium heat.

In a large bowl, mix together dry ingredients: almond flour, coconut flour, baking soda, and salt.

In a medium bowl, whisk 3 eggs. Then, add in honey, almond milk, and vanilla extract. Mix until smooth.

Add wet ingredients to dry and mix until combined. Finally, add in melted coconut oil and mix until smooth. The batter should be a little bit thicker than pancake mix*.

Spray your waffle iron with coconut oil spray on both sides and pour in about 1/3 cup to 1/2 cup of batter. Close and flip. Cook for 1.5 to 3 minutes, depending on how hot your iron is. REPEAT.
For the Strawberry Chia Compote
Place strawberries, orange juice, salt and honey into a saucepan over medium/high heat. Bring to a boil.

Next, turn heat down to low and let simmer for 10 minutes. Stir and mash the strawberries occasionally.

When strawberries and orange juice have reduced and thickened, remove from heat.

Stir in chia seeds and place in refrigerator for at least an hour.

Remove from fridge, top your waffles, put the rest into a jar, and refrigerate for later.
Tips & Notes
There are many kinds of almond flour out there, but we recommend a super-fine ground one such as THIS one by Bob's Red Mill.
As you are making your waffles, the batter will continue to thicken. Option to add more almond milk by the tablespoon.
Nutrition facts
Calories:
423
kcal
Carbohydrates:
38
g
Protein:
13
g
Fat:
27
g
Fiber:
8
g
Sugar:
25
g