Looking for an all-purpose grain free waffle that tastes like the real deal? You are going to swoon over these almond flour waffles made with an almond flour + coconut flour base topped with a homemade strawberry chia compote! They're paleo, gluten free, and meal-prep friendly!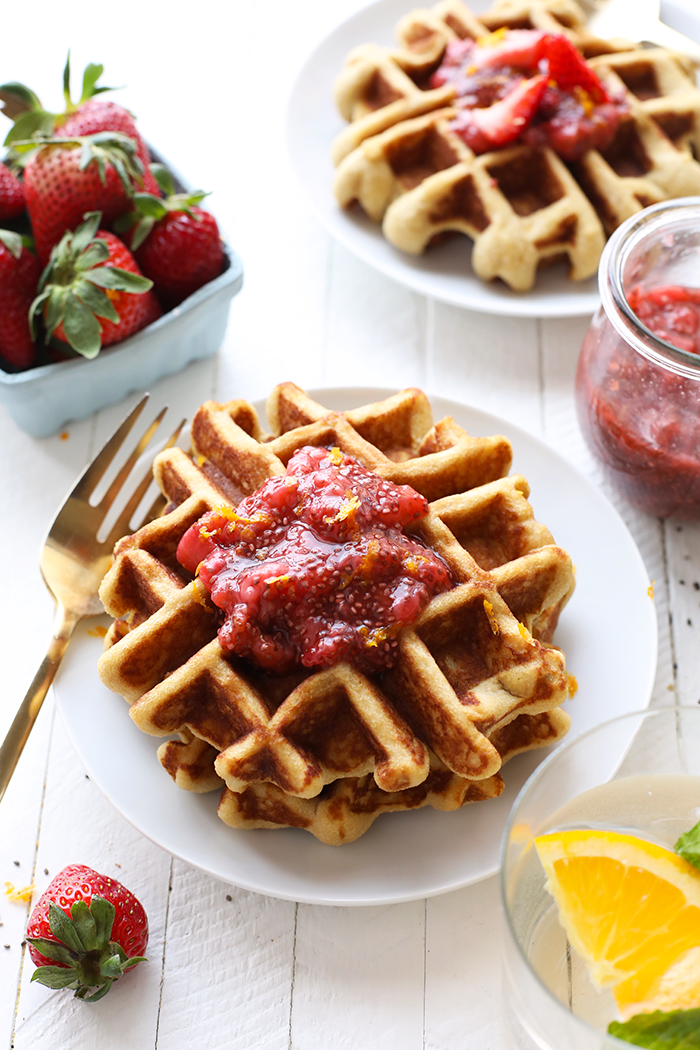 One thing I've done really well in the past 2.5 weeks is SLEEP. This is the first 3 week stretch in over a year that I have been home and not traveling. With my work schedule and the Long D (back and forth between MN and WI), I have been one busy bee. Man it feels nice to be in my own home for a long period of time. I have been sleeping like a princess. 5 days in a row I went to bed at 9:30 and didn't wake up until 7:30. DANG, I wish I could do that every night! I feel so much better and happier when I get proper sleep. I see it in my mood, my work, my everything! Even ask Linley, I'm nicer to her too 😀 Not that I am ever "mean," but I do get moody when I'm tired or hangry. If I'm on my period it's even worse.
Who ever came up with the word hangry is a genius.
These waffles are the perfect thing to make if you're trying to satiate hanger. They're light and fluffy and grain-free!
MY OTHER VIDEOS
Today I am partnering with all of my favorite bloggers to share seasonal spring recipes. I choose strawberries because, well, they were on sale at Lunds and I couldn't pass up a BOGO. Lunds always has the best produce and we always rely on them for good looking berries.
Instead of being boring and topping these waffles with fresh strawberries (which is also delicious), we made a homemade strawberry chia compote! It's basically like a jam, but made with honey and gelled with chia seeds. It's quite simple to make. All you need is about 5 minutes and a stove. Oh, and a cute Weck Jar to store it in 😀 If you saw my jar collection, though. Please tell me I'm not the only one who hoards jars.
Grain Free Waffles with Homemade Strawberry Jam
Prep Time:

20 mins

Cook Time:

15 mins

Total Time:

35 minutes

Author:
Yield:

4
Ingredients
For the Waffles
1 cup super-fine almond flour
1/4 cup coconut flour
1/2 teaspoon baking soda
pinch of salt
3 eggs, large
2 tablespoons coconut oil, melted
3 tablespoons honey
3/4 cup almond milk, unsweetened
1 teaspoon vanilla extract
For the Strawberry Chia Compote
1 cup strawberries, diced
1/4 cup orange juice
2 tablespoons honey
pinch of salt
1 tablespoon chia seeds
Instructions
For the Waffles
First, preheat waffle iron to medium heat.
In a large bowl, mix together dry ingredients: almond flour, coconut flour, baking soda, and salt.
In a medium size bowl, whisk 3 eggs. Then, add in honey, almond milk, and vanilla extract. Mix until smooth.
Add wet ingredients to dry and mix until combined. Finally, add in melted coconut oil and mix until smooth. The batter should be a little bit thicker than pancake mix*.
Spray your waffle iron with coconut oil spray on both sides ad pour in about 1/3 cup to 1/2 cup of batter. Close and flip. Cook for 1.5 to 3 minutes, depending on how hot your iron is. REPEAT.
For the Strawberry Chia Compote
Place strawberries, orange juice, salt and honey into a saucepan over medium-high heat. Bring to a boil.
Next, turn heat down and let simmer for 10 minutes. Stirring occasionally and mashing the strawberries.
When strawberries and orange juice have reduced and thickened, remove from heat.
Stir in chia seeds and place in refrigerator for at least an hour.
Remove from fridge, top your waffles, put the rest into a jar, and refrigerate for later.
Notes
*As you are making your waffles, the batter will continue to thicken. Option to add more almond milk by the tablespoon.
Before you go, you have to check out all of these delicious seasonal recipes by some of my favorites: