These 3 Ingredient Almond Flour Banana Pancakes are grain-free, dairy-free, and a super healthy way to start your day!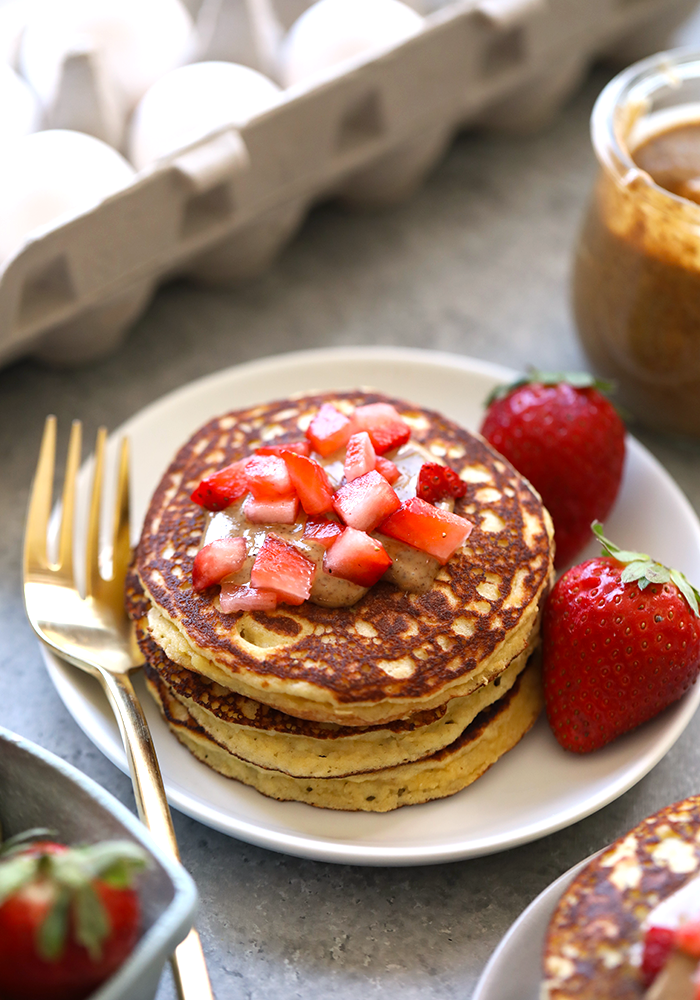 Hey guys, it's me LINLEY!
The moment my skin touches the sun after a long Minnesota Winter, something happens to me. Suddenly, I want to book every camp site I've ever been to, drink margaritas, and my eating habits change quite a bit. For those of you who live in a cold weather state, you know what it's like to have your first weekend of patio weather. It feels like you don't have to go to work because the sun is out and because it's grilling season, it doesn't matter how many times you day drink on the weekend..because…the sun is out, HELLO!?
I feel like I can do anything as long as that pie in the sky is dishing out unlimited rays of Vitamin D. I heart the warmer months in Minnesota, because of all these reasons. People let loose. It doesn't matter who you are or what your job is, there is s shift in attitude. People let their hair down and everyone is smiling. Yes, the winters get long, but having a break from the sunshine really makes me truly more grateful for glorious spring + summer days.
We made these 3-Ingredient Almond Flour Banana Pancakes on one of the first warm days of spring. Nothing screams warm weather up north more than BERRIES. These pancakes would be delicious topped with anything, but a little bit of almond butter, berries, and maple go a long way. They are perfect for a quick + easy breakfast in the morning or if you're all about that meal-prep, feel free to make these ahead of time and store a bunch in the freezer to throw in the toaster for the week. All you've got to do is make the pancakes, let them cool, and place them in a freezer-safe bag.
YOU GUYS, you can't beat three ingredients in any recipe. So hop, skip, and jump to it!
Recipe
VIDEO: 3 Ingredient Almond Flour Banana Pancakes
Prep Time:

5 mins

Cook Time:

10 mins

Total Time:

15 minutes
Ingredients
1.5 cups blanched almond flour
3 eggs, large
1 medium banana, ripe
1 teaspoon baking powder
Instructions
In a blender or food processor, blend banana and 1 egg until there are no large lumps in the banana.*
Then, place in medium size bowl and add in the other 2 eggs. Whisk until combined. Finally add almond flour and baking powder and mix until smooth.
Heat a frying pan to medium heat and spray with nonstick cooking spray.
Using a 1/4 measuring cup, scoop batter onto pan. Let cook for around 2 to 3 minutes per side.
Notes
*Alternatively you can use a fork.
* Nutrition information is 4 servings
Nutrition
Serving Size:

2 pancakes

Calories:

322

Sugar:

5

Sodium:

70

Fat:

25

Carbohydrates:

16

Fiber:

5

Protein:

14
Similar
Check out our other 3 Ingredient pancake recipes! They are oldies, but goodies!