These carrot cake pancakes are made with ground oat flour, carrot cake spices, and freshly grated carrots. Whip up a batch of these carrot pancakes for breakfast and top them with maple syrup.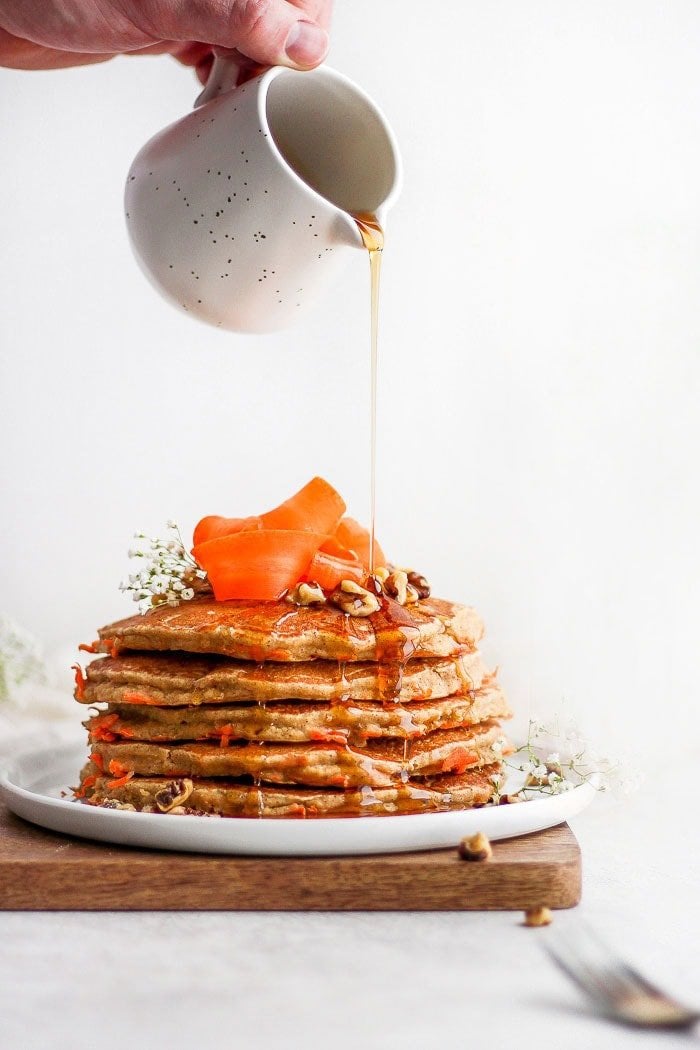 These carrot cake pancakes are the perfect combination of sweet and spicy — just like your favorite carrot cake. BUT, they're also something you can feel good about fueling up on first thing in the morning.
Why make these carrot pancakes?
Gluten-free: because these carrot pancakes are made with a combination of ground oat flour and gluten-free flour, they are gluten-free friendly.
So many carrots! 1/2 cup of shredded carrot means carrot in every bite.
Refined sugar-free: carrots add natural sweetness to these pancakes, so all you really need is a little maple syrup.
Lower in fat: this recipe only calls for 2 tablespoons of coconut oil and the rest of the moisture comes from the carrots themselves and applesauce.
Carrot Cake Pancakes Ingredients
We love how dense and delicious these carrot pancakes turned out. They're made with a combination of ground oat flour and a gluten-free flour blend.
Dry
Ground oat flour: no oat flour at home? No fear! Grind up some rolled oats into a fine flour and you're good to go! If you are celiac, make sure you buy the certified gluten-free version at the store. We suggest Bob's Red Mill.
All-purpose gluten-free flour mix: if you're not celiac, or don't need this recipe to be GF, feel free to sub 1:1 for either white whole wheat flour or all-purpose flour.
Baking powder: Baking powder is the way to go with pancakes! You'll need 1 teaspoon.
Shredded carrots: you'll need 1/2 cup of shredded carrots for these pancakes, which is approx. the size of one large carrot. We recommend a medium shred for this recipe so you can truly see the shredded carrots in your pancakes.
The perfect carrot cake spices: the combination of cinnamon, ginger and nutmeg make for the delicious spicy savory you love in traditional carrot cake.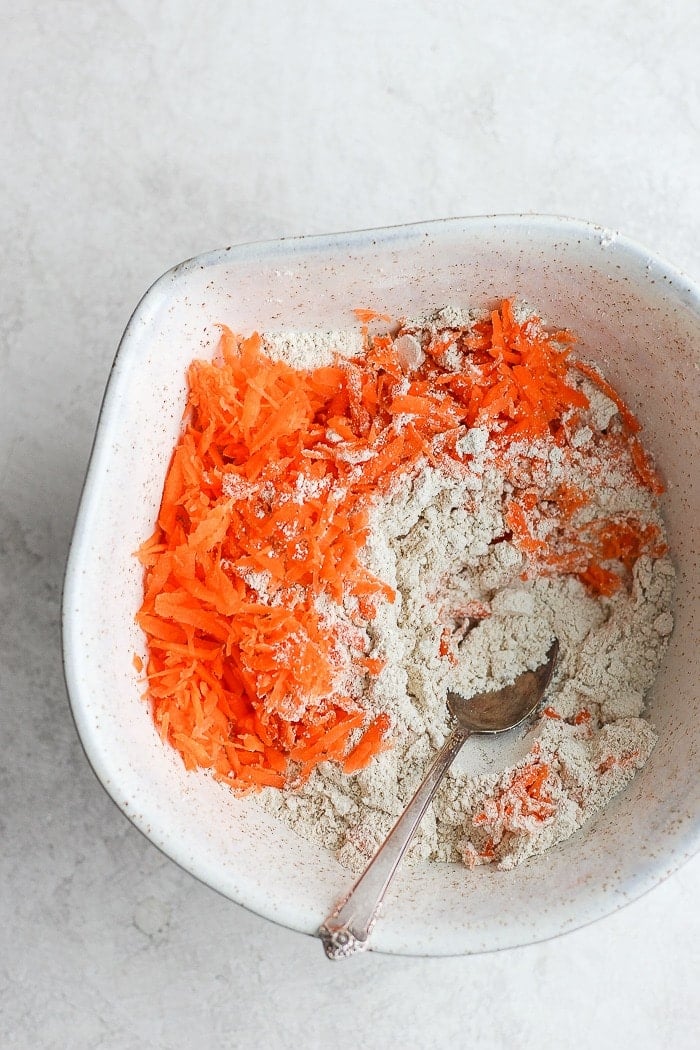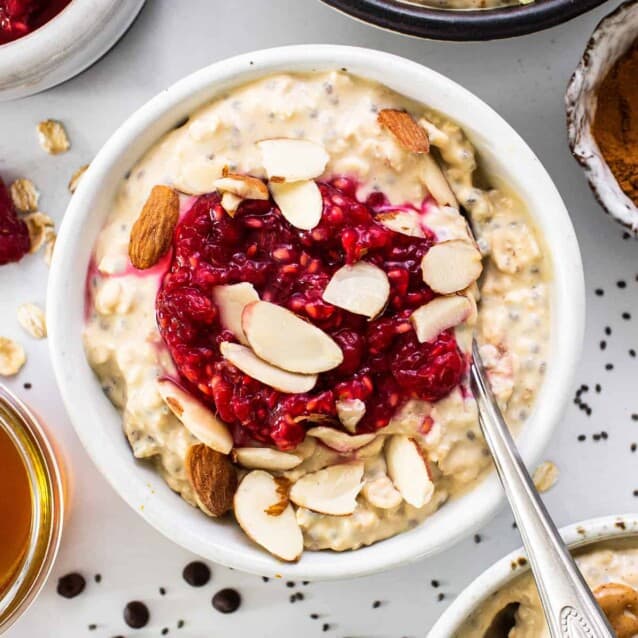 Need Breakfast Inspo?
Subscribe to our emails and get all of our best breakfast recipes straight to your inbox.
Wet Ingredients
Eggs: Eggs not only add fluffiness to this gluten free pancake recipe but protein too! If you're looking for a vegan option, you can try using 2 flax eggs instead!
Applesauce: Applesauce is a great sweetener for this recipe, but make sure you use unsweetened since it's already sweet enough without that added sugar 😀
Almond milk: same as the applesauce, make sure you use the unsweetened variety!
Vanilla extract and maple syrup: Can't go wrong with a splash of vanilla extract and maple syrup to add great flavor to this recipe.
Coconut oil: We nixed the butter and used coconut oil instead for a silky smooth flavor and texture!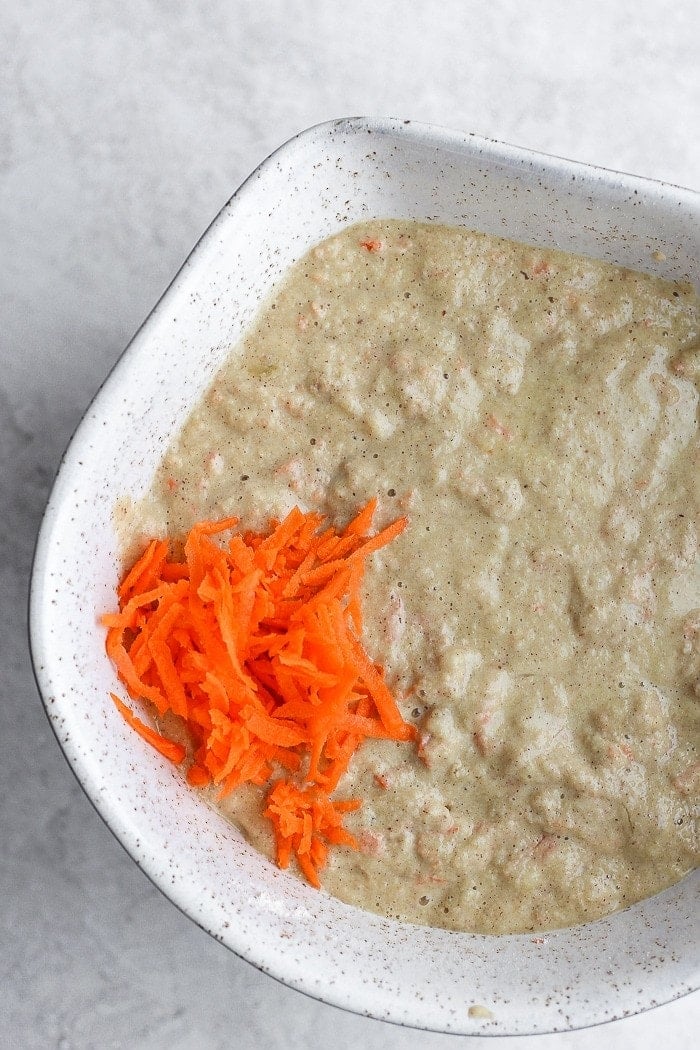 How to Freeze Pancakes (+ Reheat Them!)
This is a great healthy pancake recipe to either meal prep for the week or whip up a double or triple batch and then store in the freezer to have on hand whenever the healthy carrot cake pancakes mood strikes ya.
Freeze your healthy carrot cake pancakes
First, let your pancakes cool completely. The reason we do this is so that the pancakes can come down to room temperature and stop producing so much moisture (steam). This will prevent freezer burn in the freezer and help your pancakes stay nice and fresh.
Then, stack 1 serving of pancakes (2 pancakes) together. Tightly wrap them in a piece of plastic wrap, in a ziploc bag or in a Stasher bag. Make sure to remove as much air as possible, which will also help to prevent freezer burn.
Place pancakes in the freezer and freeze for up to 3 months.
Thaw & reheat your healthy carrot cake pancakes
Option 1: Thaw pancakes in the refrigerator overnight. Then, microwave for 60 seconds in the morning.
Option 2: Place frozen pancakes in the toaster and toast on medium.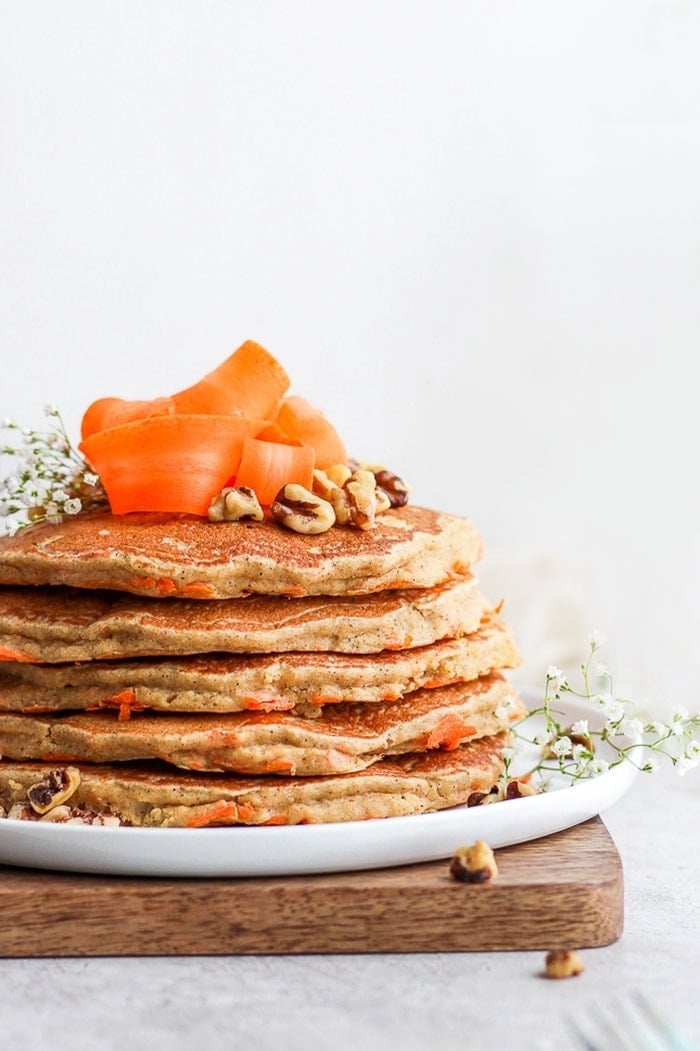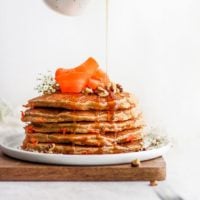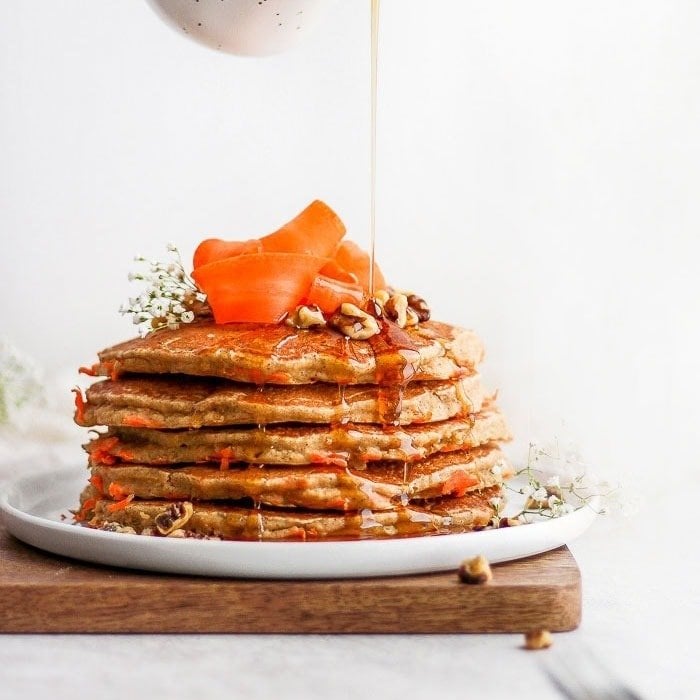 Carrot Cake Pancakes (Best Carrot Pancakes!)
Whip up a batch of these carrot cake pancakes. They are so moist and delicious and taste just like carrot cake!
Instructions
First, peel one large carrot. Then, use a medium cheese grater to grate your carrot. Place shredded carrot on top of 2 pieces of paper towel and squeeze as much moisture out of it as you can. Measure shredded carrot, you'll want about 1/2 cup.

Transfer shredded carrot into a medium bowl. Add the rest of the dry ingredients and mix.

Then, in a large bowl, whisk together 2 eggs. Add applesauce, almond milk, maple syrup, and vanilla extract and mix.

Transfer dry ingredients into wet and mix. Finally, add in melted coconut oil and mix again.

Heat a large skillet to low/medium heat. Spray with coconut oil cooking spray.

Use a 1/3 cup scooper to scoop batter onto skillet. Cook each side for around 3 minutes or until golden brown.

Serve with maple syrup and your favorite nut butter!
Nutrition facts
Calories:
323
kcal
Carbohydrates:
44
g
Protein:
10
g
Fat:
12
g
Fiber:
5
g
Sugar:
10
g