Make these Healthy Chocolate Chocolate Chip Pancakes for a delicious breakfast the whole family will love!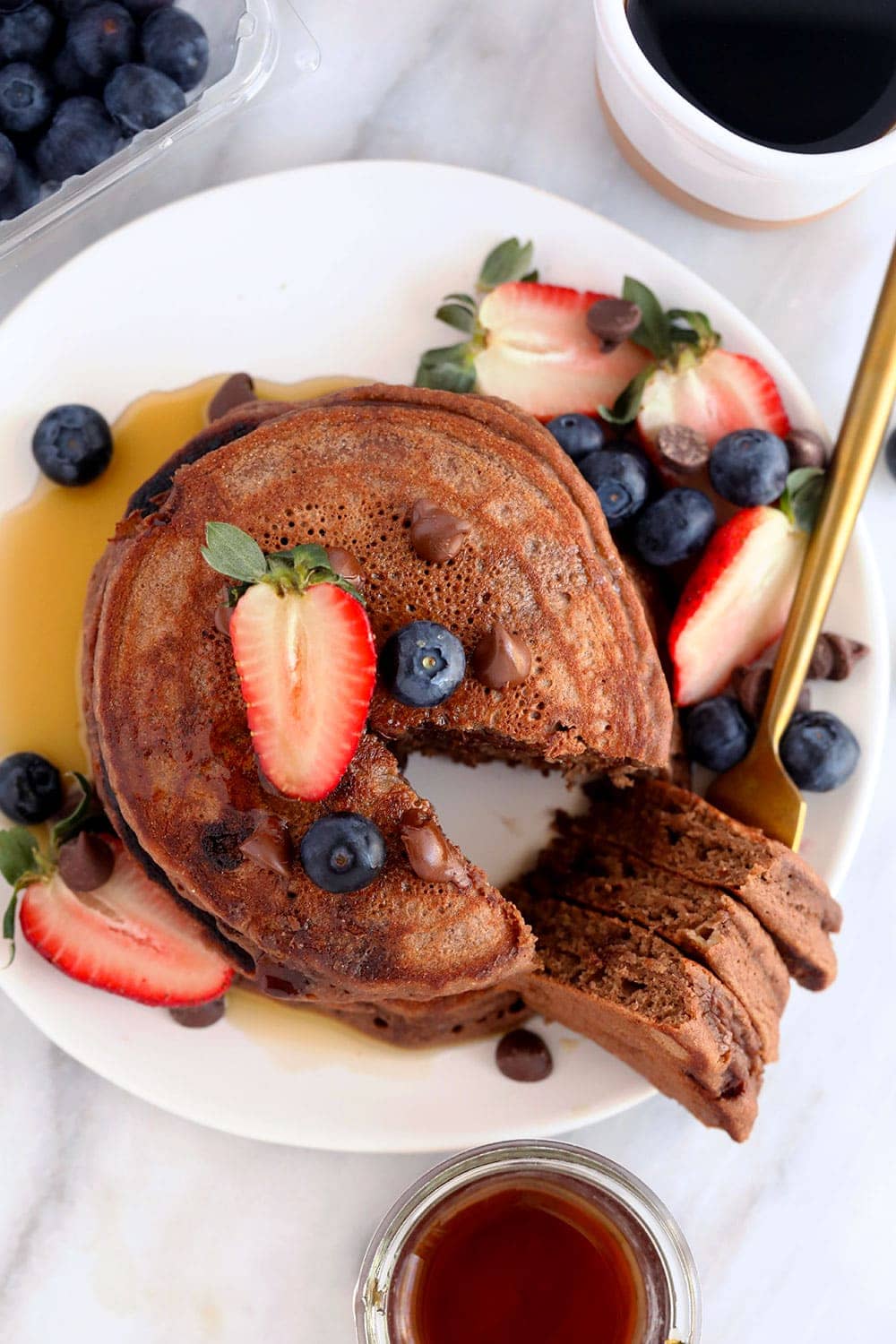 Fluffy Pancakes are Served!
No flat pancakes here! You're going to love these super fluffy and delicious chocolate chocolate chip pancakes. They're protein packed, kid-friendly and the perfect addition to your breakfast menu.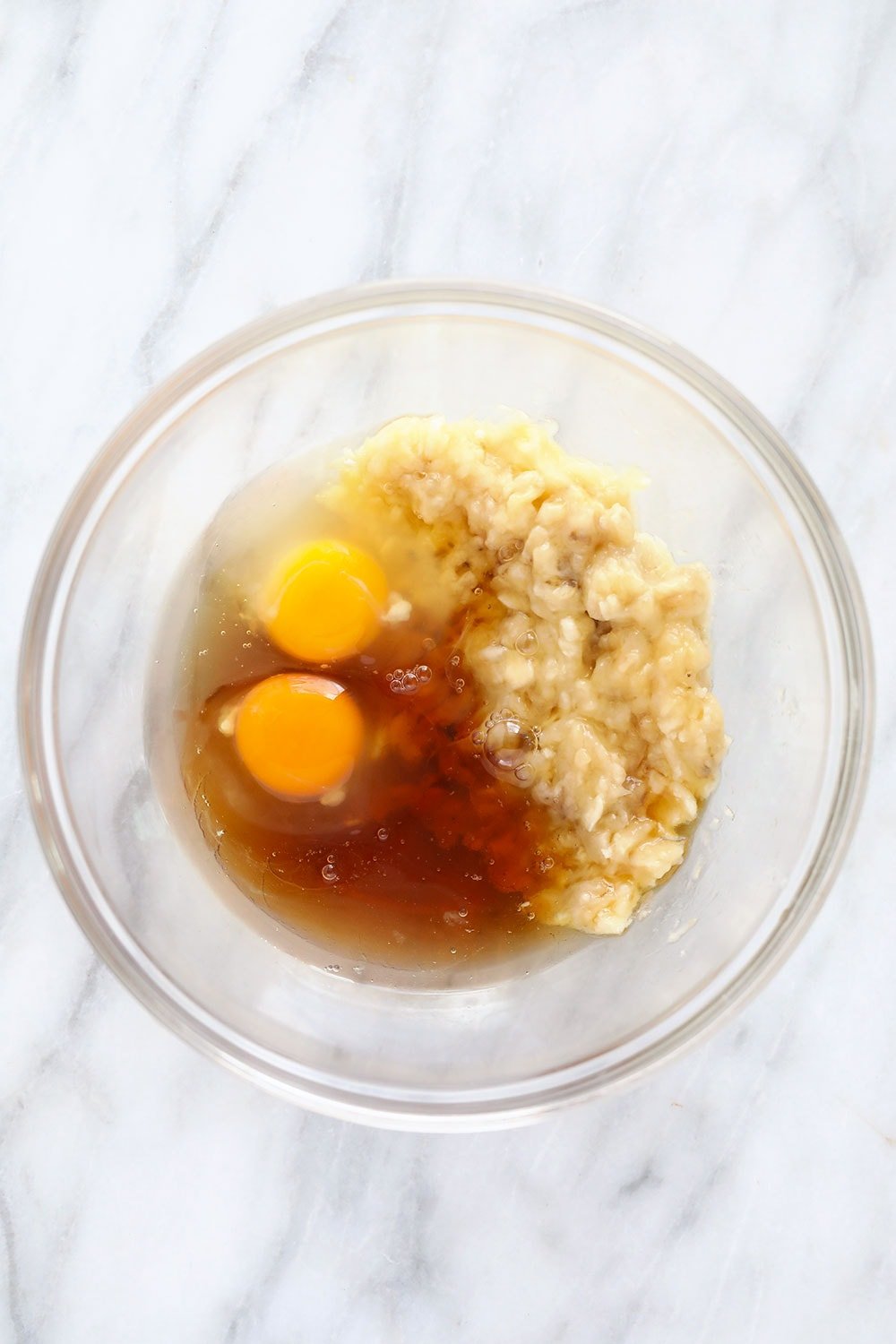 Choco Choco Chip Pancakes Ingredients
White whole wheat flour: While whole wheat flour is our go-to for this pancake recipe, we suggest the following (and only the following) at a 1:1 ratio if you're looking for a substitution:
all-purpose flour
whole wheat flour
all-purpose gluten-free flour blend
Unfortunately, we do not recommend substituting 1:1 for coconut flour and/or almond flour.
Baking powder: Baking powder is the way to go with pancakes! You'll need 2 teaspoons.
Unsweetened cocoa powder: Can't have choco choco chip pancakes without the cocoa powder, which gives these pancakes that delicious chocolatey flavor.
Chocolate chips: Can't forget the choco chips! Mini chocolate chips will also work 🙂
Eggs: Eggs not only add fluffiness to this pancake recipe but protein, too! If you're looking for a vegan option, you can try using 2 flax eggs instead!
Mashed banana: Since mashed banana is a delicious sweetener in this recipe, the riper the better! You can also sub applesauce if you prefer.
Unsweetened almond milk: We love the flavor of unsweetened almond milk, but feel free to sub equal parts of any milk of your choice!
Maple syrup: We used maple to sweeten up the unsweetened cocoa powder in these pancakes. It also adds a delicious maple flavor without using refined sugars.
Vanilla extract: Can't go wrong with a splash of vanilla extract.
Coconut oil: We nixed the butter and used coconut oil instead for a silky smooth flavor and texture!
When should I flip my pancakes?
You know your pancakes are ready to flip when little bubbles start to form on the outer rim of the pancake and the bottom side starts to firm up. Make sure that you are using a low heat with these pancakes so that you don't cook the outsides too fast or burn the chocolate chips!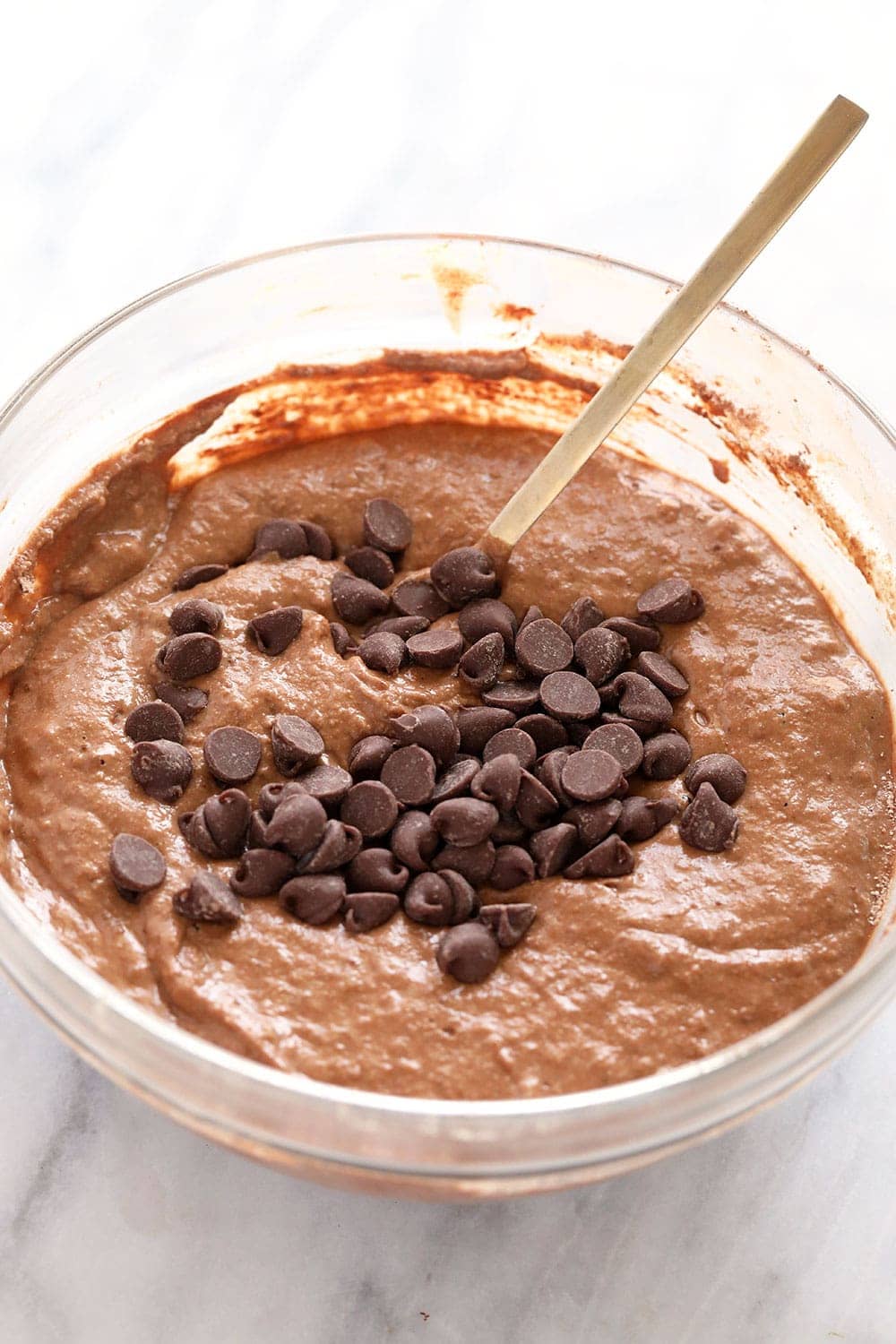 Time for Toppings
Because pancakes aren't complete without the toppings. Here are some delicious pancake topping ideas for you to choose from:
maple syrup
nut butter
dark chocolate chips
coconut chips
honey
slivered almonds
sliced strawberries
fresh blueberries
How do you freeze pancakes?
To freeze pancakes, let them cool completely. Then, sack two together and wrap them with saran wrap followed by tin foil (to prevent freezer burn). Place them in the freezer and freeze for up to 3 months. To thaw: let pancakes thaw in the fridge overnight or on the counter for a few hours, and then pop in the toaster to heat them up before serving!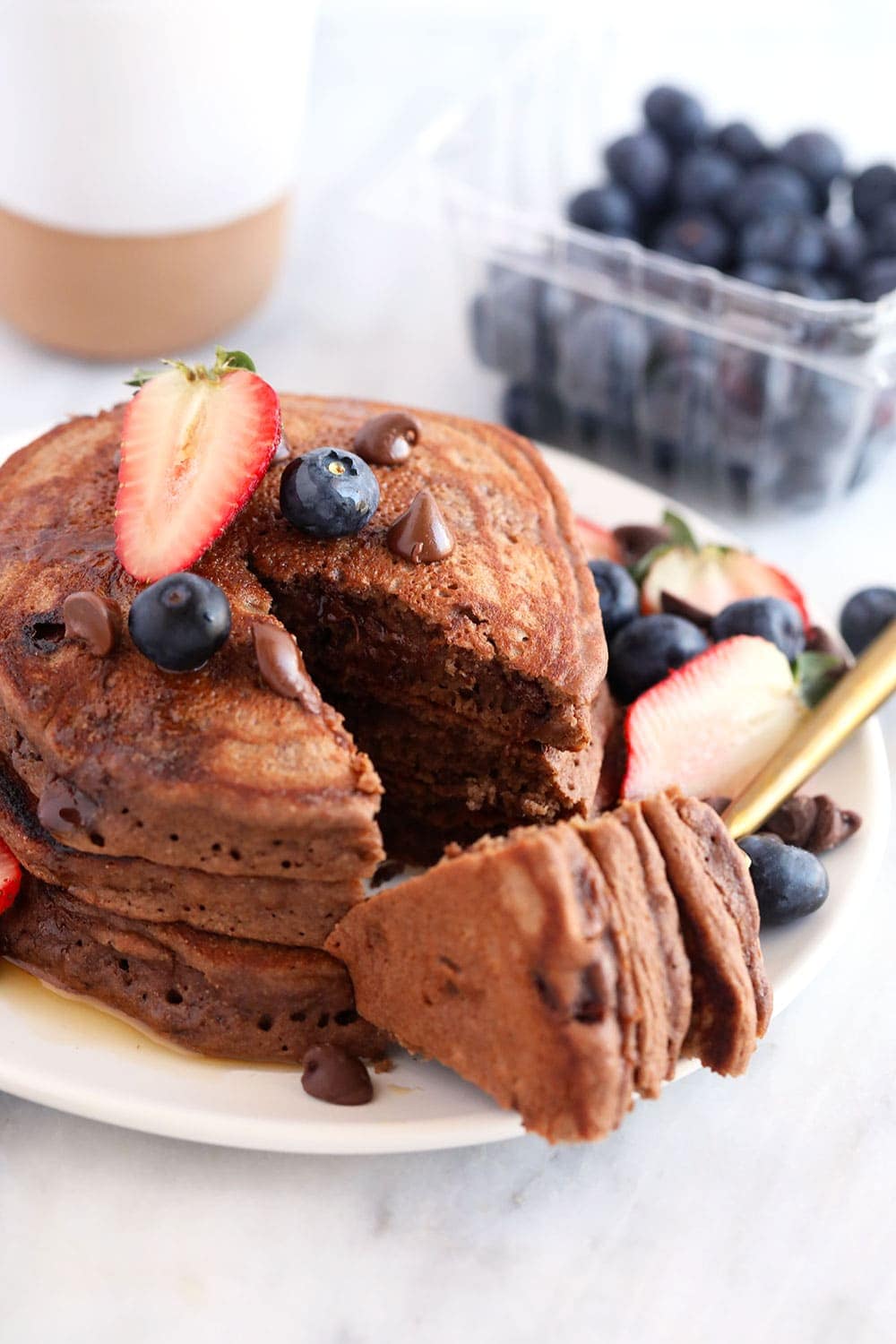 More Pancake Recipes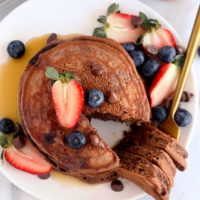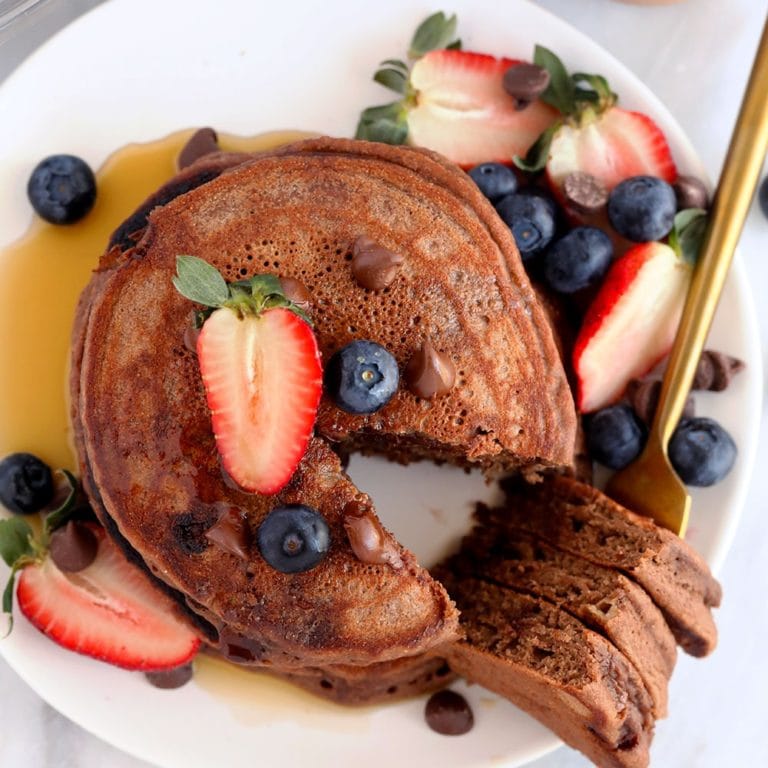 Healthy Chocolate Chocolate Chip Pancakes
Make these Healthy Chocolate Chocolate Chip Pancakes for a delicious breakfast the whole family will love!
Instructions
Place dry ingredients into a medium bowl and mix well.

Then, in a separate bowl crack 2 eggs and whisk. Add the remainder of the dry ingredients into the same bowl and mix.

Add dry ingredients into wet ingredients and mix making sure all ingredients are combined*. Finally, add in 2 tablespoons melted coconut oil and mix again.

Next, heat a large skillet over low heat*. Spray skillet with non-stick cooking spray.

Using a 1/3 cup scoop, scoop pancake batter into the skillet. Let the pancake cook for 2-3 minutes on each side, flipping when bubbles start to form in the center of the pancake. when Repeat until all pancake batter is gone.

Top with your favorite toppings and enjoy!
Tips & Notes
*Cook on low to avoid chocolate chips from burning.
*You may need to add a splash more or two of almond milk if your batter is a little too thick.
Nutrition facts
Calories:
234
kcal
Carbohydrates:
33
g
Protein:
8
g
Fat:
11
g
Fiber:
4
g
Sugar:
13
g