It's a pancake morning over here! Enjoy these healthy chocolate chip pancakes made with our delicious oatmeal pancake base and top it with maple syrup, nut butter and more chocolate chips.
Looking for more healthy pancake recipes? Try one of my favorites: banana oatmeal, coconut flour pancakes, and almond flour pancakes.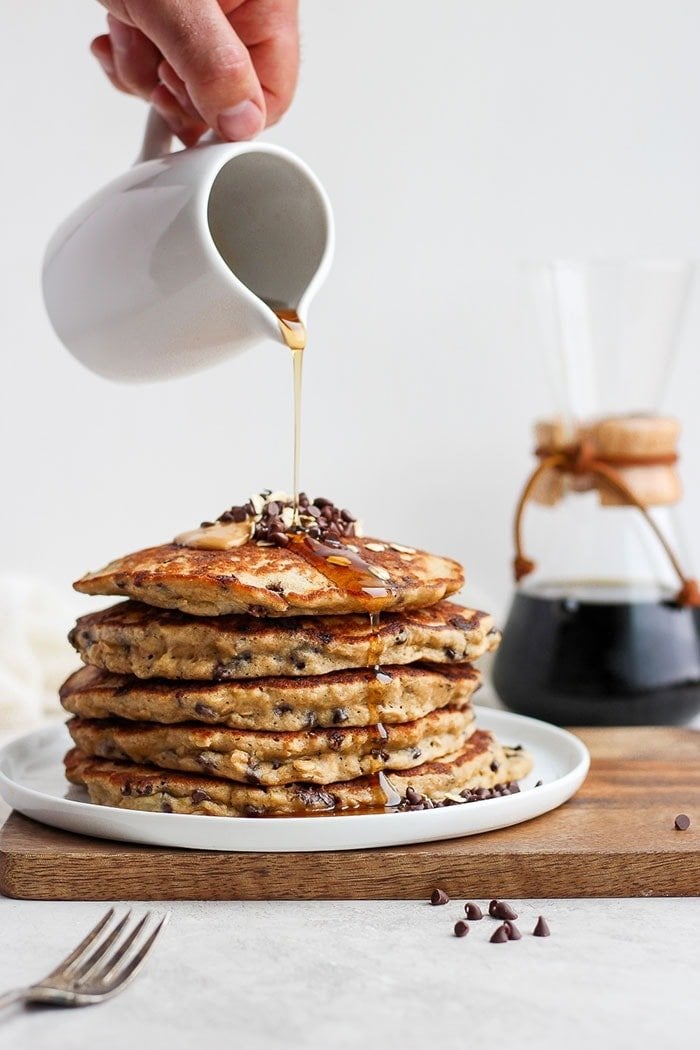 There's a 100% chance that I eat pancakes at least once a week. Whether it's for breakfast or brinner, I'm always down for healthy pancakes!
Chocolate Chip Oatmeal Pancakes
One of our most popular pancake recipes from Fit Foodie Finds is our oatmeal pancakes recipe, so we thought we'd do a simple spin-off to create the most delicious and fluffy healthy chocolate chip pancakes on the internet! So, what makes these healthy oatmeal pancakes so healthy? A couple of things!
Healthy Swaps
fat: instead of canola oil or buttermilk, which most pancake recipes use, we opted for coconut oil. Coconut oil is higher in "healthy saturated fats" compared most other oils.
sugar: these healthy pancakes are sweetened mostly with mashed banana. Sugar from fruit is all-natural unlike sugar from white and brown sugar which are refined. The chocolate chips in this recipe are dark chocolate chips, which are lower in sugar than milk and semi-sweet. Most pancake recipes call for additional refined sugar such as white or table sugar.
flour: lastly, most pancakes are made with a refined, white flour, whereas these pancakes use 100% ground oat flour.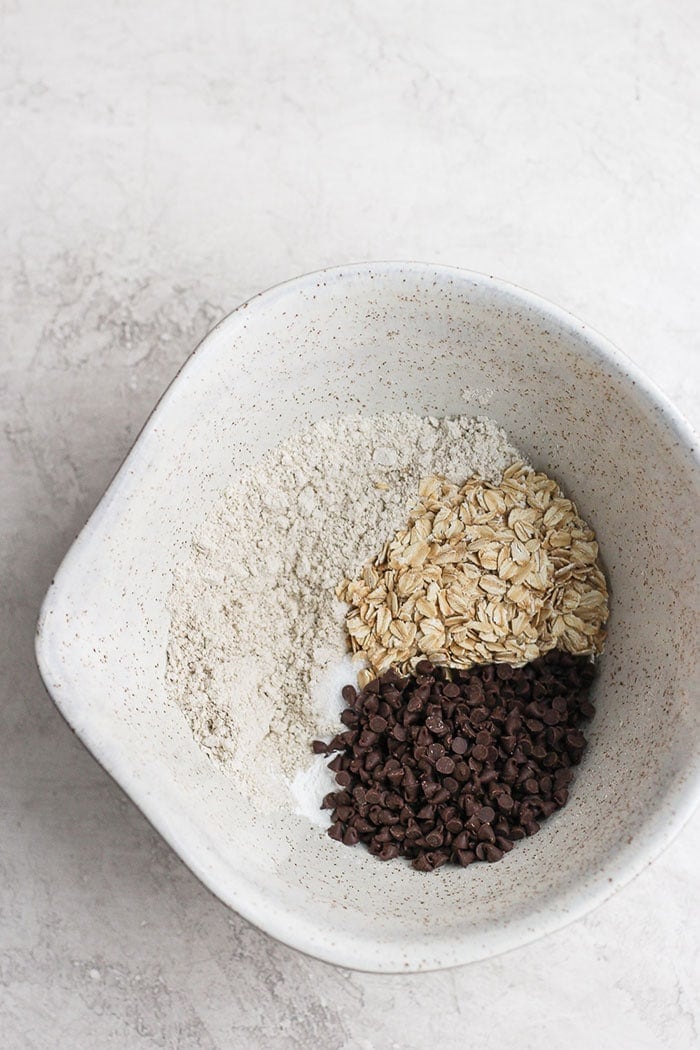 Why Oat Flour?
These fluffy little cakes are made with 100% oat flour. We love using ground oat flour because it's a 100% whole grain and rather inexpensive because you can make it yourself! To make oat flour, all you have to do is place rolled oats in a high-speed blender or food processor and process on high until your four is pulverized.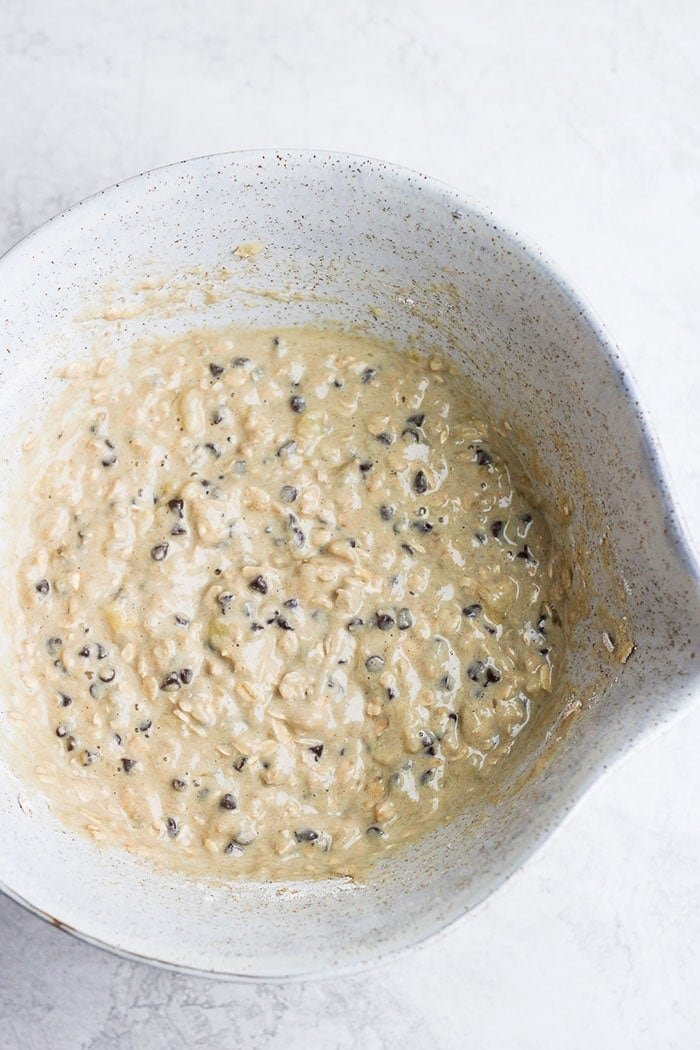 How to Make the Perfect Pancakes
How do you keep chocolate chips from sinking in pancakes? One super easy trick that we've found with chocolate chip pancakes is just using mini chocolate chips instead of the regular sized ones. Mini chocolate chips weigh less and that should prevent them from sinking to the bottom.
How many carbs are in chocolate chip pancakes? In our healthy chocolate chip pancakes, there is a total of 59 carbs per serving. But, remember that these carbs are coming from 100% whole grains and unrefined sugars.
How do you freeze pancakes? To freeze pancakes, let them cool completely. Then, sack two together and wrap them with saran wrap followed by tin foil. Place them in the freezer and freeze for up to 3 months.
When should I flip my pancakes? You know your pancakes are ready to flip when little bubbles start to form on the outer rim of the pancake and the bottom side starts to firm up. Make sure that you are using a low/medium heat with these pancakes so that you don't cook the outsides too fast!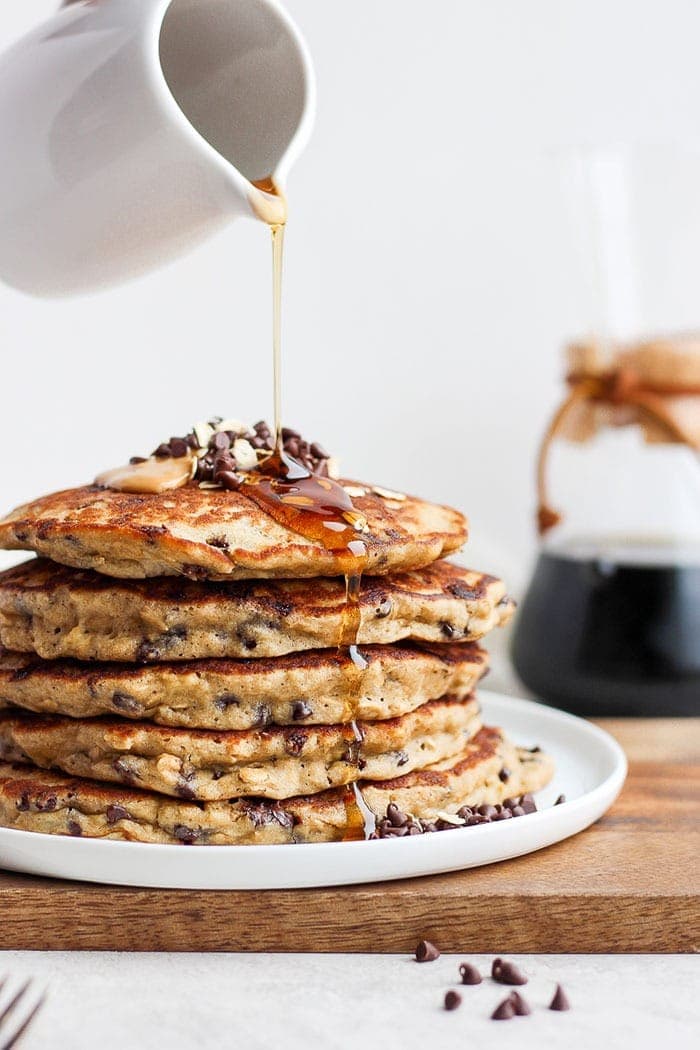 Topping Ideas
Because pancakes aren't a pancake without the toppings. Here are some delicious pancake topping ideas for you to choose from!
maple syrup
nut butter
dark chocolate chips
coconut chips
honey
nuts
seeds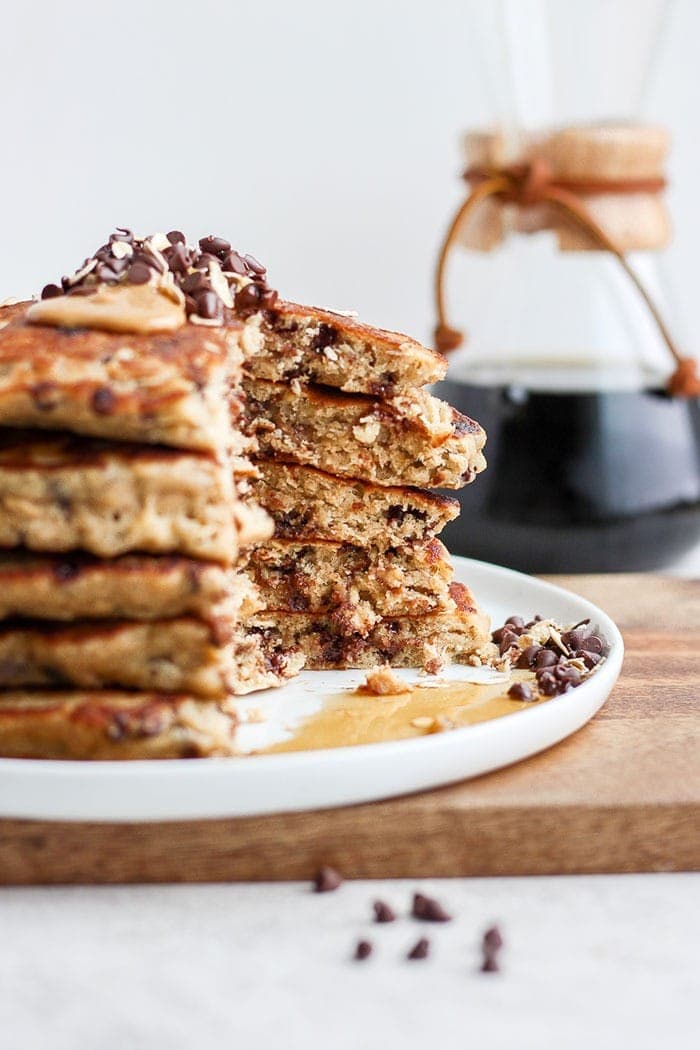 More Healthy Pancakes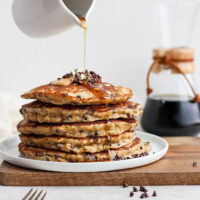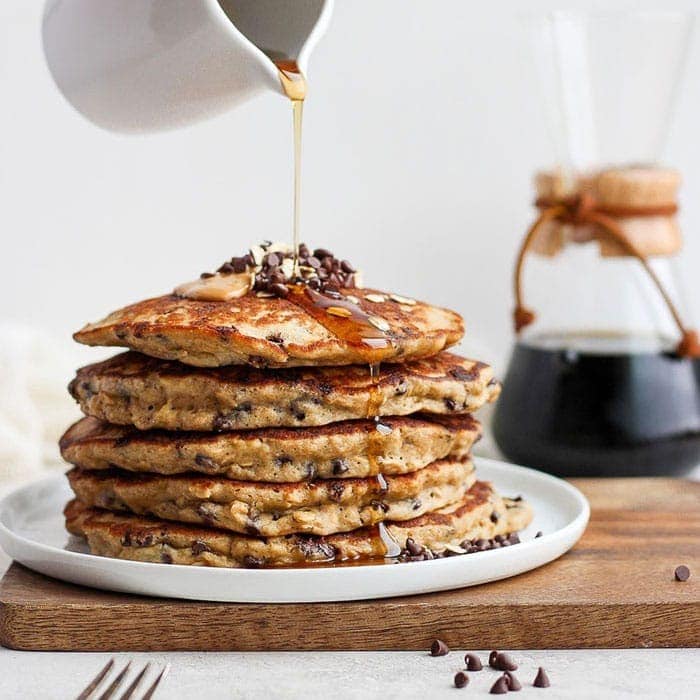 Healthy Chocolate Chip Pancakes
It's a pancake morning over here! Enjoy these healthy chocolate chip pancakes made with our delicious oatmeal pancake base and top it with maple syrup, nut butter and more chocolate chips.
Instructions
Begin by placing dry ingredients into a medium bowl. Whisk until combined.

Then, mash bananas in a large bowl. Add eggs and vanilla and whisk until combined.

Transfer dry ingredients into wet and mix until combined.

Finally, add in melted coconut oil and mix again until combined.

Heat a large skillet over low/medium heat. Spray with coconut oil cooking spray. Spoon on about 1/3 cup of batter and let cook for 2-3 minutes on each side. Repeat.

Serve with maple syrup and more chocolate chips.
Tips & Notes
This recipe was slightly updated on July 1, 2019.
Nutrition facts
Calories:
483
kcal
Carbohydrates:
59
g
Protein:
10
g
Fat:
24
g
Fiber:
8
g
Sugar:
24
g