Get festive with your breakfast and make these delicious Paleo Pumpkin Pancakes that are grain-free, packed with pumpkin, and paleo-friendly!
Holy mostaccioli it's mid-October. Guess, what? October 17th, 2015 marks the day that I am officially closer to age 26 than 25. 26 sounds so much older than 25. 26 is like late twenties. 26 is like almost 30. WAHHHHHH!
Someone please tell me that they acknowledge their half birthday.
So today's post is all about punkin! In case you're wondering, I spelt it that way on purpose 🙂 I used to think baking with punkin was weird because why would I put a vegetable in something that's suppose to be sweet? Well ladies and gents…punkin does wonders for baked goods and sweet foods. It adds so much moisture and great flavor, too. Before I babble about my amazing Paleo Pumpkin Pancakes, let's take a looksie at some delicious punkin recipes from my blogging friends!

Pumpkin, coconut milk and chia seeds are combined and topped with toasted coconut flakes and an almond butter drizzle to make a thick and creamy chia pudding that's paleo-friendly, vegan and great for breakfast or as a snack.
MY OTHER VIDEOS
Paleo toasted pine nut herb pumpkin muffins are a savory side perfect for serving with your fall soup, stew or chili. Maybe even replace the Thanksgiving biscuits this year with a basket of these!
These pumpkin blondies are so dense, and sweet that you'd never know they're a healthier treat, with no butter or oil, for only 105 calories! They're paleo and vegan friendly too!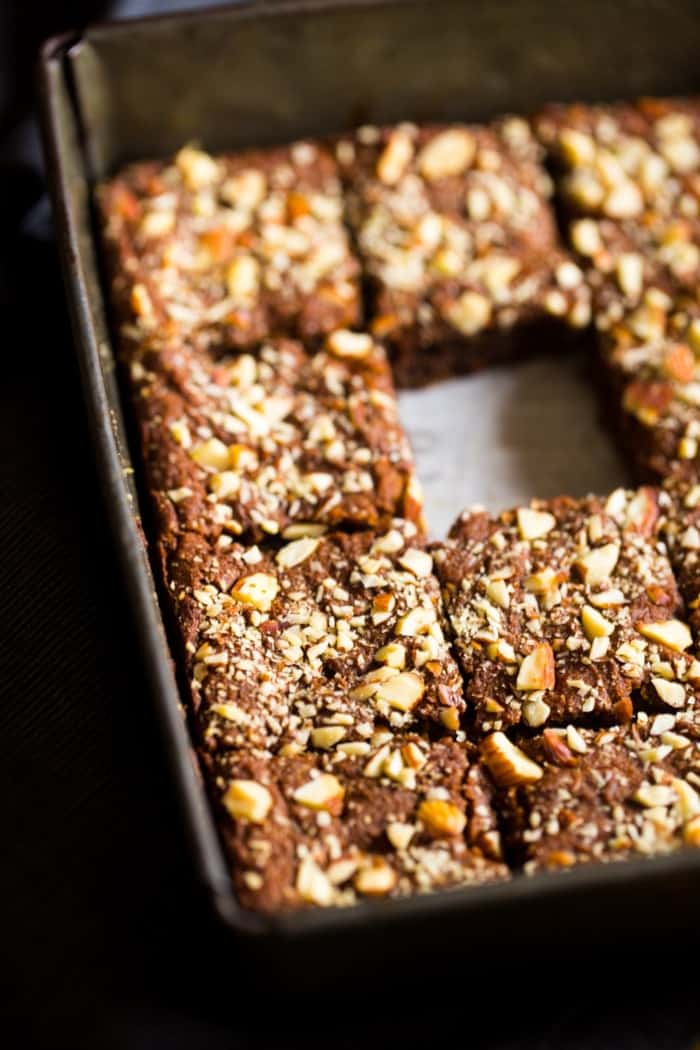 Healthy Pumpkin Spice Freezer Fudge made with just 5-Ingredients! Free of refined sugar, dairy and gluten, this healthy dessert recipe will make you fall in love with fall.
This is the perfect Fall soup for all of you pumpkin lovers! Delicious, flavorful, and packed with nutrients. Creamy pumpkin topped with a drizzle of chili garlic oil and roasted pumpkin seeds. You'll enjoy this soup all season long!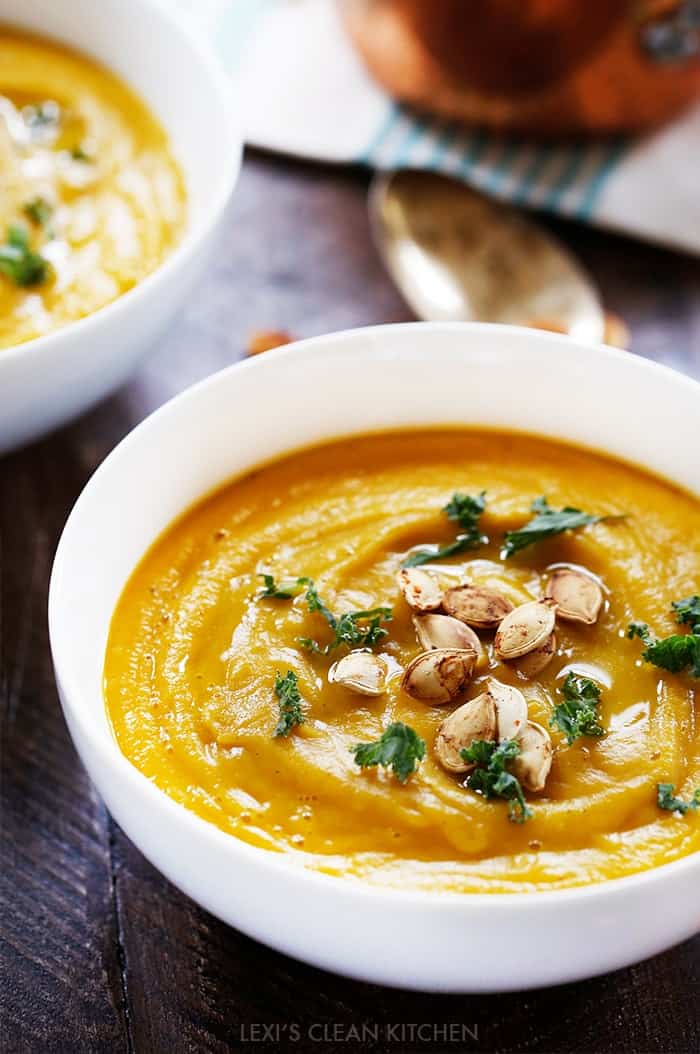 There are certain recipes on FFF that are liked so much that I often times make variations of the recipe. For example, you guys LOVED Banana Breakfast Cake recipe so much, that I made a pumpkin variation. Same with my 3-Ingredient Peanut Butter Pancake Recipe…I made an applesauce version. WELL- I had a reader request to take my 3-Ingredient Pancake recipe and incorporate PUMPKIN.
Insert. This recipe.
While there are more than 3 ingredients in this recipe, I took the fact that both the peanut butter and applesauce pancake recipes are:
In this recipe, I added a few tablespoons of coconut flour
because it gives the pancakes a much better consistency and makes them easier to flip!
Paleo Pumpkin Pancakes
Prep Time:

5 mins

Total Time:

5 mins

Author:
Yield:

4
Ingredients
wet
4 eggs, large
1/2 cup pumpkin puree
1 tablespoon maple syrup
dry
1 teaspoon baking powder
1/2 cup almond meal (I used the Trader Joe's brand)
2 tablespoons coconut flour
1 teaspoon cinnamon
Instructions
In a medium size bowl, whisk 4 eggs. Then add in pumpkin puree and maple syrup and mix.
Next, add in dry ingredients and mix again until everything is combined.
Heat a large skillet to medium heat, making sure not to heat it any hotter! Spray with coconut oil cooking spray. Once the skillet is hot, spoon 1/4 of the batter onto the skillet and use your spoon to spread the batter so that everything is even.
Cook the first side for about 3 minutes (you may need to cook the first pancake longer, so that the pan can heat up all the way), or until cooked enough to flip. Use a spatula to carefully flip the pancake. Let the other side cook for 2-3 minutes or until cooked all the way through.
Nutrition
Serving Size:

2 medium pancakes or 1/2 the recipe

Calories:

419

Sugar:

10

Fat:

26

Carbohydrates:

23

Fiber:

8

Protein:

22
Happy Hump Day to you!