Make yourself a delicious fall breakfast and fix up this pumpkin french toast. It is made with all of the classic ingredients for french toast plus pumpkin puree and a bit of cinnamon.
You don't have to waste the rest of that can of pumpkin, use it up on this delicious pumpkin cold brew, a pumpkin mug cake, or some delicious pumpkin bread.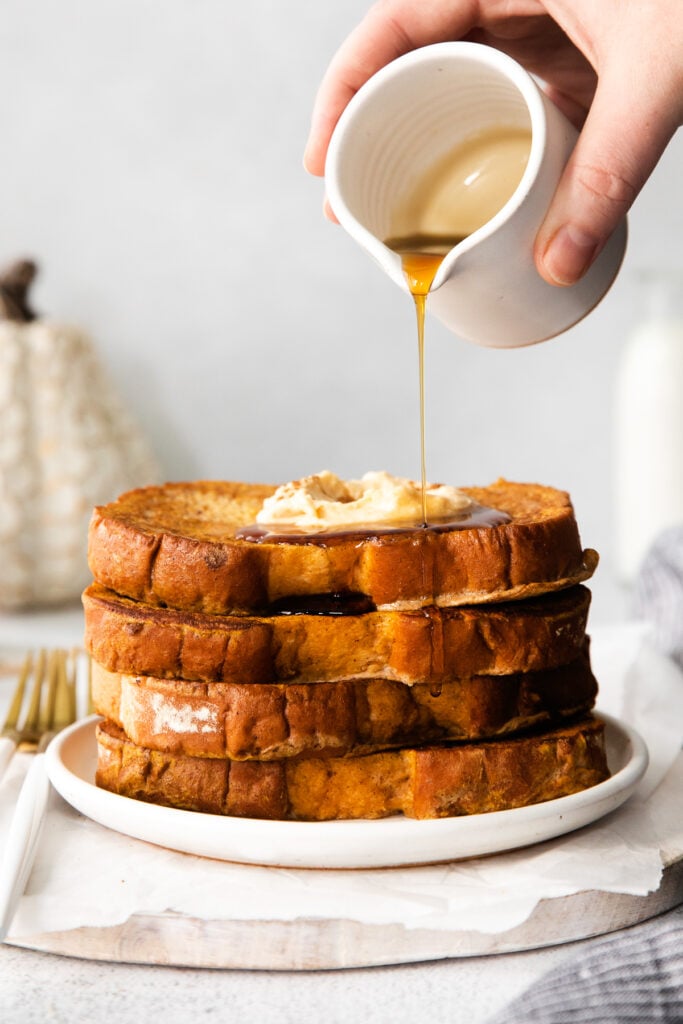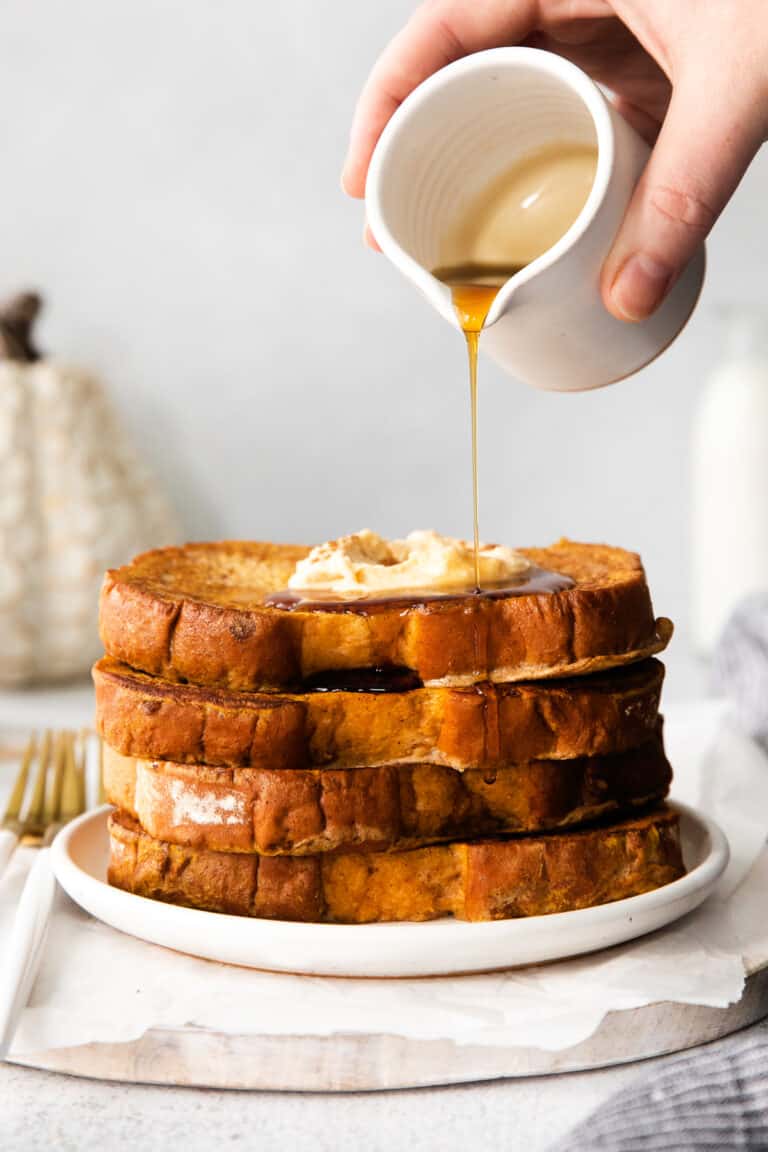 For the full recipe, scroll down to the recipe card for a list of ingredients and instructions.
Fall Breakfast – Pumpkin French Toast
Looking for an easy fall breakfast? This pumpkin french toast is a simple french toast recipe with the perfect fall flare. Add some warm spices and some pumpkin puree to your french toast egg mixture and you're all set.
So, if you love French toast and you love fall, then there is no doubt you will love this simple pumpkin french toast recipe!
why we love this recipe
This french toast recipe is the perfect fall breakfast.
It's a great recipe to make when you need to use up a can of pumpkin.
You can freeze pieces of french toast for later.
Each pice of french toast is soft on the inside and crispy on the outside.
All the Ingredients You Need
Thick cut bread- if you are a french toast person you probably already know what bread you like to use. We use Texas toast for this recipe, it's thick and delicious. Sourdough bread or any other thick bakery bread would work well, too.
Eggs- farm fresh large eggs take this pumpkin french toast to the next level.
Pumpkin- we love Libby's canned pumpkin, but use any canned pumpkin you'd like.
Unsweetened plain almond milk- whisk a little almond milk with the eggs. Again, you can use any type of milk that you would like.
Ground cinnamon- a bit of cinnamon adds the perfect amount of fall flavor that you are looking for.
Vanilla extract- vanilla extract brings baked goods and sweet breakfast recipes up a notch.
Coconut milk- when it comes to toppings for this pumpkin french toast we make a delicious simple coconut whip that you cannot skip.
Maple syrup- we sweeten the coconut whip
Add More Fall Spices
If you want to change this pumpkin french toast recipe to the next level with more fall spices, add a teaspoon of our pumpkin pie spice or chai spices.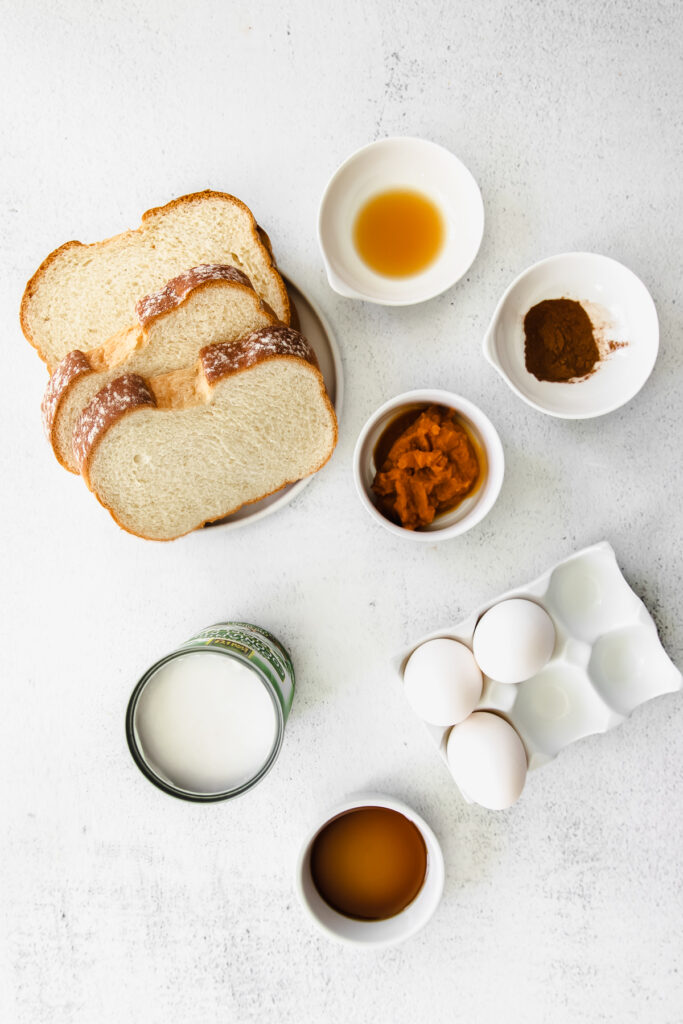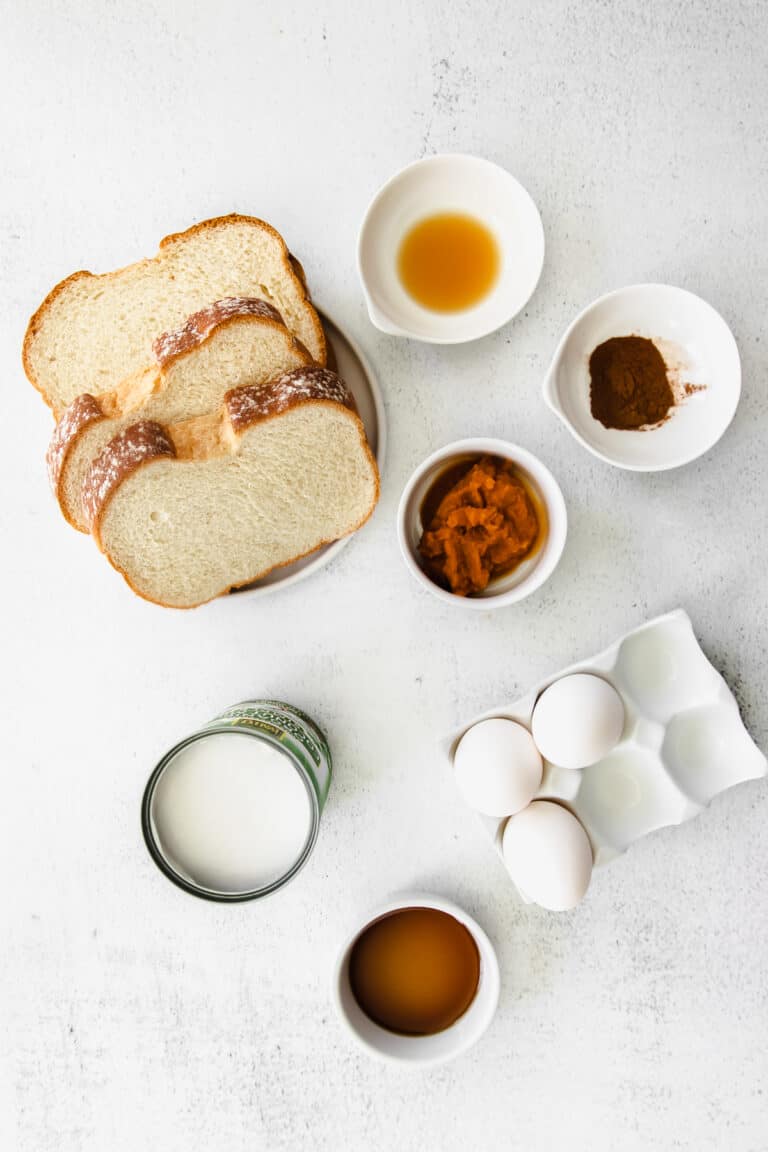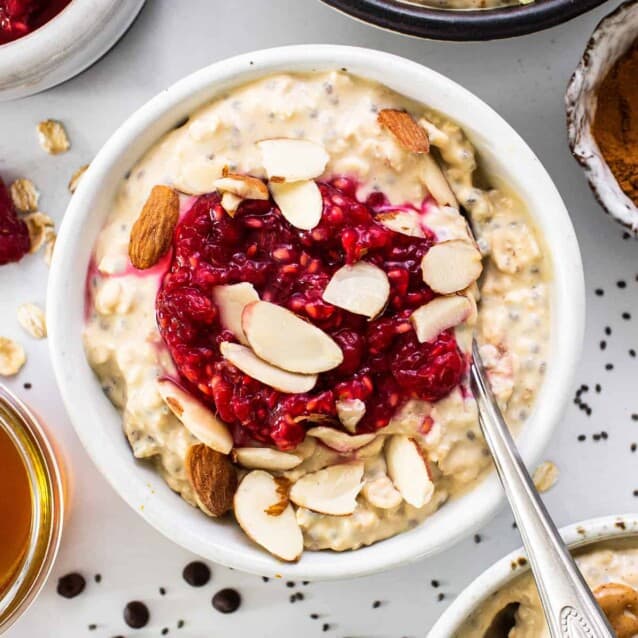 Need Breakfast Inspo?
Subscribe to our emails and get all of our best breakfast recipes straight to your inbox.
Tips + Tricks
Cut that bread thick. The thicker the bread, the chewier and more delicious your french toast will be after you cook it.
Let it sit. After you have whisked the eggs, milk, and spice together flip the bread a couple times in the mixture so it soaks up all the great flavors. Don't take it out too quick. Be sure to let any excess egg drip from the french toast, too.
Be patient. When it comes to cooking your french toast on the stove top, be patient! If you cook the french toast on too high of a temperature you'll get a burnt outside and a soggy inside. Let the french toast cook on medium/low to let it cook from the inside, out. YUM.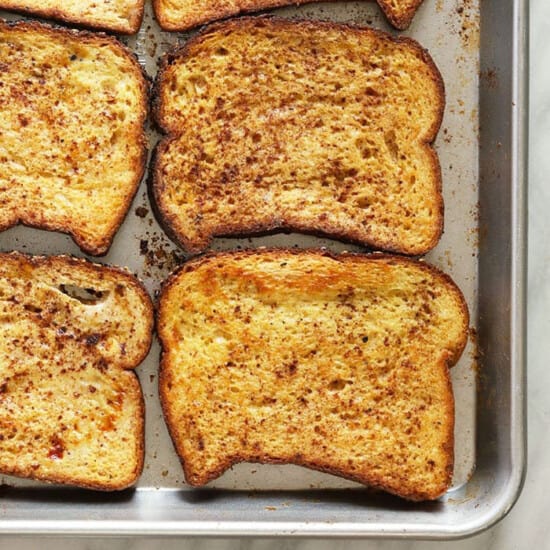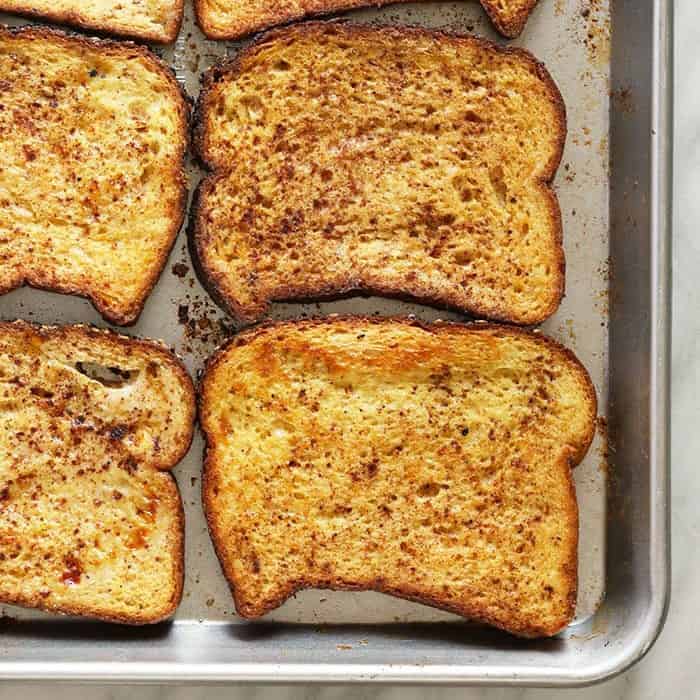 Sheet Pan
French Toast
No time to make pumpkin french toast on the stove for a crowd? Make things a little easier and make french toast for a crowd by making u003ca href=u0022https://fitfoodiefinds.com/sheet-pan-french-toast/u0022u003esheet pan french toastu003c/au003e.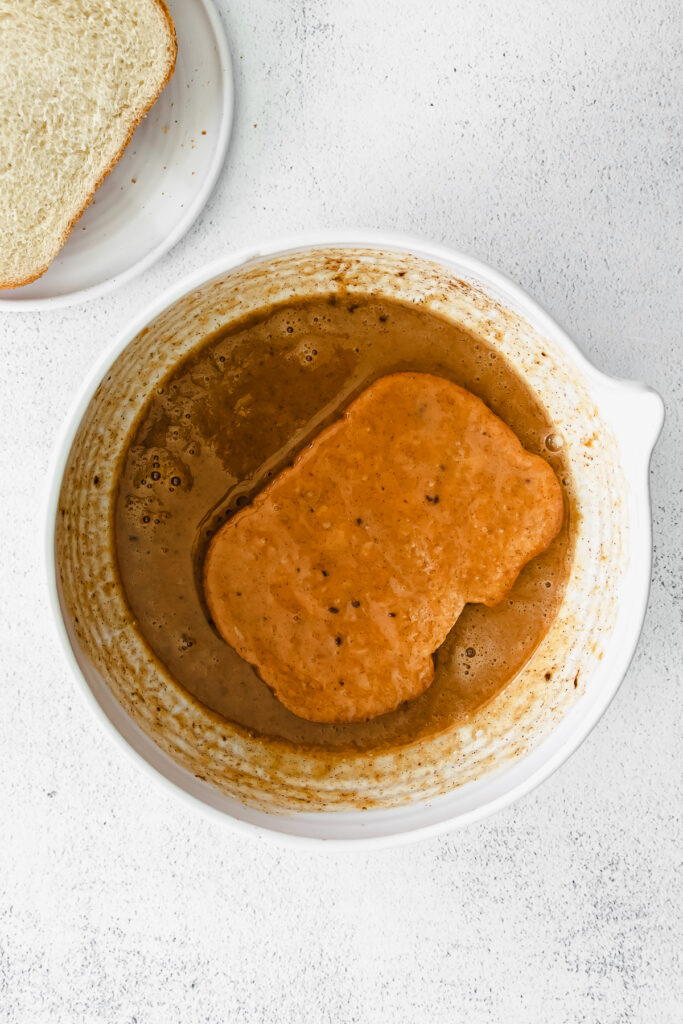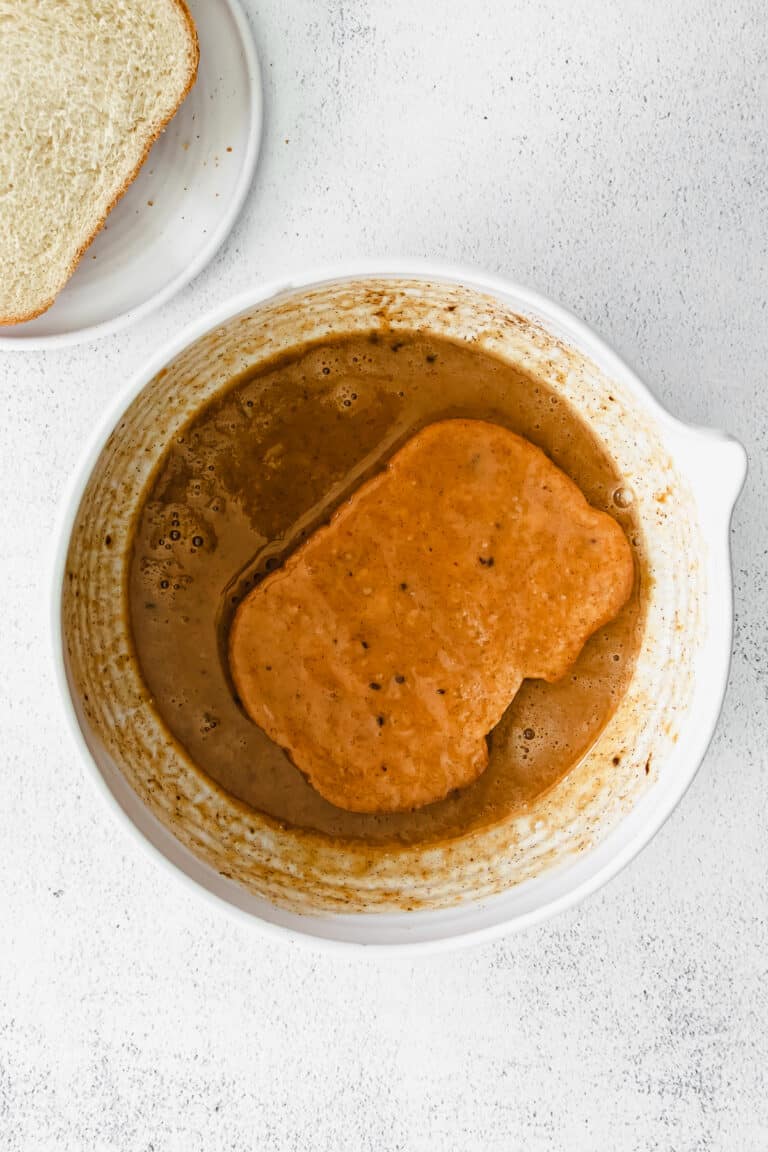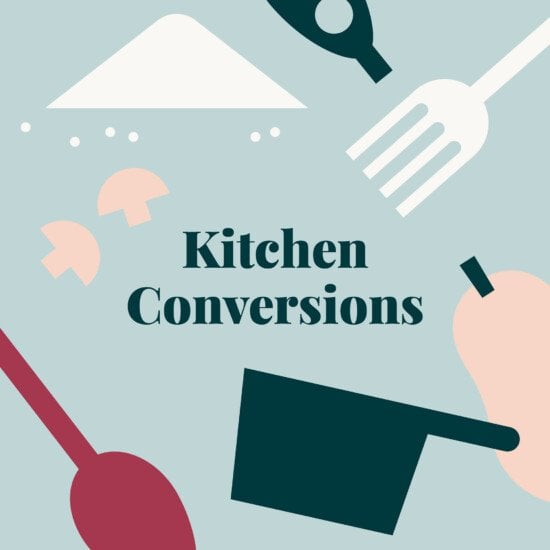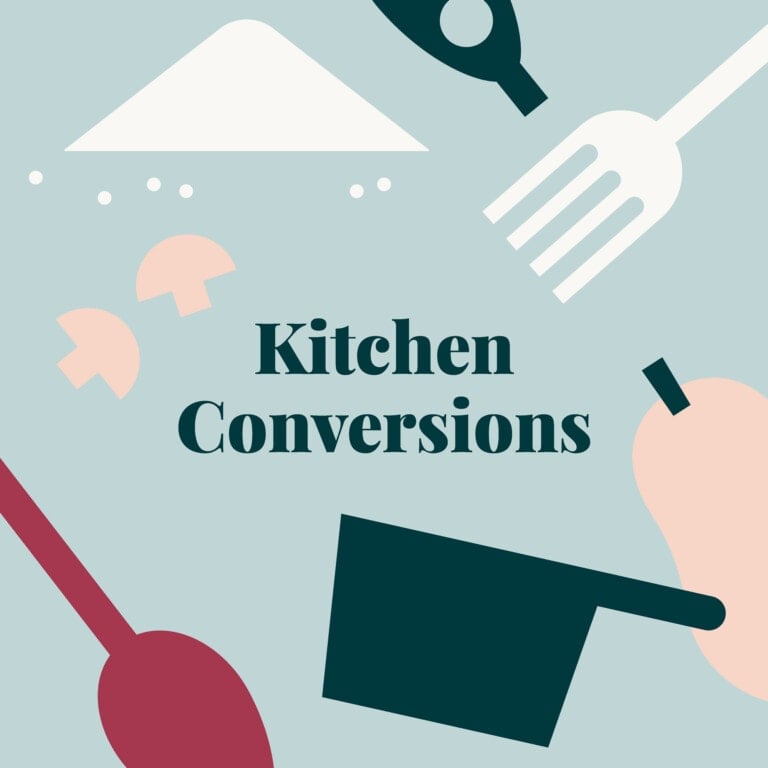 make it easy
Print Your Own
Keep common kitchen conversions like tablespoons to teaspoons and Fahrenheit to Celsius on hand at all times with our u003cstrongu003eprintable kitchen conversions chart.u003c/strongu003e
get it now
Learn More Kitchen Conversions
How to Make Pumpkin French Toast
Make the egg mixture. Whisk together the eggs, pumpkin puree, almond milk, vanilla, and cinnamon. Be sure all the ingredients are combined after whisked.
Add the bread. Add one piece of bread to the egg mixture. Flip the bread a couple of times and let it sit in the mixture for a minute or two to absorb the eggs. Let the excess egg drip from the bread before cooking.
Cook the french toast. Heat a large skillet over medium heat and add one or two pieces of french toast to the pan. Cook over medium heat for 2-3 minutes on each side until golden brown. Repeat until done.
Make the coconut whip. To make coconut whip, remove the coconut cream from the fridge and scoop out only the hard white part of the coconut cream from the can and discard the coconut water in the bottom of the pan. Add the hardened coconut cream and maple syrup to a bowl and whisk with an electric mixer until peaks form.
Enjoy. Serve the pumpkin french toast with a dollop of coconut cream and a little drizzle of maple syrup.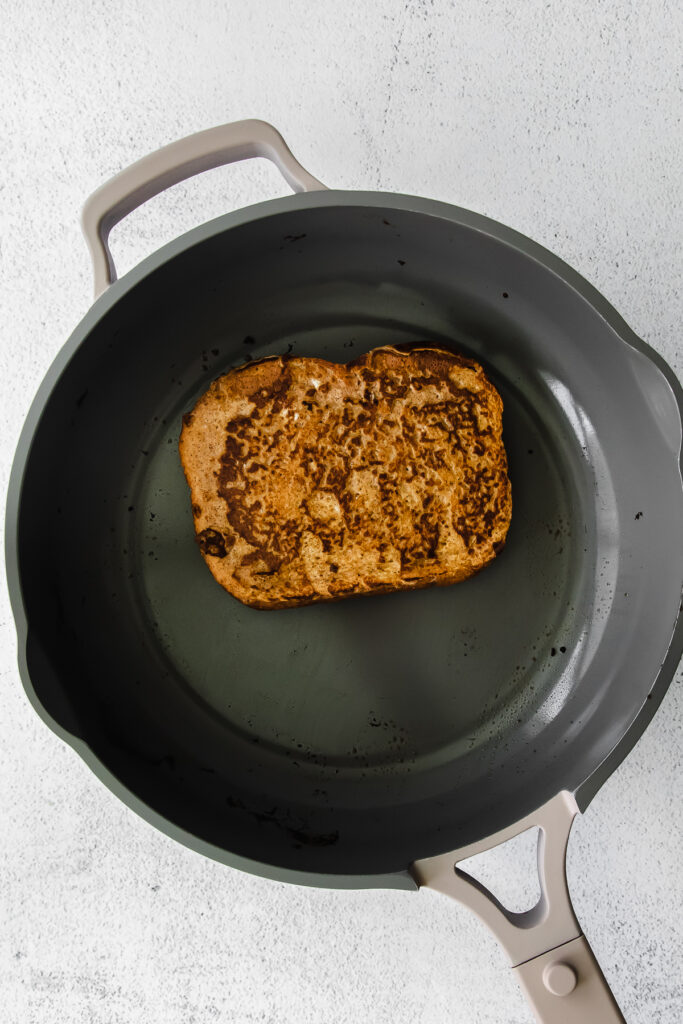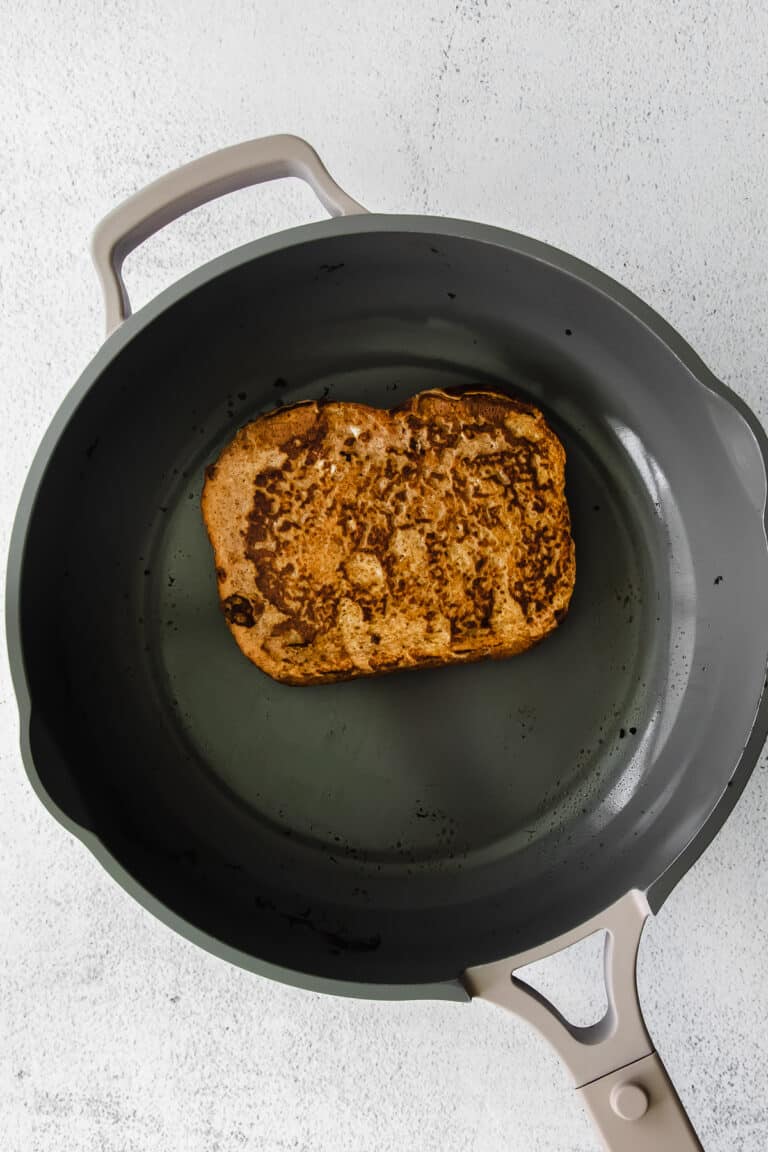 More Topping Ideas
Maple Roasted Pecans- There's nothing better than sweet roasted pecans on a fall salad or on top of baked goods. Make these Oil-Free Maple Roasted Pecans in 10 minutes!
10 Minute Candied Walnuts- You are going to love these candied walnuts! No need to soak, bake, or wait. We make these candied walnuts in 10 minutes on the STOVE TOP. Make them for a snack or a salad topper any time.
Storage
You can store french toast after it is completely cool. Then, place it in the fridge for up to 3 days in an air tight container.
Can I freeze French Toast?
Yes, you can freeze french toast. Let the french toast cool completely and then place it in a freezer safe bag.
To reheat the french toast, pop it in the toaster or reheat the french toast in oven at 350ºF for 15-20 minutes.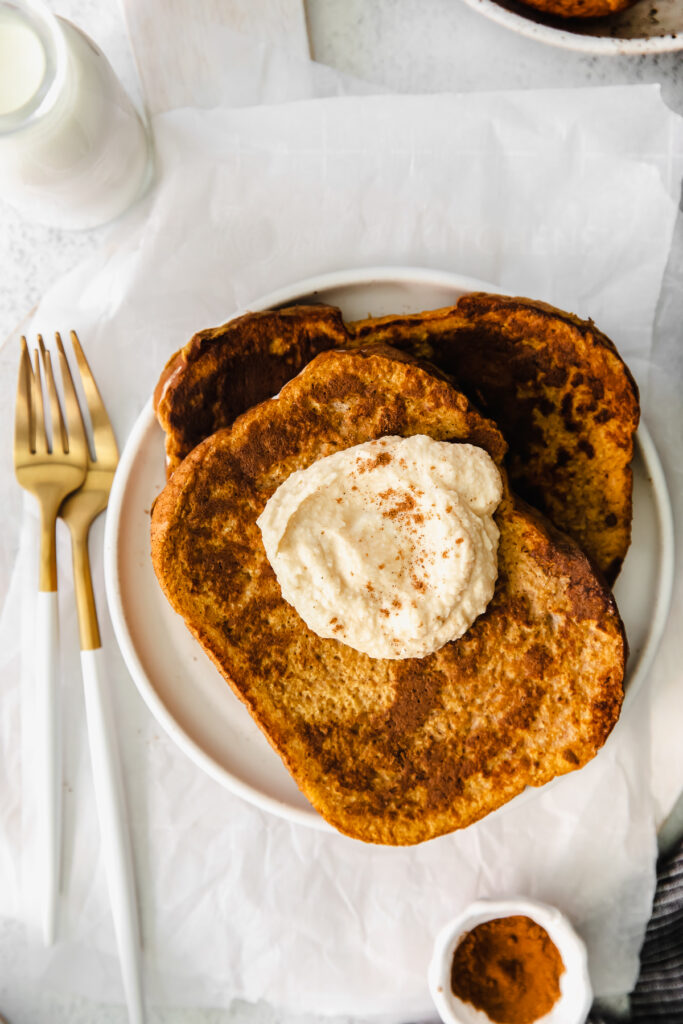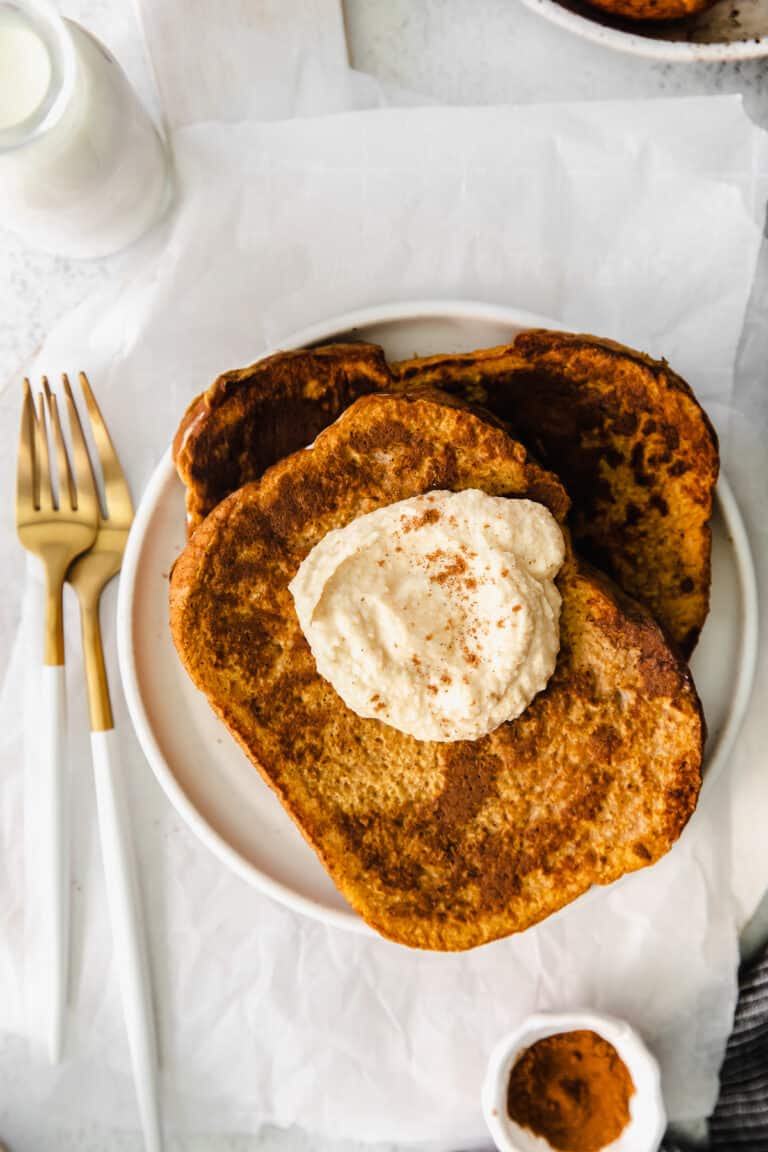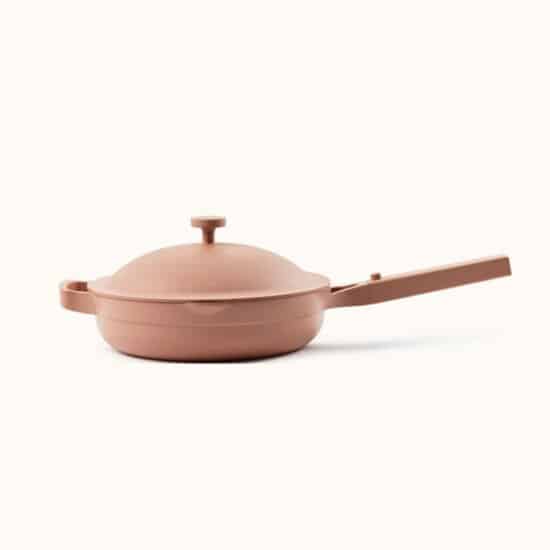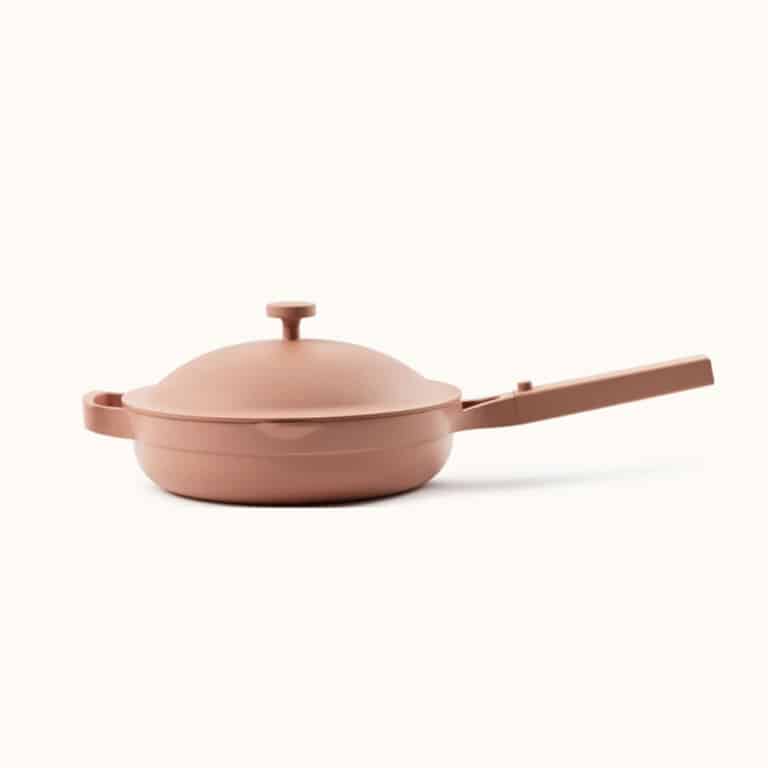 Try it!
Always Pan
The u003ca href=u0022https://rstyle.me/+veJPbYyYP1vltwpW26zQEwu0022u003eAlways Panu003c/au003e is our favorite pan for sauteing, steaming, frying, and simmering. It's a nonstick pan that we highly recommend.
Buy now!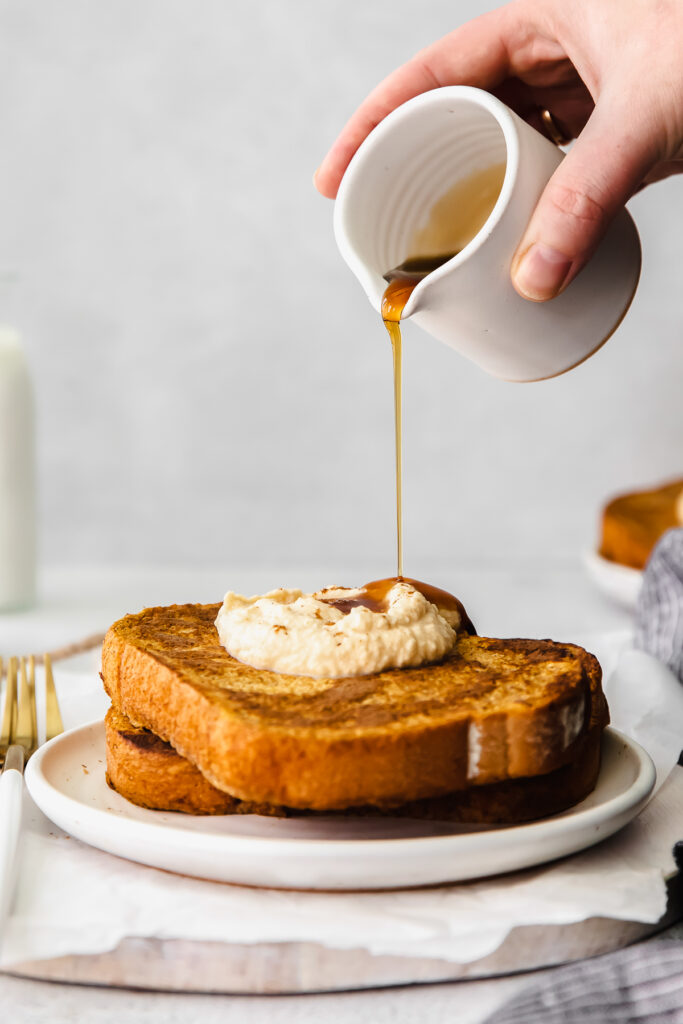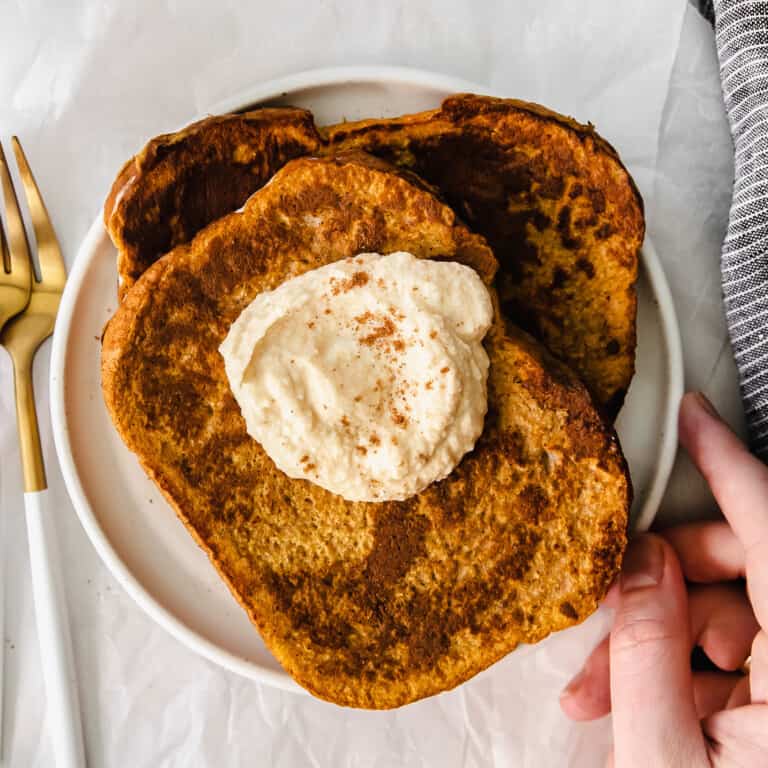 Pumpkin French Toast
This pumpkin french toast recipe uses classic french toast ingredients that are whisked together with pumpkin puree. The toast is then dipped in that mixture and cooked on the stovetop. 
Ingredients
For the French Toast
4

pieces

bread

we prefer thick-cut such as Texas toast, but any kind will work

3

large eggs

1/4

cup

pureed pumpkin

3

tablespoons

unsweetened plain almond milk

1

teaspoon

ground cinnamon

1

teaspoon

vanilla extract

Coconut oil cooking spray or butter for cooking
For the Coconut Pumpkin Whip
Cream from 1 can of full-fat coconut milk

chilled

1

tablespoon

maple syrup

2

tablespoons

pureed pumpkin
Instructions
Place eggs, pumpkin puree, almond milk, cinnamon, and vanilla into a medium-sized bowl. Whisk until combined.

Heat a large skillet over medium heat and spray with coconut oil cooking spray.

Submerge each piece of bread in the egg mixture, making sure everything is evenly coated and saturated.

Then, transfer bread onto skillet and let cook on medium for 2-3 minutes on each side.

Repeat for each piece of bread.

For the pumpkin coconut whip, place chilled coconut cream, maple syrup, and pumpkin puree in a medium bowl and use a hand mixer to mix until fluffy.

Serve French toast with coconut whip and maple syrup.
Nutrition facts
Calories:
659
kcal
Carbohydrates:
49
g
Protein:
16
g
Fat:
11
g
Fiber:
4
g
Sugar:
12
g