There's nothing better than sweet roasted pecans on a fall salad. Make these Oil-Free Maple Roasted Pecans in 10 minutes!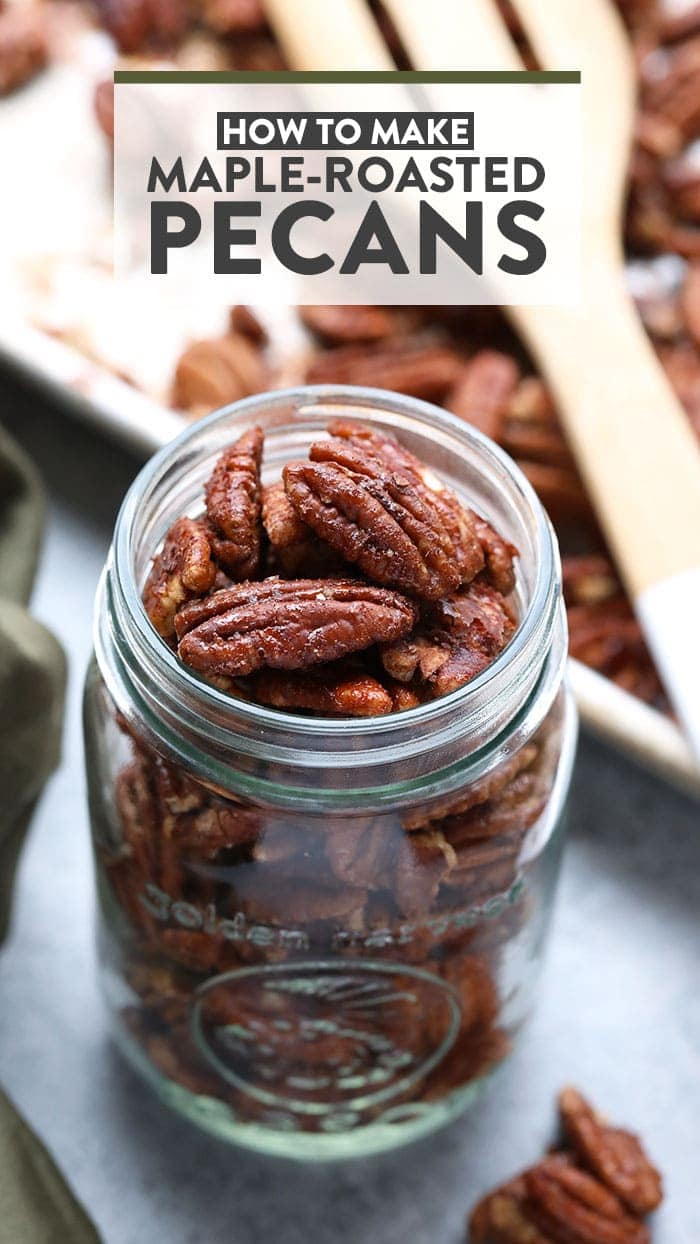 Roasted Pecans in 10 Min!
Did you know that you can make the most delicious healthy snack or crunchy salad topping in just 10 minutes? That's right, we're going to show you how to make delicious maple roasted pecans in the whole world!
If you're not convinced just yet, here are a few reasons why we love this recipe!
Perfect salad topper
Delicious fall/holiday snack
Healthy fats
Made in 10 minutes
Perfect for charcuterie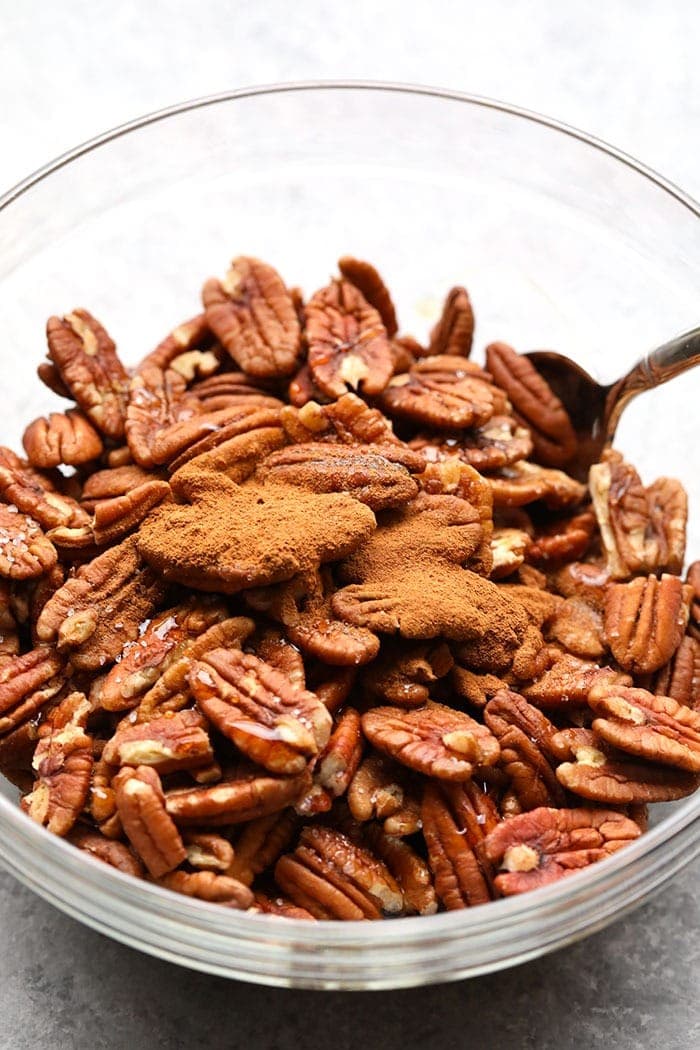 How to Roast Pecans
First things first, we need to assemble the ingredients! Good news, all you need are 4 simple and whole ingredients to get started.
raw pecans
maple syrup
ground cinnamon
sea salt
Once you've got all of your ingredients, you can either mix them together in a large glass bowl or right on a greased baking sheet. Roast pecans at 400ºF for 10 minutes…making sure not to burn!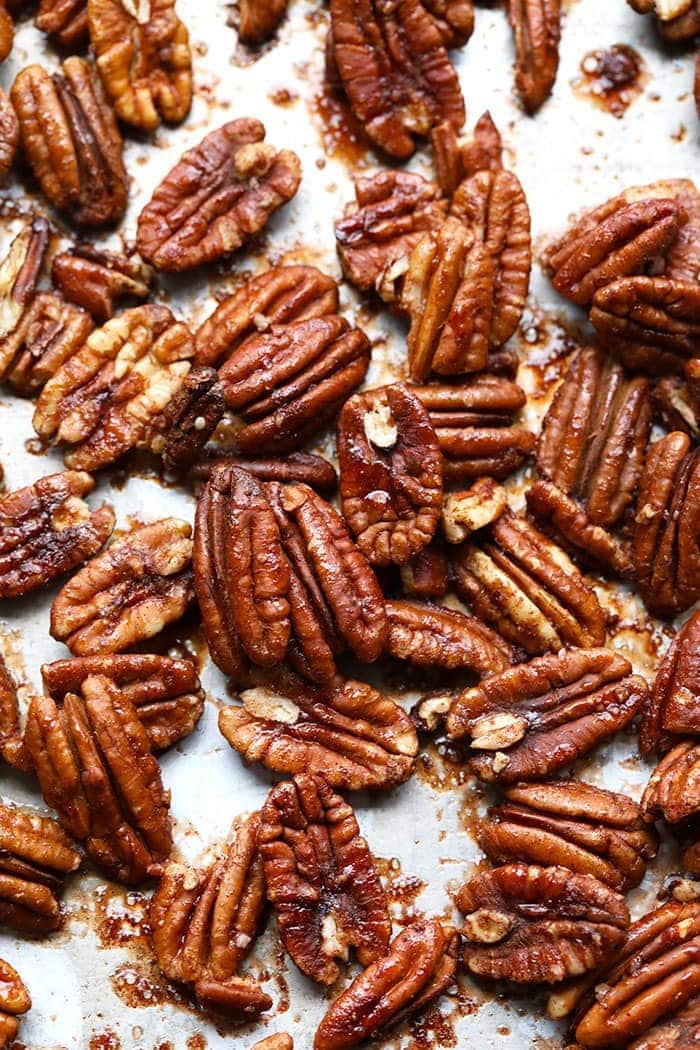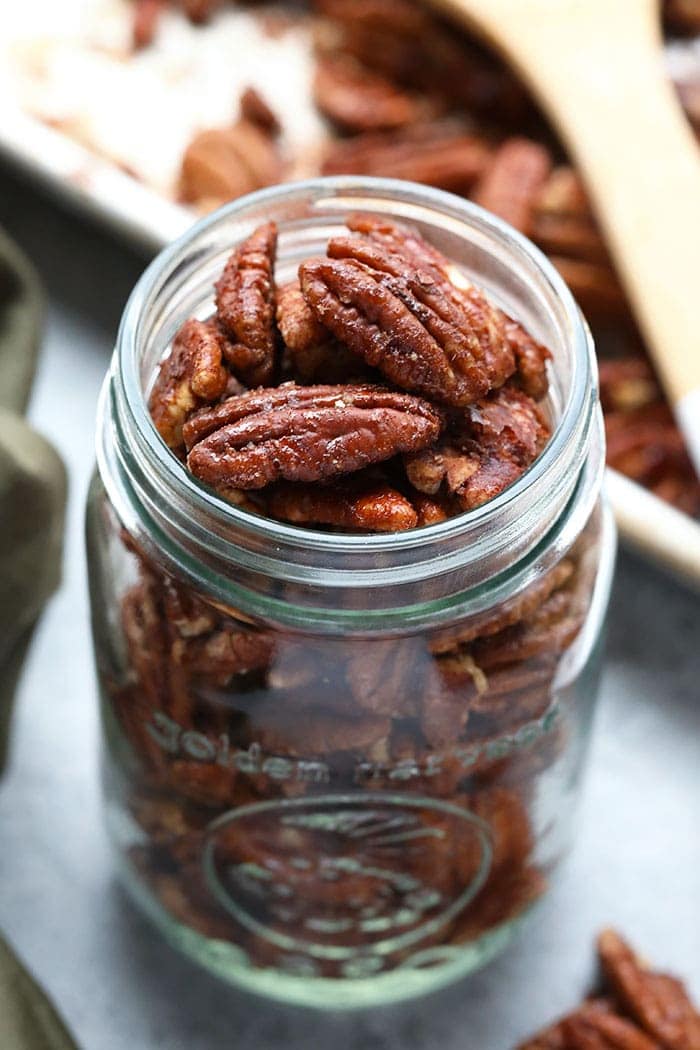 So? Grab some pecans, maple syrup, cinnamon, and salt, and make these pecans, DAMNIT. If you're anything like me, you love giving gifts, especially when they are homemade.
These are ready in 10 minutes, don't require any oil, and will make the hostess at the next party you go to smile.
Recipes with Roasted Pecans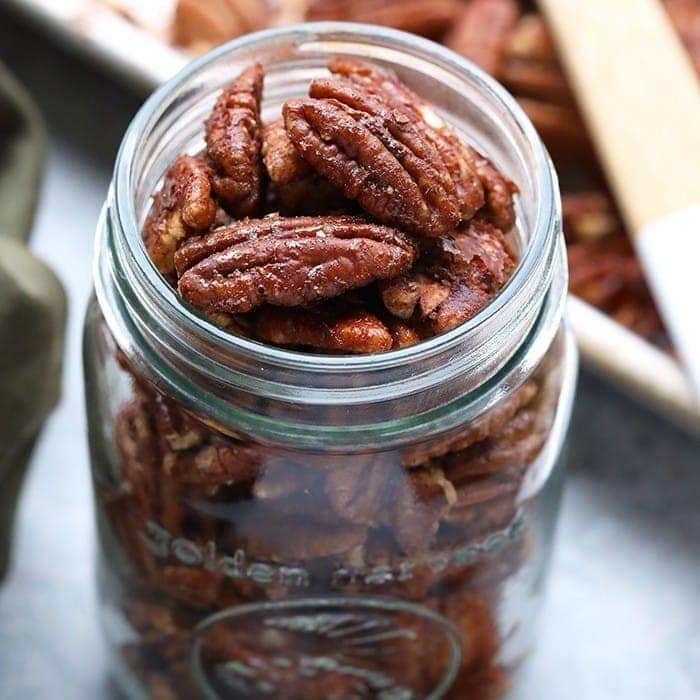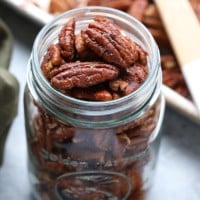 Maple Roasted Pecans
Make this Maple Roasted Pecans recipe this fall for a flavorful touch on any salad, charcuterie board, or snack! 
Prep:
5 minutes
Cook:
10 minutes
Total:
15 minutes
Fat
42
Carbs
13
Protein
6
Ingredients
4 cups

raw pecans

3 tablespoons

maple syrup

1 teaspoon

ground cinnamon

1/2 teaspoon

sea salt
Instructions
Preheat oven to 400ºF. Then, line a baking sheet with parchment paper and set aside.
Place pecans, maple syrup, and cinnamon in a large bowl and mix making sure everything is fully coated.
Then, spread nuts out on a lined baking sheet and sprinkle with a generous amount of sea salt.
Roast at 400ºF for 10 minutes.
Let cool for at least 10 minutes before removing from pan and transferring into a glass jar or Tupperware.
Tips & Notes
Nutrition information is for 8 servings
Nutrition Facts
Serving Size:
1/8
Calories:
440
Sugar:
7
Sodium:
111
Fat:
42
Carbohydrates:
13
Fiber:
4
Protein:
6
Category:
Snack
Method:
Oven
Cuisine:
American
How has it already been 7 years?! JUST HOW?
I feel like it was just yesterday that I was trying to figure out what to name this website. I settled on College Foodie Finds, but soon realized it was going to be much more than College Foodie Finds.
I work hard and a lot, but I still pinch myself daily that I get to call what I do a job. I have 3 amazing teammates that not only make this website possible but make me love what I do even more! I also wouldn't be where I am today without the love and support from my friends and family. I know that sounds corny, but having positive vibes in your life is a necessity for any kind of success. Plus, life is so much better when you're not so alone.
What I love most about my job is learning. A lot of people go back to school for their masters or PHDs, but I feel like I learn so much every single day. Whether it's learning in design, cooking, business, writing…my brain is always taking in little bits of information and allowing me to gain knowledge that I wouldn't get in any other job. I love that my job challenges me, makes me feel uncomfortable, and is fun. I mean, who the hell wakes up at 5 AM some days because they're excited to work? Uh, that would be me. I feel very blessed to have such a fortunate business and job and wish everyone could feel the passion and excitement that I feel for work.
I get asked all the time- "What's next for Fit Foodie Finds?" Truth is, I'll never know what's next! Heck, when I started this website, Instagram wasn't even a thing. If you would have told me I would be talking about my lip zit or new fiddle fig tree to 100,000 people every day, I would have laughed in your face. I love what Fit Foodie Finds is right now and what I'm most proud of over the last year is my collaboration with Ambitious Kitchen on Healthy Glow Co. While it's not Fit Foodie Finds, it's still part of the family. It's part of my tribe. I love that FFF has allowed me to do collaborations like this because I am expanding my business in unique and different ways from other websites like mine. I've always strived to be and do different, and I think the projects I am working on for FFF and HGC are achieving that!
I also wanted to give a big thanks to YOU GUYS. You're really the reason why I never stopped blogging in the first place. The little comments, high fives along the way, and emails that I get from you are why I do what I do! So, thank you for taking the time to read, comment, and be you. If I could give every one of you a Trump handshake or chest bump, I would.