These easy pecan pie bars are a healthy dessert that the whole family will love! They are made with date caramel, pecans, and a delicious almond shortbread crust. This is not your typical granny pecan pie recipe, but it's healthy and tasty. Make them today!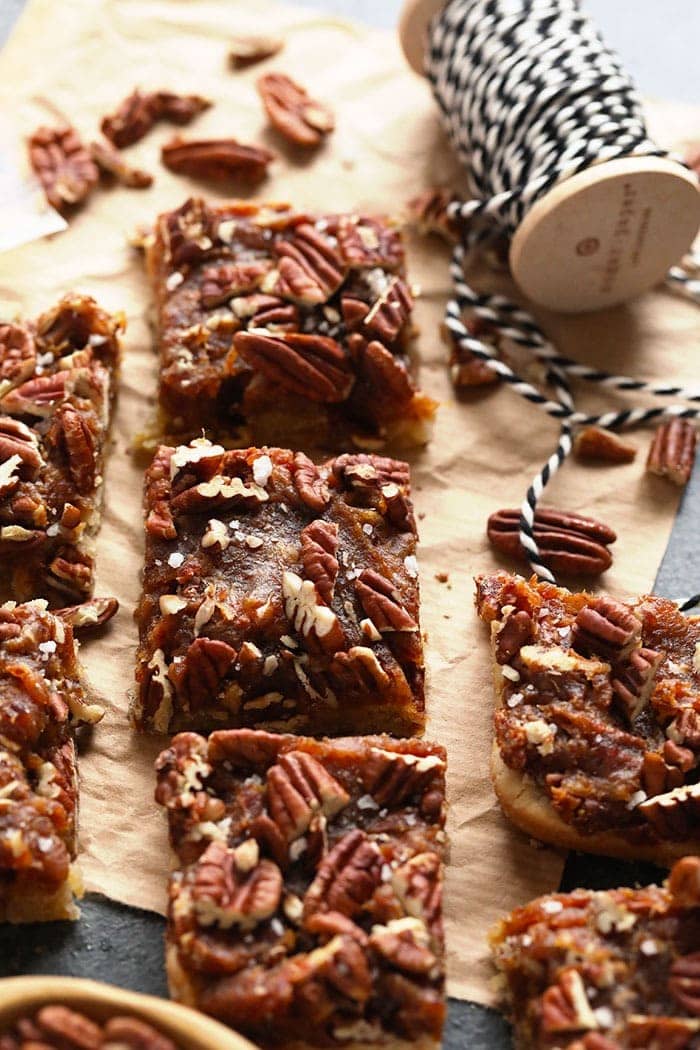 I am going to say it–> I like pecan pie more than pumpkin pie! I would take a crunchy piece of pecan pie any day of the week with a big scoop of vanilla ice cream over the classic pumpkin. #noregrets.
The kicker is that I love the flavors and texture combinations of pecan pie over pumpkin. Simple as pie (haha see what I did there?). Anywho, we don't have many pie recipes on FFF, but we do LOVE bars. We take our favorite desserts and we develop those flavors into a BAR. So, all of you pumpkin pie lovers, check out our healthy pumpkin pie bars. They are SO GOOD.
We couldn't let this fall go by without adding an easy pecan pie bar recipe to our bar collection! Many people are searching for gluten free pecan pie recipes or easy pecan pie recipes and I say MAKE THESE EASY PECAN PIE BARS INSTEAD.
The sugar content in these easy pecan pie bars is a bit higher than some of our other dessert recipes. But guess what–> we didn't use any processed sugar! Classic pecan pie is usually made with butter, sugar, and sweet and condensed milk. We wanted to offer all of you a healthy pecan pie alternative without totally sacrificing the pecan pie texture that we all love. There was only one solution. DATE CARAMEL.
We pureed dates and made a date caramel in the bind of these bars. Using dates as a natural sweetener is a great way to eliminate the need for any granulated sugar, but they do up the sugar in the macros, just FYI. We also decided to cut these bars into larger squares, so feel free to cut them into smaller chunks. They would also be great as bite-sized desserts for any holiday party!
Q's About Easy Pecan Pie Bars
Do pecan pie bars need to be refrigerated?
If you are not serving these pecan pie bars immediately I would suggest refrigerating the bars for up to a week in the fridge.
Can I freeze pecan pie bars?
Yes, you can freeze pecan pie bars in a freezer safe and airtight container for up to a month! Make sure the pecan pie bars have completely cooled before placing them in the freezer.
Can I substitute sweet and condensed milk in a pecan pie?
YES. You can get rid of all ingredients for pecan pie other than the pecans and replace them with date caramel. It's seriously delicious and has a great pecan pie consistency.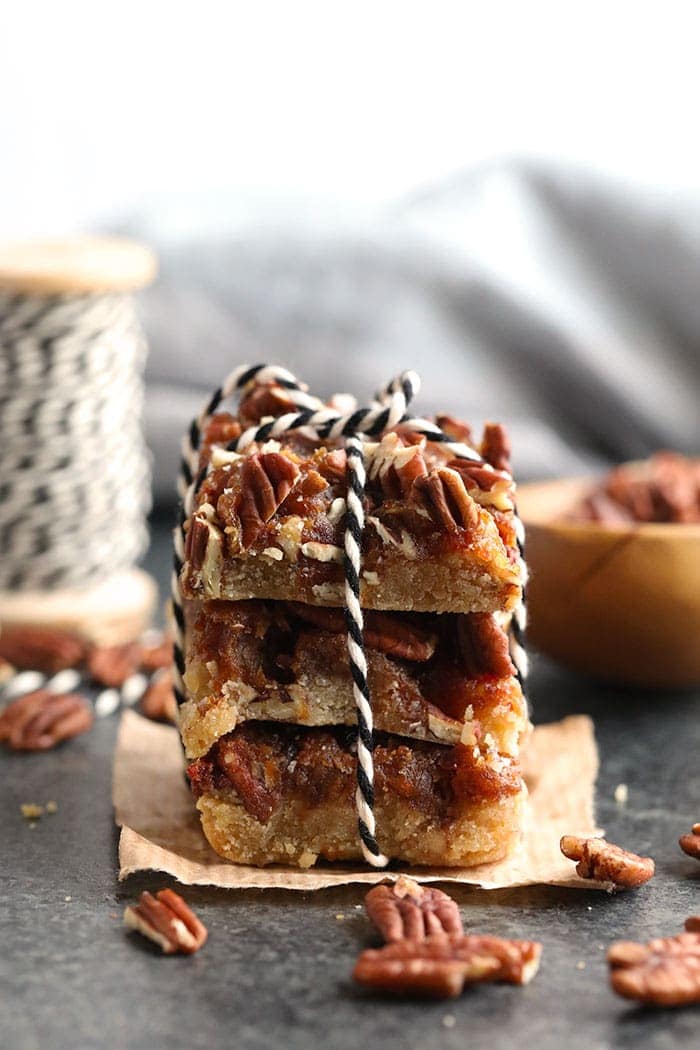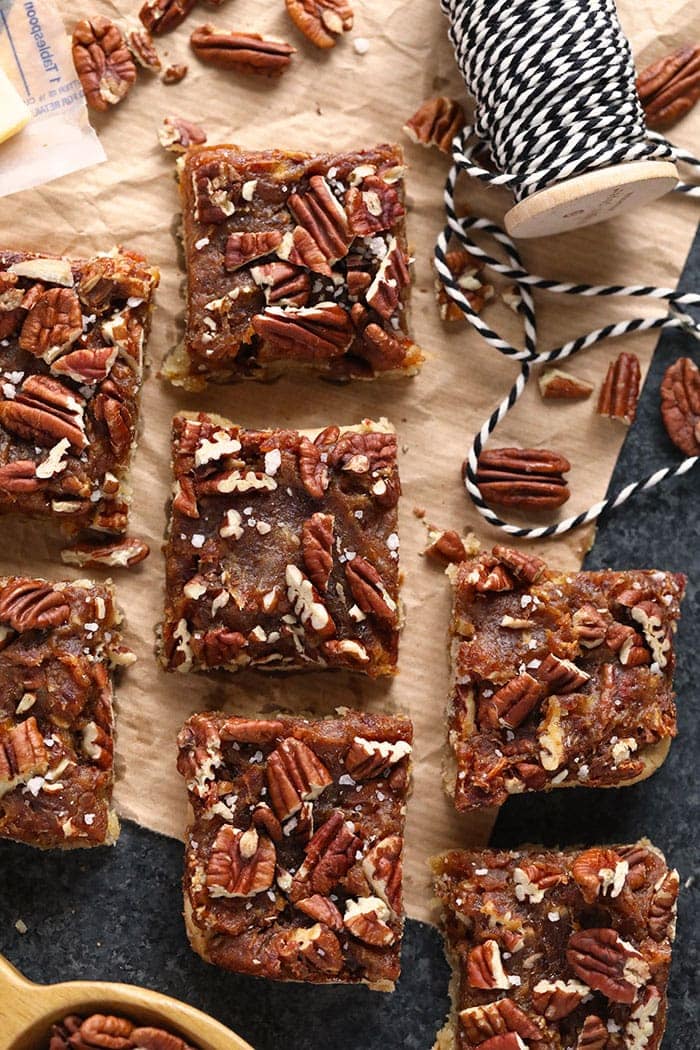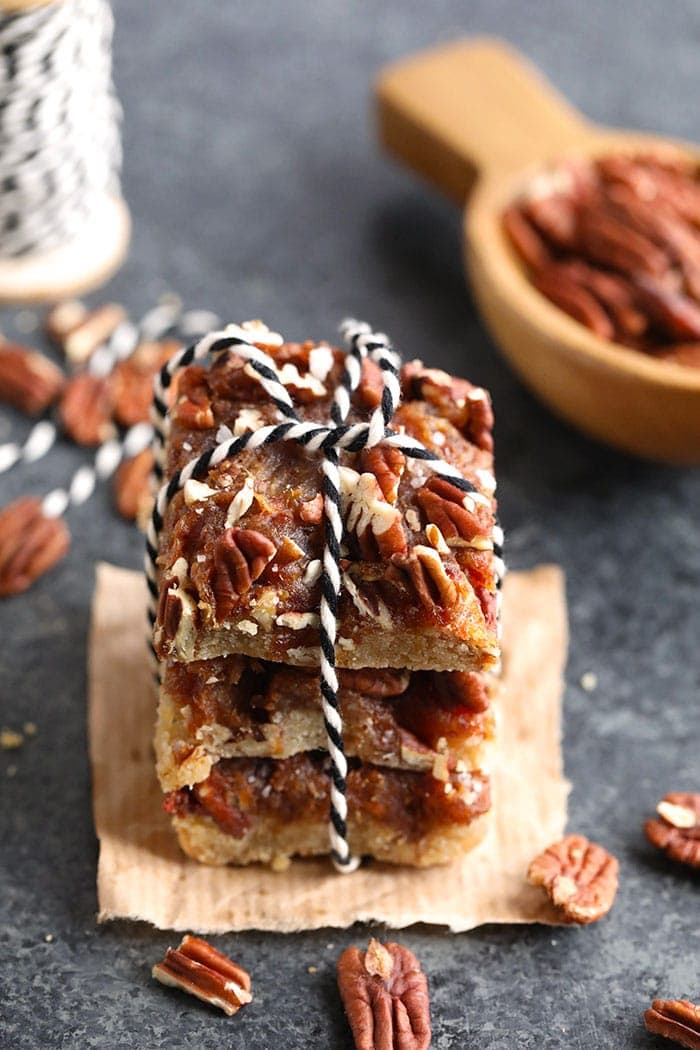 Healthy Dessert Recipes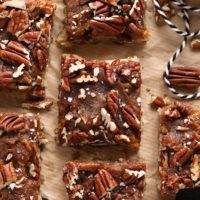 Healthy Pecan Pie Bars
These easy pecan pie bars are a healthy dessert that the whole family will love! They are made with date caramel, pecans, and a delicious almond shortbread crust. This is not your typical granny pecan pie recipe. Make them today!
Ingredients
Filling
20

Medjool dates

pitted (soft)

1

teaspoon

vanilla extract

2

tablespoons

to 1/4 cup water*

1

cup

raw pecans

chopped

1/2

teaspoon

sea salt
Instructions
Preheat the oven to 350ºF and lay a piece of parchment paper onto the bottom of an 8x8-inch pan*. Set aside.

Place all ingredients for the crust into a medium mixing bowl and mix until combined. Form the dough into a ball and place into your greased baking pan.

Use your hands or a spatula to evenly spread the dough across the bottom of the pan.

Bake at 350ºF for 10-15 minutes or until the crust has slightly browned.

While crust is baking place dates and vanilla into a high powered food processor. Blend until smooth. Add in one tablespoon of water at a time until date mixture turns into a paste and is easily spreadable.

Add 1/4 cup of pecans into the date mixture and pulse in your food processor to break up the pecans.

Once the crust is done cooking remove from oven and let cool for 10 minutes. Do not skip this step.

Next, place date filling over your cooled crust and carefully spread out with a spatula. Sprinkle the remaining chopped pecans over the filling.

Place bars in the oven at 350ºF and bake for an additional 15 minutes.

Remove from oven and sprinkle with sea salt. Let cool completely before cutting into small bars.
Tips & Notes
The amount of water varies by how juicy your dates are.
Cooking time may vary if you use a cake pan vs. a casserole dish. We tested this recipe in both. If you use a metal cake pan, your bake time should be around 10 minutes and with a casserole dish, it should be closer to 15 minutes.
Nutrition facts
Calories:
383
kcal
Carbohydrates:
66
g
Protein:
5
g
Fat:
15
g
Fiber:
8
g
Sugar:
56
g