If you love healthy pancakes, add this healthy pancake mix recipe to the list! This is our favorite healthy pancake base recipe + 6 healthy pancake recipes you can make with it. Start flipping those flapjacks!
Breakfast is life. Whether I am mixing up a healthy pancake batter, grabbing a healthy muffin on the go, or warming up an egg cup, I make sure I always have healthy breakfast options on hand!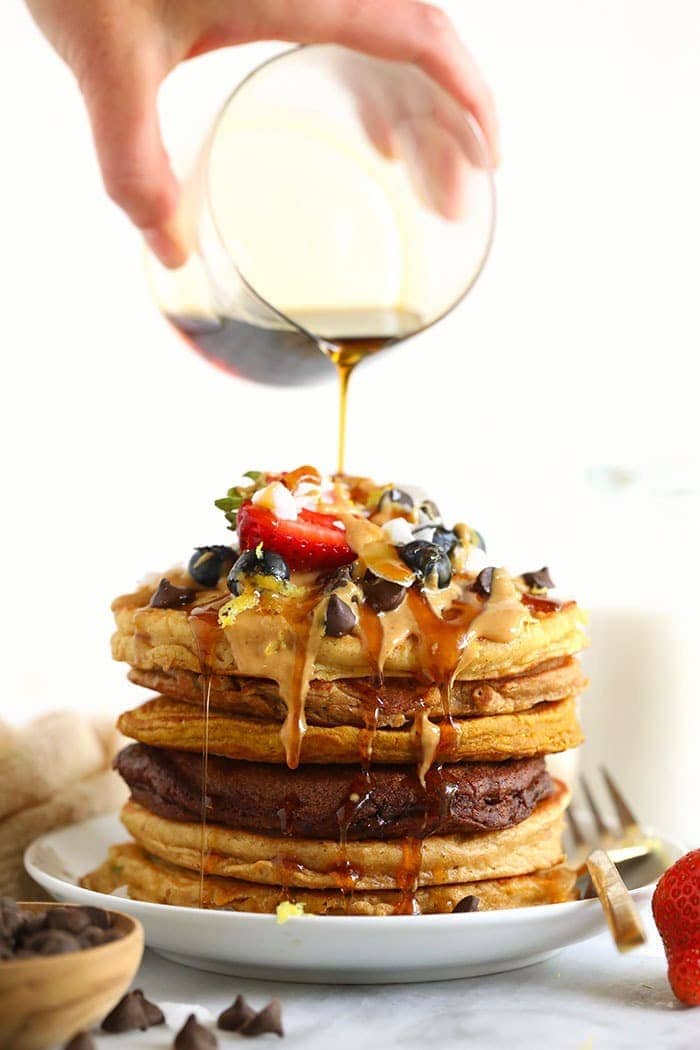 Pancakes Can Be Easy
Pancakes were always a weekend favorite at our house growing up. They were never an easy weekday morning meal because of the mess and the time it took to whip up a batch of pancakes.
There is nothing better than getting up in the morning, grabbing a pancake and tossing it in the toaster. Your pancake is defrosted, lightly toasted, and ready for toppings in under 5 minutes.
Pancakes can also be a healthy breakfast recipe. Skip the white sugar, use whole wheat flour, and add a little flaxseed or healthy toppings to make pancakes a well-balanced meal. You just can't beat it.
Healthy Pancakes Base Recipe
We have a plethora of healthy pancake recipes to choose from on FFF. There are savory pancakes, sweet pancakes, gluten-free pancakes, and everything in between!
Inevitably, we always come back to our classic pancake batter. It is the recipe we follow when we don't want to look up a recipe or think too hard. It is a combination of whole ingredients that can be added to make whatever pancake your heart desires.
We wanted to share our favorite healthy pancakes base with all of you plus 6 ways you can alter the recipe depending on what mood you're in! First, let's chat about our favorite pancake batter recipe.
Pancake Base Ingredients
We stuck with our favorite whole ingredients for the base of these healthy pancakes. They are ingredients that we ALWAYS have in our refrigerator or pantry. Check them out below:
White Whole Wheat Flour
Baking Powder
Salt
Eggs
Unsweetened Almond Milk
Coconut Oil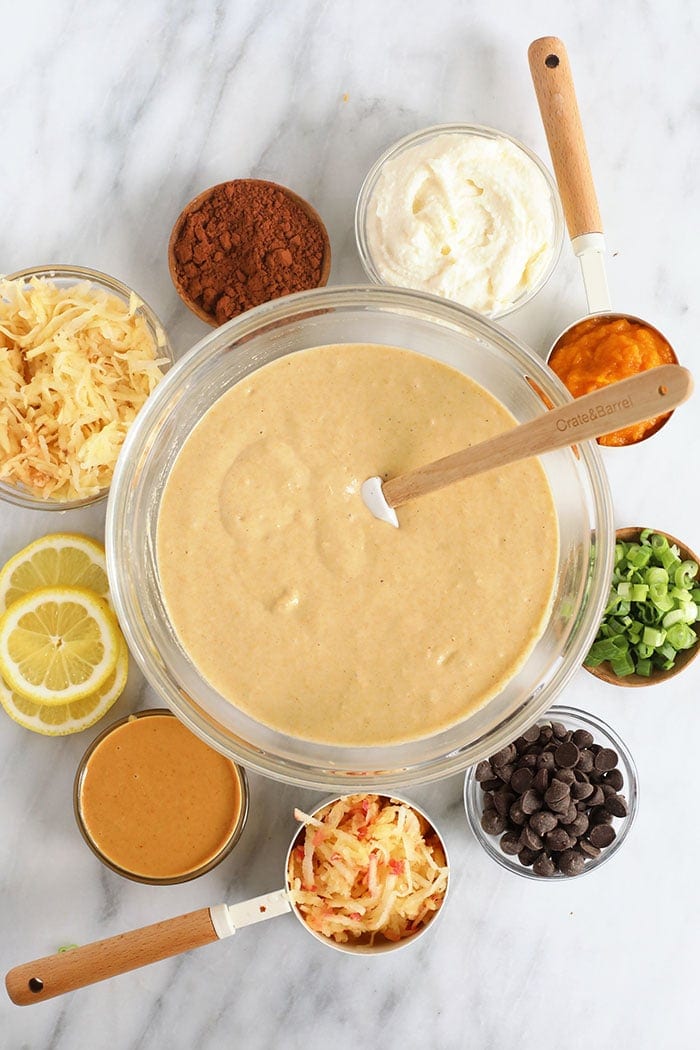 Healthy Pancakes Tips & Tricks
Below we're sharing some of our top tips and tricks to get perfectly fluffy healthy pancakes every time you make them!
Substitutions
We get a lot of questions about substitutions for our healthy pancake recipes. This pancake base recipe is tried and true. We've tested mix-ins, toppings, flours, and everything in between.
Below are some of the main ingredients in this recipe and potential substitutions you can make!
White whole wheat flour: While whole wheat flour definitely works the best time and time again, but if you're hoping to swap for a different flour, we suggest the following (and only the following) at a 1:1 ratio:
all-purpose flour
whole wheat flour
all-purpose gluten-free flour blend
Unfortunately, we do not recommend substituting 1:1 for coconut flour and/or almond flour.
If you are looking for an almond flour or coconut flour pancake recipe, try our coconut flour paleo coconut flour pancakes or our 3 ingredient almond flour pancakes.
Coconut sugar: The only sugar we would recommend swapping for coconut sugar 1:1 is a light brown sugar.
Coconut oil: While we haven't tested any other subs, we're confident butter would work as well as canola oil! If you try either of these, let us know how it works!
Eggs: We have not tested these recipes without eggs. If you do try these recipes with a flax egg, please let us know how it goes!
Maple syrup: Honey would be a fantastic 1:1 swap for maple syrup, and potentially agave nectar.
Almond milk: Good news! Any kind of milk will work with a 1:1 swap. Try soy milk, cow milk, oat milk, or coconut milk.
Pancake Toppings
Another way to change up your healthy pancakes is with the perfect pancake toppings! Below is a list of our favorite toppings!
Syrups- maple syrup, honey, agave syrup.
Nut Butter- peanut butter, cashew butter, almond butter, sunflower butter, Nutella
Dried + Fresh Fruit- raisins, cranberries, blueberries, apricots, strawberries, raspberries, apples, peaches, pears, figs
Nuts- almonds, cashews, peanuts, sunflower seeds, pecans, walnuts
Fun Toppings- cream cheese, coconut whip, whipped cream, chocolate chips
How do I make sure the center of a pancake is cooked?
Making the perfect pancake is all about the heat of the pan and being patient!
Heat a large skillet over medium heat. Spray the pan with coconut oil cooking spray or add coconut oil to the pan.
Next, using a 1/3 cup scoop, scoop batter into the pan. If the pancake doesn't thin out into a circle, use the scoop to help make it a circle.
Wait until the pancake bubbles on the top and then flip the pancake with a spatula. Cook the pancake for an additional 2-3 minutes.
here's a tip
If your pancakes aren't rising and aren't fluffy enough, make sure you added the baking powder. If they still aren't rising, your baking powder could be expired! Make sure it is up to date!
Can pancakes be healthy?
Yes, pancakes can be healthy! As long as you are using whole, fresh ingredients, with natural sweeteners you are good to go! Everything in moderation is the name of the game.
What to add to pancakes to make them healthier?
There are a couple of different ways you can add vitamins and nutrients to your pancakes! Try adding shredded or pureed fruits or vegetables to your pancake batter!
You can also add protein powder or flaxseed meal for added protein and fiber.
Do I use baking soda or baking powder in pancakes?
We always use baking powder when making pancakes! Baking powder has a mixture of baking soda, cream of tartar, an acid, and corn starch so your recipe doesn't need acid to activate the leavening agent you need when using baking soda!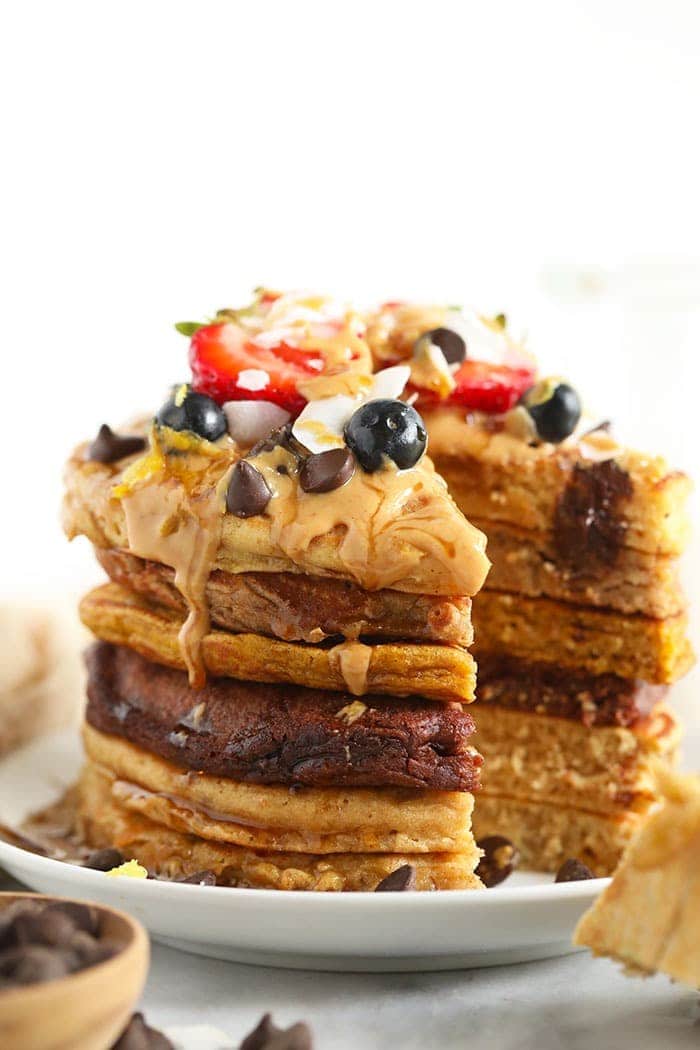 6 Healthy Pancake Recipes
Here's the deal, all you have to do is mix up the base batter recipe and then add in the additional ingredients for whatever fun and healthy pancake recipe you choose!
The complete list of additional ingredients for each recipe is at the bottom of this post. First things, first. Here are the amazing pancake recipes that we are super excited about!
Peanut Butter
Potato Scallion
Apple Cinnamon
Pumpkin
Lemon Ricotta
Chocolate Chocolate Chip
You can't beat healthy peanut butter pancakes! They are packed with protein and perfect for a meal prep breakfast throughout the week! Check out our full Peanut Butter Pancakes post!
Wet Ingredients
1 large banana, mashed (1/2 cup puree)
1 teaspoon vanilla extract
1/4 cup all-natural peanut butter
Dry Ingredients
2 tablespoons coconut sugar (or brown sugar)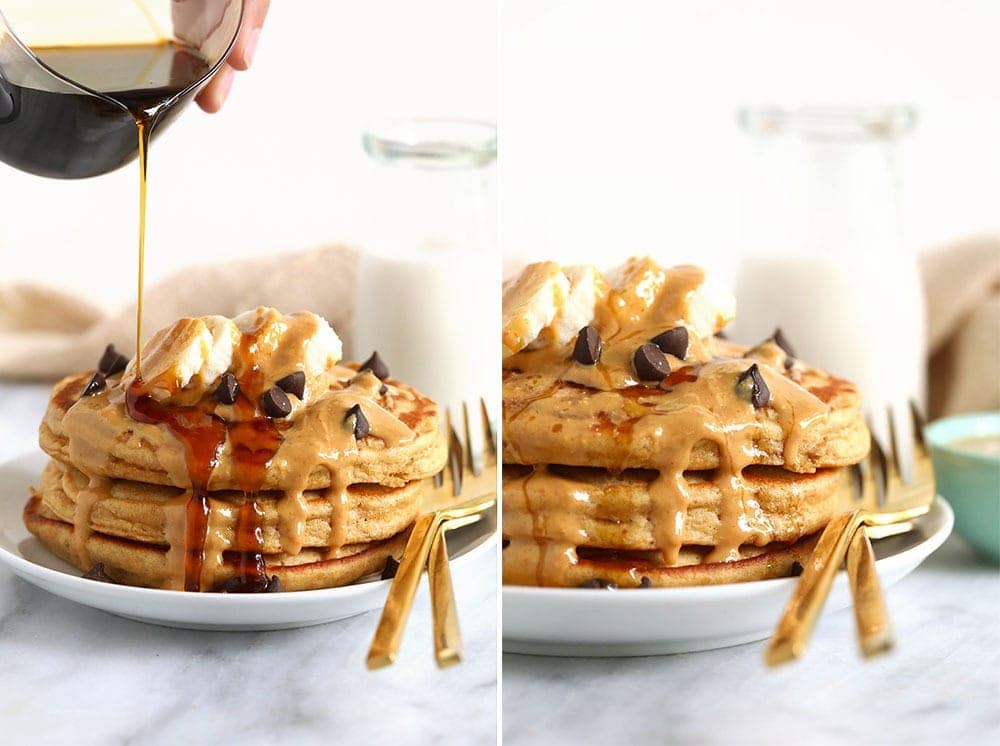 Scallion Potato Pancakes
These scallion potato pancakes are the potato pancakes of your dreams. All you have to do is shred potatoes, add some delicious savory spices, and fold it all into pancake batter!
Below are the dry and wet ingredients that you must add to the basic pancake mixture! It is as simple as 1-2-3.
Dry Ingredients
1.5 cups grated potato (not squeezed)
1/2 cup minced green onion
1/2 cup shredded cheddar cheese
1 teaspoon garlic powder
1/2 teaspoon onion powder
1/4 teaspoon smoked paprika
salt, to taste
Wet Ingredients
1 tablespoon melted coconut oil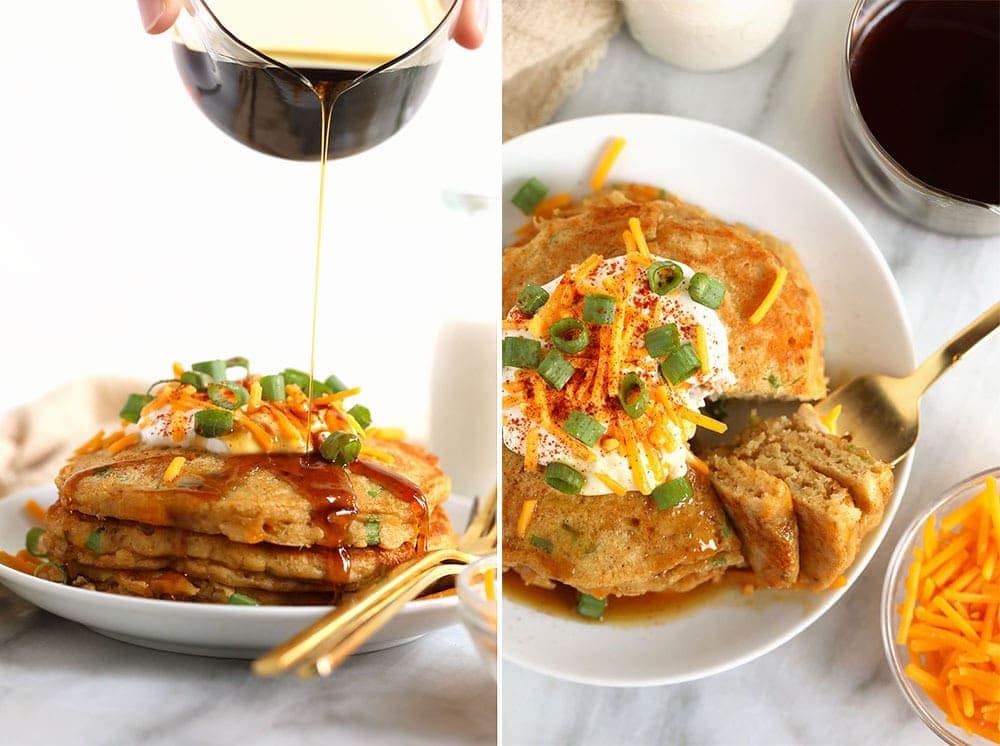 These apple cinnamon pancakes are perfect for apple season! Shred the apples and add them to your favorite pancake batter. They are perfectly moist and delicious! Check out our full Apple Cinnamon Pancakes post.
Add the ingredients below to the basic pancake batter recipe and start flipping!
Dry Ingredients
1.5 cups grated apple (not squeezed)
1 teaspoon ground cinnamon
2 tablespoon coconut sugar (or brown sugar)
Wet Ingredients
1 tablespoon melted coconut oil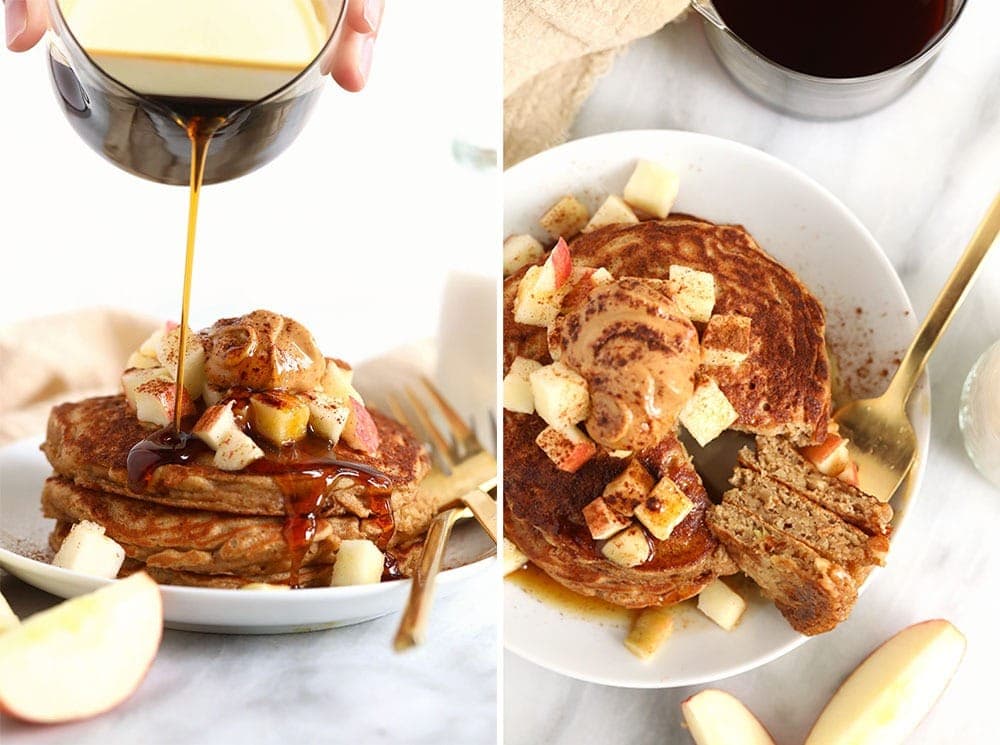 Pumpkin pancakes are the best! Mix pureed pumpkin into pancake batter and top your pancakes with a little maple an pecan. They are a great fall meal prep breakfast! Check out our full Healthy Pumpkin Pancakes post.
Mix the ingredients below into the basic pancake batter! If the batter seems a bit thick, add a teaspoon of almond milk to the batter at a time until it reaches the desired consistency.
Wet Ingredients
1 cup pumpkin puree
2 tablespoon maple syrup
1 teaspoon vanilla extract
1 teaspoon pumpkin pie spice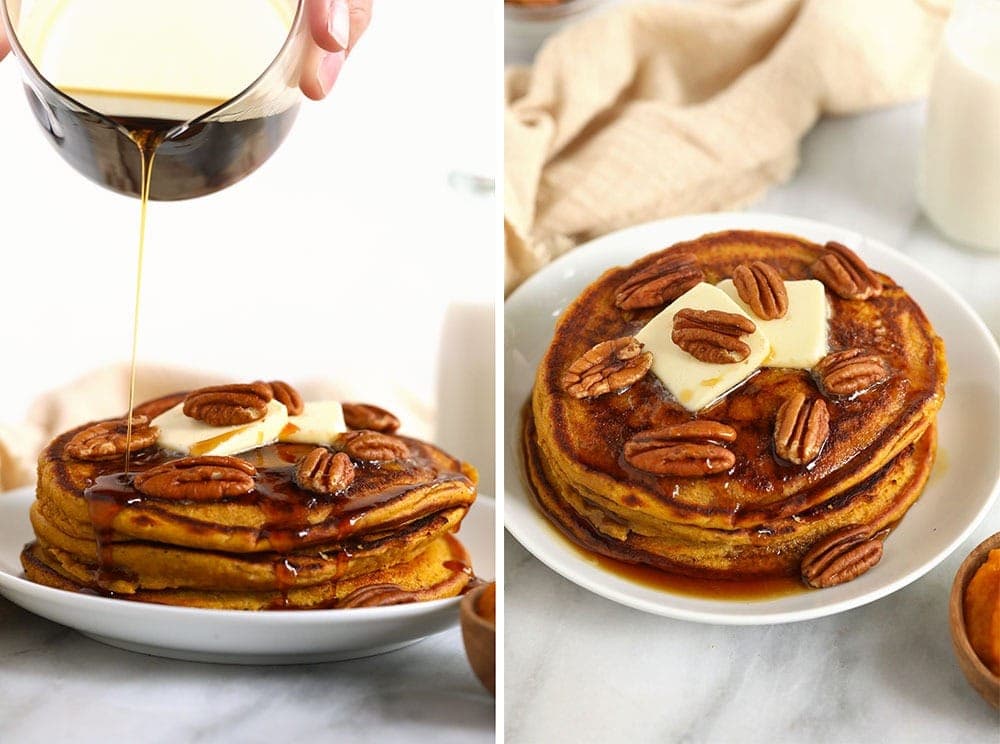 Fancy up your pancakes and make these lemon ricotta pancakes. They are the perfect mixture of sweet and savory! Check out our full Lemon Ricotta Pancakes post.
Add the wet ingredients below to the basic pancake batter! Make sure the honey is completely combined and mixed in. Honey clumps are the worst!
Wet Ingredients
2 tablespoons lemon zest
1/2 cup ricotta cheese
1 teaspoon almond extract
2 tablespoons honey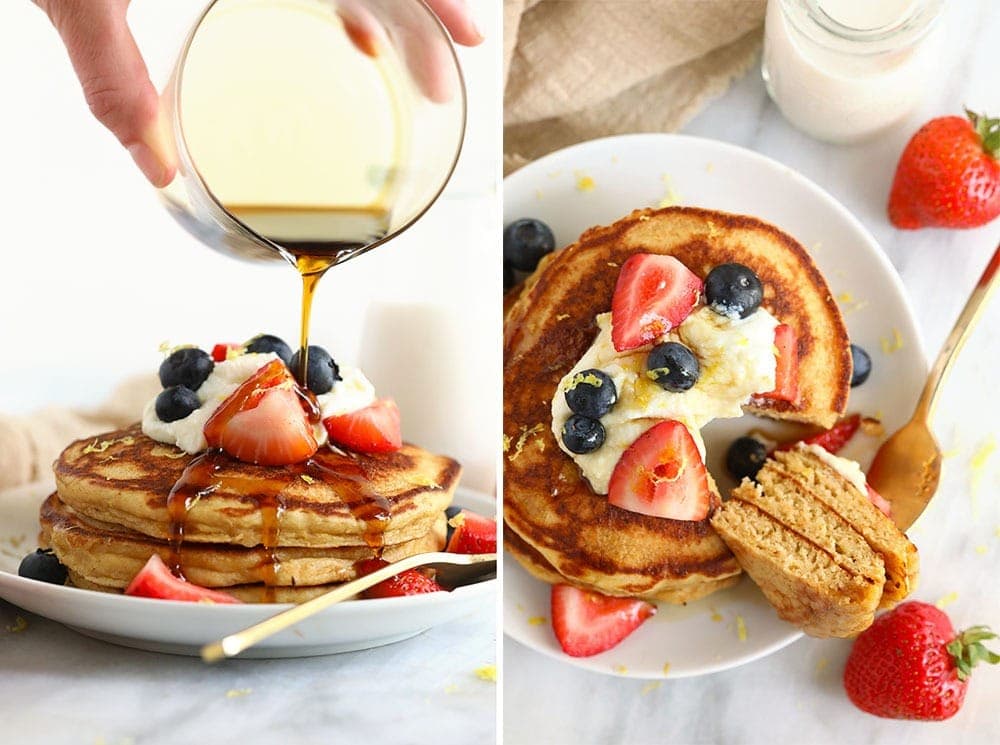 Who doesn't love chocolate chocolate chip pancakes? A little chocolate chip in each bite makes the perfect sweet breakfast treat. Check out our full Chocolate Chocolate Chip Pancakes post.
Add the ingredients below to the basic pancake batter! Sometimes cocoa powder can really thicken things up, so if the batter is too thick, add a teaspoon of almond milk at a time to the batter until it reaches the desired consistency.
Dry Ingredients
1/4 cup unsweetened cocoa powder
1/3 cup chocolate chips
Wet Ingredients
1 large banana, mashed (1/2 cup puree)
1/4 cup maple syrup
1 teaspoon vanilla extract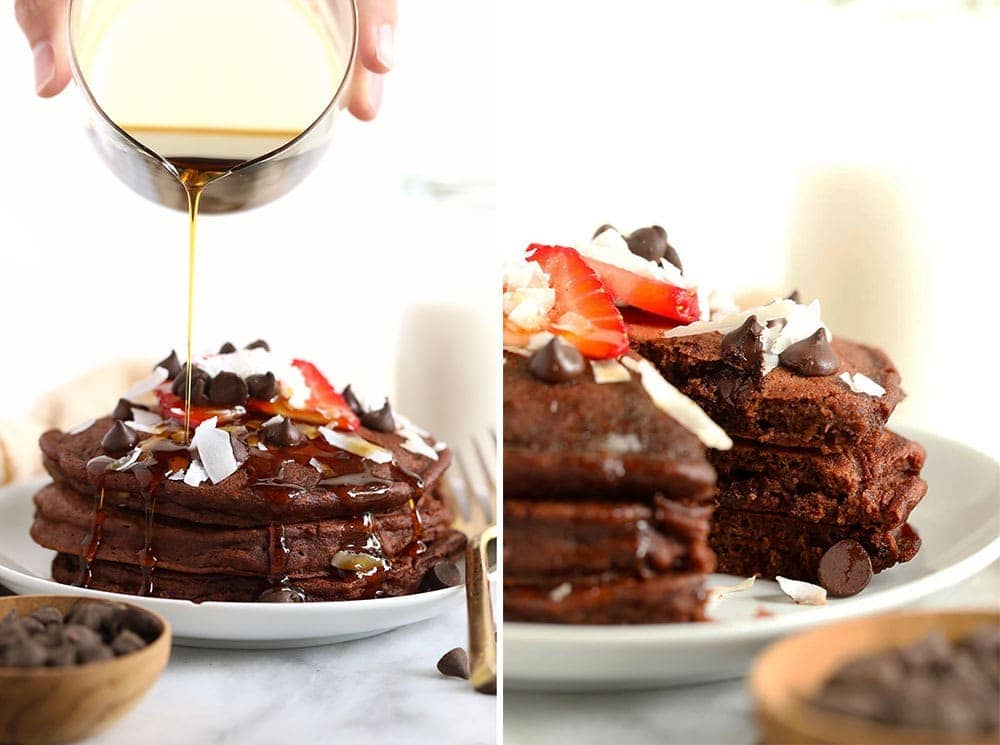 PS: learn how to freeze and thaw these pancakes for later in this Make-Ahead Breakfast Recipes Freezer Meal Prep post!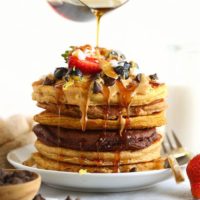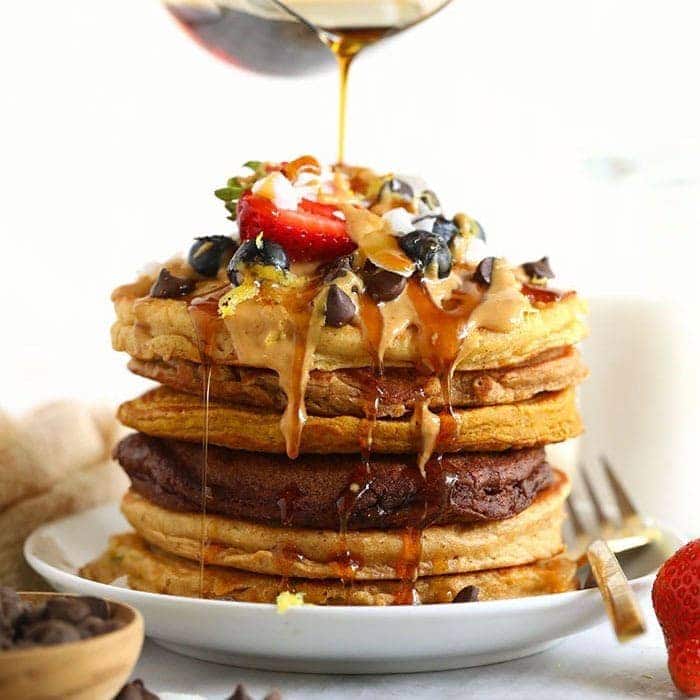 Healthy Pancakes Recipe (6 ways)
These are our favorite healthy pancakes. We're using one base batter made with whole grains and making 6 delicious pancake flavor variations! 
Prep:
10 minutes
Cook:
15 minutes
Total:
25 minutes
Fat
10
Carbs
29
Protein
9
Ingredients
Base Dry Ingredients
1.5 cup

s white whole wheat flour

2 teaspoons

 baking powder

1/8 teaspoon

 salt
Preferred flavor* dry ingredients
Base Wet Ingredients
2

large eggs

1 cup

unsweetened almond milk

2 tablespoon

s melted coconut oil
Preferred flavor* wet ingredients
Instructions
Place base dry ingredients (1.5 cups white whole wheat flour, 2 teaspoons baking powder, and 1/8 teaspoon salt) and preferred flavor* dry ingredients into a medium bowl and mix well.
Then, in a separate bowl crack 2 eggs and whisk. Add 1 cup almond milk and then the wet ingredients from preferred flavor* into the same bowl and mix.
Add dry ingredients into wet ingredients and mix making sure all ingredients are combined. Finally, add in 2 tablespoons melted coconut oil and mix again.
Next, heat a large skillet over low/medium heat. Spray skillet with non-stick cooking spray.
Using a 1/3 cup scoop, scoop pancake batter into the skillet. Let the pancake cook for 2-3 minutes on each side, flipping when bubbles start to form in the center of the pancakes. Repeat until all pancake batter is gone.
Top with your favorite toppings and enjoy!
Tips & Notes
Preferred flavor: Choose between Peanut Butter, Potato Scallion, Apple, Pumpkin, Lemon Ricotta, or Chocolate Chocolate Chip. Flavor ingredients are located above the recipe card.
Nutrition information is just the base batter with no mix-ins.
Nutrition Facts
Serving Size:
2 medium pancakes
Calories:
259
Sugar:
1
Fat:
10
Carbohydrates:
29
Fiber:
5
Protein:
9
Category:
Breakfast
Method:
Stove top
Cuisine:
American
Keywords: healthy pancakes