Take the ease out of making pancakes with this Sheet Pan Pancakes recipe. Instead of pour, flip, and repeat, bake your pancake batter in a sheet pan for a hands-off breakfast that serves a crowd!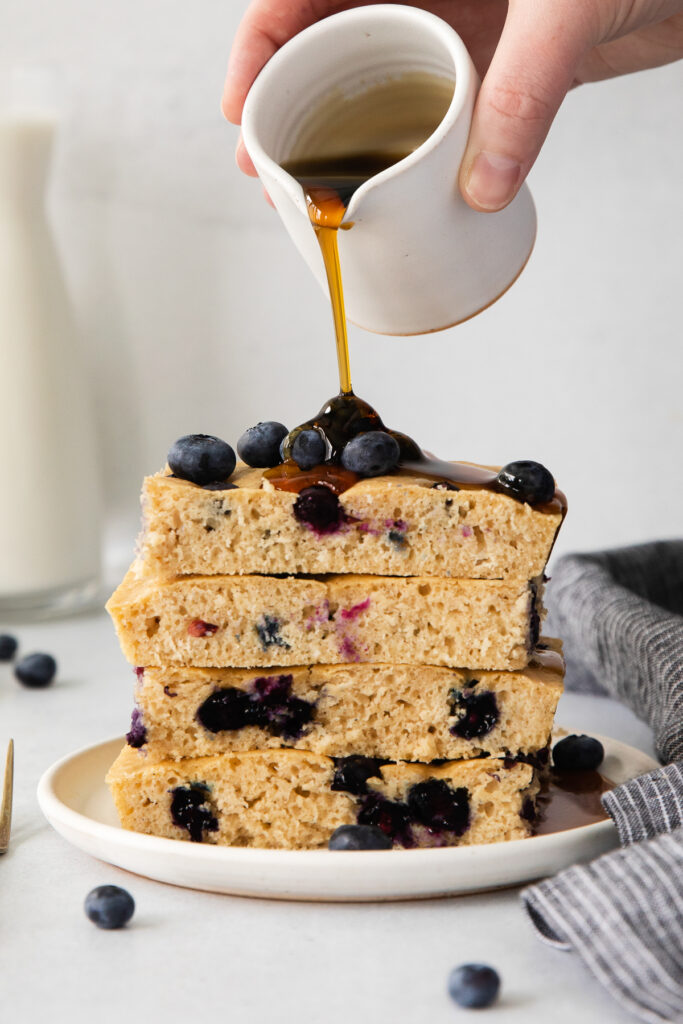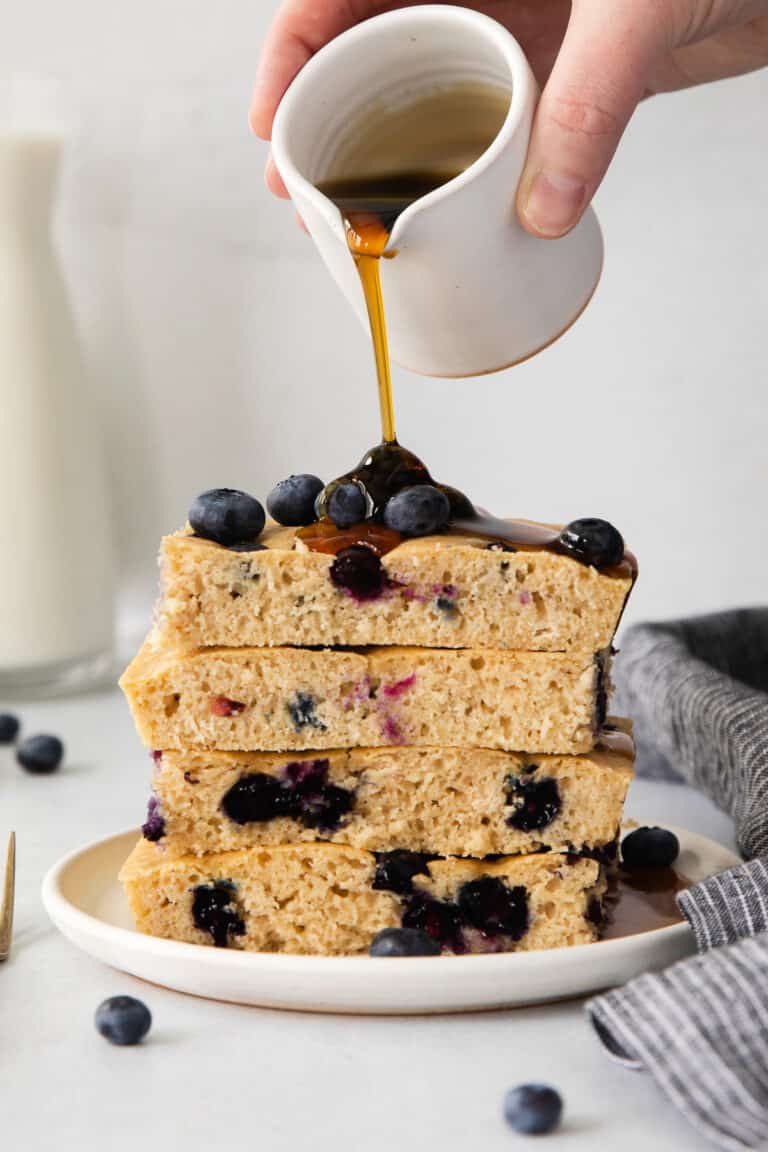 Easy Sheet Pan Pancakes
Why you'll love it
Don't forget the toppings…it's the best part! We went with more sliced bananas, a dollop of creamy peanut butter, and some chopped peanuts.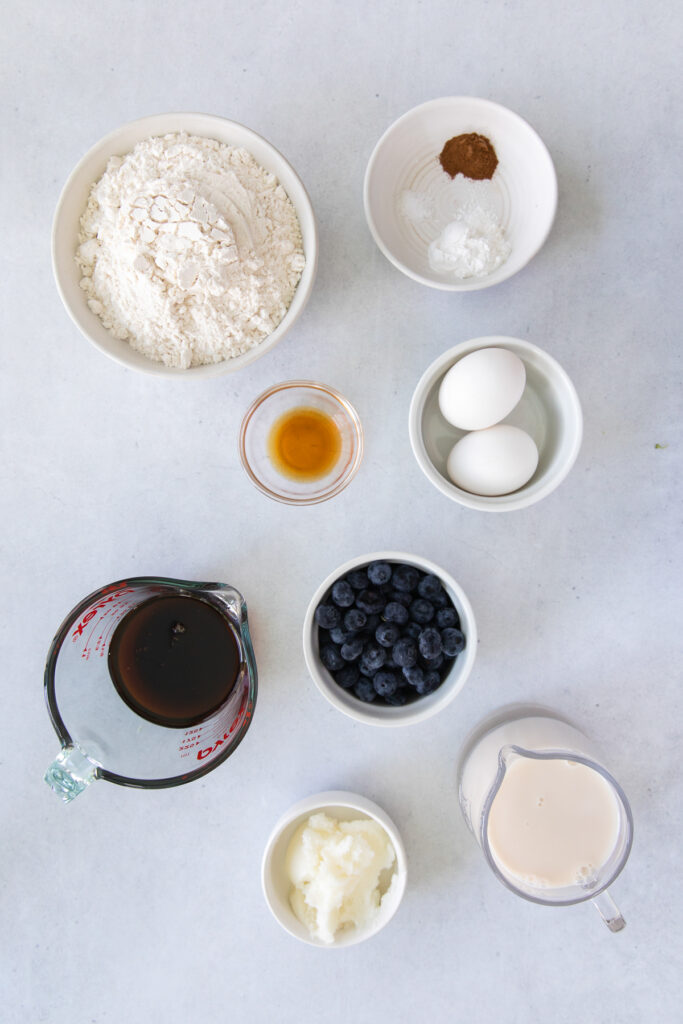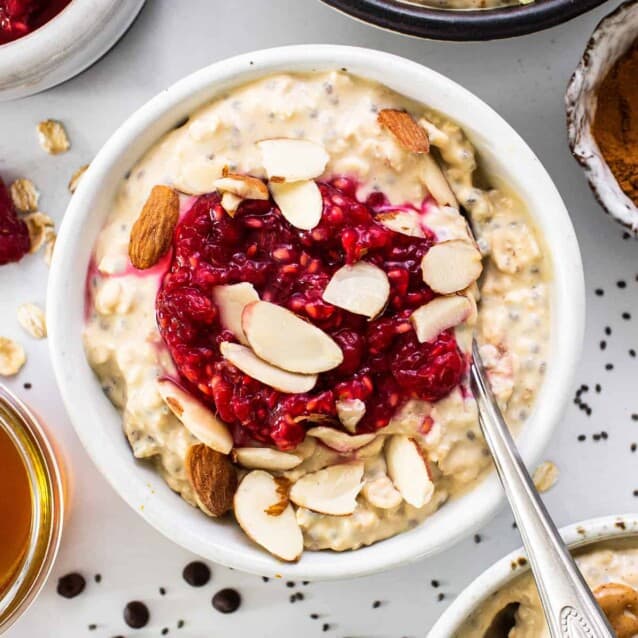 Need Breakfast Inspo?
Subscribe to our emails and get all of our best breakfast recipes straight to your inbox.
What You Need
The batter for this sheet pan pancakes recipe will look extremely similar to any ordinary pancake batter. That's because it's essentially a pancake recipe baked on a sheet pan. Here's what you need:
All purpose flour: AP flour is light and airy. We wanted to get classic pancake texture, which is why we went with all purpose flour.
Baking powder: baking powder is the levening agent.
Blueberries: blueberries is our flavor add, but you can really add what ever your heart desires. Scroll down to check out sojme suggestions.
Maple syrup: we love sweetening our pancakes with maple syrup and this is no exception!
Eggs: eggs help bind everything together, but also help make this pancake nice and fluffy.
Vanilla: vanilla is used to bring out the flavors of maple and blueberries.
Almonst milk: almond milk is our milk of choice, but really any kind of milk will work for this recipe.
Coconut oil: a little bit of fat will help make this sheet pan pancake recipe nice and moist.
Can I use a different flour?
All-purpose flour is going to give you a light and fluffy sheet pan pancake. However, you can try swapping the flour 1:1 for an all-purpose gluten-free flour blend or white whole wheat flour.
We do not suggest swapping for a nut-based flour such as almond flour or coconut flour.
Can I use pancake mix instead?
While we haven't actually tested using pancake mix with this particular recipe, we have made a similar recipe once before.
We're confident that you can swap out the all-purpose flour and baking powder for 2 cups of pancake mix. Our favorite? Kodiak Cakes!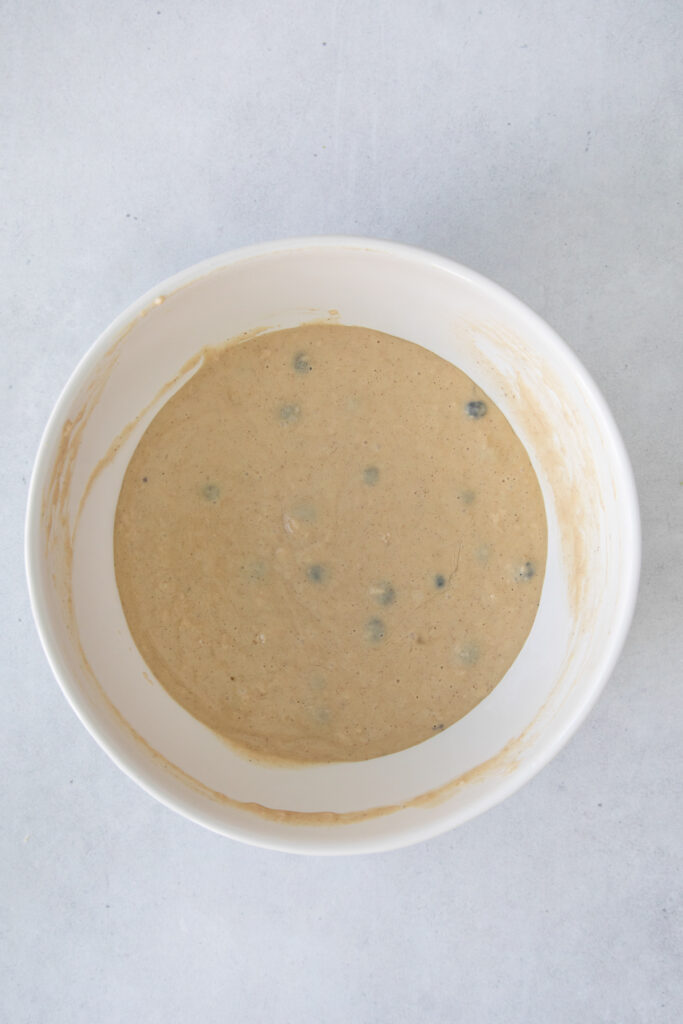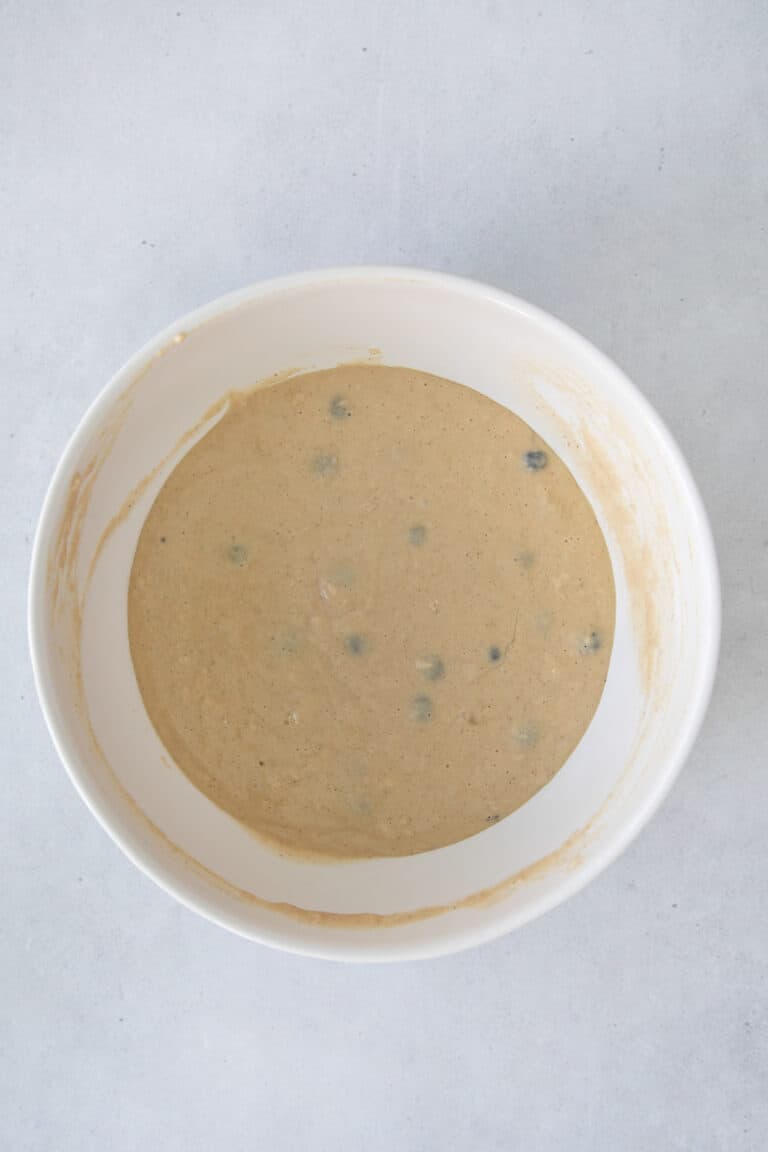 Other Flavor Ideas
This sheet pan pancakes recipe is a super simple one to deviate from. You'll notice that we kept things super simple with fresh blueberries, but you can also you a variety of different flavor combos.
Instead of using fresh blueberries, use any of the following ideas:
Banana Chocolate Chip: add in 1 mashed banana and 1/2 cup chocolate chips.
Apple Cinnamon: add in 1/2 cup applesauce, 1/2 cup chopped apples,. and more ground cinnamon.
Triple Berry: add in 1 cup frozen mixed berries.
Protein: try swapping 1/4 cup of flour for 1/4 cup of vanilla protein powder to amp up the protein in this recipe.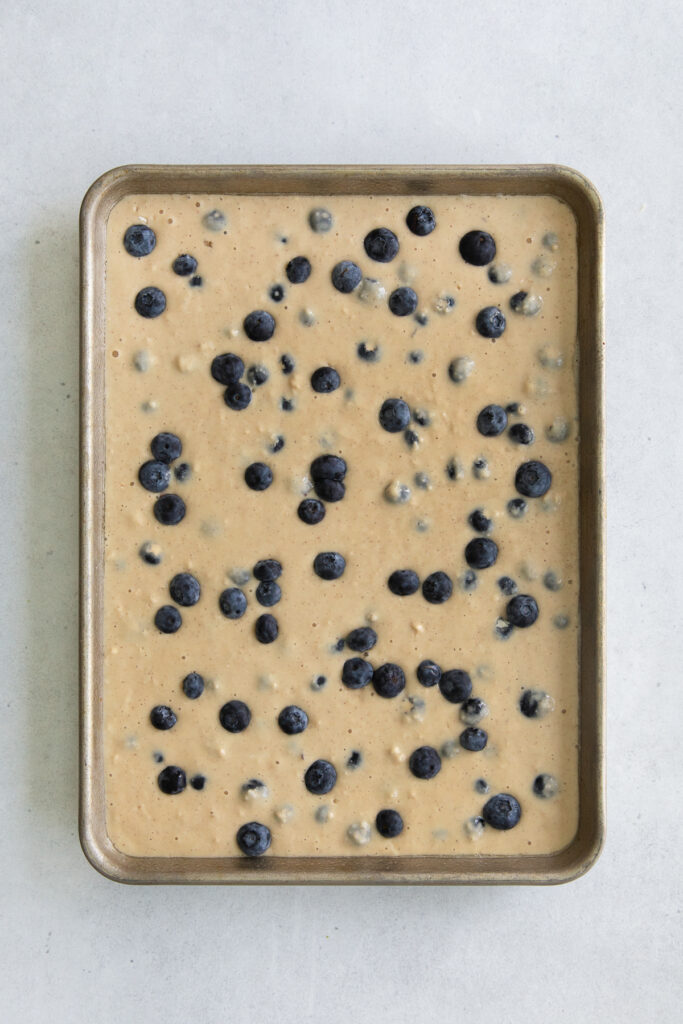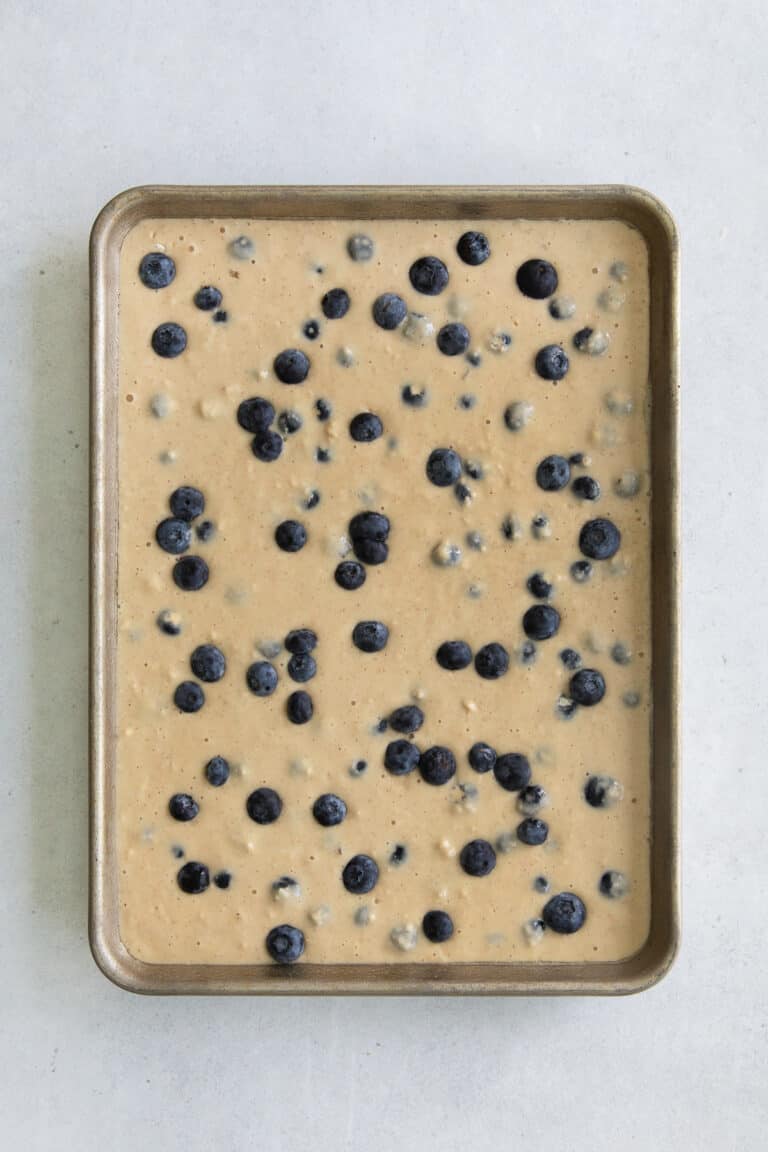 A Few Tips
Don't Over Mix: As always when it comes to baked goods and pancakes, try not to overmix your batter or you might end up with a dense pancake.
Use a Quarter Baking Sheet: it's important to note that we used a 9×13-inch quarter baking sheet and not a standard-sized one. If you don't have a quarter baking sheet, you can try using a 9×9-inch baking dish. However, you'll have to increase the bake time as you'll have a deeper pancake.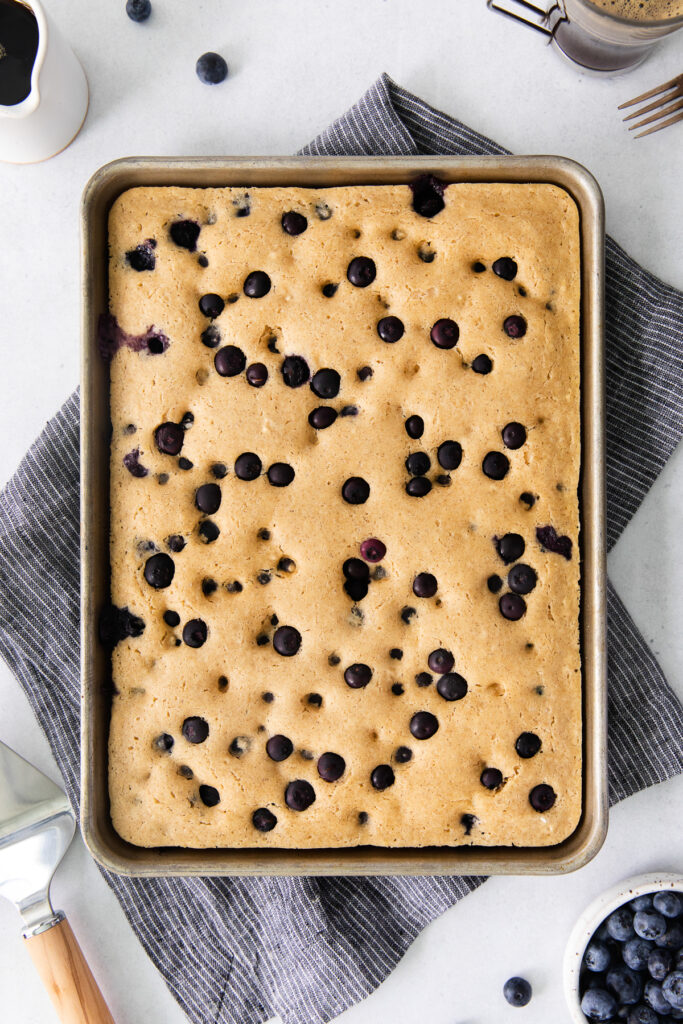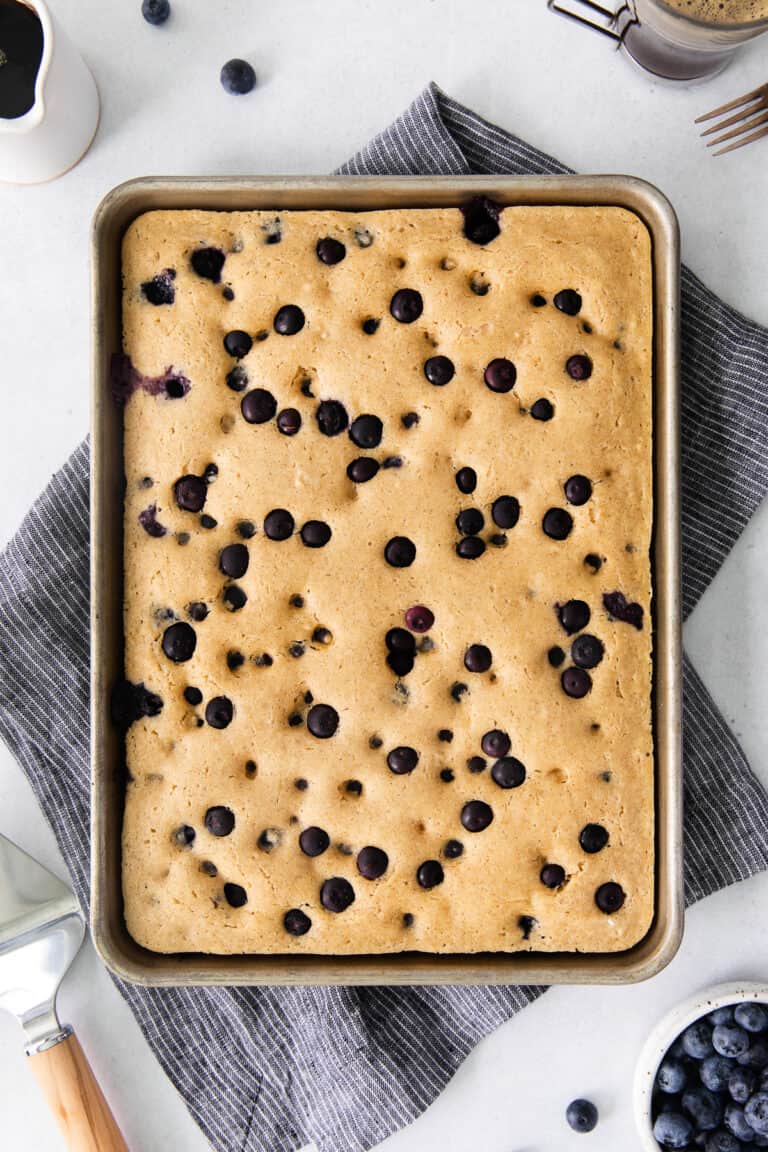 Serving Suggestions
Complete your breakfast with some of our favorite breakfast sides! Don't forget to make a cup of French pressed coffee or even a Miel.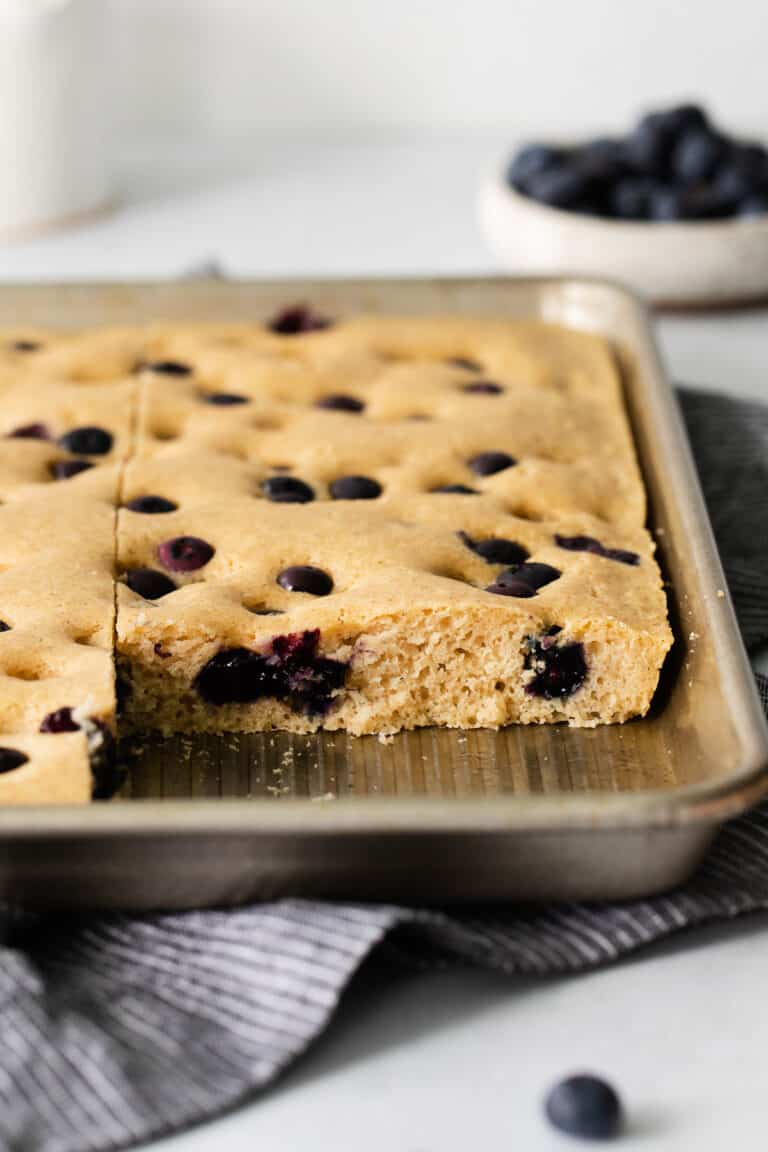 Storage
Let your sheet pan pancakes cool completely. Then, slice them into single servings. transfer them into an airtight container and remove as much air as possible. Store in the fridge for up to 3-5 days.
Freezer Directions
Thinking about making 2 or 3 sheet pans of this delicious breakfast? DO IT. Because, you can freeze it for later.
Let your sheet pan pancakes cool completely.
Then, slice into 6 slices. Stack 2 slices of pancake on top of one another.
then, tightly wrap in tin foil, removing as much air as possible.
Freeze for up to 3 months.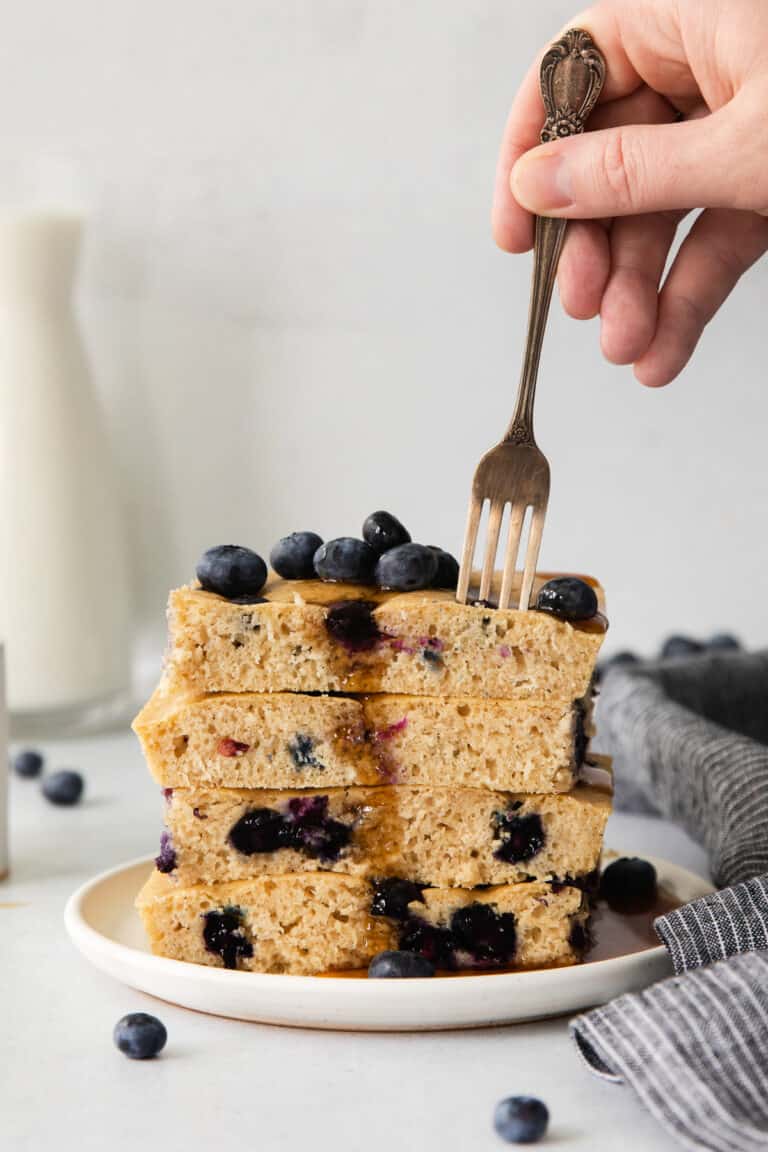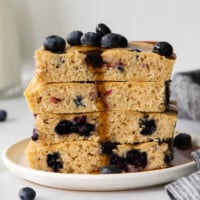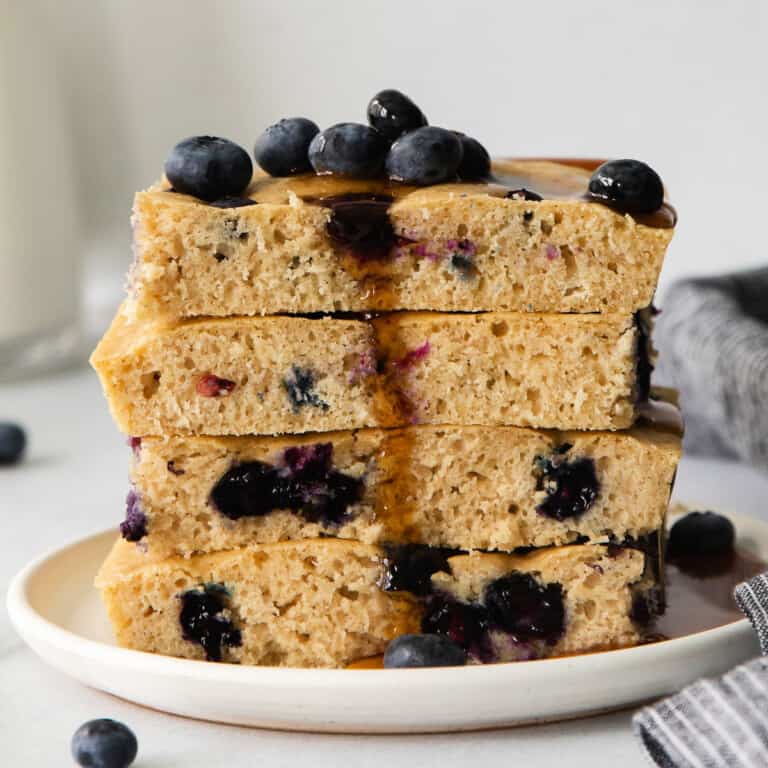 Sheet Pan Pancakes
Sheet Pan Pancakes - a seriously simple way to make pancakes for a crowd! Whip up your pancake mix and bake it on a sheet pan instead of flipping them on the stovetop. 
Instructions
Preheat the oven to 400ºF and spray a quarter baking sheet with sides with nonstick cooking spray. Set aside. 

Combine all of the dry ingredients into a bowl. Mix until combined and set aside. 

In a separate large bowl, whisk together wet ingredients (except for the coconut oil) until well combined. 

Add the dry ingredients to the wet ingredients and stir until combined. Fold the melted coconut oil into the batter. 

Pour the pancake batter into the baking sheet. Spread the batter out evenly and scatter blueberries over the top of the pancakes. 

Place in the oven and bake for 15-17 minutes or until lightly browned. 

Remove from the oven and let sit for 5 minutes. 

Cut into squares and serve with butter, fresh berries, and maple syrup.
Nutrition facts
Calories:
322
kcal
Carbohydrates:
51
g
Protein:
6
g
Fat:
10
g
Fiber:
2
g
Sugar:
18
g