Wake up and make yourself a batch of these healthy peanut butter banana pancakes! They are made with whole and healthy ingredients. You can even make a double batch and freeze some for a busy week.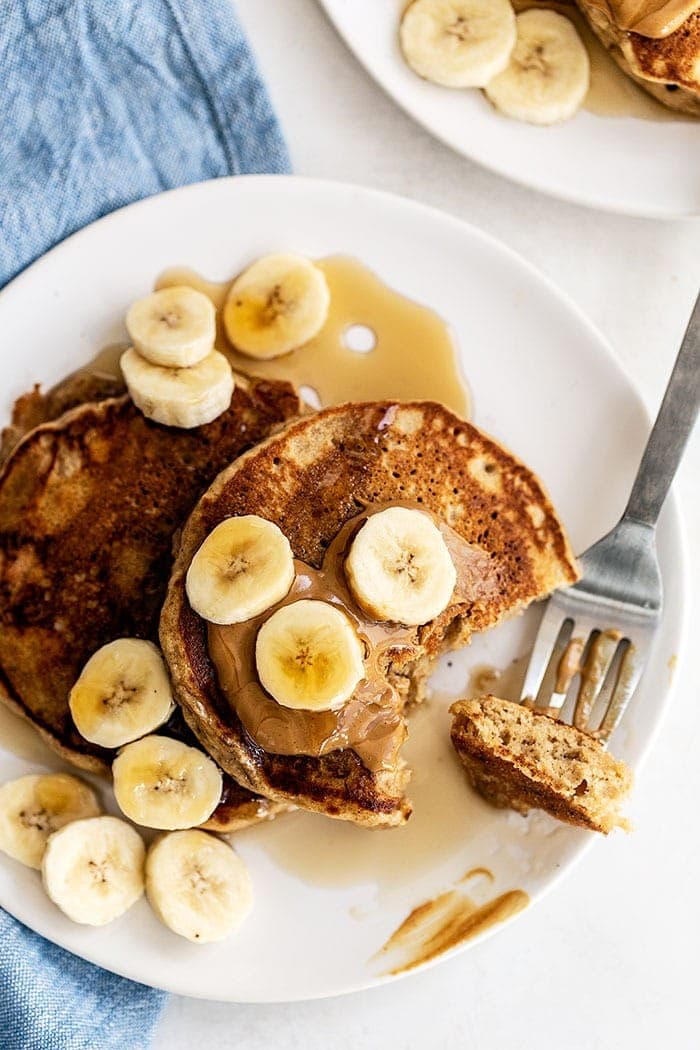 Pancakes for Every Meal
Pancakes used to be a breakfast food that was saved for the weekends! The times have changed. Pancakes are easy to make ahead of time, freeze so you can just pop them in the freezer throughout the week! There's nothing better!
What is better then peanut butter banana combination? These peanut butter banana pancakes are full of so many things, but their claim to fame is that they have 12 grams of protein per serving! These peanut butter pancakes will keep you going all day long!
Everything You Need
If you are new to pancake flipping, one thing to remember is that every recipe is easier if you are prepared! Here is everything you'll need to make these peanut butter banana pancakes.
Tools
Large, flat skillet pan- You can use a regular pan or a non-stick cooking pan.
Oil- No matter what type of pan you use, always remember to spray or wipe your skillet pan with oil! If your pancake sticks, it won't flip!
Thin, flat spatula- Flipping a pancake isn't as easy as it looks! Have a sturdy, thin, flat spatula is one of the most important tools when making pancakes!
Ingredients
Eggs
Almond Milk
Coconut Oil
Banana
Vanilla Extract
Drippy Creamy Peanut Butter
White Whole Wheat Flour
Baking Powder
Salt
Coconut Sugar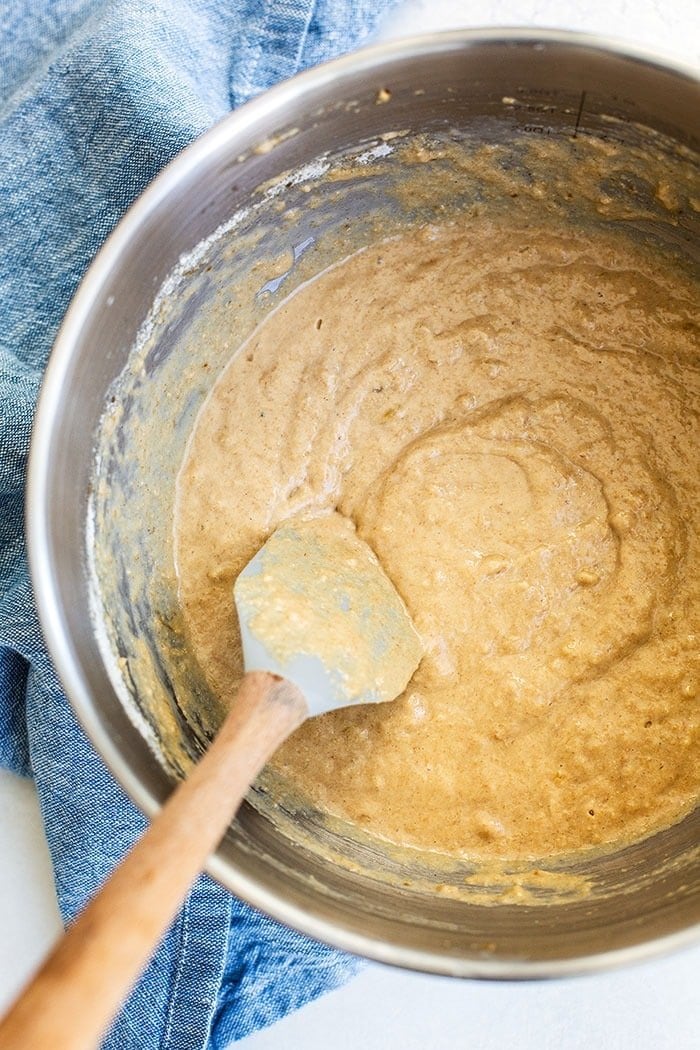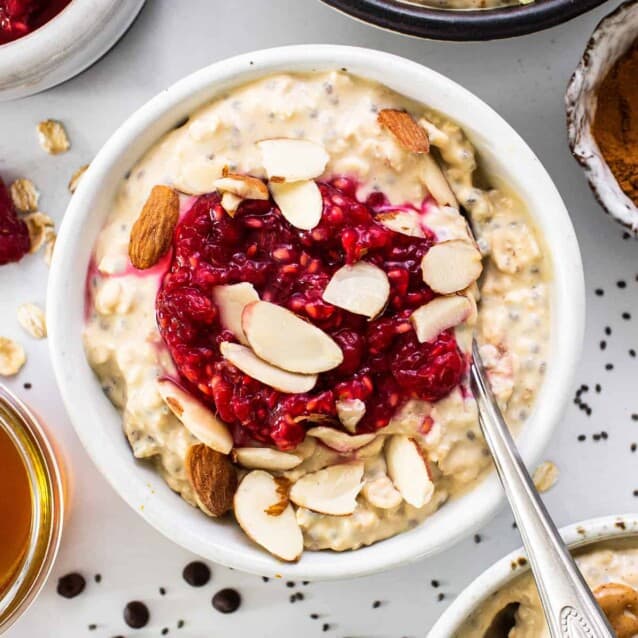 Need Breakfast Inspo?
Subscribe to our emails and get all of our best breakfast recipes straight to your inbox.
Tips + Tricks
WHAT peanut butter you use matters.
The secret to these peanut butter banana pancakes is, in fact, the peanut butter. You want to use drippy, creamy peanut butter. The consistency of the matter depends on it!
If you have less drippy peanut butter, don't be discouraged. You can still use your peanut butter, just be sure to a bit more almond milk to the batter!
Frozen Bananas Vs. Fresh Bananas
We recommend using fresh, mashed bananas for this recipe! Frozen bananas tend to have access liquid that can throw off the consistency of the pancakes!
If you MUST use frozen banans, let the bananas thaw completely. Then, discard the access liquid from the bowl they have defrosted in. Mash the bananas and make sure you measure how much mash you put in the batter (1/2 cup).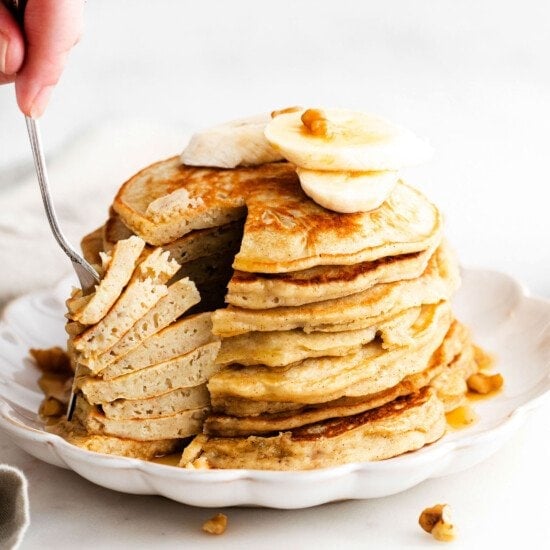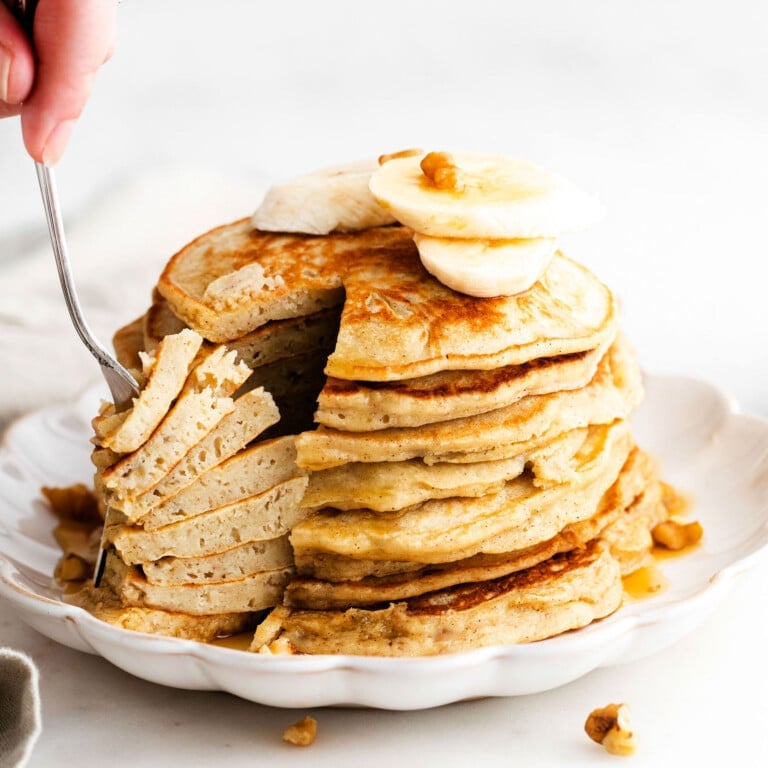 Best
Banana Pancakes
These are seriously the best banana pancakes on the internet! Made with whole grain flour, ripe bananas, and coconut oil, this healthy banana pancake recipe is the perfect weekend breakfast.
Get Recipe
Peanut Butter Banana Pancake Toppings
The options are endless when it comes to topping for these peanut butter banana pancakes! Here are some of our favorites.
Peanut Butter (yes, more peanut butter)
Raspberries
Granola
Chopped Pecans
Chopped Walnuts
Greek Yogurt
Strawberries
The perfect flip.
The flip. It's is either the demise of your morning or the triumph. How do you flip a pancake? How do you know when to flip a pancake? We have you covered!
The key to the perfect flip is knowing WHEN to flip a pancake.
Heat a large skillet over medium heat. If you heat the pan over too high of heat it will cook the pancake too fast!
Next, use a 1/4 cup scoop to scoop the pancake batter into the pan. Use a spatula or the 1/4 cup scoop to make sure the pancake batter is evenly spread into a circle.
Let the pancake cook until you see little bubbles form in the batter.
Use your thin, sturdy spatula to quickly scoop the pancake up from the bottom and quickly flip the pancake onto its other side.
Let the pancake cook for another 2-3 minutes and remove it from the skillet.
BOOM. Done.
Ingredient Substitutions.
You can make some ingredient substitutions for this peanut butter banana pancake recipe, we understand that you may not have everything in your pantry! Remember not to make any ingredient substitutions that we have not recommended.
White whole wheat flour: While whole wheat flour definitely works the best time and time again, but if you're hoping to swap for a different flour, we suggest the following (and only the following) at a 1:1 ratio:
all-purpose flour
whole wheat flour
all-purpose gluten-free flour blend
Unfortunately, we do not recommend substituting 1:1 for coconut flour and/or almond flour.
If you are looking for an almond flour or coconut flour pancake recipe, try our coconut flour paleo coconut flour pancakes or our 3 ingredient almond flour pancakes.
Coconut sugar: The only sugar we would recommend swapping for coconut sugar 1:1 is a light brown sugar.
Coconut oil: While we haven't tested any other subs, we're confident butter would work as well as canola oil! If you try either of these, let us know how it works!
Eggs: We have not tested these recipes without eggs. If you do try these recipes with a flax egg, please let us know how it goes!
Maple syrup: Honey would be a fantastic 1:1 swap for maple syrup, and potentially agave nectar.
Almond milk: Good news! Any kind of milk will work with a 1:1 swap. Try soy milk, cow milk, oat milk, or coconut milk.
Banana: If you are in a pinch and looking for an alternative to bananas, we would recommend substituting apple sauce for the banana puree.
Peanut Butter: You can substitute any nut butter for peanut butter, as long as it's drippy!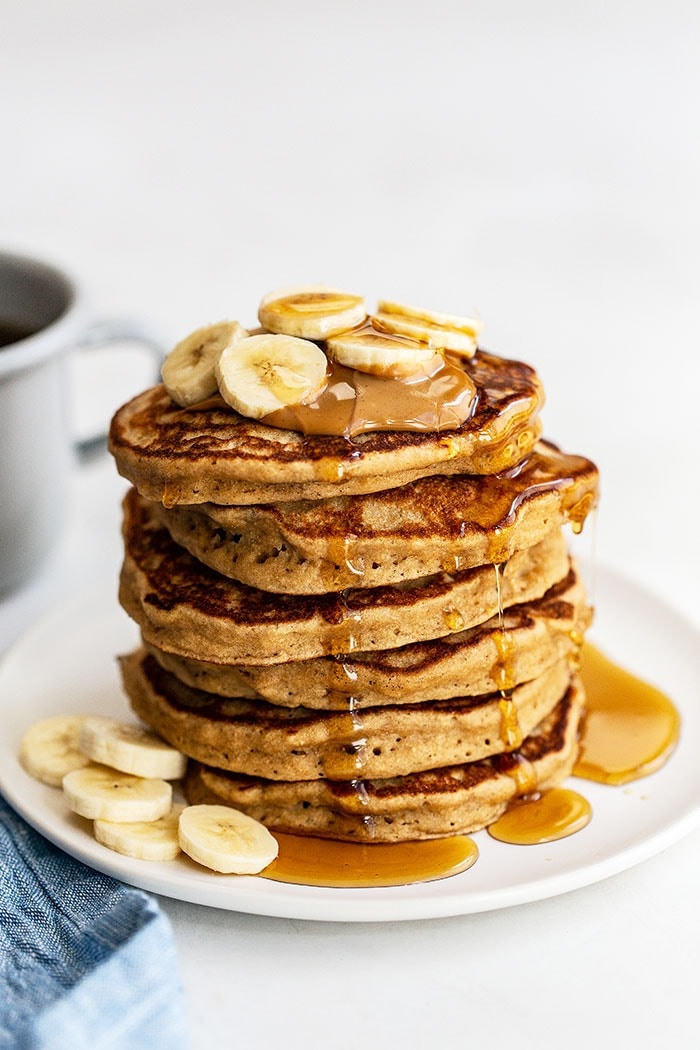 How to Freeze Pancakes
Meal prepping pancakes is super easy! All you have to do is choose your favorite pancakes and then follow these instructions.
Choose your favorite pancake recipe
Make a double batch of pancakes by following the directions in the recipe card.
Let the pancakes cool completely before wrapping the pancakes up in a plastic wrap, in pairs.
Date each pancake with the date they were made, what type of pancake they are and place them in the freezer.
When you are ready to eat the pancakes, unwrap the pancakes and place them in the toaster. Toast until the center is thawed and the outside of the pancake is golden brown.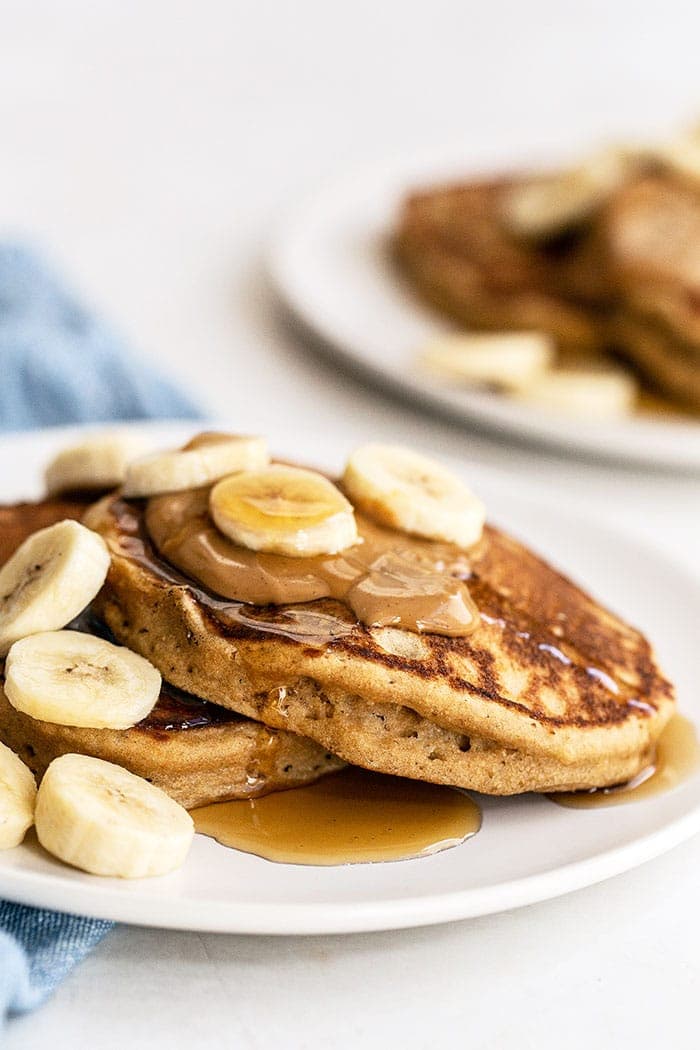 Healthy Pancake Recipes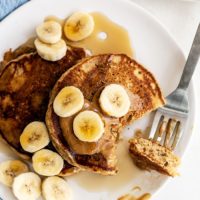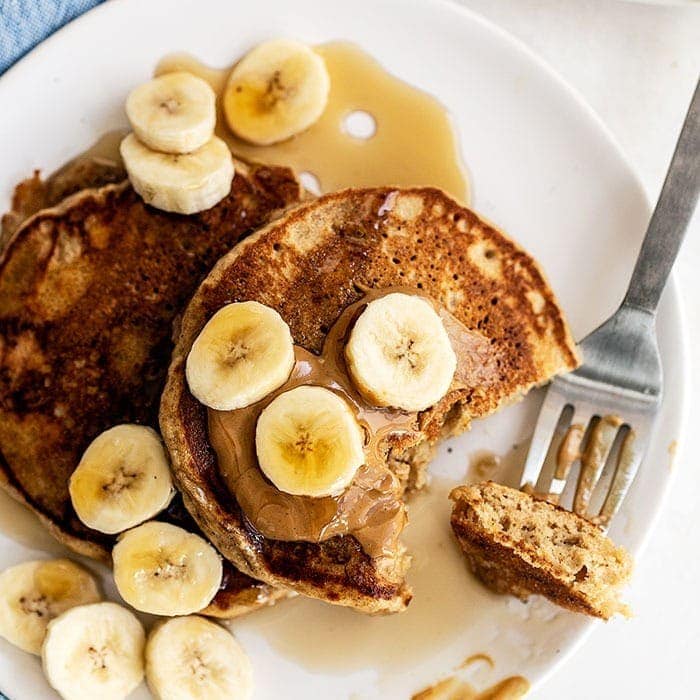 Peanut Butter Banana Pancakes
Wake up and make yourself a batch of these healthy peanut butter banana pancakes! They are made with whole and healthy ingredients! You can even make a double batch and freeze some for a busy week.
Ingredients
Wet Ingredients
1

large banana

mashed (1/2 cup puree)

2

large eggs

1

cup

unsweetened, plain almond milk

1

teaspoon

vanilla extract

1/4

cup

all-natural peanut butter

2

tablespoons

melted coconut oil
Instructions
First, mash banana in a large bowl until there are few lumps.

Then, add eggs, almond milk, vanilla, and peanut butter and whisk until combined.

Next, add flour, baking powder, salt, and coconut sugar and mix until combined.

Last, add melted coconut oil and mix again.

Heat a large nonstick skillet over medium heat and spray with cooking spray.

Use a 1/3 cup measuring cup to scoop batter onto skillet.

Let pancakes cook for about 2-3 minutes or until little bubbles begin to form in the batter. Then, flip. Cook for another 2-3 minutes.

Repeat until all batter is gone.
Nutrition facts
Calories:
362
kcal
Carbohydrates:
49
g
Protein:
12
g
Fat:
12
g
Fiber:
7
g
Sugar:
12
g