Start your morning with a stack of 100% whole-grain, no sugar-added banana pancakes made with real ingredients. Don't forget to top them with fresh fruit and Greek yogurt!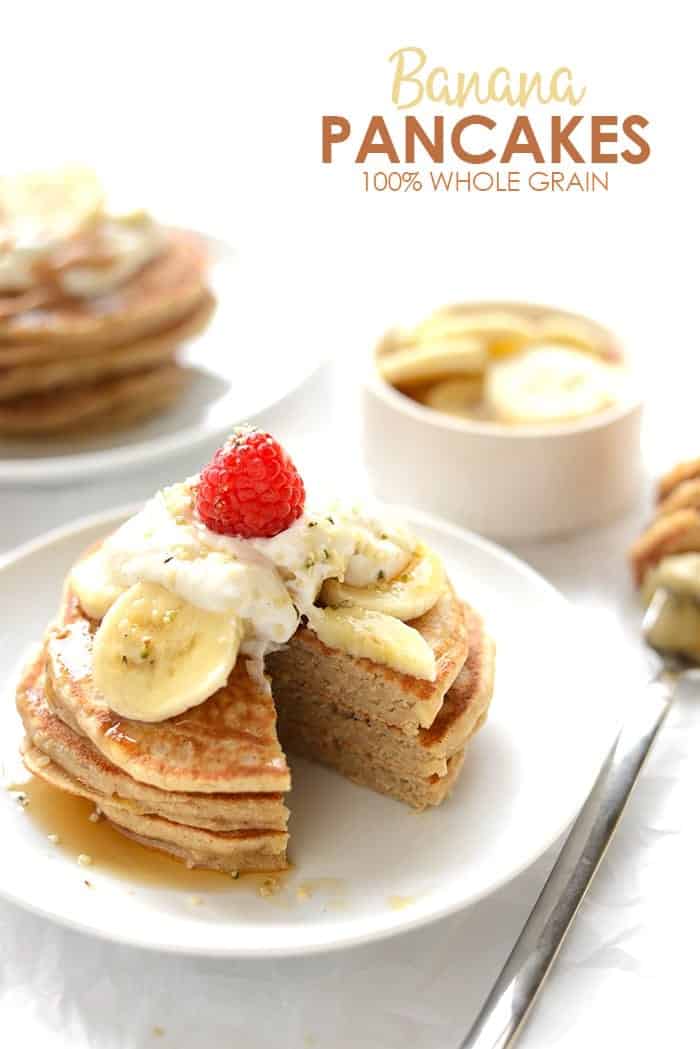 "You hardly even notice. When I try to show you this. Song is meant to keep you. From doing what you're supposed to. Waking up too early. Maybe we can sleep in. Make you banana pancakes. Pretend like it's the weekend now." Jack Johnson
Don't tell me you weren't already singing that song when you saw the title of this post!
Banana pancakes are in my top 5 favorite foods. I eat them ALL. THE. TIME. If you follow me on Snapchat (FitFoodieFinds), you probably already think the only thing I know how to successfully make are pancakes. The other day I had em for breakfast, lunch, and dinner. #sorrynotsorry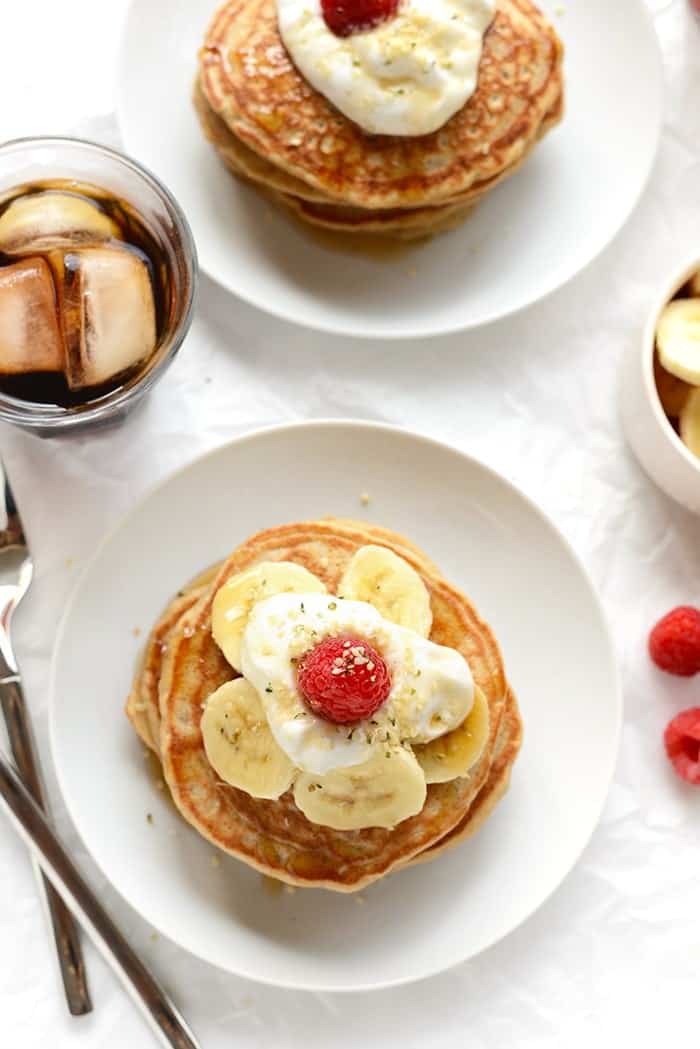 The thing about the pancakes that I make…is that I never actually measure things out. I add a little of this and a little of that and some how they end up in a stack on a plate.
I've been really into white whole wheat flour lately. 100% whole grain, super dense, and delish! Speaking of density….these panqueques are dense. If you're looking for light and airy. Lo siento friends.
Side note- did you know that I took a Spanish class EVERY semester since I was in 7th grade all the way through my last year in college? Yup, never missed a semester! While I never studied abroad in a Spanish speaking country, there was a point in time where I was almost fluent in both speaking and writing. Never reading though….that shiz is hard! Insert- Google translator.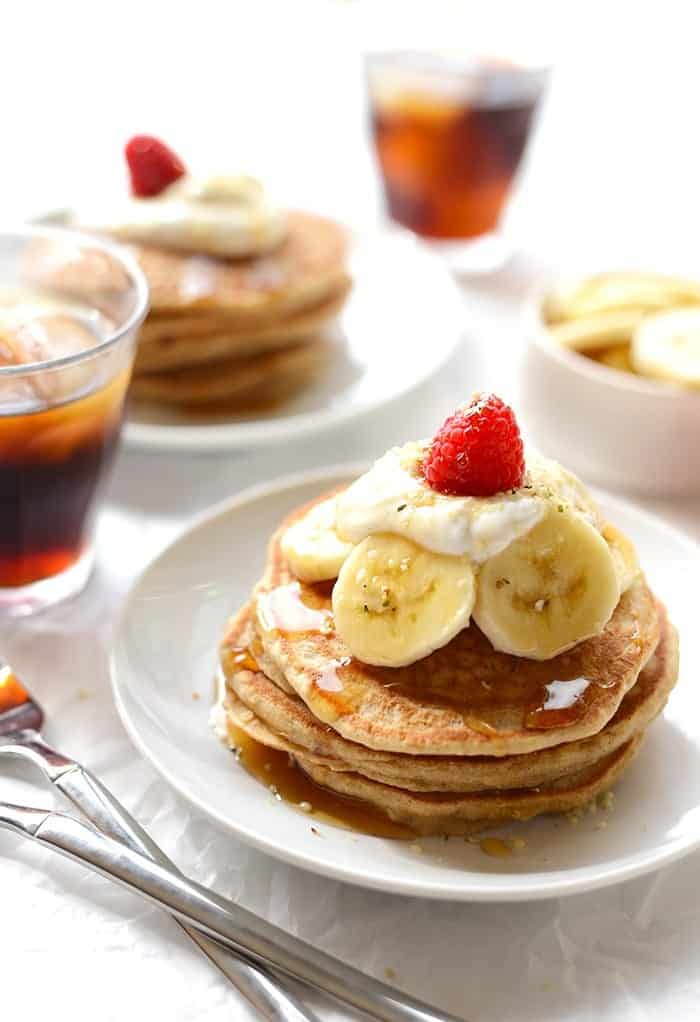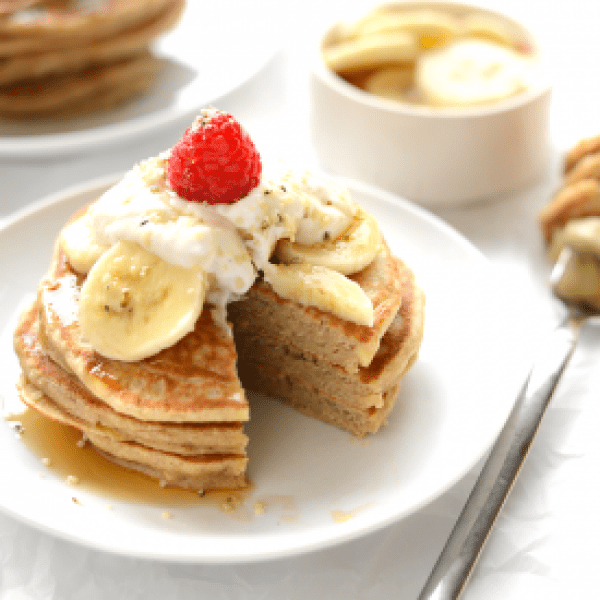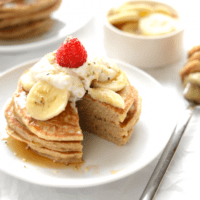 Whole Grain Banana Pancakes
Prep:
5 mins
Cook:
15 mins
Total:
20 minutes
Ingredients
Dry
1.5 cups

white whole wheat flour

1 teaspoon

baking powder

1/2 teaspoon

cinnamon

1/8 teaspoon

salt
Wet
2

medium bananas, mashed

2

eggs, large

1 teaspoon

vanilla

1 cup

almond milk

3 tablespoons

coconut oil, melted
Instructions
First, spray a large nonstick pan with coconut oil cooking spray (or butter) and heat to medium heat.
Next, mix together dry ingredients in a medium-size bowl and set aside.
In a large bowl, mash bananas until liquidy. Then, add in eggs, vanilla, and milk and whisk until smooth.
Slowly add dry ingredients to wet and mix.
Finally add in melted coconut oil and mix until smooth. If your batter feels too thin, add in a few tablespoons of flour and if it feels too thick, add in a few tablespoons of almond milk.
Scoop a heaping 1/4 cup of the batter onto your pan and cook for 2-3 minutes on each side or until golden brown.
Nutrition Facts
Serving Size:
1/12
Calories:
122
Sugar:
3
Fat:
5
Fiber:
3
Protein:
3

PS: If you love banana pancakes, you should check out my Banana Breakfast Cake. It's a VERY similar recipe, just baked a different way 🙂 It also has rave reviews from FFF readers.
Do you speak more than 1 language?