Are you a muffin queen just like us? Here's our favorite base muffin recipe for healthy muffins + 6 different healthy muffin recipes you can make with it!

Ultimate Muffin Recipe!
Grab a pen because you're going to want to write down this base muffin recipe for our favorite healthy muffins. Today we're sharing 6 unique muffin recipes with 1 classic base recipe!
You read that right. In this post, you're going to get not 1, not 2, but 6 different healthy muffin recipes.
This isn't an ordinary muffin recipe. It's one that's made with whole grains and better-for-you ingredients. Plus, these muffins come out super fluffy and pretty much taste like dessert.
The 6 Muffin Variations
We have individual posts for each of these muffin variations, so feel free to use the links below to go directly to the recipe you're looking for. Or, head down to the recipe card for the muffin base + add-in directions.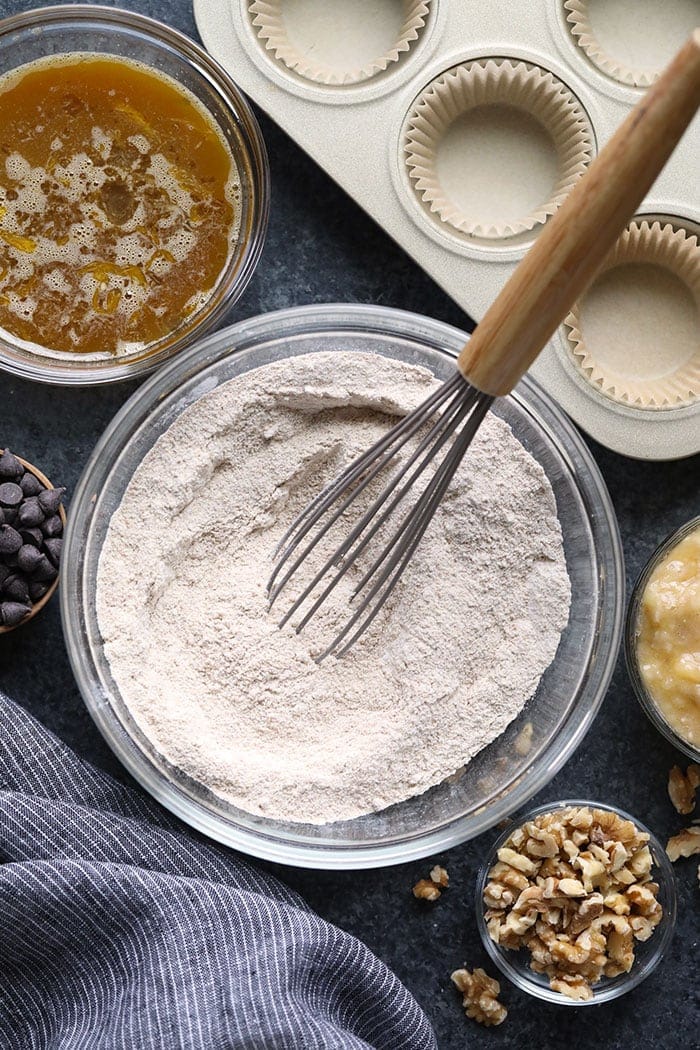 Healthy Muffins – Base Muffin Recipe
First and foremost, let's chat about our signature healthy muffins recipe. For all 6 of these healthy muffin flavors, you'll notice that we used the same exact base recipe and then deviated slightly for each flavor.
We've tested this base recipe time and time again and let me tell you, it just works! Here's what you need:
Dry Ingredients
White whole wheat flour: we love cooking with white whole wheat flour and prefer to use the brand King Arthur. Your muffins will come out super light and fluffy.
Coconut sugar: coconut sugar is one of two sweeteners in this recipe. Feel free to sub light brown sugar 1:1.
Baking soda: baking soda helps make your muffins super fluffy!
Salt: salt brings out the lovely add-in flavors.
Wet Ingredients
Eggs: eggs help bind this muffin recipe together and also make them nice and fluffy.
Maple syrup: maple syrup is the second sweetener used in these muffins. It's a warm flavor and refined sugar-free!
Unsweetened almond milk: we prefer to use almond milk, but any kind will do!
Melted coconut oil: we love baking with coconut oil. Make sure to measure your coconut oil from the melted state to get an accurate measurement.
Pureed fruit: pureed fruit is definitely what maeks these muffins so unique and delicious.
quick note!
You'll note that each of these healthy muffin recipes calls for the same exact dry ingredients. When it comes to wet, they call for the same ingredients minus the pureed fruit.
Each of the 6 recipes will slightly differ, but the three pureed fruits we feature are: banana, applesauce, and pumpkin. The great thing about pureed fruit is that it will:
add a serving of fruit to your muffins
make your muffins super duper moist

Before we move into all of these delicious flavors, I thought we'd chat about substitution options for a second!
Substituations
White whole wheat flour: While whole wheat flour definitely works the best time and time again, but if you're hoping to swap for a different flour, we suggest the following (and only the following) at a 1:1 ratio:
all-purpose flour
whole wheat flour
all-purpose gluten-free flour blend.
Unfortunately, we do not recommend substituting 1:1 for coconut flour and/or almond flour.
Coconut sugar: The only sugar we would recommend swapping for coconut sugar 1:1 is light brown sugar.
Eggs: We have not tested these recipes without eggs. If you do try these recipes with a flax egg, please let us know how it goes!
Maple syrup: Honey would be a fantastic 1:1 swap for maple syrup, and potentially agave nectar.
Almond milk: Good news! Any kind of milk will work with a 1:1 swap. Try soy milk, cow's milk, or coconut milk.
Coconut oil: While we haven't tested any other subs, we're confident butter would work as well as canola oil! If you try either of these, let us know how it works!
What is the secret to making moist muffins?
We have a few tricks up our sleeve to making moist muffins.
Don't overmix your batter.
In addition to oil, use pureed fruit for extra moisteness.
Don't over bake!
What is the difference between a muffin and a cupcake?
Typically muffins are much more nutritious and contain less sugar. Cupcakes are typically made with white sugar and have frosting on top.
Which oil is best for muffins?
In our opinion, coconut oil is best for muffins because it's light and doesn't have a super-strong flavor. Others will say that vegetable oil or butter is best.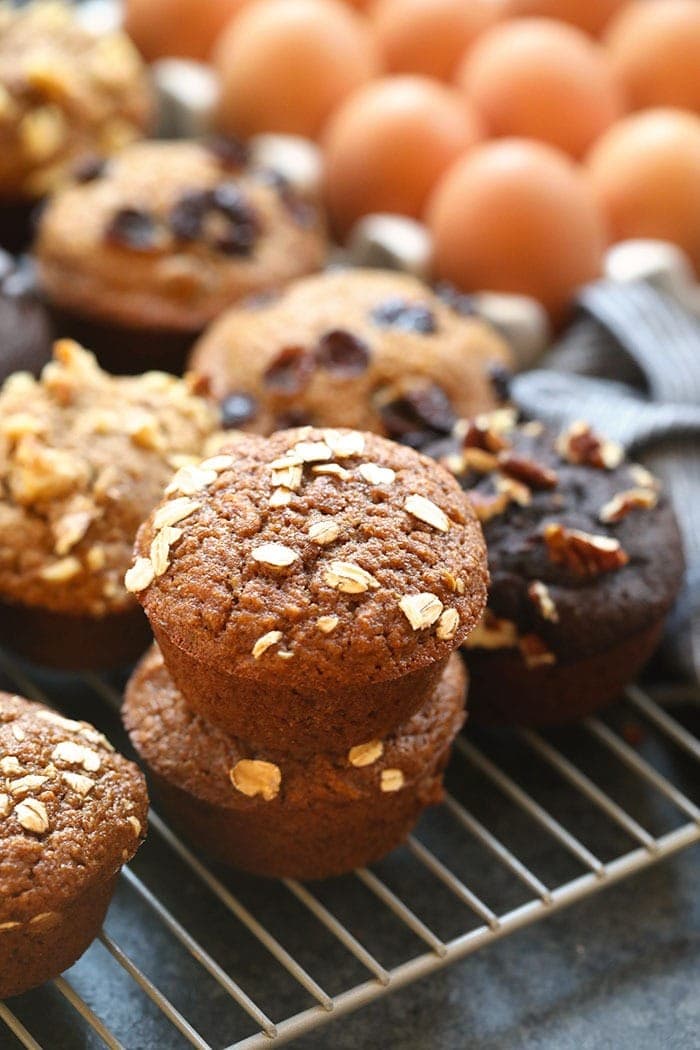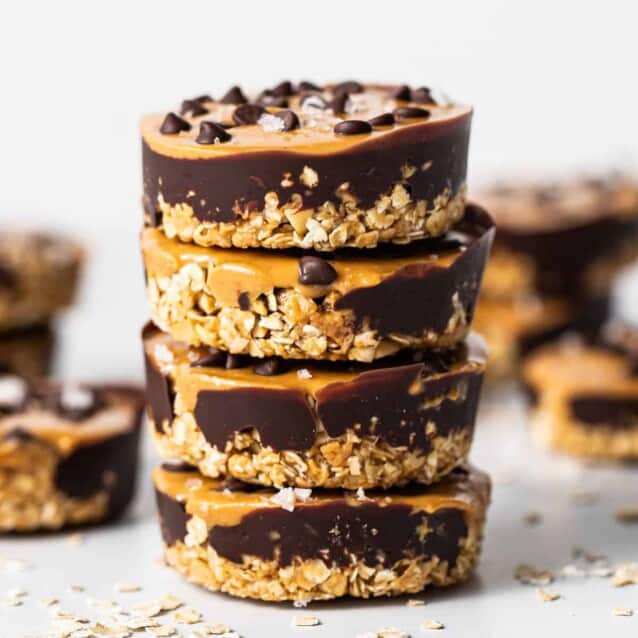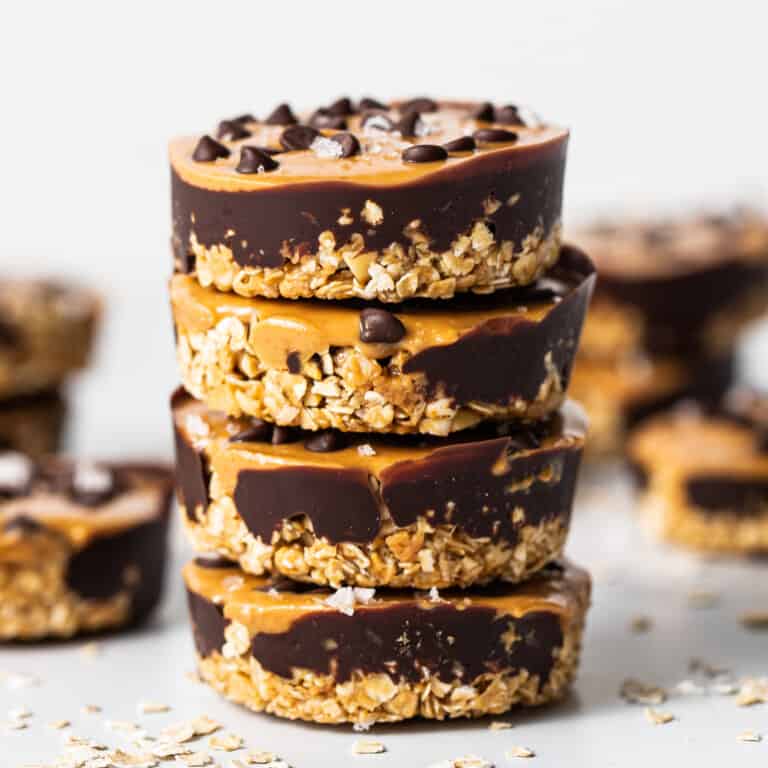 Get our Top 10 5-Star Recipes!
Join our email list for new recipes and BONUS: get our top 10 ⭐️⭐️⭐️⭐️⭐️ recipes e-book!
Banana Base
Love healthy banana muffins? Take our classic muffin recipe and use mashed banana along with your other favorite add-ins to make the most delicious banana nut muffins or healthy chocolate muffins!
Healthy Banana Nut Muffins
These banana nut muffins are made with mashed banana, walnuts, ground cinnamon, and vanilla extract making them slightly spicy, good-for-you, and a great breakfast muffin recipe!
1 cup mashed bananas
1/2 cup walnuts, chopped
1 teaspoon ground cinnamon
1 teaspoon vanilla extract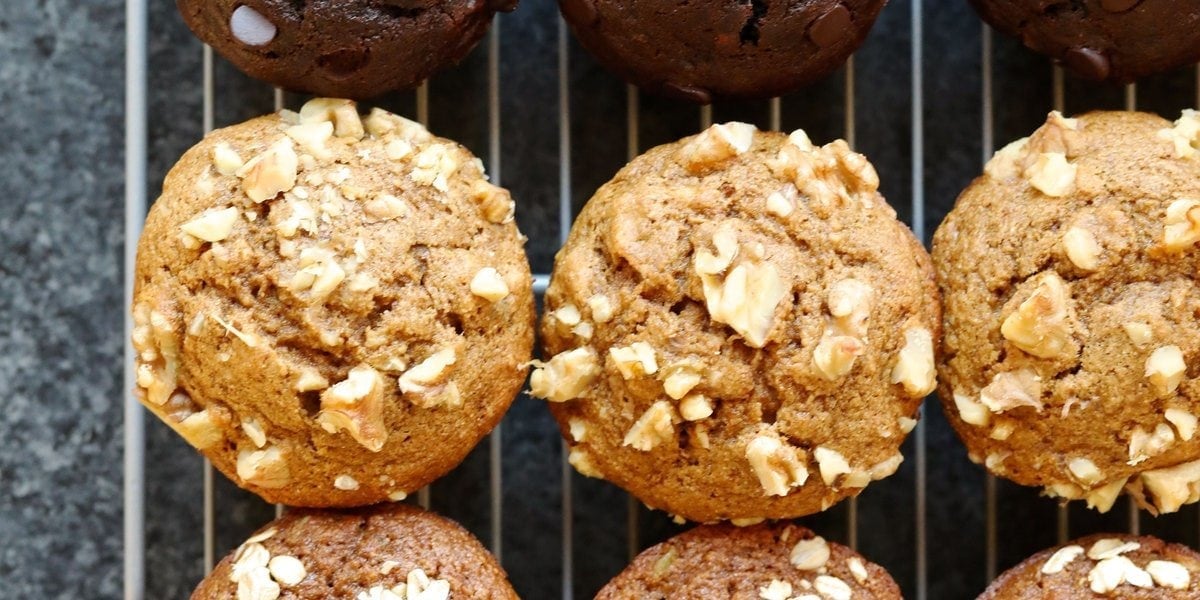 Healthy Chocolate Muffins
If you like chocolate you're going to love our healthy chocolate muffins! They're sweetened with mashed banana and made with chocolate chips and cocoa powder to make them extra chocolatey and delicious.
1 cup mashed bananas
1/2 cup unsweetened cocoa powder
1/2 cup chocolate chips
1 teaspoon vanilla extract
1/4 cup almond milk (in addition to base recipe)

Applesauce Base
Applesauce isn't just for kids! Use our classic healthy muffins base and use a cup of applesauce for a slightly sweet and super moist addition. From there, make our cranberry orange muffins OR apple cinnamon muffins.
Cranberry Orange Muffins
With just a little bit of orange extract, orange zest, and dried cranberries, you're going to get the most delicious cranberry orange muffins out there. Bonus…they're healthy and 100% whole grain!
1 cup applesauce
1/2 teaspoon orange extract
1 tablespoon orange zest
2/3 cup dried cranberries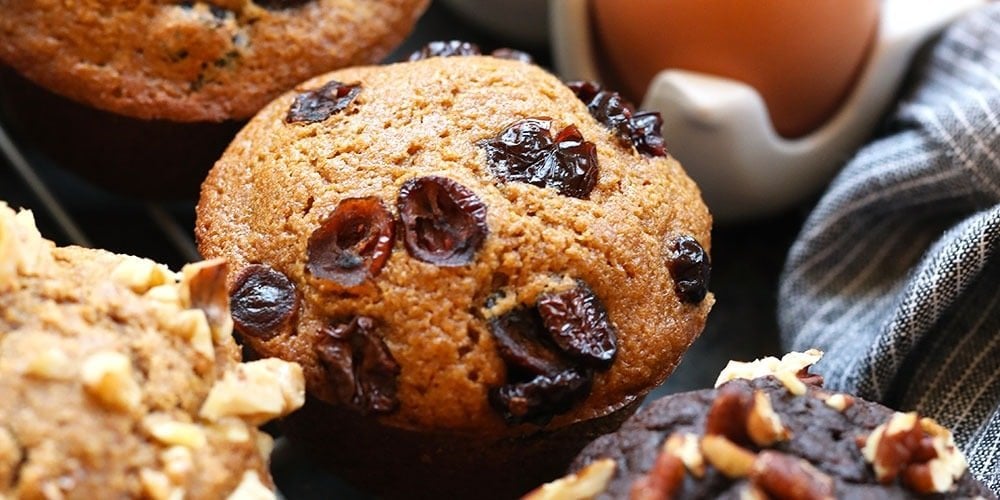 Apple Cinnamon Muffins
There is nothing better than a moist apple cinnamon muffin recipe. Made with applesauce, shredded apples, ground cinnamon and vanilla extract, these are a muffin all will love!
1 cup applesauce
1 cup shredded apples (moisture removed)
2 teaspoons ground cinnamon
1 teaspoon vanilla extract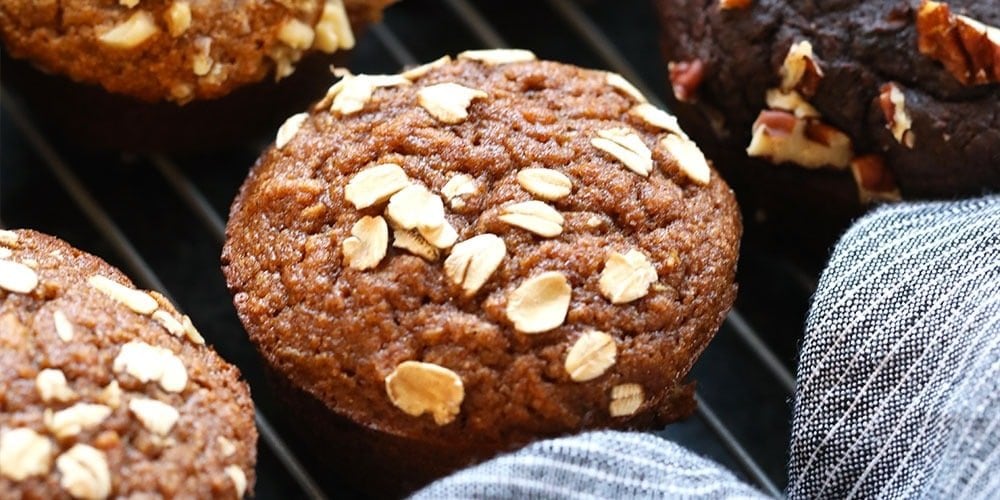 Pumpkin Base
Don't let pumpkin muffins be an autumn-only treat! Our healthy pumpkin muffins base recipe is made with 100% pumpkin puree, making these muffins ever so sweet and moist as can be!
Chocolate Pumpkin Zucchini Muffins
Made with both pumpkin and zucchini, these healthy chocolate pumpkin zucchini muffins are EXTRA moist and double the healthy with 2 servings of veggies.
1 cup pumpkin puree
1/2 cup cocoa powder
1 cup shredded zucchini (moisture removed)
1/4 cup almond milk, unsweetened (in addition to base recipe)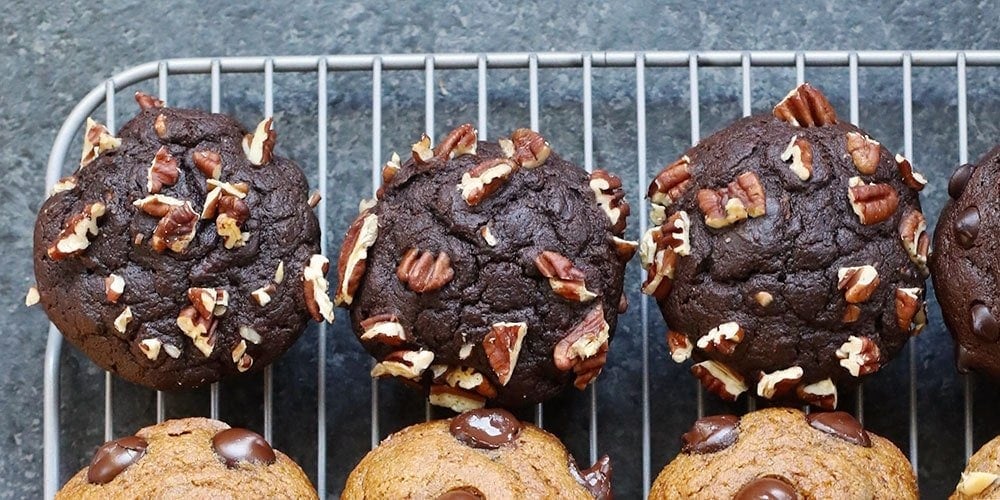 Healthy Chocolate Chip Pumpkin Muffins
What is better than pumpkin muffins? Chocolate chip pumpkin muffins! This recipe comes out so moist, has a hint of cinnamon, and is topped off with chocolate chips.
1 cup pumpkin puree
1 teaspoon vanilla extract
1 teaspoon ground cinnamon
1/2 cup chocolate chips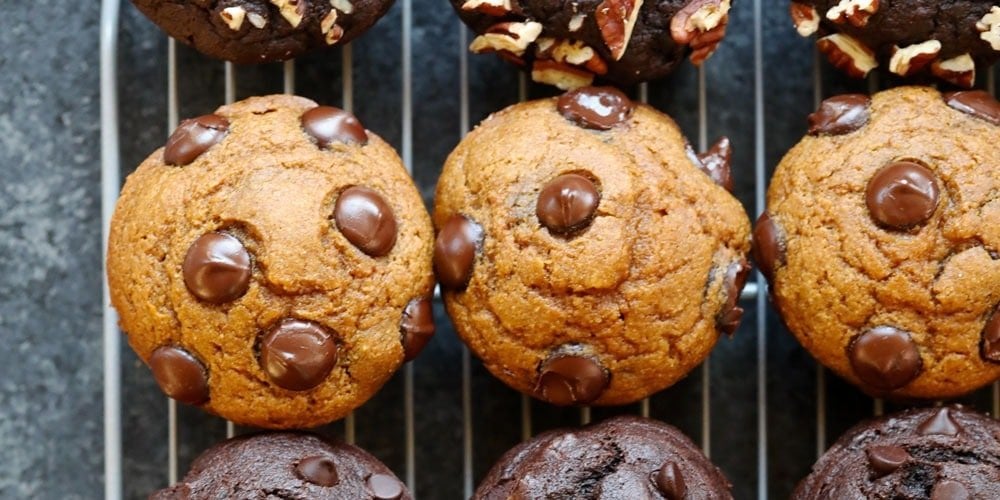 How to Store Muffins
Let your muffins cool completely. Then, transfer them into an airtight container. Store them in a cool, dark place such as your counter for around 3 days.
For best results, store these muffins in the fridge for up to 3-5 days. Since they have pureed fruit in them and are made with real ingredients, they are more apt to mold quicker on the counter.
Can You Freeze Muffins?
Muffins are a fantastic thing to freeze for later. Here's a quick tutorial on how to do it:
Let your muffins cool compeltely.
Then, transfer them into an airtight container or gallon-size plastic bag (what we prefer to do!).
Remove as much air as possible and seal.
Freeze for up to 3 months.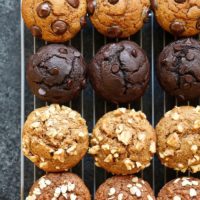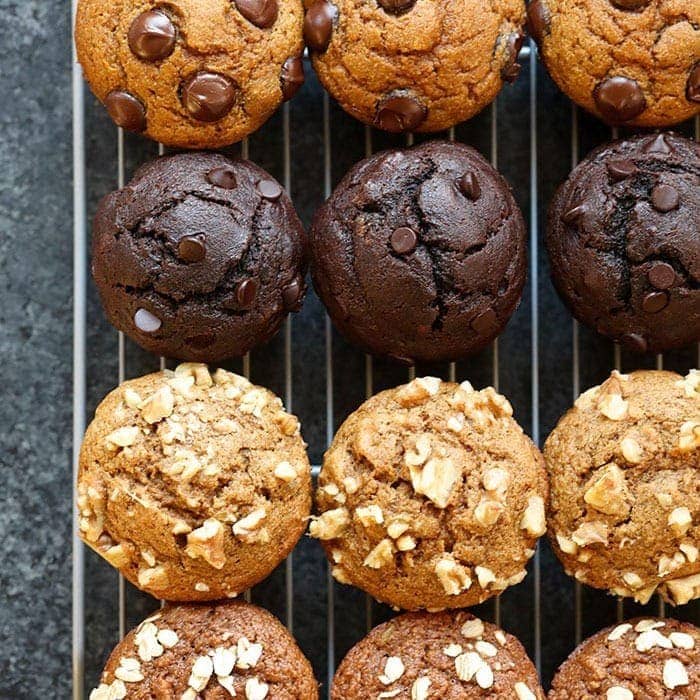 Healthy Muffin Recipe (+ 6 Flavor Variations)
Here's our favorite muffin recipe for healthy muffins + 6 different healthy muffin recipes you can make with it. Enjoy!
Instructions
First, preheat oven to 350ºF and line a muffin tin with muffin liners. We suggest also spraying your muffin liners with cooking spray just in case.

Next, place dry ingredients into a medium bowl and mix.

Then, in a large bowl crack 2 eggs and whisk. Add maple syrup, almond milk, and preferred pureed fruit* and mix again.

Add dry ingredients into wet ingredients and then mix. Then, add in melted coconut oil and mix again.

At this point, add any of the add-ins for one of the 6 muffin recipes in this post and mix again.

Fill each muffin about 3/4 of the way full (these are going to be big muffins). Then, place in the oven at 350ºF and bake for 18-22 minutes or until the center is fully cooked.

Let cool for 5 minutes and then remove from the muffin tin to continue cooling.
Tips & Notes
Pureed fruit: the pureed fruit you use is dependent on which muffin recipe you are planning on using.
Nutrition information includes 1 cup of unsweetened applesauce as the pureed fruit.
Nutrition facts
Calories:
167
kcal
Carbohydrates:
28
g
Protein:
3
g
Fat:
5
g
Fiber:
2
g
Sugar:
18
g