Carrot Cake Muffins are truly delicious any time of year. Our carrot cake muffins recipe is made with whole-grain flour, grated carrots, warm spices, maple syrup and chopped walnuts.
If you're a muffin lover like us, you'll find many great healthy muffin recipes to choose from here on Fit Foodie Finds. From cinnamon pear muffins to super fluffy blueberry muffins to healthy chocolate muffins and everything in between.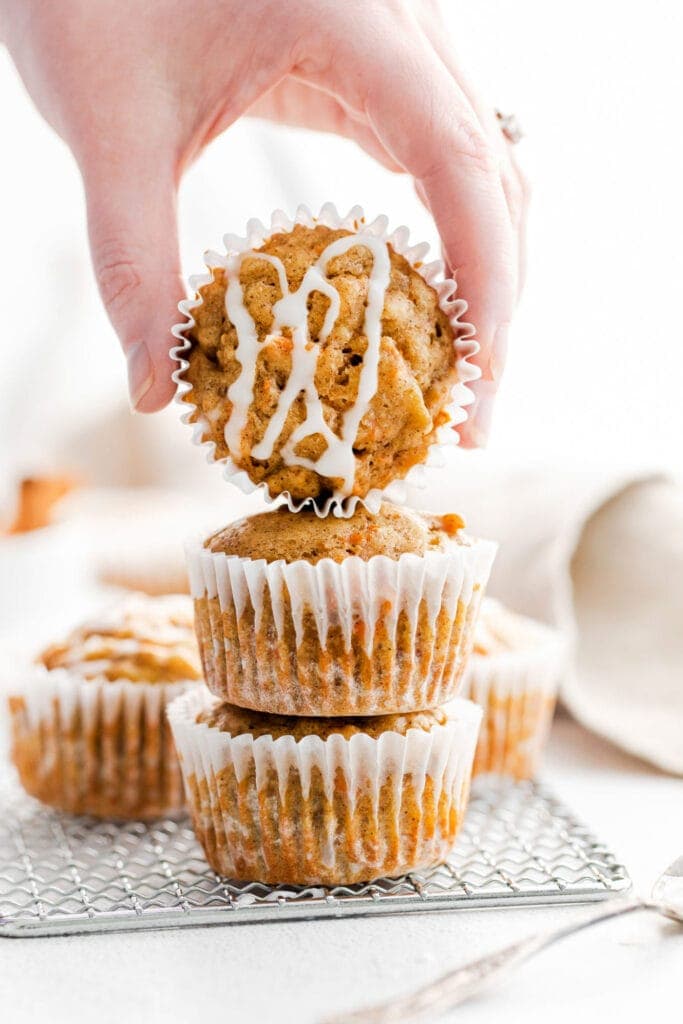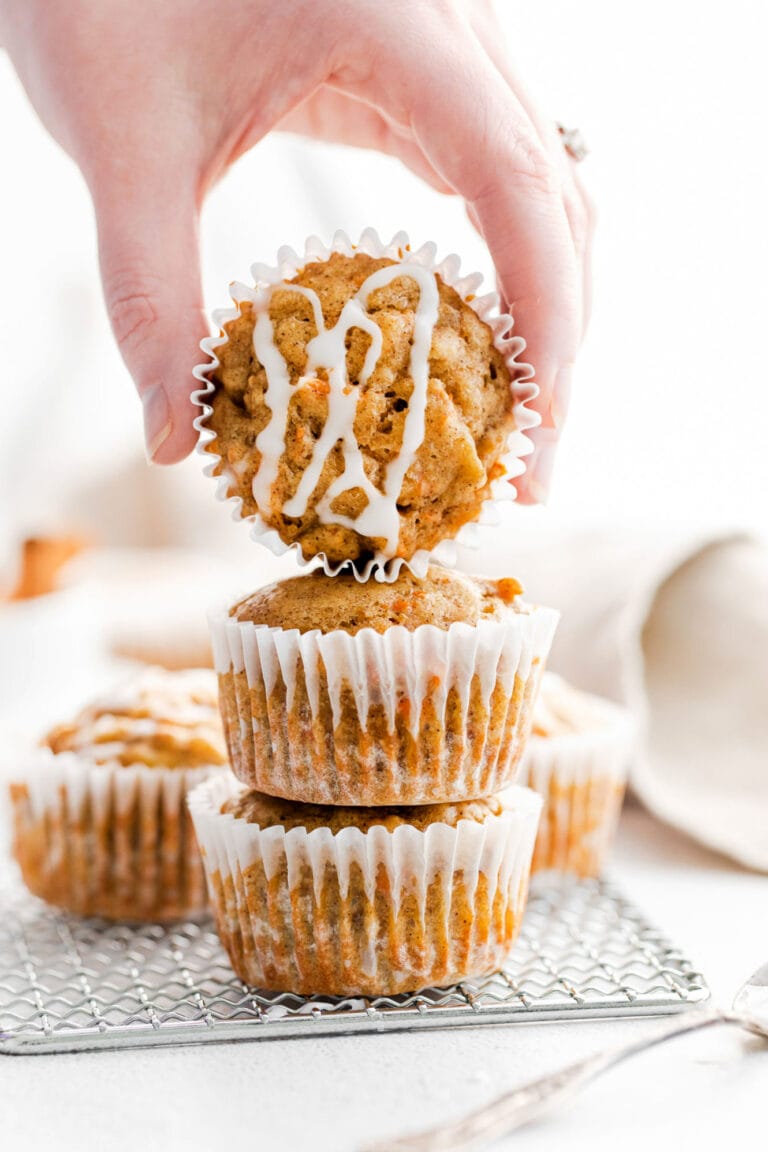 Amazing Carrot Cake Muffins (that are healthy!)
These carrot cake muffins remind me a lot of our morning glory muffins in that they're made with whole grains, fruit, veggies, and nuts.
They taste just like carrot cake, but are a better for you version…in muffin form!
why we love these muffins
As if the photos don't give you enough reasons to want to make these carrot muffins, here's why you need to make them!
Texture: first and foremost, there is something about a perfectly fluffy and moist muffin that you just can't beat! These are just that.
Real ingredients: Freshly grated carrot, mashed banana, maple syrup, the list goes on! Real food rules.
Taste: If you LOVE carrot cake, you're going to swoon over these muffins because they taste like the real deal.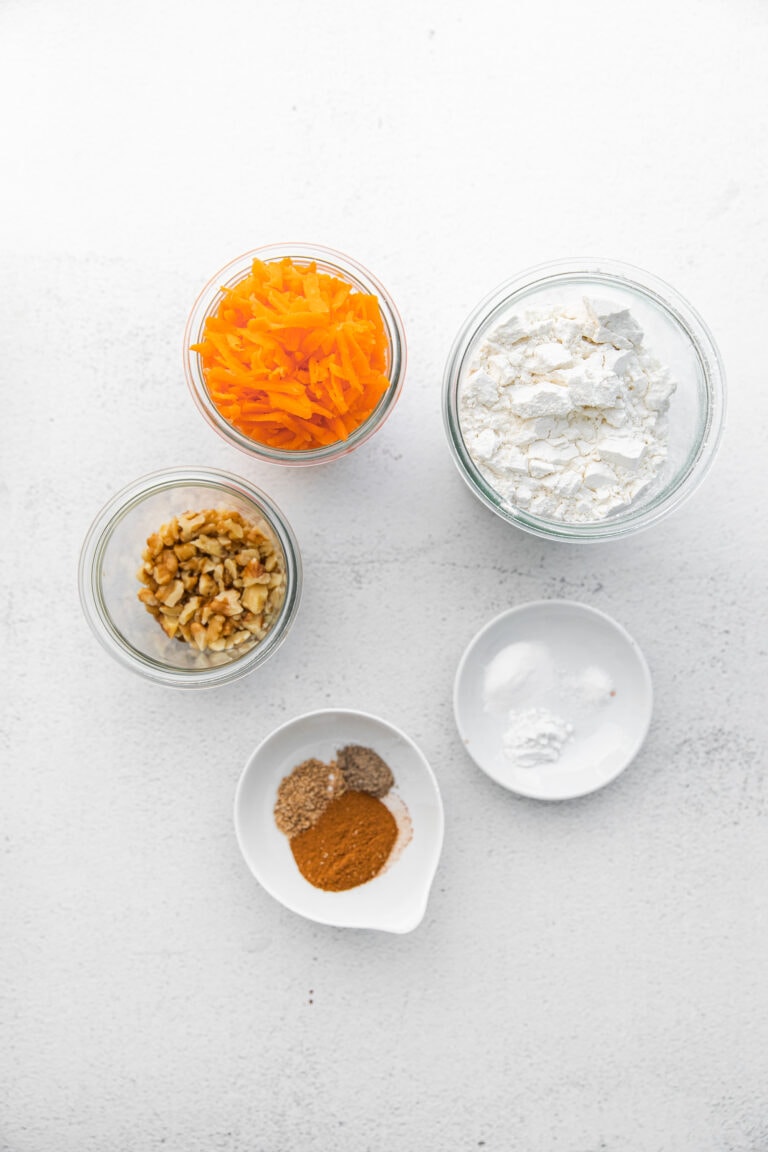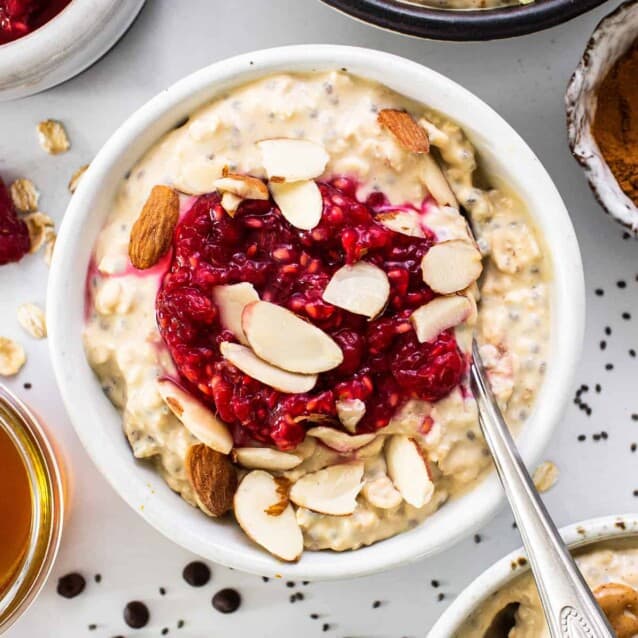 Need Breakfast Inspo?
Subscribe to our emails and get all of our best breakfast recipes straight to your inbox.
Our carrot cake muffins taste just like carrot cake but in muffin form. And, because it's Fit Foodie Finds, these muffins are jam-packed with the good stuff.
What You Need
Flour: the flour you need is white whole wheat flour. We love the King Arthur Brand.
Fat: this recipe only calls for 2 tablespoons of added fat (coconut oil) because we utilize both mashed banana and Greek yogurt for extra moisture.
Sweetener: To sweeten things up a bit, we're using a combination of maple syrup and mashed banana, both all-natural sweeteners.
Add-Ins: the add-ins are really what make these healthy muffins –> carrot cake muffins! check it out:
grated carrots: you need a whole cup of grated carrots. Make sure to remove as much moisture as possible after grating. Also, a cheese grater works great for grating carrots. We like to grate them medium so you can see them in the muffins.
chopped walnuts: feel free to use either walnuts or pecans for this recipe.
carrot cake spices: last but not least, the spices! To get that amazing warm, spicy carrot cake flavor you need ground cinnamon, ground nutmeg, ground cardamom, and salt.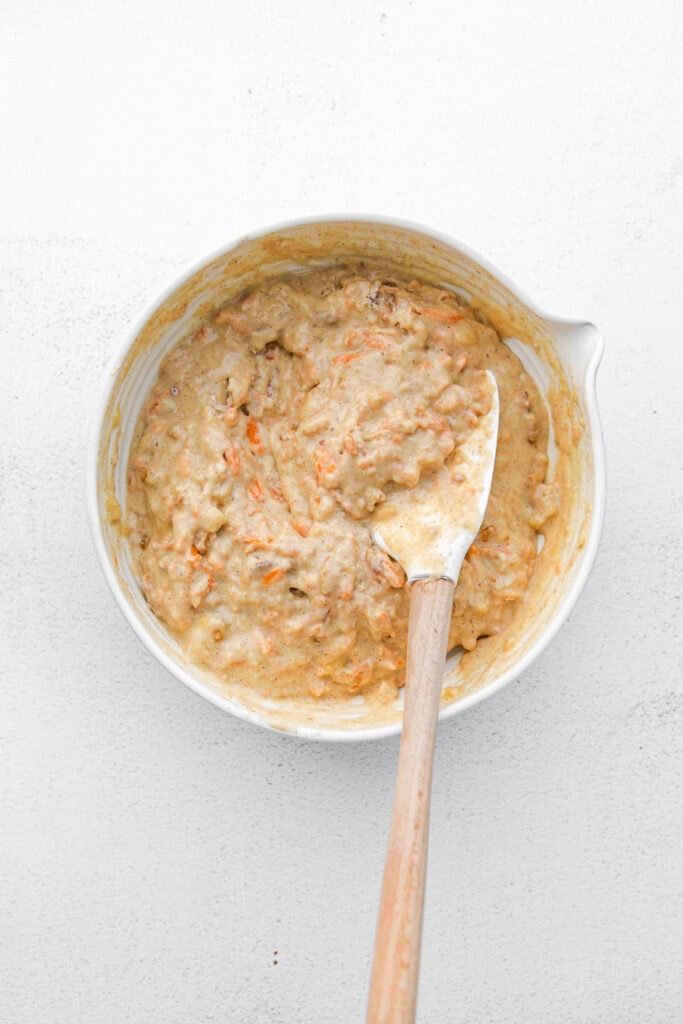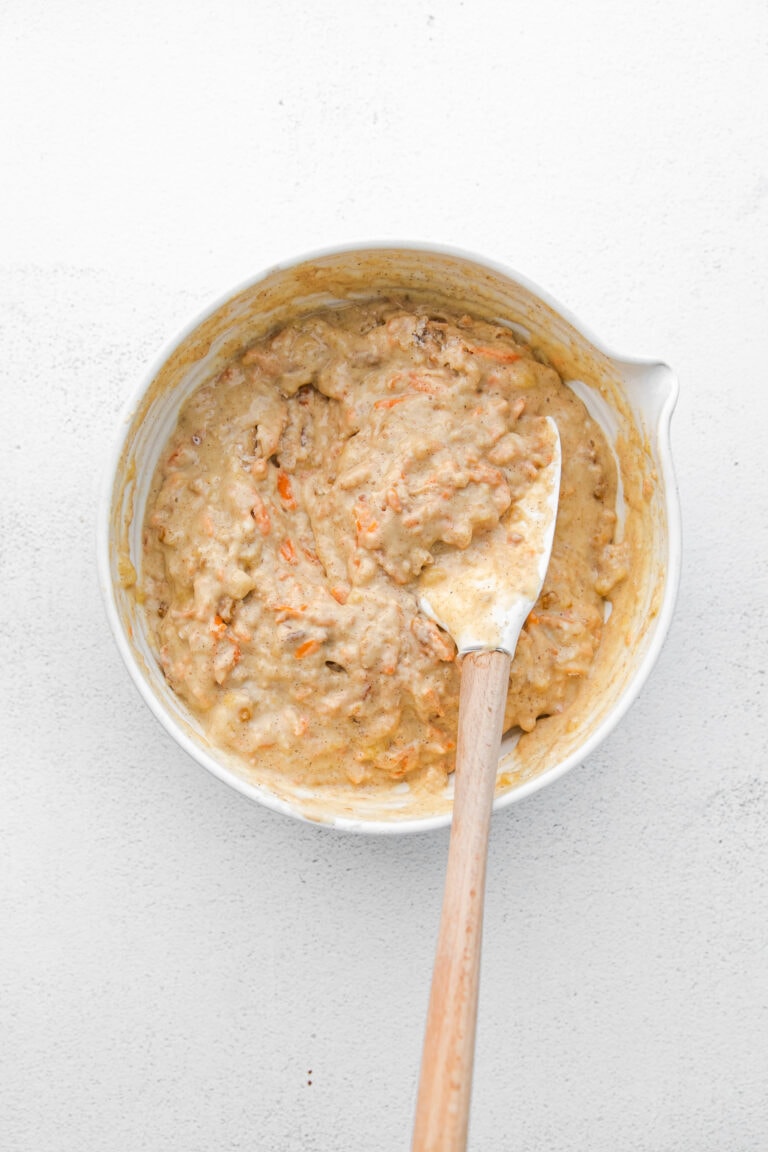 Kitchen Tools
Check out our top kitchen tools for carrot cake muffins below!
How to Make Healthy Carrot Muffins
Here is a quick run down of how to make these carrot cake muffins recipe. For the full recipe, make sure to scroll down the recipe card!
Preheat oven to 350ºF and line a muffin tin with muffin liners.
Mix togehter all wet ingredients minus the coconut oil in a large bowl. Set aside.
Mix together all dry ingredients in medium bowl.
Slowly add dry ingredients to wet and mix to combine. Finally, add coconut oil and mix again.
Fill each muffin well 3/4 of the way full and bake at 350ºF for 16-18 minutes.
While muffins are cooling, combine ingredients for glaze in a small bowl. Once the muffins have cooled, drizzle on glaze and set aside to dry.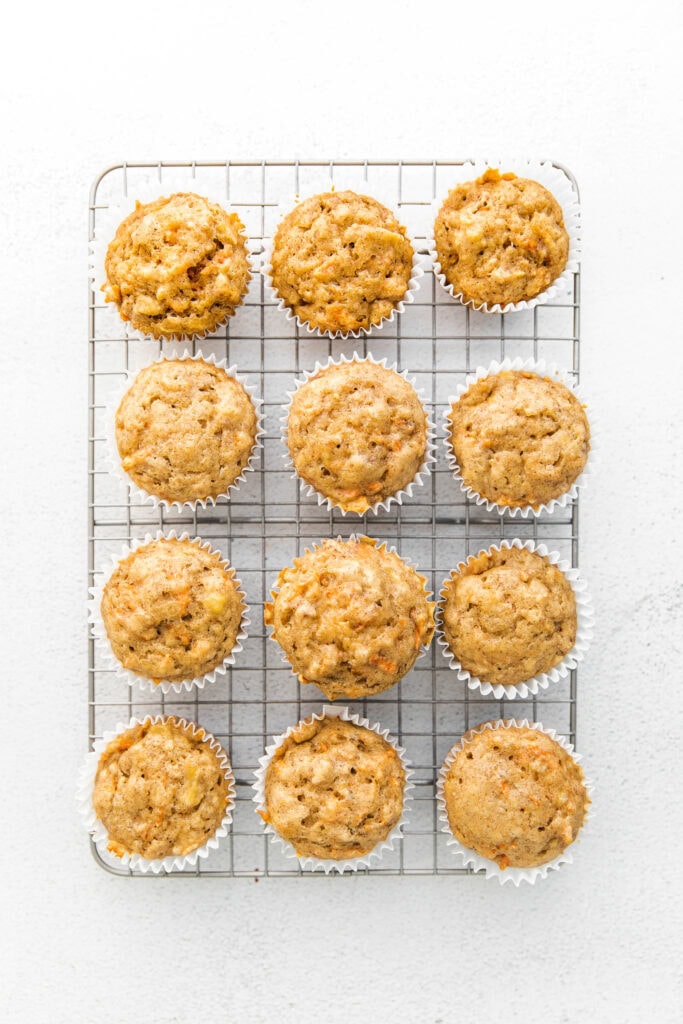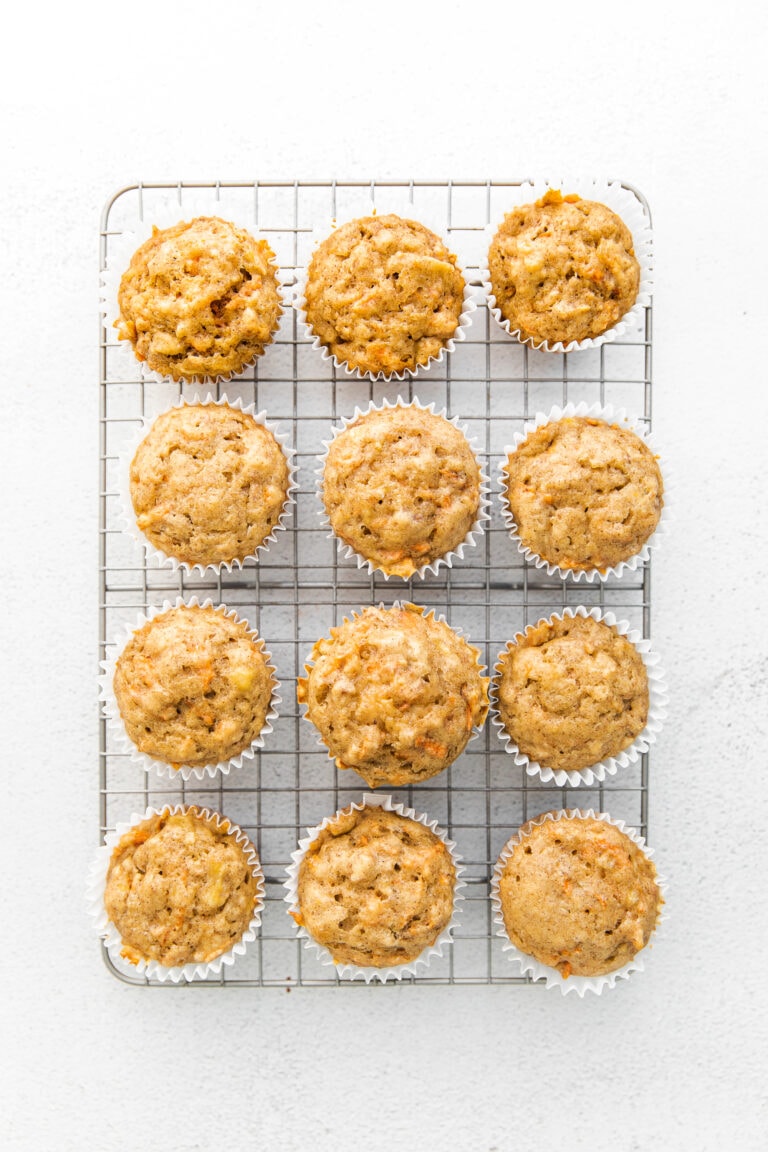 All About the Glaze
To glaze or not to glaze? We say, when in doubt make the glaze. It's fun and fancy and truly does tie everything together.
You only need 2 simple ingredients: powdered sugar and water.
Simply mix them together in a bowl until smooth. If you feel like you want a thicker glaze, add a little bit more powdered sugar. If you want things thinner, add a little bit more water.
Top Tips for Perfect Healthy Muffins
Don't over bake: our number 1 tip with all baked goods is don't over bake! If you bake your muffins too long, they will dry out and be really cakey and hard to chew.
Don't over mix: It's easy to over mix, but don't do it! You risk deflating the leavening agent and over scrambling the eggs.
Don't use a different flour: whatever you do, do not swap for a different flour…especially coconut or almond! We've only tested this recipe with white whole wheat!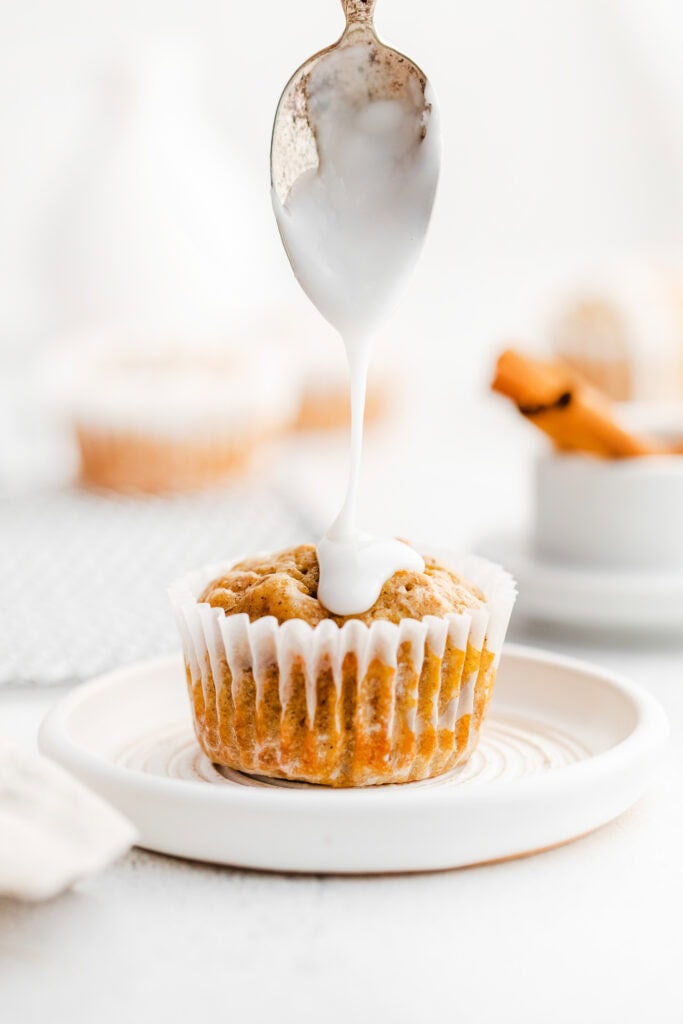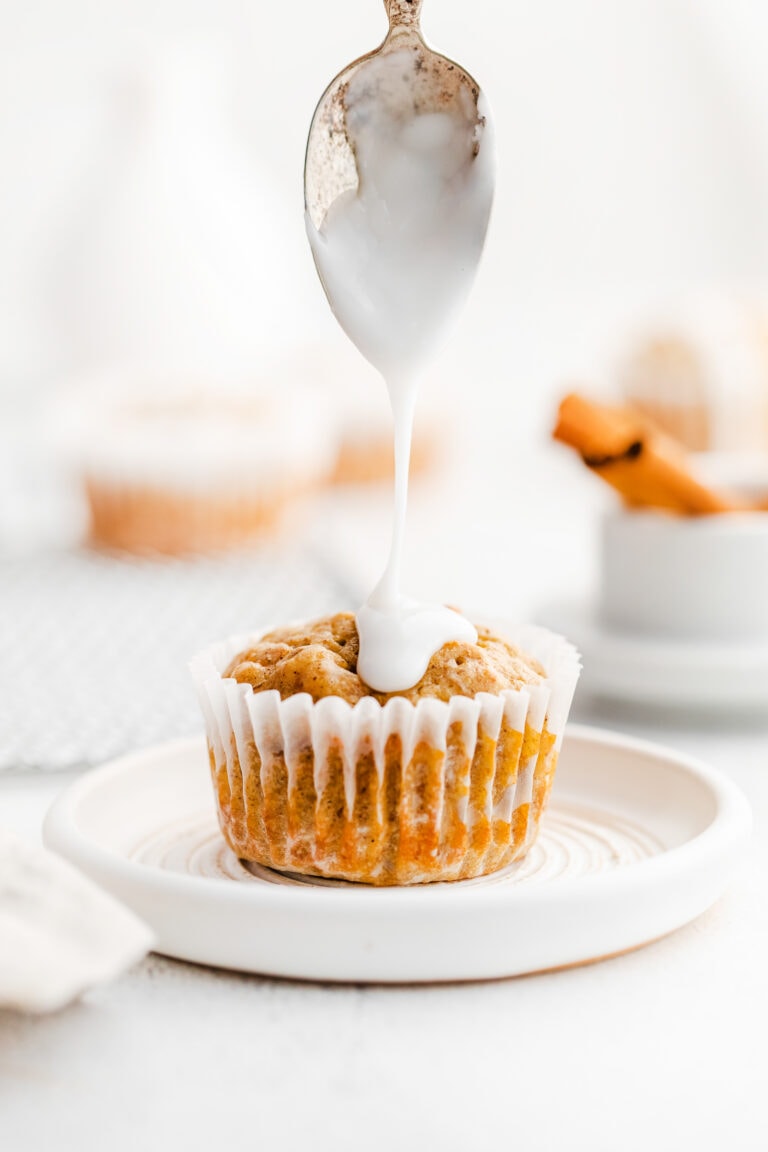 Storage
Let muffins cool completely and store in an airtight container in a cool, dark place for up to 3 days. Or, store in the fridge for up to 5 days.
Can you freeze these muffins?
Freezing these muffins is super simple. We recommend holding off on glazing them until after you've frozen and thawed them, but otherwise follow the directions below.
Let muffins cool completely.
Wrap 2 or 3 muffins together with plastic wrap and then wrap them again with tin foil.
Freeze for up to 3 months.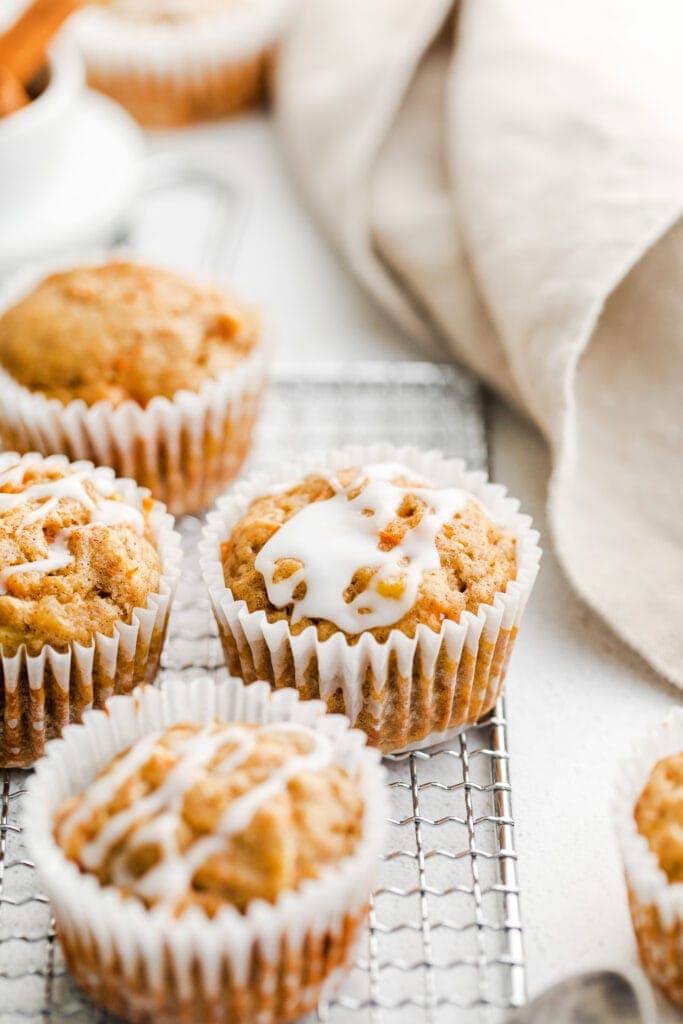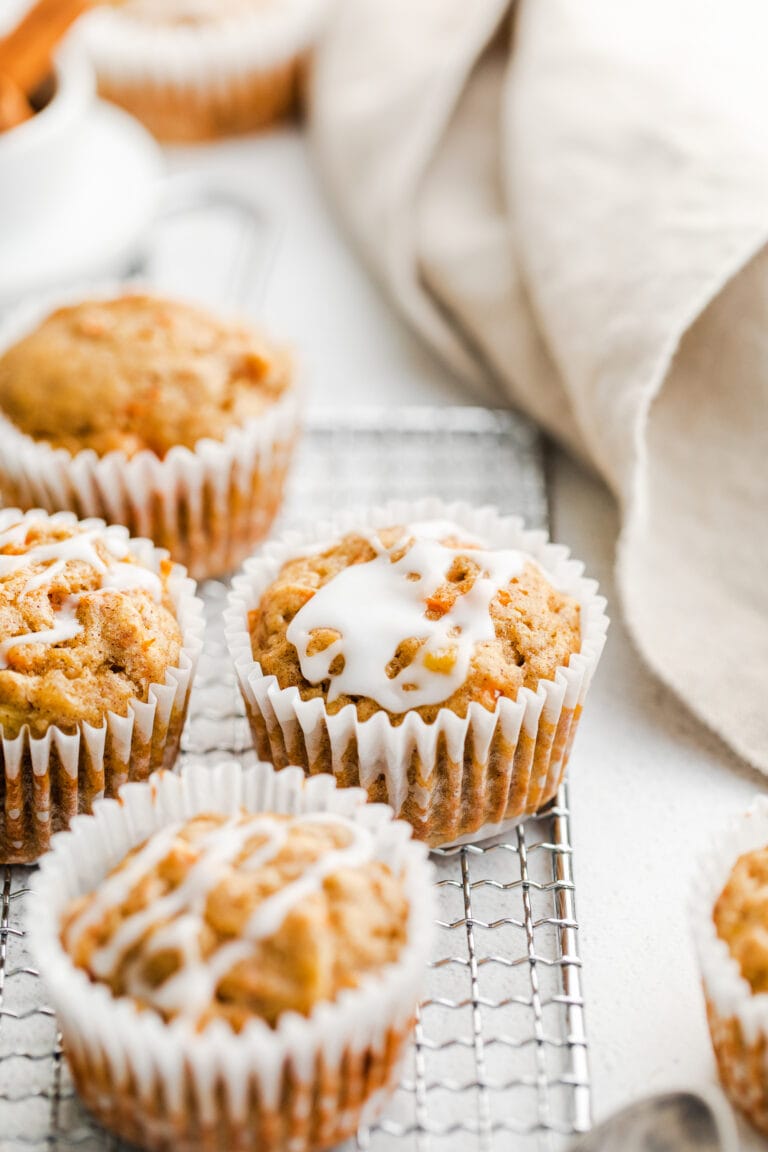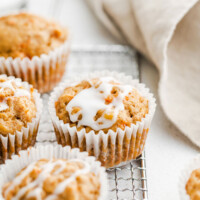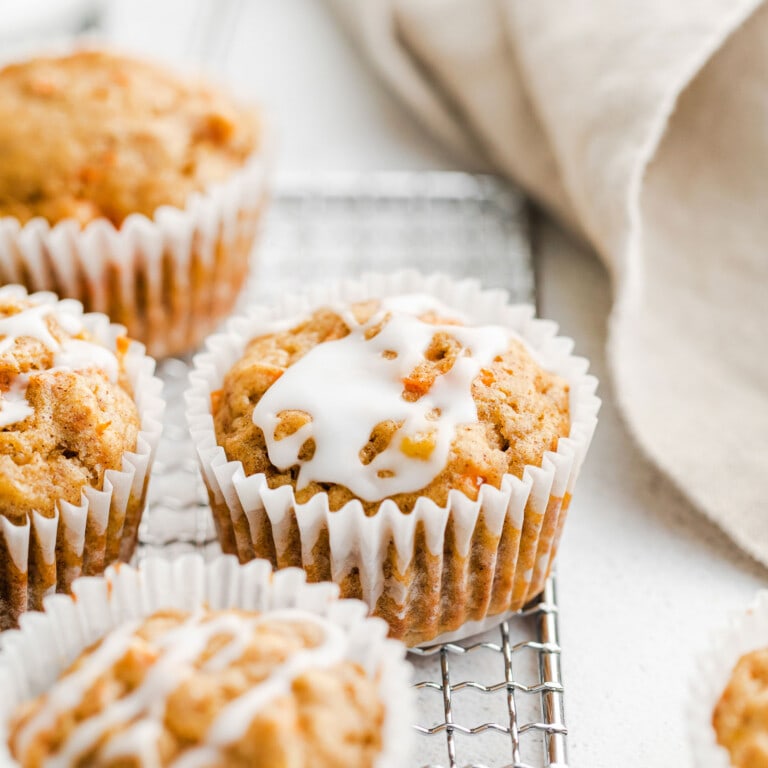 Carrot Cake Muffins
Take your muffin game up a notch with these easy whole grain carrot cake muffins. They're kid-friendly, naturally sweetened, and the perfect snack! Make a batch today!
Instructions
First, preheat the oven to 350º and line a muffin tin with muffin liners. Set aside.

Next combine wet ingredients. In a large mixing bowl, mash a medium banana until there are minimal to no lumps, then add the rest of the wet ingredients to the bowl (except for the coconut oil). Mix well. Set aside.

In a separate mixing bowl, combine dry ingredients.

Add dry ingredients to the wet mix until smooth. Once combined, add the melted coconut oil and mix again.

Transfer batter into muffin tin, filling each muffin about 3/4 of the way full (these are going to be big muffins!). You should get around 12-14 muffins.

Bake muffins at 350ºF for 16-18 minutes.

Remove from oven and let cool for 5-10 minutes in the muffin tin before transferring muffins to a cooling rack.

While muffins are cooling, combine ingredients for the glaze. Once muffins have fully cooled (this is important), either dip the muffin tops into the glaze or drizzle your muffin tips with glaze.

Either eat immediately (because who can wait) or set aside to allow the glaze to dry.
Tips & Notes
If your carrots are extremely moist, ring out the moisture with a paper towel before adding them to the batter.
Muffins will last stored in an airtight container on the counter for up to 3 days or in the fridge for up to 5 days.
Nutrition Information is for 12 muffins.
Nutrition facts
Calories:
187
kcal
Carbohydrates:
27
g
Protein:
4
g
Fat:
7
g
Fiber:
3
g
Sugar:
15
g