Seriously delicious Morning Glory Muffins that are not only kid-friendly, but packed with hidden fruit and veggies!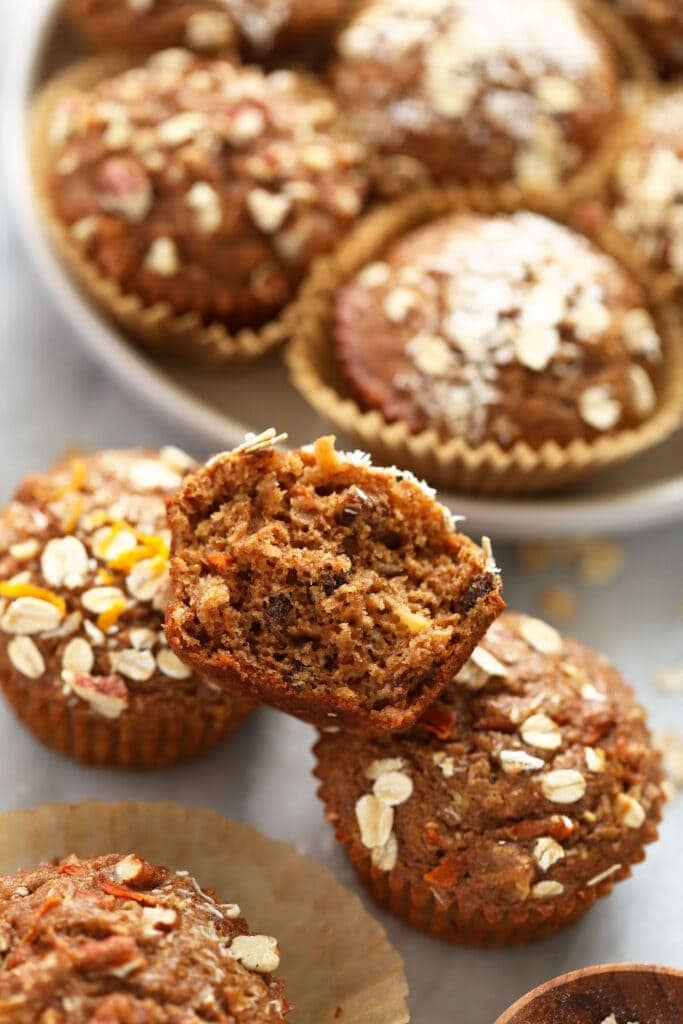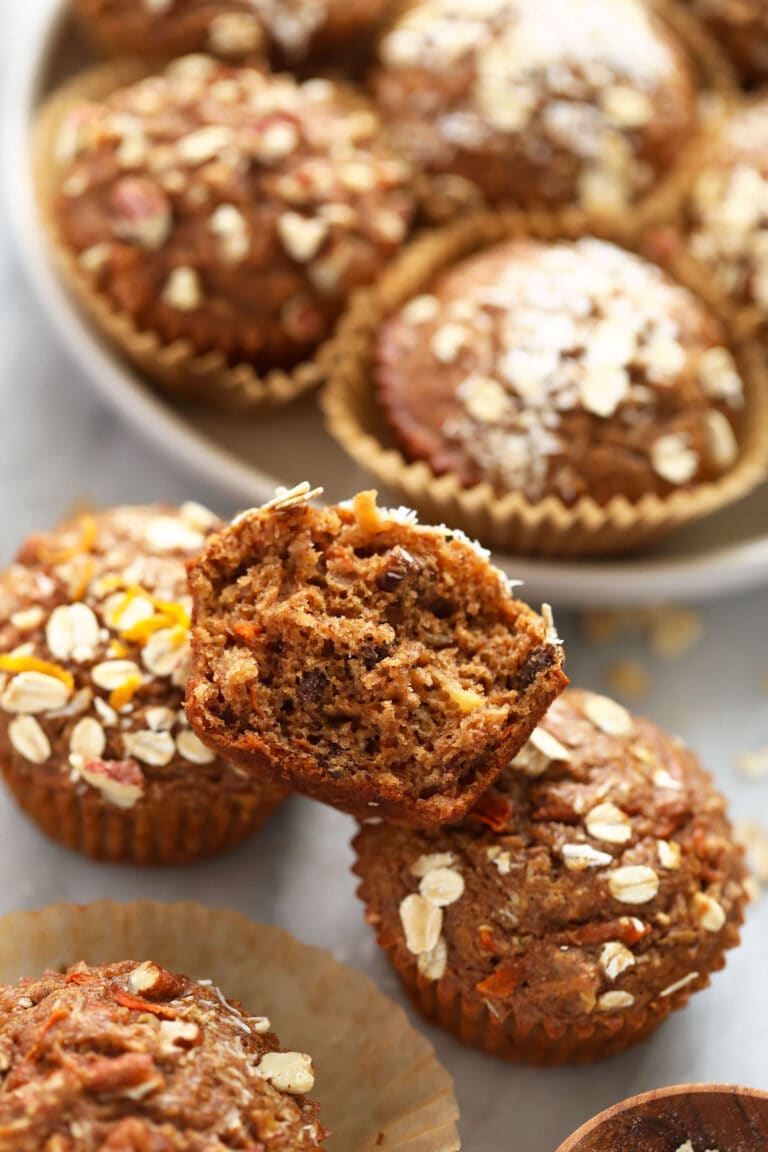 Perfect Morning Glory Muffins
Do you have a picture of the perfect morning glory muffin in your head? We do! A dense, but moist muffin that you have zero guilt enjoying with a cup of coffee in the morning.
These morning glory muffins are the perfect muffin for the morning, a snack break, or even dessert! Here are all of our favorite things about these morning glory muffins
You only need one bowl to mix up the batter for these morning glory muffins.
These muffins use all the best spices that taste similar to classic spice cake.
You get a healthy serving of vegetables in these muffins.
These morning glory muffins are naturally sweetened with maple syrup, applesauce, and shredded carrots.
Muffin Ingredients
Though these morning glory muffins are easy to mix up, there is a long list of ingredients. Don't fret, the are simple ingredients. Let's break them down.
Shredded apples– You can use any type of apple that you would like in these morning glory muffins. We used a gala apple. The shredded apples add both moisture and sweet flavor to this morning glory muffin recipe.
Shredded carrots– Morning glory muffins aren't morning glory muffins without shredded carrots! Just like the apples, the shredded carrots add sweetness and moisture to the muffins. You're also able to hide veggies in these muffins. Shhh, nobody as to know.
White whole wheat flour– We like a to use white whole wheat flour for baking recipes. Feel free to use all purpose flour or a mix of all purpose flour and whole wheat flour.
Coconut sugar– There is a little bit of coconut sugar in these muffins, feel free to replace the coconut sugar with brown sugar.
Shredded coconut – Another classic ingredient in morning glory muffins is shredded coconut. The shredded coconut adds to the chunky deliciousness of the muffins.
Chopped pecans – We use chopped pecan to add healthy fats and fiber to these muffins. Any chopped nut would be a great substitution.
Ground cinnamon– Don't skip the cinnamon!
Raisins– Adding a little more sweetness and chunk to muffins is always easy to do by adding dried fruit. We used raisins, but dried cranberries, dried raisins, or dried blueberries would also work.
Flax seed– Ground flaxseed adds a healthy does of fiber to these muffins!
Ground nutmeg– The spiciness that ground nutmeg gives to these muffins a nice sweet and spicy kick. If you don't have nutmeg, try cloves!
Baking soda
Orange zest – If you want to bring your muffins to the next level, don't skip the orange zest.
Rolled oats– We use rolled oats to top these muffins, adding gorgeous color and a bite.
Large eggs– Be sure you use large eggs!
Maple syrup– Not only does the maple syrup naturally sweeten these muffins, it adds delicious flavor.
Applesauce– We use less oil and more applesauce for these muffins.
Orange juice– A little bit of orange juice brightens up these muffins.
Vanilla extract
Tablespoons coconut oil– Because morning glory muffins are dense muffins, adding a little oil adds that moisture that these muffins need. Feel free to substitute coconut oil with your favorite baking oil.
remove the moisture
Don't forget to remove the excess moisture from the shredded carrots and shredded apples! You don't want mushy muffins.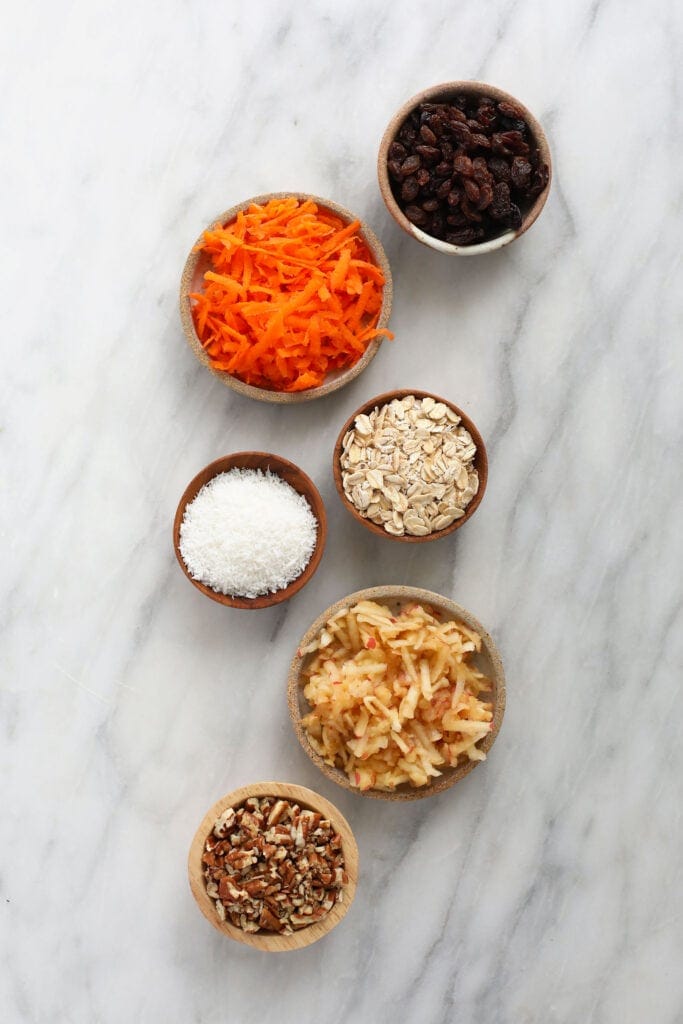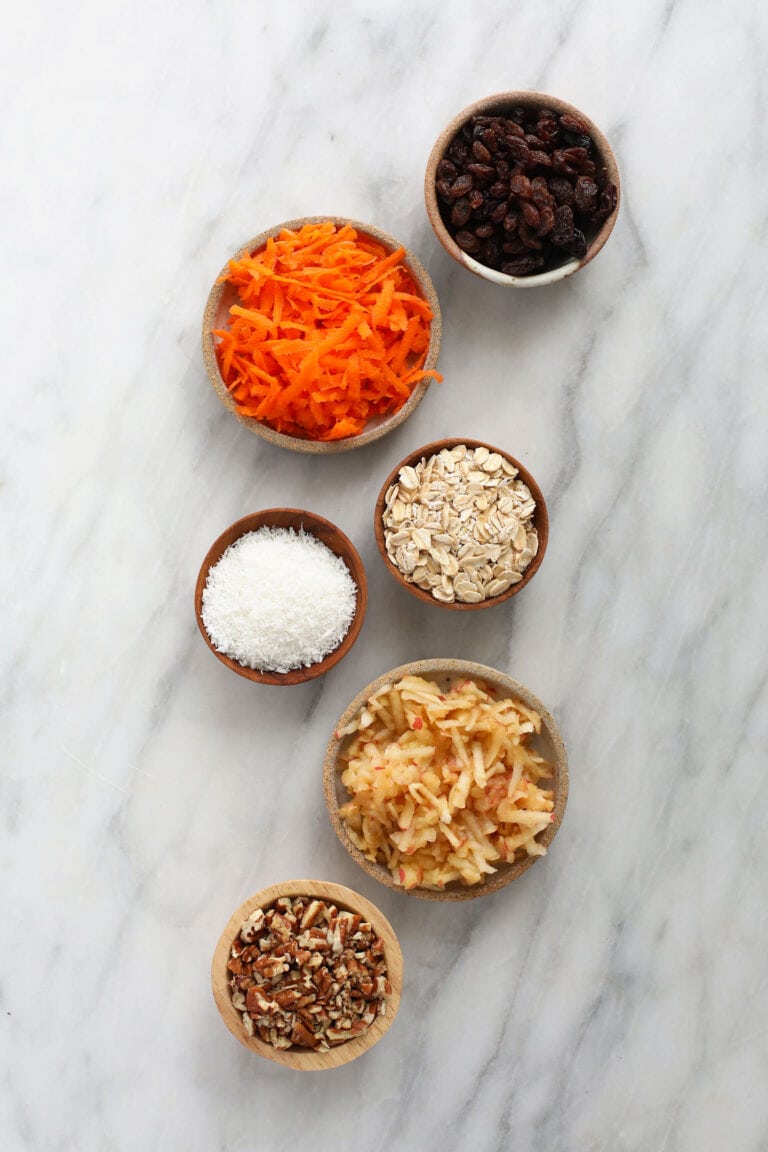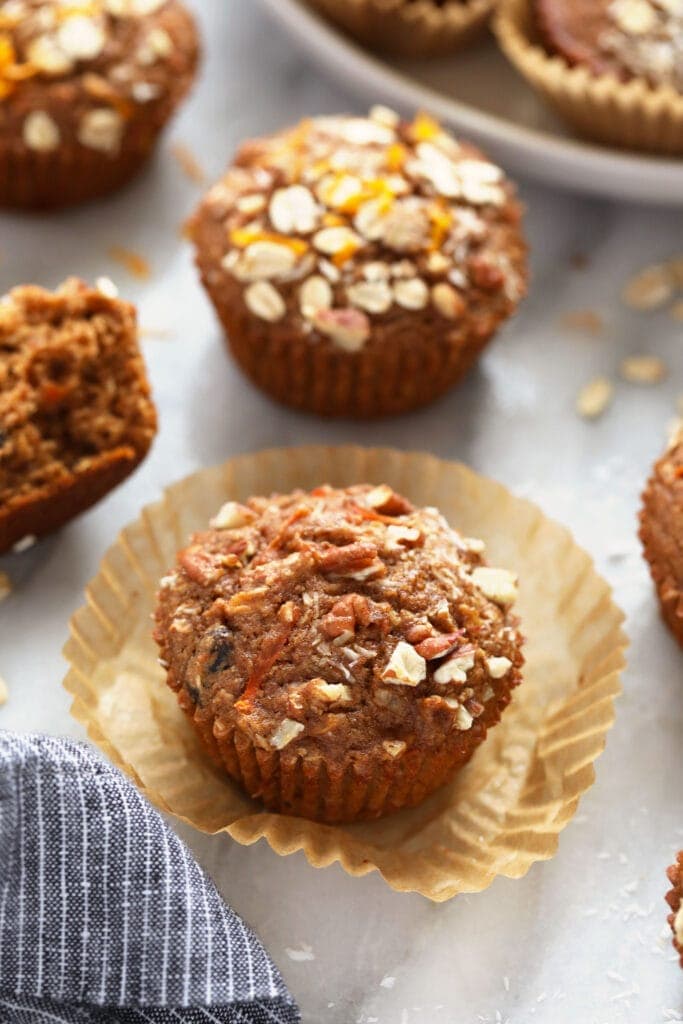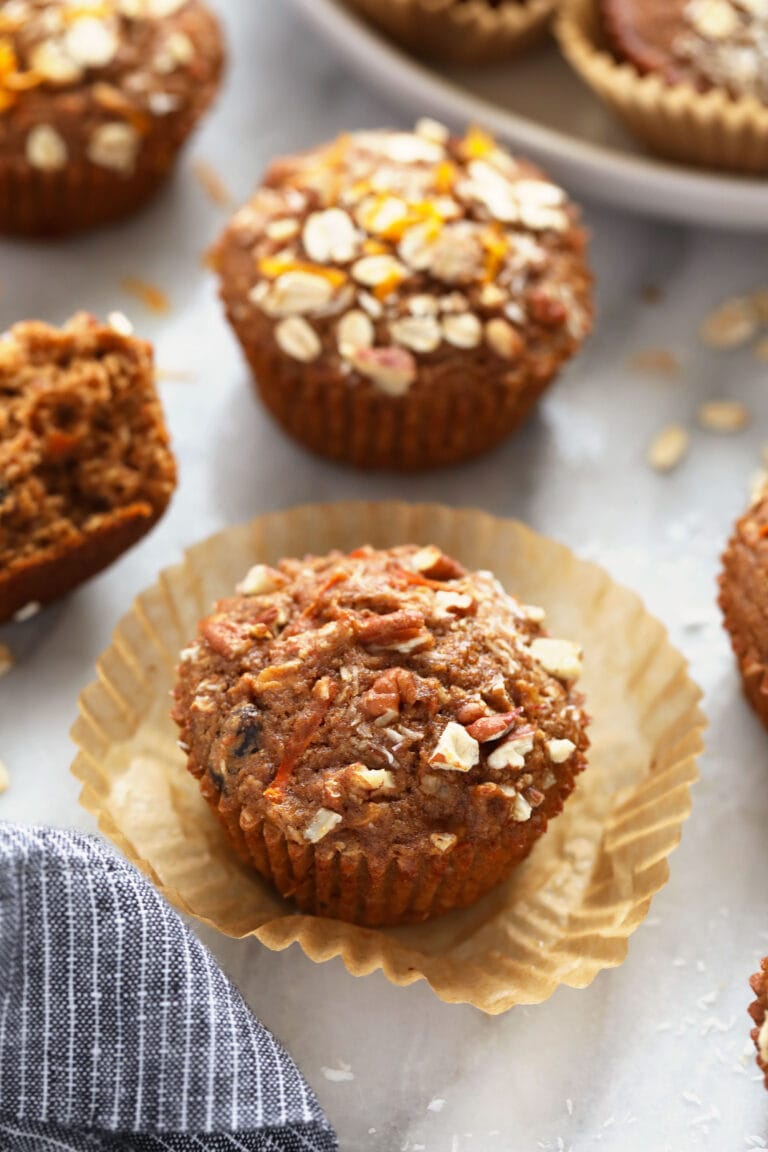 How to Make Morning Glory Muffins
Measure: It helps to measure out all of the ingredients for this morning glory muffin recipe before you mix everything up in a bowl. Measure out all of your ingredients, remove moisture from the carrots and apples, and you'll be set. Don't forget to spray the muffin tin and muffin liners.
Mix: Toss everything into large mixing bowl and mix until all ingredients are combined. You want the batter to be thick but still drippy. Be sure not to over mix the batter for these muffins or you'll end up with super dense muffins.
Line + Fill Muffin Cups: Once the batter is ready, use a cookie scoop or a 1/4 cup of batter and fill the muffin tins or liners 3/4 of the way full.
Bake: Bake these muffins for 18-22 minutes. Remember the the muffins will continue to bake for a few minutes when you remove them from the oven.
Cool: Remove the muffins from the oven and let them sit for a few minutes before removing the muffins from the muffin tin and onto the cooling rack. Add orange zest to the top of the muffins.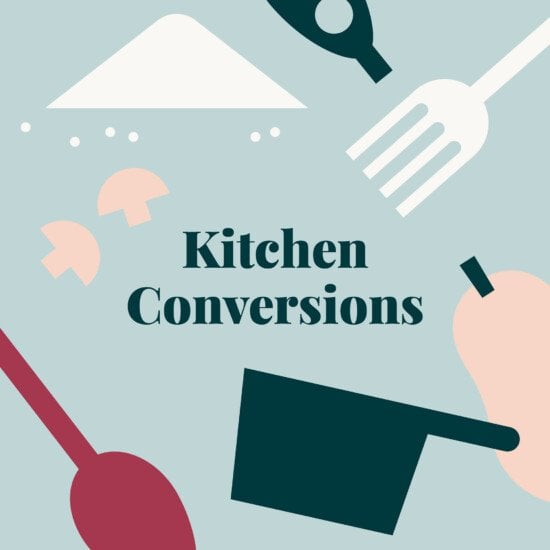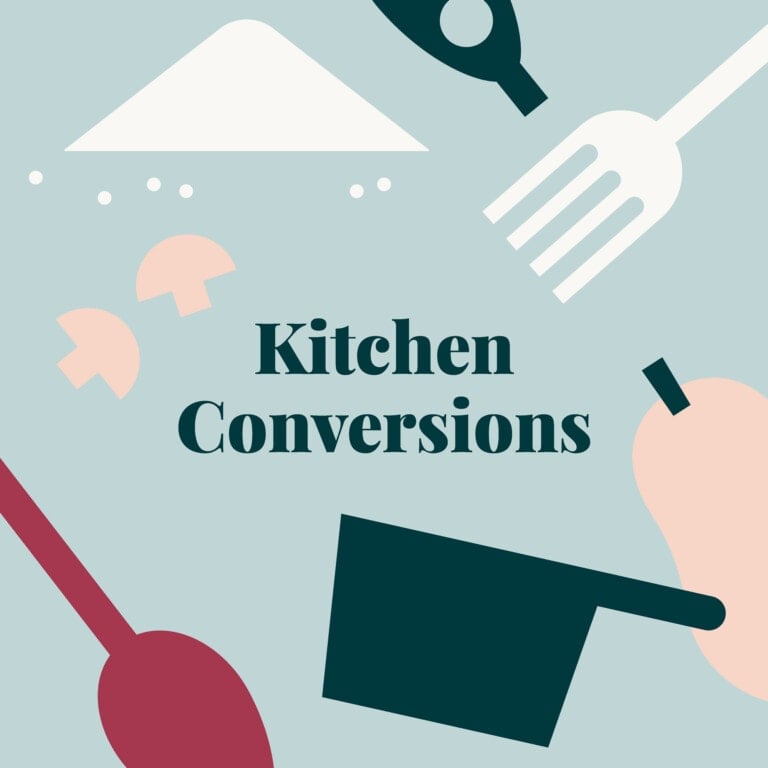 make it easy
Print Your Own
Keep common kitchen conversions like tablespoons to teaspoons and Fahrenheit to Celsius on hand at all times with our printable kitchen conversions chart.
get it now
Learn More Kitchen Conversions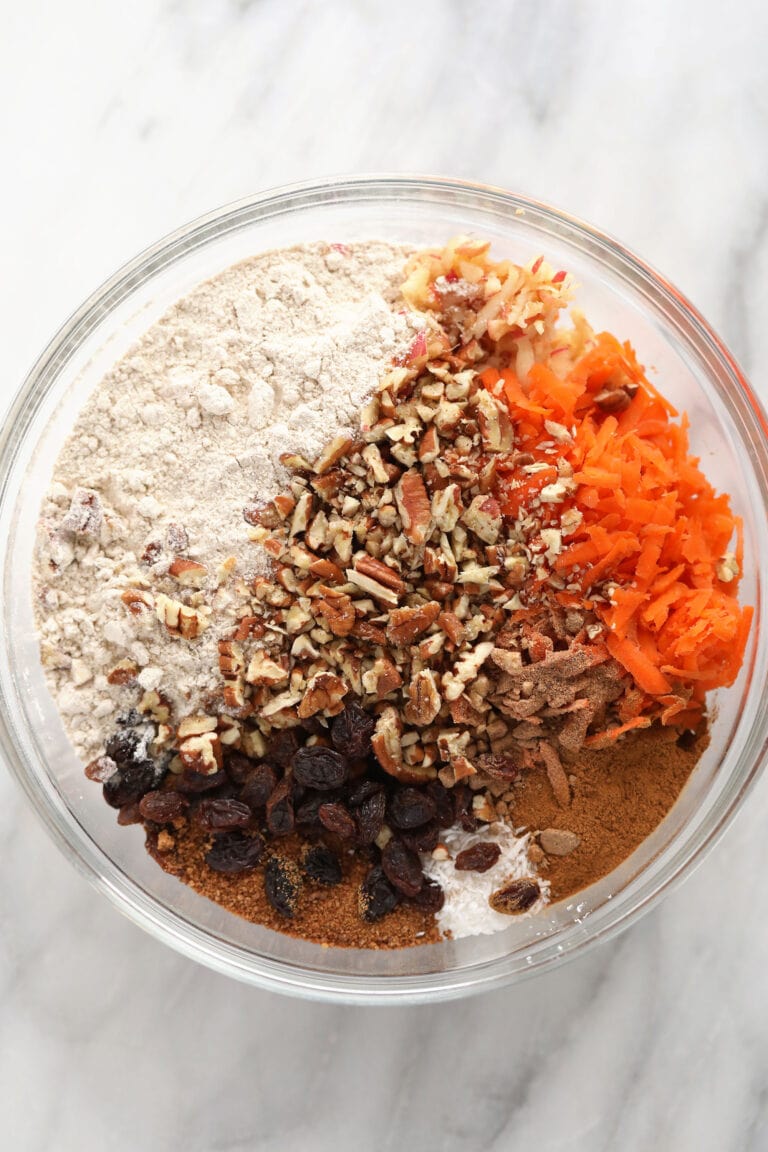 Top Qs for Morning Glory Muffins
How do you make muffins more moist?
To keep these morning glory muffins moist, we added shredded carrots, shredded apples, applesauce, orange juice, and coconut oil. This list of ingredients will make your morning glory muffins perfectly moist.
Can I make these morning glory muffins gluten free?
We do not suggest substituting gluten free flour options for the white whole wheat flour. We have not tested this to be a gluten free muffin recipe.
What can I top morning glory muffins with?
We topped our morning glory muffins with oats and orange zest. Feel free to top your muffins with a streusel topping, chopped nuts, or anything else you'd like. Get creative!
How do I store morning glory muffins?
You can store morning glory muffins on the counter top in an air tight container for up to 5 days or in the refrigerator for longer! Just be sure to let your muffins cool completely before placing them into an air tight container.
Can I freeze morning glory muffins?
Yes, you can freeze these morning glory muffins. Let the muffins cool completely before placing the muffins into a freezer bag and free them for up to 3 months.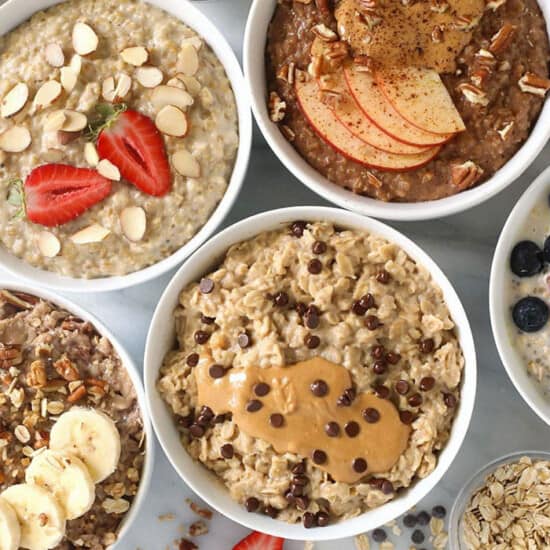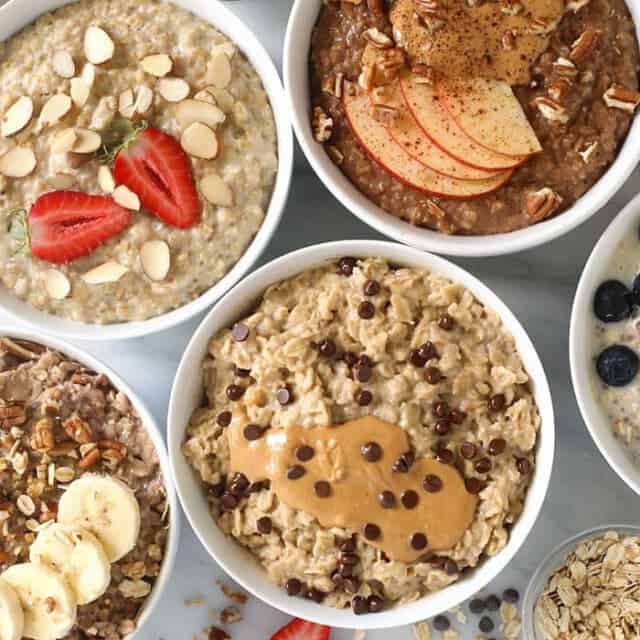 Subscribe
Join the Club!
Be the first to know about the recipe of the month + get other Fit Foodie Cooking Club announcements straight to your inbox!
Subscribe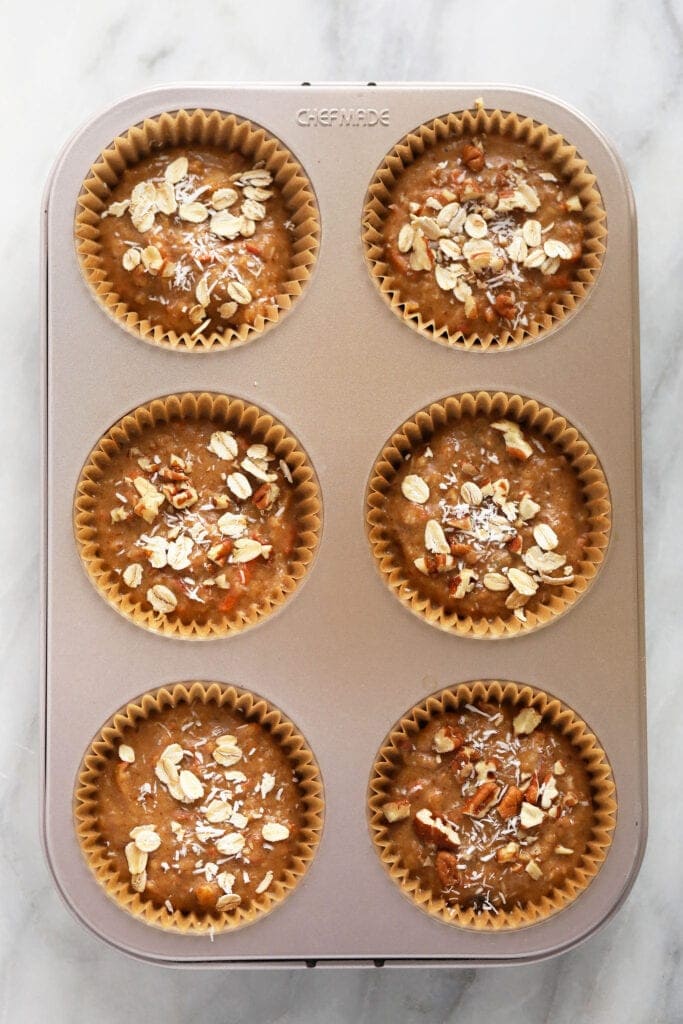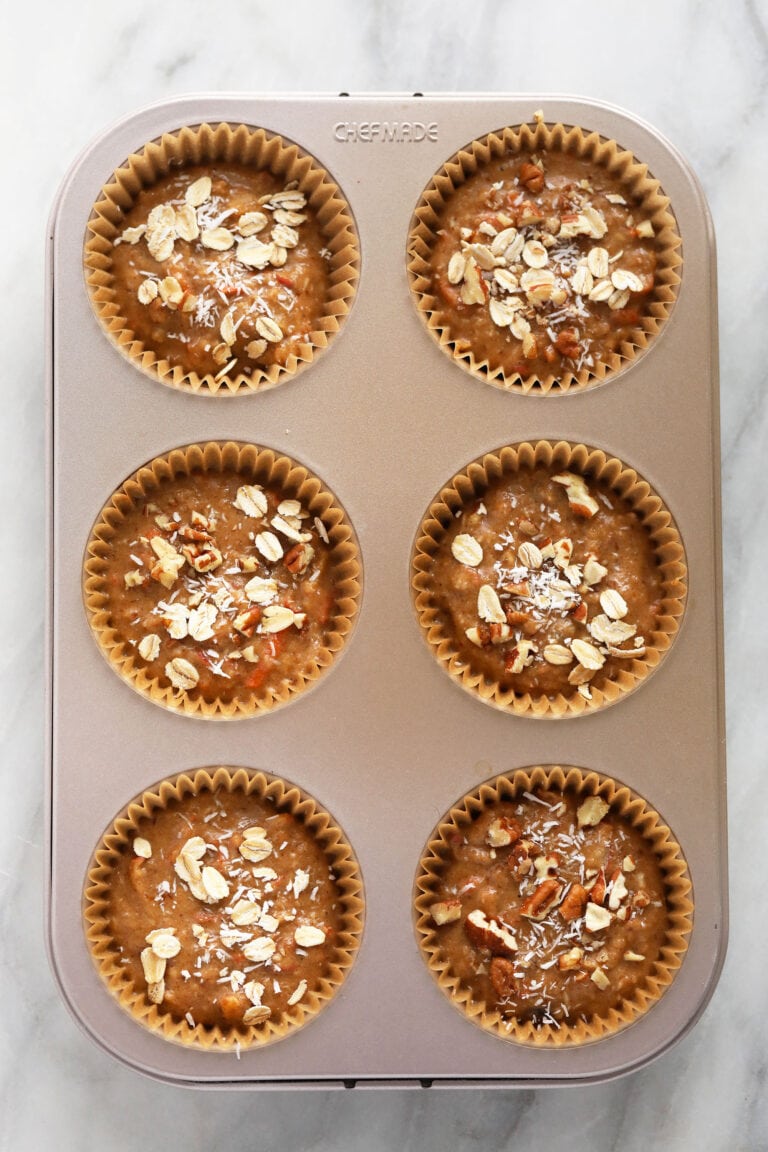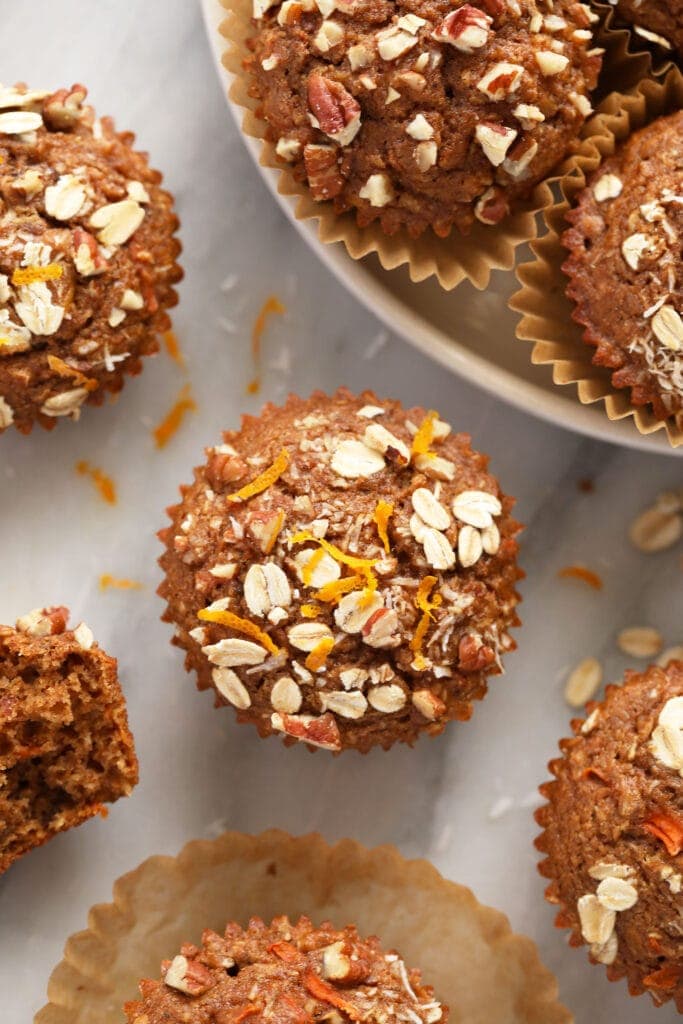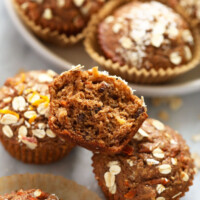 Morning Glory Muffins
This Morning Glory Muffin recipe is packed with shredded carrots, apples, raisins, and warm spices. It's made with whole wheat flour and sweetened with maple syrup.
Instructions
First, preheat oven to 350ºF and line a muffin tin with muffin liners. We suggest spraying your muffin liners with cooking spray just in case.

Next, use a cheese grater or food processor to grate apple and carrots (skin on or off, your preference!). We prefer to use a medium/large grate, so that we can taste the apple and carrot chunks.

Place grated apple and carrot on top of 2 pieces of paper towel and squeeze out as much moisture as you can.

Measure out ½ cup of shredded apples and ½ cup shredded carrots and place into a medium-size bowl along with the rest of the dry ingredients. Mix.

In a large bowl, crack 2 eggs and whisk. Add maple syrup, applesauce, orange juice, and vanilla extract, and mix again.

Add dry ingredients into wet ingredients and then mix.

Finally, add in melted coconut oil and mix again.

Fill each muffin cup only about 3/4 of the way full (these are going to be fluffy muffins!). Top each muffin with shredded coconut, chopped pecans, and flax seeds (optional). 

Then, place in the oven at 350ºF and bake for 18-22 minutes or until the center is fully cooked.

Let cool for 5 minutes and zest with fresh orange zest. 

Then, remove from the muffin tin to continue cooling.
Nutrition facts
Calories:
154
kcal
Carbohydrates:
24
g
Protein:
3
g
Fat:
5
g
Fiber:
2
g
Sugar:
14
g