It's time to make a batch of these almond flour lemon poppy seed muffins! These delicious healthy muffins are gluten free, flavor-packed, and perfect for an easy weekday breakfast or a fun Sunday brunch!
Muffins make a great grab and go healthy breakfast or snack! We have many healthy muffin recipes on Fit Foodie Finds. Some even have a healthy serving of vegetables in them! Check out these healthy chocolate muffins, super fluffy blueberry muffin, or these whole grain carrot cake muffins!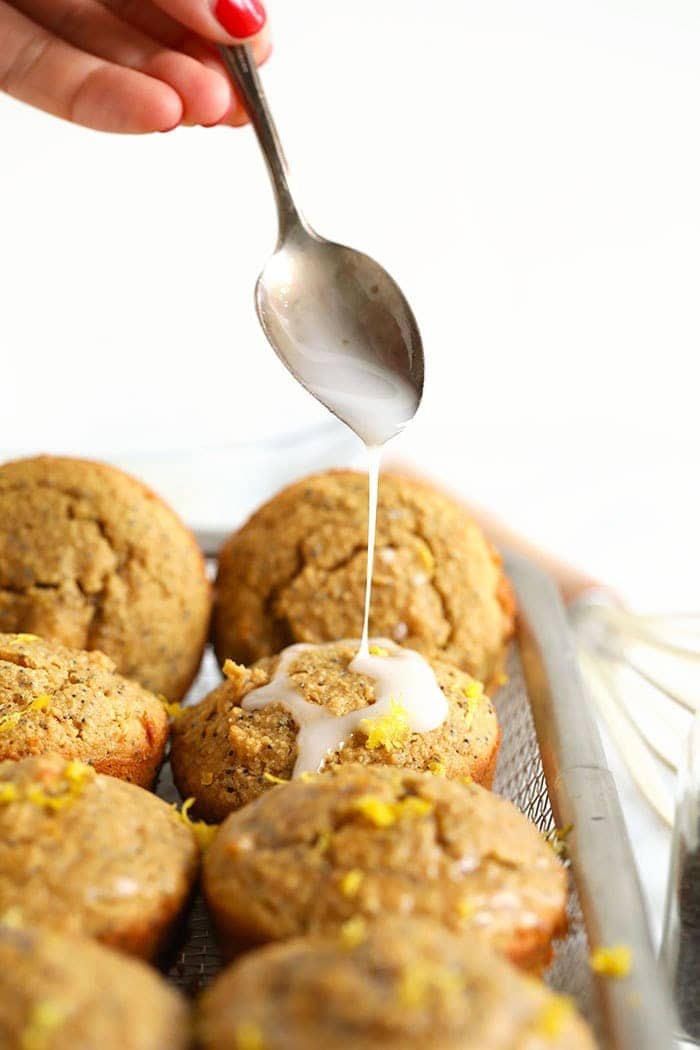 To Be Gluten Free or To Not Be Gluten Free
Diet trends are everywhere right now! I know you feel it, too. It's all the rage to only drink celery juice one minute and then it's all the rage to eat as much cream cheese as you want. They are all over the board and it can get a little confusing.
We stick to our guns when we say do what is best for your body! If your doctor recommends a certain diet, do what they recommend. We don't have all the answers here on FFF, but we do try to make a wide variety of healthy recipes that fit everyone's needs!
These almond flour lemon poppy seed muffins happen to be gluten free! Are we gluten free? No. Do we still enjoy gluten free baked goods? You betcha! Honestly, we were a bit nervous to test a gluten free muffin recipe, but it turned out the first time (which never happens). After a couple more tests, we were sure that we had one amazing gluten free muffin!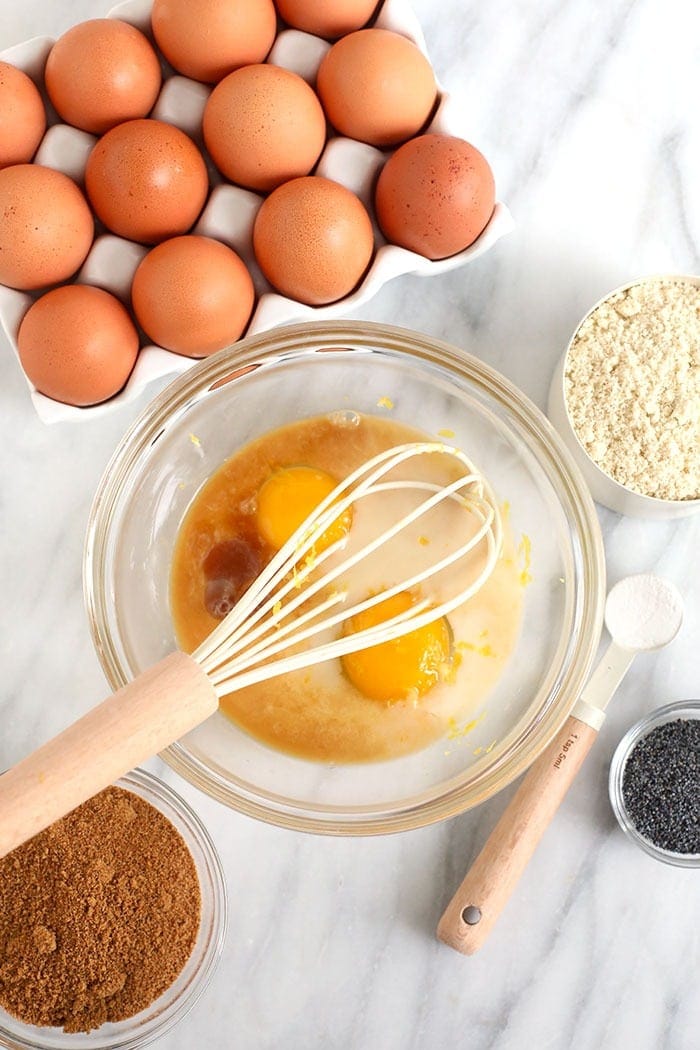 Everything You Need to Know
Lemon Poppy Seed Muffins
These lemon poppy seed muffins are going to make your day! The texture of these muffins is out of this world with the combination of the poppy seeds and the almond flour. They are (in my eyes) the perfect muffin!
I'm not going to lie, I'm still nervous every time I eat a poppy seed muffin. I'm nervous that someone is going to spring some kind of weird drug test on me and I will test positive for drugs all because of a poppy seed muffin! HA. Though there is a small chance that could happen, I don't think it happens as often as everyone things! HA.
Anywho. Let's go over what you need to know when you mix up a batch of these delicious muffins!
Can I substitute the almond flour with another flour? It is hard to substitute flour in gluten free baking! We do not recommend substituting any other flour in this recipe! If you are looking for other muffin recipes, check out other healthy muffin recipes here for more options!
Don't forget to grease the pan! This is no joke. Making a batch of muffins just to find out you can't get them out of the pan is devastating! Even when using muffin liners, I spray each one with a little cooking spray. Just in case!
Do I have to use the icing? You do not have to make the icing for these muffins! If you are trying to cut back on sugar, feel free to skip out. If you want to add a little more flavor, go ahead and whip up a batch of the lemon glaze! It's amazing!
Why don't my muffins rise? There are many variables when it comes to making sure your muffins rise! Below is a checklist of a couple of things we watch for when making muffins!
Make sure your baking powder and baking soda are not expired!
Be sure to mix your dry ingredients together and then when you add the dry ingredients to the wet ingredients, be sure there the dry ingredients are combined (AKA check the bottom of the bowl for dry ingredients).
Don't over mix or under mix your batter. I know it sounds like there is a thin line that you are walking, but just be sure that the dry ingredients and wet ingredients are well combined and you'll be good!
Fill your muffin cups 3/4 of the way full! We like a good muffin top, so filling them enough to puff over the edge of the muffin cup is the best!
Can I freeze muffins? Yes, you can freeze muffins! All you have to do is remove the muffins from the oven and let them cool completely. Then, place muffins on a baking sheet and place them in the freezer for 30 minutes to 1 hour. After muffins are frozen, place them in a freezer-safe bag.
When you're ready to eat a muffin, remove from the freezer, let thaw, and enjoy!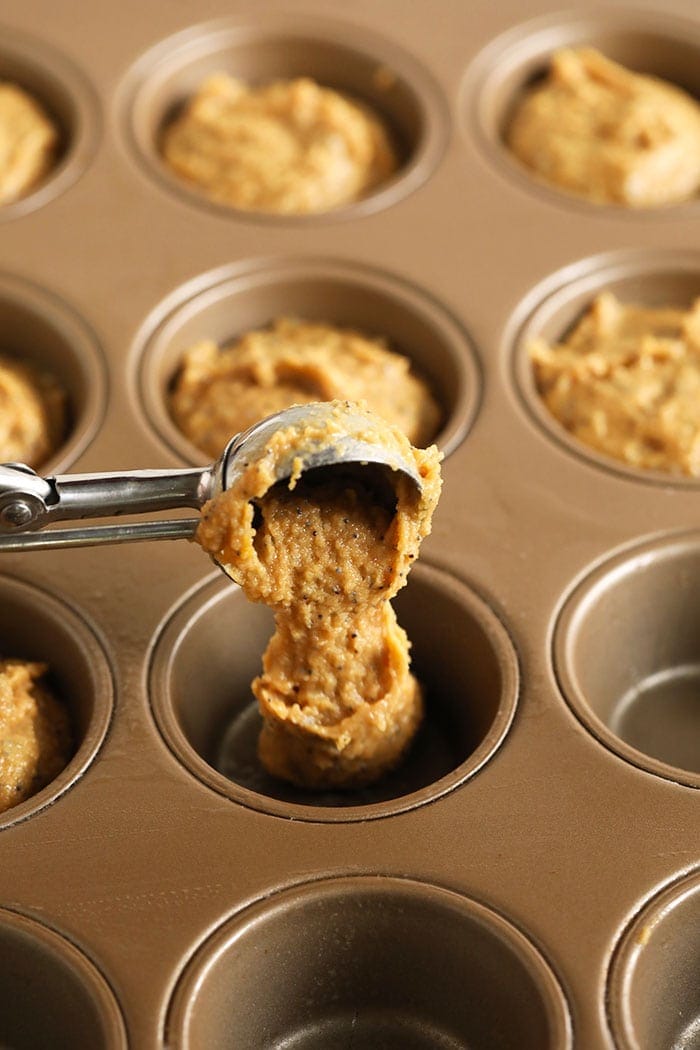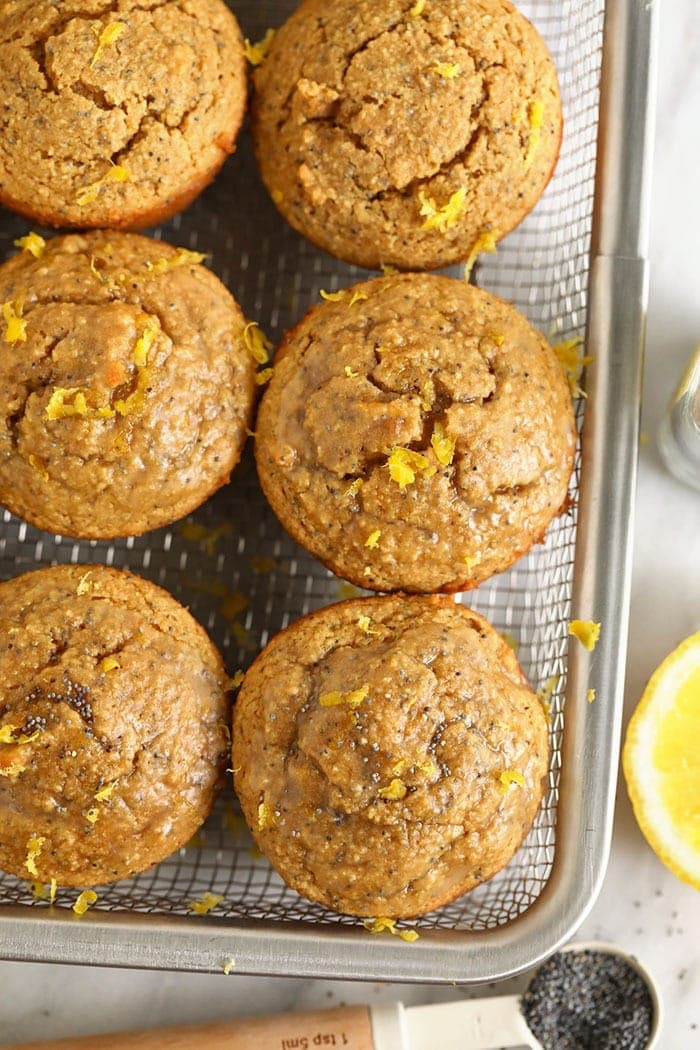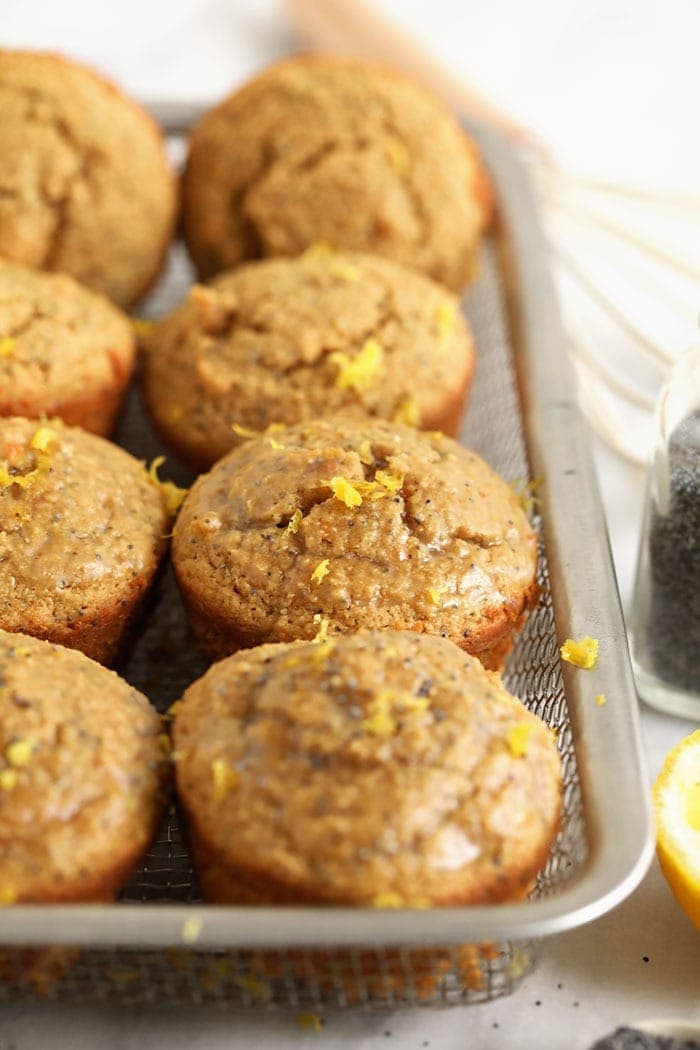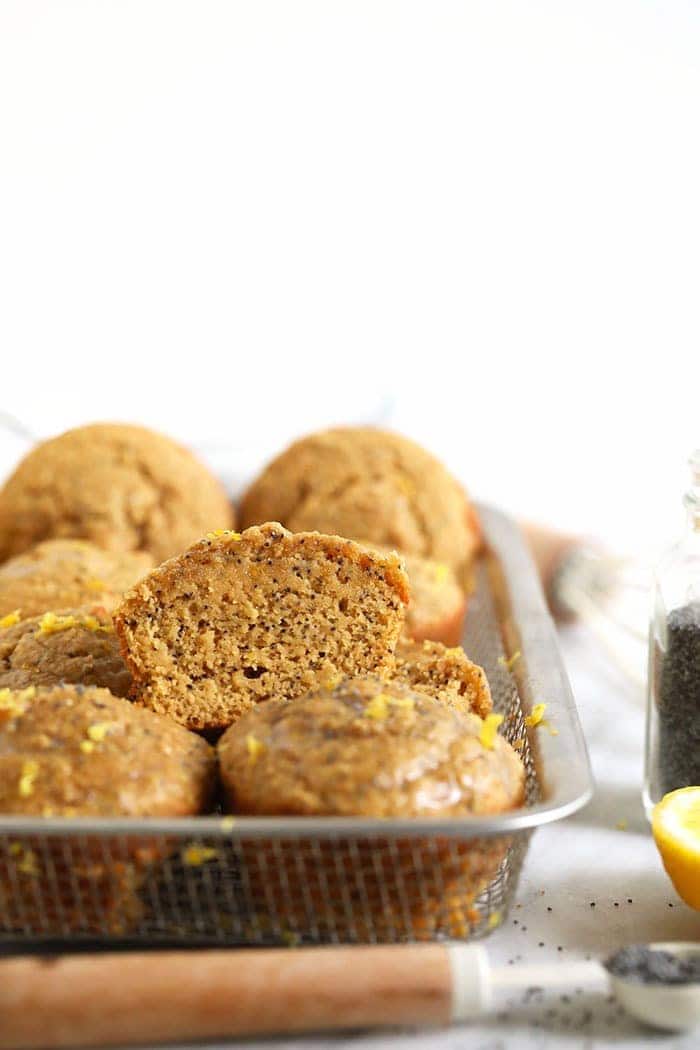 Healthy Muffin Recipes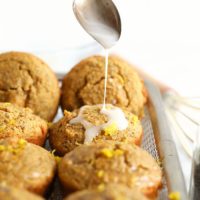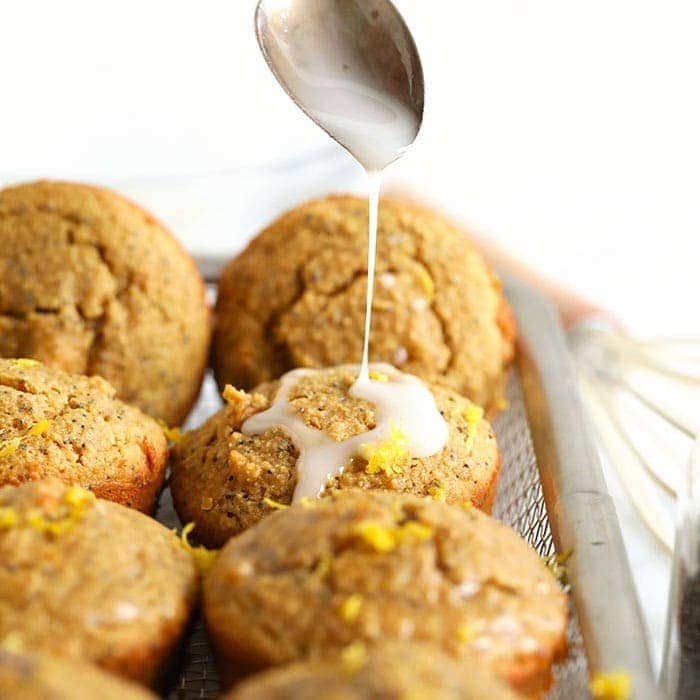 Lemon Poppyseed Muffins
It's time to make a batch of these almond flour lemon poppy seed muffins! These delicious healthy muffins are gluten free, flavor-packed, and perfect for an easy weekday breakfast or a fun Sunday brunch!
Instructions
Preheat the oven to 350ºF and spray a muffin tin with coconut oil or cooking spray (make sure you spray every crevasse).

Next, mix all dry ingredients together in a medium-sized bowl and set aside.

In a separate large bowl, whisk eggs together and then add the rest of the wet ingredients into the eggs (except for coconut oil).

Slowly add the dry ingredients to the wet ingredients until everything is combined.

Lastly, fold melted coconut oil into the mixture.

Then, using a tablespoon scoop, fill each muffin cup 3/4 of the way full.

Place the muffin tin in the oven and bake for 12-14 minutes.

While muffins are baking prepare the glaze by adding powdered sugar to a medium sized bowl and add lemon juice one teaspoon at a time.*

Remove from oven and let cool for at least 10 minutes before removing muffins from the muffin tin.

Optional: finally, drizzle or dip the top of each muffin into the icing for extra lemony flavor. Set aside and let dry.
Tips & Notes
*If the icing isn't drippy enough, add one teaspoon of lemon juice to the powdered sugar at a time until it reaches desired consistency.
Storage: 

Store in the refrigerator in an airtight container for up to 5-7 days or store in the freezer in an airtight container for up to 3 months.
Nutrition facts
Calories:
358
kcal
Carbohydrates:
30
g
Protein:
12
g
Fat:
23
g
Fiber:
12
g
Sugar:
18
g