Make these amazing gluten free matcha waffles with just 9-ingredients including matcha powder, which is what turns them green.
Best part about this recipe? They are GREEN waffles and absolutely perfect for St. Patty's Day.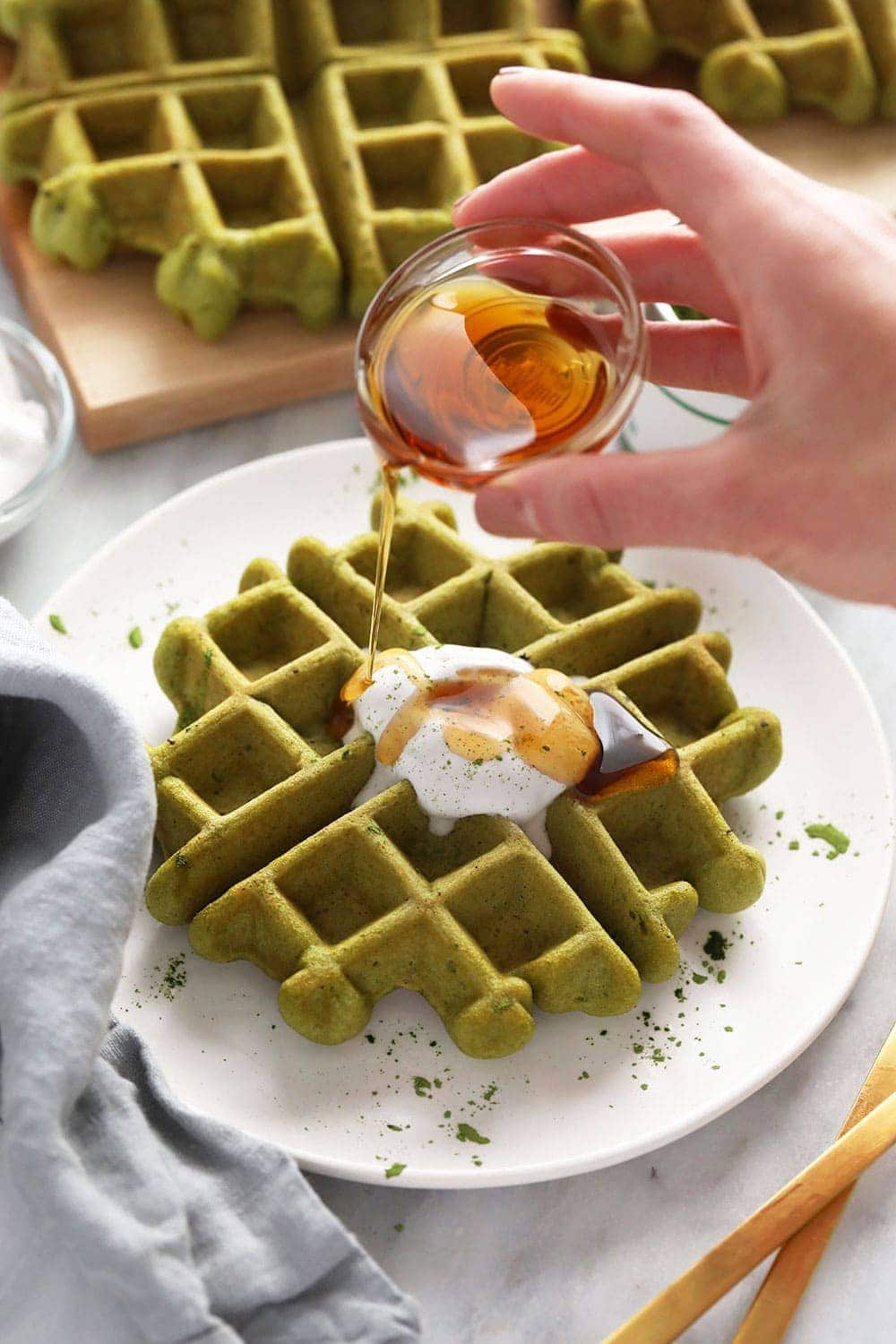 GREEN WAFFLES!!!!!
I feel like this recipe is a kid's dream. Why? Because the waffles are green. Duh.
Are you thinking what I'm thinking? Matcha waffles for St. Patty's Day…kids and all.
The Secret Ingredient
There is obviously a secret ingredient in turning these waffles green and I'm sure you can guess it from the title of this recipe –> matcha powder!
What is matcha powder? Matcha powder is essentially green tea leaves that have been finely ground into a loose powder.
A little goes a long way with matcha powder, which is why this recipe only calls for 2.5 teaspoons.
Where to buy matcha powder – Most co-ops, as well as Whole Foods, have matcha powder readily available. You can also buy it online on Amazon. It might seem expensive, but remember, a little goes a long way!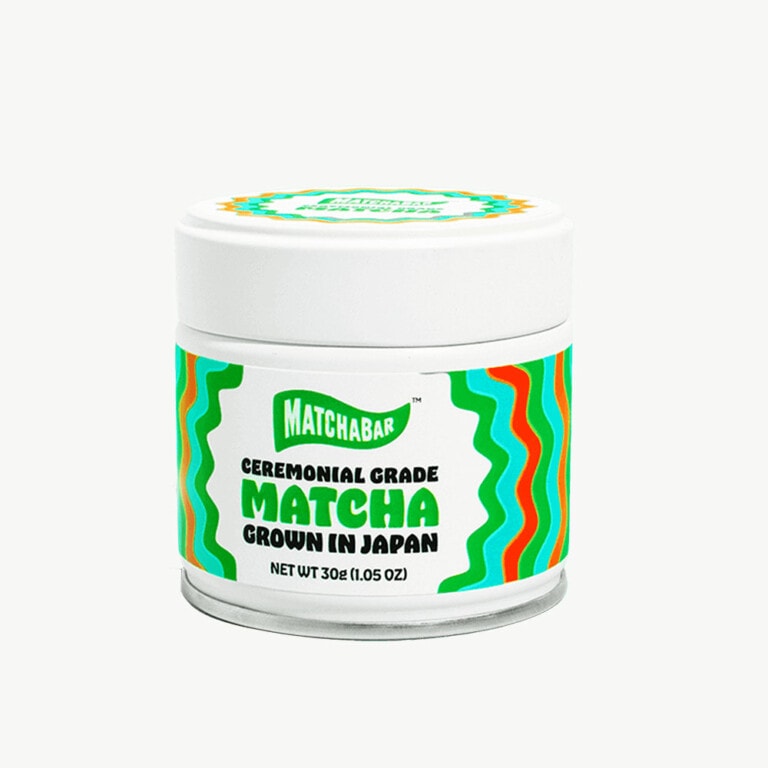 the best
Matcha Powder
This is our go-to pure matcha powder that you can use in any recipe that calls for matcha powder.
Try It!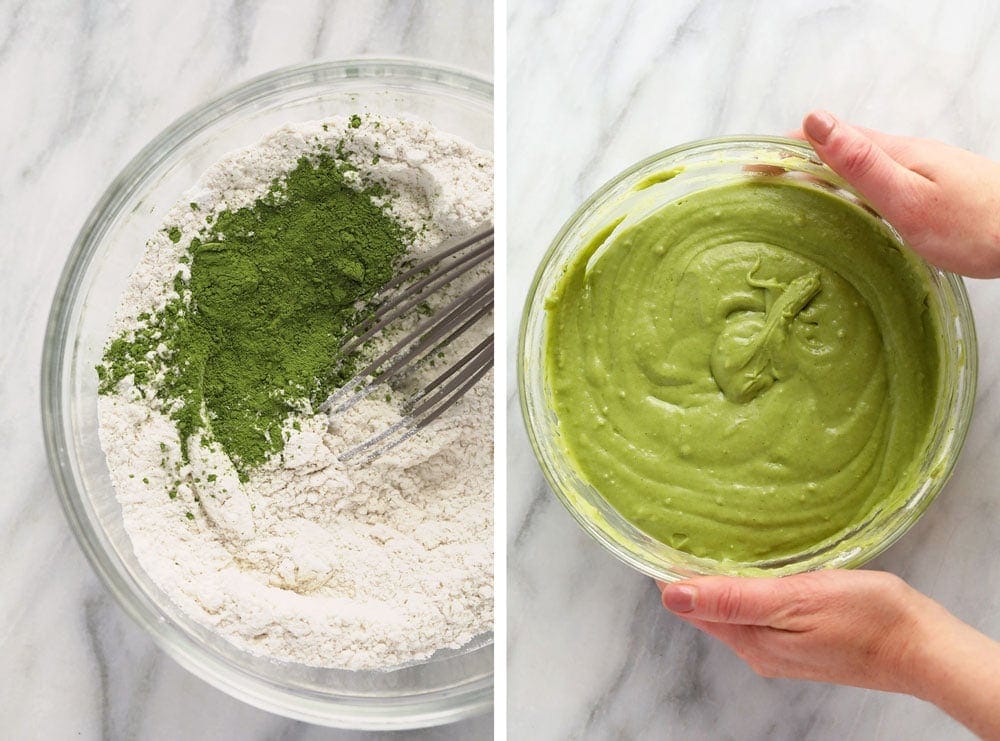 Other Ingredients
In addition to matcha powder, you only need 8 other ingredients to get the show on the road!
gluten-free flour blend
baking powder
baking soda
eggs
honey
vanilla extract
unsweetened almond milk
As you'll note from the ingredients above, this recipe is NOT vegan. If you are hoping to make this vegan, please head over to our banana vegan waffles recipe. You can easily modify that recipe to include the matcha powder!
Gluten Free Waffle Tips
Temperature: Make sure to cook your waffles low and slow. Why? Well, you want them to turn our green, don't you? If you cook your waffles on high, you risk turning them golden brown, which kind defeats the purpose.
Liquid: As your batter sits, it will likely thicken. No worries! Just add a splash of almond milk and you're good to go!
Cooking Spray: Don't forget to spray spray spray your waffle maker. No one likes a sticky mess if your waffle ends up sticking!
Double the Recipe: Easily double or triple this recipe so that you can freeze some for later! You can thank me later.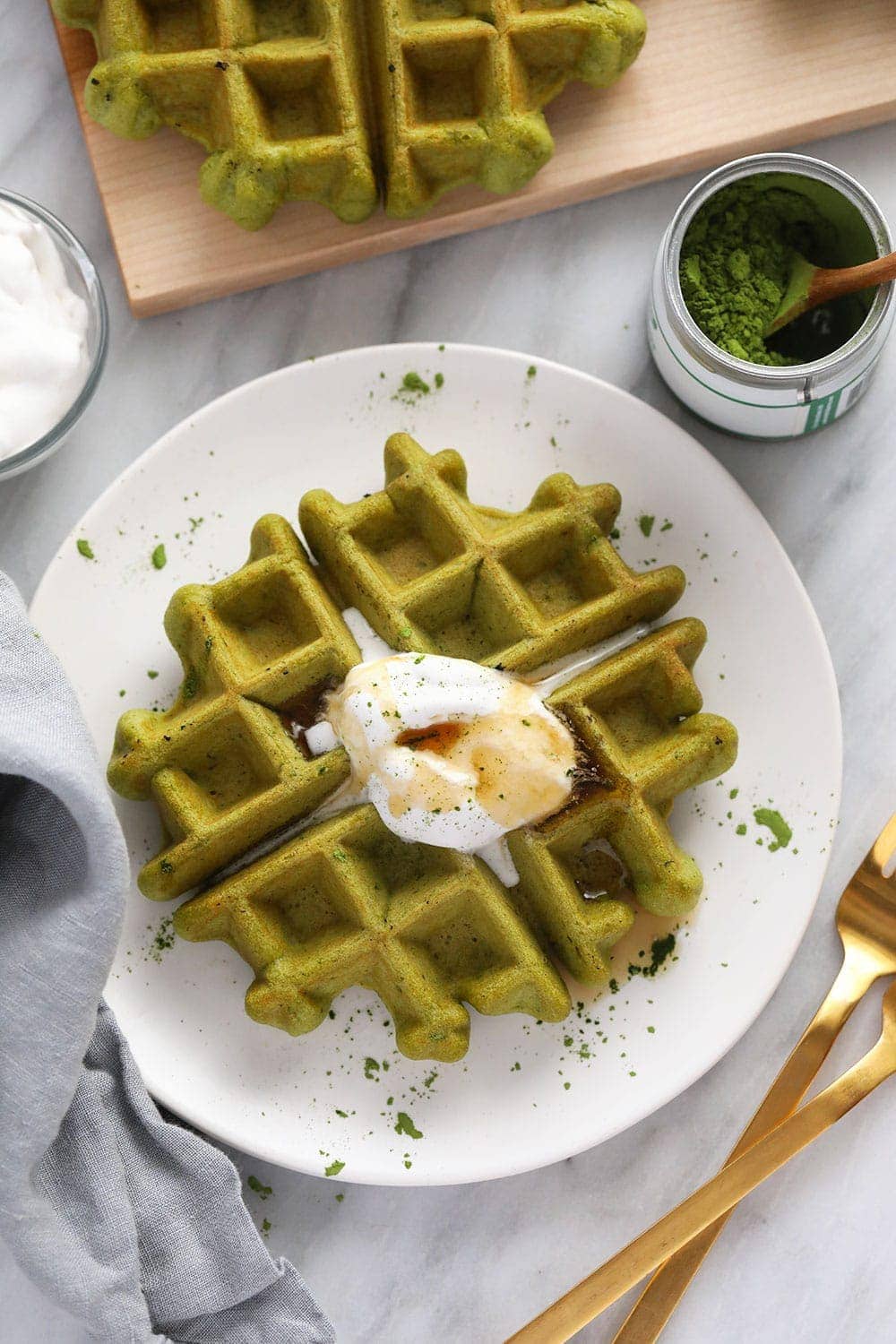 Freezer Directions
To freeze your waffles for later, let them cool completely.
Next, wrap a waffle (or two) in a piece of saran wrap and remove as much air as possible.
Then, wrap it again in a piece of tin foil and remove as much air as possible.
Write the name of the recipe + a "best by date," which is 3 months from the time you make the waffles.
Freeze for up to 3 months.
To reheat: let waffles thaw completely and microwave on high for 60-90 seconds. Alternatively, you can defrost in the microwave!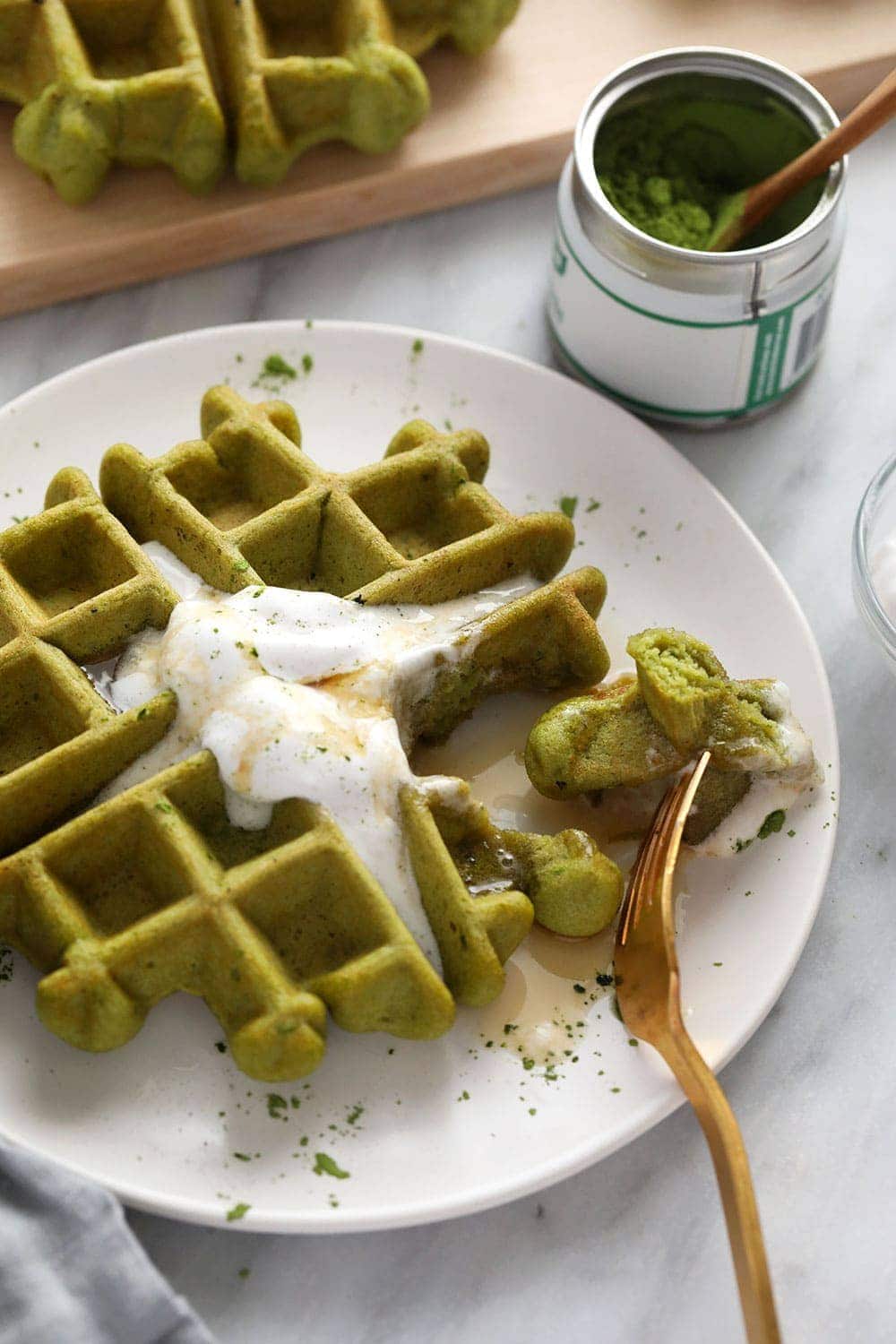 Waffle Recipes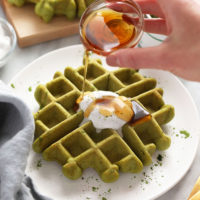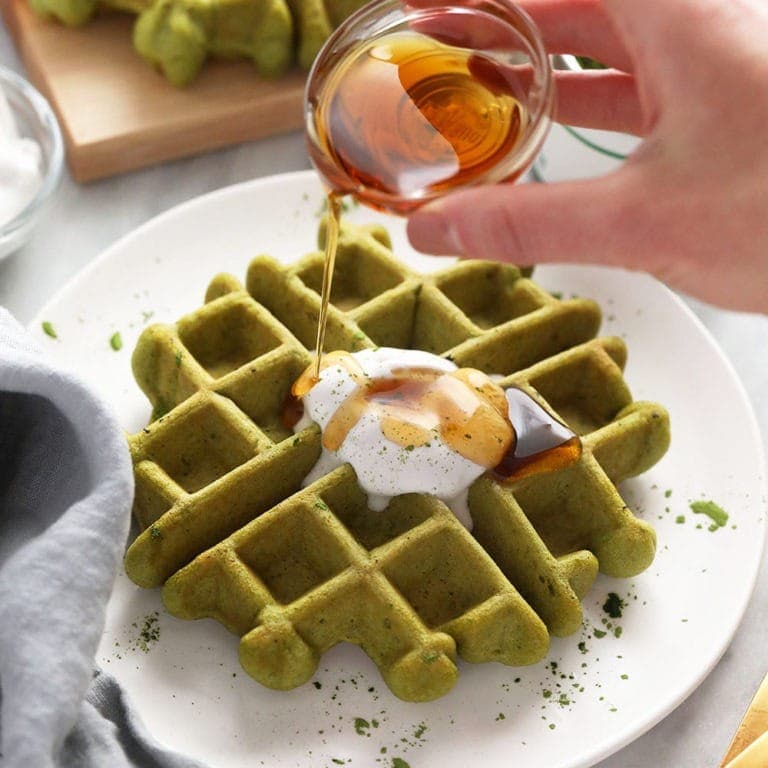 Matcha Waffle Recipe
Make these amazing gluten free matcha waffles with just 9-ingredients including matcha powder, which is what turns them green.
Instructions
First, preheat your waffle maker to low/medium heat. Anything hotter and you risk turning your waffles golden brown. The goal here is to keep them green!

Then, place dry ingredients into a medium bowl and whisk to combine.

In a separate large bowl, whisk two large eggs. Add in the rest of the wet ingredients (minus the coconut oil, we will add this last!) and mix. Slowly add dry ingredients to wet and mix to combine. Finally add in melted coconut oil and mix until smooth.

Using a 1/3 cup (for 6 waffles) or 1/2 cup (for 4 waffles) measuring cup, scoop batter onto waffle maker. Let cook for about 2-2.5 minutes. Repeat.

Top with your favorite topping such as coconut whipped cream and maple syrup.
Tips & Notes
As your batter sits, it may thicken. Add a splash of almond milk to thin it out again.
Nutrition information was calculated based on the batter making 6 waffles.
Nutrition facts
Calories:
292
kcal
Carbohydrates:
53
g
Protein:
5
g
Fat:
7
g
Fiber:
2
g
Sugar:
12
g