You're going to love these caramel apple cinnamon waffles made with 100% whole wheat flour, apple chunks, tons of cinnamon, and a homemade caramel sauce.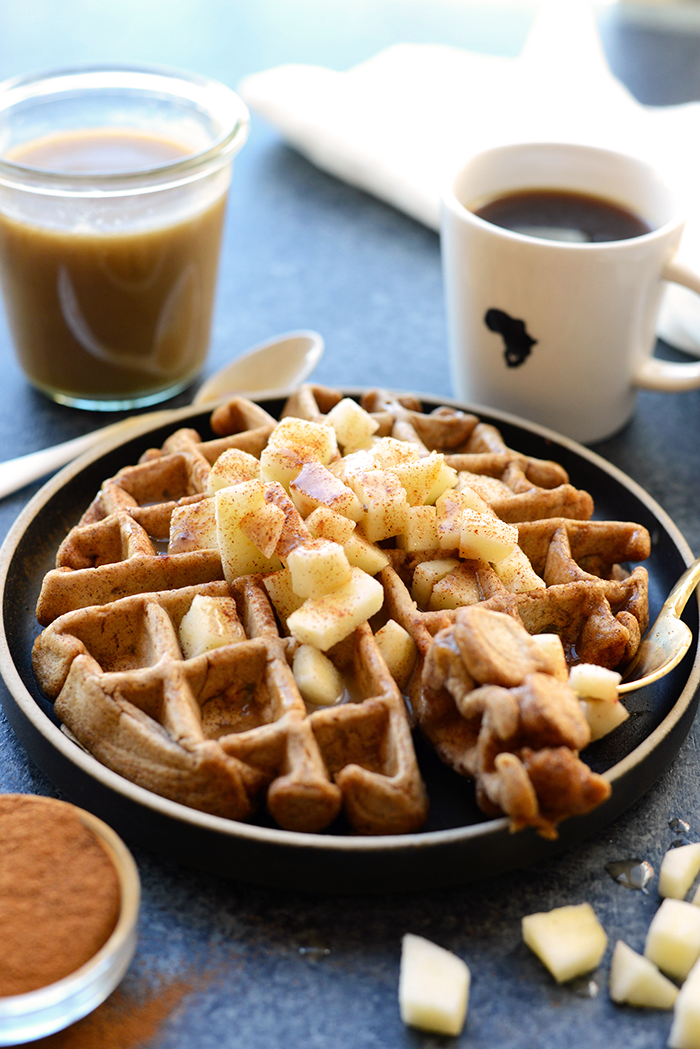 Caramel Apple Cinnamon Waffles
Yes, you read that right. CARAMEL APPLE CINNAMON WAFFLES. Is there any better breakfast combination?! You're going to absolutely love these apple cinnamon waffles and the homemade caramel sauce we're topping them with 😀
why you'll love 'em
We highly recommend investing in a high-speed blender such as a Vitamix or Kitchen Ninja because it will make blending anything (not just smoothies!) so much easier.
Both the Vitamix and the Ninja are high-powered enough that you can drop all your smoothie ingredients in at once, and never have large chunks of kale (or other hearty ingredients) infiltrating your green smoothies again.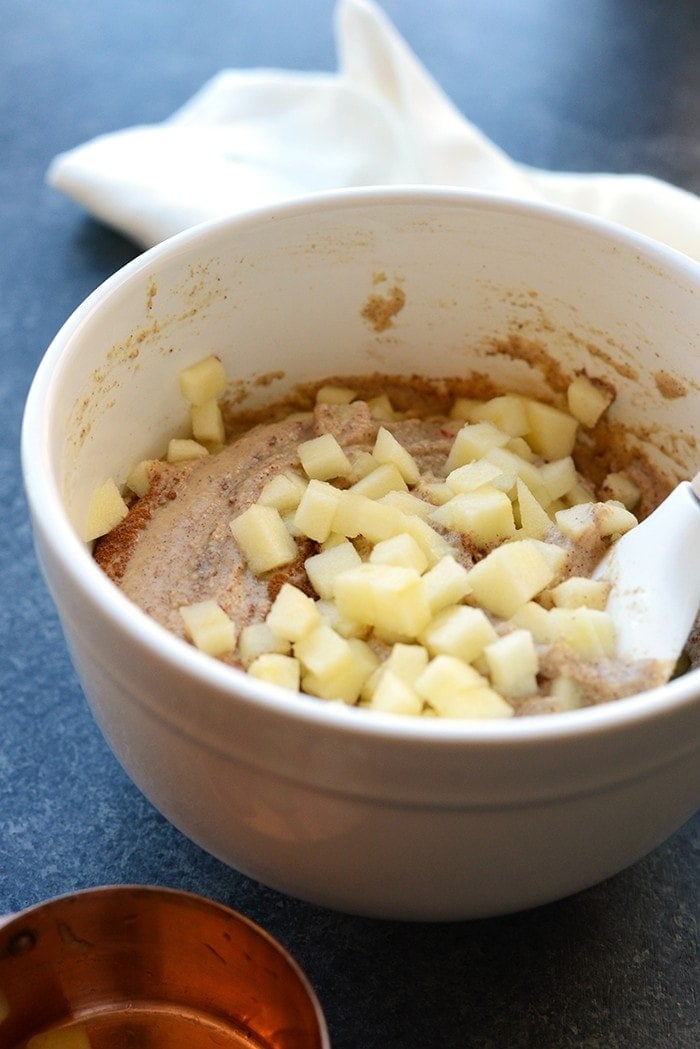 All-Purpose Caramel Sauce
Lexi's Clean Kitchen's All-Purpose Caramel Sauce, which is actually made from full-fat coconut milk. WHATTTTT? Who woulda thunk you could  make a delicious caramel sauce that's made from healthier ingredients. The vanilla bean in this recipe is unreal.
Okay, so this recipe is from inside of Lexi's AMAZING cookbook. It's packed with 150 recipes that are paleo and gluten-free friendly. I'm most excited about the dessert and sauce section, which is where this caramel sauce hails from.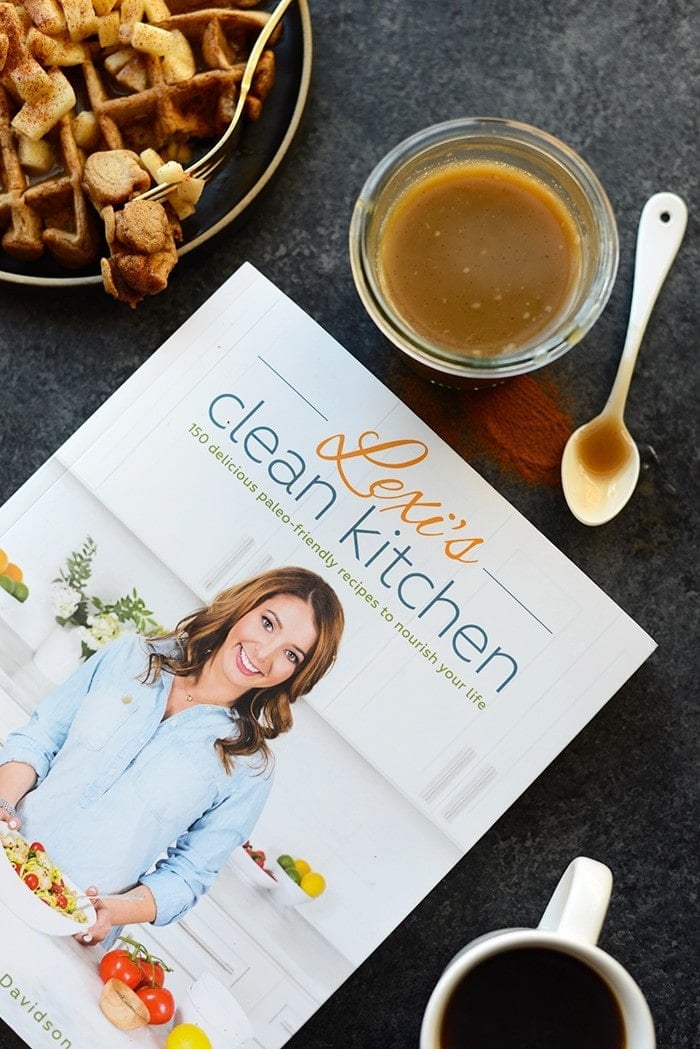 Storing Apple Cinnamon Waffles
These waffles will keep in an airtight container in the refrigerator for 3-5 days, and can easily be reheated either in the toaster or microwave. This makes these waffles a great option for a quick breakfast throughout the week!
How to Freeze Waffles
This is a great recipe to either meal prep for the week or whip up a double or triple batch and then store in the freezer to have on hand whenever the healthy waffles mood strikes ya.
So, how do you freeze waffles?
First, let your waffles cool completely. The reason we do this is so that the waffles can come down to room temperature and stop producing so much moisture (steam). This will prevent freezer burn in the freezer and help your waffles stay nice and fresh.
Then, stack 2 servings of waffles (2 waffles) together. Tightly wrap them in a piece of plastic wrap, in a ziploc bag or in a Stasher bag. Make sure to remove as much air as possible, which will also help to prevent freezer burn.
Place waffles in the freezer and freeze for up to 3 months.
How to Reheat Frozen Waffles
Option 1 (recommended): Cut frozen waffles in half and place in the toaster and toast on medium. We recommend this option as it will give you a crispier waffle, and who doesn't like a crispy waffle?!
Option 2: Thaw waffles in the refrigerator overnight. Then, microwave for 60 seconds in the morning.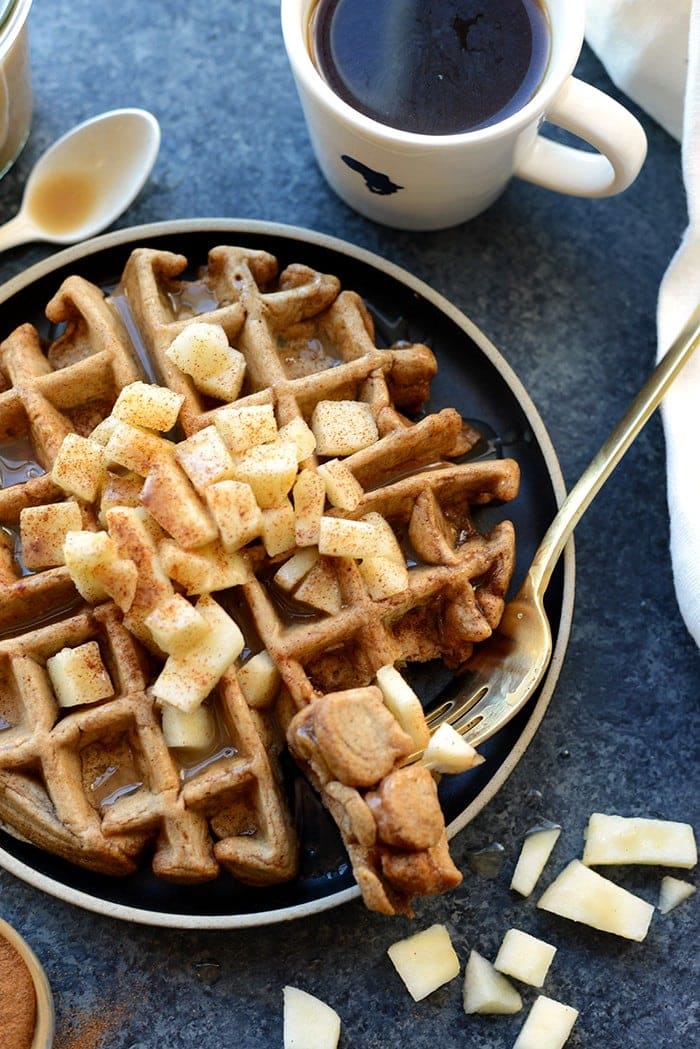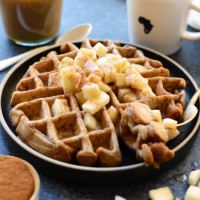 Healthy Caramel Apple Cinnamon Waffles
'Tis the season of apples and cinnamon! You're going to love these HEALTHY caramel apple cinnamon waffles made with 100% whole wheat flour, apple chunks, tons of cinnamon, and a homemade caramel sauce made from full-fat coconut oil!
Ingredients
Dry
1.5

cup

white whole wheat pastry flour

1

cup

apples

diced

1/2

teaspoon

baking powder

1/2

teaspoon

baking soda

1 1/2

tablespoons

cinnamon

⅛

teaspoon

salt
For the All-Purpose Caramel Sauce
1

cup

full-fat coconut milk

1/2

cup

maple syrup

1

tablespoon

unsalted butter

1/2

teaspoon

vanilla extract

seeds scraped from 1/2 a vanilla bean

pinch

of fine sea salt
Instructions
For the Waffles
First, preheat your waffle iron to medium heat.

In a large bowl, mix together all dry ingredients.Then add wet ingredients, minus the coconut oil.

Partially melt the coconut oil and add that to the batter. I microwave my coconut oil for about 20 seconds. Mix until smooth.

Spray waffle iron with coconut oil cooking spray on both sides. Then, scoop in about ⅔ cup of batter. Close the waffle iron, flip, and let cook for about 1 minute and 30 seconds to 2 minutes and 30 seconds (depending on how hot your iron is).
For Lexi's Clean Kitchen's All-Purpose Caramel Sauce
Combine the ingredients in sauce pan and bring to a boil over medium heat. If it begins to boil over, quickly stir down and momentarily slide it off the heat. Reduce heat to low and let simmer for 30 minutes or until the caramel begins to thicken and can coat the back of a spoon. For thicker caramel, let simmer longer.

Remove from heat and let cool for 5 minutes. The longer it cools, the thicker it will be.

Store the cooled caramel sauce in an air-tight container for up to 2 weeks.
Tips & Notes
**The batter should be a little thicker than pancake batter, but not too thick! Start with 1 cup of almond milk and add a tablespoon at a time if it's too thick.
***To make pancakes: add about ¼ cup to ⅓ cup more almond milk to thin the batter out a little bit. Cook over medium heat for about 1.5 minutes per side.
Nutrition facts
Calories:
321
kcal
Carbohydrates:
34
g
Protein:
6
g
Fat:
18
g
Fiber:
5
g
Sugar:
10
g

If you make these waffles- don't forget to share them on Instagram and tag @FitFoodieFinds and #FitFoodieFinds!