Have your breakfast and veggies too! Make these Healthy Zucchini Waffles with chocolate chunks for a seasonal breakfast that you'll love all summer.
You will absolutely love this zucchini waffle recipe because it's made with whole wheat flour, shredded zucchini, coconut oil, and real maple syrup.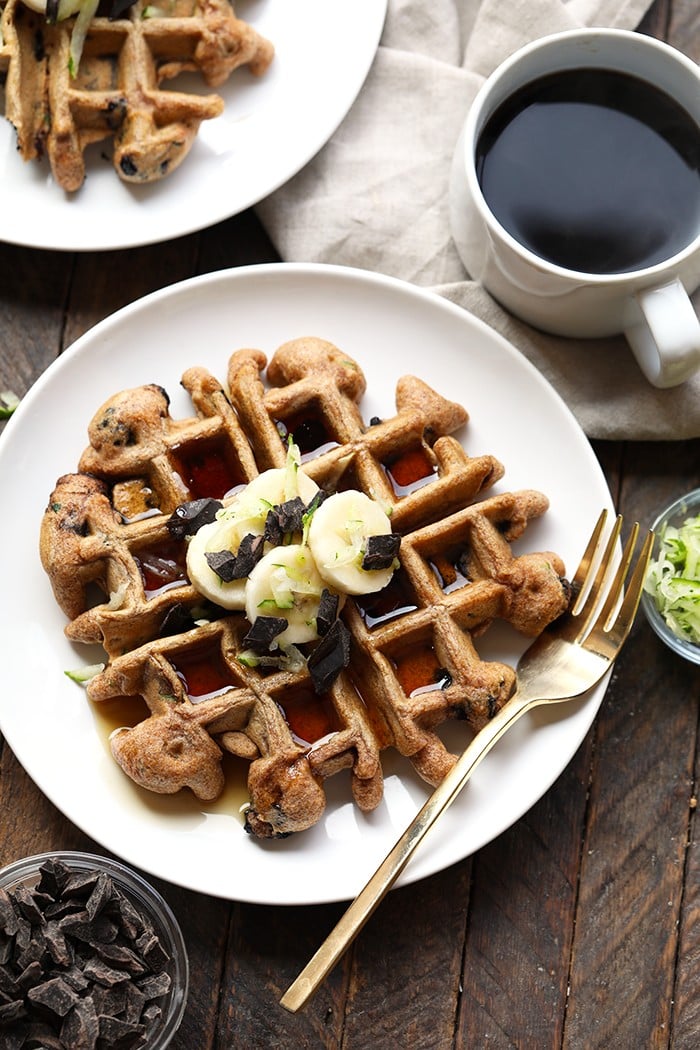 Breakfast Time!
It's breakfast time over here at Fit Foodie Finds and we're enjoying every bite of these healthy zucchini waffles. We have so many breakfast ideas on FFF, but I've got a thing for pancakes and waffles. Today's recipe is a seasonal summer breakfast recipe that involves whole grains, shredded zucchini, and chocolate chunks (cuz why not?).
Zucchini season is upon us
Let's talk zucchini season really quick. As a kid, I remember that my mom's garden was FULL of zucchinis. Now that I live in a home of my own, I'm excited to plant some zucchs so that I can make zucchini pancakes whenever I want! Zucchini season is from June – August so no fear, you still have time to grow if you're into that sort of thing!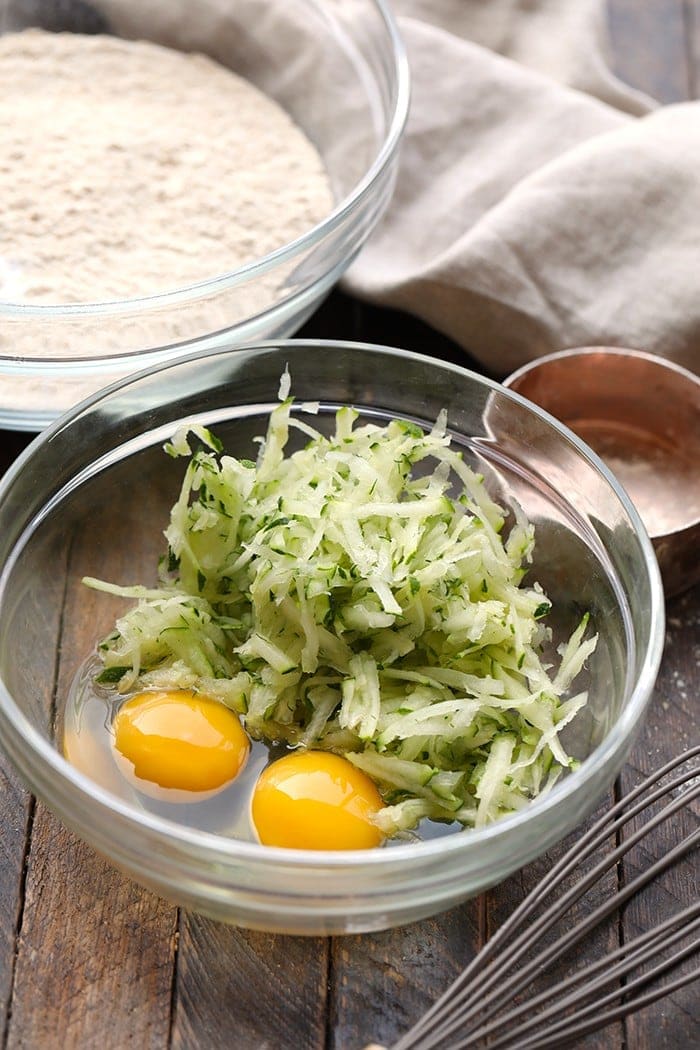 To get started with these waffles you're going to need a handful of wet and dry ingredients. Let's check it out below.
Wet Ingredients
eggs
vanilla
maple syrup
coconut oil
almond milk
Dry Ingredients
white whole wheat flour
zucchini
baking soda
cinnamon
salt
chocolate chunks
We haven't tested a vegan variation of this recipe, but if you're interested in that you should check out my favorite Vegan Waffles. You can easily modify them to add shredded zucchini and chocolate chunks.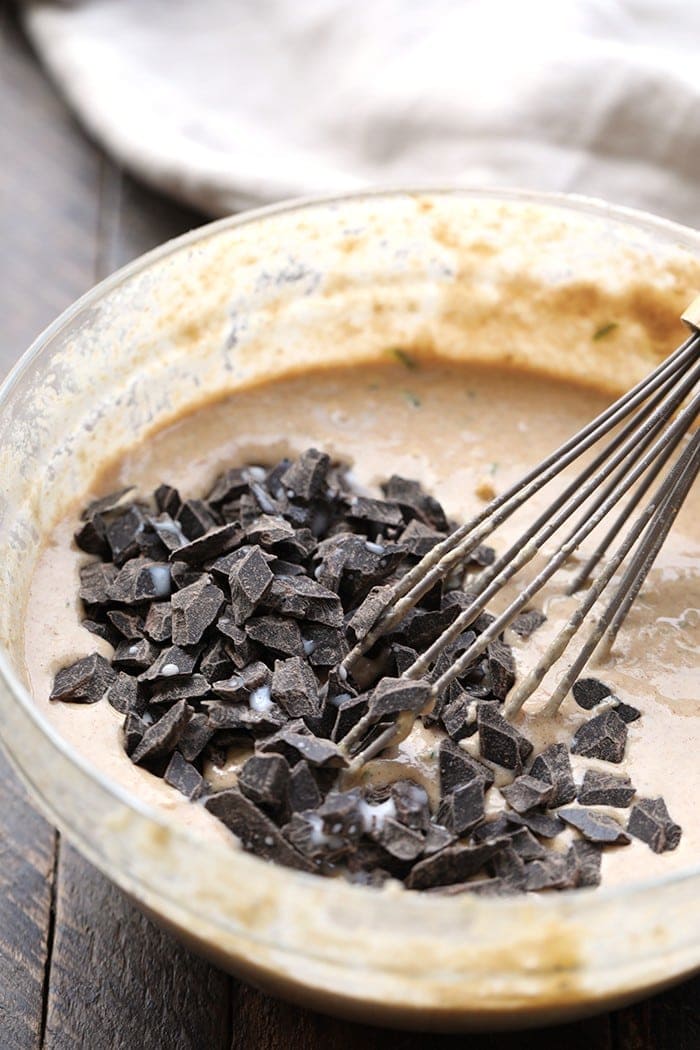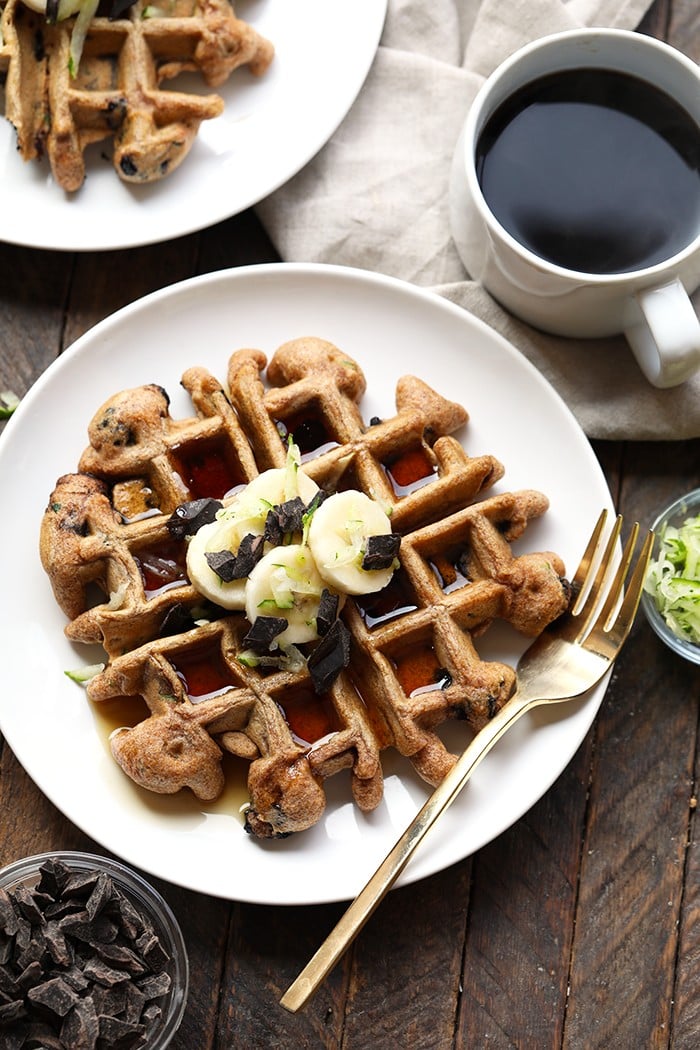 More Healthy Waffles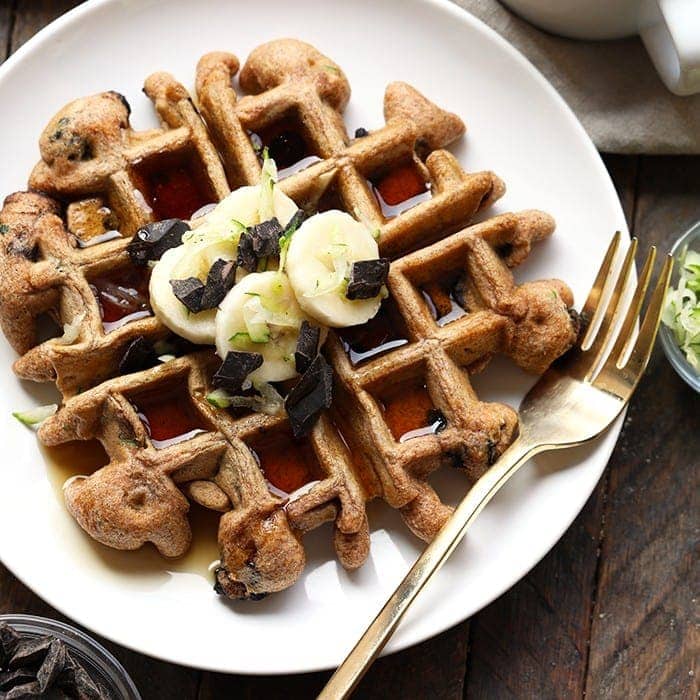 Whole Wheat Zucchini Chocolate Chunk Waffles
Have your breakfast and veggies too! Make these Healthy Chocolate Chunk Zucchini Waffles for a seasonal summer breakfast treat.
Instructions
First, preheat your waffle iron to medium heat.

Next, prepare zucchini by shredding with a cheese grater. Use a cloth or paper towel to remove as much moisture as possible by squeezing it out.

In a large bowl, mix together all dry ingredients. Then add wet ingredients, minus the coconut oil.

Melt the coconut oil and then measure out 2 tablespoons of melted coconut oil and add that to the batter and mix.

Spray waffle iron with coconut oil cooking spray on both sides. Then, scoop in about ⅔ cup of batter. Close the waffle iron, flip, and let cook for about 1 minute and 30 seconds to 2 minutes and 30 seconds (depending on how hot your iron is).

Serve with sliced banana and maple syrup.
Tips & Notes
The batter should be a little thicker than pancake batter, but not too thick! Start with 1 cup of almond milk and add a tablespoon at a time if it's too thick.
To make pancakes: add about ¼ cup to ⅓ cup more almond milk to thin the batter out a little bit. Cook over medium heat for about 1.5 minutes per side.
Nutrition facts
Calories:
386
kcal
Carbohydrates:
53
g
Protein:
11
g
Fat:
15
g
Fiber:
6
g
Sugar:
22
g
More Breakfast Ideas