Perfect cornbread pancakes that are made gluten-free with a blend of cornmeal and all-purpose gluten-free flour!
You will love these cornbread pancakes as they're slightly sweet and so yummy cooked in butter.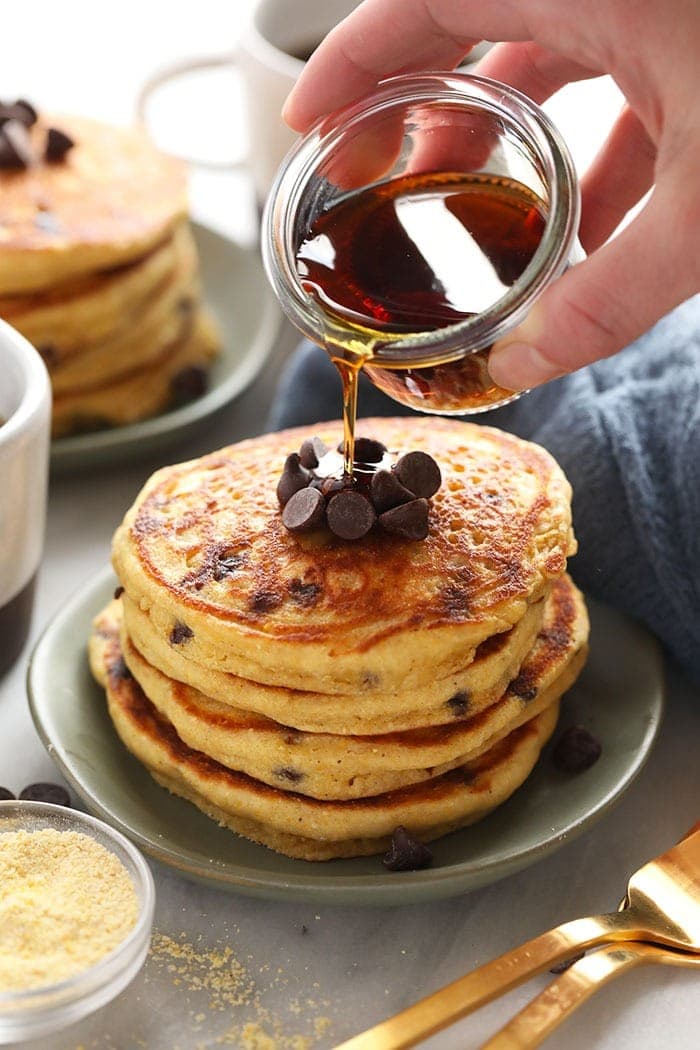 If you've made our cornmeal whole wheat pancakes then you will for sure love these cornbread pancakes! Instead of using a classic cornbread mix, we're making these 100% homemade with simple cornbread inspired ingredients!
Why Make these?
When it comes to my Sunday pancakes it can get a little overwhelming because we have so many healthy pancake recipes on Fit Foodie Finds. I'm going to give you a few reasons why you should choose these!
Gluten-Free! This recipe is 100% glutenfree, so if you're trying to avoid wheat and gluten, these are perfect for you!
Lower in Sugar & Fat Made with mostly applesauce and only 2 tablespoons of maple syrup, this is a great option for those looking for a pancake recipe lower in sugar and fat.
Cornbread for Breakfast! Cornbread for breakfast? Need I say more?
Simple g/f Ingredients
As I mentioned earlier, we kept these pancakes gluten-free and the way we did this was by using an all-purpose gluten-free flour. In addition to these being gluten-free, they're also a pretty balanced breakfast made with whole, healthy ingredients!
cornmeal
all-purpose gluten-free flour
baking powder
eggs
applesauce
almond milk
maple syrup
coconut oil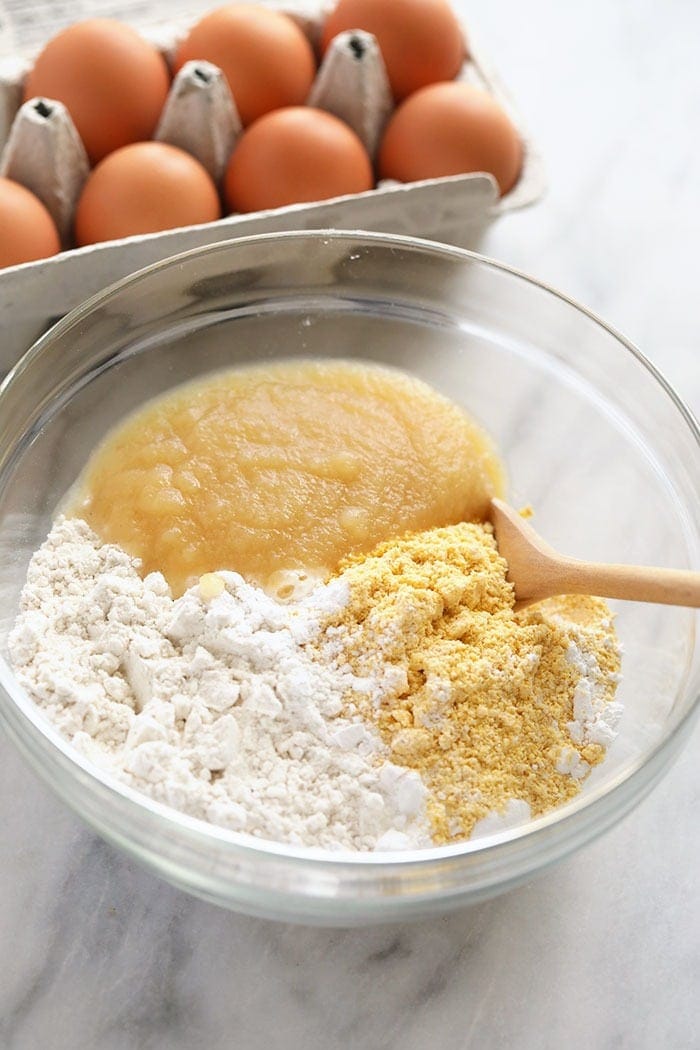 Pancake Tips
Don't overmix the batter! One thing I've learned in my pancake career is to never overmix the batter! If you do this, you risk overbeating the eggs, which really help make your pancakes super fluffy!
How do you make pancakes super fluffy? In addition to not overbeating your batter, our secret is an extra teaspoon of baking soda. Up your pancakes to 2 teaspoons of baking soda and that should do the trick!
Flour substitutions: try swapping the gluten-free all-purpose flour for ground oat flour or even white whole wheat if you don't need to keep this gluten-free!
Variation Ideas
Cheddar Chive: add a half cup of cheddar cheese and a few tablespoons of chives and you've got yourself a savory breakfast pancake!
Blueberry Banana: give your cornmeal pancakes a twist and add a mashed banana and 1/3 cup of fresh blueberries!
Cornbread Pancake Muffins: pour your pancake batter right into a muffin tin and you can make yourself pancake muffins!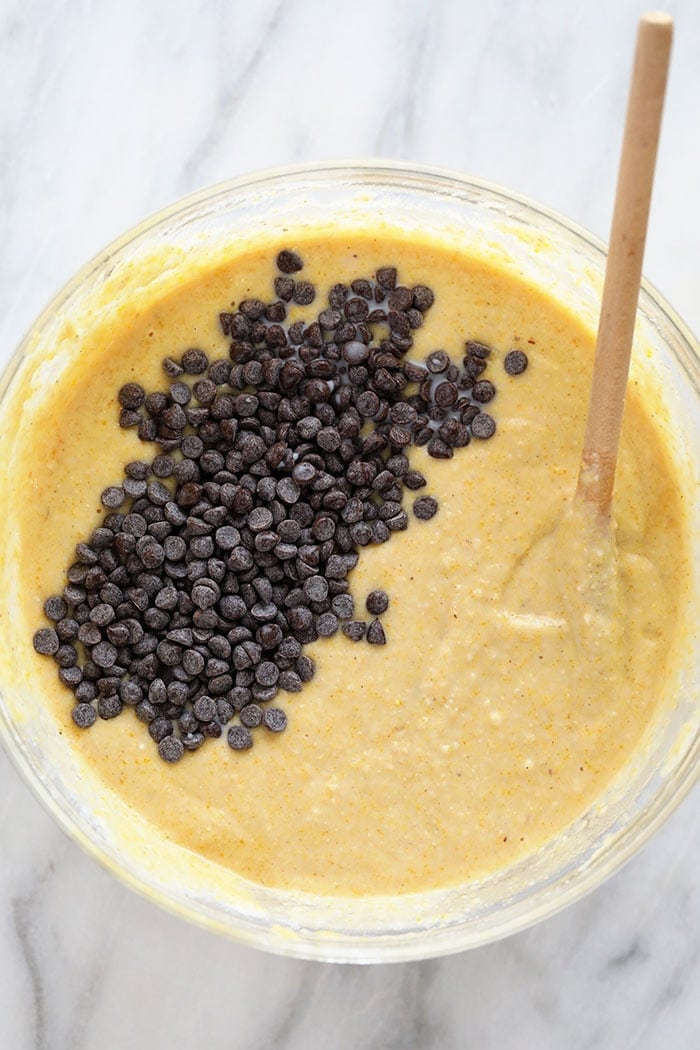 More Gluten Free Pancakes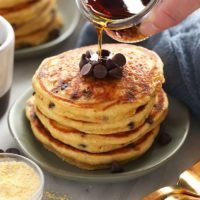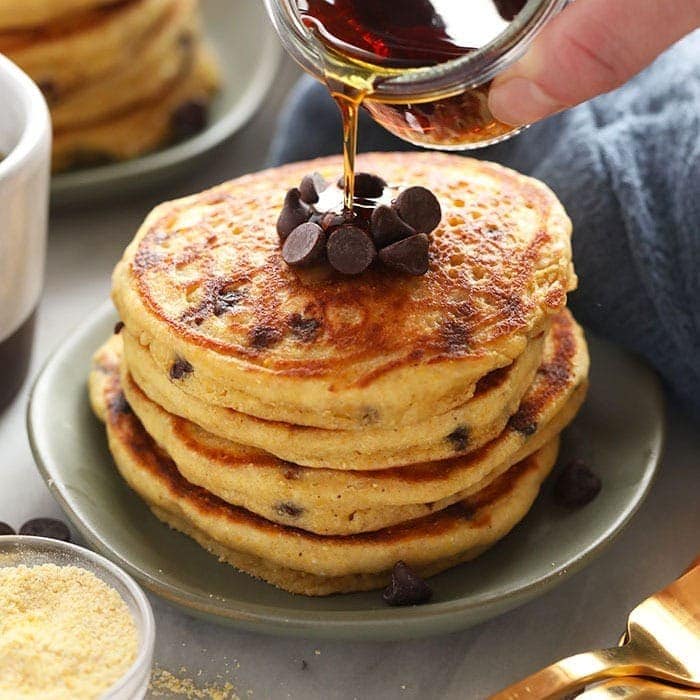 GlutenFree Cornbread Pancakes
You will love these gluten free cornbread pancakes as they're slightly sweet and so yummy cooked in butter.
Ingredients
Dry
1

cup

finely ground cornmeal

1

cup

all-purpose gluten-free flour

2

teaspoons

baking powder

1/3

cup

chocolate chips

optional
Instructions
First, combine dry ingredients in a medium bowl and set aside.

Next, whisk together eggs, applesauce, almond milk, and maple syrup in a large bowl.

Then, slowly add dry ingredients to wet and mix to combine making sure not to overmix.

Finally, add melted coconut oil and mix one more time. Option to also add chocolate chips at this point.

Heat butter or cooking spray in a large nonstick skillet over medium heat.

Then, using a 1/3 cup measuring cup, spoon batter onto skillet. Cook for 2-3 minutes and then flip. Cook for an additional 2- 3 minutes or until fully cooked.

Serve with maple syrup!
Tips & Notes
This recipe was slightly updated on November 24, 2019.
Nutrition facts
Calories:
385
kcal
Carbohydrates:
57
g
Protein:
6
g
Fat:
14
g
Fiber:
6
g
Sugar:
9
g