Breakfast is served! Shake up what pancakes you make this week and add these whole wheat cornmeal pancakes to the menu! They are easy, wholesome, and an excellent meal-prep recipe!
We know how to make pancakes right here on Fit Foodie Finds. After you make these cornmeal whole wheat pancakes check out these healthy carrot cake pancakes, 3 ingredient almond flour pancakes, and these healthy chocolate chip pancakes.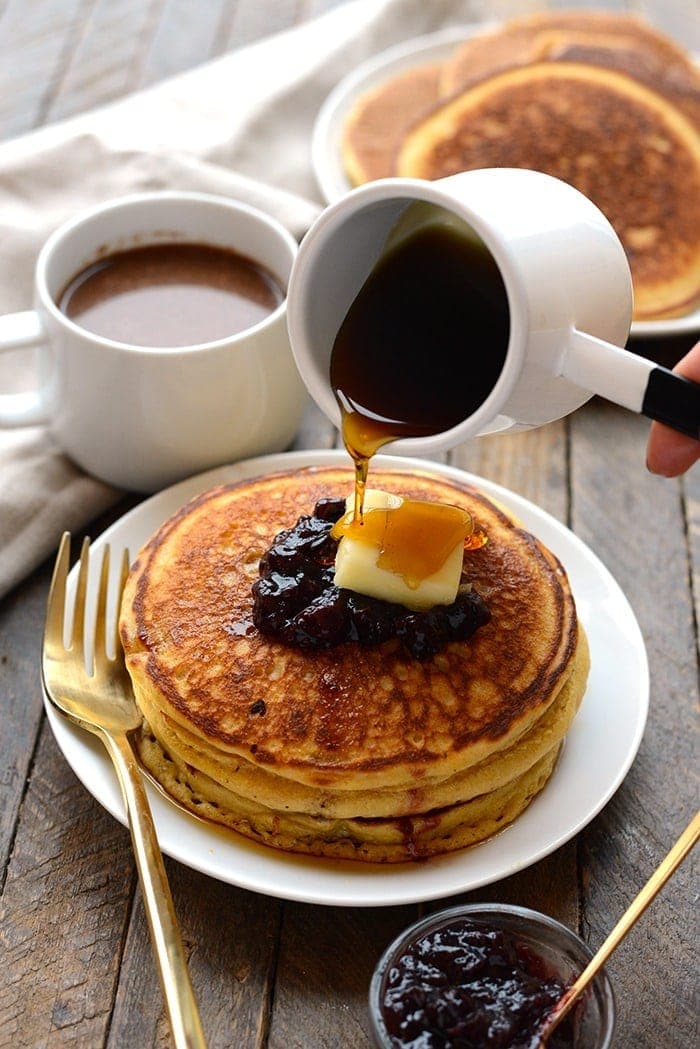 Recipe Videos are IN!
One of the reasons why I love my job is because I am challenged on a daily basis. I remember working my corporate job right out of college and just bored out of my mind. I'd get to work and not be able to wait until 5PM. 8 hours seemed like 24 and I just couldn't concentrate.
While I was working in the health and fitness industry, I just didn't feel challenged. I didn't feel the passion that I feel today about running Fit Foodie. One of my goals, when videos became more popular on social networks, was to (attempt) to shoot more video. And we were successful!
Since we filmed this cornmeal whole wheat pancake video, we have successfully shot over one hundred videos! If you are someone who likes to watch a recipe video before they make a recipe, check out all of our recipe videos here!
Anyways- I PRESENT YOU —> WHOLE WHEAT CORNMEAL PANCAKES.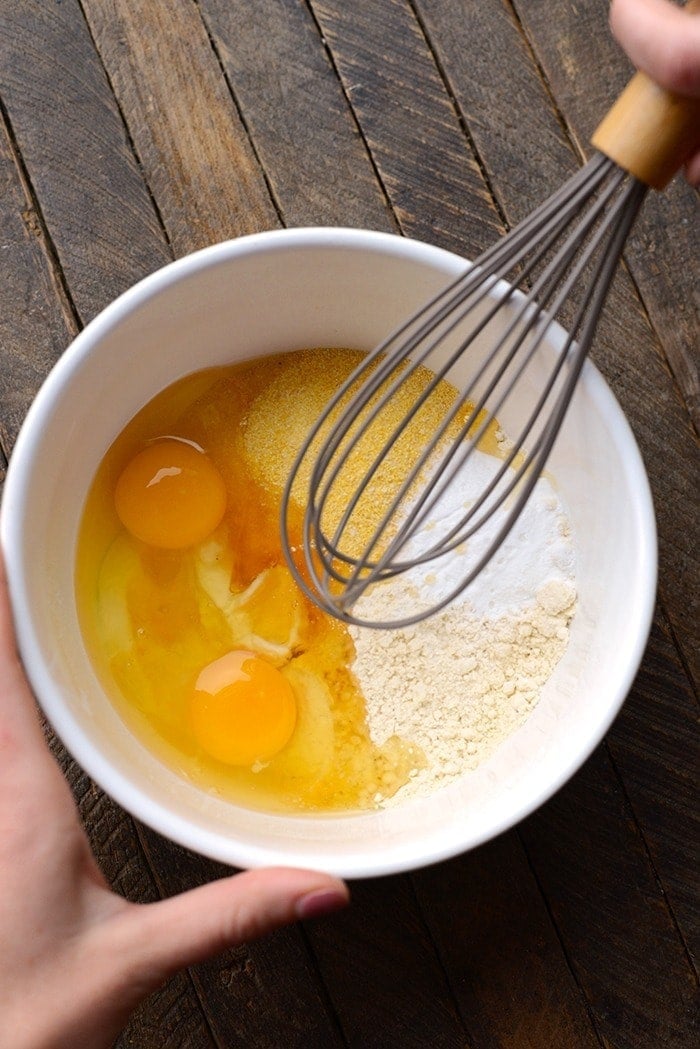 Pancakes are the BEST
Boom chicka yeah.
You guys are gonna love these fluffy things! The fourth try is the charm. We tested these guys 4 times and they for sure got better every batch. We actually started off using part gluten-free flour and the bottom line is these whole wheat pancakes need gluten!
If you are looking for a gluten-free pancake recipe, check out these 3 ingredient almond flour pancakes! Otherwise, let's talk more about how delicious these cornmeal whole wheat pancakes are!
Cornmeal is a magical thing. It can be made into cornbread, folded into muffins, and even turned into polenta. It is a magical ingredient that gives texture to the most delicious of meals. I am all about that CRUNCH.
Another reason I love these cornmeal whole wheat pancakes is that they are the perfect combination of sweet and savory (I feel the same way about these cottage cheese protein pancakes). You can top these beauties with maple syrup OR cheese. The options are endless. Whether you are a sweet or savory breakfast person,  start flipping these flapjacks!
Pancakes 101
Pancake Pantry Staples. If pancakes are a breakfast favorite at your house, be sure that you have everything you need to make pancakes on the fly. Make sure your pantry is stocked with the ingredients below so you can be prepared for any pancake request!
White whole wheat flour
Almond flour
Baking powder
Baking soda
Coconut sugar
Cornmeal
Maple Syrup
How do I cook the perfect pancake? The first pancake is always a fail. If you have mastered the first pancake you flip, let us in on the secret. Otherwise, be ok with an ugly first pancake!
To make the perfect pancake you want to heat a skillet or a cast iron skillet over medium heat. Then, add cooking spray, butter, or coconut oil to the pan. when fragrant, add a heaping 1/3 cup of batter to the pan.
Wait until the batter bubbles and then flip! Cook for an additional 1-3 minutes or until golden brown!
Can I freeze pancakes? Let the pancakes cool completely and then wrap them individually (or in twos) in plastic wrap. Then, place them in a gallon size freezer bag for later. When you're ready to eat them, unwrap them and pop them in the toaster.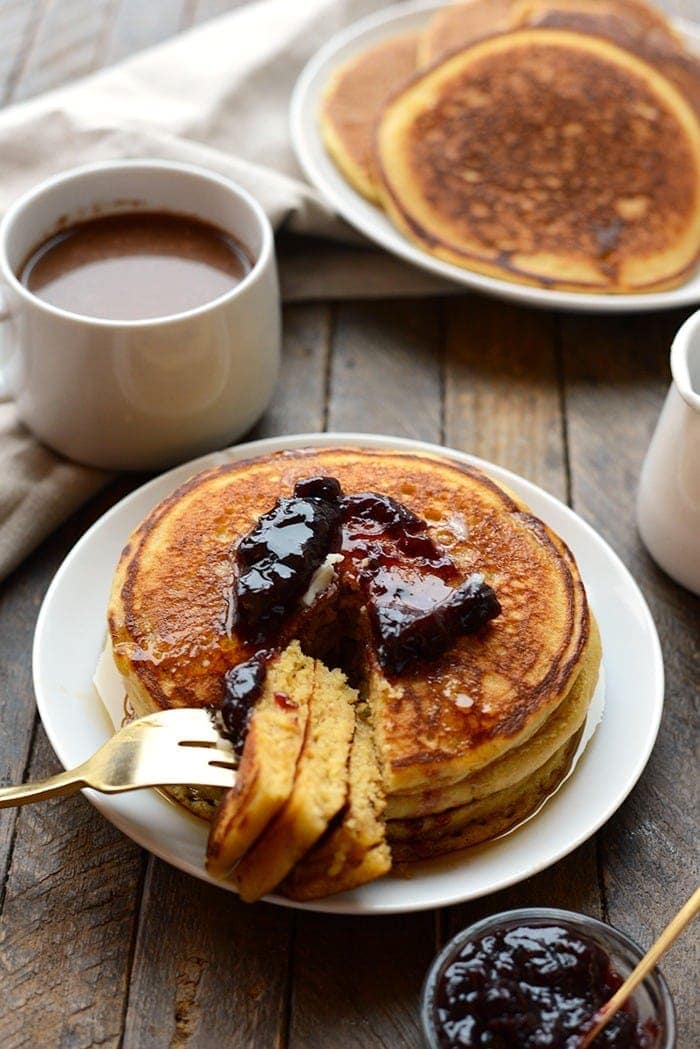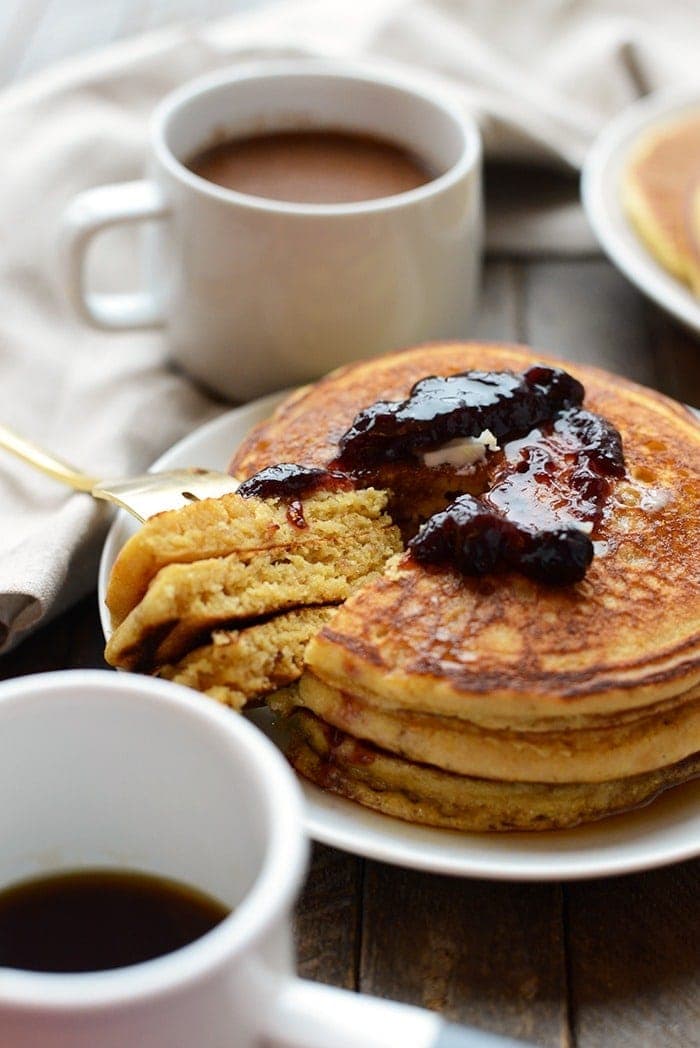 Healthy Pancake Recipes
Whole Wheat Cornmeal Pancakes
Breakfast is served! Shake up what pancakes you make this week and add these whole wheat cornmeal pancakes to the menu! They are easy, wholesome, and an excellent meal-prep recipe!
Ingredients
Wet
2

large eggs

large

1/4

cup

nonfat plain Greek yogurt

1/4

cup

honey

3/4

cup

unsweetened, plain almond milk

unsweetened

2

tablespoons

coconut oil

melted
Instructions
First, whisk together all wet ingredients in a medium size bowl (minus the coconut oil). Then, place all dry ingredients in a large bowl and whisk. Add wet ingredients to dry and mix until smooth. Finally, add melted coconut oil into batter and mix again.

Heat a frying pan to medium heat and spray with coconut oil cooking spray. Scoop 1/3 cup of batter onto pan and cook 2-3 minutes on each side.
Nutrition facts
Calories:
337
kcal
Carbohydrates:
53
g
Protein:
9
g
Fat:
10
g
Fiber:
5
g
Sugar:
28
g