Impress your brunch guests by making this easy baked chilaquiles with avocado crema. It's ready in 30 minutes, packed with veggies, and the perfect healthy brunch. With easy step-by-step instructions for how to make chilaquiles, this recipe is ready to help you serve your next brunch crowd!
Brunch lovers unite! While we have so many great breakfast recipe options here on Fit Foodie Finds, we're here to say that this easy chilaquiles recipe is the brunch recipe of your dreams. Plus, did we mention it's ready to devour in 30 minutes!?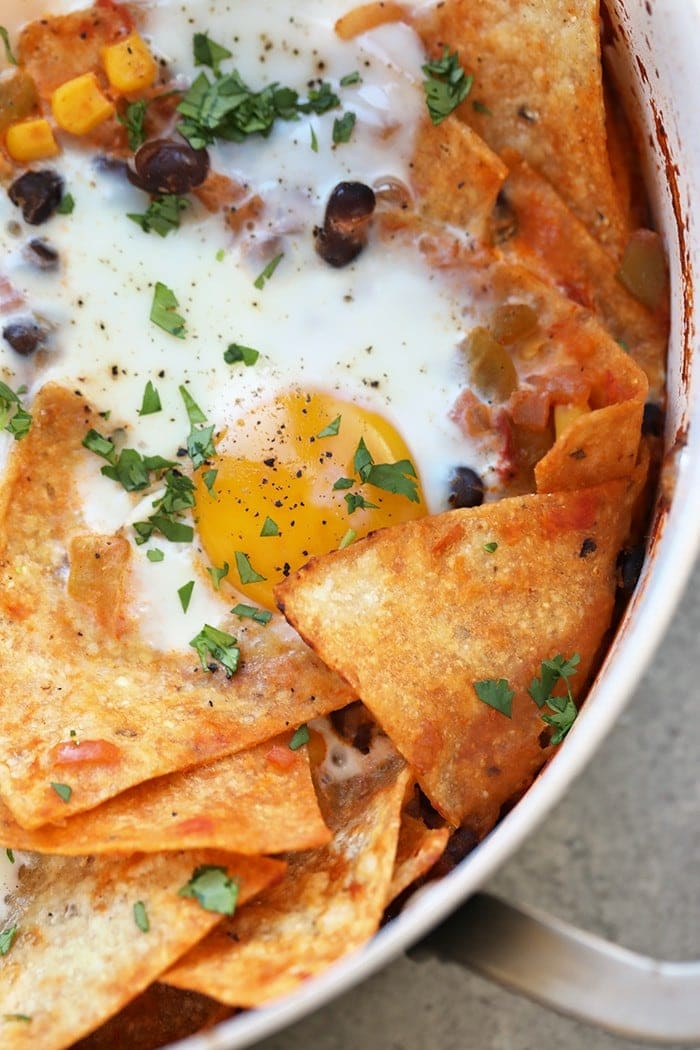 Do You Love Brunch?
If you love brunch, raise your hand. ME, I do, THIS GIRL. If Guy Beringer had not come up with the idea of brunch in 1895 (yes, we had to look that up), I'm pretty sure life would be a heck of a whole lot different. I look forward to brunch on the weekends with my family and friends, especially when we go to some of my favorite brunch spots in The Cities like Grand Cafe, Freehouse, and Surly. I know that any meal can bring people together, but there is something about being able to sleep in on the weekends and then getting up to meet some of your favorite people for good food.
Easy Chilaquiles
When we decided that we wanted to create another Mexican-themed breakfast recipe, I instantly thought of developing an easy how to make chilaquiles recipe. I had recently ordered them at Surly's brunch (so damn good) and a friend inspired me to try and make them at home. I'll be honest, the thought of trying to make chilaquiles myself was a bit daunting. It's always been something that seemed tough to make without ending up with soggy chips and undercooked eggs. You know, something you just order out! But, we decided to go for it! And could not be happier we did — seriously, these are completely made and ready to be devoured in 30 minutes.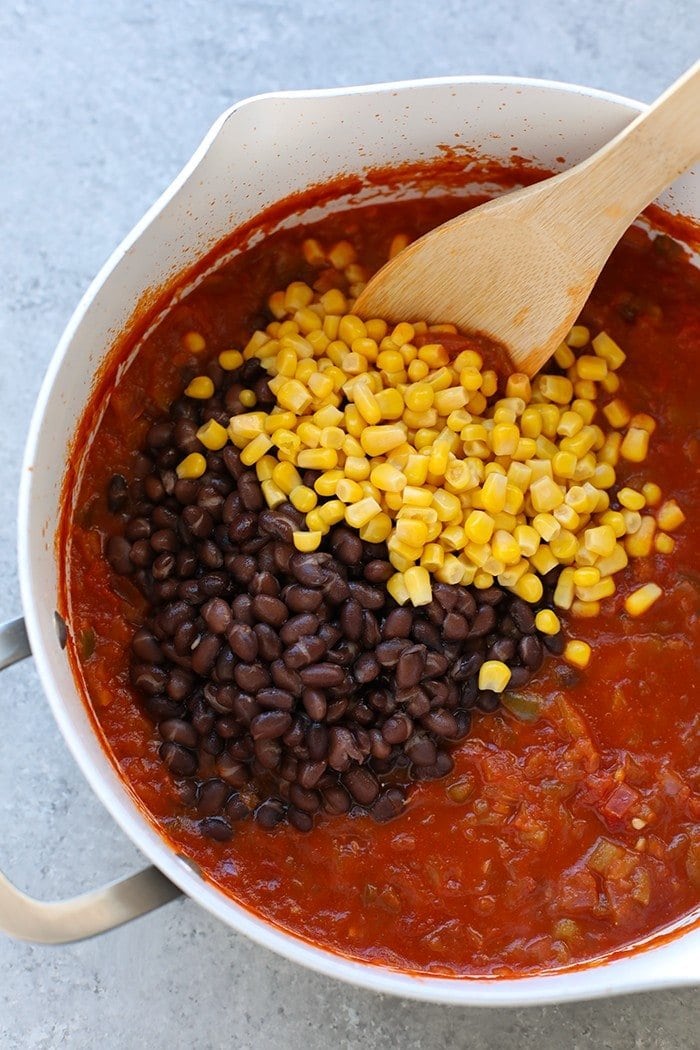 Your Favorite Salsa
Guess what, IT WORKED. We skipped the part in most chilaquiles recipes where you have to make a homemade mole or salsa and went with a store-bought salsa. We love the Trader Joe's Chunky Salsa, but feel free to use your favorite type of salsa. Turns out with this method, there was no reason to be scared of chilaquiles and I plan I making them a lot more often. Check out the recipe yourself by scrolling down + you'll find some other Mexican breakfast faves as well. You'll have plenty of options for delicious Mexican-inspired meals. #yahwelcome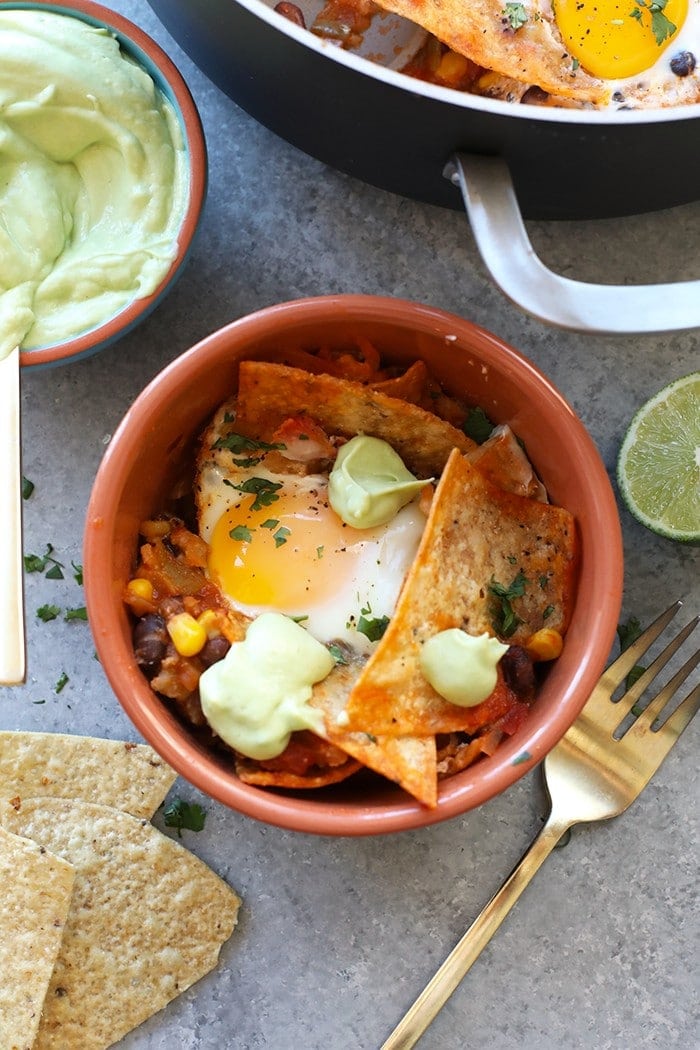 The Best Avocado Crema
You're about to make the best avocado crema to serve with these easy chilaquiles. And let me tell you, this crema REALLY pulls the whole recipe together. It requires only 4 simple ingredients and 1 simple step:
1 large avocado
Plain Greek yogurt
Lime juice
Salt
Place all 4 of these ingredients (+ a tablespoon or two of water if you like a thinner crema consistency) in your high-speed food processor, and blend it til it's smooth. Then you're good to go! We've already been thinking of all the other Mexican dishes that this would pair well with — but is there really any Mexican dish that this wouldn't jazz up?!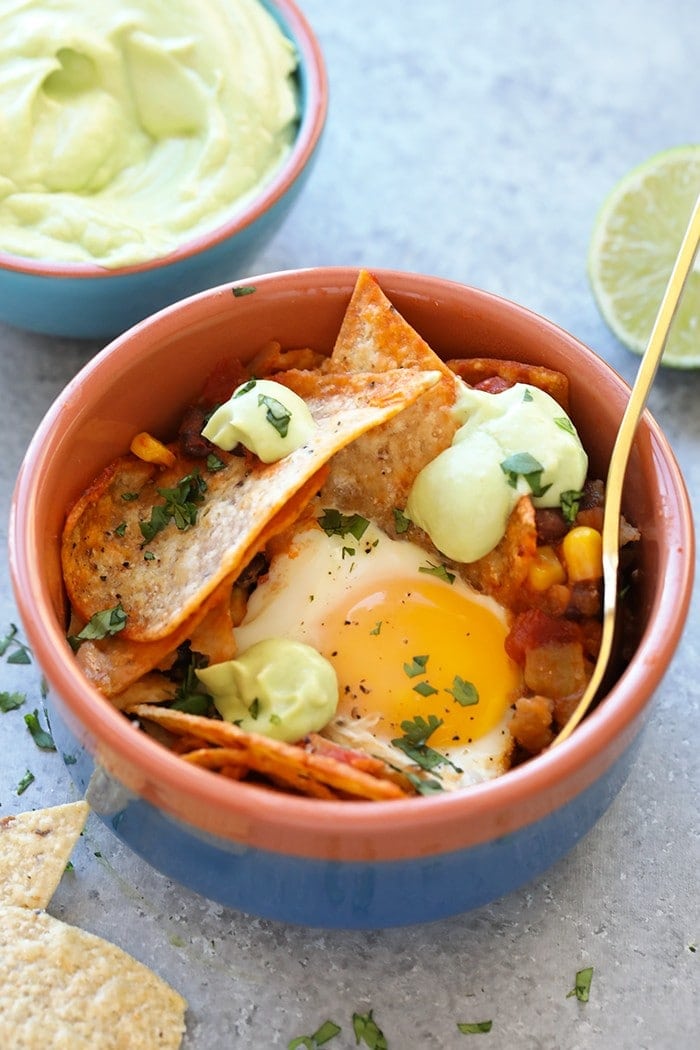 More Mexican Brunch Recipes
How to Make Chilaquiles with Avocado Crema
Impress your brunch guests by making this Easy Baked Chilaquiles with Avocado Crema. It's ready in 30 minutes, packed with veggies, and the perfect healthy brunch. With easy step-by-step instructions for how to make chilaquiles, this recipe is ready to help you serve your next brunch crowd!
Prep:
20 minutes
Cook:
25 minutes
Total:
45 minutes
Fat
15
Carbs
34
Protein
11
Ingredients
1/2

red onion, diced

1 tablespoon

olive oil

1

16 oz. can chunky salsa

1 cup

water

4 oz

. can green chiles

1 cup

black beans

1/2 cup

yellow corn

5 oz

. corn tortilla chips

4

–

6

eggs
salt and pepper, to taste
Avocado Crema
1

large avocado

2 tablespoons

plain Greek yogurt

3 tablespoons

lime juice (~

1

medium lime)

3 tablespoons

water (or more depending on how thin you like it)
pinch of salt
Instructions
Preheat oven to 350ºF and then heat olive oil in a deep, oven safe skillet over medium/high heat.
Place onion in the skillet and sauté for 3-5 minutes. Add salsa, water, and green chiles. Bring to a boil and then turn down to medium heat and let simmer for 10 minutes.
Add black beans and corn and let cook for 2-3 minutes, then gently fold tortilla chips into the salsa mixture.
Next, make 4-6 indentations throughout the mixture and crack an egg into each indent.
Place in oven (uncovered) and bake for 20-25 minutes, depending on how you like your eggs.
While the chilaquiles are baking, prepare the avocado crema by placing all ingredients into a food processor and blending on high until smooth.
Serve chilaquiles with avocado crema.
Enjoy!
Nutrition Facts
Serving Size:
1/6 recipe
Calories:
323
Sugar:
7
Fat:
15
Carbohydrates:
34
Fiber:
6
Protein:
11
Category:
Breakfast
Method:
Oven
Cuisine:
Mexican