French toast just got PUMPKINed! Make these adorable and delicious French toast pumpkin chocolate chip muffins for the most epic fall breakfast EVER.
Looking for more healthy and delicious breakfast recipes for you and the family? We love healthy oatmeal cups, bacon-wrapped egg cups, and these freezer breakfast sandwiches.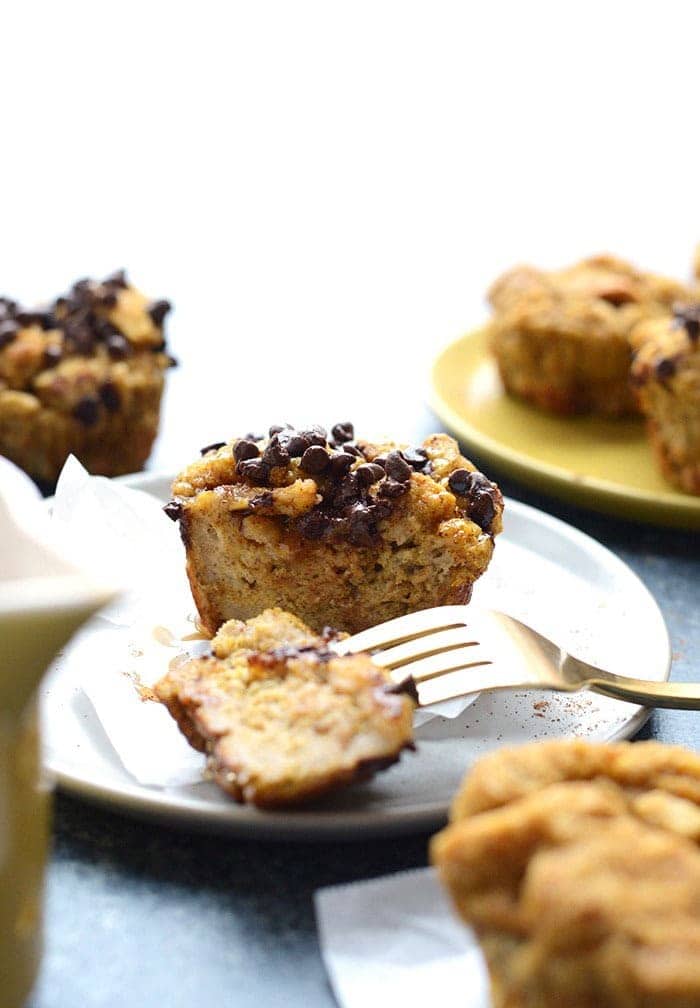 The Best Weekend Breakfast
Did you know that Monday is my favorite day of the week? I am totally that girl who jumps out of bed Monday morning ready to slay the day. I think it has to do with my WFH schedule. Sometimes it feels like my weekends merge into my weekdays and visa versa. In all honesty, I never really know what day it is. Thank the lord for Larry Page (inventor of Google…AKA my life).
To me, French toast sounds like a weekend breakfast. It takes more time to make than normal toast or quick oats in the microwave, but it's SO TASTY. I wanted to come up with a French toast recipe that could double as meal prep, for a quick, grab-and-go breakfast during the week.
FRENCH TOAST MUFFINS!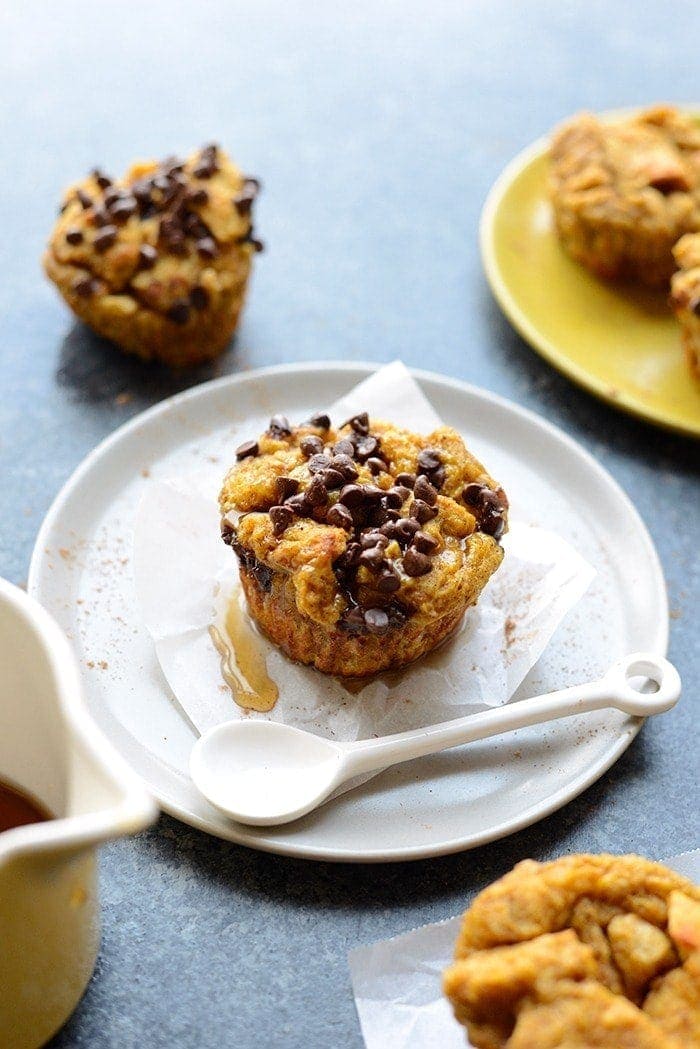 Everything you'll Need
This recipe for these French Toast Pumpkin Chocolate Chip Muffins is actually very simple and calls for only a few basic ingredients:
whole wheat bread
pumpkin puree
eggs
almond milk
maple syrup
pumpkin pie spice
mini chocolate chips
Feel free to ixnay the chocolate chips…if you're that kind of person (eye roll).
How to Make French Toast Muffins
Step One
First things first, grease the muffin tin or muffin liners with non-stick cooking spray. Then, in a  medium bowl whisk all of the ingredients except for the bread. Whisk ingredients together until combined! Set aside.
Step Two
For these adorable little french toast pumpkin chocolate chip muffins, I decided it would be in my best interest to cut off the crust. Now- I'm normally a crust lover, but I thought about all of the moms out there that are going to make this recipe and cut the crust off for their kiddos…because that's what all kids demand (at least I did as a kid!).
After you have cut the crust off of the bread, cut the bread into cubes and dip each piece of bread into the egg mixture and place it into a muffin cup. Repeat until each muffin cup is 3/4 of the way full!
Step Three
Sprinkle each French toast muffin with mini chocolate chips and place the pan in the oven and bake at 350ºF for 21-23 minutes.
Step Four
After you remove the french toast muffins from the oven let them cool for 5 minutes and eat immediately. If you are meal prepping these french toast pumpkin chocolate chip muffins you can store them in the freezer! Let them cool completely and then place them on a cookie sheet and place them in the freezer for 30-45 minutes.
Remove them from the freezer and place them into a freezer-safe plastic bag, date the bag, and store them in the freezer for up to 3 months.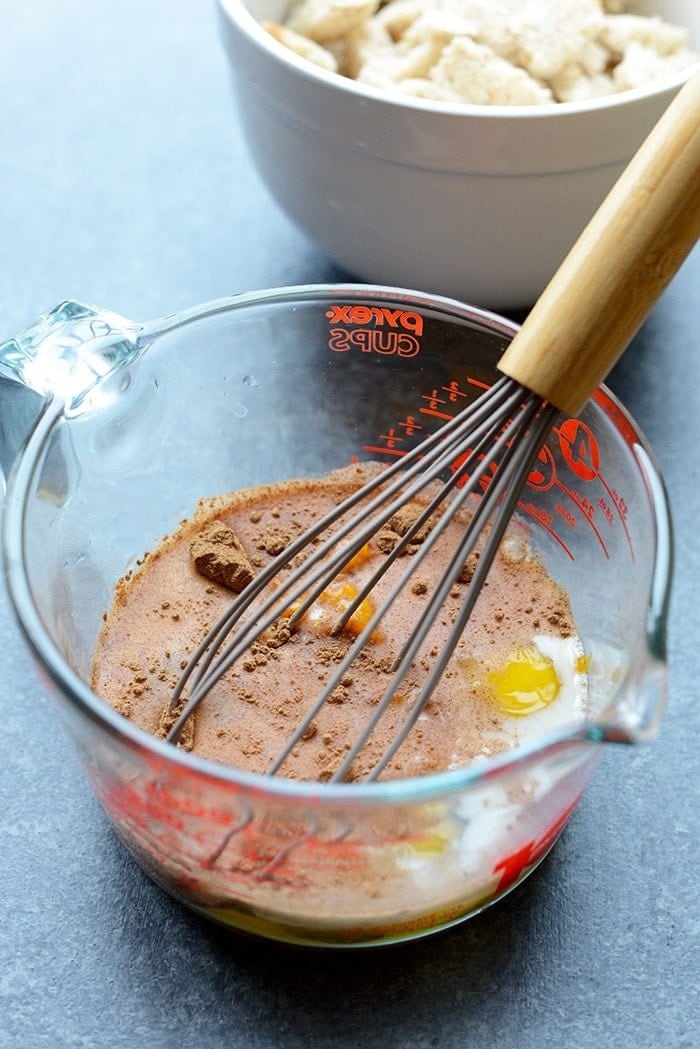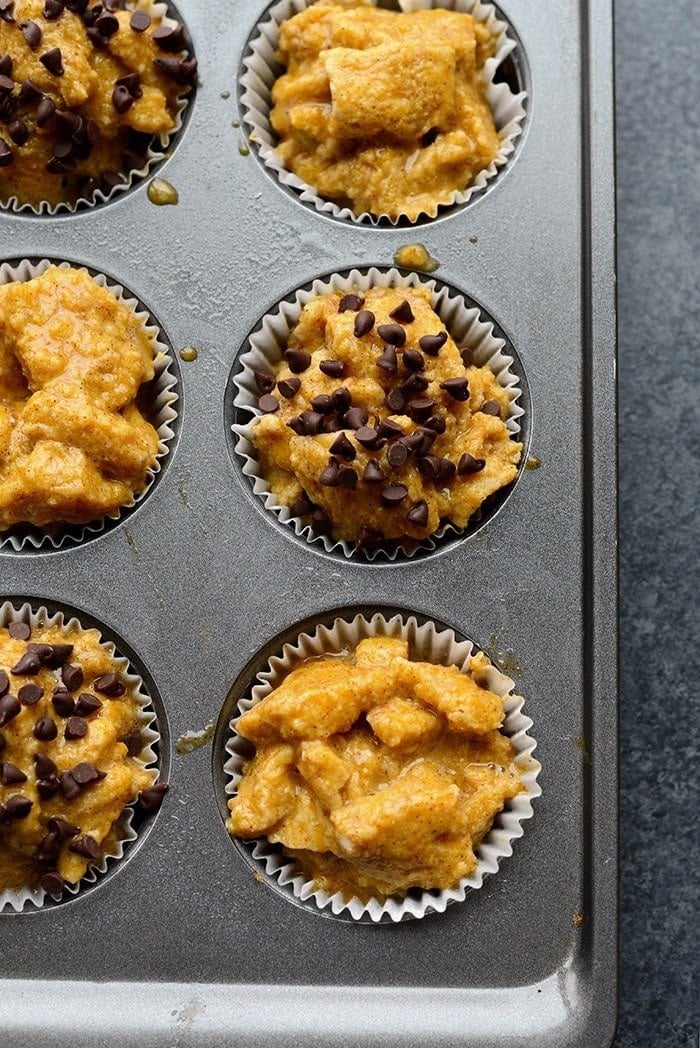 Healthy Pumpkin Recipes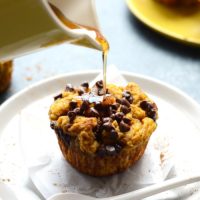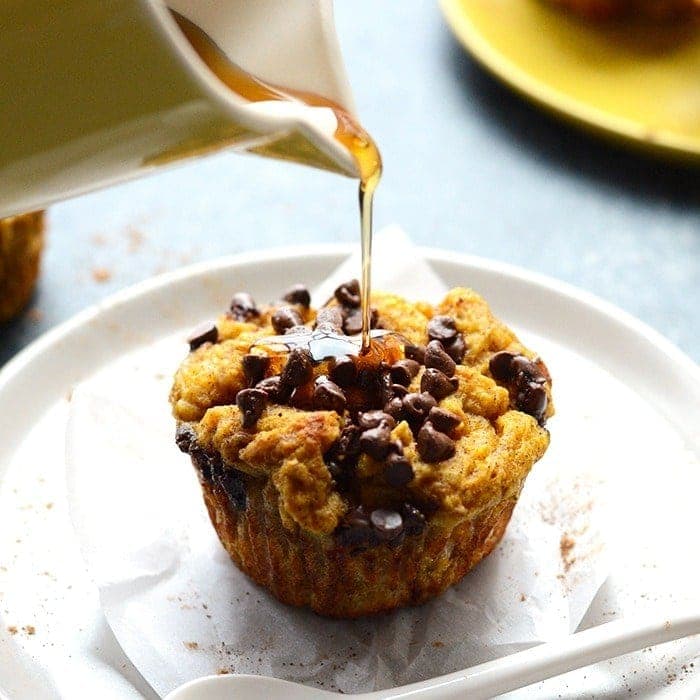 French Toast Cups
French toast just got PUMPKINed! Make these adorable and delicious French toast pumpkin chocolate chip muffins for the most epic fall breakfast EVER.
Prep:
10 minutes
Cook:
23 minutes
Total:
33 minutes
Ingredients
8

pieces of whole wheat sliced bread

3

eggs large

1/3 cup

pumpkin puree

3 tablespoons

unsweeteened almond milk

1 teaspoon

pumpkin pie spice

1 tablespoon

maple syrup
optional: 1/4 cup mini chocolate chips
Instructions
First preheat oven to 350ºF. Then, line a muffin tin with cupcake liners and spray them with coconut oil cooking spray. Set aside.
In a medium size bowl, whisk together eggs, pumpkin puree, almond milk, pumpkin pie spice, and ample syrup.
Create cubes of bread by first slicing off the crust. Then, slice into thirds, turn and slice into thirds again.
Dip bread into egg mixture making sure everything is coated.
Fill each muffin tin with cubed bread. Optional: sprinkle on some mini chocolate chips.
Bake at 350ºF for 21-23 minutes.
Tips & Notes
Nutrition facts are without chocolate chips.
Nutrition Facts
Serving Size:
2 muffins
Calories:
199
Sugar:
5
Sodium:
295
Fat:
5
Carbohydrates:
32
Fiber:
3
Protein:
7
Category:
Breakfast
Method:
Oven
Cuisine:
American
Keywords: Pumpkin French Toast