This Healthy Chocolate Chip Carrot Cake Loaf is ready in an hour and made with 100% whole wheat flour, shredded carrots, walnuts, chocolate chips, and yummy warm spices. You won't find a more delicious carrot bread on the internet.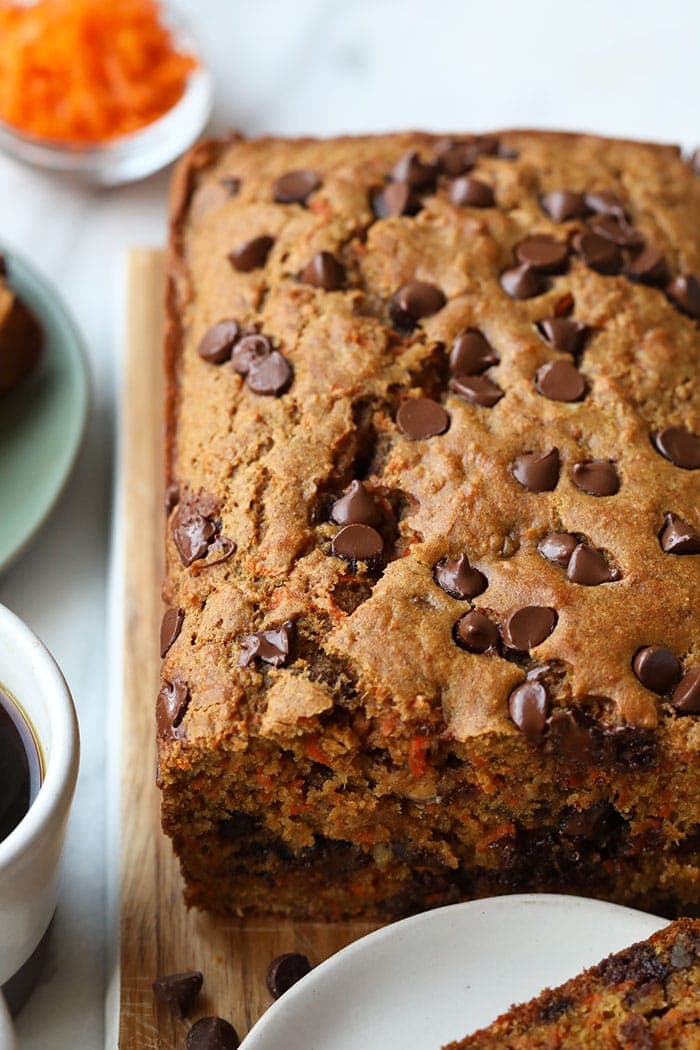 We Love Carrot Cake!
Carrot cake oh carrot cake, oh how I love the carrot cake.
If I had a choice, I'd choose carrot cake every time over any other kind of cake. I love the moistness (hate this word), the spicy flavor combination, and the cream cheese frosting.
I'm sure you're like WTF Lee, this recipe doesn't have frosting. I know I know, I had to make the executive decision to ditch the frosting when we added chocolate chips. It had to be one or the other.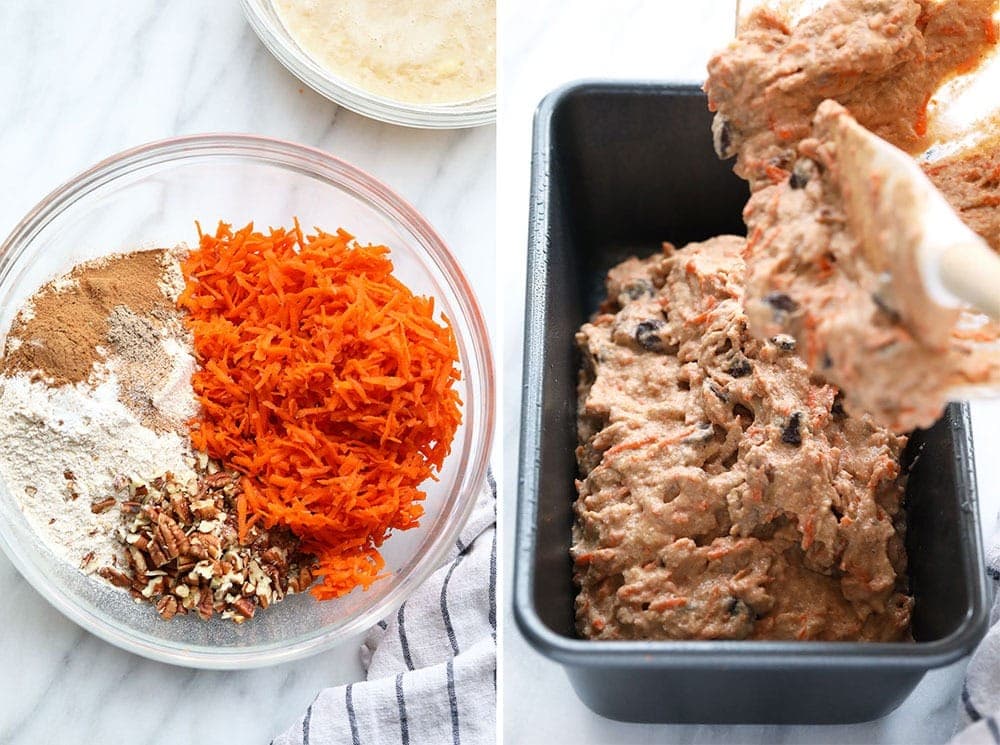 Carrot Bread Made Healthier
This carrot cake bread tastes like a combination of chocolate chip banana bread and carrot cake. I guess you could call it banana carrot bread (with chocolate chips, of course)?! And good news for you, we took some steps to make it better-for-you!
Sweetener: We used mashed banana and maple syrup for the sweetener. The shredded carrots and chocolate chips help out, too. If you're not a big fan of banana, feel free to applesauce or another mashed fruit.
Fat: Instead of using a full 1/4 cup of coconut oil (which is what we would normally do), we subbed out some for nonfat Greek yogurt to lighten things up. I love using Greek in bread because it gives the recipe a hint of tang and a ton of moistness without the fat.
How have I already used the word moist more than once in this post?
Flour: We're big fans of white whole wheat flour because it's lighter than normal whole wheat flour and perfect for healthy baking! We do NOT recommend subbing out a grain-free flour as it would change the composition of the entire recipe.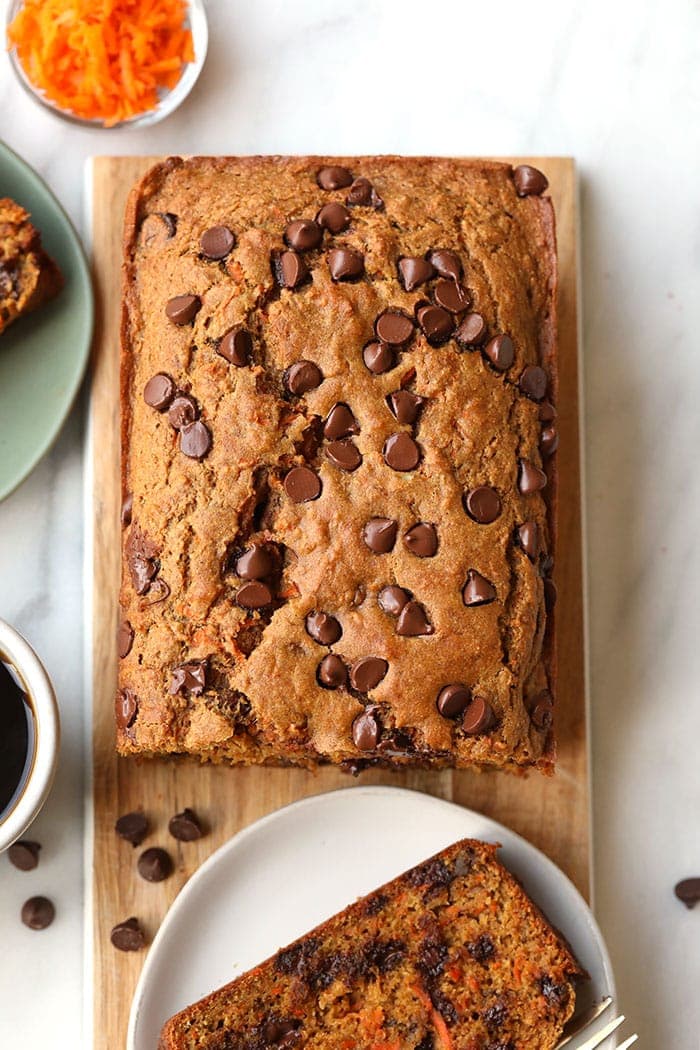 How to grate carrots
If you are wondering how to shred a carrot (mysterious, right?), we used…a cheese grater.
I'm totally that weirdo that owns multiple cheese grater because #1 we love cheese and #2, we shred a lot of veggies. Here's a good one if you're in the market.
Pro tip: If you really want the carrots to stick out, we recommend using a larger grate. However, if you want to try and hide the carrots in your bread for the kiddos, you can use a smaller grate size.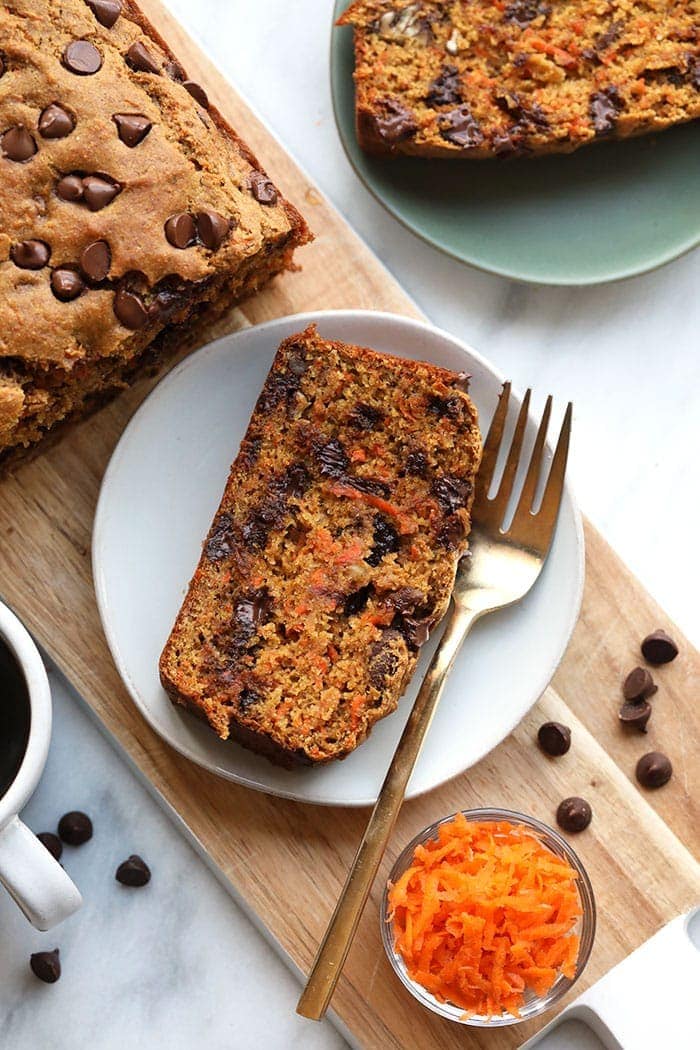 More Carrot Cake Recipes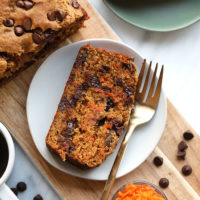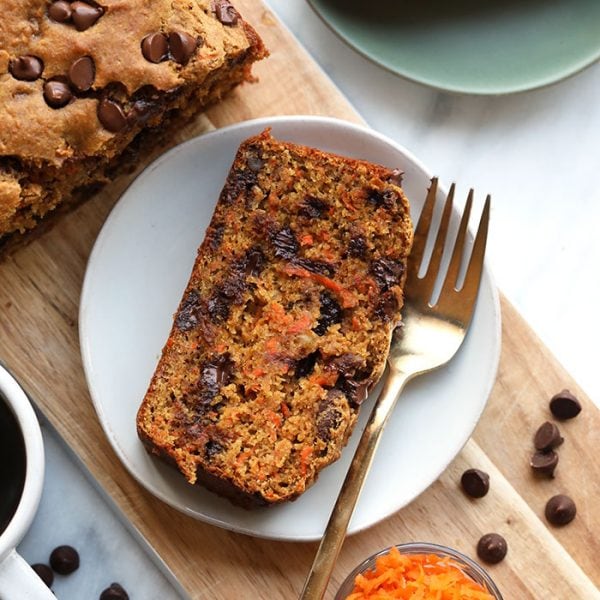 Healthy Carrot Bread Recipe
Looking for a delicious, veggie-packed bread to make? This Healthy Chocolate Chip Carrot Cake Loaf is ready in an hour and made with 100% whole wheat flour, shredded carrots, walnuts, chocolate chips, and yummy warm spices.
Prep:
15 minutes
Cook:
40 minutes
Total:
55 minutes
Fat
12
Carbs
43
Protein
5
Ingredients
Wet Ingredients
1

medium size banana, mashed

2

large eggs

¼ cup

plain Greek yogurt

1 teaspoon

vanilla extract

1/2 cup

unsweetened plain almond milk

½ cup

maple syrup

2 tablespoons

melted coconut oil
Dry Ingredients
1.5 cups

white whole wheat flour

½ teaspoon

baking powder

½ teaspoon

baking soda

2 teaspoons

ground cinnamon

1/2 teaspoon

ground nutmeg

1/4 teaspoon

ground cardamon

1/8 teaspoon

salt

1.5 cups

finely grated carrots, packed*

1/2 cup

chopped pecans

1/2 cup

dark chocolate chips
Instructions
Preheat oven to 350ºF and spray a standard-size loaf pan with cooking spray.
Start with the wet ingredients. In a medium/large size mixing bowl, mash a banana until there are minimal to no lumps, then add the rest of the wet ingredients to the bowl (except for the coconut oil). Mix well.
In a separate bowl mix together dry ingredients.
Add dry ingredients to the wet ingredients and mix. Once combined, add the melted coconut oil to the batter and mix again.
Transfer batter into bread pan and then sprinkle on some additional chocolate chips on top.
Bake at 350ºF for 38-42 minutes.
Remove and let cool for 5 minutes before removing from bread pan.
Tips & Notes
*If your carrots are extremely moist, ring out some of the moisture with a paper towel before adding to the batter.
Nutrition Facts
Serving Size:
1/9
Calories:
298
Sugar:
22
Fat:
12
Carbohydrates:
43
Fiber:
5
Protein:
5
Category:
Bred
Method:
Oven
Cuisine:
American