Have your dessert and breakfast too with this out-of-this-world Chocolate Chip Cookie Dough Oatmeal! It's vegan and the perfect nutrition-packed way to start your day.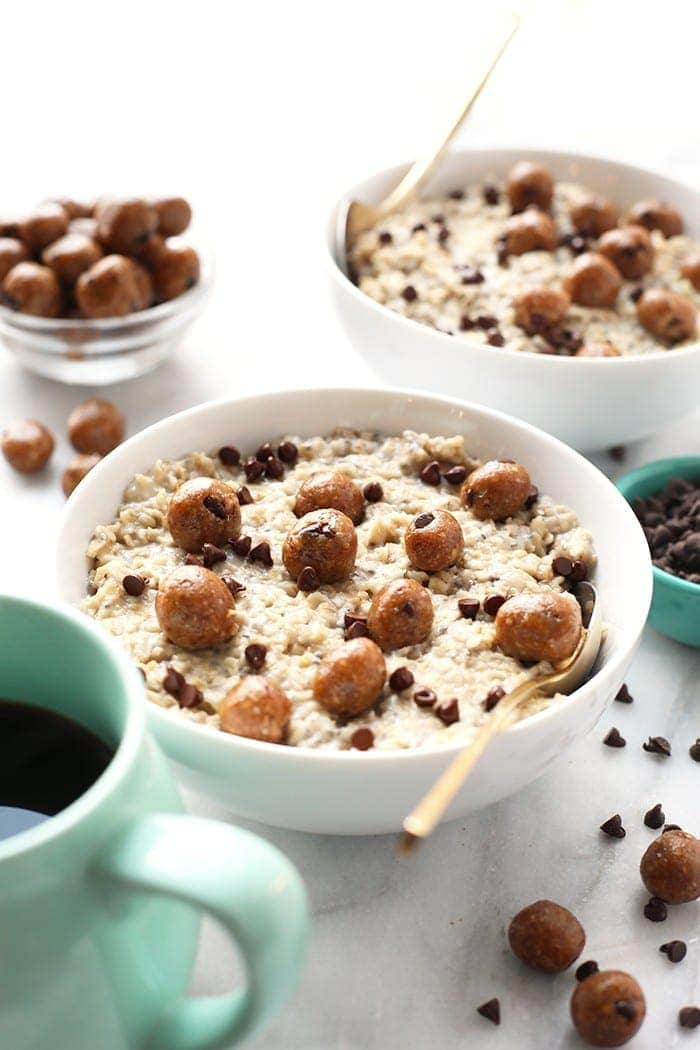 Welcome to Fit Foodie Finds' third annual Oatmeal Week! You read that correctly, third annual. Over the past two years, we've hosted Overnight Oat Week on FFF and this year, we're expanding things into warm oatmeal as well. We're excited to be partnering with our favorite, Minnesota-based oatmeal company, Better Oats, for this extravagant week. Today is day 1 and what better way to start off with a bang…Chocolate Chip Cookie Dough Oatmeal made with homemade healthy cookie dough bites because everyone loves cookie dough.
But first, I thought I would list out a few ingredients that are staples in this year's Oatmeal Week recipes in case you want to follow along and make #alltheoatmeal.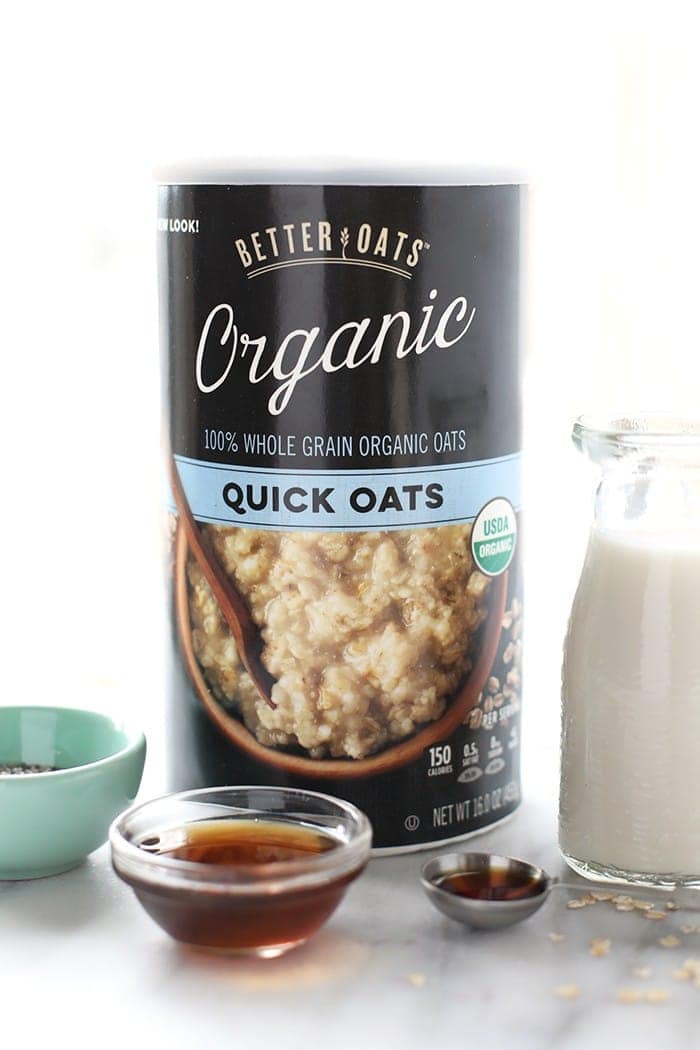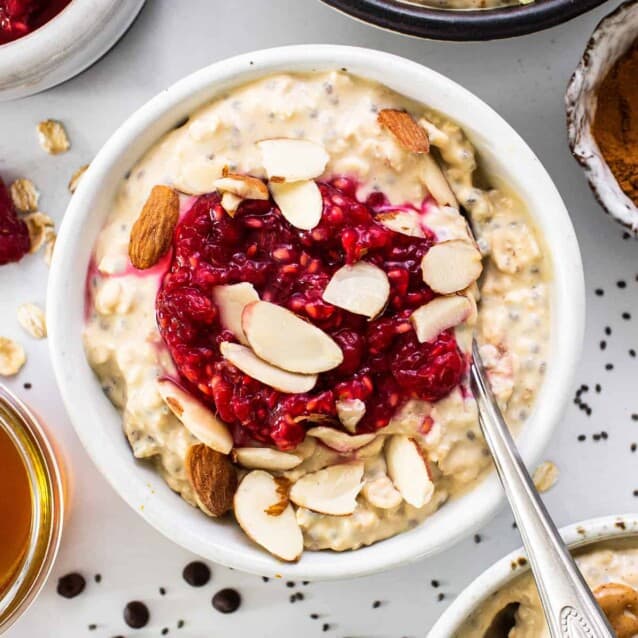 Need Breakfast Inspo?
Subscribe to our emails and get all of our best breakfast recipes straight to your inbox.
This oatmeal is made on the stove top with a hint of maple and a pinch of salt. We used Better Oats Organic Quick Oats
so that they cook up in less than 5 minutes. They are fluffed up with some chia seeds
, which also add fiber and healthy fats. We kept things vegan by using maple syrup for the sweetener and almond milk for the liquid. The maple syrup also gives you that cookie dough flavor…along with the amazingly delicious cookie dough chunks on top. You can find the recipe to the cookie dough chunks on FFF, but these guys are absolutely epic. They're made with cashew butter, dates, and more rolled oats. There's no baking (or eggs) involved!
If you don't have the time to make this on your stove top, you can totally microwave it too! I find that stove top oats come out much more fluffy and delicious compared to a measly 60 seconds in the micro.
More Stovetop Oatmeal Recipes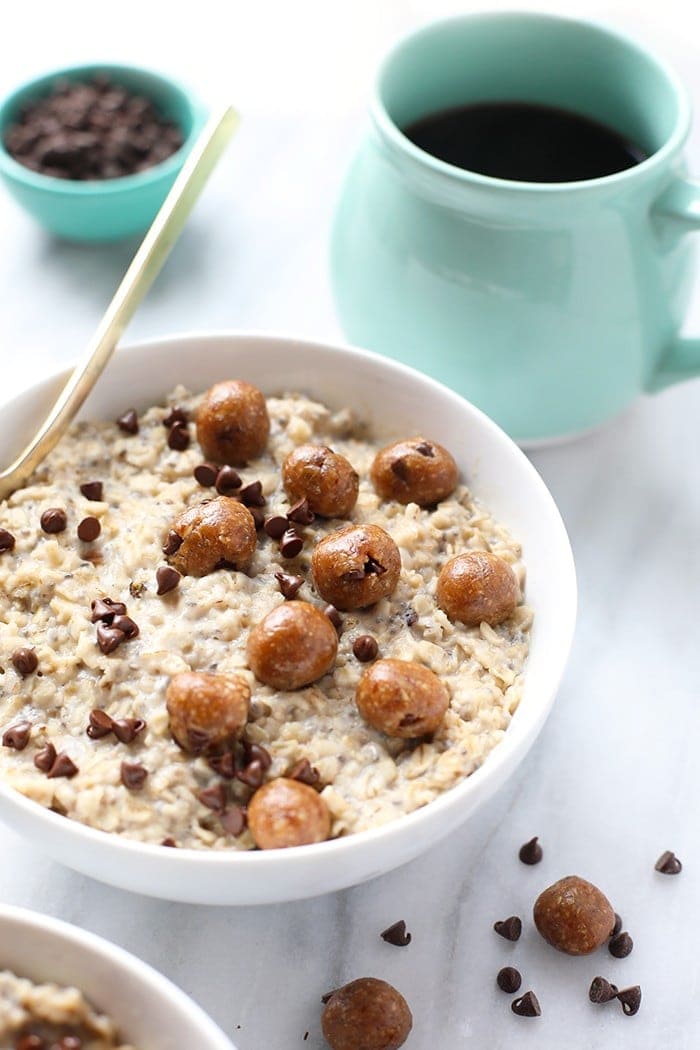 If you're looking for more delicious oatmeal recipes. Check out Overnight Oat Week 2015 and Overnight Oat Week 2016 for more inspiration.
This post is sponsored by Better Oats. Thank you for supporting Fit Foodie Finds and my oatmeal addiction. I was compensated and all opinions are my own.