This green monster spicy chicken noodle soup is packed with veggies and flavored with salsa verde! It is the perfect soup for a weeknight meal or if you need to kick a cold. Make it today!
We love one-pot chicken soup! This soup is one of many chicken soup recipes that we have on FFF. Check out our golden quinoa chicken soup or this slow cooker chicken noodle soup recipe, they are some of FFF's most popular soup recipes!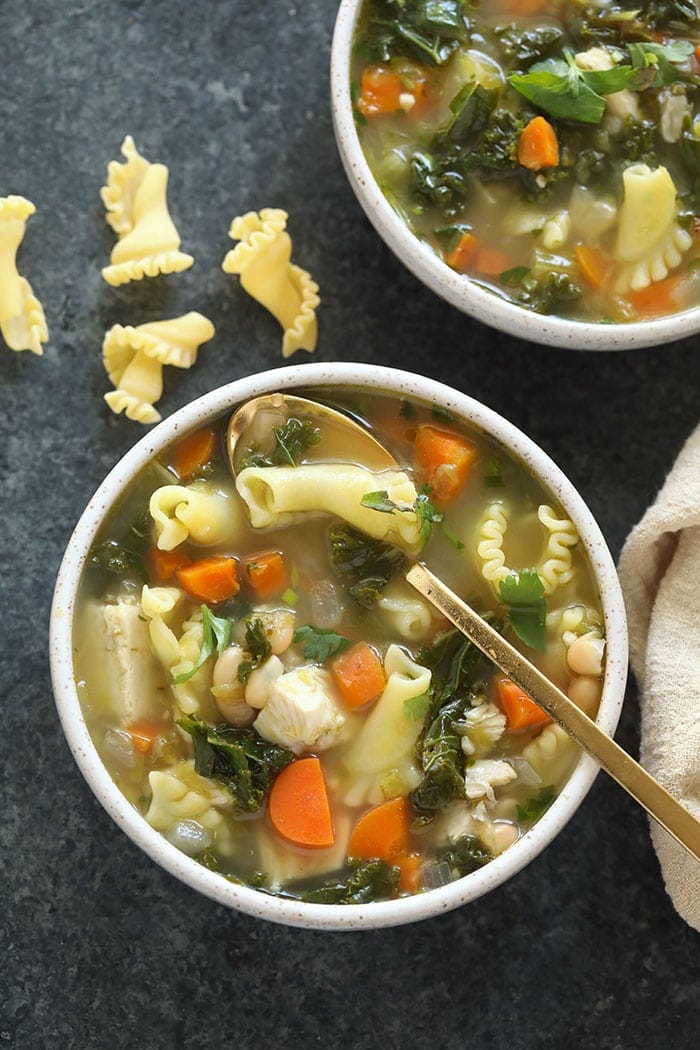 Soup is the Answer
Need a meal that will serve a crowd? Soup. Need a meal that will make you feel better when you're sick? Try soup! Need a meal that is great for a meal prep meal for the week? Soup will work perfectly.
Do you get my drift? You can't beat a bit batch of healthy soup, especially in the winter! We love making different variations of chicken noodle soup here on Fit Foodie Finds just to mix things up! Don't tell the other chicken noodle soups, but this Green Monster Chicken Noodle Soup may be my favorite!
Why? It is a spin on a classic chicken noodle soup recipe, but I LOVE that it has additional vegetables and a spicy flavor! My weakness in soup is kale. I love that it adds a veggie, texture, and an earthy flavor. YUMMO.
Here's the Secret Ingredient
How did we add such amazing flavor to this soup? SALSA. Just like in our crockpot chicken tacos, we use a jar of all-natural salsa for flavor and it is out of this world!
Just add your favorite jar of salsa verde and let it do all the work. I specifically love the salsa we used in this recipe (Herdez Salsa Verde Mild) because the flavor is on point and it's GREEN…adding to the "green monster" of this recipe.
Feel free to use YOUR favorite salsa verde, but just make sure you can tolerate the spice level you choose. For reference, we used mild 😀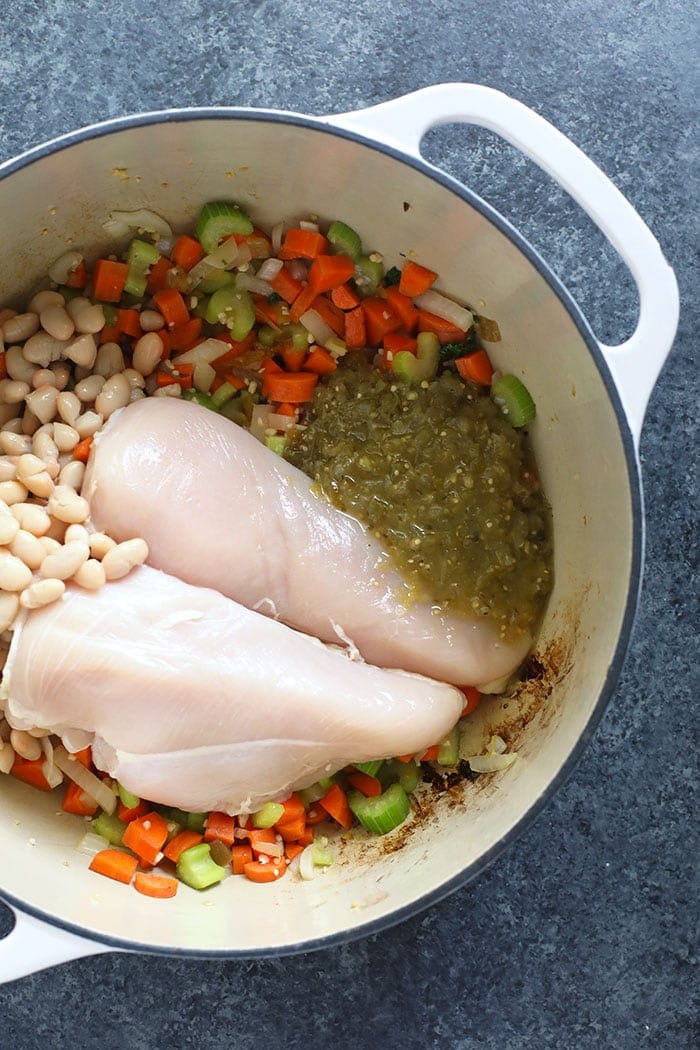 Everything You Need to Know
Is Chicken Noodle Soup Healthy?
Chicken noodle soup is healthy especially if you make it in your own home! It's made with lean chicken breast, tons of veggies, warm spices, and your favorite noodle.
Sodium tip: looking to reduce the sodium? Try using low-sodium chicken broth and/or not adding additional salt to the soup.
Why do we eat chicken noodle soup when we're sick?
 Chicken noodle soup is the classic "sick soup" because it's easily digestible. It's made with hearty vegetables, lean chicken, and warm broth to help soothe your body when you're sick. Pro tip: Add a wedge of lemon for more anti-inflammatory benefits! 
Is chicken noodle soup gluten-free?
You can make gluten-free chicken noodle soup by making it from scratch and using a gluten-free noodle.
How to Freeze Chicken Noodle Soup
When it comes to freezing soup, our biggest pointer is to make the noodles later. That's right, we do NOT recommend freezing noodles because when reheating, they will likely become soggy.
To freeze chicken noodle soup, follow the directions as is, but do not add the noodles. Once the soup has cooled completely, transfer it into a freezer-safe container or gallon-size bag. Then, remove as much air as possible and seal. Freeze for up to 3 months.
To thaw + reheat: remove your frozen soup from the freezer and let it thaw completely on the countertop. Once thawed, transfer it into a large stockpot and reheat over medium/high heat. While the soup is reheating, cook your noodles in a separate pot. Once the noodles are cooked, strain and add them to the soup.
Want more deets on how to freeze soup? Read our full guide to freezing soup —>HERE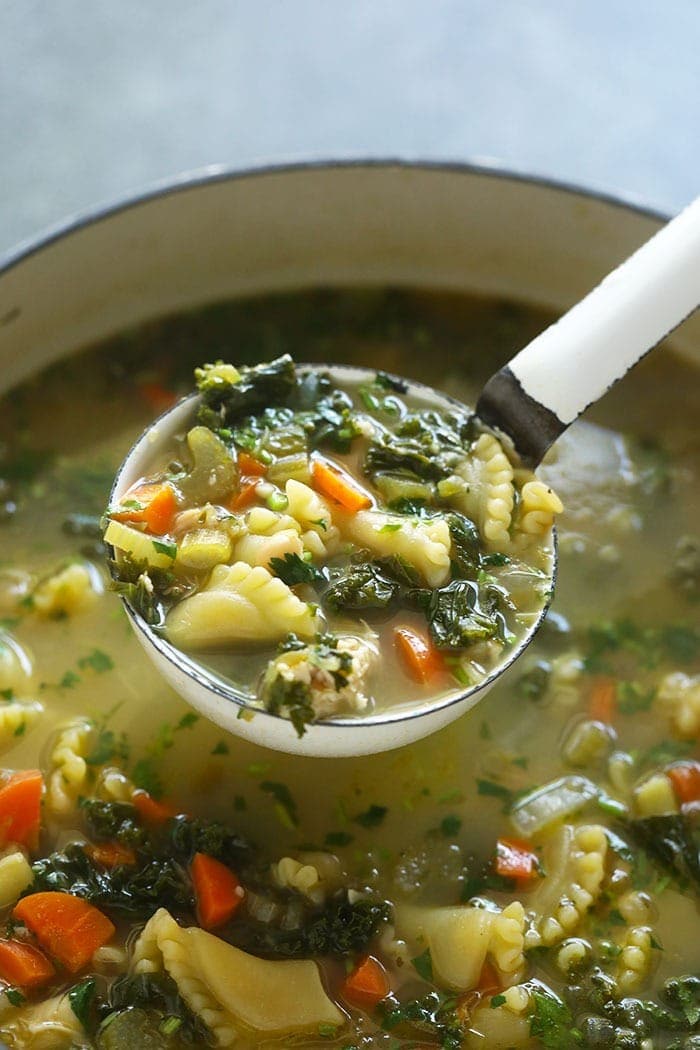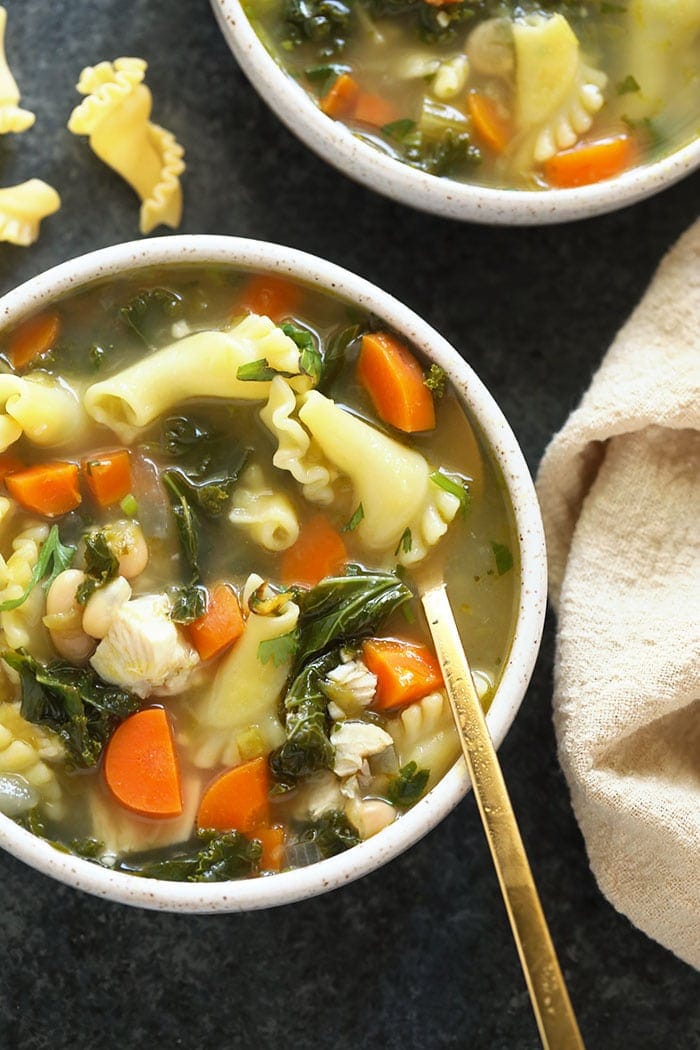 More Chicken Noodle Soup Recipes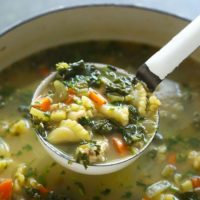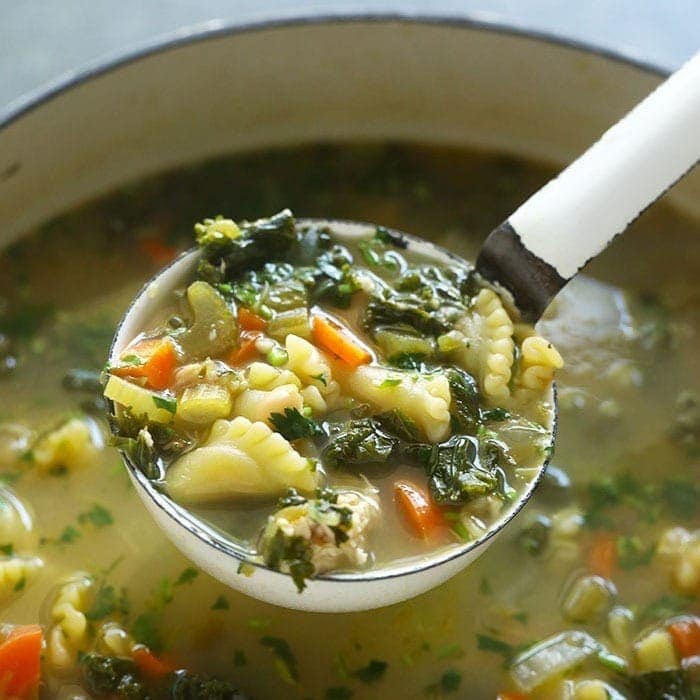 Green Monster Spicy Chicken Noodle Soup
This green monster spicy chicken noodle soup is packed with veggies and flavored with salsa verde! It is the perfect soup for a weeknight meal or if you need to kick a cold. Make it today!
Ingredients
2

tablespoons

olive oil

4

medium carrots

diced (1.5 cups)

4

large celery stalks

diced (1 cup)

2

tablespoons

minced garlic

1/2

medium yellow onion

finely diced

1

4-oz.

can green chiles

1.5

lbs.

boneless

skinless chicken breast

8

cups

chicken broth

16

oz.

jar salsa verde

we used Herdez Mild Salsa Verde*

2

tablespoons

Jalapeño hot sauce

any green hot sauce

1

15-oz.

can white northern beans

drained and rinsed

4

cups

chopped kale

deboned

8

oz.

uncooked noodles

any kind
Instructions
Heat 2 tablespoons of olive oil in a large stockpot over medium/high heat.

When olive oil is fragrant, add carrots, celery, garlic, yellow onion and green chiles and sautee over medium/high heat for 5-7 minutes or until the onions become translucent.

Place salsa verde, hot sauce, and raw chicken breast on top of veggies. Then, add chicken broth mix everything together.

Bring soup to a rolling boil over high heat, uncovered.

Once boiling, turn down to low, cover, and let simmer for 30 minutes.

While soup is simmering, prepare noodles. Bring a large pot of water to a boil. Add noodles and cook until noodles are al dente. Remove from heat, strain, and set aside.

Once chicken is fully cooked, remove chicken breast from the soup.

Carefully dice chicken breast into small chunks and then add it back into the soup.

Add kale and white beans and mix soup to submerge kale.

Then, cover and let soup simmer for an additional 5-10 minutes or until the kale is wilted.

Finally, add the cooked noodles to the soup right before serving.*
Tips & Notes
Salsa Verde: The salsa you use matters! This soup will take on a lot of the flavor of the salsa verde you use. If you like it spicy, try and use a spicy salsa verde and same goes for less spicy. Go for a mild salsa verde!
Noodles: We suggest storing the soup and noodles separate and adding the noodles right before serving so that they do not become soggy.
Planning to freeze this soup? Make the soup as is and do NOT add the noodles. Then, follow the steps in THIS post to freeze your soup.
Nutrition facts
Calories:
321
kcal
Protein:
26
g
Fat:
8
g
Fiber:
6
g
Sugar:
6
g