Chicken noodle soup with a ramen flair! This Ramen Chicken Noodle Soup will quickly become your go-to twist on the traditional chicken noodle soup recipe. Top with a soft-boiled egg and dinner is served!
Chicken soup does not have to be boring or bland! Whether it's this ramen chicken noodle soup or this slow cooker chicken noodle soup, this chicken quinoa soup, or even this slow cooker chicken pot pie soup, you'll only find delicious and flavorful soups here.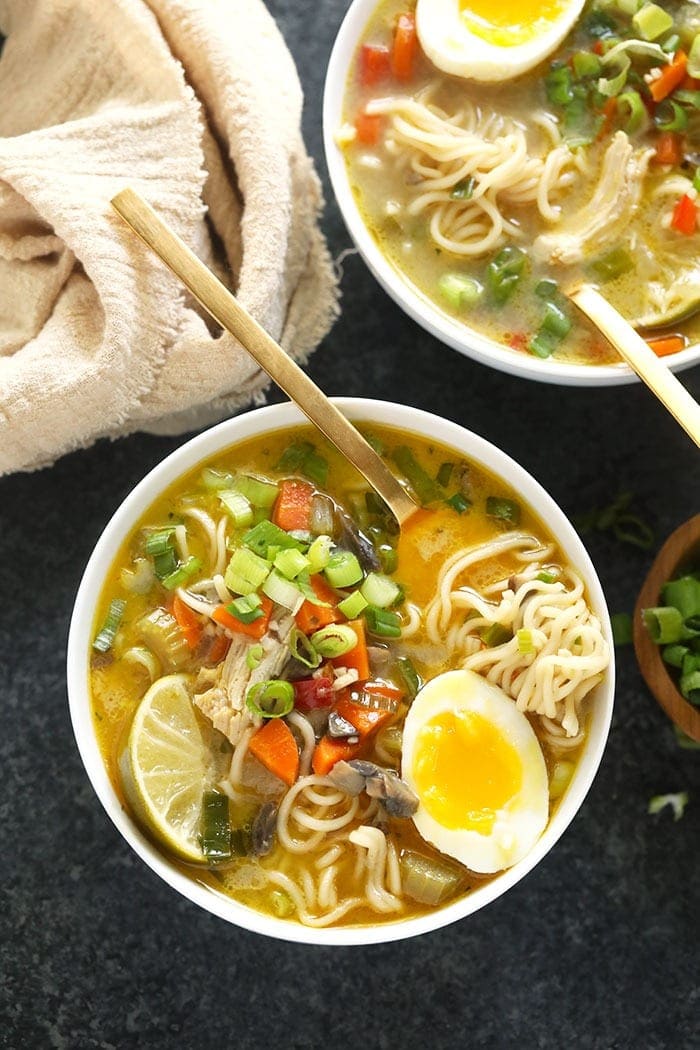 Chicken Noodle Soup with a Ramen Flair!
This chicken noodle soup is inspired by one of our favorite takeout meals: RAMEN. And to make things even better, this recipe is truly a one-pot meal — meaning you cook everything in one pot on the stovetop, and don't need to prep any of the ingredients elsewhere.
This ramen chicken noodle soup recipe fuses classic chicken noodle soup ingredients like chicken, celery, and carrot with an Asian flair using ingredients such as ramen noodles, coconut milk, and Thai green curry paste.
Not only will we teach you how to make this soup, but we'll walk ya through how to freeze it for later (no mushy noodles allowed!).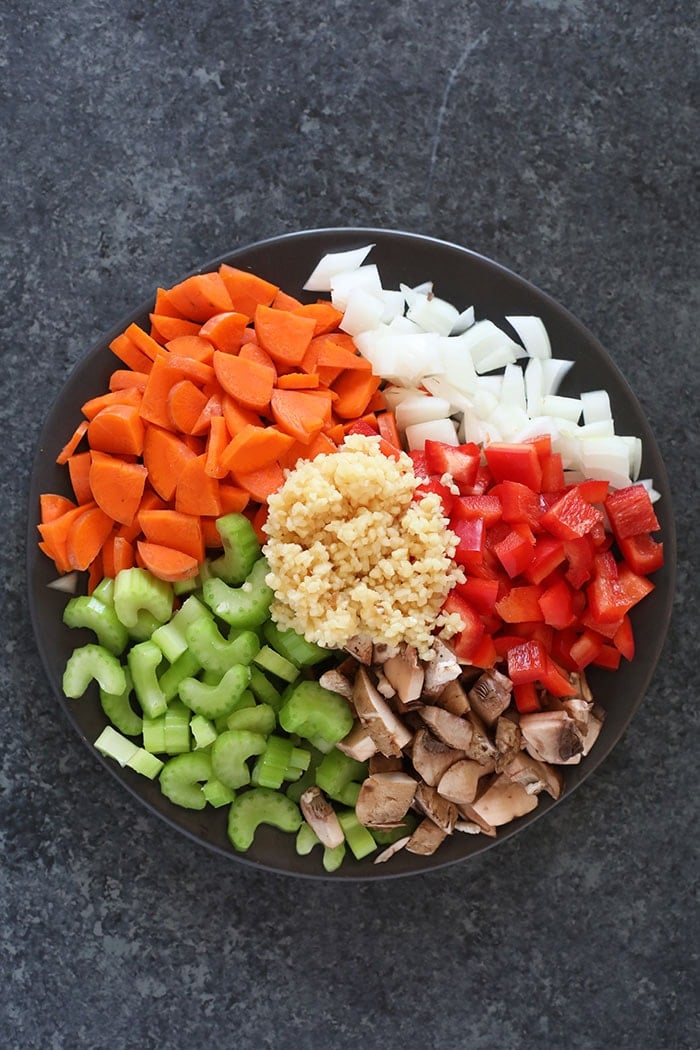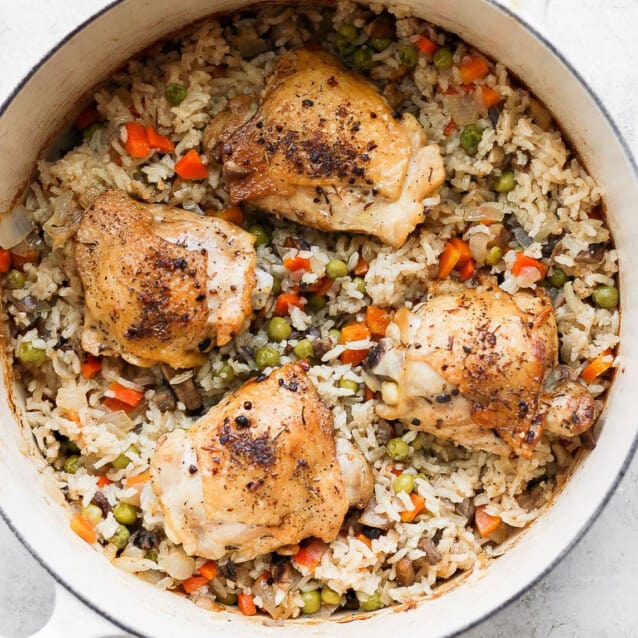 Become a Pro at Cooking Chicken!
We'll teach you everything you need to know on how to cook chicken perfectly every time + we'll share our top chicken recipes when you subscribe to our emails today!
Ramen Chicken Noodle Soup Ingredients
These soup ingredients pack a punch from a nutritional and flavor standpoint. Get ready to round up the following ingredients to whip up this soup:
Veggies
Carrots
Celery stalks
Yellow onion
Mushrooms
Spices and Flavorings
Minced garlic
Red pepper
Chicken broth
Full-fat coconut milk
Soy sauce
Green curry paste (or red if you prefer that!)
Fresh ground ginger
Fresh ground lemongrass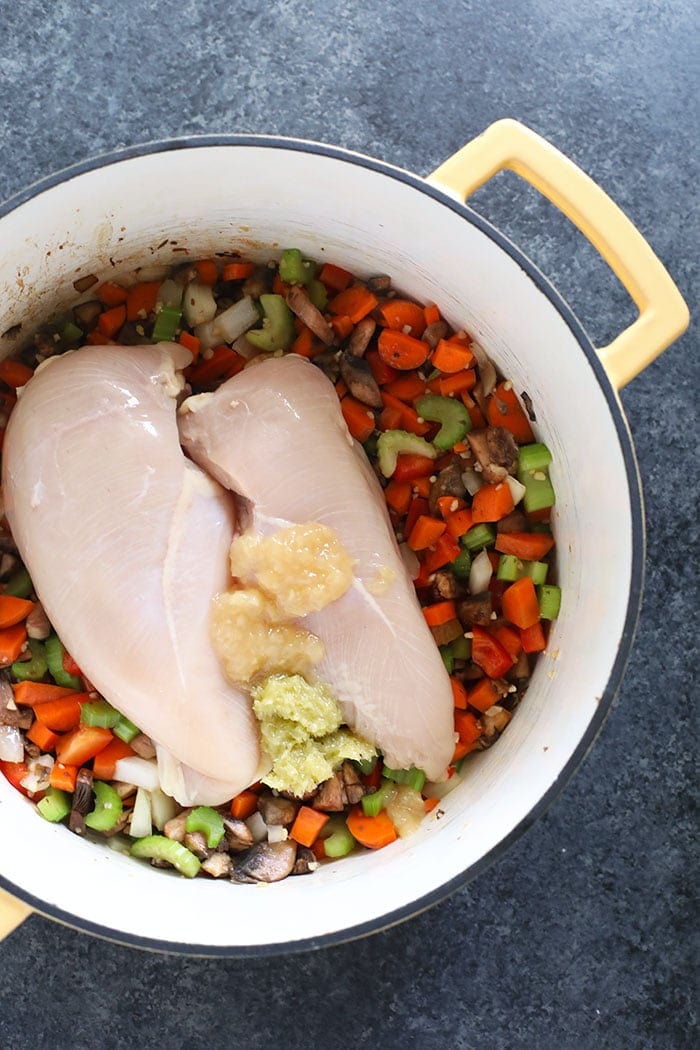 Meat
Chicken breast: this goes right into the pot raw, and will cook as your veggies cook. So easy!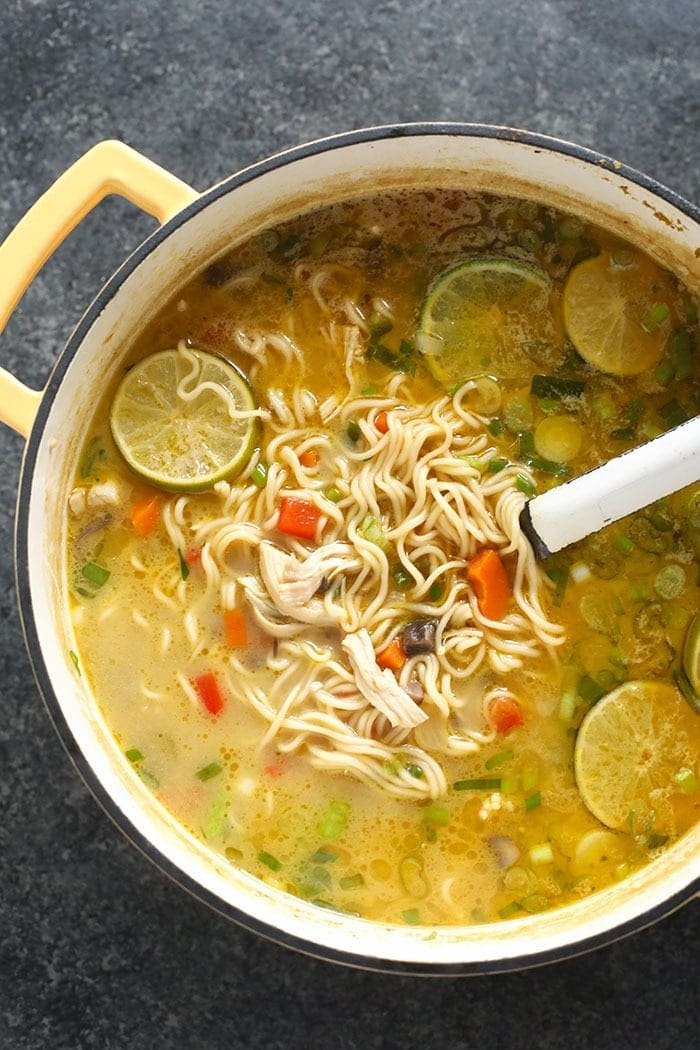 Noodles
Ramen noodles: you'll keep these separate til your Asian chicken noodle soup is cooked, and you're about ready to serve!
Optional Toppings
Sliced green onion
Soft boiled egg (learn how to perfectly boil eggs HERE!)
Extra squeeze of lime
Dash of hot sauce (we love Franks, Sriracha and Siete hot sauces!)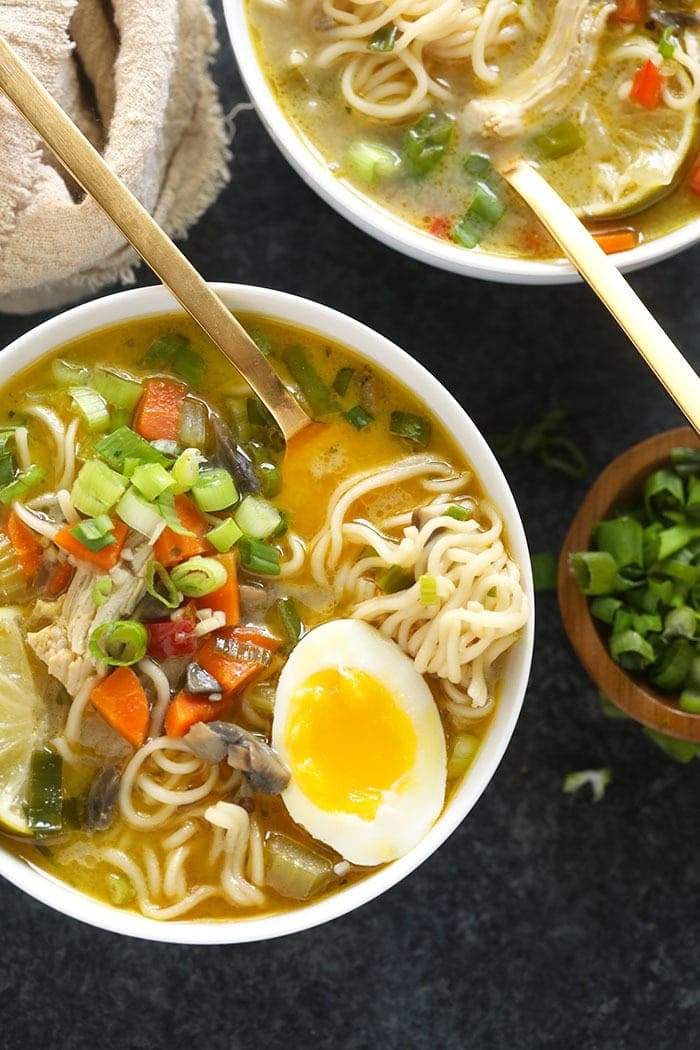 How to Freeze Ramen Chicken Noodle Soup
Noodle soups don't always get along with the freezer! But we aren't telling you that you can't freeze this Asian chicken noodle soup, but you should take some precautions.
When you freeze soup with noodles, the noodles tend to soak up all the moisture and then start to disintegrate into the broth during the freezing process.
Quick tip!
Prepare your noodle soup recipe just as you normally would, but leave the ramen noodles out! Freeze the base of the soup with everything except the noodles.
When you thaw the soup and are ready to eat it, heat the soup on the stovetop and add the ramen noodles and let them quickly cook! Your soup will be ready to eat before you know it.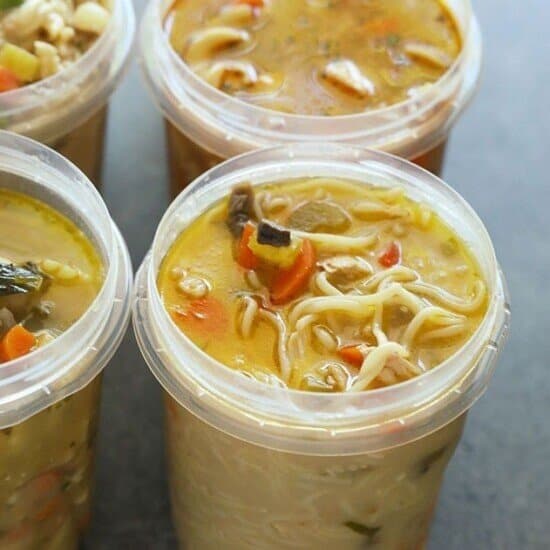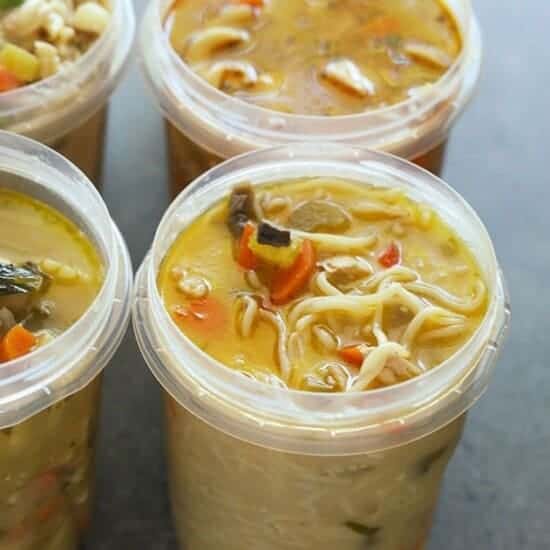 Tutorial
How to Freeze Soup & Chili
Learn how to freeze soup and chili with this easy How to Freeze Soup tutorial. We'll share all of our tips and tricks to perfect freezer soup.
Get Recipe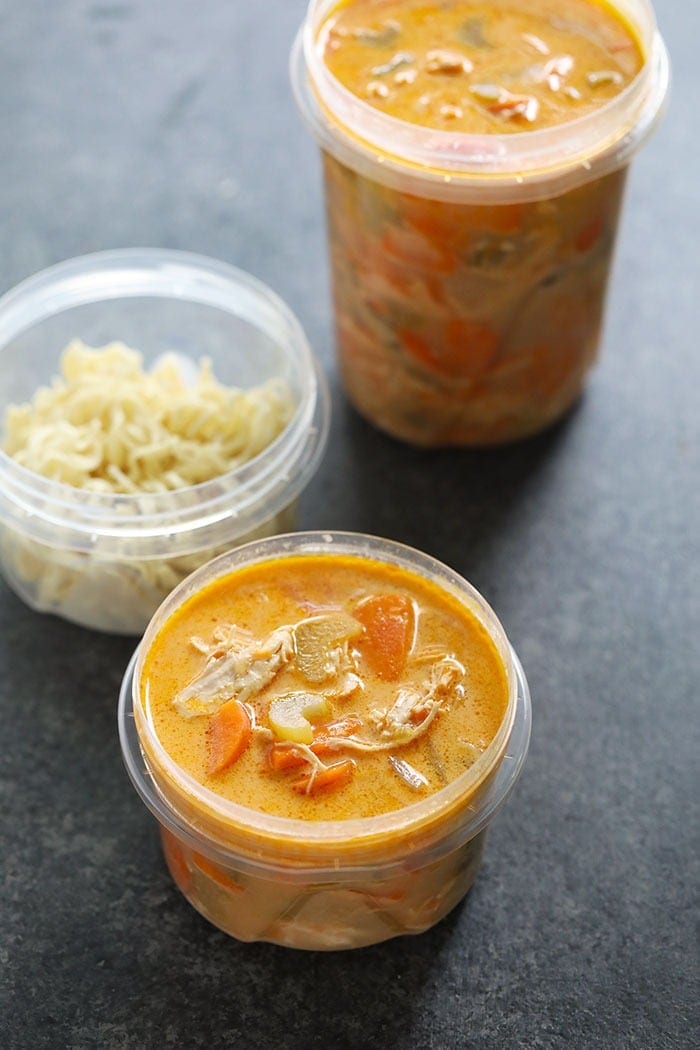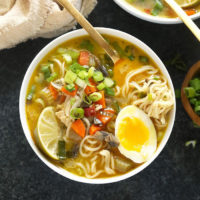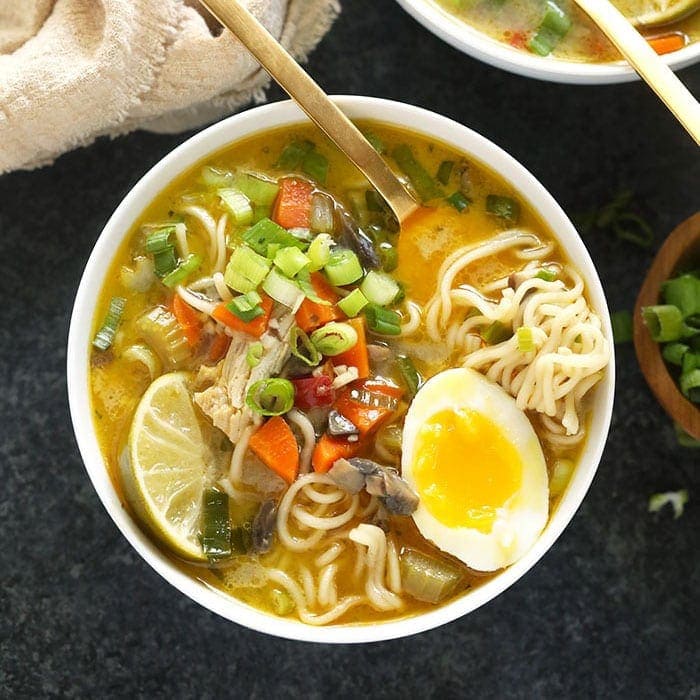 Ramen Chicken Noodle Soup
This ramen chicken noodle soup is a fusion of classic chicken noodle soup ingredients with ramen noodles, Thai green curry, and coconut milk!
Ingredients
2

tablespoons

olive oil

8

medium carrots

diced

8

large celery stalks

diced

1/2

medium yellow onion

finely diced

8

oz.

mushrooms

chopped into large chunks

2

tablespoons

minced garlic

1

medium red pepper

finely diced

8

cups

chicken broth

1

15-oz.

can full-fat coconut milk

1

tablespoon

soy sauce

2

tablespoon

green curry paste

or red

2

tablespoon

fresh ginger paste

or grated fresh ginger

2

tablespoon

fresh lemongrass paste

or 2-3 in. lemongrass stalk

1.5

lbs.

boneless

skinless chicken breast

4

green onions

sliced

1

medium lime

sliced

8

oz.

Japanese-style ramen noodles

Optional Add-Ins

Soft boiled egg
Instructions
Heat a large pot over medium/high heat. Add olive oil.

When olive oil is fragrant, add carrots, celery, and onion to the pot. Saute for 2-3 minutes.

Add mushrooms, garlic, and red pepper to the pot and saute veggies for an additional 2-3 minutes.

Next, add chicken broth, coconut milk, soy sauce, curry paste, ginger, and lemongrass to the pot and whisk everything together until combined.

Finally, place chicken breast into the pot and make sure it is submerged into the liquid. Bring to a boil.

Turn heat to low and simmer for 30 minutes.

While soup is simmering, prepare ramen noodles by following the instructions on the package.

When ramen noodles are done cooking, rinse with cold water and set aside.

Remove chicken breast from the pot, shred it, and add it right back into the pot.

Add lime slices and green onions to the soup.

If serving the soup immediately, add ramen noodles to the pot, bring soup to another boil, and then serve.

If meal prepping the soup or eating it later, store ramen noodles separate from the soup and combine the soup and noodles right before serving.
Nutrition facts
Calories:
355
kcal
Carbohydrates:
31
g
Protein:
20
g
Fat:
17
g
Fiber:
3
g
Sugar:
7
g