This Healthy Peanut Butter Apple Streusel Bread is the perfect healthy fall bread. It's made with white whole wheat flour, grated apples, creamy peanut butter, and coconut oil.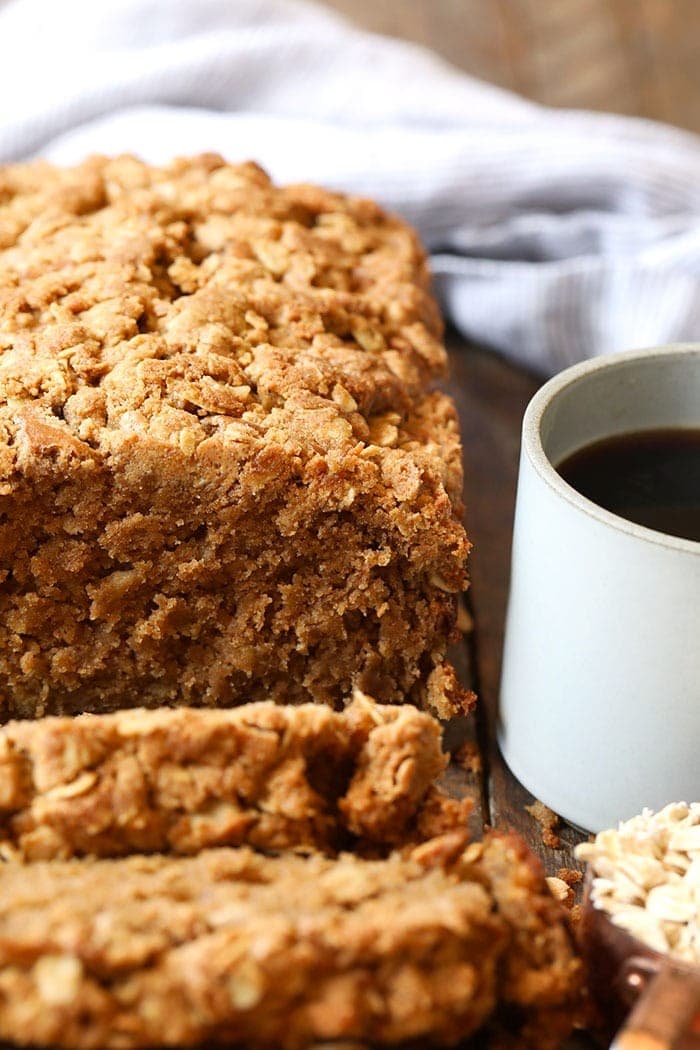 Sunday = Rest Day
SUNDAY! Hi. How are yah?
Is Sunday a rest day for anyone else? Mark and I have been in a really great rhythm of working out 5 days/week. We take Thursdays and Sundays off and let me tell you, it's SPECTACULAR. I love my rest days and I NEED them. Usually, my body is destroyed from the week's workouts and I'm physically exhausted.
I think back to the days where I NEVER took rest days and I worked my body until I was physically exhausted and ill. People, this is not good for anyone. Your body needs to rest in order to properly break down and grow muscle. That's right. GROW MUSCLE.
I know I mentioned this about 8 weeks ago, but Mark and I finally took our 2nd body fat test after our 8-week challenge at Switch. Guess what? We both got closer to our goals! My goal was to gain muscle and lose fat and I did both! I lost about 1.3% body fat and gained 1.5 lb.s of muscle. GUESS WHAT PEOPLE? Over all I GAINED weight. That's just the way the body works, my friends! Mark did great too. He actually lost like 8 lbs. which is awesome for him. Must be that Fit Foodie diet he's on now that he lives in Minneapolis. Oh, and a combination of hard work!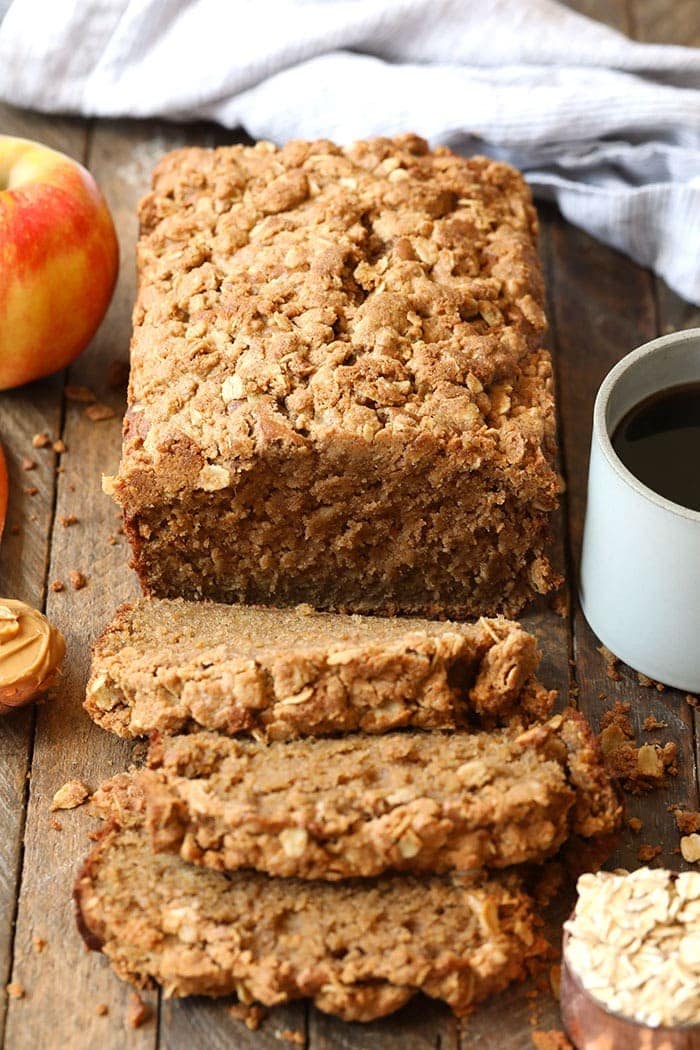 The Best Bread
So dis bread. I posted a sneak peek on IG last week and almost broke the internet. It's finally here! Peanut butter + apple + streusel = love. It's made with a base of white whole wheat flour, a little bit of brown sugar (cuz why not??), grated apples, some banana, and a whole lot of streusel. Lucky for you I made a video showing you how easy it really is to make.
It's best if eaten with a scoop of peanut butter. #truth
Can you make it vegan?
I have not tried this apple streusel bread sans eggs, but it's on my list to do some time soon!
Can I use a different type of flour?
I also haven't tried it subbing any other kinds of flours, but I think part oat or buckwheat flour would be delicious! One thing I would do is sub coconut flour or almond flour 1:1.
Streusel or No Streusel?
I did make this without the streusel topping and it's definitely sweet enough as a bread without it. If you're not into the extra sweet/sugar, feel free to skip the topping for a more toned-down version.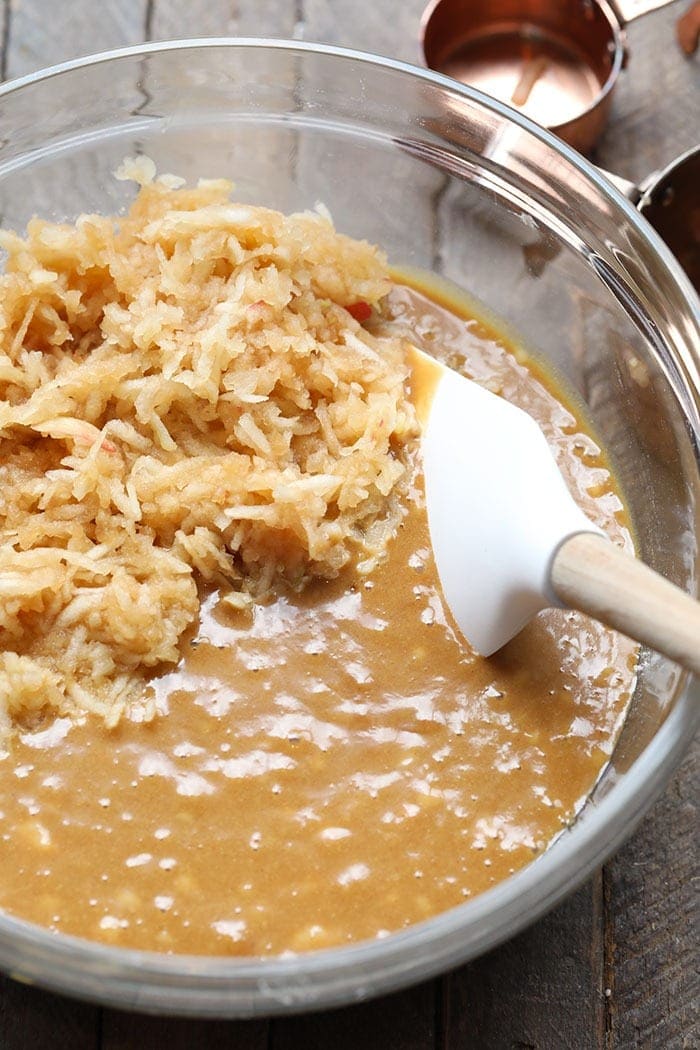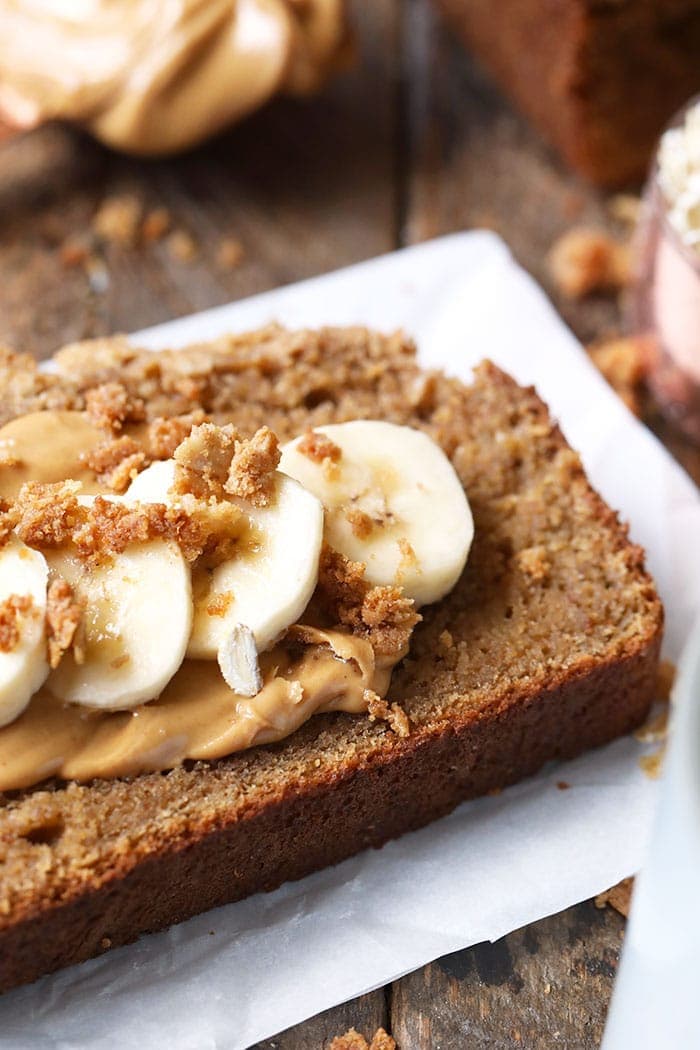 Healthy Bread Recipes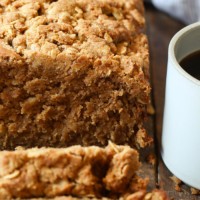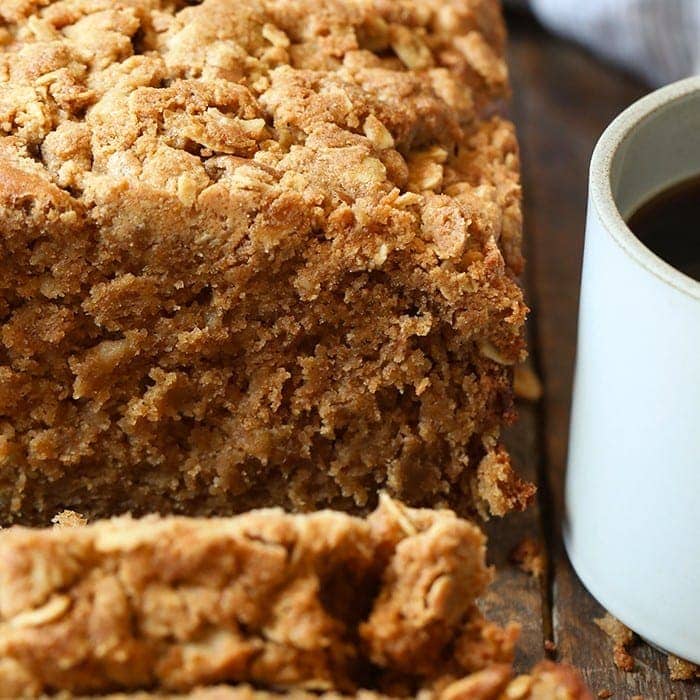 Peanut Butter Apple Streusel Bread
This Healthy Peanut Butter Apple Streusel Bread is the perfect healthy fall bread. It's made with white whole wheat flour, grated apples, creamy peanut butter, and coconut oil.
Prep:
15 minutes
Cook:
60 minutes
Total:
1 hour 15 minutes
Fat
16
Carbs
53
Protein
10
Ingredients
Dry
1.5 cups

white whole wheat flour

1 teaspoon

baking soda

1/8 teaspoon

salt

2 teaspoon

teaspoons ground cinnamon
Wet Ingredients
1/2 cup

all natural peanut butter, creamy

2

large eggs

1

medium banana, mashed (

1/3 cup

)

½ cup

light brown sugar, packed

2

large apples, peeled and grated (

1.25 cups

)

1/2 cup

unsweetened almond milk*

1 teaspoon

vanilla extract

2 tablespoons

melted coconut oil
Streusel Topping
2 tablespoons

white whole wheat flour

2 tablespoons

 rolled oats

2

 tablespoons creamy peanut butter

2 tablespoons

brown sugar

1/2 tablespoon

coconut oil
Instructions
Preheat oven to 350ºF and spray a bread pan with nonstick cooking spray.
Prepare the streusel topping by mixing together all ingredients into a small bowl. Set aside.
In a medium size bowl, mix together white whole wheat flour, baking soda, salt, and ground cinnamon.
In a large bowl, cream together brown sugar, peanut butter, and eggs. Then, gently mix in almond milk, mashed banana, and vanilla.
Slowly add dry ingredients to wet ingredients and mix until smooth.
Prepare apples by peeling and then finely grating. Add apples to batter and mix.
Finally, add melted coconut oil and mix until smooth.
Pour batter into bread pan and top with the streusel you made earlier.
Bake for 50-60 minutes. Let cool for at least and hour and enjoy!
Tips & Notes
Your batter should be thick!
Nutrition with 1/2 the streusel topping: 341 calories | 15g fat | 43g carb | 6g fiber | 22g sugar | 9g protein
Nutrition without streusel topping: 247 calories | 9g fat | 33g carb | 3g fiber | 20g sugar | 6g protein
Nutrition Facts
Serving Size:
1/8
Calories:
392
Sugar:
27
Fat:
16
Carbohydrates:
53
Fiber:
6
Protein:
10
Category:
Bread
Method:
Oven
Cuisine:
American