This apple cake recipe goes perfectly with a cup of coffee for breakfast or makes a great healthy dessert! Get out your chai spice, apples, and applesauce and you'll have a delicious healthy apple cake ready to eat all week long.
We know you guys love simple cake recipes because some of our most popular recipes on FFF are our carrot cake recipe and this pumpkin sheet cake.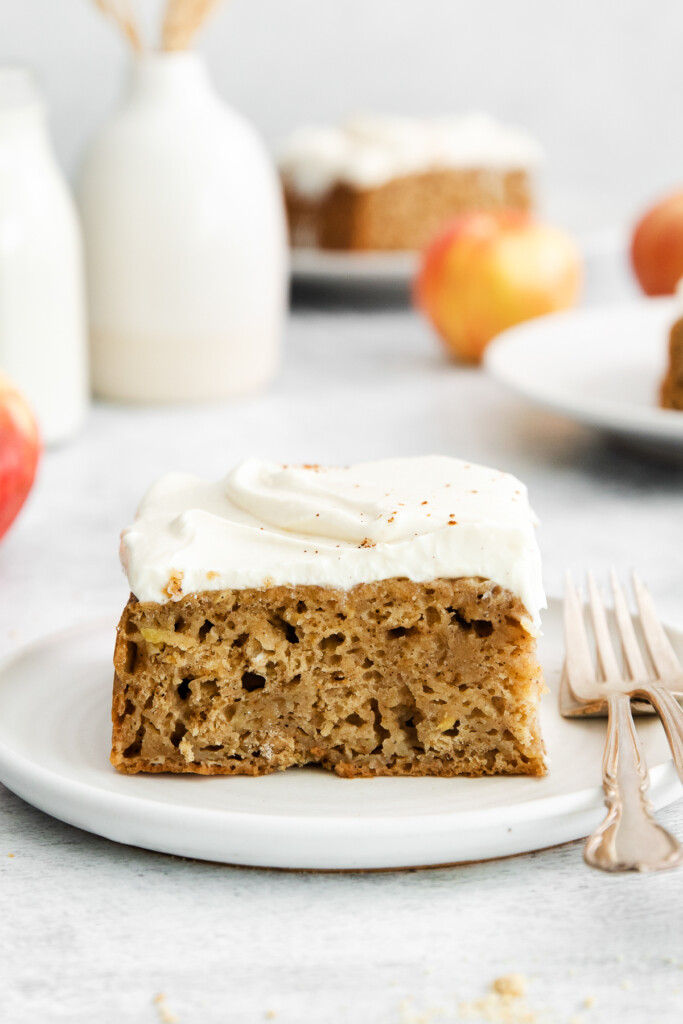 Perfect Apple Cake
When in doubt about what dessert to serve at your next gathering, apple cake is the answer. It's so incredibly easy to make, moist, and it's a crowd-pleaser. It is one of those cakes where you mix everything together and not think much about it.
why you'll love this apple cake
This apple cake recipe is forgiving, moist, and delicious! The secret to its deliciousness is applesauce and SHREDDED APPLES. We are obsessed with shredded apples in our baked goods.
Why? Because adding shredded apples adds moisture and natural sweet goodness to whatever it's in.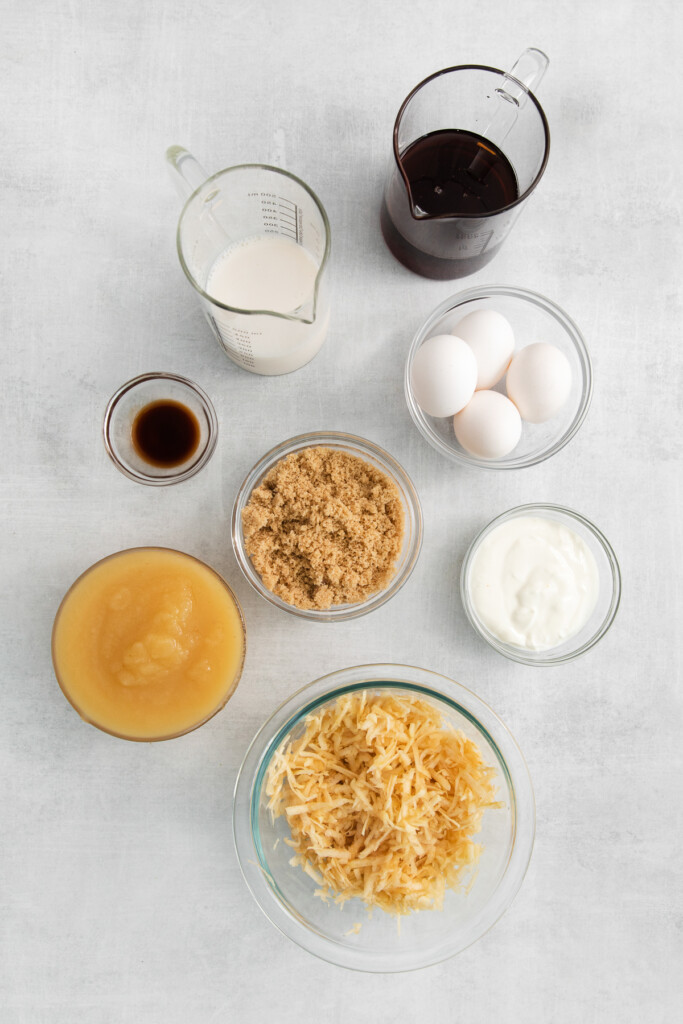 Ingredients You'll Need
We kept it simple and sweet (quite literally) with this apple cake recipe. The goal of this cake was to make it sweet enough so people could make it for a dessert, but not too sweet that you couldn't have it for breakfast.
Here are all of the ingredients for this apple cake.
Apples (we used granny smith apples + )- we used more of a tart apple for this recipe. If you are in a pinch and have a different type of apple, feel free to substitute.
Applesauce- the applesauce in this recipe adds moisture and extra apple flavor.
All-purpose flour– all purpose flour lightens up this cake so it's not too dense.
Chai Spice– nothing screams fall more than chai spice. We use our homemade chai spice mix to flavor this apple cake. We highly suggest making your own chai spice, but store-bought will do, too.
Light brown Sugar (or coconut sugar)– we love using brown sugar in cake recipes.
Eggs– be sure to use large eggs for this recipe. If you are looking for an egg alternative, try using a homemade flax egg.
Greek Yogurt– using a little Greek yogurt in a baking recipe adds a bit of protein and reacts with the baking powder and baking soda to make a fluffy cake.
Vanilla– Don't skip the vanilla extract.
Baking powder + baking soda- we use the perfect combination of baking powder and baking soda in this apple cake recipe.
Almond milk- a little bit of almond milk helps to thin out the batter.
Maple Syrup– a bit of maple syrup compliments the apple and the chai spices used in this recipe.
Coconut Oil- the fat or oil in this cake is coconut oil.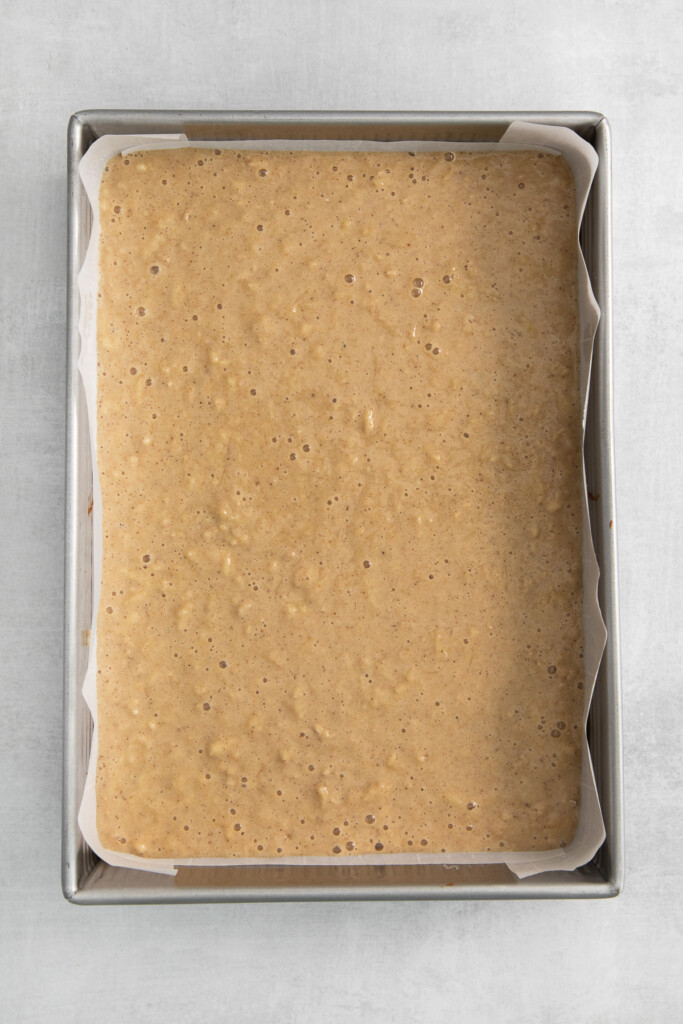 How to Make Apple Cake
Line a 9×13-inch cake pan with parchment paper. Don't skip this part. It ensures that your apple cake will not stick to the pan.
Mix dry ingredients together. Do this first so that everything is measured out and ready.
Mix wet ingredients together. Mix all of the wet ingredients together and then slowly add the dry ingredients to the wet.
Bake the cake. Transfer the batter to the pan and bake the cake for 30-33 minutes depending on your oven.
Let the cake cool. Let the apple cake cool completely before frosting the cake with cream cheese frosting. If you frost the cake while it is still warm, the frosting will just melt.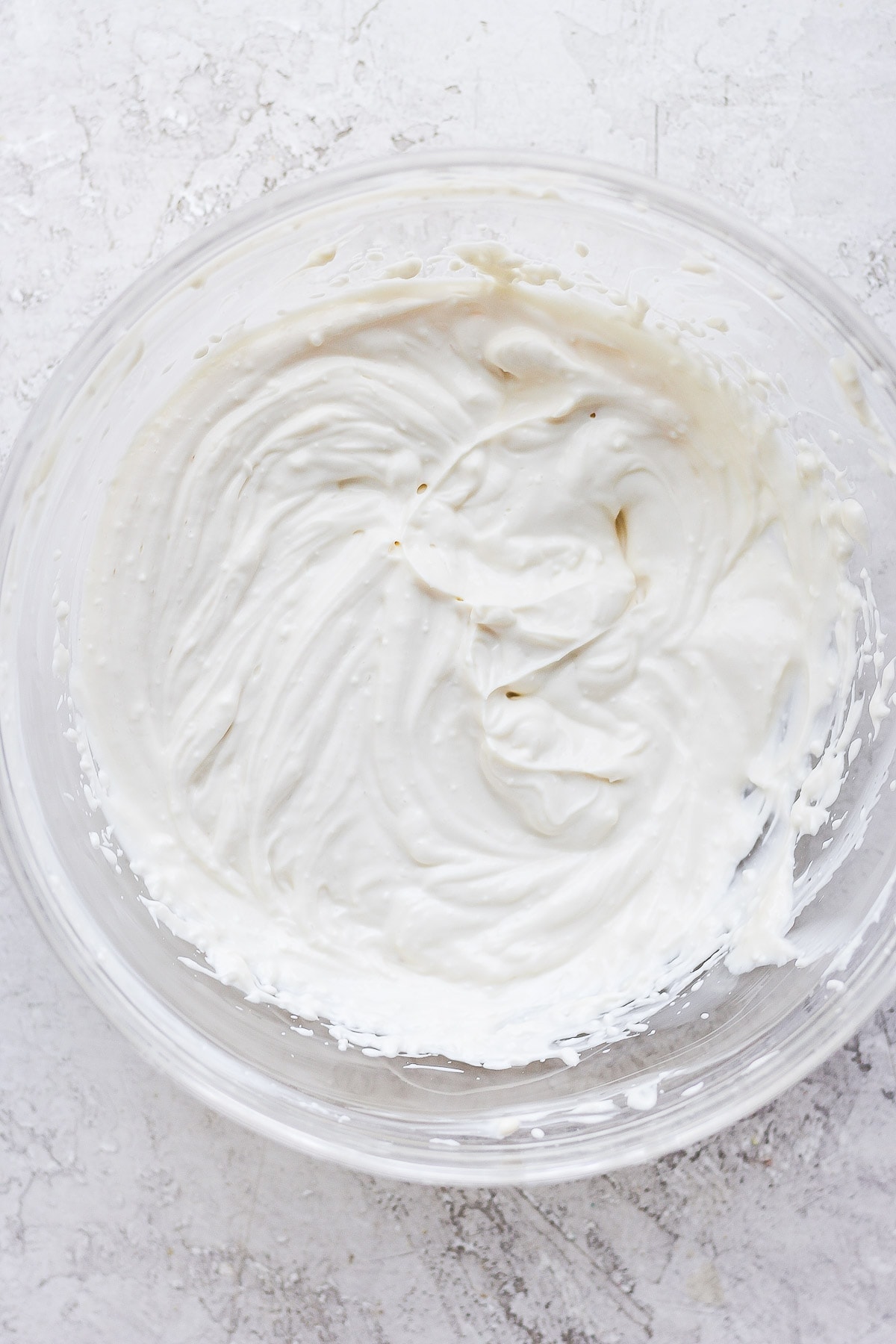 Homemade
Cream Cheese Frosting
If you want more information about how to make healthy cream cheese frosting, check out this post.
Read More
Everything You Need to Know
What is the best apple to use in cake?

The key to a good apple cake is to use a variety of apples. We like to use a combination of tart apples like granny smith and a sweet apple-like gala.

However, if you have apples in the refrigerator, use those. Any variety of apples will do, it will just slightly change the flavor of your cake if you use a different apple every time.
What spices do I use in apple cake?

Whipping up an apple cake is the perfect opportunity to use those spice mixes that are in your cupboard that you don't usually use! We use our DIY Chai Spices in this apple cake and it is amazing. Because it is a chai mix, it does have a spicer flavor because of the ginger.

However, if you have a baking spice mix like pumpkin spice in your cupboard, use it! As long as it has a combination of cinnamon, cloves, allspice, ginger, cardamom, or nutmeg you're golden.
How do I know when my apple cake is done?

You will know when your apple cake is done if there is no jiggle when you shake the pan! Or if you do the tried and true toothpick trick. Stick a toothpick in the middle of your cake and if the toothpick comes out clean, the cake is done!
Can you freeze apple sponge cake?

Yes, you can freeze apple sponge cake. Let the cake cool completely before cutting it into pieces and then wrapping those pieces in plastic wrap. Place those pieces in the freezer.

You could also freeze the whole pan of cake if you have room in your freezer. Just be sure to let the cake AND the pan cool completely before covering it with plastic wrap and setting it in the freezer.

We do not recommend freezing apple cake with frosting. Make the frosting right before serving after the cake has thawed out.

How long does apple cake keep?

Apple cake can keep for up to 7 days if you store it in an airtight container in a cool and dry place!
What do you top apple cake with?

We top this apple cake with a delicious healthier cream cheese frosting! The cream cheese frosting is a delicious mixture of cream cheese, greek yogurt, and maple syrup.

If you aren't feeling a cream cheese frosting, below are some great alternative toppings for this apple cake recipe. Try whipped cream, nut butter, or melted butter.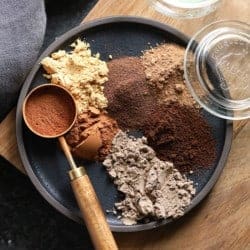 How to Make
Homemade Chai Spice
Make a double batch of these chai spices to add to your favorite u003ca href=u0022https://fitfoodiefinds.com/category/recipe/season/fall-season/u0022u003efall recipesu003c/au003e all season long.
Make It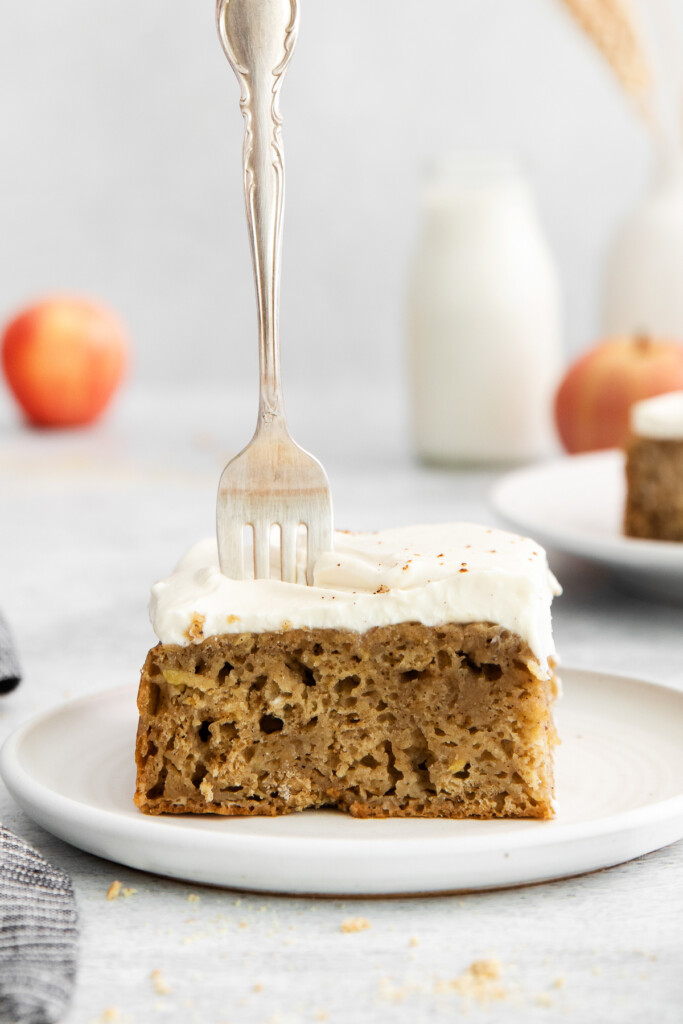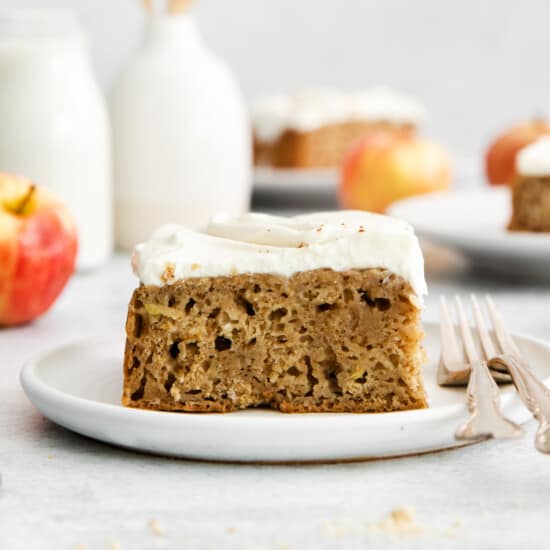 Apple Cake with Cream Cheese Frosting
This apple cake recipe is flavored with homemade chai spices and topped with homemade cream cheese frosting.
Ingredients
Wet
1

cup

light brown sugar

1

cup

maple syrup

2

teaspoons

vanilla extract

2

cups

unsweetened applesauce

2

cups

shredded Honeycrisp apple

~ 3 medium apples, moisture removed

1/2

cup

2% Greek yogurt

1

cup

plain

unsweetened almond milk

4

large eggs
Frosting
8

oz.

fat-free cream cheese

room temperature

1

cup

2%

plain Greek yogurt, almost room temperature

⅓

cup

maple syrup

or more to taste
Instructions
Begin by preheating the oven to 350ºF and line a 9×13-inch cake pan* with parchment paper or spray the pan with nonstick cooking spray.

Next, place all dry ingredients into a large bowl and mix well. Set aside.

In a separate bowl, whisk the brown sugar, maple syrup, and vanilla extract together until combined and smooth.

Add the applesauce, shredded apple, Greek yogurt, and almond milk to the bowl and carefully mix.

Crack the eggs into a small separate bowl and gently whisk the eggs to just break the yolks and add them to the wet ingredients and whisk the eggs into the wet ingredients until just combined.

Add the dry ingredients to the wet ingredients and stir until the dry and wet ingredients are mixed together.

Pour the batter into the pan and place the apple cake in the oven and bake at 350ºF for 30-33 minutes.*

While the cake is baking, place all of the ingredients for the cream cheese frosting into a bowl and use an electric mixer to whip all the ingredients together until the frosting is smooth.*

Remove the apple cake from the oven and let it cool completely before frosting the cake.

Dust the cake with a bit more chai spice or top with your favorite chopped nuts.
Tips & Notes
We tested this cake in an aluminum baking pan and a ceramic pan and both worked well.
Every oven bakes differently, so be sure to keep an eye on your cake about 25 minutes into your baking time to make sure it isn't browning too much on top.
If the cake is browning too much to your liking, tent a piece of tin foil over the top of the cake for the duration of the baking time. If you like your cake frosting on the sweeter side, feel free to add more maple syrup to the frosting.
This recipe was updated on 11/4/2022. 
Nutrition facts
Calories:
258
kcal
Protein:
10
g
Fat:
7
g
Fiber:
3
g
Sugar:
23
g
Photography: photos taken in this post are by Ashley McGlaughlin from The Edible Perspective.