Whenever I ask what kind of recipes you want to see more of, I almost always get Single Serve Recipes. Today's recipe is kind of a reinvention of one I've already done. I altered it just a bit to make it more cakey instead of muffiny.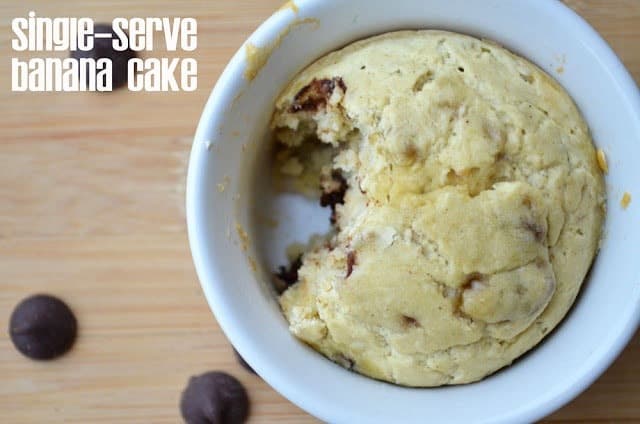 What I love about single serve recipes is the portion control. It's hard for me to make a batch of muffins or cookies and "just have one." Hence my love for single serve!
While this recipe uses gluten free flour mix (instead of a whole grain), it doesn't have any refined sugars! It really is a Fit Foodie Favorite.
On my agenda for this weekend is
1. Go to bootcamp this morning at Lululemon in St. Paul!
2. Prep a few more recipe posts for throughout the week.
3. Pack for ski trip to Colorado!
4. Meal plan for ski trip in Colorado to accomodate New Year New Rules habits.
Yay for weekends and travel!
Recipe
Single Serve Banana Cake
Prep Time:

5 mins

Cook Time:

18 mins

Total Time:

23 minutes
Ingredients
-3 tablespoons gluten free flour
-3 tablespoons unsweetened Silk almond milk
-3 inches of mashed banana or roughly 1-2 tablespoons mashed banana
-1/2 tablespoon butter, melted (to make dairy free, omit and use coconut oil)
-1/4 teaspoon vanilla
-pinch of salt
-1/4 teaspoon baking powder
-1 tablespoon Dark Chocolate Chips (optional)
Instructions
Preheat oven to 330F and spray ramekin with nonstick cooking spray. Mix all ingredients together in a small bowl and bake for 16-18 minutes.
Similar