This banana breakfast cake is about to be your best friend. It's made with 100% whole grains, all-natural sugars and made in under 30 minutes!
We like eating cake for breakfast with a cup of coffee! Check out our chocolate chip pumpkin breakfast cake or this blueberry breakfast cake. They are great for meal prep throughout the week!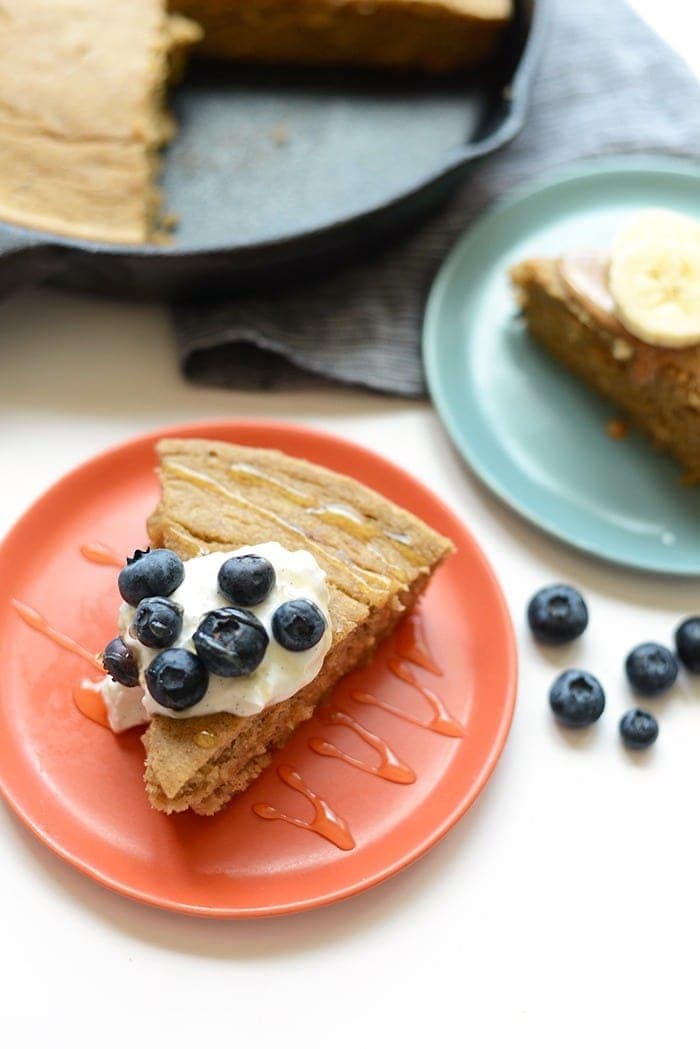 The Best Breakfast EVER
What happens when you mix your favorite banana pancake recipe with a cake and a cast-iron skillet? THE BEST BREAKFAST EVER, that's what!
I am a huge pancake lover. It's my go-to weekend breakfast and I always make sure to make a double batch so that I can have leftovers, which are usually eaten later that day as a snack.
There are two kinds of pancake lovers- those that are patient enough to cook their pancakes on low/medium heat, and those that always scorch their pancakes on high because they are too excited to wait for the perfect pancake. I'm sure you can guess which kind of pancake lover I am…the impatient kind.
Well, I've got a solution. Instead of going through the agony of pouring and waiting and flipping and waiting, all you need to do is pour your batter into a cast iron skillet and bake that baby in the oven!
Insert- cake for breakfast.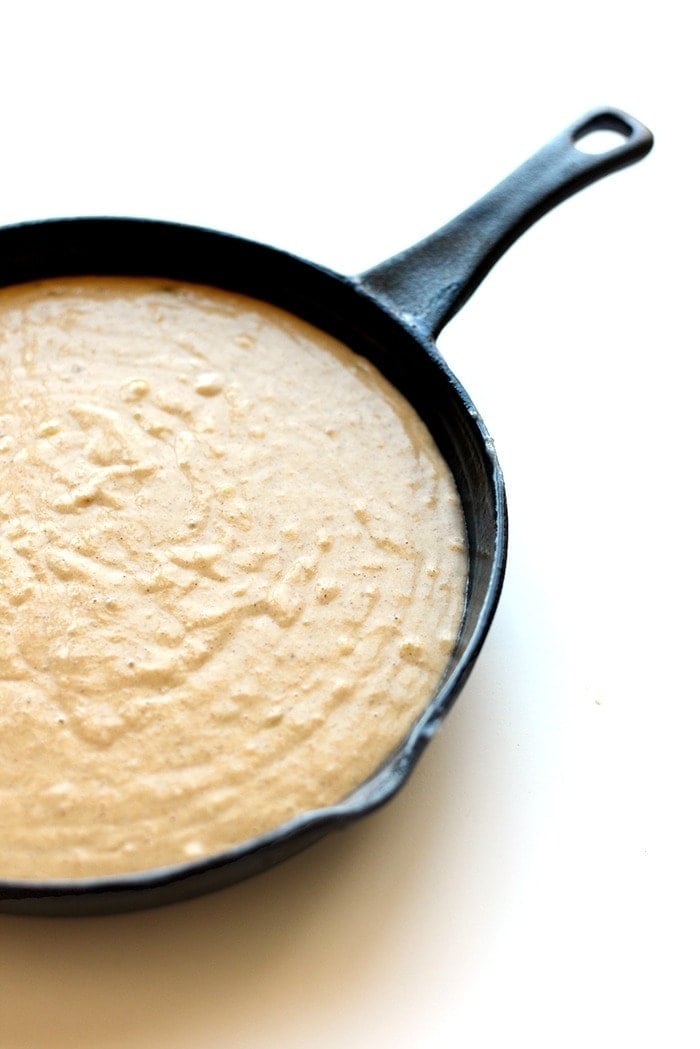 How to Make Banana Breakfast Cake
Making breakfast cake is as easy as 1-2-3! First things first! Get yourself a cast iron skillet! In case you are wondering, this guy is a 10 inch and perfect for breakfast cakes.
All you have to do is mix all of the ingredients for your breakfast cake in a large bowl and make sure all ingredients are combined. Then, the most important thing to remember for this recipe is to grease your cast iron pan. If you don't your breakfast cake will stick to the pan and it will be a sad day.
Bake your breakfast cake at 350ºF for 30-35 minutes! Remove the breakfast cake from the oven, let cool, and remove!
Everything You Need to Know
Can I add things to my banana breakfast cake? YES, you can mix anything you would like into this banana breakfast cake. Just be sure to cut whatever you are mixing in into small pieces so they don't fall to the bottom! Below are some options for add-ins to your breakfast cake!
chopped nuts
mini chocolate chips
shredded coconut
dried cranberries
fresh fruit
Can I substitute the white whole wheat flour in this breakfast cake? No, we do not recommend substituting any flour for this breakfast cake! If you are looking for a gluten free breakfast idea try our almond flour poppy seed muffins!
How do I store the banana breakfast cake? After you let the banana breakfast cake cool completely, cut it into pieces and place it into an airtight container. Store it in the refrigerator for up to 7 days or in the freezer for up to 3 months.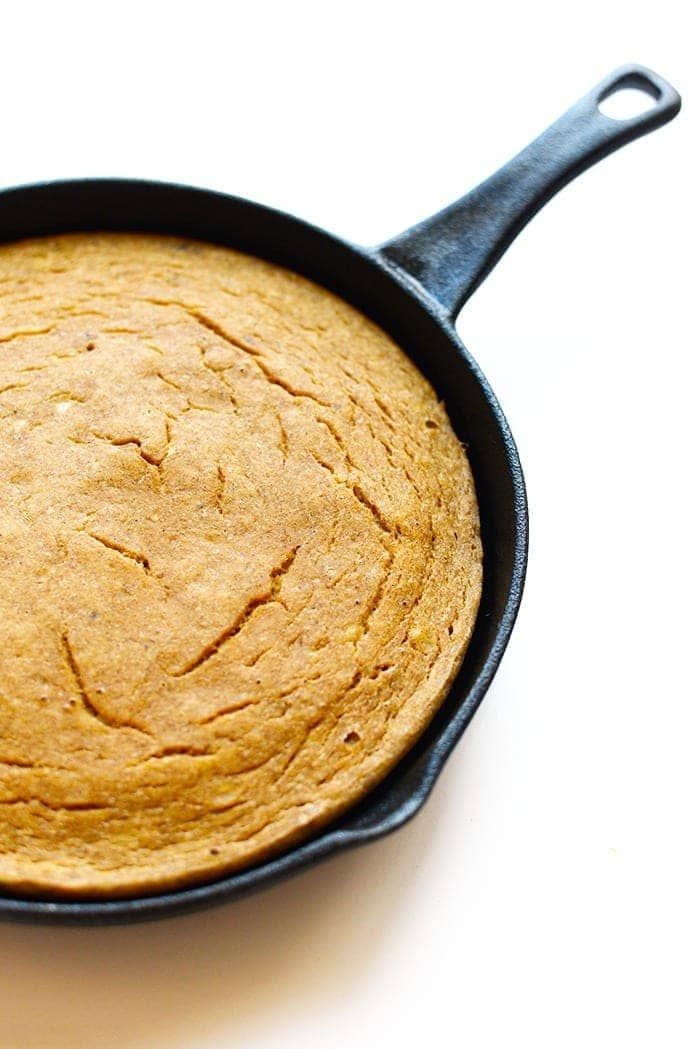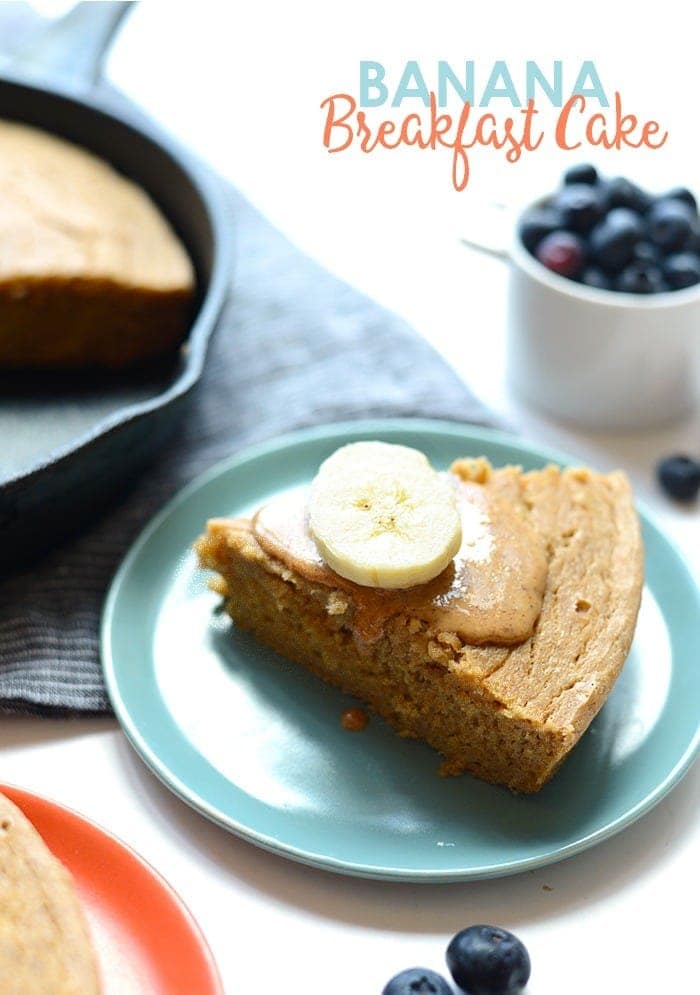 Healthy Sweet Breakfast Recipes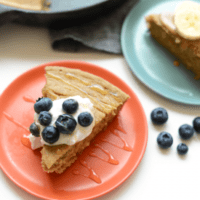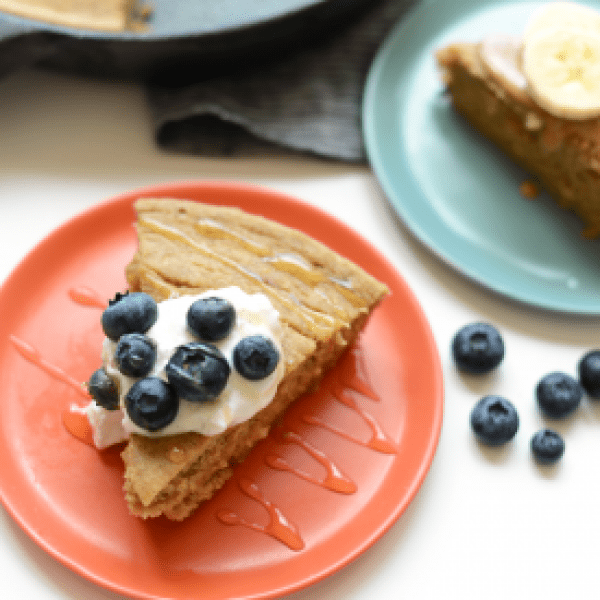 Banana Breakfast Cake
This banana breakfast cake is about to be your best friend. It's made with 100% whole grains, all-natural sugars and made in under 30 minutes!
Ingredients
Wet
2

medium size bananas

mashed (~1 cup)

2

large eggs

large

1/4

cup

plain, nonfat Greek yogurt

2

tablespoons

coconut oil

1

teaspoon

vanilla extract

1

cup

plain, unsweetened almond milk

1/4

cup

maple syrup
Instructions
First, preheat oven to 350ºF and grease a 10 inch cast iron skillet with around 2 teaspoons of coconut oil.

Next, mash 2 bananas in a medium-size bowl until it's smooth and become almost like a liquid. Add in the rest of the liquid ingredients and whisk until combined. Set aside.

Place all dry ingredients in a large bowl and mix. Add in liquid ingredients and combine.

Then, pour the batter into your cast iron skillet and bake at 350ºF for 30-35 minutes or until a tooth pick comes out clean.
Nutrition facts
Calories:
253
kcal
Carbohydrates:
40
g
Protein:
8
g
Fat:
7
g
Fiber:
5
g
Sugar:
11
g