Cake for breakfast? Yes please. Make this delicious blueberry coffee cake with a mixture of 100% white whole wheat flour and chickpea flour for a protein-amped breakfast!
There is nothing better than a little coffee cake or breakfast cake for breakfast with a cup of coffee! Feel free to make one Fit Foodie Finds breakfast cake for the next couple weeks.
This banana breakfast cake was one for the first breakfast cakes on FFF. You also can't go wrong with this chocolate chip pumpkin cake– chocolate for breakfast!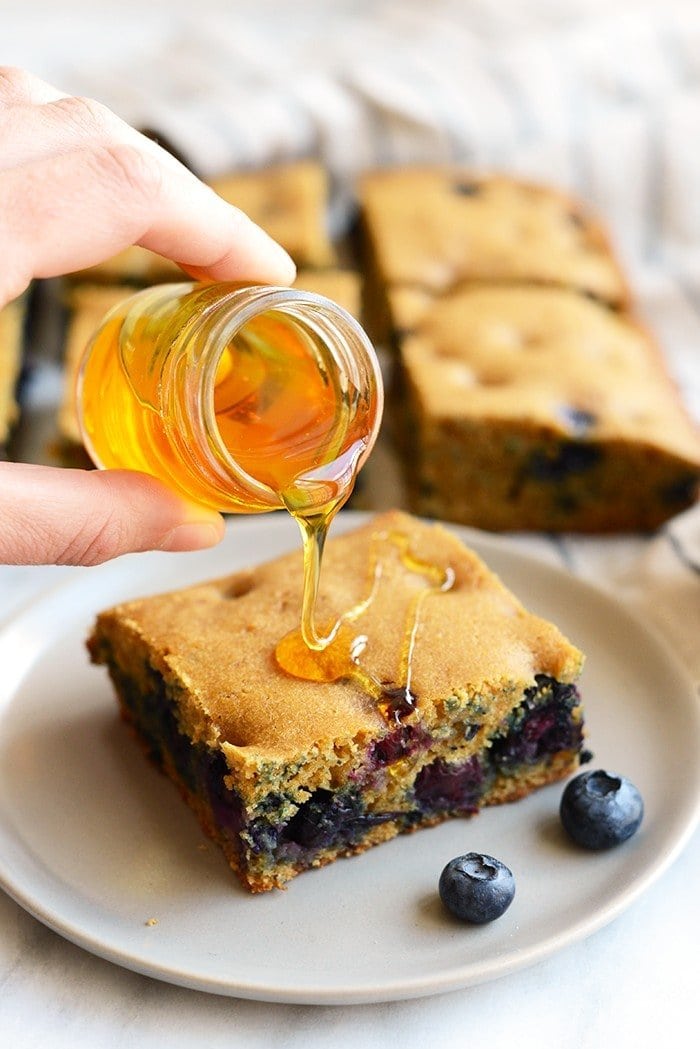 Let's Have Cake for Breakfast
Guess what I am back with? Another one of my FAMOUS breakfast cakes!
I know this is off subject, but I wanted to start off by talking about a very serious issue. Cake doughnuts vs. squishy/airy/soft doughnuts.
We have this conversation on Team Fit Foodie at least once a week. CAKE DOUGHNUTS ARE SO MUCH BETTER. They're denser, have a better texture, and are SO MUCH MORE SATISFYING.
There's nothing worse when someone buys doughnuts and there's not a SINGLE cake doughnut. GO HOME SQUISHY/AIRY/SOFT DOUGHNUT LOVERS.
JK, but seriously. I love cake…and better yet, cake for breakfast! This blueberry coffee cake is made with garbanzo bean flour (AKA chickpeas) and are an excellent source of fiber and protein, making this a great flour addition to any baked good.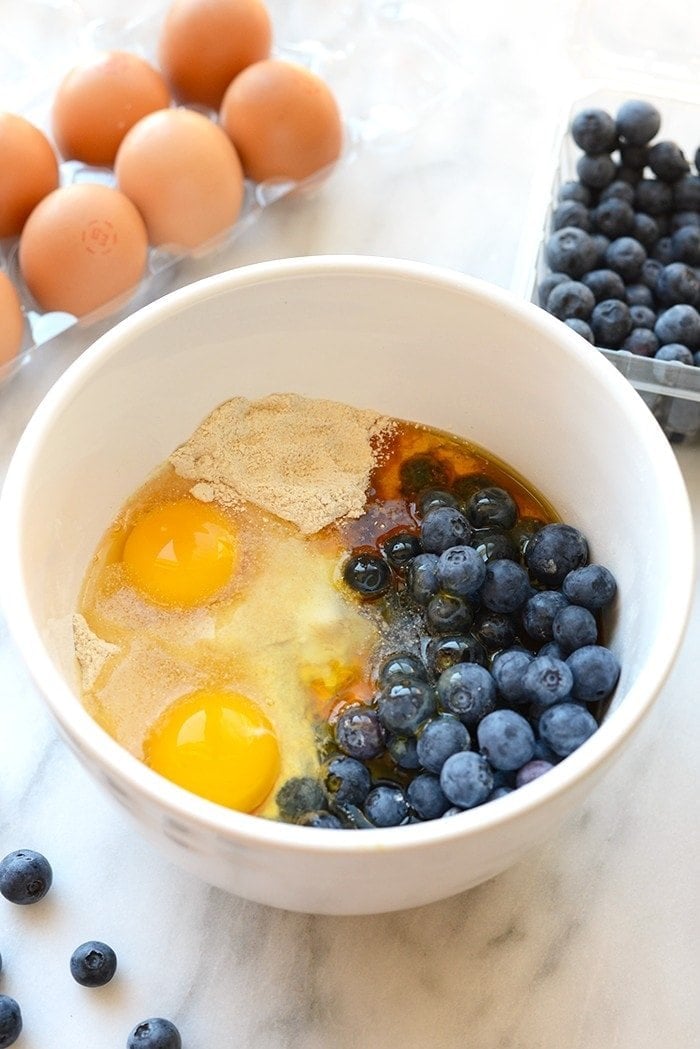 Eat it with Coffee or Tea
What I love about this recipe is how easy it is to make. You literally just need one bowl and a few staple ingredients and you're on your way to CAKE for breakfast. You might be thinking- EWWWW a bean flour in cake, that's gross.
Well, I'm here to prove you wrong! It actually doesn't taste beany at all AND it gives it a great texture.
This blueberry breakfast cake is perfect in the morning treat and perfect with french press coffee or your favorite cup of tea.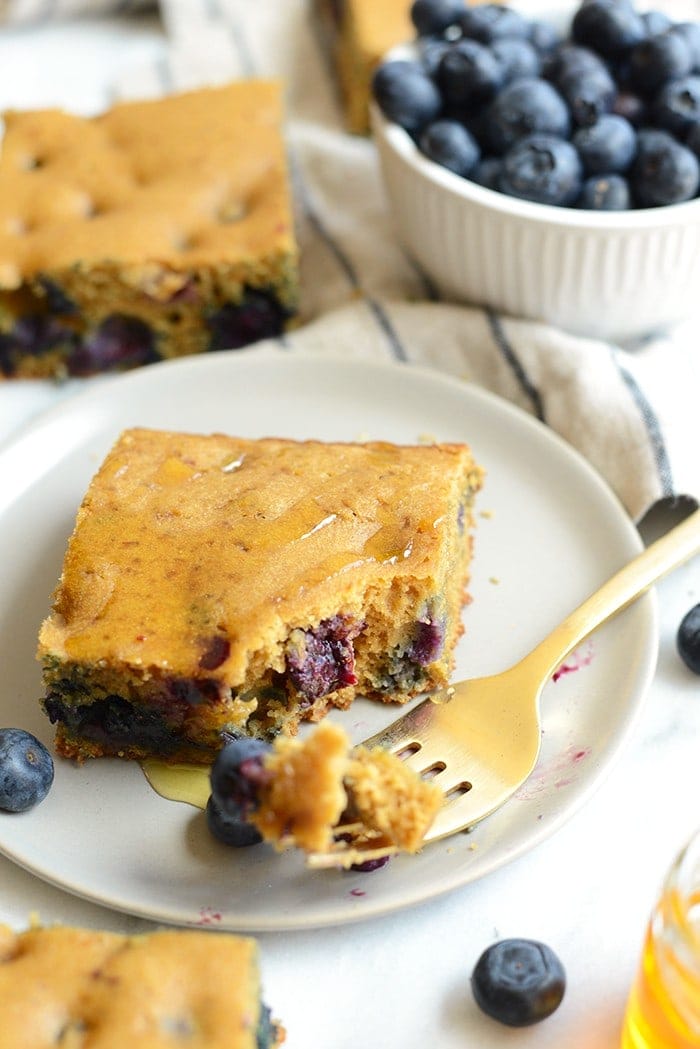 Why This Breakfast Cake Rocks
High in Protein- We have a couple of different breakfast cake recipes on FFF, but this blueberry breakfast cake is extra special because it is made with a mixture of flour. The garbanzo bean flour in this breakfast cake gives you an extra boost of protein that you wouldn't get in a normal breakfast cake!
The Perfect Breakfast- This breakfast cake tastes delicious and we eat it for a snack or even for a dessert sometimes. However, the name says it all. It makes an amazing breakfast! So many of you are looking for a healthy breakfast option that is quick and easy.
All you have to do is make this blueberry breakfast cake at the beginning of the week. Let it cool and then cut it up into 9 pieces. Place all the pieces into an airtight container and place it in the fridge. BOOM, you have a grab and go breakfast all week long!
Mix It Up- When deciding what to add to this breakfast cake, we went with blueberries because they add a little sweetness. Feel free to add whatever mixins float your boat! Below are a couple of flavor combinations that would be great in this breakfast cake!
Raspberries
Strawberries
Walnuts
Pistachios
Cranberries
Apples
Chocolate chips
Breakfast Cake Recipes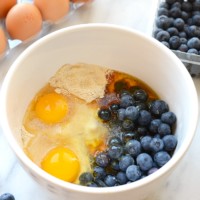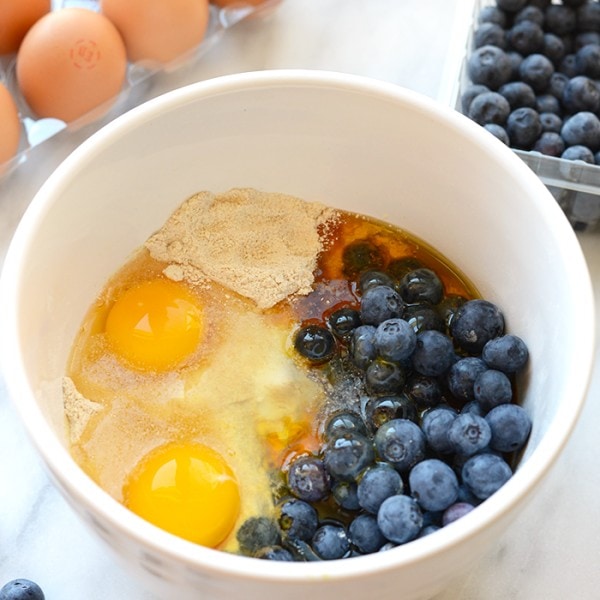 Blueberry Breakfast Cake
Cake for breakfast? Yes please. Make this delicious blueberry coffee cake with a mixture of 100% white whole wheat flour and chickpea flour for a protein-amped breakfast!
Instructions
First, preheat to 350ºF and spray an 8x8 inch square pan with coconut oil cooking spray.

Place all dry ingredients in a large bowl and mix until combined. Then, add all wet ingredients (minus the coconut oil) and mix until smooth. Last, add melted coconut oil and mix again.

Transfer better into square pan and bake at 350ºF for 30-30 minutes.
Nutrition facts
Calories:
179
kcal
Protein:
5
g
Fat:
5
g
Sugar:
16
g