Kickstart the day with a breakfast packed with protein, whole grains, and fresh fruit! Prep your Greek yogurt breakfast bowls ahead of time for an easy grab and go in the AM.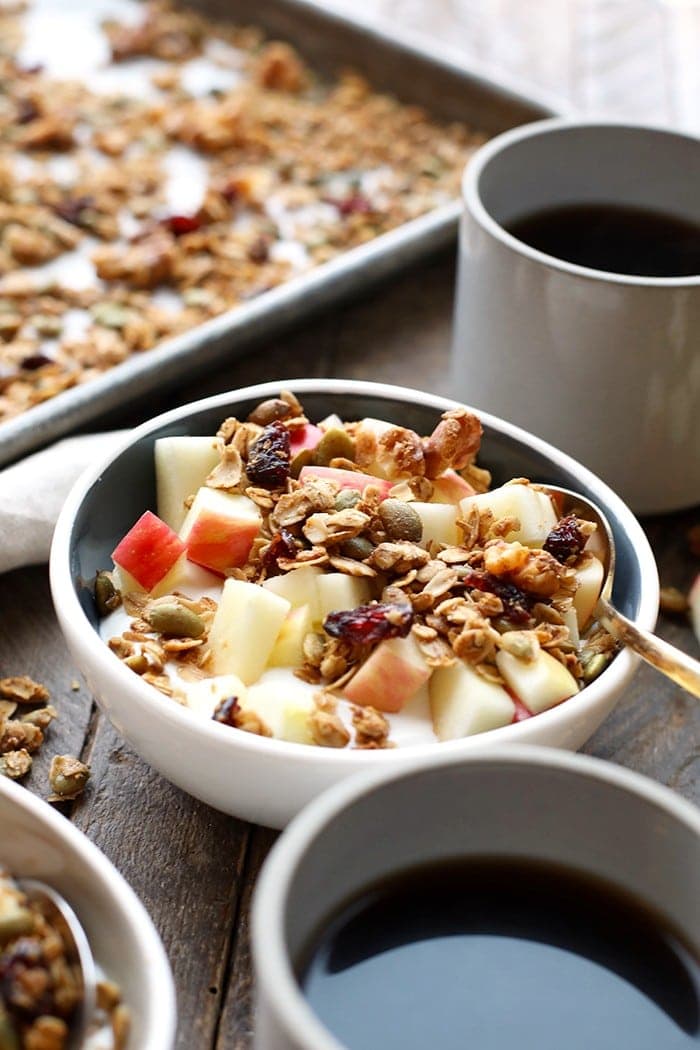 I am pretty much still in awe over yesterday's launch and SO THANKFUL for your support! The past 6 months launch a new business has been a lot of work, but most importantly, a lot of fun. One of the greatest parts about my job, is that it doesn't actually feel like a work. I used to be that person who dreaded waking up in the morning to make the long commute to my corporate job. Doing what I do on FFF and HGC is my calling. I was born to create content, spread the power of loving yourself, and be an entrepreneur.
What made the launch of the Healthy Glow Collective extra special, is the fact that we decided to launch with our very first product —> The Healthy Glow Guide! We've had thousands participate in our ever-popular Sweat Series program, so we thought we'd come out with a bang during the launch with something much bigger, and much better. One of my favorite parts about developing the Healthy Glow Guide was choosing the recipes to go inside the meal plan. Between Ambitious Kitchen and Fit Foodie Finds, we have THOUSANDS to choose from…and let's face it, they're all my favorite 🙂 We chose a handful of recipes from both AK and FFF, but also developed some new ones specifically for the HGG just like these Greek Yogurt Breakfast Bowls and the homemade granola that goes on top.
I'm pretty excited about the above video because there's not 1, but 4 versions of this recipe. One for each season! Greek yogurt breakfast bowls are one of my favorite things to eat for any meal of the day. Often times I will come home from a week long trip and this is what I have the ingredients for in my house…so dinner it is! What's in a one of these bowls? It's a simple equation:
Greek yogurt base
Seasonal fruit
Crunchies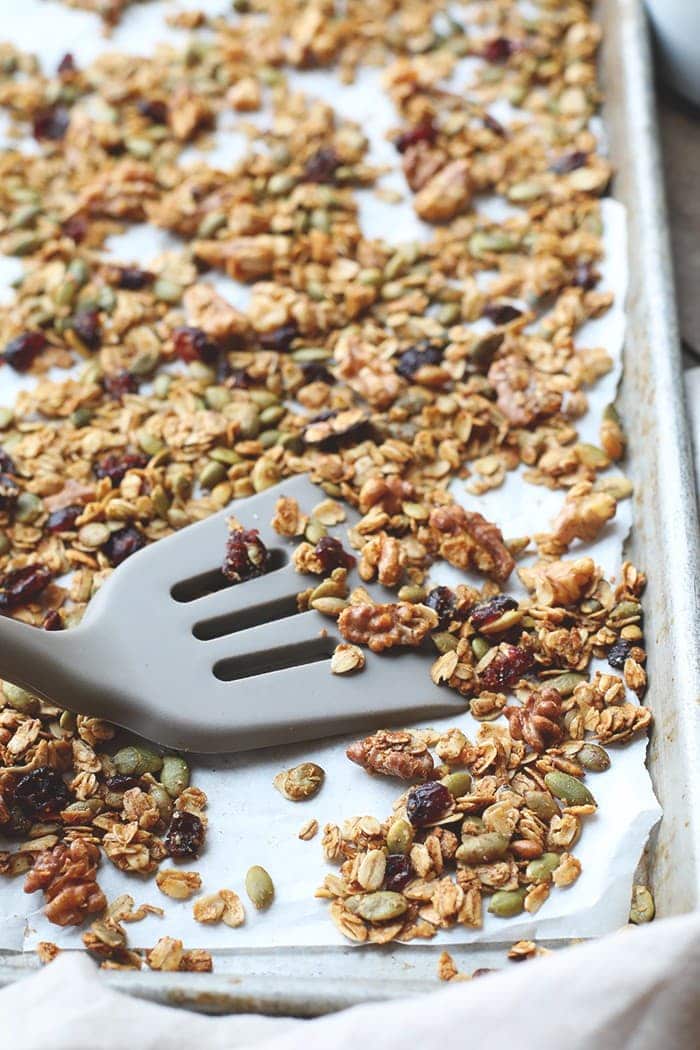 If you are on the lookout for a new homemade granola recipe. You guys, this one is super simple and SO DELICIOUS! Make a double batch and then throw it in a big mason jar so you can eat it for a few weeks.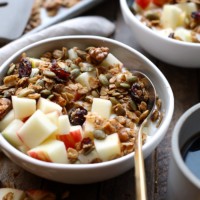 Greek Yogurt Breakfast Bowls
Kickstart the day with a breakfast packed with protein, whole grains, and fresh fruit! Prep your Greek yogurt breakfast bowls ahead of time for an easy grab and go in the AM.
Ingredients
¾

cups

nonfat Greek yogurt

plain

½

tablespoon

maple syrup

or honey

1

cup

sliced apples

or seasonal fruit of choice

¼

cup

granola

your choice

Sprinkle of cinnamon
Instructions
Place Greek yogurt in a bowl and add maple syrup. Mix. Top with ½ cup of seasonal fruit and 2-3 tablespoons of your favorite granola. Option to add any other toppings you like!
Nutrition facts
Calories:
267
kcal
Carbohydrates:
43
g
Protein:
21
g
Fat:
2
g
Fiber:
6
g
Sugar:
34
g

The Healthy Glow Guide is a 6-week balanced food and fitness plan dedicated to providing you with the tools you need to feel and look incredible. We combined take-anywhere workouts with deliciously satisfying recipes to bring you the last plan you'll ever need – one that's flexible to meet the demands of your unique lifestyle and customizable to your personal preferences. At $64, this lifestyle program is a STEAL and a game changer for creating healthy habits in 2017!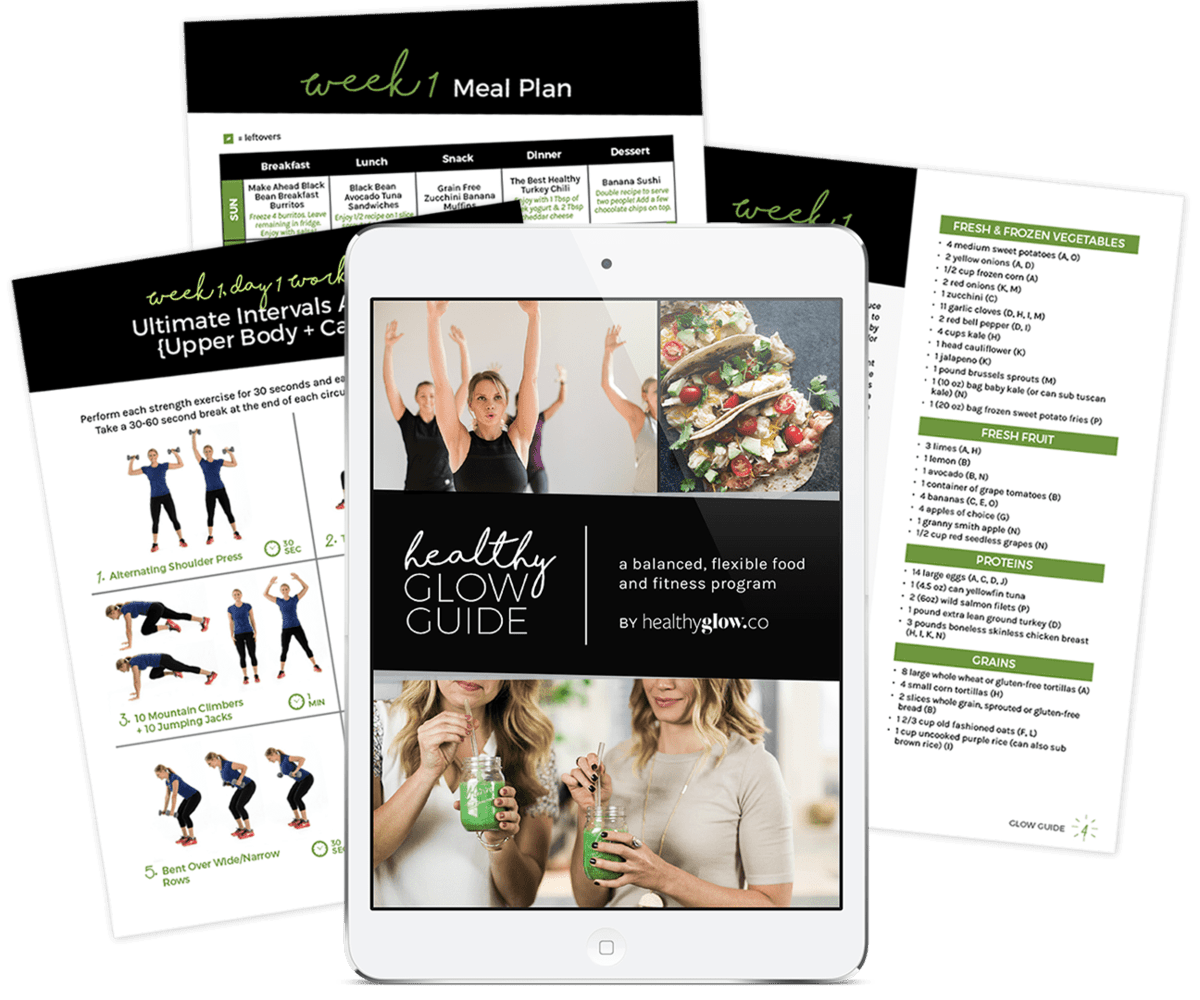 The Healthy Glow Guide includes…
6 weeks of deliciously satisfying, nutritionally balanced meal plans (with daily treats!)
Weekly grocery list organized by recipe
16, 30-minute workouts and weekly workout schedule
All content developed in partnership with a registered dietitian and certified personal trainer
Video demonstrations of each move
Photo demonstrations of each move that can be saved to your phone and taken with you
Private Facebook group to connect with our team and other women completing the program
BONUS:

4 bonus workouts, including yoga, to add into the rotation.

BONUS: A full video library of all 18 workouts in the Healthy Glow Guide, as well as the bonus workouts
Join us for a January 8th start as we go through the guide together for the very first time inside of the Healthy Glow Collective Community on Facebook!