Start patio season off right with these healthy quinoa patties. They are vegetarian, packed with protein, and you can bake them in the oven or on the grill. So, go make these Sun-Dried Tomato Quinoa Patties, stat!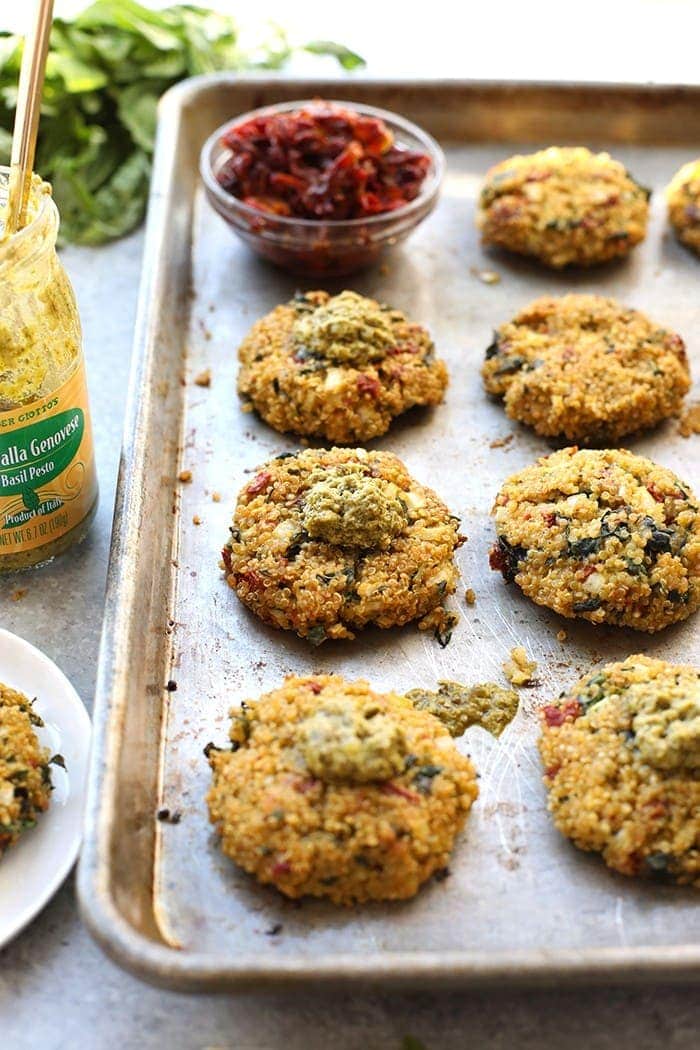 After spending most days testing (retesting) and creating new recipes in the Fit Foodie kitchen, @linleyshands heads home and spends the night in their own kitchen, making dinner, and most likely enjoying a glass of red wine. I realized last week that I spend about 85% of my week cooking– yes, that is a heck of a lot of time in the kitchen. I can't help it. I gravitate to the kitchen in every house that I am in. People always ask if I ever get sick of cooking or will ask if I'd rather not cook when I get home from work. Honestly, the kitchen is my happy place.
With the exception of nights where I dine out at some of my Minneapolis favorites, (112 Eatery, Ruyons, and NE Social…I have a serious chicken wing addiction) I am at home possibly dreaming up the next FFF recipe. I can't express in enough words how grateful I am for my job with Fit Foodie. If you would have asked me three years ago if I thought I would be cooking for a living with my best friend, it would have been hard to believe (mostly because I was just moving home from the Dominican Republic with no idea what my life was going to look like). I was never the kind of person who knew exactly what they wanted to do going into college or even when I graduated.
If you ask people that knew me in college what my major was, they probably would all say something different. I am pretty sure I changed my major at least 10 times. I went from wanting to major in international business to nursing, and everything in between. At one point later in my college career I was sure I wanted to be a hospital administrator (lol..can you see it?). I was all over the board. Thankfully, I was in the same program as Lee in the end and was able to personalize a major that fit many of my interests. One thing that remained a constant in my life was food.
I gave the corporate thing a go at Target Corporate, I tried full time nannying, and even did the whole living abroad in a third world country. They are all experiences I wouldn't change for anything, but while I was busy working in those jobs, something was definitely missing. Believe me, life has thrown it's share of crazy and it's taken a lot of change, focus, and faith to figure out what I love to do. I love to create, lift up people around me, and laugh…a lot. Basically, FFF is a mixture of everything I love to do and when I am feeling a bit frustrated after testing  10 batches of Oatmeal Cookies, I remind myself that spending most days in the kitchen is exactly what I want to be doing.
Moving on to FFF's latest creation–> These delicious Sun Dried Tomato Patties! They are perfect meal prep for breakfast with a fried egg on top, an easy lunch to bring to work with a side of greens, or a yummy vegetarian burger option for dinner! It's a home run recipe.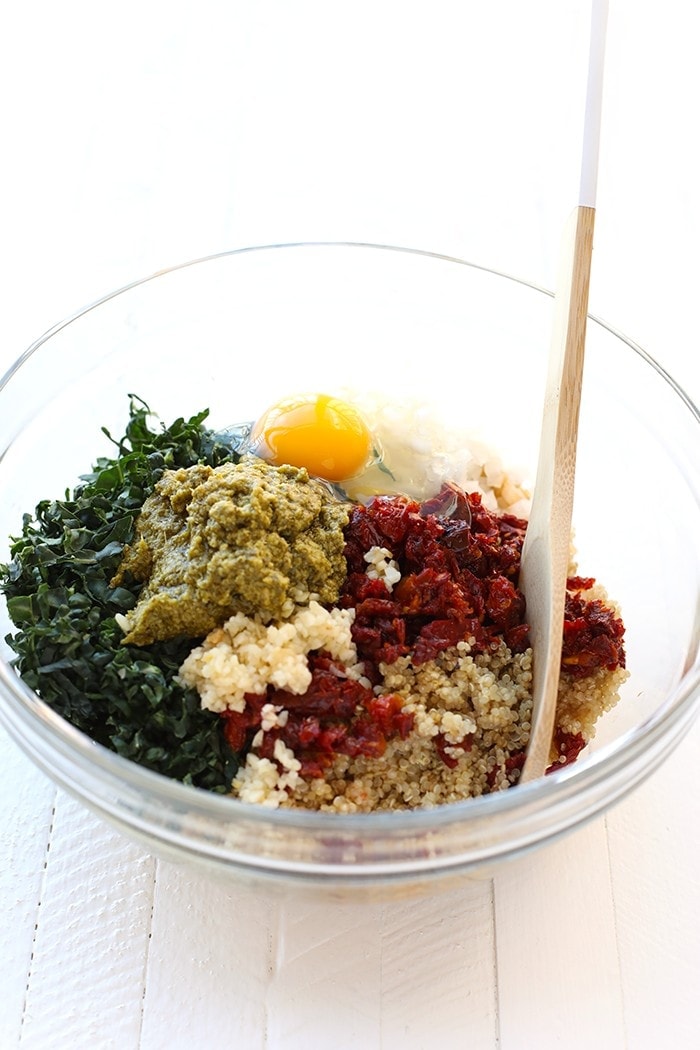 Lee and I are both suckers for a good vegetarian burger. We tested these quinoa patties 3 or 4 times, so we ate these every day for a week. They are versatile, packed with seriously good flavors, and everyone that taste tested them were in love. These babies can be baked in the oven or if you are craving some patio time, you could throw them on the grill (just make sure you set down some tin foil first). Usually, anytime you add sun dried tomatoes and pesto to a recipe, you're not going to be disappointed. We did test these patties out with store-bought pesto and Fit Foodie Finds's 5 Minute Homemade Pesto – both do the trick. Get ready to have a new favorite meal prep meal, people!
Here's What You Need for these Quinoa Patties
quinoa
onion
kale
sun-dried tomato
garlic
pesto
eggs
flour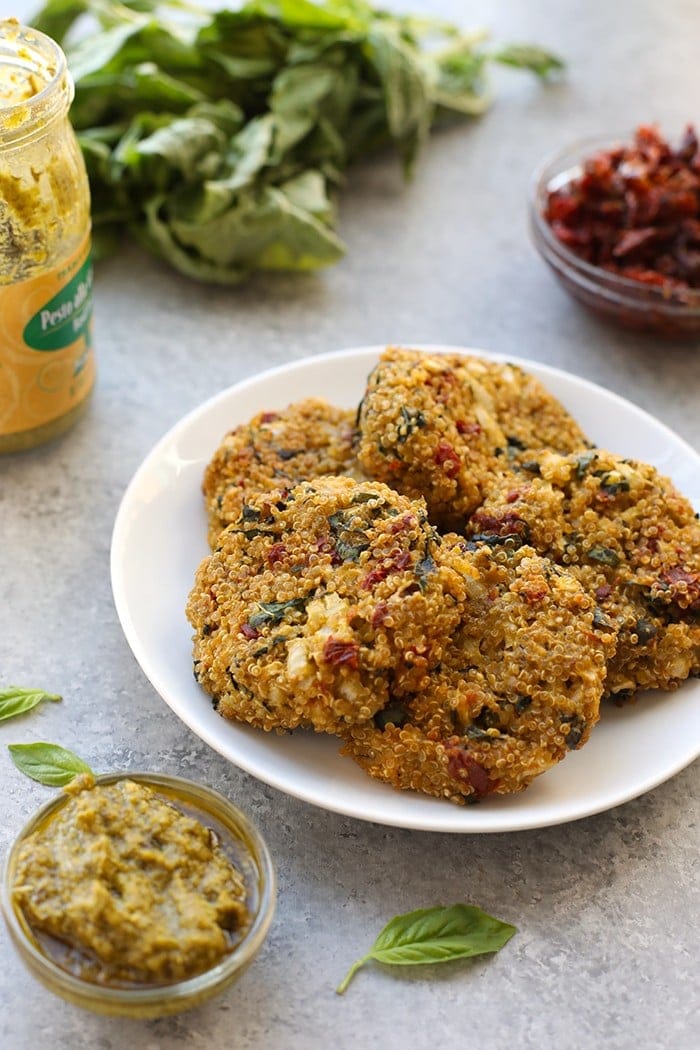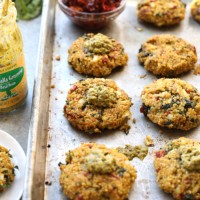 Sun Dried Tomato Quinoa Patties
Start patio season off right with these healthy quinoa patties. They are vegetarian, packed with protein, and you can bake them in the oven or on the grill. So, go make these Sun-Dried Tomato Quinoa Patties, stat!
Ingredients
1

cup

quinoa

uncooked

1/2

cup

minced onion

1

cup

kale

finely chopped

1/2

cup

sun dried tomato

drained and chopped

2

teaspoons

minced garlic

3

tablespoons

pesto

2

eggs

large

2

tablespoons

flour

we used white whole wheat

salt and pepper

to taste
Instructions
First, preheat the oven to 400ºF and set aside a greased cookie sheet.

Next, cook quinoa according to the directions on the package.

Then, mix all ingredients together (including cooked quinoa) in a medium sized mixing bowl.

Now it's time to form your patties. Scoop a heaping 1/4 cup of quinoa mixture into your hands and form it into a burger shaped patty. Repeat until quinoa mixture is gone.

Bake for 15-20 minutes.*

Serve alone, on a bun, on a salad, or with a fried egg!
Tips & Notes
* Pan Fry Method: Fry each patty over medium heat for 4 minutes on each side
Nutrition facts
Serving:
2
patties
Calories:
251
kcal
Carbohydrates:
30
g
Protein:
8
g
Fat:
12
g
Fiber:
4
g
Sugar:
4
g
Here are some of our other favorite vegetarian quinoa recipes you might like!
Vegetarian Quinoa Recipes