There has never been a more delicious black bean quinoa burger in all the land. Why is this black bean quinoa burger special? Because it is made with perfectly roasted garlic and is packed with veggies, protein, and dynamic flavor. Give it a try today!
Looking for some delicious vegetarian side dishes to go with your black bean burger? Give our Foil Pack Red Potatoes a try or add our Pineapple Coleslaw to the menu, it would be a great side for any burger!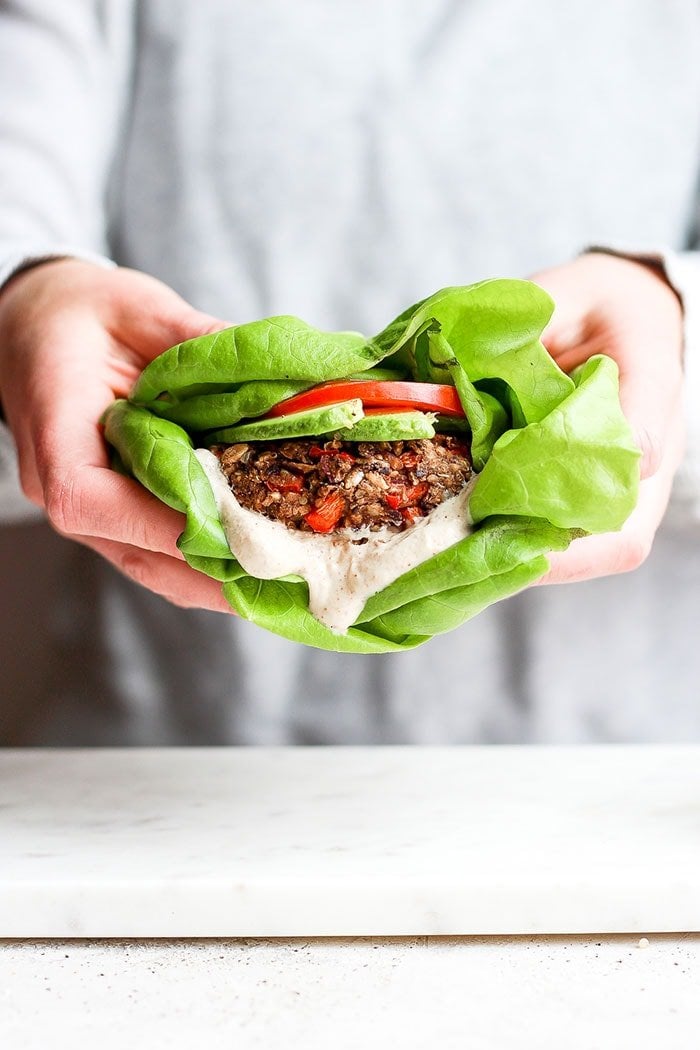 Inbetween the Buns
Burgers–> everybody has their favorite. If you are a carnivore and love a good medium-rare burger with gooey swiss cheese and mushrooms- I feel you, but today it's all about the veggie burger.
There are so many options these days for premade veggie burgers. I mean, brands are really stepping up their game. It is all about personal preference when it comes to what you like inbetween your buns (hehe).
Store bought veggie burgers and homemade veggie burgers are on two completely different levels.
Store bought veggie burgers are ready to heat up and grill where homemade veggie burgers are a bit more sensitive and if you're not gentle, you'll end up with a veggie burger crumble, instead of the perfect patty!
These Roasted Garlic Quinoa Black Bean Burgers are one of our all-time favorite burgers. Let's break down how to make these amazing quinoa burgers.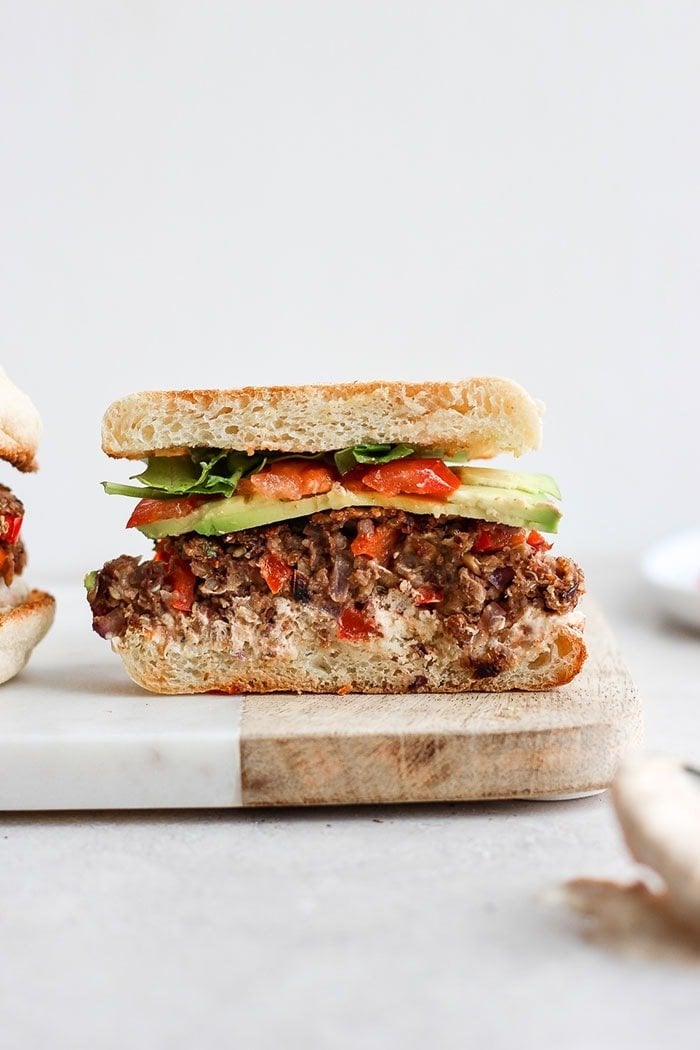 Tips + Tricks for Veggie Burgers
Sometimes the thought of mixing up a batch of veggie quinoa burgers can be daunting. We've all thrown a homemade veggie burger on the grill, just to have it crumble to its demise on the grill.  Here are things we like to keep in mind when we make veggie burgers.
Add the good stuff. Some people treat quinoa burgers like they are a runner up to a beef burger. I'm here to tell you that quinoa burgers can be just as tasty (even more so) if you just incorporate the right ingredients. It's all about the texture and good flavors.
Add a combination of everything below and you're golden.
Grains (quinoa, rice, farro, oats,)
Veggies (carrots, sweet peppers, garlic, onions, greens)
Nuts + Seeds (sunflower seeds, sliced almonds, pine nuts)
Cheese (Goat cheese, feta, cheddar cheese, cotija)
Spices (cumin, onion powder, spice mixes, chili powder)
Make sure you have a binder. The main complaint people have about homemade veggie burgers is that they fall apart when you cook them. The key is to make sure you have a good moist bind ratio to your other ingredients.
Use one of the ingredients below as a binder and you'll be golden just make sure!
Whisked eggs
Flax egg
Pureed Beans (black, garbanzo, pinto)
Nut Butter
Sweet potato puree
Don't overdo it. Though packing your veggie burger with all of your favorite things is a must, we recommend that you don't add everything under the sun. When a veggie bugger has TOO much it will inevitably fall apart!
Decide on your bun. We live in a world with so many options. There are so many options when it comes to what you pair your veggie patty with. Below are our favorite "bun" options!
Pretzel Bun
Brioche Bun
English Muffin
Butter Lettuce
Cabbage
Sauce it up. If you're a ketchup and mustard person, go for it! We like to smother our veggie burgers with delicious homemade sauce.
For this Roasted Garlic Quinoa Black Bean Burger, we developed a thick and delicious chili yogurt sauce. Whatever your sauce preference, add it right before serving!
How to Make Black Bean Quinoa Burgers
These black bean quinoa burgers will bring you to veggie burger heaven. Head to the recipe card now or follow the detailed step by step below for more insight on how to create the perfect black bean quinoa burger.
Step 1: Grains + Veggies
First things first, the quinoa. If you are using leftover quinoa that you have in the fridge, yay! If you have to cook your quinoa, you'll want to get that started before starting anything else.
The star flavor of this black bean burger is the stove top roasted garlic! Roast that garlic and then mince the red onion and bell pepper into the same small mince. We have found that if you mince the veggies, the burger tends to hold better.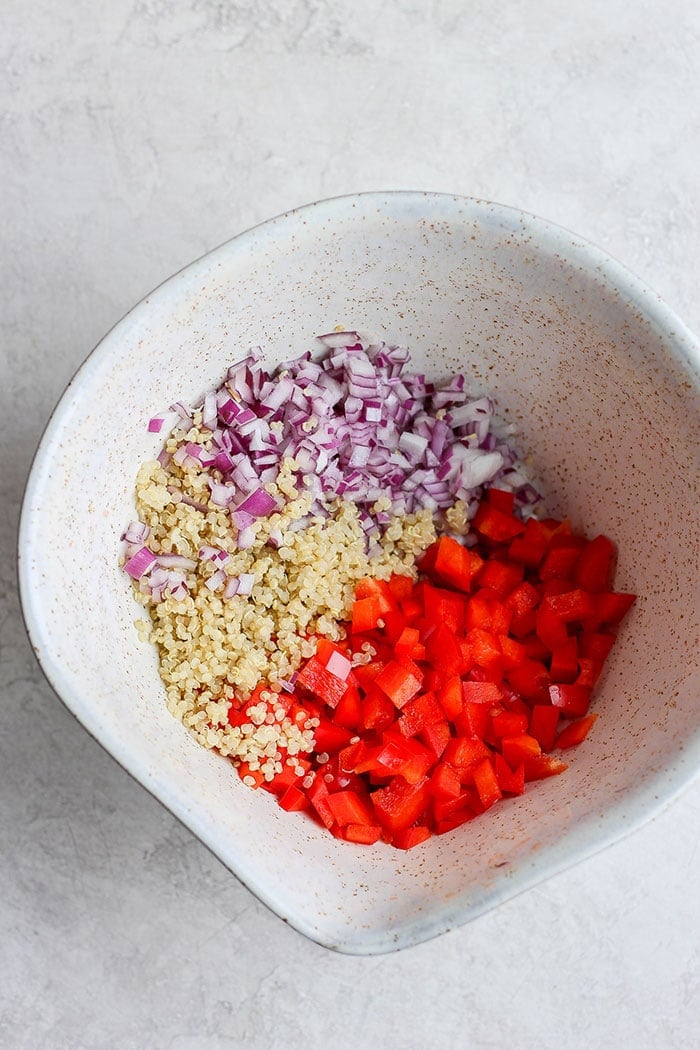 Step 2: The Glue
The glue or the binder for this recipe is a mixture of black beans, oats, seeds, and spices. The combination of all of them creates the perfect paste.
Place black beans, sunflower seeds, oats, and spices into a food processor and pulse until a thick paste is formed.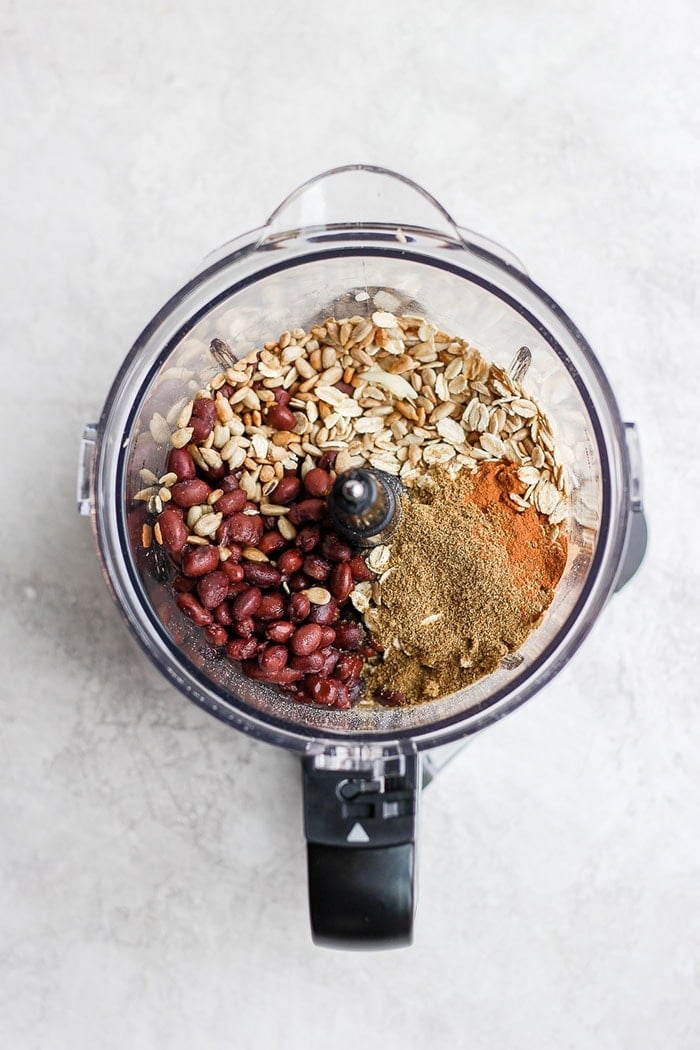 Step 3: Make it Sticky
When the black bean paste is sticky add the red pepper, onion, and quinoa to the black bean mixture.
Use your hands or a spoon to mix everything together until everything is coated in black bean paste!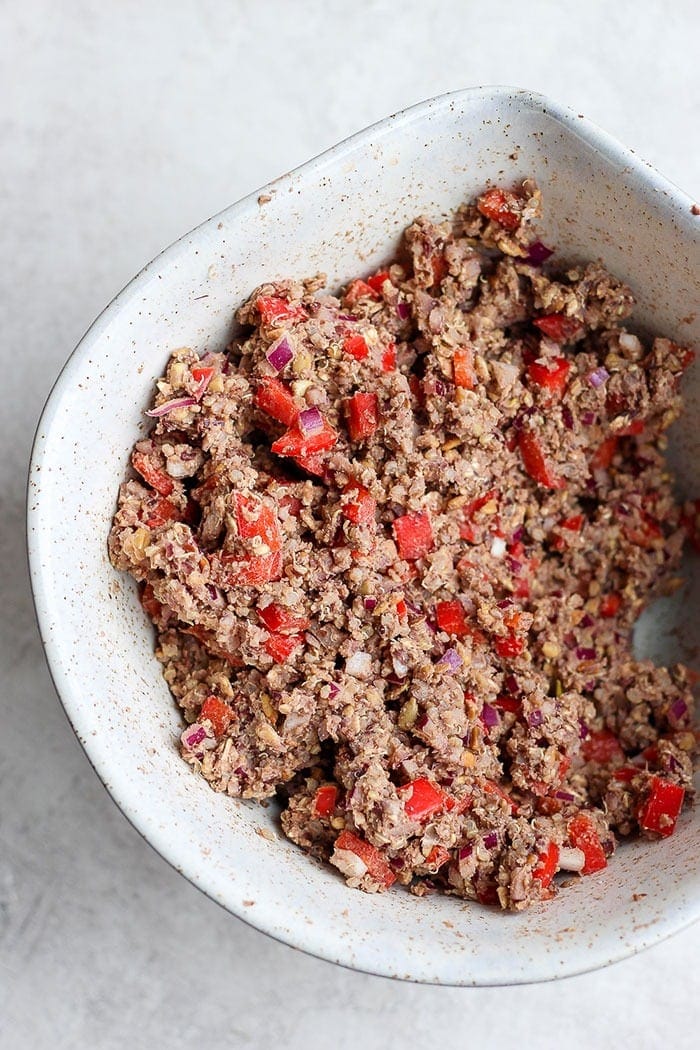 Step 4: Patty Cake
Patty cake, patty cake bakers men, form me a burger patty that I can share with my friends (see what I did there?).
To form your quinoa patties, separate the burger mixture with 1/3 cup into six balls. Use your hands to create burger patties. Sometimes the patties form easier it if your hands are wet.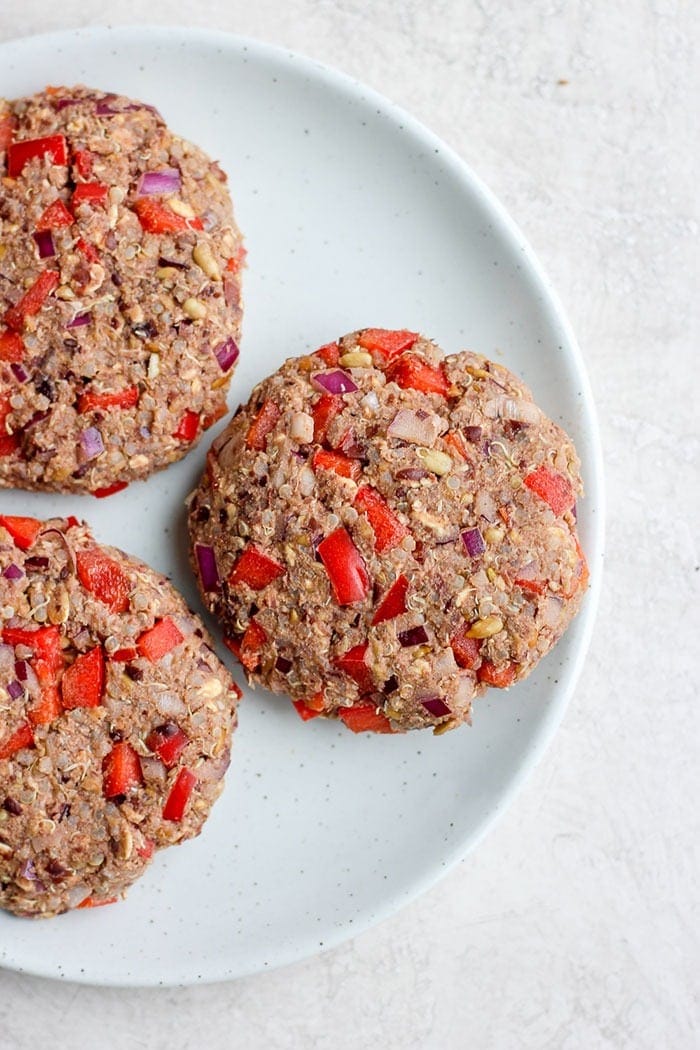 Step 5: Bake it.
Though you are more than welcome to grill or pan fry  your burgers, we love baking them. We find that veggie burgers stay together better if you drizzle them with oil and pop them in the oven!
Place each quinoa burger on an oiled baking sheet. Drizzle with oil and bake for 20 minutes, flipping halfway through!
Step 6: Dress Her Up
While the quinoa black bean burgers are in the oven, mix up the chili yogurt sauce in a bowl. Add yogurt, lime juice, and spices to a bowl and mix well. Place in the fridge until black bean burgers are ready.
Remove burgers from the oven and place them on your favorite bun! Top with yogurt sauce and fresh veggies. And? ENJOY!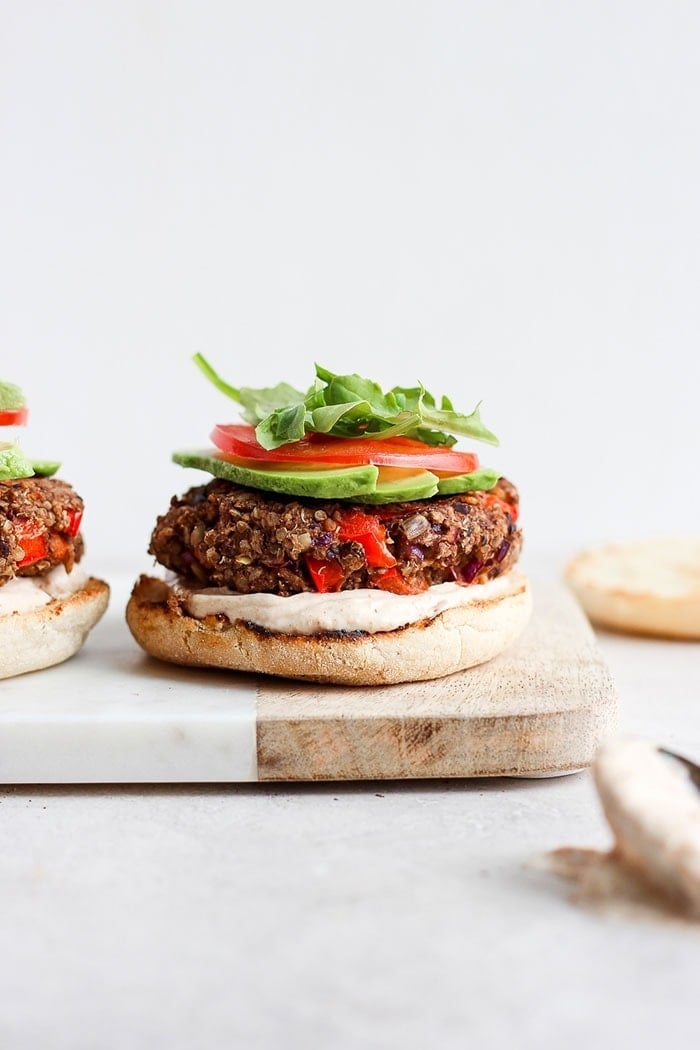 More Burgers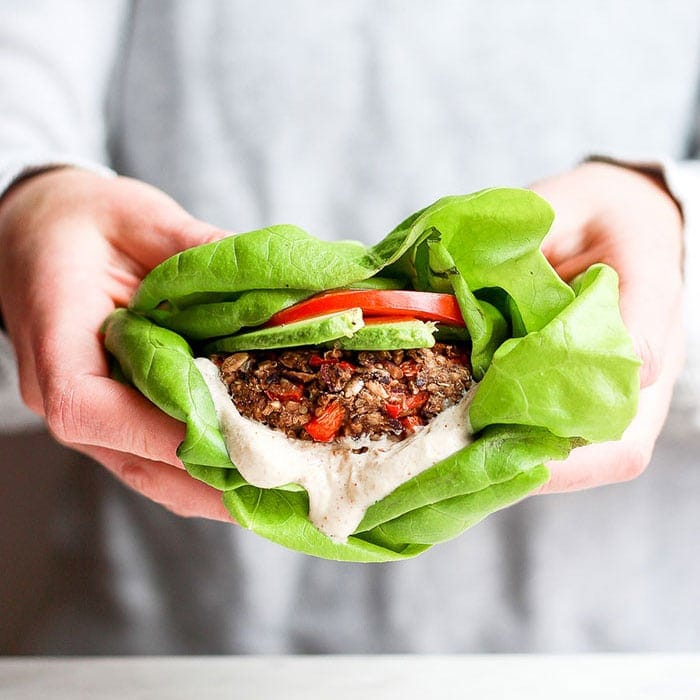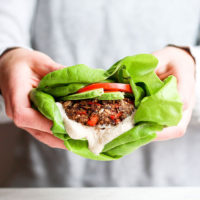 Roasted Garlic Black Bean Quinoa Burger
There has never been a more delicious black bean quinoa burger in all the land. Why is this black bean quinoa burger special? Because it is made with perfectly roasted garlic and is packed with veggies, protein, and dynamic flavor. Give it a try today!
Prep:
30 minutes
Cook:
20 minutes
Total:
50 minutes
Fat
11
Carbs
27
Protein
10
Yield
6

burger patties

1

x
Ingredients
For the Patty
2 tablespoons

olive oil

7

cloves garlic

1

15oz. can black beans, rinsed and drained

1/2 cup

sunflower seeds

1/4 cup

uncooked quinoa

1/2 cup

water

1/2 cup

old fashioned rolled oats, gluten-free if desired

1 tablespoon

ground cumin
Pinch of ground cinnamon

1/2

red onion, diced

1

red bell pepper, diced
Salt and pepper, to taste
For the Sauce
1/2 cup

nonfat Greek or dairy-free yogurt

1 tablespoon

chili powder

1 tablespoon

lime juice (~

1/4

lime)

⅛ teaspoon

of salt
Instructions
Preheat oven to 350ºF and spray a baking sheet with nonstick cooking spray.
Make quinoa by bringing 1/4 cup quinoa and 1/2 cup of water to a boil. Then, reduce heat to low and cover. Let simmer for around 15 minutes or until all water has absorbed. Set aside.
Next, heat 1 tablespoon of olive oil in a fry pan over medium heat. Peel garlic cloves and then flatten the cloves with a knife. Add to fry pan.
Sauté the garlic cloves for 5-7 minutes until golden brown and fragrant.
Add garlic, black beans, sunflower seeds, oats, cinnamon and cumin to the food processor and pulse until combined.
In a separate bowl, combine black bean mixture, onion, quinoa and red pepper. Mix well. It may help to use your hands!
Next, scoop 1/3 cup of veggie burger mixture (a heaping scoop) and form into patties. Repeat until all black bean mixture is gone.
Bake at 350ºF for 20 minutes, flipping burgers 10 minutes through. (would not recommend grilling)
While burgers are baking. Prepare chili sauce by mixing all ingredients together.
Serve each burger with about a tablespoon of sauce.
Nutrition Facts
Serving Size:
1/6
Calories:
253
Sugar:
2.2
Fat:
11
Carbohydrates:
27
Fiber:
4
Protein:
10
Category:
Dinner
Method:
Oven
Cuisine:
American
Keywords: black bean burger