Smoothies are the perfect on-the-go healthy breakfast or delicious snack. Add this Refreshing Ginger Pineapple Smoothie to your rotation this summer, it won't disappoint!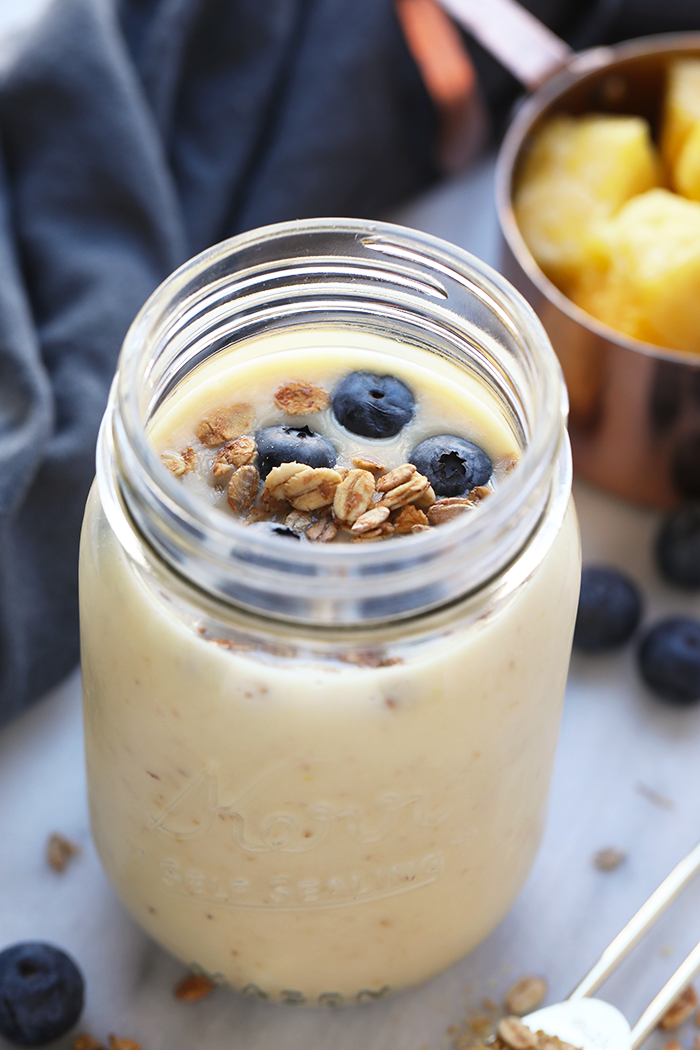 Hello everyone! It's Linley, coming at you HOT with this Refreshing Ginger Pineapple Smoothie. It is the perfect combination of sweet and (ginger) spicy. Team Fit Foodie has really been feeling the ginger lately. The moment the sun started shining and temperatures were over 70º, we had ginger on the brain. When we decided that this month's recipe round up with our favorite blogger ladies was a smoothie roundup, we immediately knew there was a ginger smoothie in our future.
I haven't always been a smoothie person. It wasn't until after college that I figured out all the different ways you could combine healthy, whole, and delicious ingredients to create an on-the-go and filling snack. I find that when I've had a pretty active week my body craves my go-to smoothie of avocado + protein powder + cocoa powder. However, summer in Minnesota has already been so humid, so a lighter smoothie option was in order [enter Refreshing Pineapple Ginger Smoothie].
First off, when we were shopping for ingredients for this smoothie, we were looking for frozen pineapple. There were plenty of tropical fruit mixes, but only a tiny (and pretty expensive) bag of organic pineapple. Note to self for next time–> freeze fresh pineapple for future smoothies. As for the rest of the ingredients, they are all things we have in the fridge on a normal basis! Talk about easy-peasy.
Greek Yogurt
Flax
Orange Juice
Bananas
Fresh Ginger
I love when I find a new recipe and I already have all the ingredients in the fridge or pantry. It doesn't get any better, am I right?!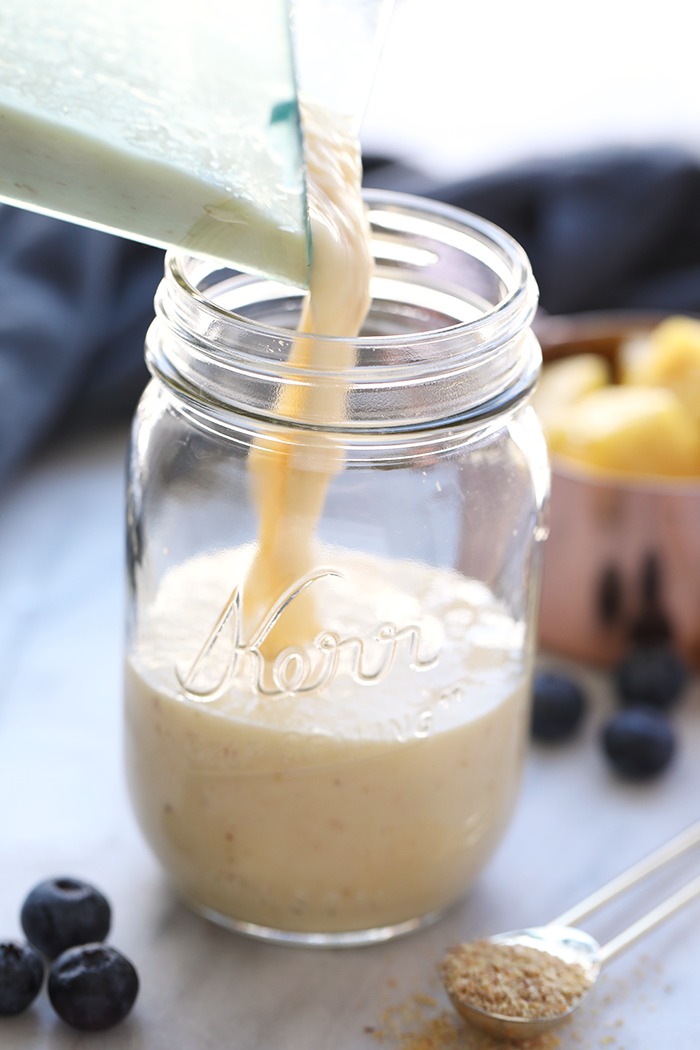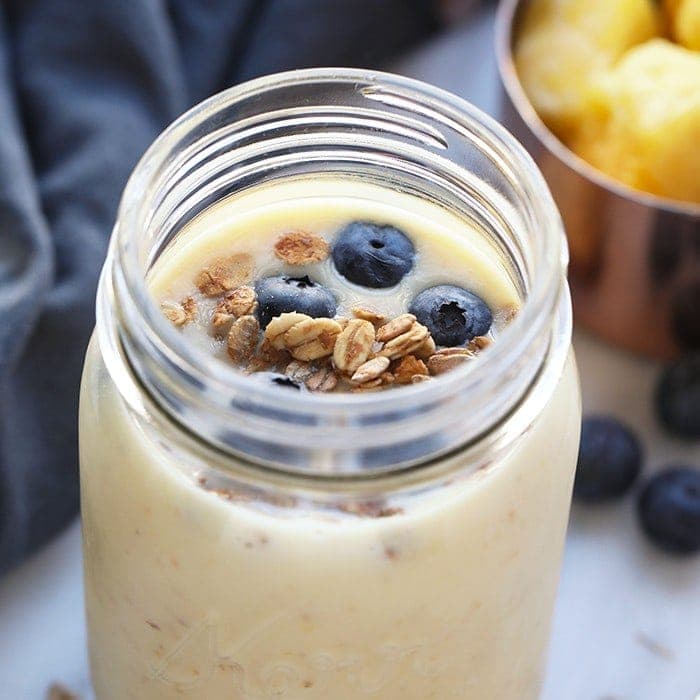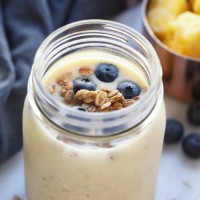 Refreshing Ginger Pineapple Smoothie
Fat
1
Carbs
72
Protein
10
Ingredients
1 cup

frozen pineapple

1 teaspoon

flax seed meal

1/2

medium banana, frozen

1/4 cup

nonfat Greek yogurt, plain

2

 teaspoons fresh ginger, grated (or more!!!)

1 cup

100% orange juice
Instructions
Place all ingredients into a blender. Blend until smooth and enjoy!
Nutrition Facts
Serving Size:
1
Calories:
345
Sugar:
56
Fat:
1
Carbohydrates:
72
Fiber:
7
Protein:
10
Get your smoothie on with this Refreshing Pineapple Ginger Smoothie or with one of the delicious smoothie recipes below from some ladies who know exactly what it takes to make the perfect smoothie!
Enjoy!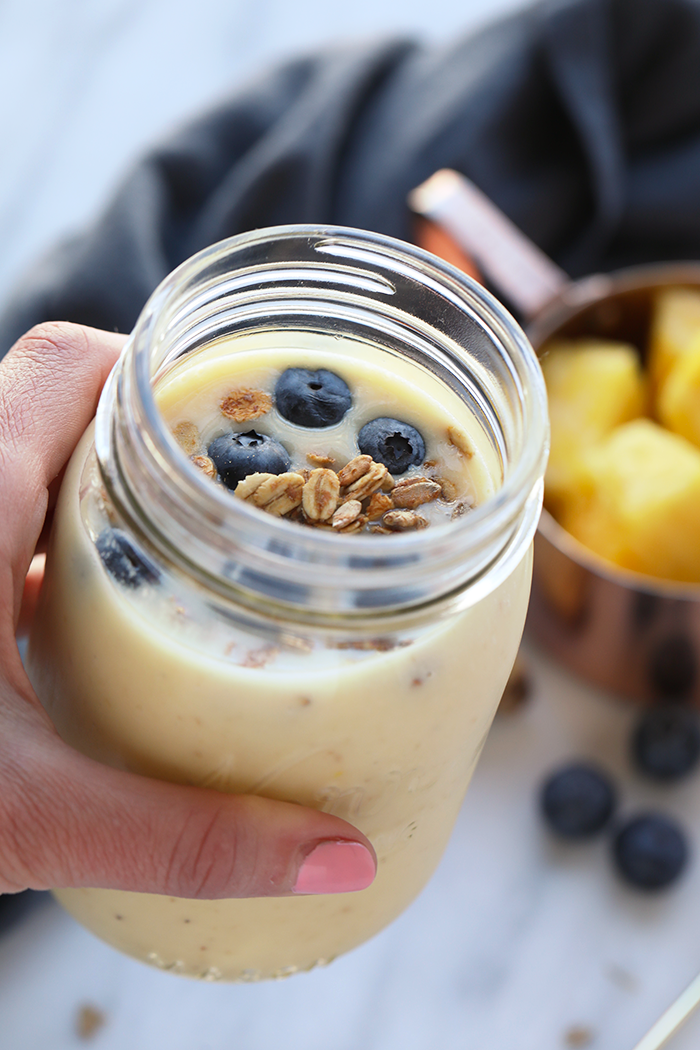 Before you go you have to check out the rest of these amazing smoothies from my blog pals. These ladies really know how to make a healthy smoothie taste GOOD.