It's Toast Tuesday and we are bringing you one of our favorite toast recipes- Egg and Arugula Toast! Start you morning off with this simple, filling 7-ingredient breakfast.
Hello there and welcome to Toast Tuesday.
Most of you know me as the weird girl that is always in the Fit Foodie snaps. The loud one in the background, yeah thats me, Linley. I make up 1/3 of the Team Fit Foodie team and by golly it's a damn good team.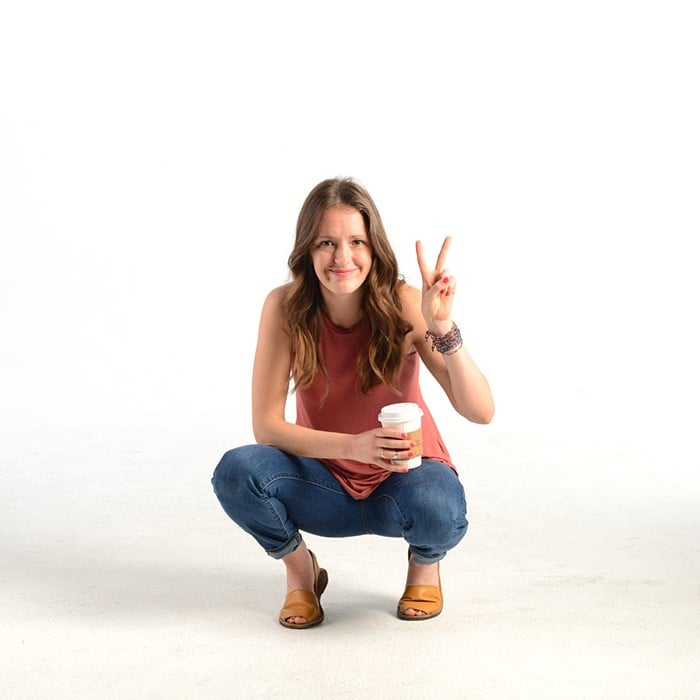 We thought that since so many of you have asked about the loud girl on snap and what her role on Team Fit Foodie is, that a fun "Get to Know Linley" series was in order. Because my go-to snack, meal, and all around favorite food is toast….why not make a series called TOAST TUESDAYS w/ Linley? #getEXCITED
Before we get to that toast..more about who the heck I am.
I thought we'd start simple. FUN FACTS . 
My full name is Linley Scot Richter (one t in Scot)
My hometown is Fridley, MN
I feel most myself when I am traveling or cooking
I've lived in a foreign country (The Dominican Republic)
I am slightly obsessed with arugula, coffee, and schnauzers
My favorite person is my brother
I am weird, loud, and proud of it
I have a freckle on my right front gum, that everyone always mistakes for food in my teeth
My happy place is my kitchen  (or Lee's kitchen)
I have always been a foodie. Growing up, my dad was always a great cook and my mom is a fabulous baker. I also have two amazing uncles (who own the river house) that showed me around the kitchen and around the world. I get it all from the family.
I have been working on Team Fit Foodie for about two years, but I've known Lee for a whopping 8 years!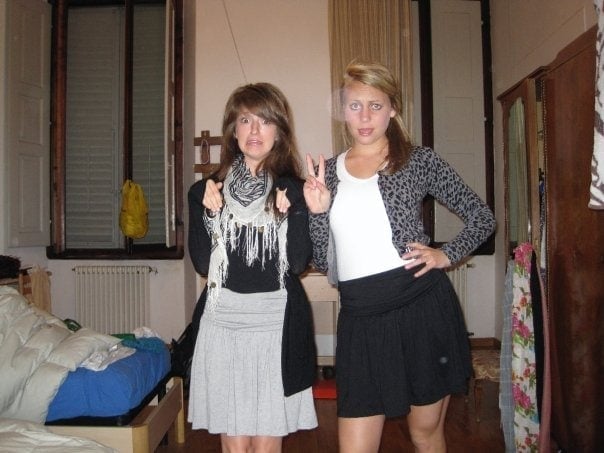 "Love at first sight" as Lee explained in her Life Lately post a while back. You know those people in your life that you could go without seeing for months and when you get together again, it's like nothing changed? Yeah, that's Lee for me. My person. My squad mate. Someone who is equally as weird as I am and dreams just as big. WOO. There is no one I'd rather road trip with or be deathly ill with on a plane home from Mexico.
Working on Team Fit Foodie is a dream come true. I seriously love my job. I am currently working on Team FFF doing social strategy, recipe development, event planning, and everything in between. It's not always easy, but I love that I am challenged everyday and that I'm always learning. And?…I've never had a job where I've gotten hourly hive fives (which is a Team Fit Foodie regular occurrence).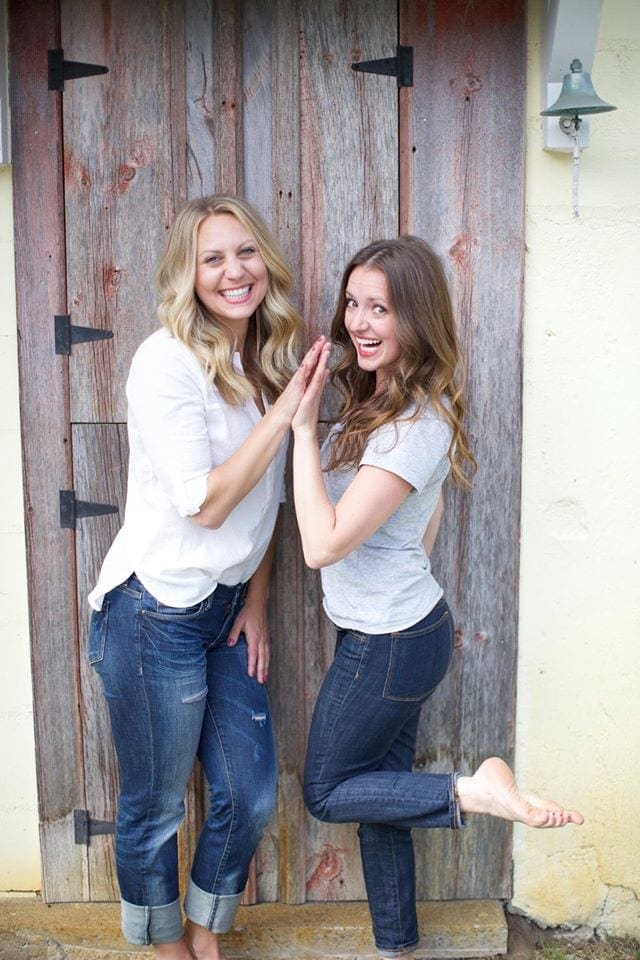 Any-who. About the toast.
As mentioned before, I LOVE ARUGULA. Ask anyone that knows me. So it's only fitting that the first toast on Toast Tuesday should be topped with arugula.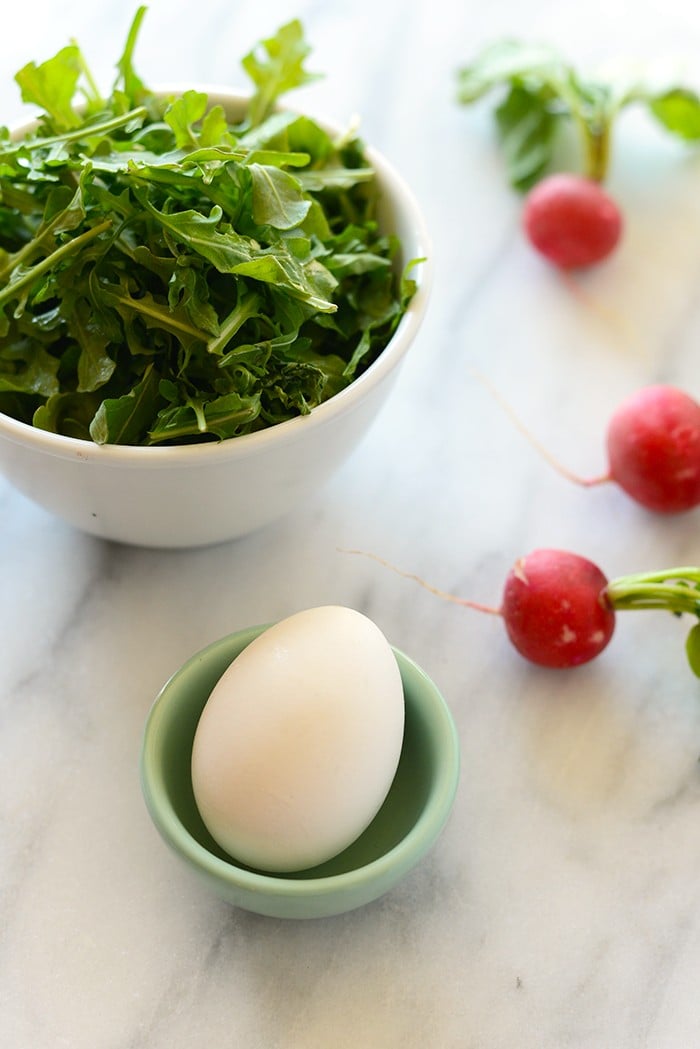 Lee and I often argue about our differences regarding breakfast. Lee is a sweet breakfast girl and I am totally a savory breakfast girl. Lee's love for oatmeal in the morning is equivalent to my love for a savory toast in the morning. Give me some of this yum yum peppery arugula, radishes, and a fried egg on toast ANY DAY.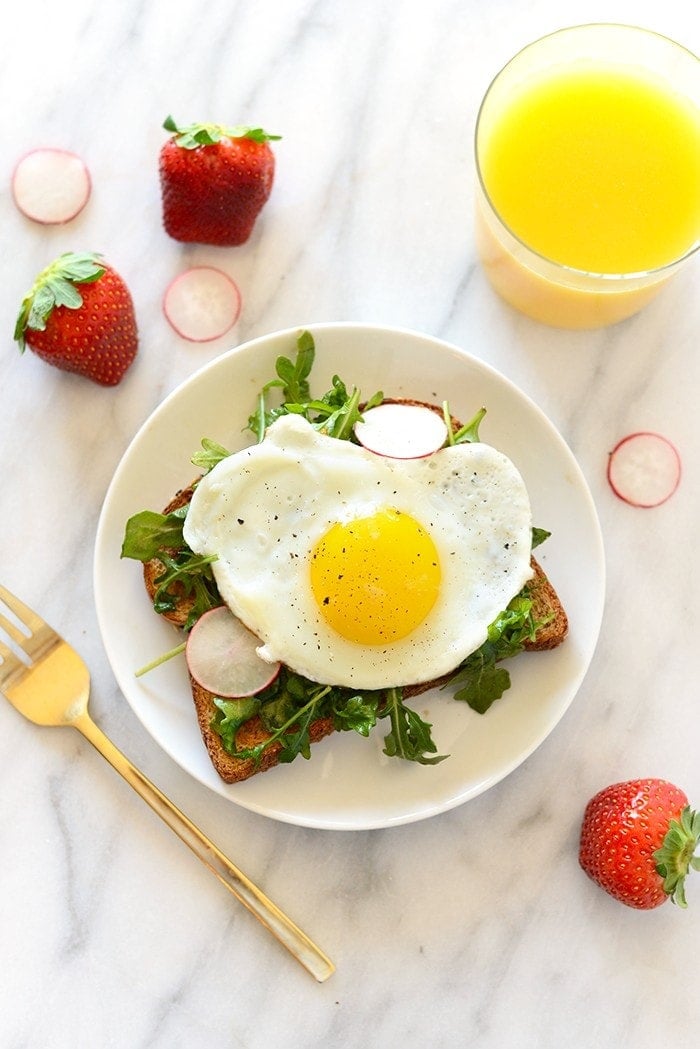 Toast is a perfect quick breakfast that has endless options for toppings. This Egg and Arugula Toast gives you a healthy serving of greens, protein, and whole grains in one swoop. It's a no-brainer breakfast that anyone can whip up in a hurry. Plus, it's a beautiful meal.
LONG LIVE ARUGULA and we will get to know each other better on FFF's next TOAST TUESDAY w/ Linley (me)!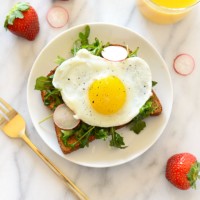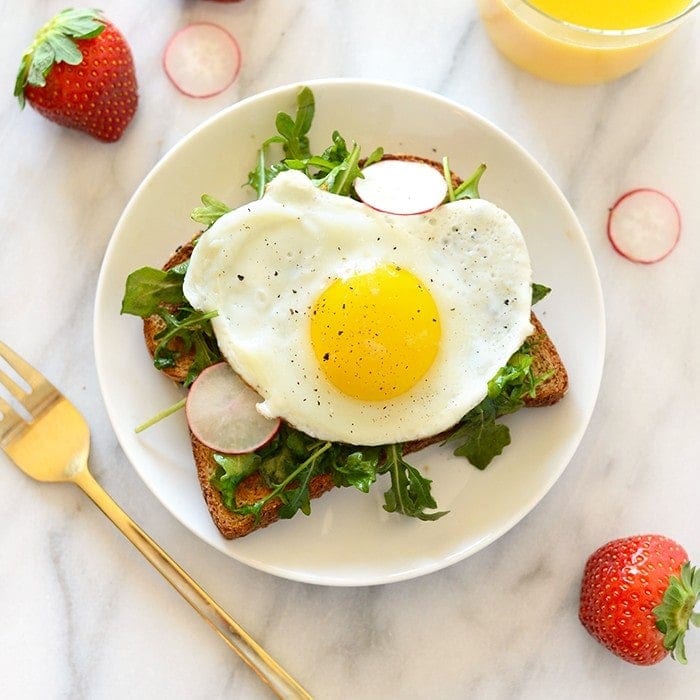 Toast Tuesday - Egg and Arugula Toast
It's Toast Tuesday and we are bringing you one of our favorite toast recipes- Egg and Arugula Toast! Start you morning off with this simple, filling, 7-ingredient breakfast.
Ingredients
1

piece

of whole grain bread

or bread of choice

1/2

cup

arugula

packed

2

radishes

sliced

1

large egg

1

tablespoon

olive oil

1

tablespoon

balsamic vinegar

salt and pepper
Instructions
First, in a small to medium sized bowl, toss arugula with olive oil and balsamic vinegar. Season with salt and pepper to taste. Set aside.

Next, heat a medium frying pan over low/medium heat. Spray pan with cooking spray.

Add egg to fry pan, cover, and cook to desired yolkiness (about 3-4 minutes for a runny egg)

While egg is cooking, toast bread in toaster.

Lastly, when toast is done. Top with arugula, radishes, and fried egg. Salt and pepper to taste.

ENJOY
Nutrition facts
Serving:
1
g
Calories:
319
kcal
Carbohydrates:
22
g
Protein:
10
g
Fat:
21
g
Fiber:
1
g
Sugar:
5
g