Set yourself up with a healthy lunch for the entire week and make one of these healthy lunch meal prep recipes!
If you're in the mood to meal prep, check out all of our best meal prep ideas round-up posts: meal prep breakfast recipes, meal prep dinner recipes, and even all of these delicious meal prep snack ideas!

[adthrive-in-post-video-player video-id="PbSvU0MT" upload-date="2020-01-18T10:00:00.000Z" name="Best Meal Prep Lunches" description="Set yourself up with a delicious lunch menu for the week and make one of these healthy and easy lunch meal prep recipes!" player-type="default" override-embed="default"]
How to Make a Healthy Lunch
The day-old question –> How do I eat healthy all week when I have no time? We have found that most people struggle most with eating healthy at lunchtime.
Breakfast and dinner tend to be a bit easier because you are at home and have a bit more control over when and what you eat.
If you don't meal prep lunch, you are committing to no lunch (not ideal) or eating out for lunch (which can get expensive). Today we are talking all about our favorite healthy lunch ideas. There are many ways you can set yourself up with healthy lunches for work (or school) all week long with NO added stress.
The number one thing we recommend is balance! We're all about balance and that's also true when prepping your lunches.
balanced lunch
Here's what a balanced lunch should look like:
1 serving of whole grains
4-6 oz. lean protein
1-2 servings vegetables
Lunch Meal Prep Tips + Tricks
One way to set yourself up for healthy eating during the day while you're at work or school is MEAL PREP. Set yourself up with all of the right kitchen gadgets, meal prep containers, and pantry essentials so you can be ready to meal prep at any time.
Everything You Need
We are all for having kitchen appliances that you actually use. We have a very detailed post all about the best kitchen essentials that will help you streamline meal prepping in your home, so check that post out for nitty-gritty details.
If we had to pick out our four must-have meal prep tools, these would be them:
Meal Prep Containers– Once you have made a meal that you would like to split up for meal prep, we suggest immediately separating it into meal prep containers. Having meals already split up and ready to go take one step out of getting ready for your day. And? Using a grab and go container just makes things easier! We love this glass one.
Check out our top ratings for the Best Meal Prep Containers.
Reusable silicone bags– Forget the plastic bags that you've grown up with. Get yourself a pack of reusable bags for sandwiches, dressings, oatmeal, and meal prep recipes! It is great for the environment and easy on the wallet!
Instant Pot– Cut your cook time in half in the evenings or on your meal prep day during the week by making Instant Pot recipes! An Instant Pot is a new age pressure cooker that can take prepare meals that take hours in only minutes! Having an Instant Pot in the kitchen is a great meal prep tool for everyone!
Slow Cooker– A slow cooker is another great meal prep tool that you can prepare a big meal for the week with little to no prep necessary! Slow cooker recipes are some of FFF's most popular meals!
We love setting up our slow cooker in the morning and in the evening we have a delicious slow cooker recipe ready to eat or ready to meal prep!
instnMeal Prep Kitchen Essentials
Keep the Pantry Stocked
Most of our easy meal prep ideas are a combination of many pantry staples! It is so nice to have ingredients like quinoa, beans, and dried fruit ready in the pantry just in case we want to whip up a buddha bowl last minute.
If you are going on a grocery run, here are some of our suggested pantry staples for meal prep!
Minute white + brown rice
Canned beans (black, pinto, kidney)
Dried fruit (raisins, cranberries, cherries, apricots)
Nuts (almonds, pecans, walnuts, pistachios)
Make a Plan
When people think about meal planning three meals a day for the whole week, it can sound exhausting! Guess what? You don't have to meal plan that many meals for the week! Everyone is different and it's ok to meal prep one or two meals for the week. It still makes a difference.
Here are other tips we have for prepping healthy lunch recipes:
Before anything, decide how many meal prep lunch recipes you want to prepare. Don't overwhelm yourself!
Choose a meal or two that you are excited about. Prepare those meals and separate them out for lunch.
Once you have tested a few meal prep meals, choose a few meals that were easy for you to make and tasted good. Then, add them to your meal prep roster so you have meals that you can whip up whenever you need them!
All the Questions
You got questions, we got answers! Here are some of the most commonly asked questions when it comes to meal prep lunch recipes!
How long do meal prep meals last in the refrigerator?
How long a meal prep meal can last in the refrigerator depends on a couple of things. Most meal prep meals can last between 5-7 days in the refrigerator if they are stored in an airtight meal prep container.
Another way you can make meal prep meals last longer is if you wait to add dressings, sauces, or drizzles until right before you serve them. This will keep greens and other ingredients from getting soggy!
Can you freeze meal prep meals?
You can freeze many meals in meal prep containers if you would like. We suggest avoiding freezing noodles and cheese. If you are looking for meals you can prepare and freeze, check out our post on 6 Crockpot Freezer Meals! They are great for meal prep!
We also love freezing soup, so if you are looking for great soups to meal prep and freeze, check out our post on How to Freeze Soup.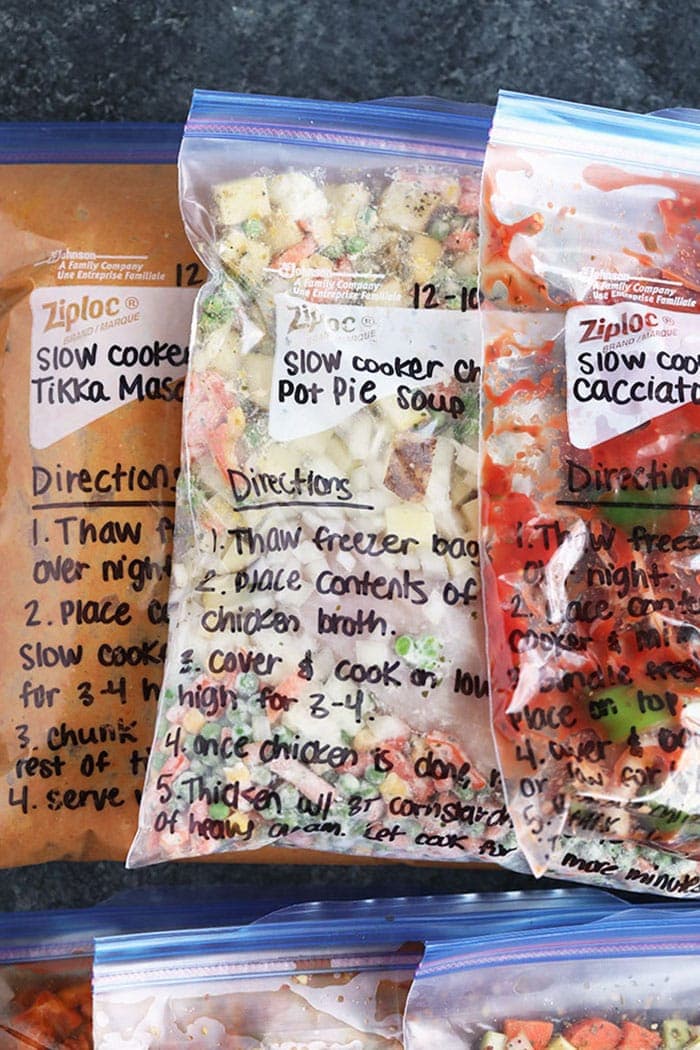 Do you eat meal prep meals hot or cold?
To each their own! You can eat your meal prep meals hot or cold! It just depends. We tend to warm up most of our meal prep recipes. The only recipes we tend to eat cold are our chicken salad, quinoa salad, or green salad recipes
Can meal prep last a week?
Yes, meal prep can last a whole week! Be sure to store all of your meal prep meals in airtight containers. It also helps to keep dressings and sauces separate from other ingredients to prevent ingredients from going soggy.
Is meal prepping good for weight loss?
Meal prepping can be a benefit for many reasons. Every meal is all about balance and moderation. Meal prepping can help you plan healthy meals and snacks that are nutritious and that keep you on track to stay balanced throughout the week.
Can you meal prep rice?
Yes, you can meal prep rice! When you are planning on meal prepping rice, undercook the rice a bit so there is still a bite to it. You will be reheating the rice eventually and don't want it to be mushy.
If you plan to eat the rice within 7 days then let the rice cool and store it in the refrigerator in an airtight container.
If you plan to freeze rice for later, let the rice cool and store the rice in an airtight reusable bag. Place the rice in the bag, remove all the air, seal it, and place it in the freezer. The rice will last up to 3 months in the freezer.
Our Best Healthy Lunch Ideas
Make this Instant Pot Stuffed Spaghetti Squash next time you're looking for a vegetarian meal prep idea that you can enjoy all week long! It's ready in 30-minutes! V, GF
This General Tso's Cauliflower is a twist on classic takeout but made vegetarian with cauliflower instead of chicken! Vegetarian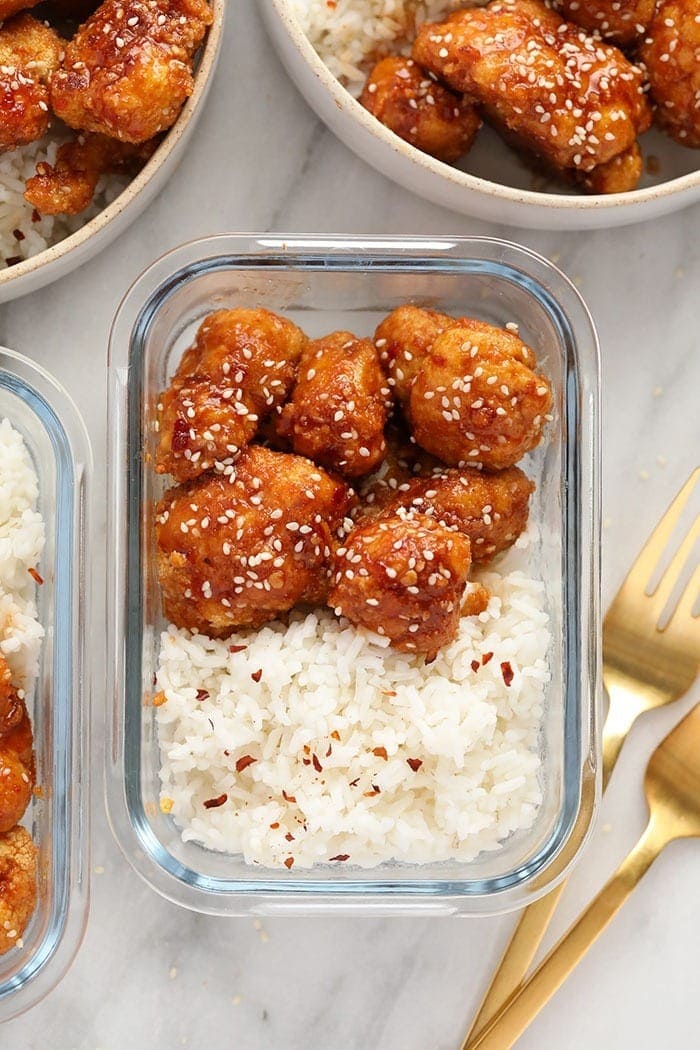 Your lunch for the week is ready in less than 30 minutes with this protein-packed Rotisserie Chicken Cobb Salad! Gluten-Free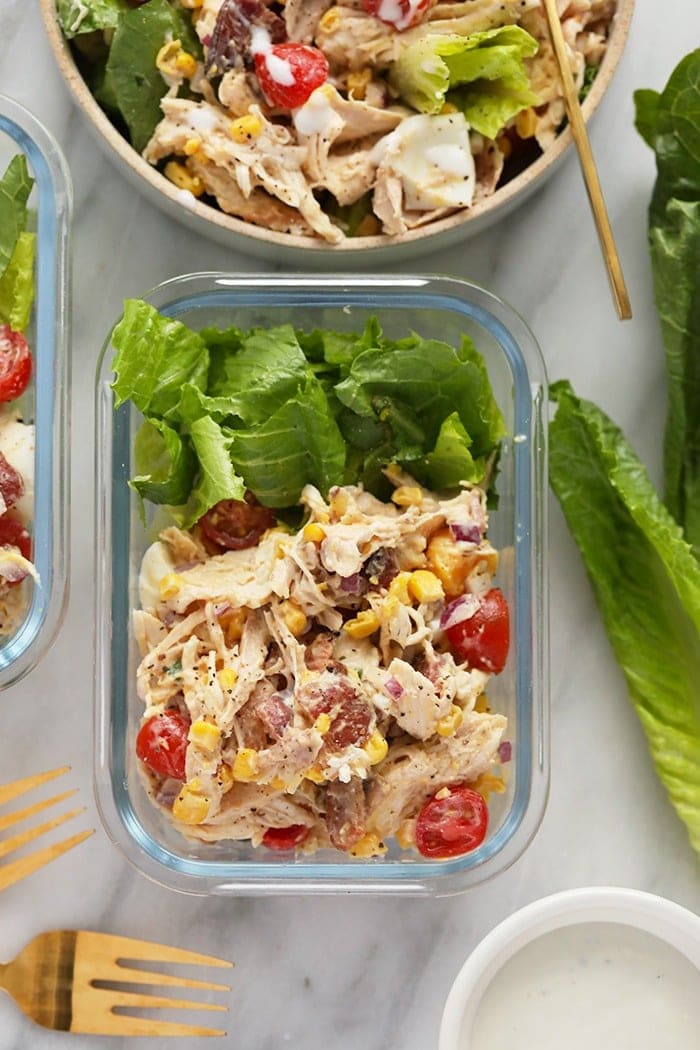 This Moroccan quinoa salad with crispy chickpeas is protein-packed and full of veggies! Make it today for a healthy meal prep lunch idea for the week! Vegetarian & Gluten Free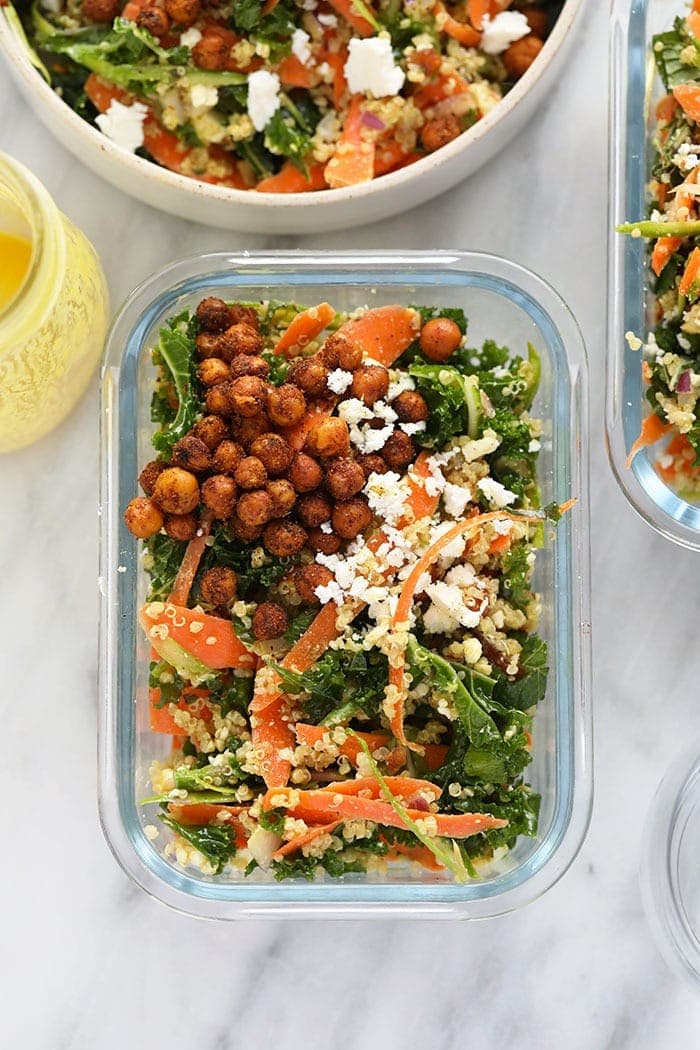 Healthy pasta lovers, this one's for you! A Caprese Chicken Pasta that packs 51g of protein per serving and all those delicious caprese flavors you love. Plus, it's perfect for meal prep!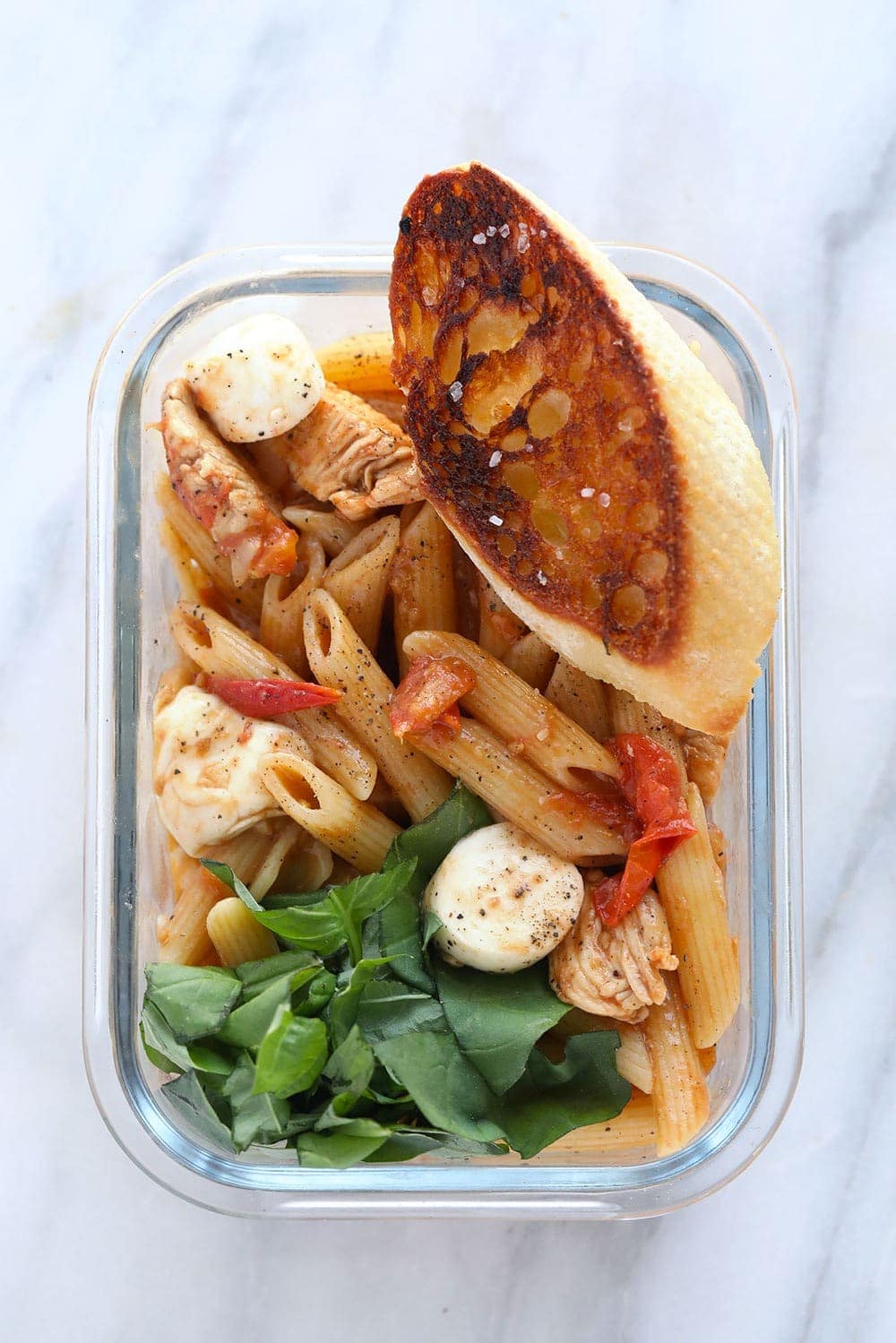 Simple Mediterranean Salmon Meal Prep made with an amazing arugula mint pesto, a chunky Greek salad, and a side of couscous! Gluten Free & Keto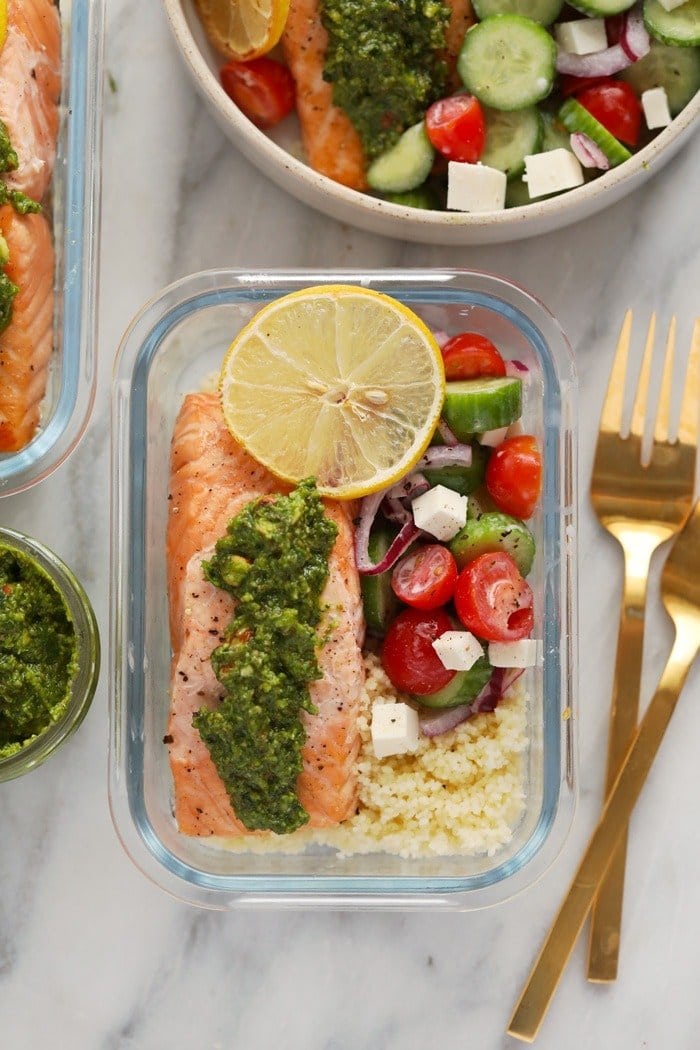 More Lunch Meal Prep Ideas
Vegetarian/Vegan
Meat/Fish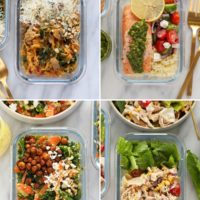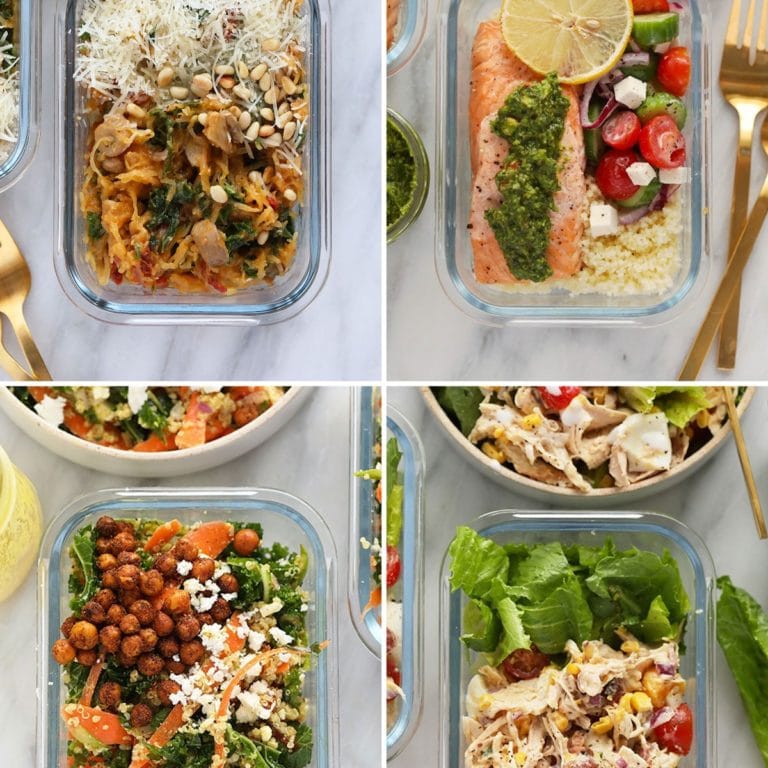 Meal Prep Ideas: Chicken and Veggie Meal Prep Bowls
Make this easy lunch meal prep recipe with lean chicken breast, roasted root veggies, and quinoa for a balanced healthy lunch!
Instructions
First, follow the instructions for our Instant Pot Chicken breast

HERE

.

Then, follow our roasted root vegetables recipe

HERE

.

Finally, cook 1 cup of quinoa either on the stovetop or in the

Instant Pot

.

Once everything is cooked, assemble your meal prep lunch bowls by separating out the food into 4 portions.
Nutrition facts
Calories:
495
kcal
Carbohydrates:
57
g
Protein:
31
g
Fat:
18
g
Fiber:
7
g
Sugar:
6
g