This sriracha chicken salad is a delectable combination of fresh greens, spicy chicken, and a tangy Greek green goddess dressing! If you're looking to add a flavorful and healthy salad recipe to the menu, here it is!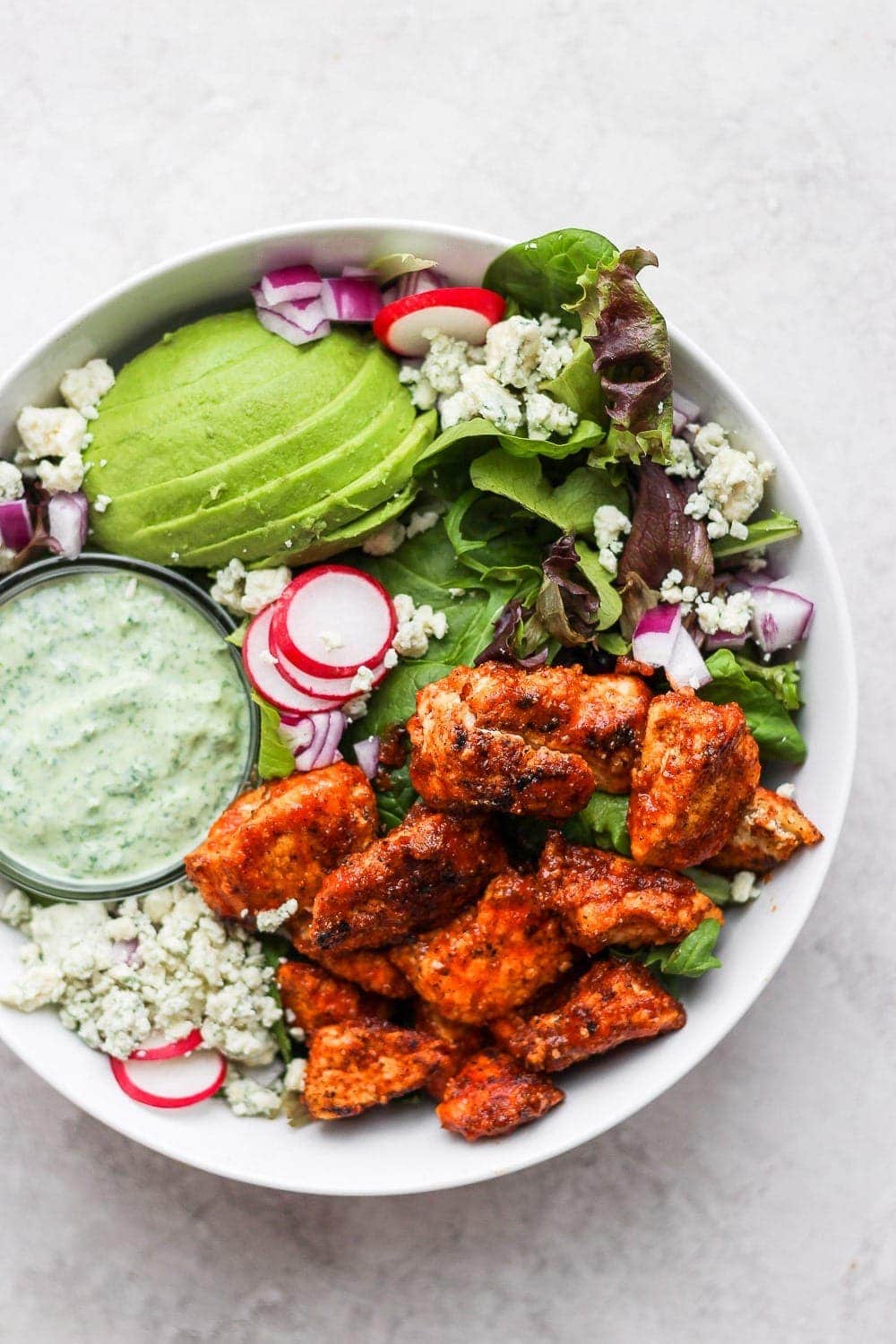 Get those veggie in this week and make this sriracha chicken salad! We also have a variety of different salad recipes on FFF! Whether you are looking for green salads, potato salad, broccoli salad, or even pasta salad! We've got you covered!
A Perfectly Balanced Salad
What's in a salad? There are so many ways to construct the perfect salad! The number one rule to remember is use ingredients that you love, that way you'll actually look forward to eating a delicious salad!
We are huge fans of sriracha and crispy chicken, so why not cook up some delicious sriracha chicken and throw it on a salad?
We kept this sriracha chicken salad balanced with a spicy chicken, a tangy dressing that pairs well with the sriracha, all over delicious greens and vegetables! Let's break each layer of this perfect salad down!
Chicken 
The chicken in this recipe is sriracha chicken. We use chicken breast because it's widely available, very lean, and takes on flavor really well!
If you don't have chicken breast, feel free to use skinless chicken thighs or chicken tender cutlets! Any chicken would taste delicious!
Dressing 
Greek yogurt pairs so well with spicy food. It gives your mouth a break from the spice while also giving you an amazing tanginess. We just love it! We blended greek yogurt with fresh herbs, lemon, and garlic to make a delicious green goodness dressing!
If you are not a fan of green goddess dressing, feel free to choose one of these healthy dressing recipes!
Vegetables
We went with a spring mix, sliced radishes, and diced red onions as the base vegetables in this salad! The greens are buttery and the radishes and onion give the perfect crunch!
You can also choose your own toppings to go along with the crispiness of this salad! We went with creamy fresh avocado and blue cheese crumbles! YUMO.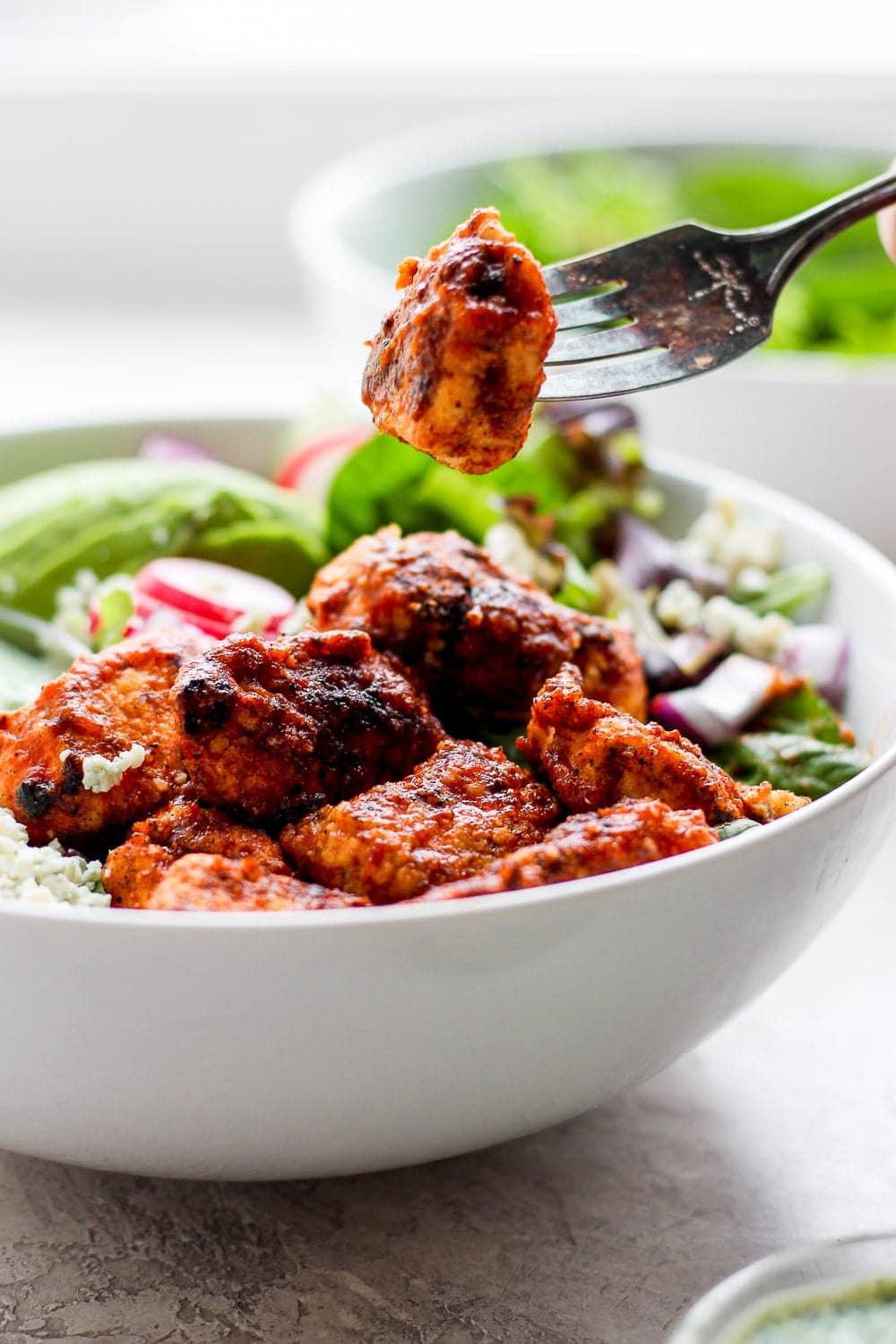 How to Make Sriracha Chicken CRISPY
Sriracha chicken is definitely the star of the show for this salad! It is coated, cooked up, and then tossed with a sweet + spicy sriracha sauce!
Make the sriracha sauce first and set it aside!
Next, mix up your "breading" for the chicken and toss the chicken in an egg wash and coat it with the breading.
Then, BEFORE tossing it in sauce brown the chicken in a skillet or cast iron pan! This is going to really crisp your chicken up!
Once all chicken is browned, toss the chicken with the sriracha sauce until each chicken piece is coated with sriracha sauce.
Just be careful of this–> Sometimes browning the chicken without a sauce causes some smoking! Make sure you have your kitchen fan on when cooking the chicken over the stove!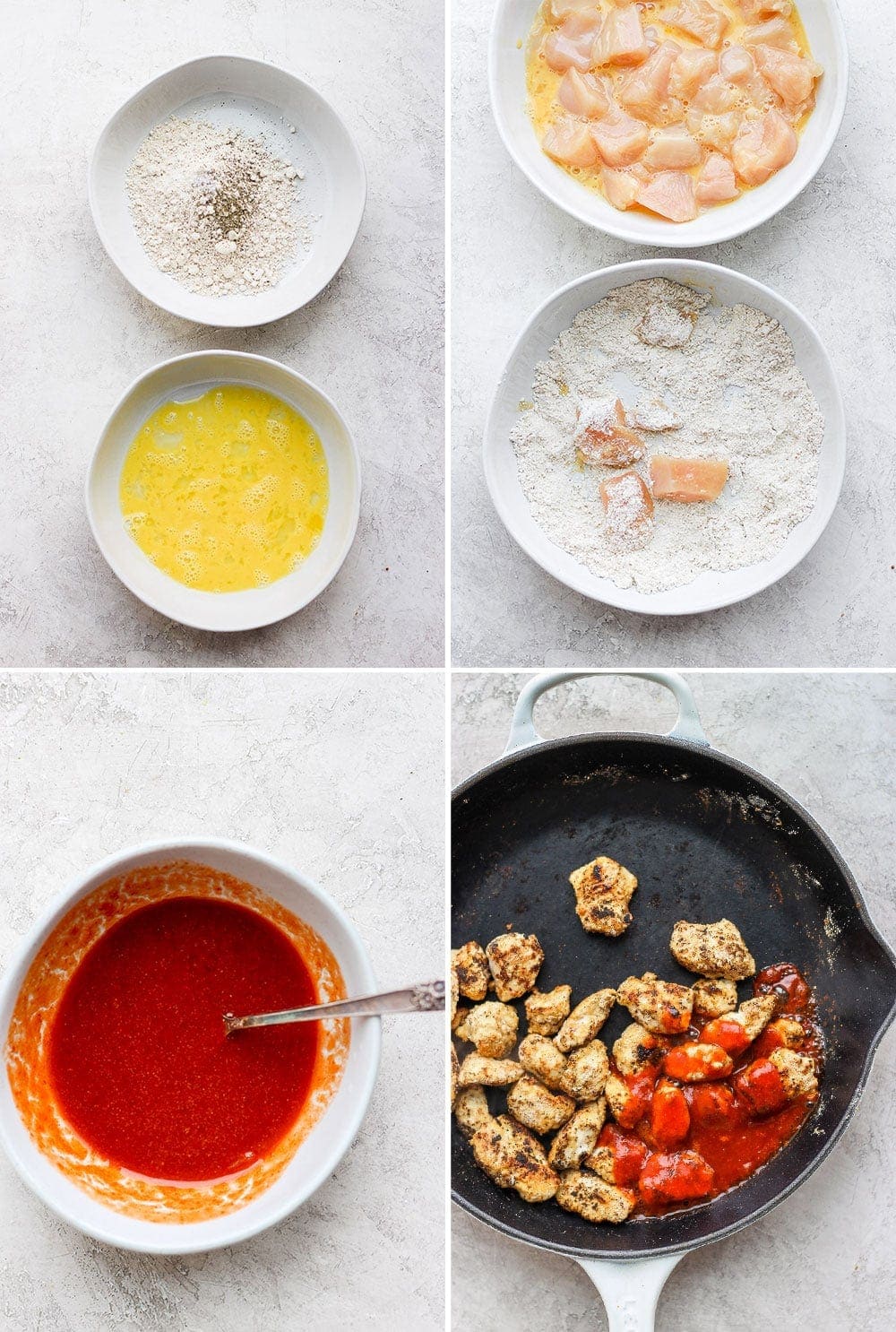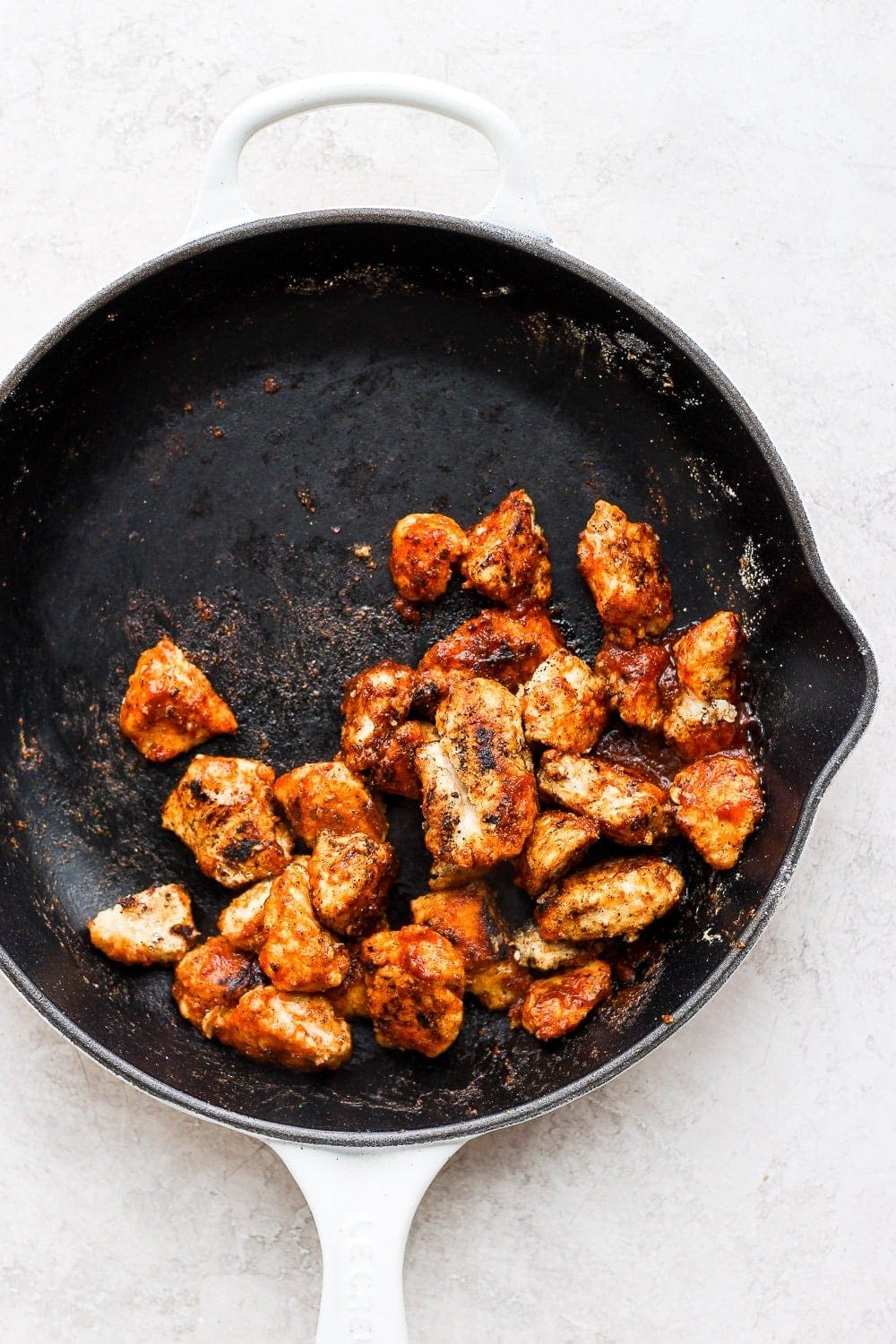 Keep these Tips + Tricks in Mind
If you are meal prepping this salad
When preparing this salad for lunch or dinner, go ahead and follow the recipe as is!
If you are meal prepping this salad for the week, we suggest waiting to add the dressing to the salad until right before eating it!
Change up the vegetables
Don't fret too much about switching up what vegetables you use! If you don't have a spring mix, arugula or romaine would also be great in this salad!
No radishes, chop up some sweet peppers or carrots! The options are endless. It's all about adding ingredients to this salad that you are excited to eat!
Swap cheeses! 
Not a fan of blue cheese? Have no fear, feta or goat cheese crumbles would also be a tasty addition to this sriracha chicken salad!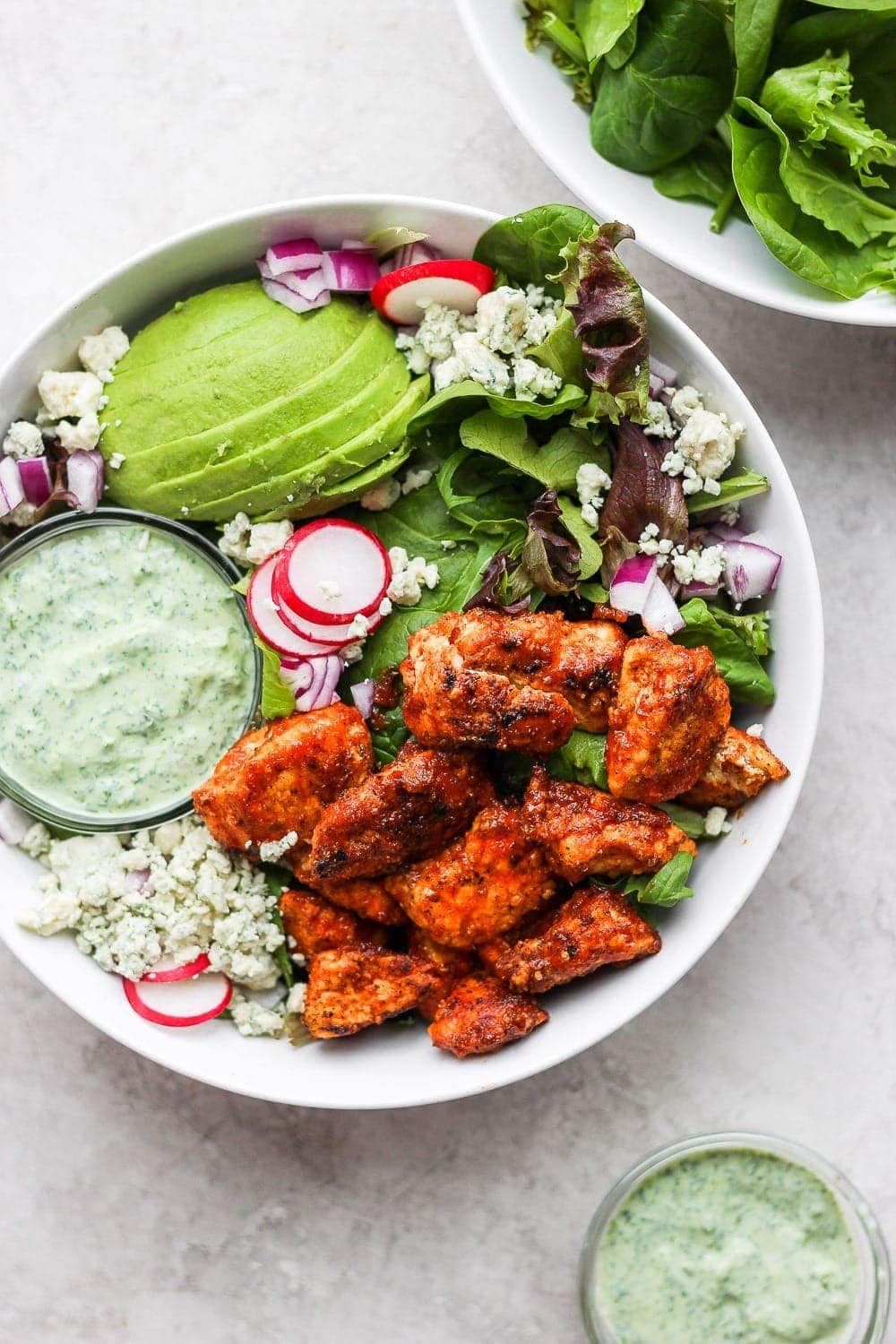 Healthy GREEN Salad Recipes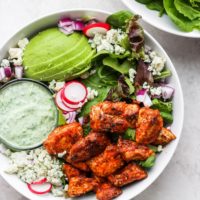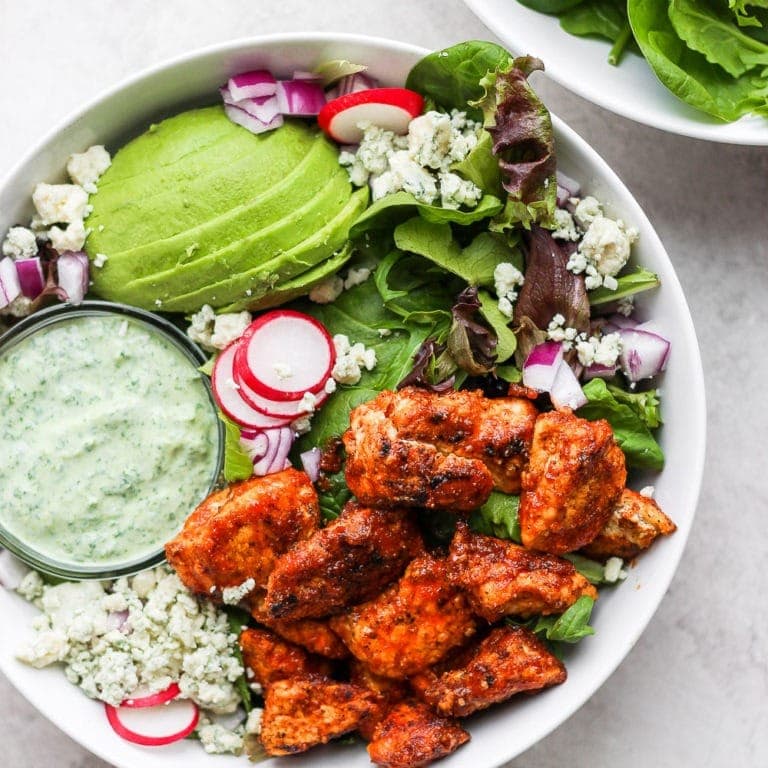 Sriracha Chicken Salad
This sriracha chicken salad is a delectable combination of fresh greens, spicy chicken, and a tangy Greek green goddess dressing! If you're looking to add a flavorful and healthy salad recipe to the menu, here it is!
Ingredients
For the Green Goddess Dressing
1/2

cup

fresh parsley

1/2

cup

fresh cilantro

1/3

cup

nonfat plain Greek yogurt

1

tablespoon

minced garlic

1/2

medium lime

juiced

salt

to taste

water or olive oil

to taste (to thin the dressing out)
For the Salad
4

handfuls of mixed greens

1/4

cup

blue cheese crumbles

4

radishes

thinly sliced

1/4

red onion

diced

1

medium avocado

sliced
Instructions
For the Chicken
First, dice chicken into bite-sized pieces and set aside.

Then, create the sriracha sauce by mixing together sriracha, lemon, honey, and garlic powder. Set aside.

Place ground oat flour, salt, and pepper, into a medium bowl and mix. Whisk an egg in another medium bowl and set aside.

Next, heat 1 tablespoon of olive oil in a large nonstick skillet over low/medium. Low/medium is important in order to prevent burning.

While the pan is heating up, prep chicken by dipping each piece into the egg wash and then into oat flour to coat on all sides. This is going to help create a crunchier texture.

Place chicken on sauce pan and sauté for 6-10 minutes, or until cooked all the way through. We suggest turning your fan on as the chicken may get a little smokey.

Once the chicken is fully cooked, add sriracha sauce to the pan and toss, fully coating all of the chicken pieces. Set chicken aside.
For the Dressing
Place all ingredients into a high-speed blender and process until smooth.

Option to add water or olive oil as needed to thin out dressing to reach a desired consistency.
For the Salad
Assemble salad by placing 2 handfuls of mixed greens into 2 large bowls.

Then, divide out blue cheese crumbles, sliced radishes, diced onion, avocado, and sriracha chicken into the two bowls

Serve with green goddess dressing.
Tips & Notes
honey: If the sriracha sauce is too spicy for your liking, add a little bit more honey to tame it down!
Nutrition facts
Calories:
589
kcal
Protein:
40
g
Fat:
24
g
Fiber:
9
g
Sugar:
26
g
Photo Credit: Wooden Skillet