If you like tacos, you'll love this taco soup! This taco soup recipe is ready in only 30-minutes and it is a great healthy soup to make for meal-prep. Skip the spoon and scoop this soup with your favorite tortilla chip!
We have so many amazing soup recipes on Fit Foodie Finds. Right now, our favorite soups are this Instant Pot Hamburger Soup recipe and this One Pot Golden Curry Chicken Soup! Give them a try!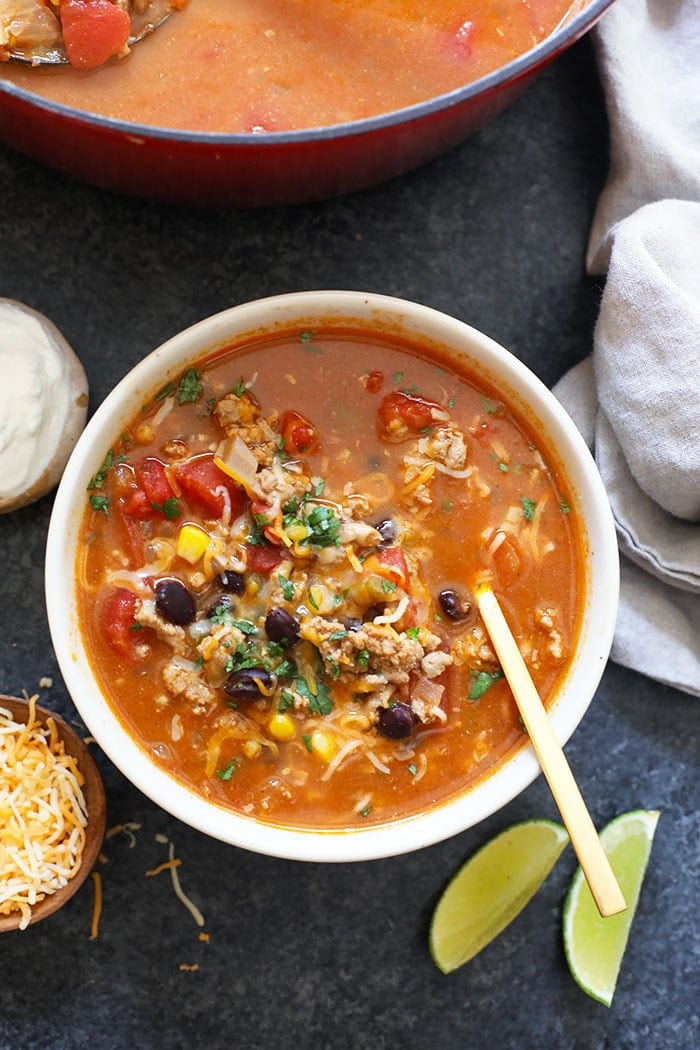 Food with Feeling
It is almost FALL, which is totally my season. You betcha that I am sitting in a sweater as I write this post! I am sipping a glass of wine while I think about my Auntie Louie. My Auntie Louie was an amazing human and also introduced me to her famous taco soup.
Auntie Louie's taco soup was damn good. It was something our family always asked her to make and my golly why wouldn't we post a healthy taco soup recipe? One other fun fact before I chat about this taco soup. Did you know that Lee, Emily, and I ALL had a Louie in our lives?
We knew it was fate when we found each other. All of our Louies are no longer with us but were HUGE parts of why we are who are. So, shout out to all of the Louie's of the world and to all the strong women that shape us.
Now…healthier TACO SOUP.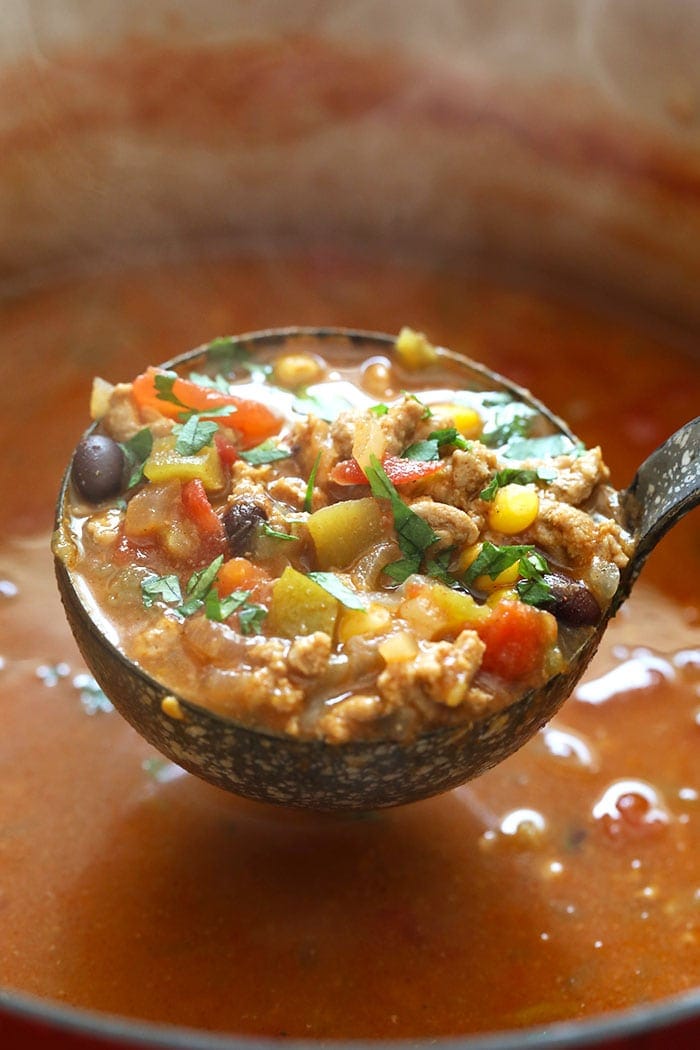 When In Doubt, Make Soup
This taco soup recipe has all of your favorite taco fixings in a bowl. It has all of the delicious taco flavors of cumin, chili powder, hot sauce, and cilantro that remind you that every taco must have!
As we started scheduling fall recipes, we knew that we wanted to really up our soup game and add healthy and nostalgic soups to the docket. We have a good mix of brothy soups like this taco soup as well as some delicious creamy soups that will keep your belly full all winter long. GET EXCITED.
How to Make Taco Soup
One thing I love about this soup is that it is ready in 30-minutes but also has amazing flavor.
All you have to do is saute onion, garlic, taco meat, and then add taco seasoning. BOOM. Then, add the rest of your ingredients and let the soup simmer for 20 minutes. BAM, your soup is done and you're ready to RUMBLE. Add your favorite taco fixings like greek yogurt, cilantro, fresh lime juice, some crunchy chips, and enjoy!
Taco Soup Grocery List
My guess is that many of you already have many of these ingredients in your pantry or in the refrigerator right now! If not, consider adding everything on this list to your next grocery list so you have everything you need for this soup on hand.
Taco Seasoning
Ground Turkey
Onion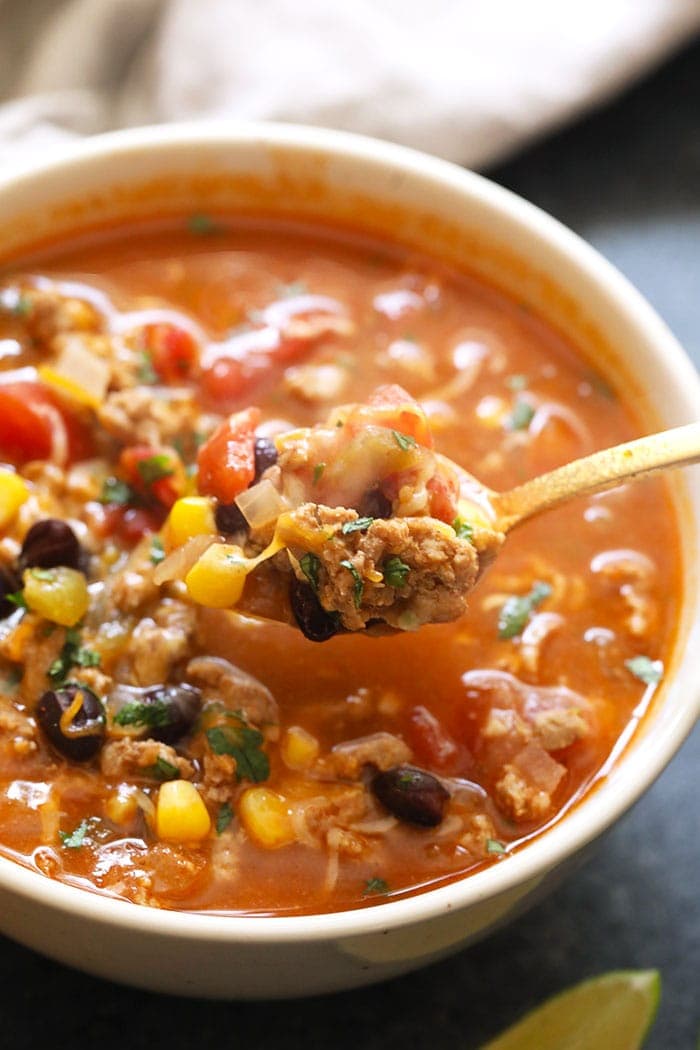 The DL on Taco Soup
The best toppings for taco soup. You can top your taco soup with all of your favorite taco toppings! Below are some delicious healthy topping options:
shredded cheese
cilantro
lettuce
kale
lime juice
fresh tomatoes
cotija
salsa
guacamole
greek yogurt
Can I make this taco soup in a slow cooker? We do not recommend making this soup in the slow cooker, however, we do have a delicious slow cooker taco soup coming soon to FFF! Stay tuned!
What do I serve with taco soup? We love eating this taco soup with our favorite tortilla chips (instead of using a spoon). However, if you are looking for something more substantial to serve with this taco soup, try one of the recipes below as an appetizer or side dish!
Can you freeze taco soup? Yes, you can freeze taco soup. All you have to do is make sure the taco soup is fully cooled before placing it in a freezer-safe plastic bag, stasher bag, or tuber ware container.
Make sure that you remove as much air as possible from the freezer-safe container. Mark the container with a 'use by' date and place it in the refrigerator for up to 3 months.
Can I substitute beef or chicken for the ground turkey? Yes, feel free to substitute the ground turkey in this recipe with ground beef, ground turkey, or omit the meat to make it a vegetarian soup!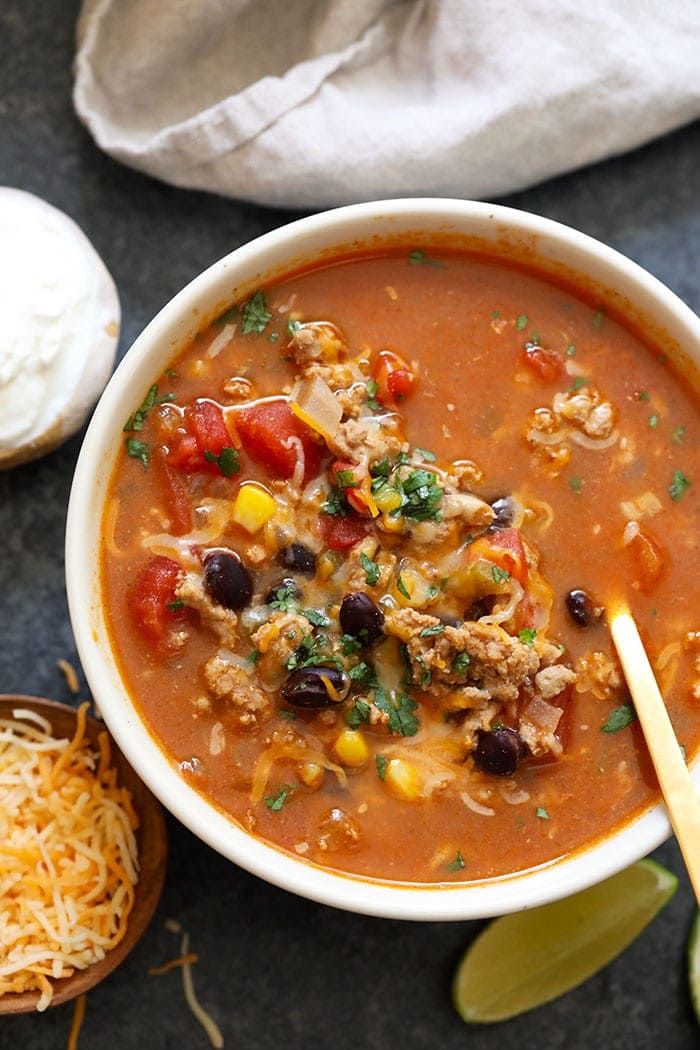 Healthy Soup Recipes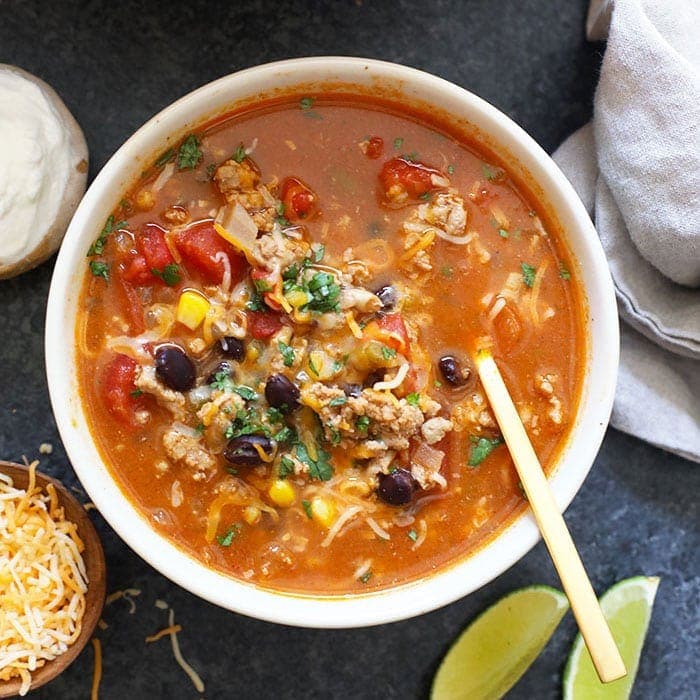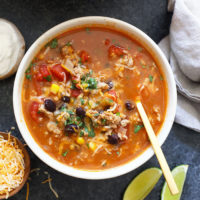 Taco Soup
If you like tacos, you'll love this taco soup! This taco soup recipe is ready in only 30-minutes and it is a great healthy soup to make for meal-prep. Skip the spoon and scoop this soup with your favorite tortilla chip!
Prep:
10 minutes
Cook:
20 minutes
Total:
30 minutes
Fat
11
Carbs
25
Protein
21
Ingredients
2 tablespoons

olive oil

1

medium white onion, diced

1

lb. lean ground turkey

1/2 teaspoon

salt

1

packet taco seasoning (~

3 tablespoons

taco spices)

5

cloves garlic, minced

1

15-oz. can black beans

1

4-oz. can green chiles

1 cup

frozen corn

1

15-oz. can diced tomatoes

3 tablespoons

tomato paste

2 teaspoons

apple cider vinegar

1/2 tablespoon

Franks Hot Sauce (or more, to taste)

4 cups

chicken broth

1/2

fresh cilantro, finely chopped
Optional Toppings
Greek yogurt
Shredded cheese
Instructions
Start by heating a stock large pot over medium heat. Add olive oil.
When olive oil is fragrant, add onion. When the onion is translucent, add ground turkey, salt, and taco seasoning. Saute for 2-3 minutes, stirring frequently.
Add the rest of the ingredients to the pot (except for the cilantro) and bring to a boil.
Reduce heat and let simmer for 20 minutes.
Add cilantro, stir, and serve with your favorite soup toppings!
Nutrition Facts
Serving Size:
1/6
Calories:
284
Sugar:
5
Sodium:
463
Fat:
11
Carbohydrates:
25
Fiber:
7
Protein:
21
Cholesterol:
53
Category:
Dinner
Method:
Stovetop
Cuisine:
Mexican