These tofu tacos are made with tofu crumbles, walnuts, and a delicious radish slaw. Top your tacos with a little bit of cotija and fresh avocado for a nutritious vegetarian dinner!
Love tocos? Us too! Check out our sweet potato tacos, shrimp tacos, or easy steak tacos for all of the taco recipes for the week.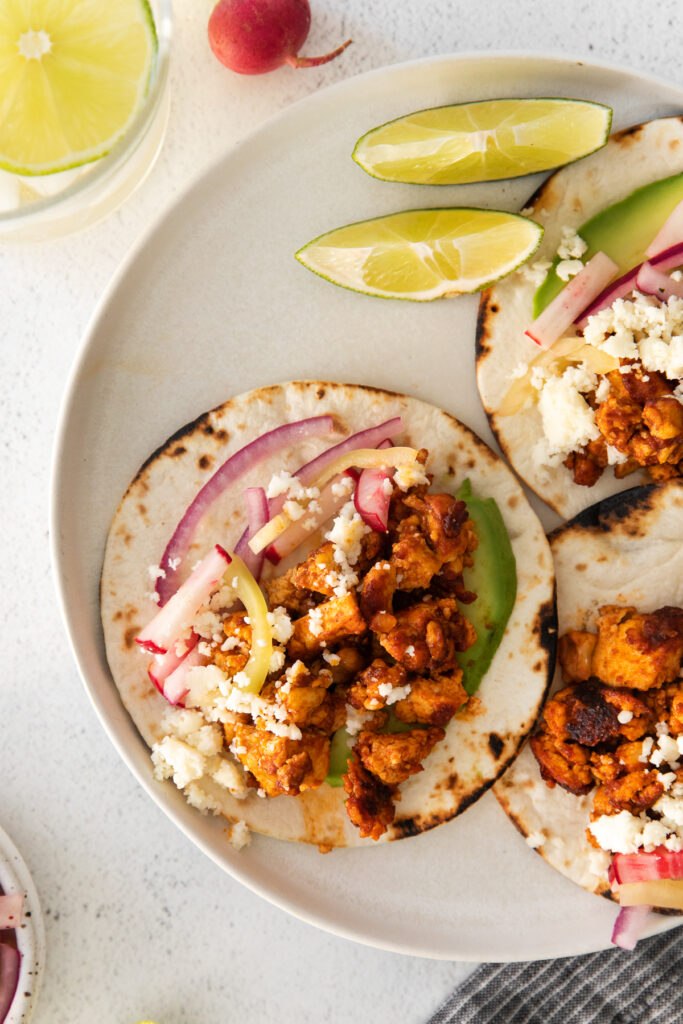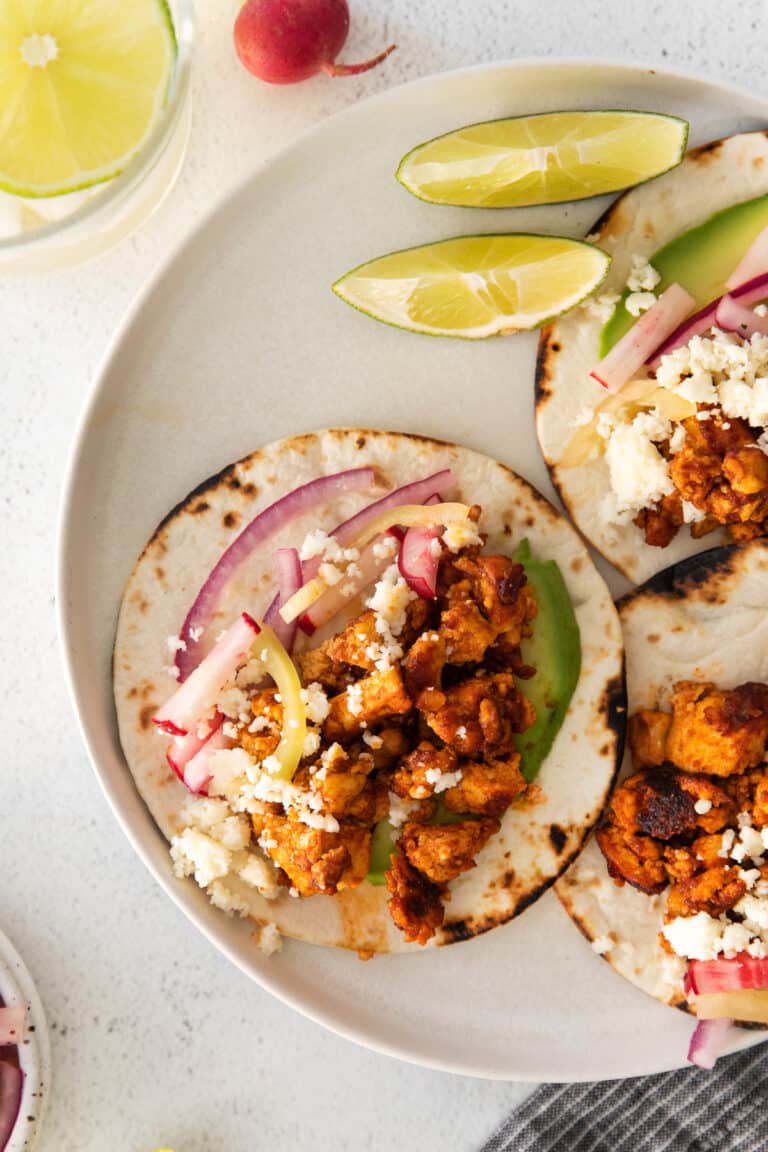 Easy Tofu Tacos for Everyone
If you are looking for a vegetarian taco recipe to add to taco tuesdays? This tofu taco recipe is so simple and easy to make.
Sometimes it can be a little nerve racking to cook with tofu, especially if you don't regularly use tofu. Get ready for the easiest tofu taco recipe that requires very little prep work!
why we love this recipe
If you use extra firm tofu, there is no long prep time for the tofu. All you do is crumble it up.
We add walnuts to the tofu to give the tofu crumble a bit of texture.
These tofu tacos can be prepared early in the week to have all week long in tacos or even as fun tofu taco bowls.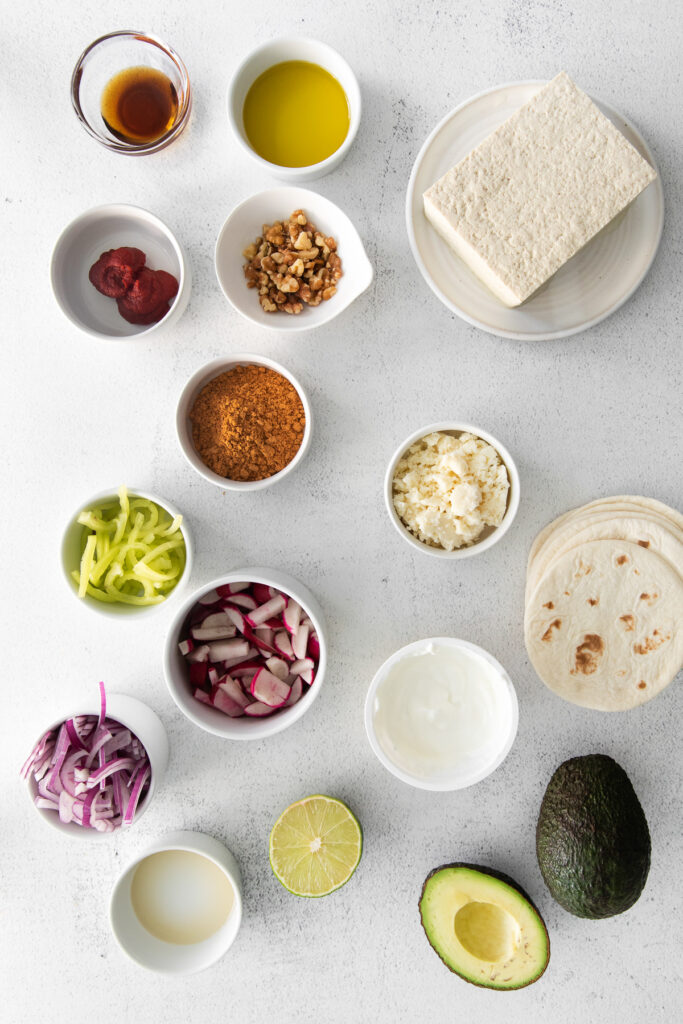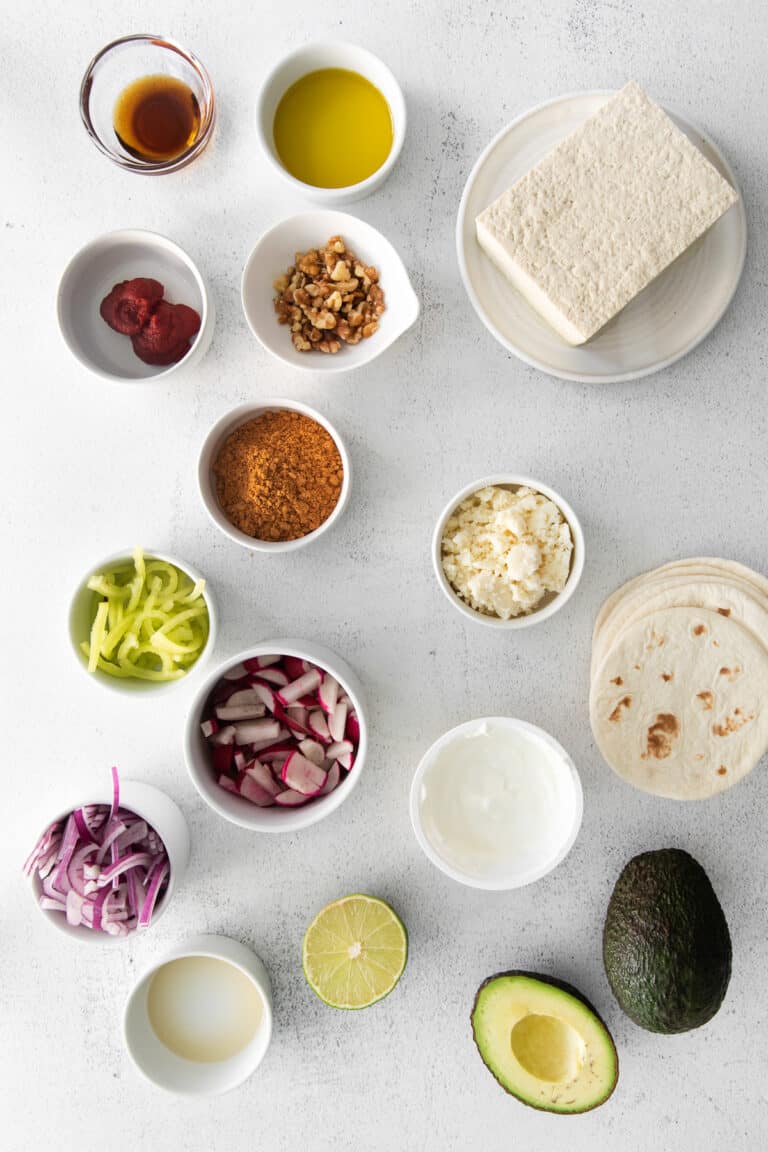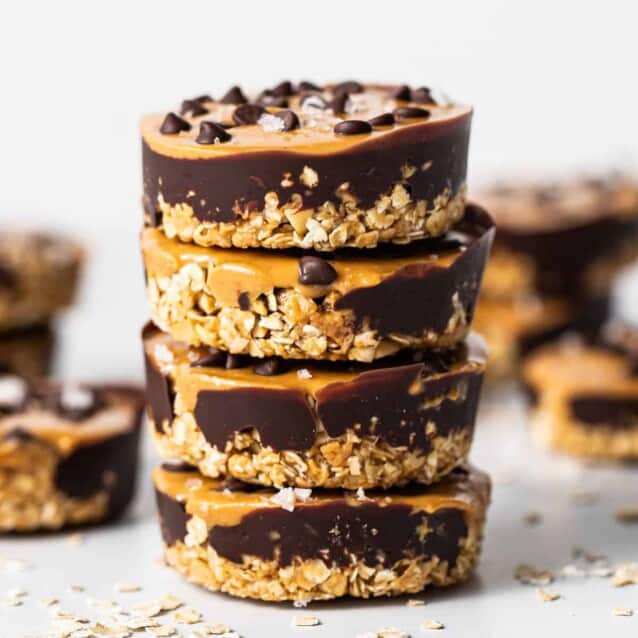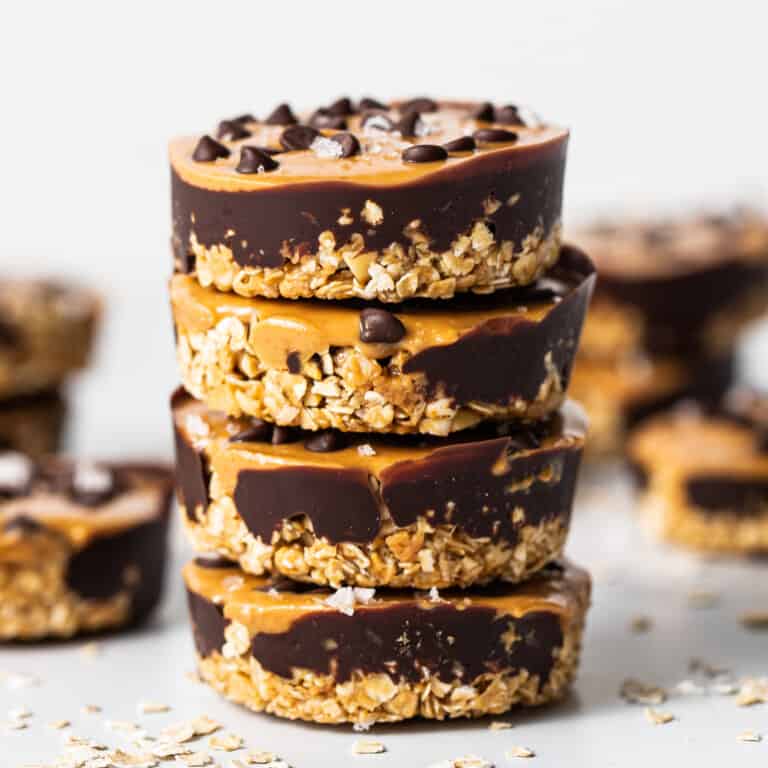 Get our Top 10 5-Star Recipes!
Join our email list for new recipes and BONUS: get our top 10 ⭐️⭐️⭐️⭐️⭐️ recipes e-book!
Ingredients You Need for Tofu Tacos
Extra Firm Tofu– be sure you buy extra firm tofu, it's best for a crumble.
Olive oil – we use olive oil to brown our tofu, but you can use avocado oil, too.
Taco seasoning– we like to make our homemade taco seasoning for all of our taco recipes, but fee free to use store bought taco seasoning. Just be careful of some store bought seasonings- they can be salty.
Tomato paste– we add a bit of tomato paste to the tofu crumble to help make a thicker sauce.
Water– the water and tomato paste mix together and thicken once simmered.
Maple syrup – we always like at add a little sweetness to our taco meat, feel free to use brown sugar instead.
Raw walnuts– the walnuts in this recipe are added right at the end of the recipe to add the perfect amount of crunch to the tofu crumble.
Radishes– sliced radishes add a peppery flavor and crunch to any slaw.
Banana pepper– who doesn't love a good banana pepper? It's perfect in this slaw.
Red pepper– slicing any sweet pepper for a slaw is always a good idea.
Dressing (apple cider vinegar, lime juice, salt)- the dressing for the slaw is super easy. It's tart, citrusy, and so complimentary.
Street taco flour tortillas- you can really use whatever tortilla you would like, but we highly suggest using street taco flour tortillas. So soft and chewy.
Topping Options (Greek yogurt, Cotija cheese, avocado)- we chose these three toppings because they are our favorite, choose what ever taco toppings make you happy!
Don't Skip the Slaw!
The tofu crumble is complimented by the tart and crunchy radish slaw, don't skip it!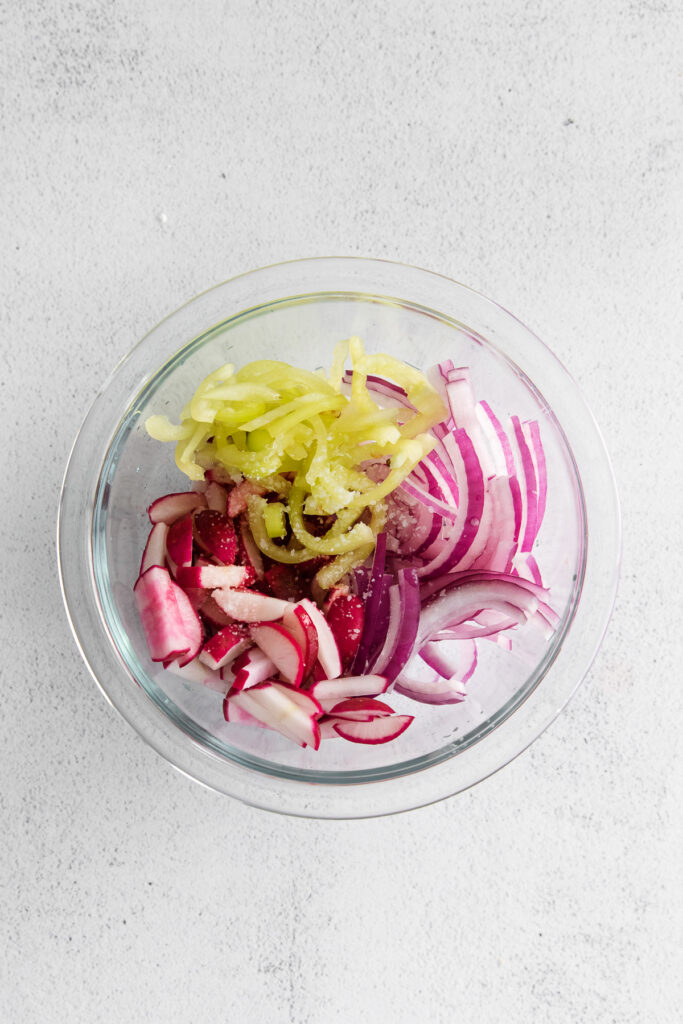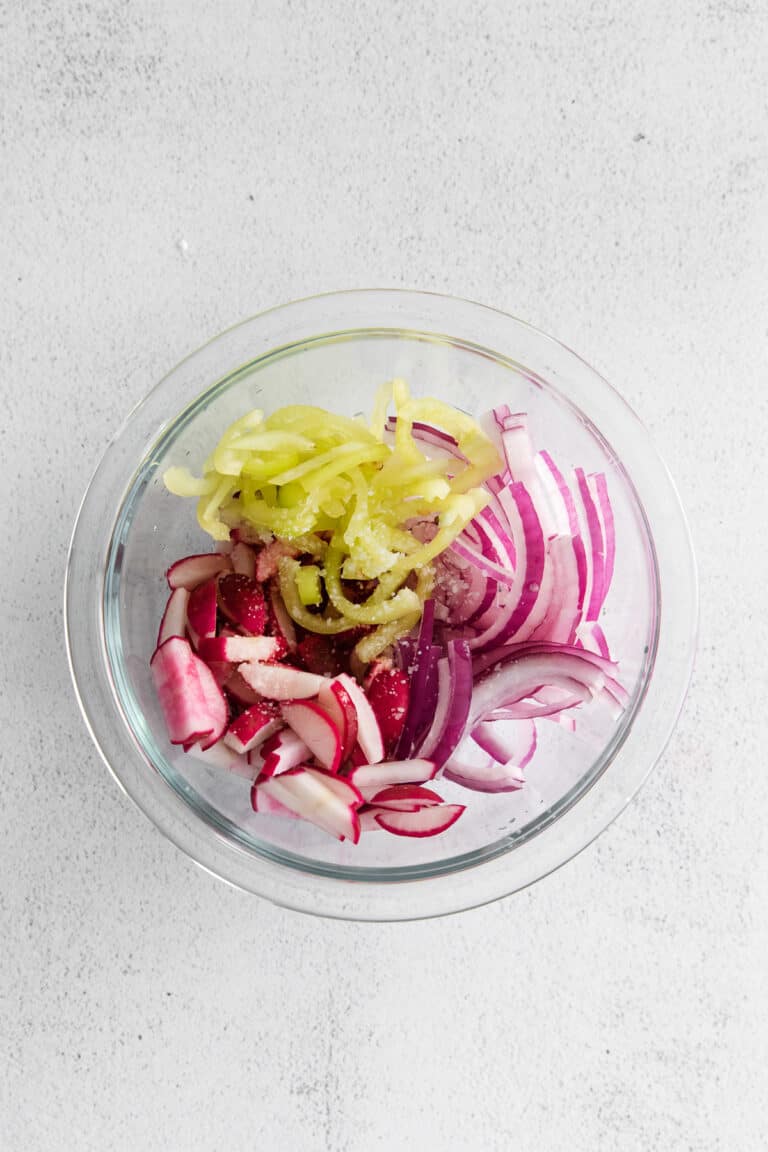 How to Make Tofu Tacos
Pat tofu. Remove tofu from its container and discard any liquid. Pat the tofu with paper towel. There is no need to press the tofu if you bought extra firm tofu because we are going to sauté the tofu and draw out the moisture.
Make slaw. Prepare the slaw by mixing all the ingredients together, toss, and place the slaw in the refrigerator to cool.
Prepare the tofu crumble. Heat a large skillet (oven safe) over medium/high heat and add olive oil to the pan. crumble the tofu into the pan and cook off excess liquid before adding taco seasoning, water, tomato paste, and maple syrup. Cook all these ingredients together until the sauce thickens.
Broil with walnuts. Add the walnuts to the skillet and toss. Place the pan in the oven and broil the tofu and walnuts until they begin to brown. Remove from the oven.
Assemble tacos. Prepare your tacos by adding tofu, slaw, and any other toppings to your tacos and enjoy.
All the Toppings
You can use any toppings that you'd like. Below are some of our favorite topping options.
sliced avocado
fresh cilantro
Greek yogurt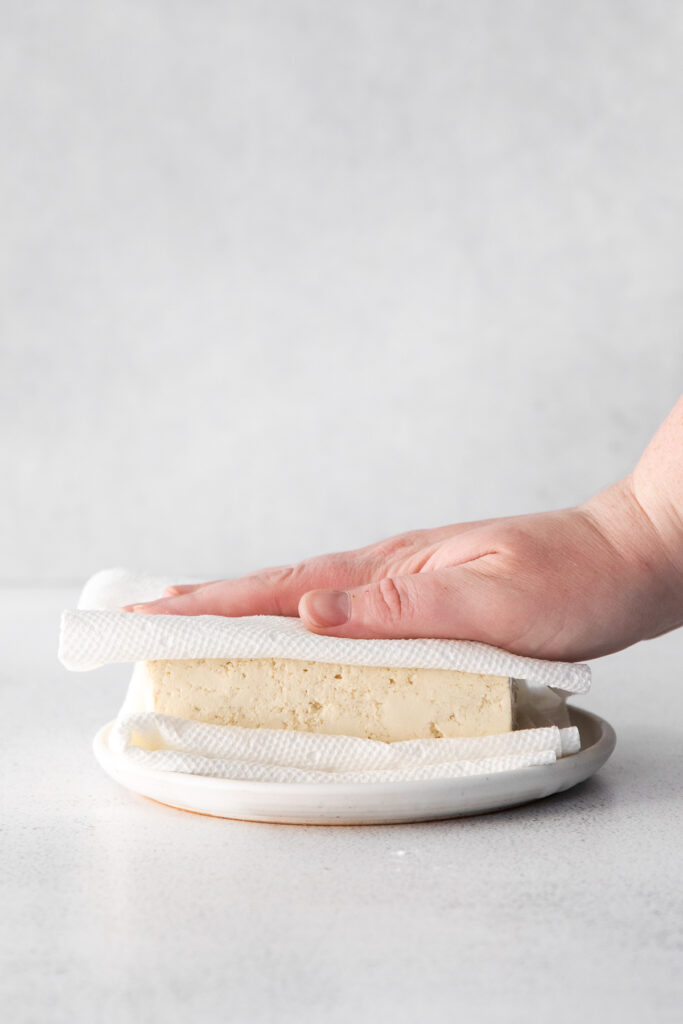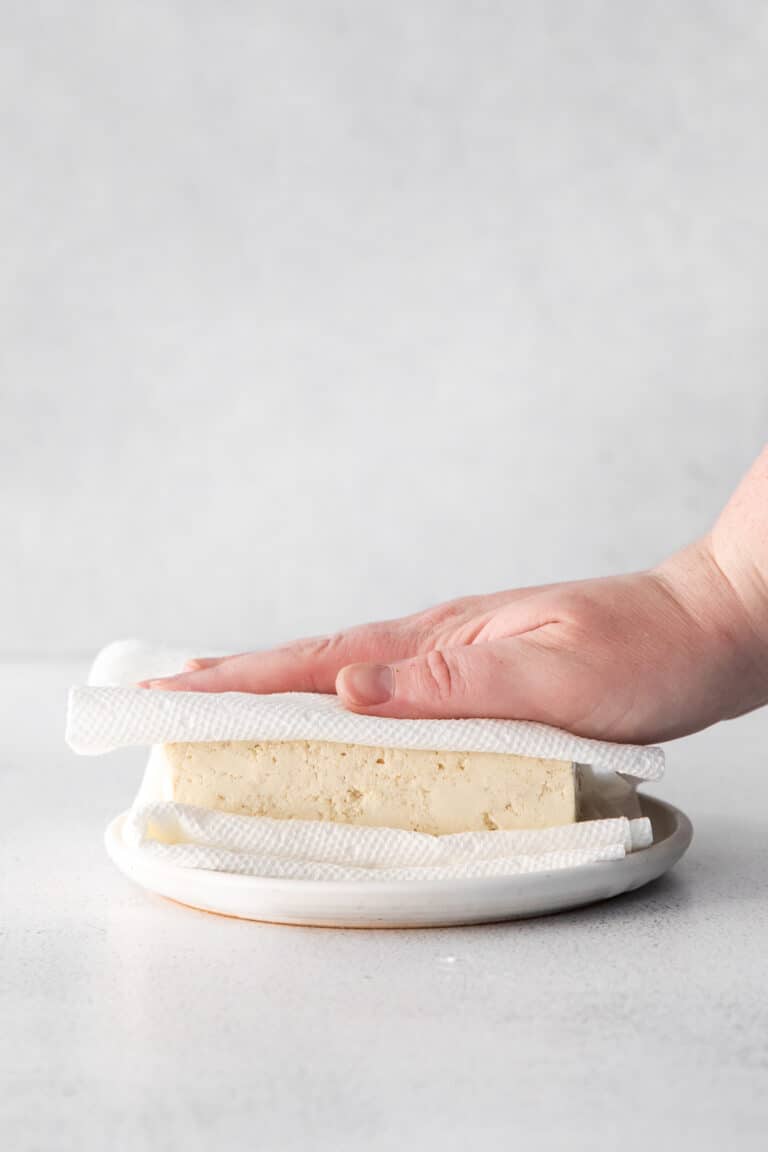 What Kind of Tofu Should I Use?
We highly highly encourage you to use extra firm tofu. You want a tofu that will hold its form when it is sautéd and that won't turn into mush!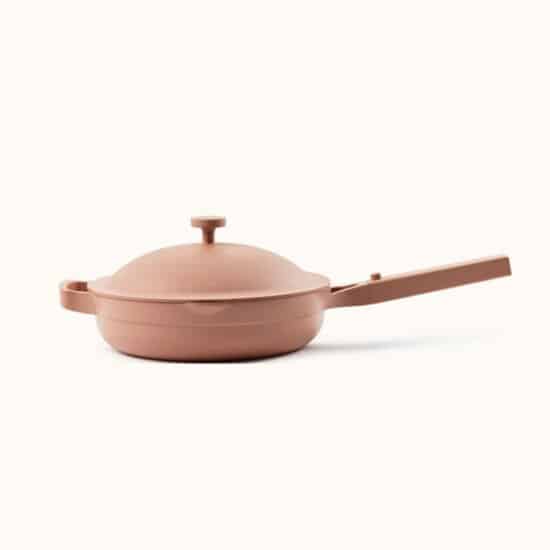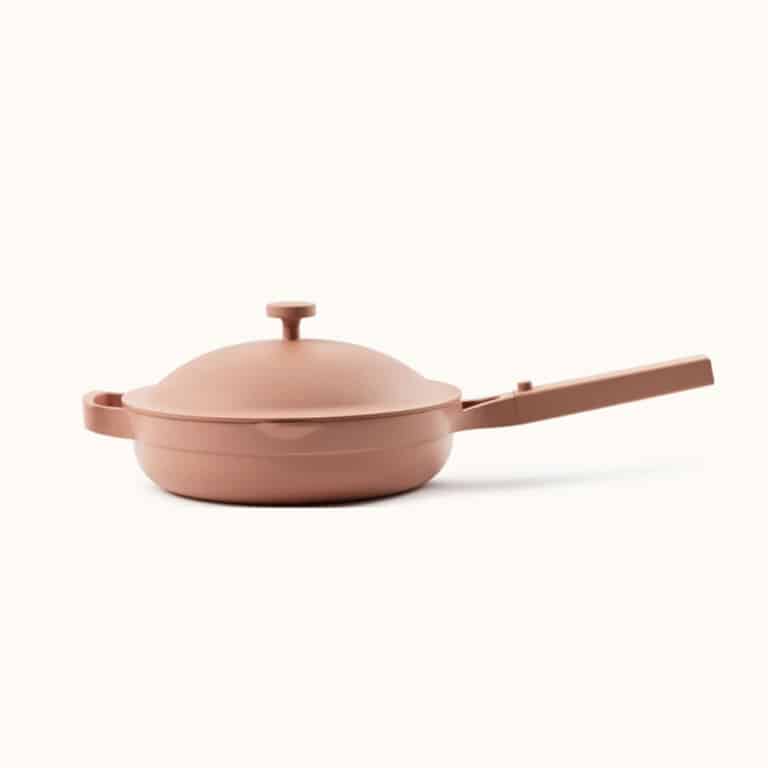 Try it!
Always Pan
The Always Pan is our favorite pan for sauteing, steaming, frying, and simmering. It's a nonstick pan that we highly recommend.
Buy now!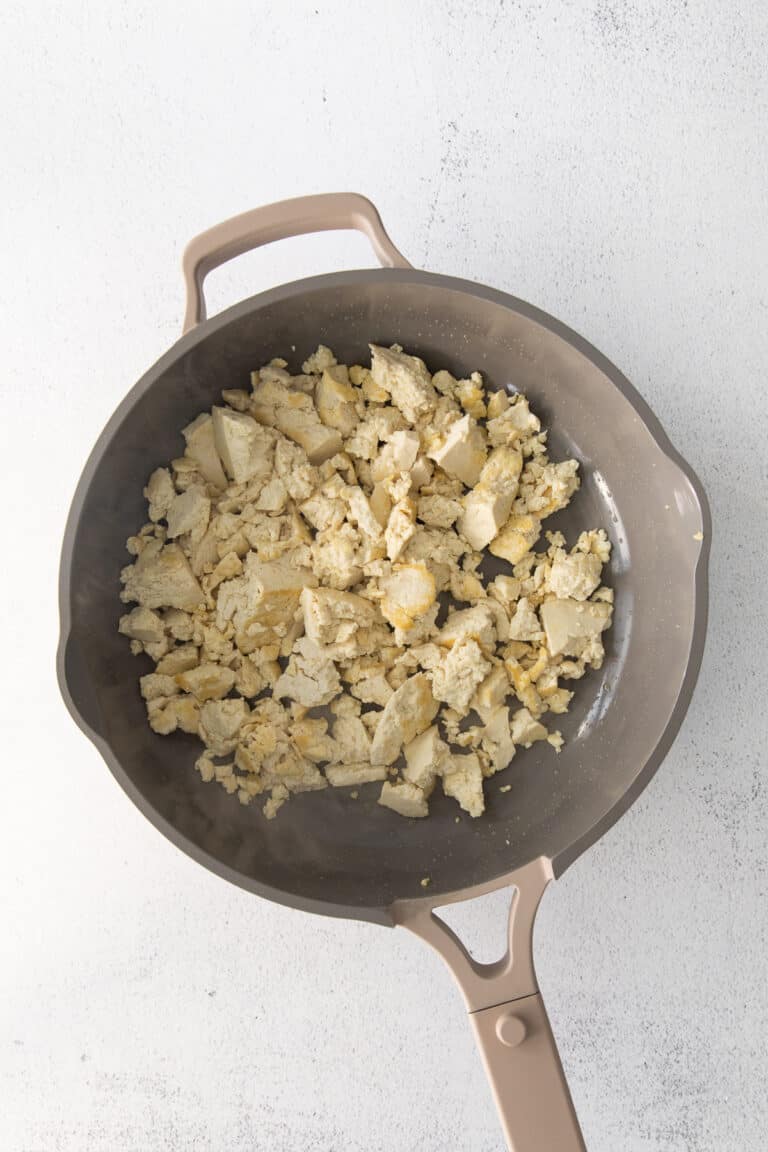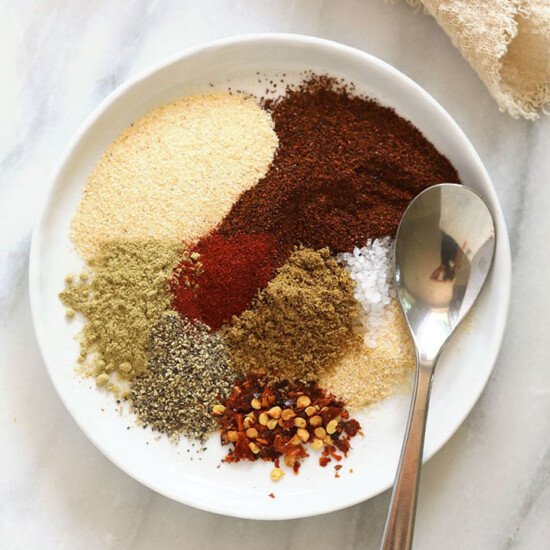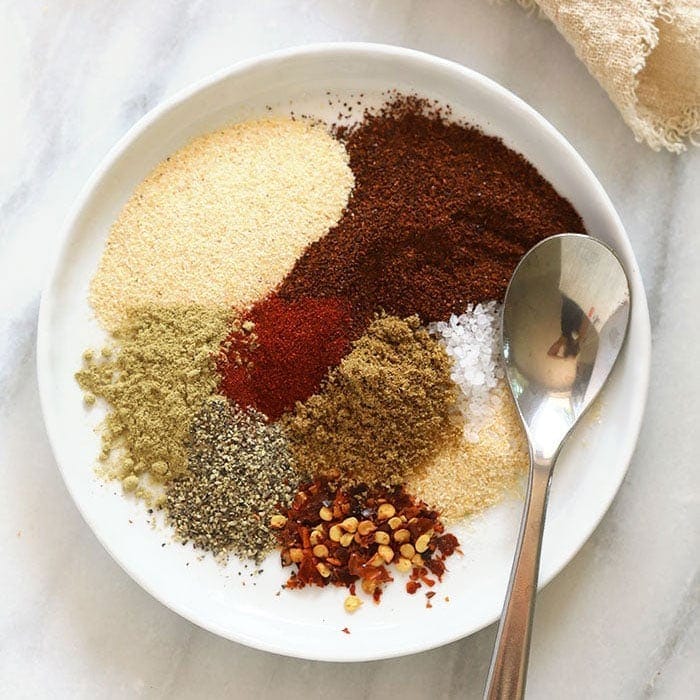 homemade
Taco Seasoning
We love using our homemade taco seasoning because we make it just the way we like it! Make a big batch of taco seasoning to have around for all the delicious taco recipes to come.
make it today!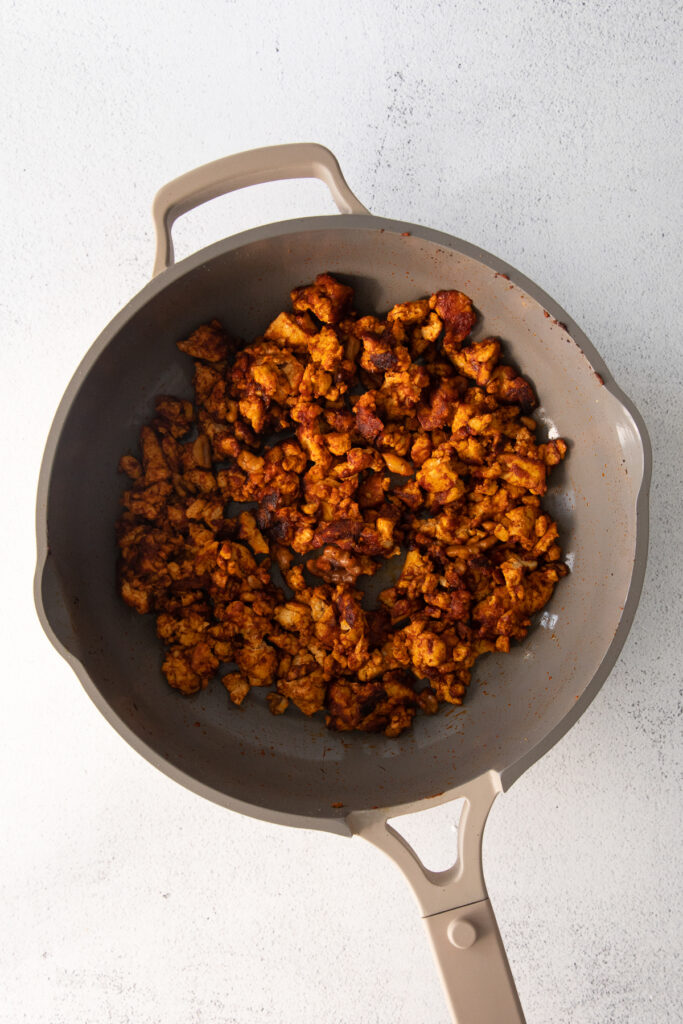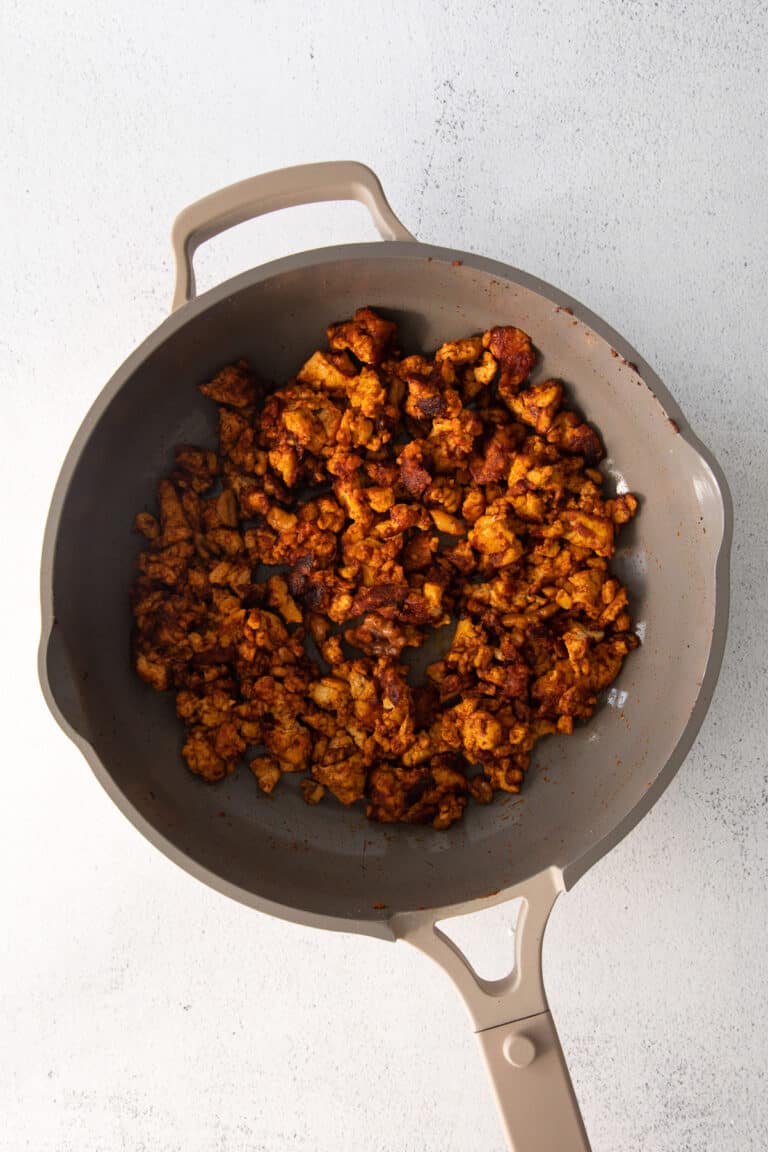 What Should I Serve with Tofu Tacos?
These tofu tacos are a great meal that can be complimented by so many delicious salads! Serve any of the sides or drinks below with these tofu tacos and you won't be disappointed.
More
Can I Freeze Tofu Crumble?
Yes, you can freeze tofu crumble. Follow the recipe in the recipe card and then let the tofu crumble cool completely before placing it in a freezer safe bag and freezing it for up to 3 months.
You can use the frozen crumble for last minute taco dinners, as topping for tasty soups, or you can sprinkle them over nachos.
Storage Options
If you are not going to freeze the tofu crumble, let the tofu crumble cool completely and then place it in an air tight container and store it in the fridge for up to 5 days.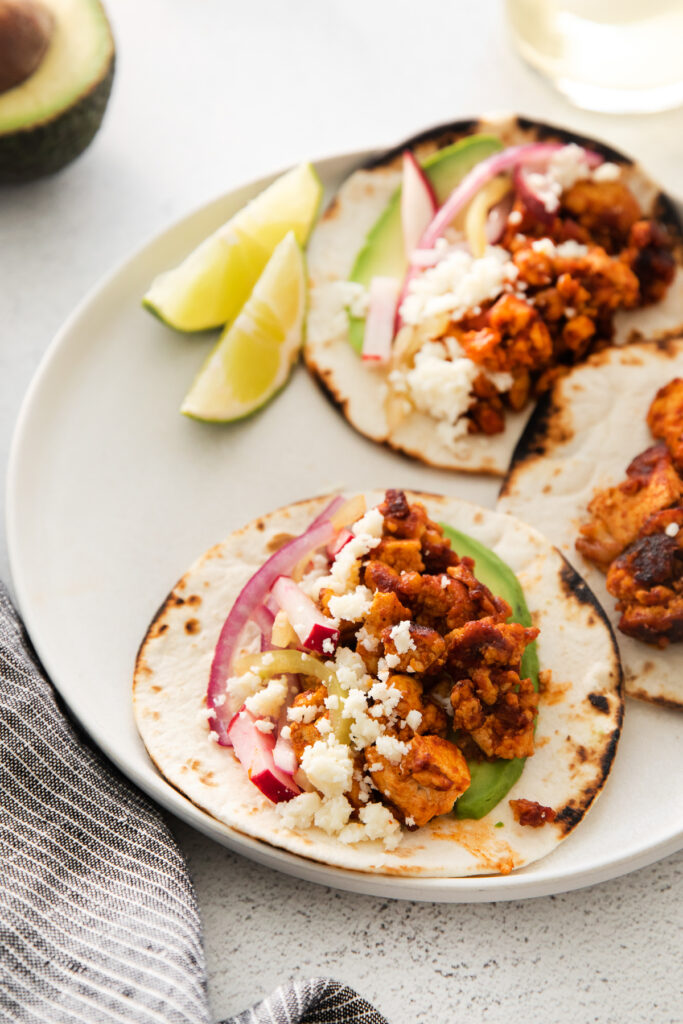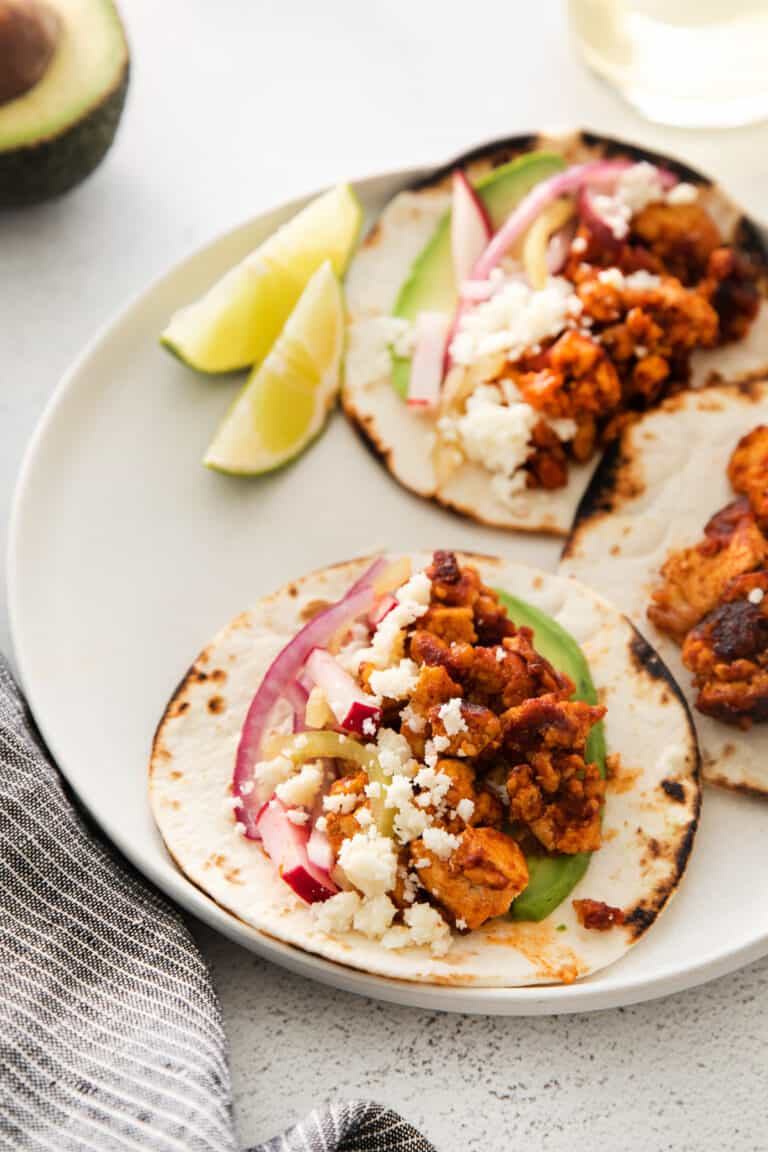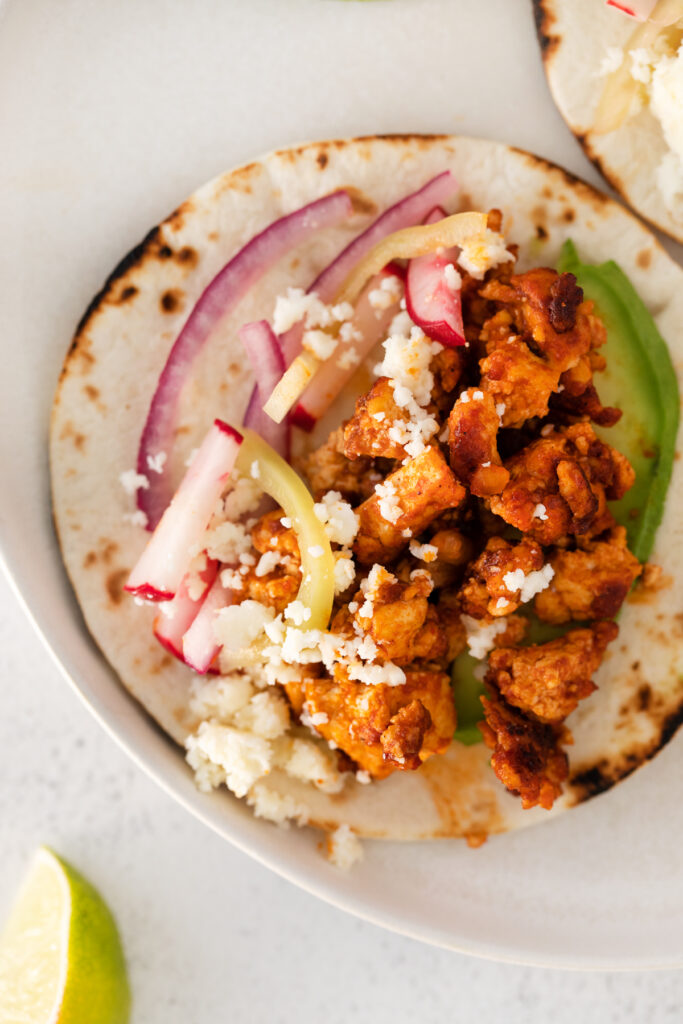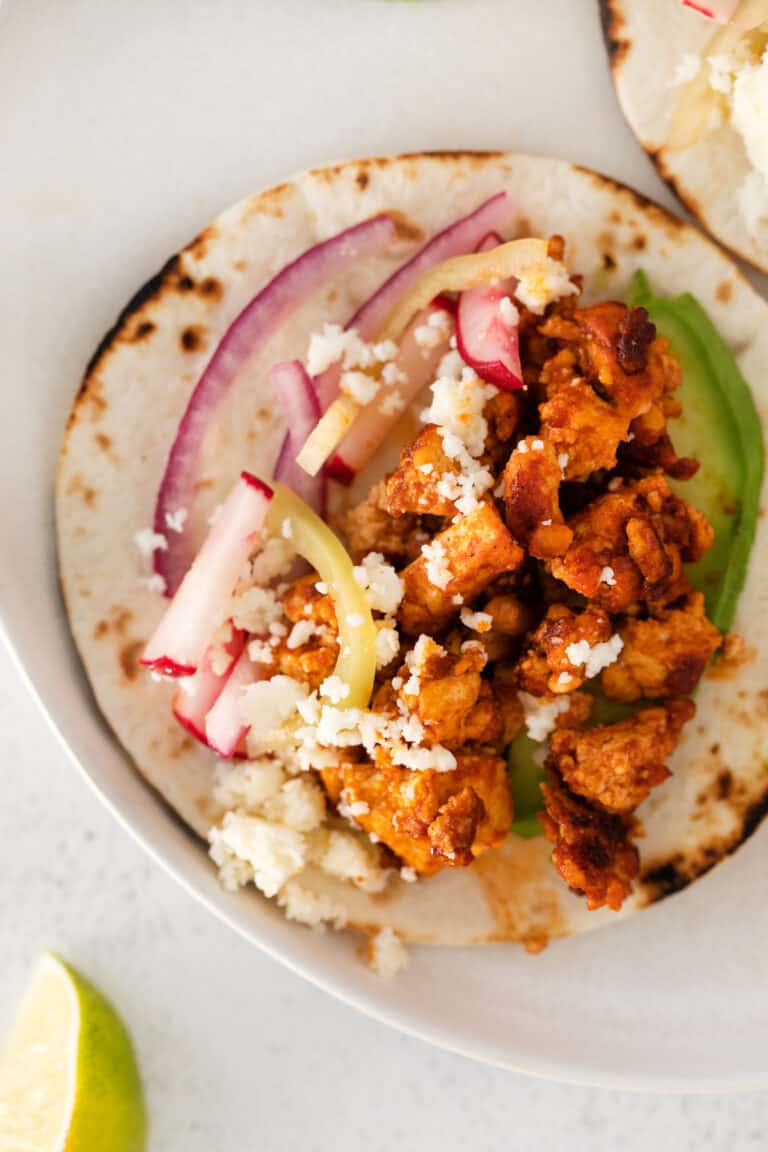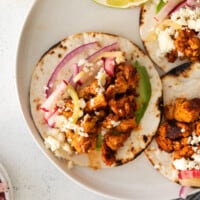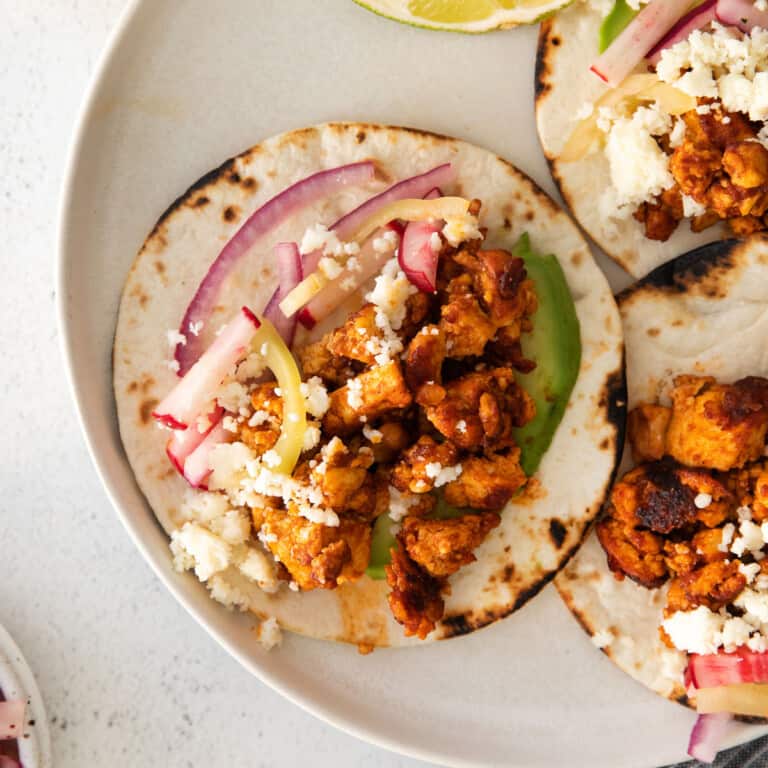 Tofu Tacos
This tofu taco recipe uses tofu crumbles, walnuts, and taco seasoning to create the most delicious vegetarian dinner! 
Ingredients
Slaw
1

cup

radishes

diced into matchsticks

1

large banana pepper sliced into

¼

large red onion

sliced into thin strips

1

teaspoon

apple cider vinegar

1

teaspoon

lime juice

⅛

teaspoon

salt
Other
8-12

street taco flour tortillas

Greek yogurt

for topping

Cotija cheese

for topping

Avocado

for topping
Instructions
Remove the tofu from the package and drain excess liquid from the tofu by patting it dry with a paper towel. Set aside. 

Add all of the ingredients for the slaw into a bowl and toss. Place the slaw in the refrigerator for later. 

Heat a large skillet (that can later be placed in the oven) over medium/low and add olive oil to the pan. 

When the olive oil is fragrant, carefully crumble the tofu into bite size pieces and place it into the hot skillet. 

Let the tofu ground cook for 4-5 minutes on it's own to cook off any liquid (do not cover). Stir the tofu around periodically.

When most of the excess liquid has been cooked off, season the tofu with the taco seasoning. Toss the tofu and taco seasoning together. 

In a separate bowl, whisk together the tomato paste, water and maple syrup. 

Pour the tomato paste mixture over the tofu and toss everything together. 

Turn the heat up to medium/high and cook the tofu in all the spices and liquid until it begins to brown (4-5 minutes). 

While the tofu is cooking, turn the oven to broil. 

Add the walnuts to the skillet and toss until it is combined with all of the tofu ground. 

Remove the skillet from the stove and place it in the oven. 

Let the tofu and walnut sit under the broiler for 2-4 minutes until it browns. 

Remove the oven. 

Assemble the tacos. Place the tortilla flat and add a spoonful of tofu ground to the tortilla and then top the tofu with the radish slaw. Repeat until all tacos are assembled. 

Top with optional toppings and enjoy. 
Nutrition facts
Calories:
353
kcal
Carbohydrates:
30
g
Protein:
15
g
Fat:
19
g
Fiber:
4
g
Sugar:
6
g