These incredible carnitas tacos are topped with fresh red onion, cilantro, and Greek yogurt. They are the perfect weeknight dinner and great for meal prep!
The Best Crispy Carnitas Tacos
Is there anything better than sitting down to dinner to enjoy a few tender and delicious pork carnitas tacos? We love carnitas in these slow cooker carnitas burrito bowls and now in these pork carnitas tacos.
We love these carnitas tacos because;
They are prepared in a slow cooker so you can set the slow cooker and forget about the meat until it's perfectly tender.
There are usually leftovers of carnitas so it makes a great meal prep meal.
These carnitas tacos are delicious!
Ingredients You Need
These carnitas tacos are made with traditional ingredients for carnitas tacos. Feel free to make these tacos your own by substituting ingredients for other ingredients you love!
Spices- the dry rub for these carnitas is made up of garlic powder, chipolte powder, brown sugar, chili powder, onion powder, ground oregano, paprika, cinnamon, salt, and pepper.
3-4 pound pork shoulder– we suggest getting a boneless pork shoulder roast with some marbling of fat for delicious flavor.
Olive oil – you will use olive oil to brown the outside of the pork shoulder. We love using olive oil, but butter would be delicious and yummy too!
White onion – you are going to chop your white onion up and put it right into the slow cooker to cook in the juices and create a delicious sauce that you will serve over your carnitas.
Garlic cloves- the garlic cloves will be adding delicious flavor to the pork sauce.
Broth- you can use any type of broth that you would like in this recipe. The broth used in this recipe will be the base of the sauce you'll serve over the carnitas. Don't skimp on the broth and we suggest using regular broth (not low sodium).
Orange juice– oh baby, the orange juice brightens up these delicious carnitas! Don't skip it. Trust us.
Lime juice– Squeeze fresh lime juice over the carnitas right before serving the carnitas.
Cilantro– fresh cilantro rounds out the carnitas no matter how you serve the dish!
Street taco shells– we suggest serving these carnitas tacos in our favorite street taco taco shells. Feel free to use corn tortillas or hard taco shells.
Red onion- mince the red onion finely for a topping for these carnitas tacos.
Plain Greek yogurt – we love to use Greek yogurt for taco topping because we love the tartness of Greek yogurt. Feel free to use sour cream or crema.
Fresh cilantro– you can't have a carnitas taco without fresh cilantro!
Lime wedges– cut a small lime into wedges and squeeze fresh lime juice over your taco before serving.
Don't skip the salt
Salt is crucial to preparing meat for these carnitas tacos. It tenderizes the meat and helps enhance all the other flavors in these carnitas tacos.
What type of meat is used for carnitas?
The best kind of pork for carnitas is a pork shoulder.
We love pork recipes here on Fit Foodie Finds. Sometimes it can be hard to know what cut of pork is best for what recipe (we talk a lot about that in this post).
We used a 3-4 pound pork shoulder for this carnitas recipe. We like to find a cut of pork that has a decent amount of fat on it so that it is flavorful and so tender.
How to Make Carnitas Tacos
There are only a few steps to take before you'll be enjoying carnitas tacos.
Prepare the dry rub
The dry rub for these carnitas tacos is a delicious mixture of sweet, savory, and spicy ingredients. We recommend mixing the dry rub together before you get your pork out. It makes each step of the recipe easier if you prepare everything before hand!
Make things spicier. If you would like to add more heat to these carnitas tacos add 1/4 – 1/2 teaspoon of cayenne pepper to the spice mix.
Massage pork shoulder with salt and dry rub.
Once you have mixed all of the spices together, use your hands to really massage the spices into the meat.
This is important because you need the salt to tenderize the meat and you want all of the spices to get into every crevasse of the pork shoulder. Let the meat sit for 10-15 minutes.
Brown the pork shoulder.
Once the pork shoulder is completely coated in spices, brown the pork shoulder by adding the olive oil over medium/high heat to the cast iron until the olive oil is hot.
Place the pork shoulder to a cast iron and brown the pork shoulder for 3-4 minutes on each side. This creates a delicious crust on the outside of your porks shoulder.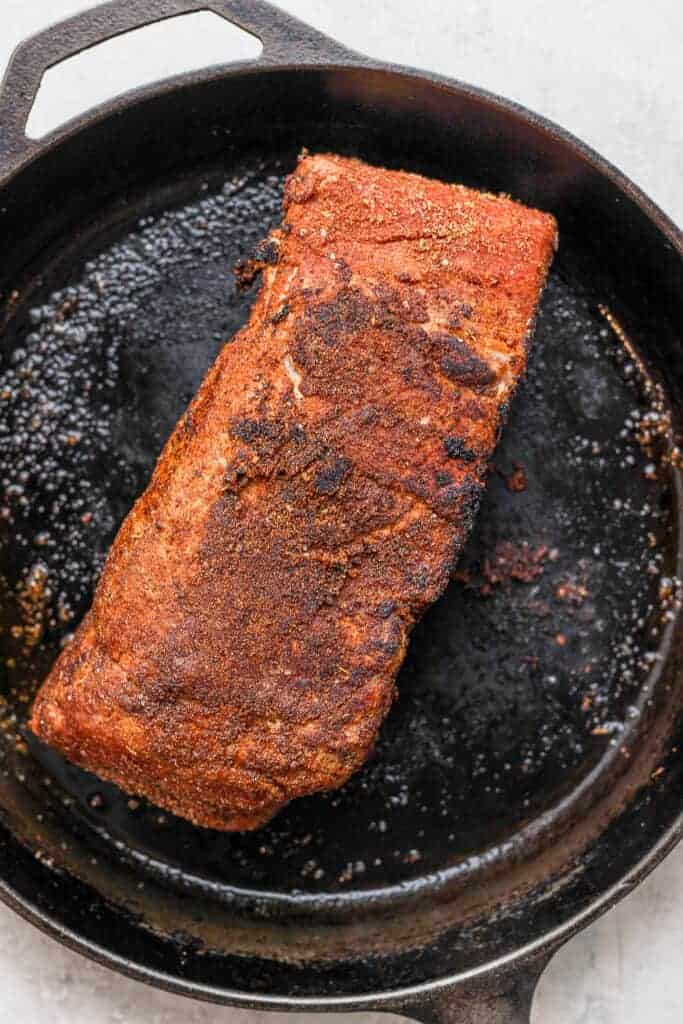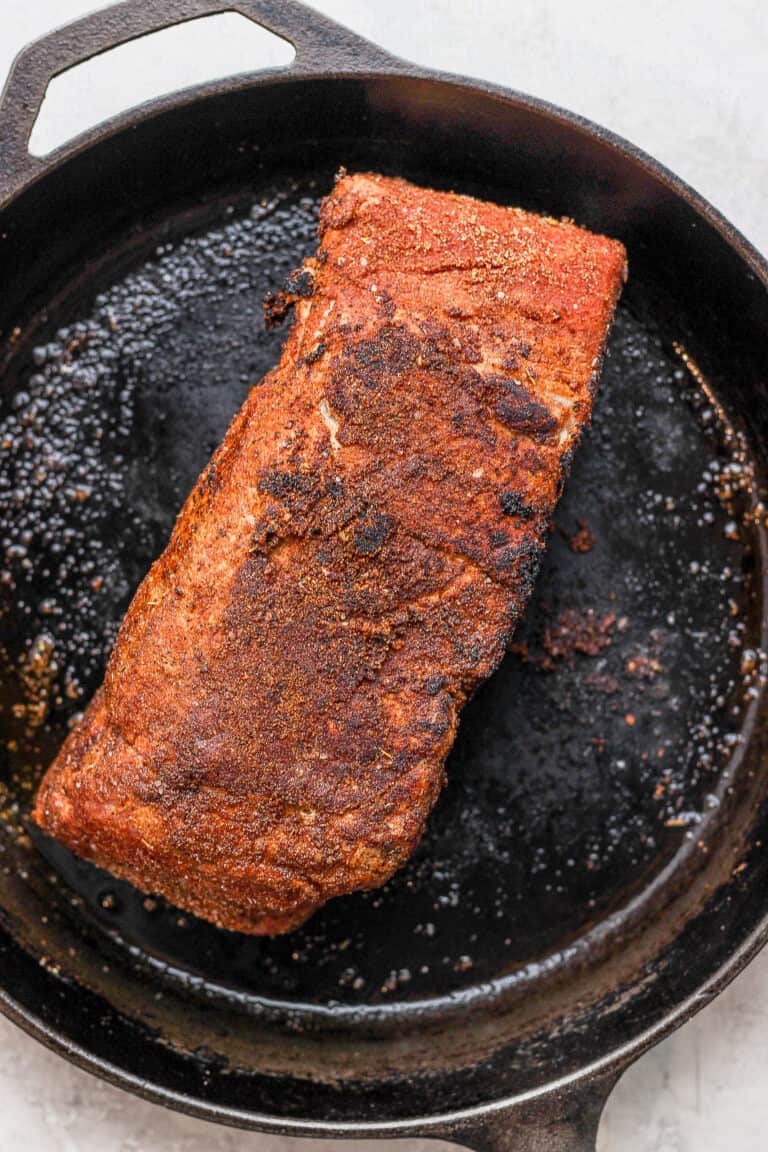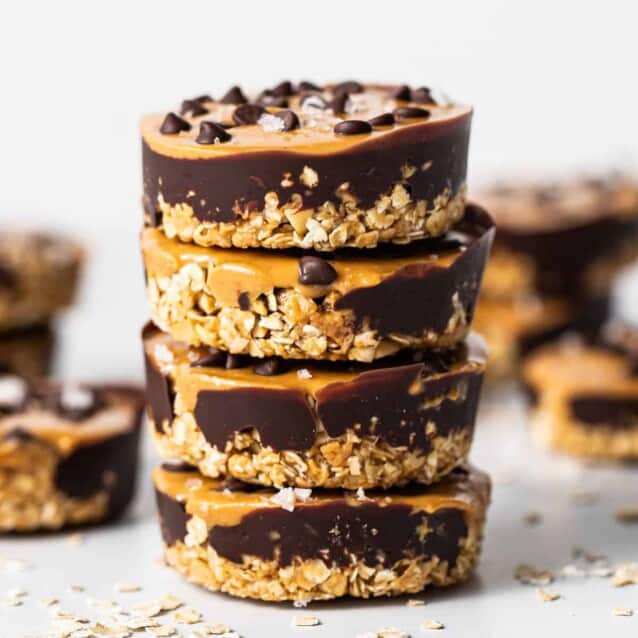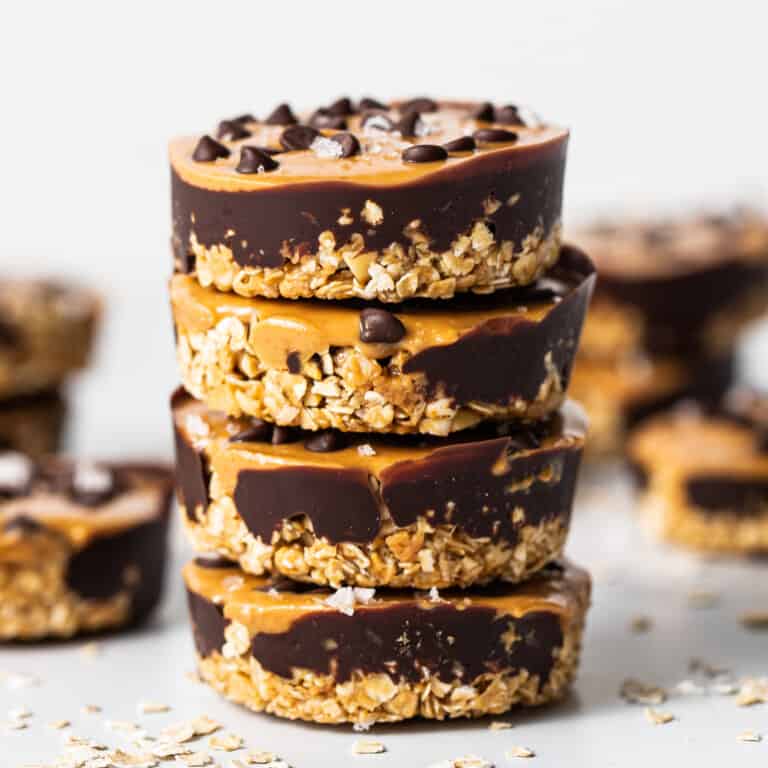 Get our Top 10 5-Star Recipes!
Join our email list for new recipes and BONUS: get our top 10 ⭐️⭐️⭐️⭐️⭐️ recipes e-book!
Slow cook the pork.
Add the pork shoulder to your slow cooker along with your broth, onion, garlic, and orange juice to the slow cooker. Cook on high for 7-8 hours.
Prepare taco ingredients.
Get your favorite tortillas ready. We suggest topping these pork carnitas tacos with simple toppings like red onion, cilantro, and Greek yogurt.
Topping Options for Carnitas Tacos
Shred into pork carnitas.
Once the pork has slow cooked and is fall off the bone, shred the pork with two fork and mix the carnitas with the juices at the bottom of the slow cooker.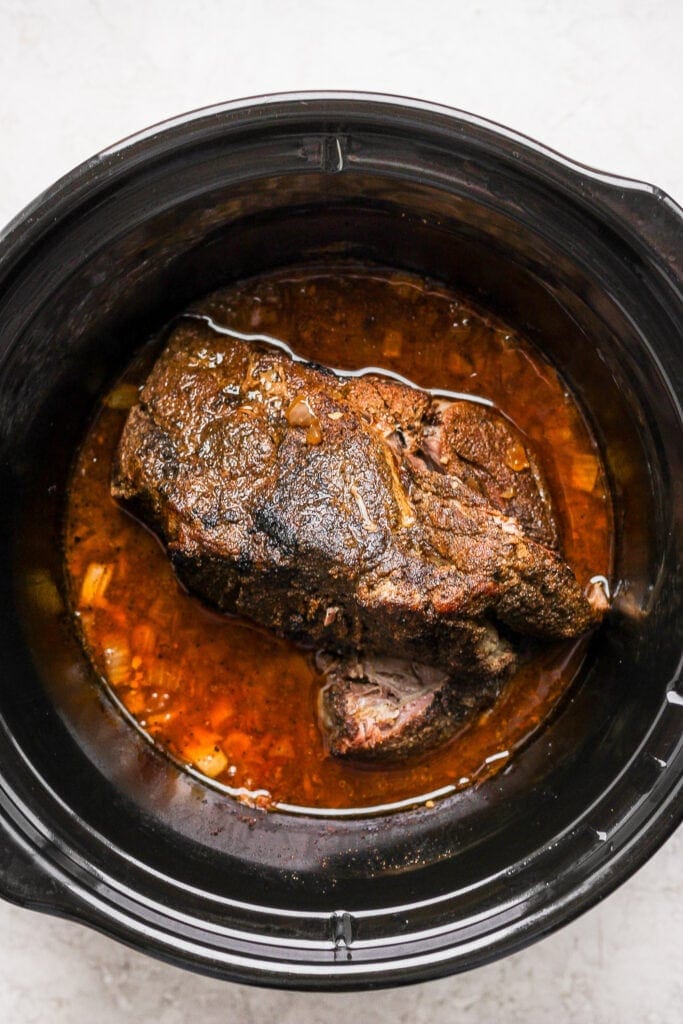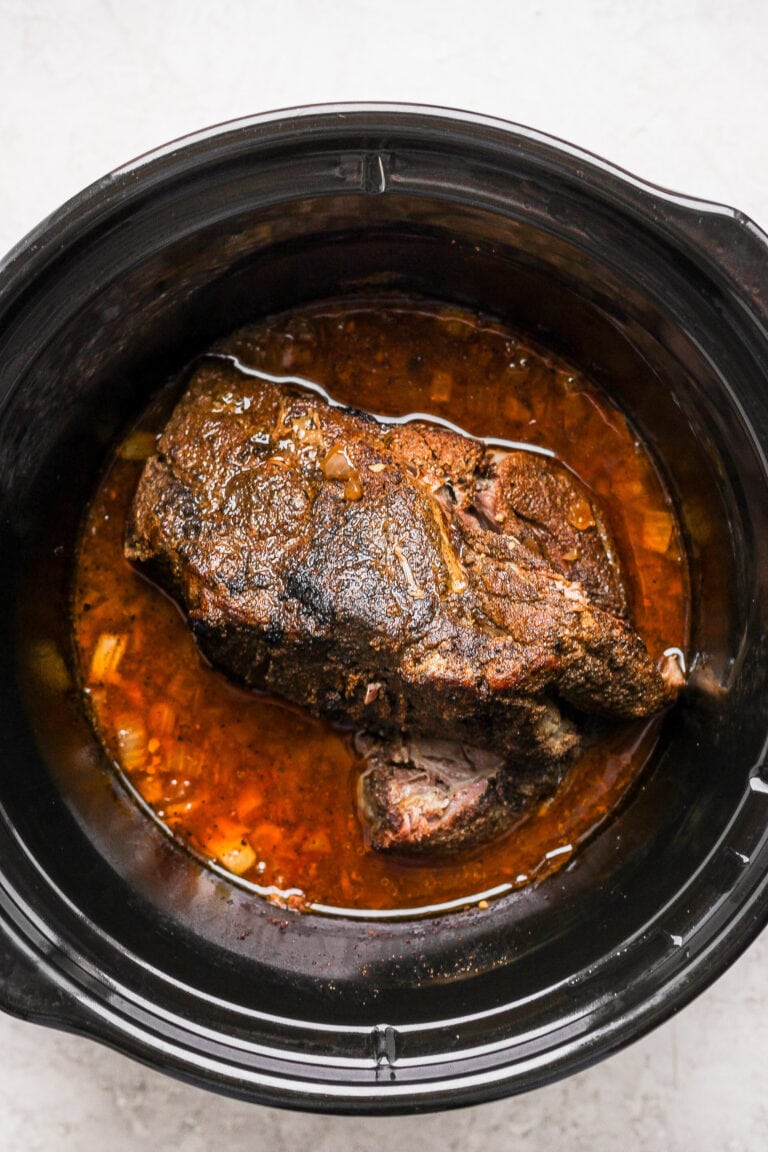 Brown the Carnitas
Place the carnitas on a baking sheet and bake the carnitas at 400ºF for 4-5 minutes to crisp up the carnitas.
Assemble pork carnitas tacos.
Add the pork carnitas tacos, red onion, Greek yogurt, and cilantro to each tortilla and enjoy!
Carnitas Tacos Questions
Can I Make this Recipe in the Instant Pot?
Want to use your Instant Pot? Great! We have an Instant Pot Carnitas Recipe that is easy to make. Check it out!
Can I make this recipe gluten free?
Yes, this recipe can be make gluten free by using gluten free tortillas.
Serving Suggestions
There are so many delicious recipes that you can serve along side these pork carnitas tacos. Here are some of our favorites!
Mexican Street Corn Salad- Our Mexican Street Corn Salad is made with grilled corn, tomato, onion, and the most delicious cotija yogurt sauce with lime juice.
Grilled Mexican Street Corn- Fresh off the grill Mexican Street Corn is the absolute best. We've got a super simple Grilled Mexican Street Corn recipe that will make your tastebuds dance and your tummy asking for seconds!
Black Bean Corn Salad- Looking for a simple cold salad that doubles as relish and triples as a dip? Make our black bean corn salad. It's made with fresh ingredients cilantro, jalapeño, cotija cheese, and lime juice.
Mexican Quinoa Salad- Make this light and refreshing quinoa salad recipe with ingredients you probably already have on hand! This flavorful Mexican salad is vegan and gluten-free and the perfect vegetarian meal to add to your rotation.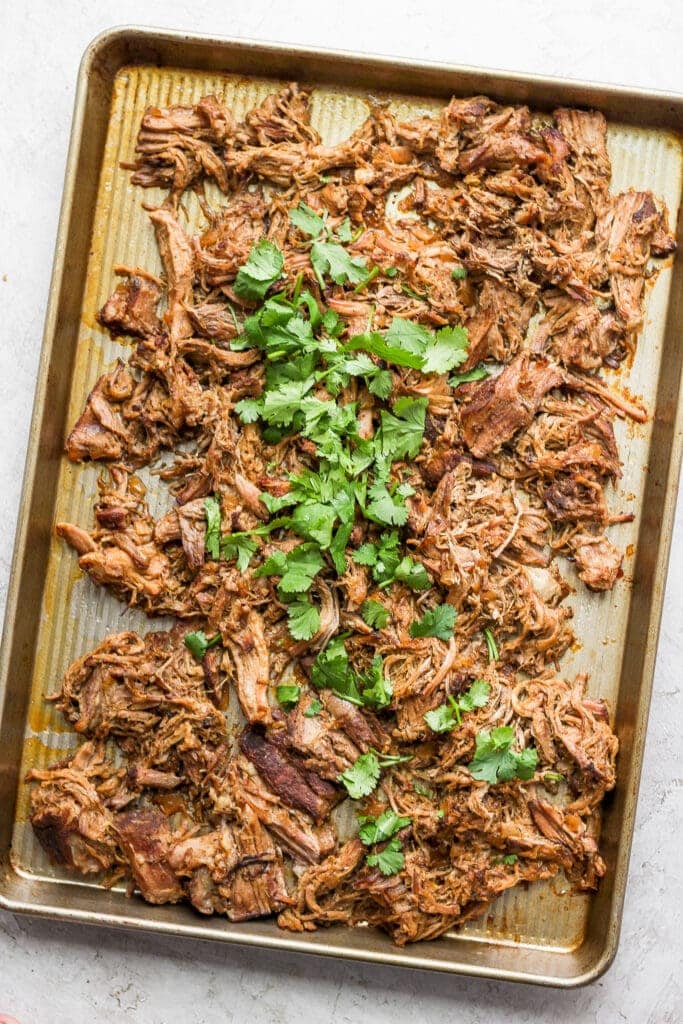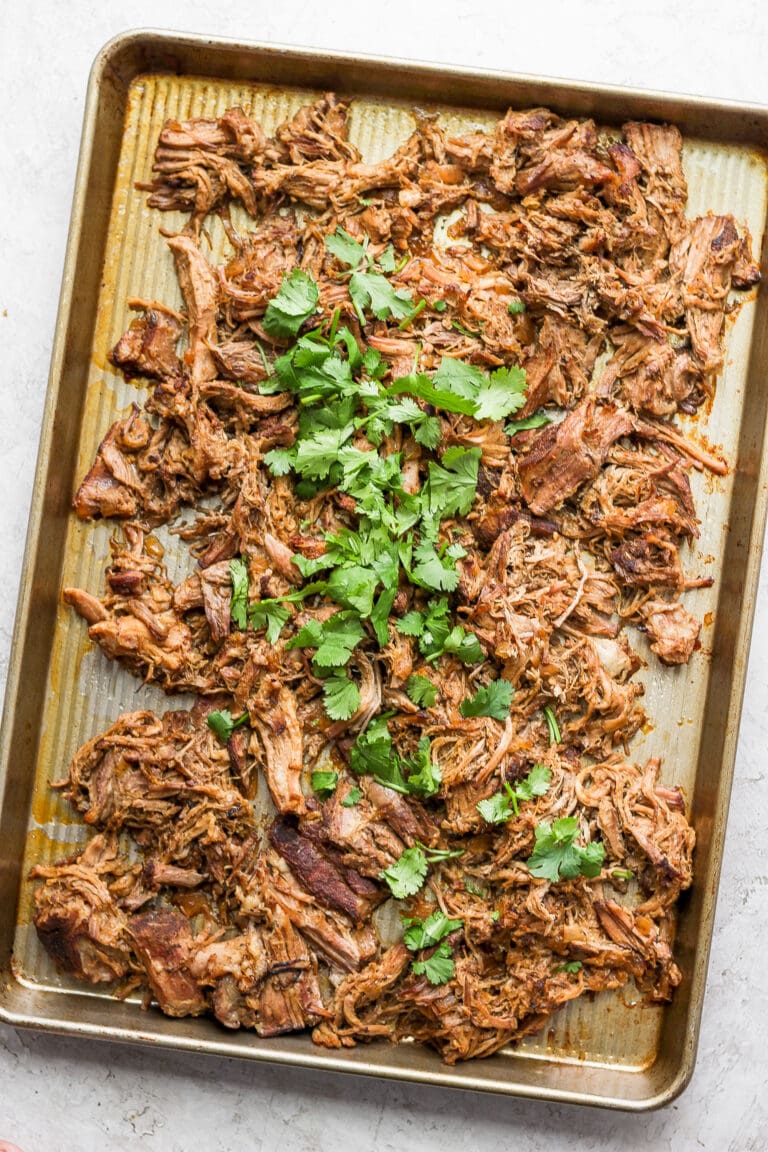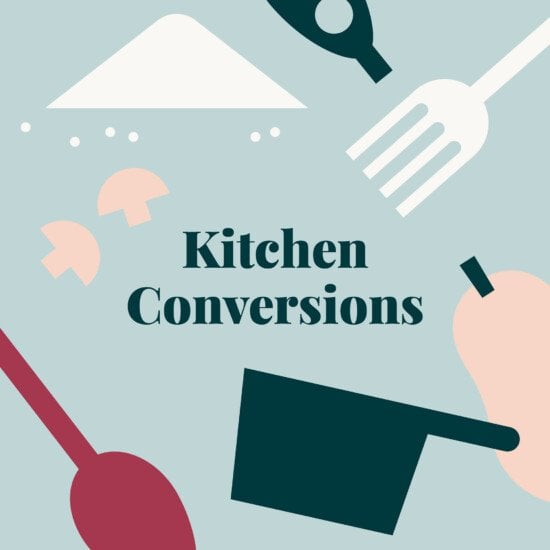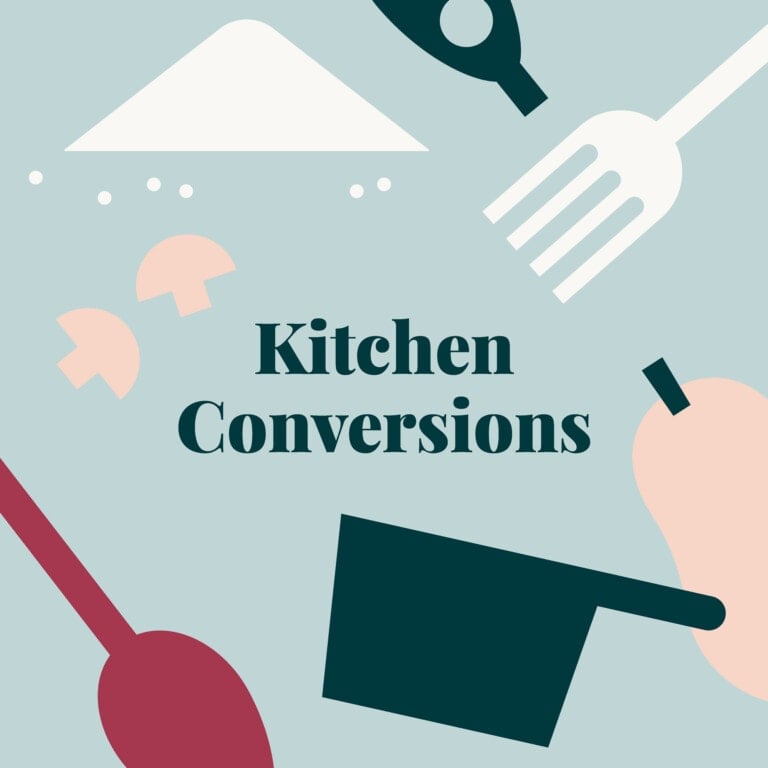 make it easy
Print Your Own
Keep common kitchen conversions like tablespoons to teaspoons and Fahrenheit to Celsius on hand at all times with our printable kitchen conversions chart.
get it now
Learn More Kitchen Conversions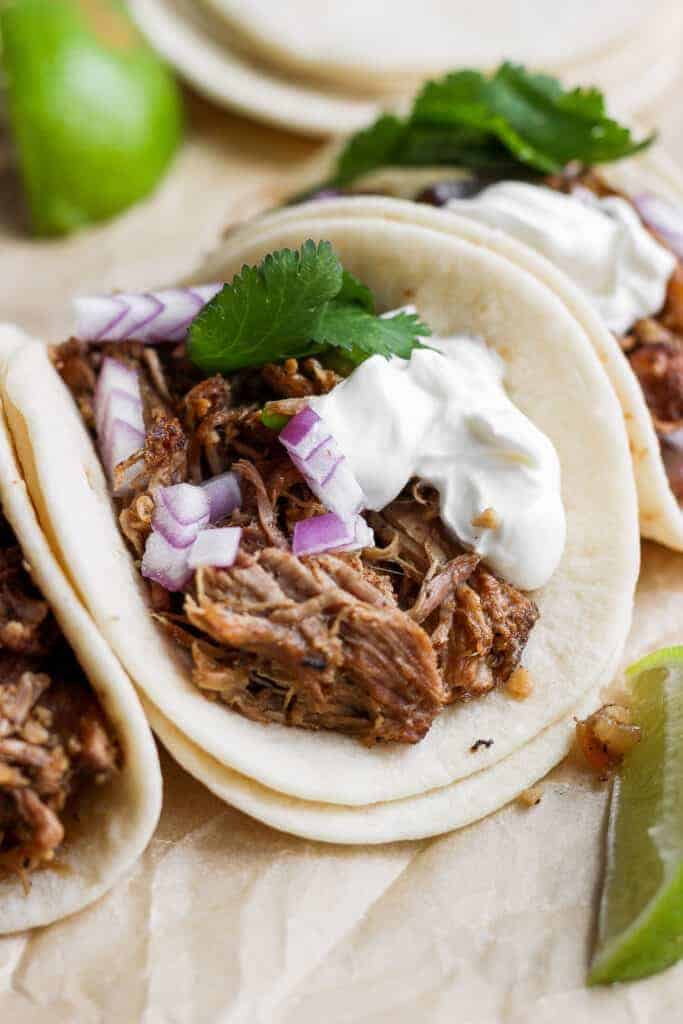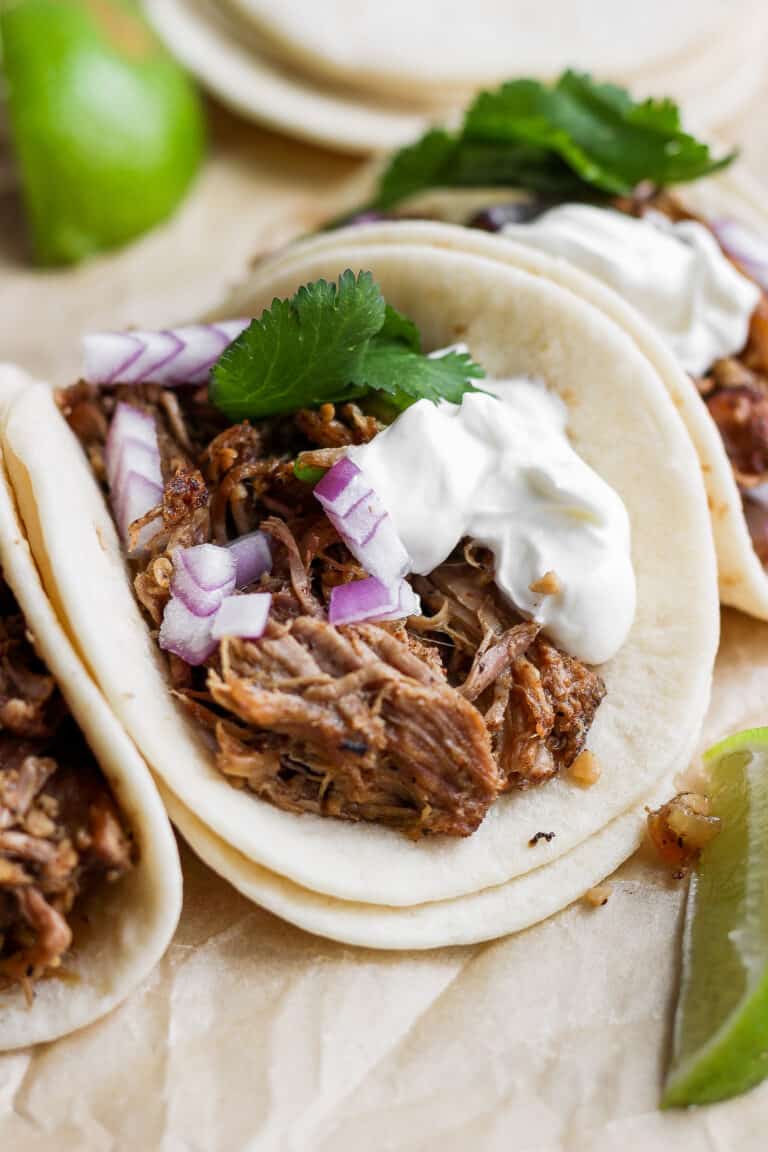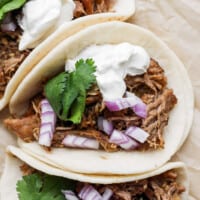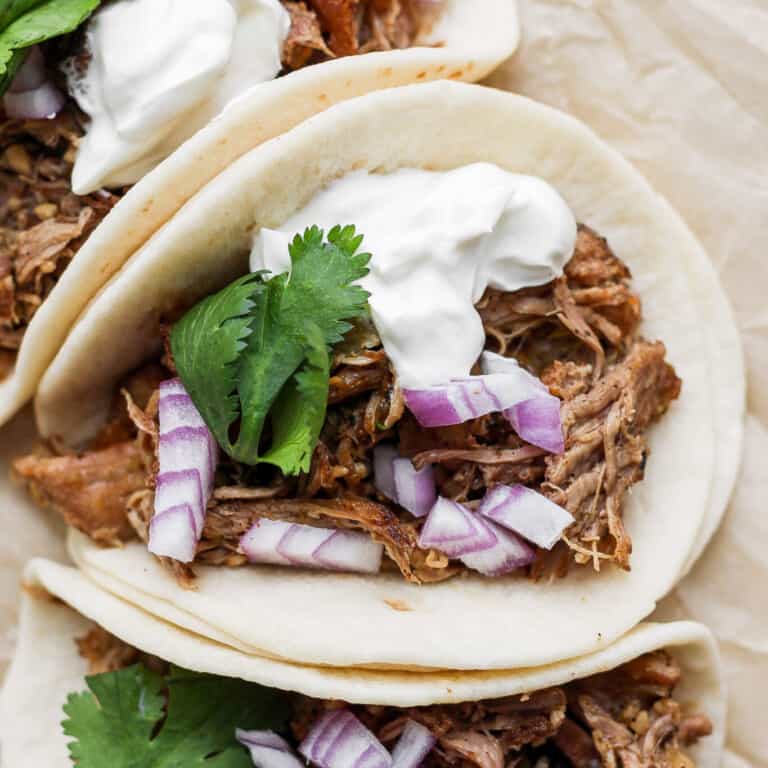 Best Ever Carnitas Tacos Recipe
Prepare these carnitas tacos for an easy slow cooker dinner idea. The carnitas are flavorful, tender, and delicious in any taco shell or tortilla. 
Ingredients
Other Ingredients
3-4

pound

pork shoulder

2

tablespoons

olive oil

1

medium white onion

chopped

5

cloves

garlic

minced

1/2

cup

broth

any kind

¼

cup

orange juice

6-8

street taco tortillas

corn or flour
Toppings
1/2

medium red onion

minced

1/2

cup

plain Greek yogurt or sour cream

1/4

cup

fresh cilantro

chopped

4-6

lime wedges
Instructions
Combine the spices for the dry rub in a small bowl and set aside. 

Season the pork shoulder with the dry rub by massaging the pork with the spices on all sides. Let it sit for at least 10-15 minutes. 

Meanwhile, place the white onion, garlic, and broth into the slow cooker and turn your slow cooker to high.   

Heat a large skillet over medium/high heat. Add olive oil. When olive oil is fragrant, add the pork shoulder to the pan. Brown both sides of the pork shoulder for 3-4 minutes on each side. 

Transfer the browned pork shoulder into the slow cooker and pour the orange juice over the meat and then cover the slow cooker. Cook the pork shoulder on high for 7-8 hours or until the pork falls apart. 

Once the pork is done cooking, preheat the oven to 450ºF and spray a baking sheet with non-stick cooking spray.

Uncover the slow cooker and use 2 forks to carefully shred the pork. It should be super tender and easy to shred. Toss the shredded pork with all of the juices in the slow cooker. 

Transfer the shredded pork to the baking sheet and spread it out. Then, bake at 450ºF for around 5-7 minutes to make your carnitas nice and crispy.  

Remove the pork from the oven.

Assemble tacos by evenly distributing carnitas, cilantro, onion, and Greek yogurt into taco shells.

Top with fresh squeezed lime juice and serve.
Nutrition facts
Calories:
428
kcal
Carbohydrates:
28
g
Protein:
39
g
Fat:
17
g
Fiber:
2
g
Sugar:
3
g
Photography: photos taken in this post are by Erin from The Wooden Skillet.